Inserisci le date per visualizzare il prezzo totale. Ci sono dei costi aggiuntivi e potrebbero venire applicate alcune tasse.
2 Ville in Affitto
· Odisha
2 Ville in Affitto
· Odisha
A former hunting lodge of an Indian king, but now a villa /farm house. Presents an old world charm of pre independence Princely India. Very spacious living. A very natural, serene, calm and quite place. Serves excellent fresh homely Indian food.
Place offers staying with a family, considered one of the most ancient families of princely India, having a very rich heritage of almost 1900 yrs. Just share their story in absolute tranquility. The family is very hospitable, nature and eco-friendly, who practice self sufficient living. Feel the tremendous comfort, joy & feeling of open space, fresh air with very natural settings, which make this place a must for all. The place has 3 beautiful suites with en-suite bathrooms to fit 7 people at ease. A place one would love to go back. Instead of an AC, The family has recreated the old world charm with traditional root curtains. Dripping water keeps the room super cool and fresh in summers. 24 hrs. hot water. Free parking, Free but shared terrace. As hosts, we love to interact with guests to find out about their tastes and liking to guide them to take up activities and make their schedules accordingly. we give enough space and respect their privacy. As hosts we are always present during their stay.
The neighborhood offers plenty of tranquility and space filled with rural Indian life all around. The weekly tribal markets/ haats with cock fights are a must. Early morning nature walks are a great for bird watching experience. A unique Bat safari, angling or sport fishing, Rose garden with meditation center, Guest must experience the life of sadhus of a Hindu sect called Alekh Mahima at Joranda. Finally the hospitality ends with offers of cooking classes on request and delicious home cooked Indian recepies so different from any restaurant. Getting in to the property from the airport or Railway station is by hired taxis only. Pick up and drop can be arranged on request as per charges applicable. Our room tariff prices are for B&B only. However we offer all meals and beverages on request with additional charges. We do not serve alcohol. Guests are requested to bring their own stuff. We offer cooking classes on request. charges extra.
Kila Dalijoda is a charming heritage home with amazing surroundings. The owners did their best to make us feel at home by showing us several things in the area and by giving us delicious food. Our favorite was the morning walk in the forest!
Anouk
December 2015
Anyone who goes to Cuttack Palace is in for a treat. Its a fabulous place to stay Debjit is very generous with his time exploring the local countryside and the food is amazing.
Caroline
December 2016
We spent 2 wonderful days in Debjit house with Debjit's family. We has been astonished of the kindness of the family. Debjit hold us for 2 days in the countryside around the palace to visit tribal villages and we have learn from him much more than we later learned from our licensed guide of our Odisha tour. Debjit's wifes is so cute, very well informed on India history and tradition and, of course, indian cooking. The daughter, is such a nice little girl! Some words on the palace: an old but fascinating building in restoration, lot of space, big suite for the guests, excellent bathroom and shower, excellent cleaning. And excellent food. Last word: thank you very much Debjit for having let us to live such beautiful days! Elisabetta and Claudia
elisabetta
January 2016
Arriving after a month of travel in India, we were a little tired. But the place was so interesting, Debjit and his wife so kind and helpful that it was a new start for our trip . We walked and biked with Debjit in tribal villages unspoiled . Excellent meals also done by Namrata. Endly we spent 9 days with the family either there or in Pluri or in Aul palace, and these were the happiest of our Indian trip
marc
March 2016
Debjit arranged taxi pickup for us at the airport, and we enjoyed a smooth ride into the countryside. We were warmly welcomed by the family and staff, and settled quickly into Kila Dalijoda in a spacious and comfortable suite - really comfortable beds! Meals were delicious, and Debjit hosted us in a wide range of local activities, just as described. All were very interesting, meeting local people, visiting their homes, watching artisans working on traditional crafts, cycling around the villages and visiting places of special interest. Staying in the peaceful rural environment at rice harvest time was a bonus. We quickly felt like part of the family, laughed a lot, have become firm friends, and will miss both their company and their home. Thank you all, Debjit.
Pat
December 2014
Charming young couple who were very welcoming to their ancestral property that was the king's hunting lodge. The surroundings were peaceful and quiet and the views of the hill range at the back and the large lakes in front of the property were lovely.
Ranjan
June 2015
The reservation was canceled 30 days before arrival. This is an automated posting.
Bernard
We have been to India four times and staying here was one of the highlights. Debjit and Namratha are great hosts who clearly love to share both their family history and the history of the land and people of the area. We learned so much from this experience. And the food was superb.
nicholas
December 2014
Tipo di stanza
Intera casa/apt
---
Tipo di sistemazione
---
Può ospitare
7
---
Camere da letto
3
Cuttack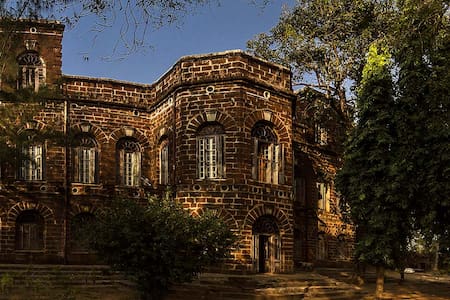 Its 2BHK Villa in ground floor . Make yourself comfortable when you arrive in Nayaraipur, Chhattisgarh. House has Beds with mattress in all rooms Kitchen TV SOFA Dining table Coolers Fridge Water Purifier
Its duplex house. 2 bedrooms, hall kitchen furnished with all facilities, -2 bedrooms with mattress. -Sofa -Dining Table. -TV -Almiraha -Fridge -Coolers in all room. -Complete Kitchen setup with option of self cooking . -Airport is just 20 minutes distance . -you can see Nayaraipur next Generation city by staying in heart of Nayaraipur. -This is 25 km from Raipur city. Complete house or portion based on requirement
Central Park Jungal Safari IIIT Mantralaya Purkouthi Muktangan Nayaraipur is 25 km from Raipur city and there is no frequent transport available to reach sector27. Buses available from raipur to Gate of Sector27 but not frequent . You need to have private vehicle to reach the place and move around conveniently but great place to stay if want to explore nayaraipur and nearby and want to stay and feel upcoming future city in its calm environment .
Tipo di stanza
Intera casa/apt
---
Tipo di sistemazione
---
Può ospitare
4
---
Camere da letto
2
Naya Raipur