Nice & cosy room in a house in the country side. Parking in front of the house; kitchen, bath, garden, etc. for shared use, seperate toilet. The room has a comfortable double bed in it and is heading east so in the morning the sun will wake you up... if it's not too cloudy.
Unkompliziert und freundlich
Michel
2017-03-13T00:00:00Z
Excelent hostess! All ok in your house. Good local to parking a car, breakfast very well.
Roberto
2015-04-02T00:00:00Z
Super nette Frau mit tollen Kindern !!
Mathias
2013-06-08T00:00:00Z
habe bei einer wunderbaren Gastgeberin in einem liebevoll eingerichteten Haus übernachtet. Morgens saßen wir dann gemütlich bei einem üppigen Frühstück im molligwarmen Esszimmer während draußen die Schneeflocken fielen und haben uns angeregt unterhalten. Wird mir als eine besondere Begegnung in Erinnerung bleiben. Vielen Dank für deine herzliche Gastfreundschaft! ulrike
Ulrike
2015-02-08T00:00:00Z
Barbara ist eine tolle Gastgeberin und es war sehr gemütlich bei ihr zu übernachten. Am Morgen gab es ein kleines Frühstück mit selbstgebackenen Zopf und Konfi auch selbst gemacht. Sehr gerne würde ich wieder kommen wenn ich eine Unterkunft suche.
Martina
2017-03-10T00:00:00Z
sehr sympathische Gastgeberin, kommunikativ und unkompliziert! Nur zu empfehlen
Sylvia
2017-04-05T00:00:00Z
Tipo di stanza
Stanza privata
---
Tipo di sistemazione
Casa
---
Può ospitare
1
---
Camere da letto
Dürrenäsch, Argovia, Svizzera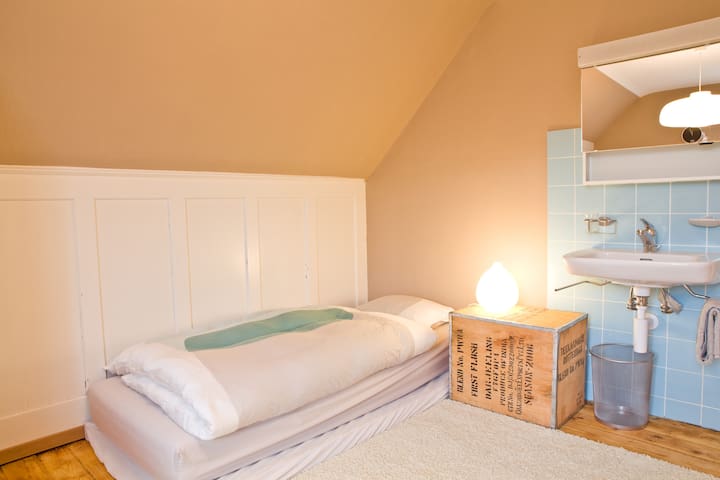 In unserem wunderschönen, mit viel Liebe zum Detail eingerichteten Einfamilienhaus werdet ihr euch von der ersten Minute an wohl fühlen. Ein grosser Garten wird euch dazu verzaubern und ihr könnt richtig entspannen und die Zeit geniessen.
Das traumhafte Einfamilienhaus liegt in einem sehr ruhigen und doch zentralen Stadtteil von Aarau. Von Aarau aus erreicht man sowohl mit dem Zug als auch mit dem Auto alle weiteren grösseren Städte im Mittelland innerhalb von einer halben Stunde! Die zentrale Lage und das mit viel Liebe zum Detail eingerichtete Einfamilienhaus lädt ein zum träumen, faulenzen, kochen, grillen, Fussball- Tischtennis- oder Badminton spielen, auf unserem großen Trampolin umherspringen und vieles mehr... 3 große Schlafzimmer mit insgesamt 8 Betten stehen euch zur Verfügung (evtl. auch für 10 Leute / Matratzen vorhanden). Ein Schlafzimmer ist in dem romantischen Dachstock eingerichtet und bietet viel Intimsphäre...
Sehr nette, tolerante Nachbarschaft in einem ruhigen und trotzdem lebendigen Quartier in unmittelbarer Zentru(SENSITIVE CONTENTS HIDDEN)ähe. Aarau ist eine kleine, lebhafte und pulsierende Stadt im Schweizer Mittelland. Viele interessante Museen, tolle Parks und eine abwechslungsreiche Natur werden euere Ferien unvergesslich machen! Neben den traditionellen Anlässen wie dem Maienzug, dem Bachfischet oder dem Rüeblibmärt finden diverse kulturelle Veranstaltungen und Sportevents, Musik- und Theaterfestivals statt.
Estive com minha familia na casa de Samuel, em Aarau.Lugar excelente, confortavel, recomendo. Além da beleza da pequena cidade em si, outros pontos de interesse são proximos,por trem,que sem dúvida é excelente meio de deslocamento, sendo útil e econômico o Swiss Pass.A casa tem todo o necessário e o anfitrião gentil.
Caetano
2015-07-18T00:00:00Z
Tipo di stanza
Intera casa/apt
---
Tipo di sistemazione
Casa
---
Può ospitare
8
---
Camere da letto
Aarau, Argovia, Svizzera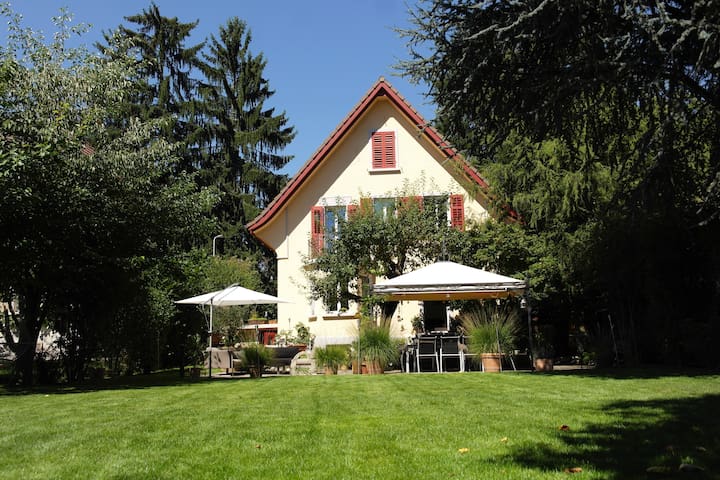 Aarau ist der ideale Ausgangspunkt für Besuche in Zürich, Luzern und Basel. Die Stadt selber besitzt eine hübsche Altstadt, verschiedene Bars, ein Theater, Kinos, Konzertlokale und gute Ausflugsmöglichkeiten der Aare entlang, in den Jura oder an den Hallwilersee. Gerne gebe ich dir dazu nähere Infos. Zu vermieten ist der Galerieraum im Dachgeschoss, der sehr hell und gross (ca. 18 m2) ist. Der Raum hat ein Bett (90x190 cm), einen Sessel, TV und W-LAN. Badezimmer, Wohnbereich und die Küche können in Absprache mitbenutzt werden. Ausserdem hat es einen kleinen Garten mit Grill und Liegestuhl im Sommer. Auf einen Besuch freuen sich mein rothaariger Kater Pepito und ich.
Die Aare ist gleich um die Ecke, es hat auch schöne Badestellen im Sommer. Das Wohnquartier ist ruhig, aber nahe zur Innenstadt.
Sehr angenehme Unterkunft und Gesellschaft. Gerne wieder.
OLIVER
2017-03-17T00:00:00Z
Great house, very nice decorated, very minimalistic, beautiful garden and nice location in a very quiet and lovely neibourhood. Everything is super clean.
Séverine
2014-10-26T00:00:00Z
Es war alles perfekt vorberereitet, Alan hat mich schon im Vorfeld kontaktiert und mir Informationen zukommen lassen, sehr schönes Zimmer, sehr grosszügig mit viel Platz
Ruedi
2015-07-13T00:00:00Z
Alan habe ich leider nur ganz kurz gesehen, aber er hat alles unternommen damit ich mich in seinem Haus willkommen fühle. Es gibt nur Gutes zu berichten. Die Lage ist an für sich optimal, da recht nah an der Altstadt (nur durch den Fluss getrennt) aber dennoch sehr ruhig ist. Leider werde ich wohl die Gastfreundschaft von Alan nicht mehr geniessen können, da aufgrund meiner Körpergrösse von fast 2,00m mir das Bett etwas zu klein war.. Schade eigentlich!
Lars
2015-11-08T00:00:00Z
EINFACH KLASSE! Alan hat sehr schnell auf die Buchungsanfrage reagiert. Die Kommunikation wie auch der Empfang war absolut freundlich u zuvorkommenend! Das Zimmer war wie das ganze Haus, sauber, hell u freundlich. Die Lage, nur wenige geh Minuten vom Zentrum entfernt super! Ich komme gern wieder - Danke!
Maik
2014-09-05T00:00:00Z
Alan ist ein sehr freundlicher Gastgeber. Das Zimmer geräumig und sauber mit einem bequemen Bett. Würde jederzeit wieder bei ihm übernachten.
tino
2014-06-14T00:00:00Z
Alan hat voll und ganz den Abmachungen ensprochen.
Urs
2015-09-07T00:00:00Z
Wie immer ein sehr angenehmer Aufenthalt! Vielen Dank!
Mirjam
2015-12-12T00:00:00Z
Tipo di stanza
Stanza privata
---
Tipo di sistemazione
Casa
---
Può ospitare
1
---
Camere da letto
Aarau, Argovia, Svizzera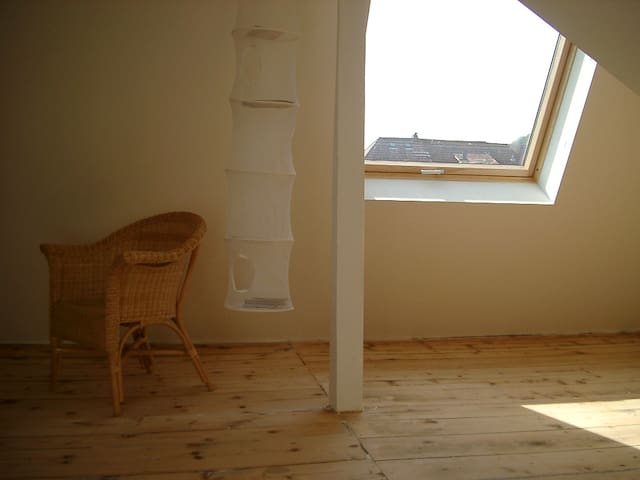 Ich liebe den Ausblick auf den Garten, die Ruhe, die Moeglichkeit fuer Spaziergaenge, den nahen laden und den Bus (3 Min vom Haus) zur Stadtmitte. Das Zimmer ist gemuetlich und geraeumig mit Bett, Tisch, Schrank, Kommode und Buechergestell.
Aarau ist ein hervorragender Ort, um in der Schweiz zu reisen. Zuerich, Basel und Bern sind mit dem Zug in ca einer halben Stunde zu erreichen. Viele Busverbindungen zu Ausflugszielen im nahen Jura sowie die naehe zum Fluss Aare sind ein weiterer Bonus.
Tipo di stanza
Stanza privata
---
Tipo di sistemazione
Casa
---
Può ospitare
1
---
Camere da letto
Aarau, Argovia, Svizzera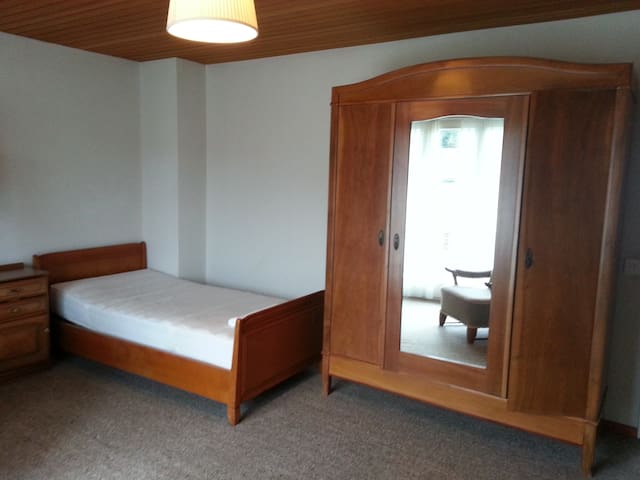 Kleines gemühtliches und ruhiges Zimmer im Kellergeschoss mit Fenster und Heizung. Geeignet für Reisende ohne grosse Ansprüche.
Incredible room and location, just 100 metres away from the bus that takes you to the train station. Roland is a really cool guest. Upon arrival we had good talk and understood each other. The room is really great, perfect if you are travelling, private and cozy. After that he even made home made jam, just great!
Roberto
2015-10-02T00:00:00Z
I couldn't meet the host at my arrive because he wasn't at home, and actually it was a bit difficult to have not a check in from anybody..I had not "life time" in the house cause I was all day long outside and I was going there only to sleep. The biggest problem I had in there it had been the cleaning, the bathroom was not clean, and that should be an essential condition.
Alvise
2016-01-18T00:00:00Z
Ich wurde von allen super freundlich empfangen, die Unterkunft war genau wie beschrieben. Ich fand sie sehr gut und für mich ausreichend. Küchennutzung und Bad Mitnutzung war auch ok. Alles war sehr unkompliziert und freundlich. Ich kann dieses Hostel nur empfehlen und werde sicherlich wieder kommen. Vielen Dank noch an alle WG Bewohner für die freundliche Aufnahme
Uwe
2016-03-10T00:00:00Z
Roland ist ein super unkoplizierter Gastgeber. Gerne wieder, vielen Dank. Sehr zufrieden. Preis / Leistung stimmt. Roland is a very easy Guestholder. I like to join him again, Im very very much statisfaitet. Price / Offer perfect.
Roman
2015-10-18T00:00:00Z
屋主人熱情大方,相處沒壓力。屋子位在一個離蘇黎世車程大約四、五十分鐘的地方,從蘇黎世去須搭火車再轉乘公車。不過瑞士大眾交通系統很發達,轉乘都很快速簡便,所以不排斥通勤去蘇黎世的人可以考慮。房間在地下室,不過有窗戶,採光不錯,看起來甚至比照片好一點。網路沒有非常快,但也算堪用。整體而言還蠻舒適,地點雖然遠離市區但不會有荒涼感。
翊軒
2015-11-10T00:00:00Z
Alles Bestens. Trotz kurzfristiger Buchung, hat mit der Schlüsselübergabe alles super geklappt. Vielen Dank noch mal! Auch sonst alles sehr gut! Roland war sehr hilfsbereit und ein überaus angenehmer Gastgeber und Gesprächspartner.
sirko
2015-11-20T00:00:00Z
Simple acoomodation, stricked rules. Good communication.
Miroslav
2015-10-26T00:00:00Z
War genau so wie beschrieben, sauber, gemütlich dem Preisleistungsverhältnis korrekt. Ich würde sofort wieder bei Roland buchen.
Doris
2015-12-21T00:00:00Z
Tipo di stanza
Stanza privata
---
Tipo di sistemazione
Casa
---
Può ospitare
1
---
Camere da letto
Gebenstorf, Argovia, Svizzera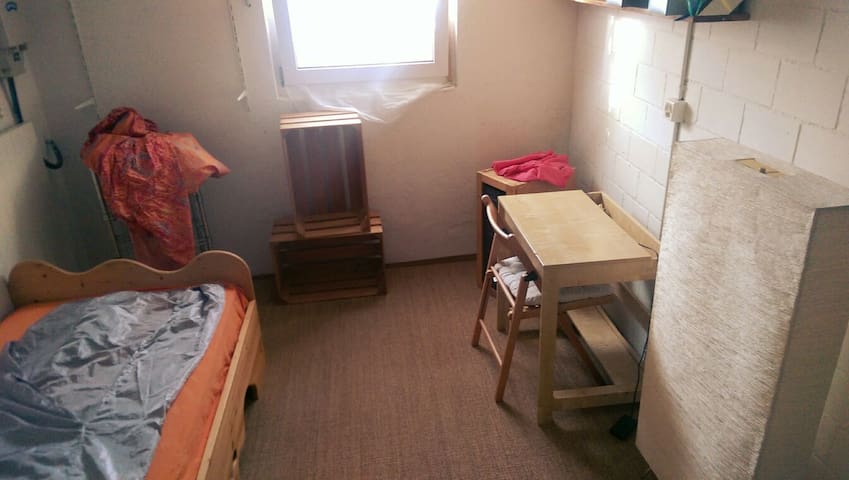 The room can be rented weekly monthly manner. We are a flat with 2-5 residents. WiFi, meeting room and Fitted kitchen are included. Garden, barbecue and table tennis table included
Uncomplicated WG in a family home near Baden, Zurich, Brugg, Basel. River Delta and beautiful recreational area in the immediate vicinity.
Quiet Einfamilienhausquatier with direct access to a recreational area.
Alles Reibungslos!
Bastian
2016-01-12T00:00:00Z
Tipo di stanza
Stanza privata
---
Tipo di sistemazione
Casa
---
Può ospitare
1
---
Camere da letto
Gebenstorf, Argovia, Svizzera
Herzlich willkommen in unserem frisch renoviertem kleinen Häuschen in Aarau Rohr. Wir bieten Gästen aus "Nah und Fern" fünf schöne Zimmer. Küche, Bad, WC, sowie Ess- und Wohnzimmer stehen zur gemeinsamen Benützung allen Gästen zur Verfügung. Zur Zeit entsteht auf der Nebenparzelle eine neue Überbauung. Dies kann während der Woche zu Lärmemissionen führen.
Alles war super, ausser die Dusche nicht so sauber
Simon
2016-10-22T00:00:00Z
Hallo zusammen, ich bin sehr zufrieden mit der Unterkunft. Die Schlüsselübergabe und alle Formalitäten haben super geklappt. Meine Gäste haben sich sehr wohl gefühlt, das freut mich total. Beim nächsten Besuch werde ich wieder auf airbnb zurückgreifen. Vielen Dank und bis bald
Fikret
2015-12-06T00:00:00Z
Der Kontakt mit dem Gastgeber war im voraus sehr nett. Mir wurden alle Fragen sofort und korrekt beantwortet. Die Unterkunft war wie beschrieben und alle Räume gemütlich und sehr sauber. Das Preis-Leistungs-Verhältnis ist super. Ich hätte mich gefreut, wenn ich auch den Gastgeber persönlich kennengelernt hätte.
Gabi
2015-11-22T00:00:00Z
Wie immer alles bestens!
Clemens
2017-03-17T00:00:00Z
Everything worked out as agreed, house very nice and clean, I felt like at home. I can recommend it to anybody visiting Aarau as the city center is within easy reach by public bus.
Karel
2016-10-16T00:00:00Z
*** Super Super Super ***
Oliver
2016-09-01T00:00:00Z
Guten Abend Michaël, Vielen Dank für Ihren Vertrauen. Alles war super, das Quartier sehr ruhig und das Haus luxus. Schade dass ich nur für eine Nacht da war. Aber sehr gerne wieder. Mfg Christiane Bonvin
Christiane
2015-11-15T00:00:00Z
Ich habe den Aufenthalt, sehr genossen! Alles war genau so wie beschrieben und sogar noch besser. Alles ist sehr sauber und toll organisiert. Komme gerne wieder.
Clemens
2017-01-20T00:00:00Z
Tipo di stanza
Stanza privata
---
Tipo di sistemazione
Casa
---
Può ospitare
1
---
Camere da letto
Aarau Rohr, Argovia, Svizzera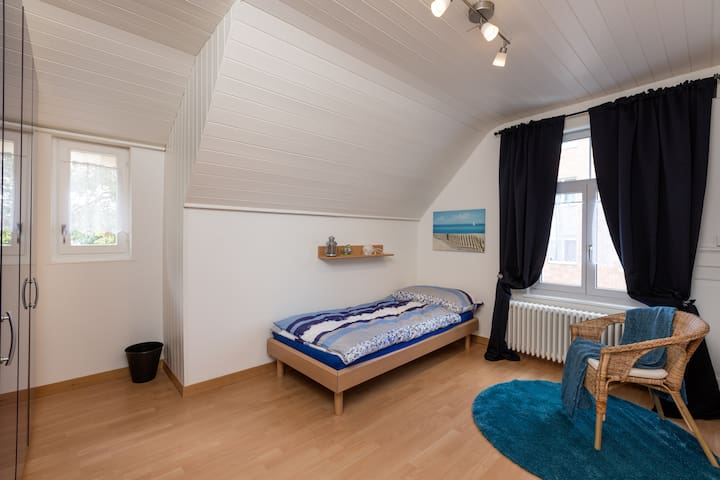 Luminoso, casa indipendente in una posizione tranquilla e sicura. I mezzi pubblici e il centro commerciale a pochi passi (12 minuti). Il collegamento con il trasporto pubblico è eccellente; in ogni direzione si avrà ogni 30 minuti un collegamento rapido e treni regionali ulteriori e autobus. Dalla casa, varie aree ricreative sono raggiungibili a piedi (fiume Aar in 6 minuti, la foresta in 12 minuti)
Camera (13m2) con letto matrimoniale (1,40 x 2,00 m), situato al primo piano. Si raggiunge il primo piano su una scala in-house. Bagno tra cui servizi igienici, lavandino e doccia, da condividere con il proprietario. Un ulteriore ospiti toilette è disponibile. Cucina, soggiorno, balcone e giardino in comune
casa con giardino, quartiere è tranquillo e di mentalità aperta
Alles war wunderbar! Danke!
Антон
2017-03-14T00:00:00Z
Really nice and comfortable place. Very friendly owner. Recommendable
Martin
2017-03-10T00:00:00Z
Wunderbar, Vielen Dank!
Антон
2017-02-24T00:00:00Z
Great place to stay, close to the old town. Phillip is a saint
Elias
2017-02-26T00:00:00Z
Philipp ist ein großartiger Gastgeber und hat uns gleich mal mit einem Abendessen begrüßt, war super hilfsbereit und hat sich sich um alles gekümmert. Wir haben uns sehr wohl gefühlt und kommen gerne wieder!
Lene
2017-02-17T00:00:00Z
Tipo di stanza
Stanza privata
---
Tipo di sistemazione
Casa
---
Può ospitare
2
---
Camere da letto
Brugg, Argovia, Svizzera
La casa è perfetta per Sommer grazie alla piscina! In inverno è un puro relax dopo lo sport invernali a causa della vasca idromassaggio, sauna e area fitness. Ci vuole 1,5h alle piste da sci e 30 minuti a Zurigo. La pista da sci di fondo più vicina si trova a 25 minuti di distanza.
Tre camere da letto sono al piano superiore. 2 camere da letto con un letto 180x200 cm e 1 camera con letto 140x200 cm. La quarta camera da letto con 2 letti (un divano letto 140x200 cm e 180x200 cm), si trova nel seminterrato. Siamo in grado di fornire una culla troppo. 8 adulti e 2 bambini sono autorizzati a rimanere (+ un bambino). I prezzi indicati sul Airbnb sono validi per 8 ospiti o meno. In caso di più di 8 persone, ogni ulteriore ospite paga CHF 45 .- / notte.
Molto, molto tranquilla e zona sicura. Nessun traffico! Perfetto per i bambini e gli animali domestici.
We spent 5 days in Leon's wonderful house in Aargau. The place was perfect for 4 couples, each having a private bedroom. The kitchen and bathrooms are fully equipped and the outdoor jacuzzi is great.
Bart
2016-12-29T00:00:00Z
Es war super! Einfach perfekt. Wir waren zwar alle kapputt, aber mit Freude in die Betten gefallen.
Venance Gwladys
2016-11-21T00:00:00Z
the house was very big and beautiful . They left us a manual on how to work everything in the house that was very useful for us. also they leave you full kitchen with everything you need to eat there thing that will save you money(the restaurans in Sweden are expensive). They have a jacuzzi a pool and sauna for use and the manual says how it works. Sweden is small so te area of the house is no far from anything. my family really enjoyed staying in this house leon thanks for everything.
Estefania
2015-06-21T00:00:00Z
We had a very nice stay in this outstanding and spacious villa. Everything worked to perfection and was easy to operate. The hosts were very pleasant and made us feel very welcome. The swimming pool and jacuzzi were great - top standard and the pool long enough to exercise by swimming. The area was very peaceful but still close to shops and supermarkets that could be reached by foot (via the path) in just 5-7 minutes.
Jesper Holm
2015-07-29T00:00:00Z
Our stay in Dottikon was just perfect.. The house was extremely comfortable with a wonderful pool and jacuzzi.. All equipment was in great condition.. The host was extremely helpful.. We couldn't have asked for more...
Aditi
2016-05-29T00:00:00Z
We are very happy with our stay in Dottikon. It was the perfect location for us close to our relatives and an easy drive to Luzern, Zurich and Appenzell. The house is huge and is in a quiet neighborhood. There is a very detailed manual for everything in the house and the owners left a Swiss parking disk that was very useful. Thank-you for having us !
Nathalie
2015-07-04T00:00:00Z
Anyone who has been to Leon's villa will want to go back. The place is clean and quiet. I met there with family and it felt like home. With temperatures over 35C, we couldn't resist the swimming pool. The neighbors were nice. Even when we asked to check out later than scheduled, Mr. Leon made it happen. Thanks. Robert Chonia.
Robert
2015-08-30T00:00:00Z
My family spent six wonderful days at this villa. There were six of us: my wife and I, our adult children (son, 24 and daughter, 30), our son-in-law and their daughter, 6. It was our first experience with Airbnb, and we were concerned, above all, about communicating with our host. But there was no problem at all. Predrag expeditiously responded to all our requests and questions, however minor or frivolous. No emergency service could hold a candle to Predrag in terms of speed and quality of response. We were extremely satisfied with every aspect of our stay. Every detail in the villa is thought-through done with love and care. Out only task was to relax and to enjoy - which we did with pleasure. I highly recommend this place to everyone who wants to spend a few days, a vacation, or a longer period in a nice and quiet environment and I will certainly come back there again. In short, it's a fantastic place. And believe me, I know what I am talking about because I spend more than 200 days per year traveling on business and staying at upscale hotels.
Alexey
2016-05-10T00:00:00Z
Tipo di stanza
Intera casa/apt
---
Tipo di sistemazione
Casa
---
Può ospitare
10
---
Camere da letto
Dottikon, Argovia, Svizzera
Cheap flat share in Villmergen with private toilet, near Hallwilersee, very quiet. Shopping and bus stop in 8 minutes on foot, good train service to Zurich 40min, 60 min Luzern, Aarau 25min. For A2: 9 km. Cute Family, uncomplicated
Quiet location in the countryside, 30km to Zurich-City, 70 km to Basel-City. Peace, mindfulness and appreciation is important to us in our Urbanization. For a small extra charge there is certainly a nice breakfast with us.
If you stand under the shower, you can write to a beautiful orchard with cows see.
L accoglienza di brigitta e stata fantastica molte attenzioni nei nostri confronti simpatica una bella persona ,la casa fantastica come il posto
massimo
2015-11-28T00:00:00Z
Alles bestens, eher weiche Matratze. Gutes Internet. Sehr nette Leute. Sehr zu empfehlen
Michael
2017-01-31T00:00:00Z
Gerd & biggi were the perfect hosts. We stayed up late watching the Euros listening to music and shared a wonderful breakfast. Dragi their almost adopted daughter is also friendly and charming.
Christian
2016-06-20T00:00:00Z
Very nice and polite hosts. Everything was good and the room is very confortable. I recomend
Thiago
2016-11-21T00:00:00Z
Gerd, Biggi und Dragi waren auch ein 2. Mal super tolle und herzliche Gastgeber. Wir haben uns sehr wohl gefühlt und wurden mit einem leckeren Essen empfangen. Die Gespräche und gemeinsame Zeit haben wir sehr genossen und können nur jedem empfehlen einmal Gast in der Villa Illnerbunt zu sein, der neben einem schönen Zimmer(mit gutem Preis Leistungsverhältnis) auch inspirierende Gespräche und Begegnungen sucht. Auf ein 3. Mal! Danke für alles. Dilara und Lukas
Dilara
2016-09-04T00:00:00Z
Der "vorläufige" Höhepunkt meiner Reisen mir Airbnb ... Ein tolle und herzliche Gastgeberin mit ebenso schönen Zimmer und sehr liebevoller und gepflegter Einrichtung. Hier gibt es nichts auszusetzen!
Mario
2016-08-26T00:00:00Z
Gerd' house is located in a beautiful country area just 30 min from zurich. the room is very large clean and confortable with a small private bath. Gerd is very kind and friendly, i strongly suggest this house.
andrea
2016-08-25T00:00:00Z
Très bien accueilli par Gerd dans ce logement très agréable et bien situé au calme . Je recommande vivement ce logement. Encore merci.
Eric
2016-07-14T00:00:00Z
Tipo di stanza
Stanza privata
---
Tipo di sistemazione
Casa
---
Può ospitare
1
---
Camere da letto
Villmergen, Argovia, Svizzera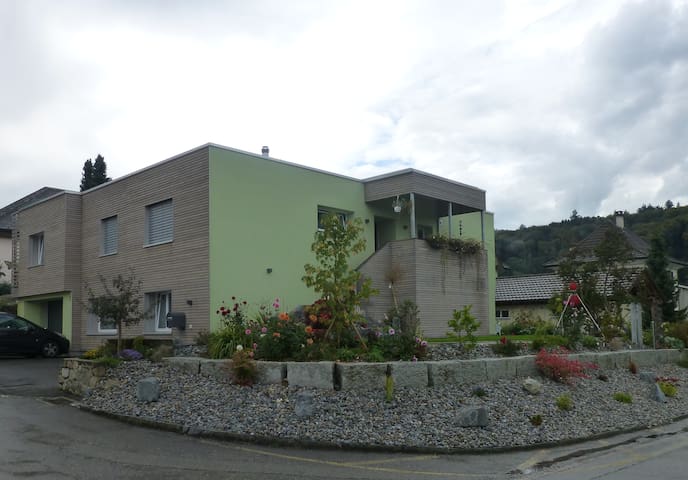 My place is close to public transport, the city centre of Baden, Zurich airport. You'll love my place because of the ambiance, the big terrace or the cosy fireplace.
It is hard to find such a motherly host. She was at the station with my name board. She brought us to her home and asked us to treat ourself as at home. The house is so nice until you wont feel like going out. She is very humble and helpful person. Never felt we were far from home. She also helped on the last day by sending us to the airport. Hope to see her soon. Her house is far from Zurich but it is a place must visit. Her house is in very strategic area where buses are stopping right in front of her house will connect to railway station. From there you can go to Zurich. We enjoyed a pleasurable stay. Thanks for making our honeymoon trip a memorable one!
Karthik
2016-12-24T00:00:00Z
Ich durfte eine Nacht in Renates schönen Heim verbringen und fühlte mich nach einem herzlichen Empfang sehr wohl, was bei nur einer Übernachtung nicht überall üblich ist. Danke Renate, ich komme wieder wenn ich darf.
Heinz
2016-11-09T00:00:00Z
The way we were welcomed and giuded through the property was very good and made our stay quite convenient. As we were travelling with two small kids and there were some toys as well for the kids to get engaged with it made us feel as if we are staying at our own place. Renate guided us about the locality and what can we expect in the surrounding neighbourhood like grocery shop etc. Overall we are very satified with our stay and can confidently recommend Renate's property to anyone.
Muhammad
2016-11-06T00:00:00Z
Wir waren viel zufrieden,Renate ist sehr nett.Ich ind meine Frau haben besser als zu Hause gefuehlt.Viel Dank Renate
Radek
2016-10-30T00:00:00Z
Renate's place is excellent! It is clean, spaceous and quiet. I strongly recommend it for those whom wish to stay in a calm and relaxing accommodation.
André
2017-01-11T00:00:00Z
We had an absolutely fantastic stay at Renate's. She is a wonderful host and her house is very welcoming. Sitting on a hill, the flat overlooks Swiss mountains and is located in a very peaceful area near Zurich. The room is bright and spacious and we had one of the most relaxing stays ever. I definitely recommend staying with Renate to experience Switzerland at its best.
Egle
2017-02-19T00:00:00Z
I have been twice already by Renate, the place if very nice and Renate very kind and helpful.
Hernan
2017-01-05T00:00:00Z
I've rented Renate's room for my parents and they were delighted. Renate is very friendly and welcoming. Lovely apartment and very clean. I would definitely recommend the apartment and Renate as a host!
Gabrielle
2017-01-29T00:00:00Z
Tipo di stanza
Stanza privata
---
Tipo di sistemazione
Casa
---
Può ospitare
2
---
Camere da letto
Oberrohrdorf, Argovia, Svizzera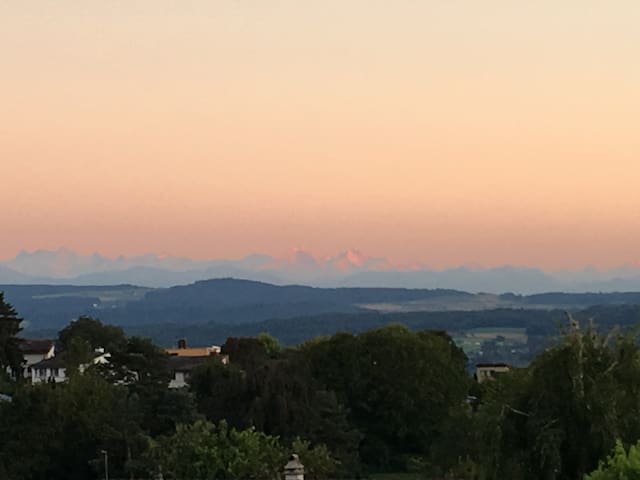 nice, quiet, cozy space. perfect for sleeping, or chilling out after a long tiring journey. wifi. wash basin. toilet. coffee area. kitchenette. no shower.
Tipo di stanza
Stanza privata
---
Tipo di sistemazione
Casa
---
Può ospitare
1
---
Camere da letto
Windisch, Argovia, Svizzera
Its a house in a quiet neighbourhood and close to the nature. Free Parking is available. 5min to Bus station. 10min to Baden. 20km to Zurich by car, aprox 30min to Zurich by public transportation. You may bring your pets... we have a small dog :)
Podemos proporcionar una cama de verdad para 1 persona en una habitación separada, o la cama-sofá para dos personas. La habitación con la cama del sofá está en la planta baja.
I could not think of a better place to stay in around Zurich. Peaceful, great surrounding, clean room, all equipped with anything you might need. Stay at Philip's place was wonderful. Though we could not meet but he was always available via mails to tell us anything we should know. We met his brother and also his mother, they were really friendly to us. His brother helped us with places that we can visit in our short time period of stay. We were even offered breakfast in the morning which was really sweet of them. We were also allowed to check in early and also check out late. Thank you so much for hosting us, and would definitely contact you accommodation for our next trip :) Highly recommended.
Divya
2016-09-14T00:00:00Z
Es war genau so, wie wir es uns gewünscht haben. Unkomplizierte Leute, sehr nett, schönes Zimmer, sauberes Bad. Alles Top! Danke nochmals und bis ein anderes mal.
Benjamin
2016-01-17T00:00:00Z
The house is located in a good area and Philipp also recommended visit Baden. It is a small and quite town but very beautiful to spend the morning and the visit Zurich for the whole day.
Gustavo
2016-10-04T00:00:00Z
We drove there and we liked the suburban neighbourhood and the house. It's very quiet, room is of good size overlooking a beautiful garden. The living room and kitchen are spacious and with classy modern fittings reflecting the high standard of Swiss people. Though we hadn't talked for long but we felt that Philippe was nice and friendly. We actually had more interesting chat with his brother at the breakfast table. Overall a very nice experience. A lot of privacy. We enjoy it very much. Thank you for hosting us Philippe.
Tianchun
2016-09-28T00:00:00Z
Philipp was the perfect host. I felt right at home in his lovely backyard eating my breakfast, to hanging out with his sweet dog Annie, to sampling his homemade beer.
Anna-Maria
2016-08-27T00:00:00Z
Everything was like visible on the pictures. Philipp was very nice and he prepared everything perfectly prior to my arrival. He even put a sheet into the room which showed the WIFI password, some places of interest close to his house (fuel station , MC Donalds, bakery etc.) and all what I can use in the house like e. g. fridge, washing machine, iron etc.. Also towels he gave me directly and a carafe filled with water waited for me with a glass in the room. The bathroom I used was reserved for me (there are more bathrooms in the house) so I did not have to wait until someone was finished there. The bed I had was quite big and there was also a wardrobe in the room where I could put my suits as well as shirts. Great was also to have a desk with an office chair in the room which enabled to more perfectly with my laptop. Even an adapter for the power supply waited in my room since he knew that I came from abroad. I forgot to mention that I parked my car directly in front of the house on their private parking space. Philipp and his family were very nice to me and I can highly recommend him and his family; they were very friendly and polite towards me. Thanks Philipp (also to your family) for making my first Airbnb experience so good.
Christoph
2015-10-28T00:00:00Z
Tipo di stanza
Stanza privata
---
Tipo di sistemazione
Casa
---
Può ospitare
2
---
Camere da letto
Fislisbach, Argovia, Svizzera
400m alla stazione degli autobus più vicina stazione di Wohlen (7 min.). Vi innamorerete di mia proprietà a causa del comfort, la vista e la posizione tranquilla. Il mio alloggio è un bene per le coppie, viaggiatori singoli e viaggiatori d'affari. Per una terza persona un'altra piccola camera è dotata di un letto singolo disponibile.
Schon der erste Email-Kontakt war sympatisch. Daniel hat das alte Bauernhaus fantstisch umgebaut - die Seele des Gebäudes ist erhalten geblieben, dabei waren viele der wichtigen Einrichtungen total modern. Die Zimmer waren geräumig und wohnlich eingerichtet. Obwohl, wie aus der Beschreibung bekannt war, kein Frühstück dabei war, liess mich Daniel am Morgen in der Küche einen Kaffee kochen. Er tat auch sonst alles, um unseren Aufenthalt angenehm zu gestalten. Mit dem WiFi klappte es auf Anhieb. Daniel erwies sich als überaus weitgereister und spannender Gesprächspartner. Das Preis-Leistungsverhältnis ist super!
Hans
2016-11-10T00:00:00Z
Unser Aufenthalt bei Daniel war tiptop! Das alte Bauernhaus wurde toll umgebaut und versprüht viel Charme. Daniel empfanden wir als angenehmen und interessanten Gastgeber. Gerne wieder! :-)
Béatrice
2016-09-04T00:00:00Z
Der Aufenthalt bei Daniel war sehr unkompliziert. Das Haus, das Zimmer, Garten und Umgebung sind wirklich toll. Ich durfte für die Zeit meines Aufenthaltes Daniels Fahrrad ausleihen, das war super gemütlich. Vielen Dank :) Liebe Grüße Johanna
Johanna
2016-09-24T00:00:00Z
Daniel is an amazing host. Nothing can describle how i was happy to stay there... like my sweet home. We had a very good time than ever. Thank you Daniel and wish you the best..
DIEU LINH
2016-09-17T00:00:00Z
Sehr stilvoll renoviertes Haus mit grosszügigen Platzverhältnissen. Ich würde jederzeit wieder bei Daniel übernachten.
Benedikt
2017-02-23T00:00:00Z
Fue una gran experiencia, Daniel es un muy buen anfitrión, la casa está bien ubicada y es comoda, el barrio es muy tranquilo
German
2016-12-17T00:00:00Z
A good place where to be! I enjoyed to be there, even if it was a business trip and I was back home only for sleeping. I enjoyed Daniel company and the long chats we had about life and the world. The house is wonderful, and it's a quiet place to relax and disconnect from everything. Thanks Daniel for the good stay!
Marco
2017-01-09T00:00:00Z
Tipo di stanza
Stanza privata
---
Tipo di sistemazione
Casa
---
Può ospitare
3
---
Camere da letto
Villmergen, Argovia, Svizzera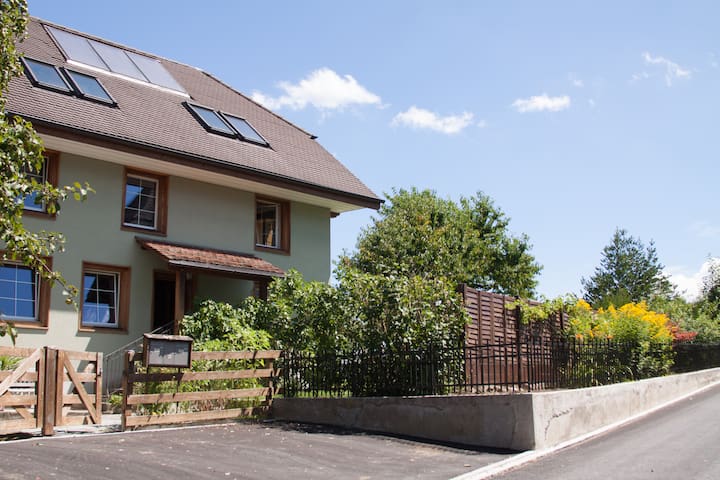 Large family home with a big fenced garden. Quiet location in a small village, half an hour from the heart of Zurich by car or train. Big reception area. The house sleeps 10 people. 1 master bedroom and 4 double bedrooms. 2 baths and 1 guest toilet.
Experience the way of life in a large family home in the countryside near Zurich. Land is very scarce and large homes with spacious gardens are hard to come by.
The house has good vibes and is very quiet. You will sleep very well there. From the masterbedroom you can step out into the garden. It is located in a small village, easily accessed by car and commuter rail. The local supermarket is only 2 minutes walking distance away. Nature lovers will discover lovely walks in the nearby forest. From spring to fall you can enjoy our boat on Lake Hallwil, 21 km away. That's always a major highlight for all the kids of my friends and family. For more information please have a look at the guidebook. Thank you!
Diese Unterkunft war mit Abstand die Beste, in der wir je waren. Sie war sauber, grosszügig und super eingerichtet. Die Kommunikation lief reibungslos. Das Beste war jedoch Jakob, der uns das Gefühl gab, herzlich wilkommen zu sein. Wir empfehlen diese Unterkunft jedem weiter, der eine schöne Zeit bei einem warmherzigen und grosszügigen Vermieter verbringen möchte.
Deborah
2015-02-14T00:00:00Z
Jakob was very helpful, he had help to settled us in upon arrival despite his busy schedule, very lovely and nice place with lot of rooms to move about. Great for families and friends to gather. Children loved the backyard where they can play freely. Fully equipped house, kitchen was large, beds were comfy and bathrooms were sparkly clean. The place looks better than the picture shown. Will definitely stay in Jakob place if we've the opportunity to visit Zurich again.
Yeo
2015-06-20T00:00:00Z
Jakob´s house is the perfect place to stay if you are planning a trip to Switzerland. Me and my family stayed there for a whole week and had an amazing time. The house is spacious, comfortable, rooms are big, beds are great, the kitchen is fully equipped and if you travel with kids, as we did, they will have lots of places to play inside of the house or outside in its great garden. The location of the house is also really good since it is in an small and very quiet town. Supermarket is just 2 minutes walking, if you want a bigger supermarket you can find one in a short trip by car. There are also a few restaurants, parks, lakes, castles.... And Jakob, the host. It was my first Airbnb experience as a guest and I think it will be difficult to find, in the future, a better host than him. From the first message I sent him he was absolutely kind, gave us a lot of information about the house, the town, sightseeing... He even helped us to find better flights from Spain. At our arrival, he gave bread, cheese, jam... to us, showed the house, made a little tour by car through the village... It was a great experience we would love to repeat in the future.
Fede
2015-06-28T00:00:00Z
What a wonderful home! Jakob was such an amazing host! Our family had such a wonderful Christmas in Othmarsingen. The place was even better then imagined. Plenty of supplies and room for a huge family. We felt as if it was our home! Hoodie our toy poodle had a blast with the big yard and was greeted with many treats from Jakob. Thank you Jakob for a wonderful and very memorable stay!
Cristy
2016-12-29T00:00:00Z
I cannot say more about one of the great persons I have seen in my entire life. This is the truth. Regarding the house it was worming, charming and full of memories for a great successful person with his family. As a group of a family we loved the idea of keeping everything that reminded Jakob and his family about their family's house. In addition, the back yard and the balcony were fabulous as well as the neighborhood it is calm with lovely people. Finally, it was an honor to meet such a person like Jakob and the house will be our direct distention in Switzerland.
Abbas
2014-08-12T00:00:00Z
Our entire experience with Jakob was wonderful! He was so attentive and considerate of our needs, providing us with all we needed and more! His gorgeous home is spacious and serene and is perfect for large groups, we all felt very comfortable in our home away from home. The village is quaint and offers basic amenities, which is lovely for an authentic Swiss experience. It's also conveniently located, close to sights and cities. Unfortunately, we did not get to meet Jakob but he made sure that we were warmly welcomed and all of our interactions were nothing but kind and genuine. We'd highly recommend Jakob and his lovely home to anyone looking for a convenient and authentic lodging in Switzerland!
New
2014-10-07T00:00:00Z
We are a group of 11 friends who stayed at Jakob's place. The house is huge, homely, clean and comfortable. Everything was ready when we got there - a nice welcome of 2 bottles of wine!!! :) The place is quiet, clean and the right warm temperature of the rooms. The kitchen is modern and has everything you need to cook your meals. The rooms are spotless and well prepared. The showers have good pressure and again, very clean toilets. I guess what we really enjoyed are the nights we spent in the fireplace. Just with music, conversations about anything and everything, with the fire on, until we all feel sleepy. We can say we made memories here as friends that we will never forget. Jakob has been a fantastic host, he was always readily available to answer our queries. One very pleasant and intelligent man. He even very kindly drove us to the train station so we wouldn't miss our train! We thoroughly recommend his place. Superb experience. Thanks again Jakob!!!! And we wish you all the best in life
Erwin
2016-11-07T00:00:00Z
Die Unterkunft war sehr gemütlich. Die Kommunikation war besonders angenehm. Jakob hat stets sofort geantwortet, war immer erreichbar und sehr unkompliziert. Die Unterkunft eignet sich besonders für Familien und Gruppen, da das Haus sehr geräumig ist. Würde jederzeit wieder bei Jakob anfragen. Nichts zu beanstanden.
Franziska Sonder
2016-11-19T00:00:00Z
Tipo di stanza
Intera casa/apt
---
Tipo di sistemazione
Casa
---
Può ospitare
10
---
Camere da letto
Othmarsingen, Argovia, Svizzera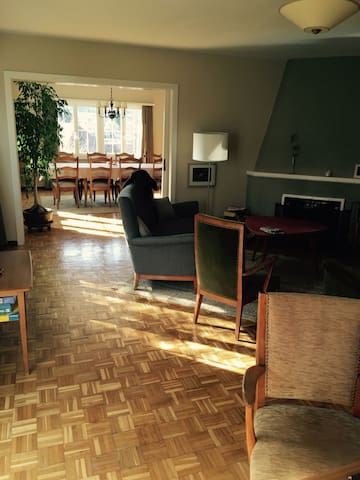 Light flooded room on top floor with a huge terrace. Own bath room. Good connections to Zürich and Baden.
Spacious, modern, bright, 3 levels, private level for guests on top floor, private toilette and bathroom
Quiet location close to Zürich and Baden. Relaxing terrace with a view to mountains and Jura valleys. Great mountainbiking and hiking trails nearby. Mountainbike at your disposal on request. Beautyful meandering river with many small islands close to home.
Beat wohnt in einem wundervollen Appartment auf 3 Ebenen, die oberste Ebene, das Penthouse, habe ich als Gast für mich zur Verfügung gehabt, in der mittleren Ebene ist Küche und Wohn- Esszimmer zur Mitbenutzung, die untere Ebene bewohnt Beat. Das Appartment ist geschmackvoll eingerichtet, alles blitzblank, Dusche und WC hatte ich für mich allein. Beat ist ein sympathischer und interessanter Gesprächspartner, wir hatten etliche Themen über die wir uns austauschen konnten. An einem Abend hat Beat gekocht weil er Besuch erwartete und mich spontan zum Essen eingeladen, ich empfand das sehr angenehm. Ich habe mich bei Beat sehr wohl gefühlt und gleich den nächsten Termin gebucht.
Peter
2016-04-29T00:00:00Z
Beat ist ein super Gastgeber und man fühlt sich sofort sehr wohl. Die Wohnung ist ein Traum und das Zimmer ist wie beschrieben wunderbar. Die Aussicht ist unbezahlbar und die Terrasse lädt zum verweilen ein. Immer wieder gerne!
Gregor
2016-08-11T00:00:00Z
Beat is a great host and the place is just as described and more! The places looks better in person, it's supper clean and aesthetically appealing. Beat met us in the train station to provide directions to his place and have us keys to get in. Location is in a very nice quiet neighborhood near bus stop. He has water and cups for the both of us along with the welcome note pad. That was a nice touch. He also provided clean towels in the bathroom which was fantastic. Since the next day was Sunday, most of everything was closed and he offered us toast/cheese/cereals/etc from his kitchen. Later we had some tea together and he helped us recommending some places to hit in Zurich. Later that night, we came back to the place early to pack and had about 2 hours conversations about our travels and work. I love the balcony and the whole upstairs to ourselves. Even though short, I had a lovely time and Beat was a great host!
Hongvan
2016-06-14T00:00:00Z
Beat was everything a host needs to be. He was friendly and accommodating and his flat was lovely. I enjoyed my stay there and took benefit of his recommendations about where to go during my trip to Switzerland.
mehdi
2016-08-16T00:00:00Z
Our stay at Beat was simply great. The apartment is fantastic, very nice decorated with a contemporary look, warm and very clean. Our room had a gorgeous terrace where we spent the evenings enjoying the nice surroundings. On top of all these, Beat proved to be the best airbnb host we had so far, he is a social and friendly person, helped us a lot with our "Swiss research" and even gave us a lift to the airport as outside was raining cats and dogs. Merci vilmal, Beat!
Alecsandra
2016-06-09T00:00:00Z
It was a great stay! Beat was very caring from the very beginning to the very end. Prior to the arrival I even received the series of pictures of every turn I would have to make on the way to his place (which I eventually did not need cause Beat met me on the station!). He shared his cheeses and wine with me, we had some nice conversations, he even took me out once and on my last day he prepared a wonderful raclette lunch! The room is exactly like on the pictures, very clean and the whole house is stylishly decorated. You have to be aware that there is no actual door between the room and the living room/kitchen downstairs, so everything happening there is very well heard upstairs. There is, however, not much happening there, since Beat was always really quiet :) In fact, most of the time I had the whole living room to myself as well. The shower is also one floor below, and the toilet with the sink you have on both floors, just for yourself (very luxurious:) Overall, I had a great stay and would highly recommend this penthouse!
Anna
2016-06-06T00:00:00Z
Beat ist ein perfekter Gastgeber, in seinem Appartment wohnt es sich sehr angenehm, ich habe mich sehr wohlgefühlt. Werde bestimmt wieder kommen!
Peter
2016-05-05T00:00:00Z
Hi we stayed to Beat house 2 days Beat was very hospital we spend sone hours talking he gave some suggestions about visiting zurich The house was very clean good location quite Definitely i could stay there again
Daniela
2016-11-03T00:00:00Z
Tipo di stanza
Stanza privata
---
Tipo di sistemazione
Casa
---
Può ospitare
2
---
Camere da letto
Niederrohrdorf, Aktiengesellschaft, Svizzera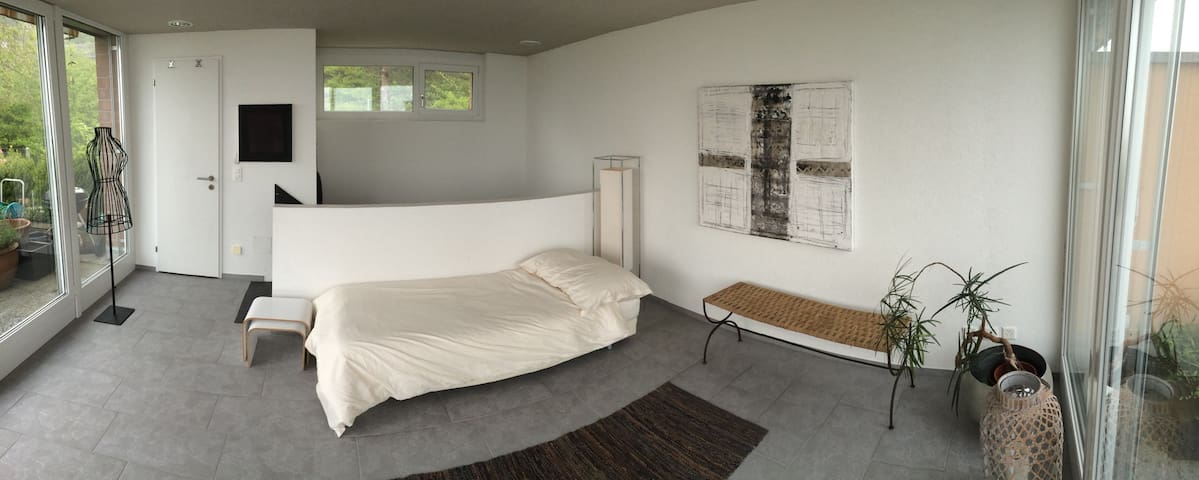 Herzlich willkommen in unserem frisch renoviertem kleinen Häuschen in Aarau Rohr. Wir bieten Gästen aus "Nah und Fern" fünf schöne Zimmer. Küche, Bad, WC, sowie Ess- und Wohnzimmer stehen zur gemeinsamen Benützung allen Gästen zur Verfügung. Zur Zeit entsteht auf der Nebenparzelle eine neue Überbauung. Dies kann während der Woche zu Lärmemissionen führen.
Michael was the perfect host. As I was the first guest in the house there was a couple of things to arrange. During my stay Michael was very helpful and always tried to help me with anything i needed! I have decided to prolong my stay. Thanks Michael.
Martin
2015-11-12T00:00:00Z
I have stayed at Michael's for a couple of months already. Michael is a wonderful host and always makes sure you feel comfortable and have everything you need. I can highly recommend the place for stay.
Martin
2016-02-12T00:00:00Z
Tipo di stanza
Stanza privata
---
Tipo di sistemazione
Casa
---
Può ospitare
1
---
Camere da letto
Aarau Rohr, Argovia, Svizzera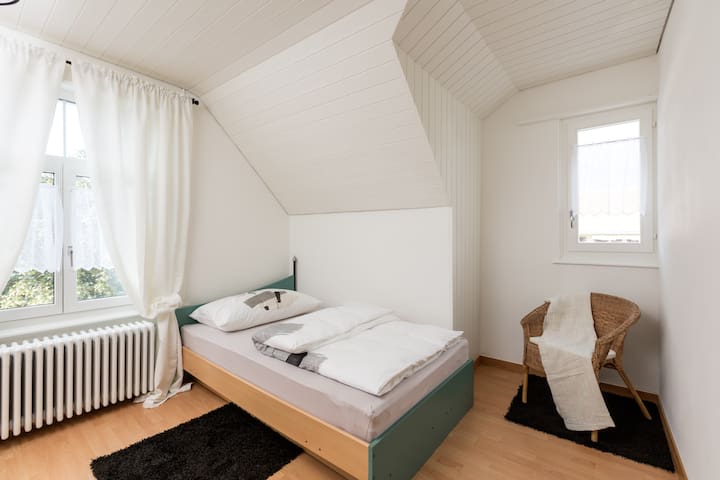 La sala al 1 ° piano. Il bagno è previsto per l'ospite ad uso esclusivo disponibili. Se lo si desidera, viene servita la prima colazione. La cucina deve essere condivisa. Parcheggio gratuito, 2min alla fermata Heigelweg.
Ein sehr herzlicher Empfang, interessante Diskussionen, sowie ein wunderbares Zimmer und Bad. Die Umgebung ist ruhig, ideal zum Ausspannen. Absolut perfekt und empfehlenswert. Besten Dank.
Bernhard
2015-12-14T00:00:00Z
I've spend a fantastic 11 days in Rosanna's house. She is a lovely and enthusiastic lady, and she's made every detail of the house interesting and convenient. For example, there is always the best beer and tasty ice cream in the fridge and freezer. Btw, you will also have access to all utilities in their house. They also have the best dog, Laikka, and I reaaly enjoyed playing with her during my spare time. Of course if you are not found of animal accompany, Madam Rosanna is willing to avoid Laikka from your staying. Furthermore, the house is within walking distance of 5 minute to the bus station, and also not far from the river Ruess. Rosanna女士家是个很不错的选择,离公交站很近,只有五分钟,而且离河边的人行小道也不远,她本人也很友好和热情,家里的设施也会让你的生活非常舒适,他们也对中国文化蛮感兴趣,不过你最好会讲英语和德语哈,虽然她儿子有学习中文的打算。:)
Daxin
2015-08-02T00:00:00Z
Rosanna ist eine wundervolle Gastgeberin. Mit Ihrem südländischen Temperament machte Sie den Aufenthalt zu einem Erlebnis. Ich habe mich bei ihr sehr wohlgefühlt. Das grosse Schlafzimmer zum Garten hat Rollos, so dass die zu der Zeit grosse Hitze tagsüber draussen blieb. Das luxuriöse Badezimmer, die Konversation beim Frühstück, gemeinsames Pizza-Essen und Grillen, das Urlaubserlebnis war komplett.
Peter
2015-07-03T00:00:00Z
Rosanna ist eine wundervolle Gastgeberin, ich übernachte regelmässig bei Ihr und Ihrem Sohn Nicola, fühle mich dort sehr wohl. Ich habe ein sehr schönes Zimmer mit Balkon und ein Bad zur Alleinbenutzung. Beim Frühstück oder manchmal auch beim Abendbrot sitzen wir zusammen und führen interessante Gespräche, sodass ich mein Zuhause nicht so sehr vermisse. Vielen Dank!
Peter
2016-05-26T00:00:00Z
Tipo di stanza
Stanza privata
---
Tipo di sistemazione
Casa
---
Può ospitare
2
---
Camere da letto
Birmenstorf, Argovia, Svizzera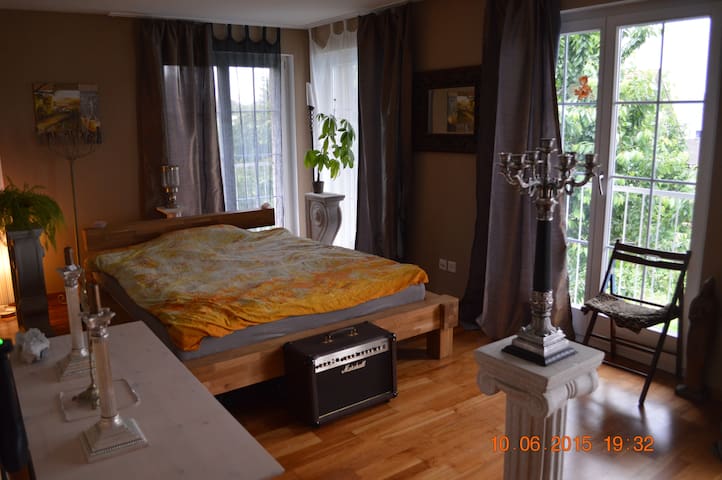 Lenzburg - Airbnb
:
Media di

4.75

stelle su

5

da

287

recensioni degli ospiti