Hexagon cabin with views of Yosemite, sleeping loft, cook top, small gas fridge, cooler, sink, two tables. Outdoor seating area with fire pan. Also the best outdoor shower and composting privy close by, and shared outdoor kitchen. Some of the best views and sunrise on the property. Bedding and towels are an extra fee.
Tucked into the edge of the ridge with the sunrise view, this hand built rustic cabin made with wood milled on the land. Park and pass through the the garden and orchard to this simple small cabin with sleeping loft. Large windows face the sunrise view to the south east. some of the best views on the land. surrounded by public land and at the end of the road gives you the peace of nature & privacy.
Mariuolumne is a homestead getting started with unique tiny structures that are built by our artist in residency program.
Our host Francis was amazing and very knowledgable of the area. It was a pleasure to meet him and an even greater pleasure to explore some of Yosemite park with him. The accomodations were comfortable and the view from the Sunrise Studio was incredible. We hope to return in the spring to take in the different seasons at Yosemite and to catch up with our great host.
Markus
2016-09-07T00:00:00Z
The studio was a stunning, comfortable and convenient base for exploring Yosemite. We enjoyed the novelty of having a shower by sunset, and it was great to be able to cook our own food in the well equipped kitchen too. Only regret is that we couldn't stay longer - but that's for next time!
Eve
2016-08-31T00:00:00Z
Un endroit magnifique en pleine nature au sommet d'une colline avec une vue superbe, la douche ****. Le lieu est rustique (toilettes sèches, très propres ), le studio est très bien fait et cosy. Le réfrigérateur du studio était en panne mais Francis nous a dépanné avec celui de la cuisine et tout s'est bien passé. Francis est très sympathique et connaisseur de la région, il nous a donné plein de bons conseils pour visiter le parc du Yosémite en évitant la trop grande foule. Francis est aussi ouvert aux échanges et nous avons pu partager d'excellents moments en sa compagnie.
Marc
2016-09-12T00:00:00Z
Highly recommend! Mariuolumne Sunrise Studio is the perfect stay for a small group looking for a whimsical experience with nature (without fully camping). The studio is beautifully designed, built and kept. Waking up to the sunrise overlooking the valley was true magic. Francis was quick to respond to our questions regarding our stay. He graciously welcomed us quickly upon arriving. His generous accommodations to welcome us were so appreciated. Francis recommended hiking and local events that we so enjoyed. We spent three nights of our honeymoon at Sunrise Studio and wished we had spent the entire trip there. A peaceful, calm, intimate retreat we are so grateful to have experienced.
Ar
2016-07-26T00:00:00Z
Fantastic micro cabin on the hillside about an hour from Yosemite. The cabin is small but was more than adequate for our needs. The views were amazing and we were out of the way of Yosemite crowds. Highly recommend this place for anyone who likes the outdoors and doesn't need fancy accommodation.
Alana
2016-09-21T00:00:00Z
Mariuolumne was the peaceful rustic retreat my husband and I needed for a few days. Francis is a great host and offers some really good advice on hikes around Yosemite. He also graciously lent is his air compressor when we woke up to a flat tire! The outdoor shower was the true highlight of the trip!
Leslie
2016-09-30T00:00:00Z
We could not have loved the studio more. Were left to our privacy in the most beautiful setting. It was a magical and intimate start to our babymoon! The outdoor shower was such a treat.
Riah
2016-07-23T00:00:00Z
We had a great time at sunrise studio. Francis was very welcoming and showed us around when we arrived. The space was bigger than I pictured in my mind and had everything we needed including and incredible view! It was the perfect stay for our weekend at Yosemite!!
Karissa
2016-06-04T00:00:00Z
Tipo di stanza
Intera casa/apt
---
Tipo di sistemazione
Chalet
---
Può ospitare
2
---
Camere da letto
Groveland, California, Stati Uniti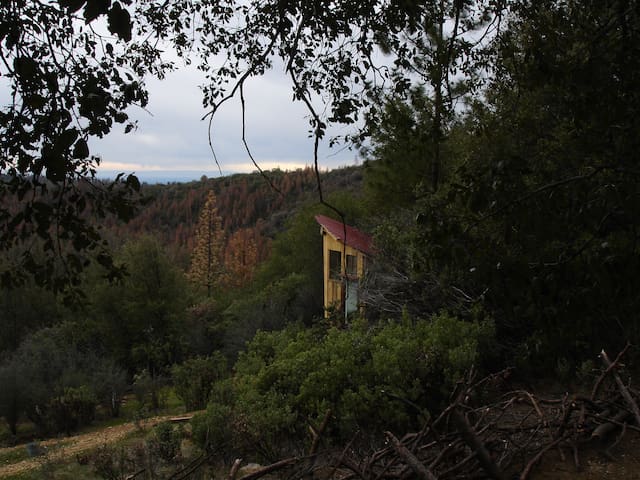 This ten acre ranch is at the end of a private road. Inside our barn is a beautiful, fully furnished bungalow. Sit outside and enjoy the views of Duckwall Mt., oak trees and horses. Two miles to Groveland and 30 minutes to Yosemite National Park
The Haybale Bungalow occupies half of our barn and includes a well equipped kitchen, a queen size bed and relaxing leather chairs to curl up with a good book or watch a movie. Enjoy the Sierra view while dining on the outdoor patio table. A gas BBQ is provided.
The Deer Flat Ranch is next to a 160 acre horse ranch on one side and smaller ranches on the other borders. There are commanding views of Duckwall Mountain and heritage oaks. Deer Creek Rd. is a one-half mile private road and a lovely morning walk .
Ellie and Patricia were wonderful hosts! Their bungalow was so cozy, clean, and had everything you could ever need. The property is beautiful and the horses were so much fun to feed in the morning! Don't forget to catch the stars at night- they were incredible!
Adriana
2016-10-09T00:00:00Z
Ellie & Patricia's gorgeous country ranch & barn cottage is absolutely gorgeous surrounded by incredible views. They were incredibly welcoming and provided great suggestions to the local area. Unfortunately, our visit got cut short because we had to meet some friends in near by Yosemite National park!
Craig
2016-08-05T00:00:00Z
Our stay at the haybale bungalow was a perfect start to our honeymoon! This was our first time using air bnb and it far exceeded our expectations. Ellie was quick to respond to our last minute booking and greeted us as we pulled into their property. The bungalow was just as pictured, cute and serene. This was the cleanest place out of any hotel I have ever stayed in. Which is a huge deal for me! The place was stocked with everything and anything you could want or need. The fresh sourdough bread, fresh apples, organic milk and dark chocolate hit the spot. Cody and Emmett were a pleasure to have as neighbors and greeted us in the morning. Ellie and Patricia's Haybale Bungalow is a little slice of paradise in beautiful Groveland.
Ali
2016-10-05T00:00:00Z
Ellie and Patricia are the most awesome hosts and make you feel at home from the start. The property is even better than the photos make out and you also have amazing views to wake up to, along with two horses to make friends with! Location is ideal for anyone planning a trip to Yosemite. Would definitely stay here again :)
Charlotte
2016-05-14T00:00:00Z
Everything was very well appointed, EXTREMELY neat, tidy, clean and comfortable. Our hosts could not do enough to help. It was a great base for exploring Yosemite, and returning in the evenings for BBQ and romantic evenings. We had plenty of privacy, our neighbours being the horses. We could not recommend this B and B more highly. Thank you
James
2016-07-28T00:00:00Z
Dear Patricia and Ellie, we loved our stay in your cozy apartment! This was by far the most beautiful accomodation on our trip :) Everything was more than perfect! A great compliment for your taste in furnishing. Providing netflix was another highlight :) Having those adorable four-legged neighbours makes the stay unique and memorable. Thank you again for this great stay!
Vanessa
2016-09-30T00:00:00Z
Beautiful location within easy driving distance of Yosemite. The bungalow was cosy and comfortable with everything we needed to cook full meals for our selves. We loved seeing and feeding the horses, they made great neighbours! Ellie and Patricia could not have been better hosts, very friendly, thoughtful and helpful! We would certainly recommend Ellie and Patricia's place to anyone looking for a relaxing environment, and we hope to return ourselves one day, too :)
Brooke
2017-02-21T00:00:00Z
We loved our stay! The haybale bungalow was even better then what we expected. Ellie and Patricia really do know how to make you feel right at home! They went out of their way to provide delicious sourdough bread, milk, hot and cold cereals, etc. We really appreciate the hospitality and hope to see them soon! I would definitely recommend this place to anyone :)
Nazia
2016-12-11T00:00:00Z
Tipo di stanza
Intera casa/apt
---
Tipo di sistemazione
Bungalow
---
Può ospitare
2
---
Camere da letto
Groveland, California, Stati Uniti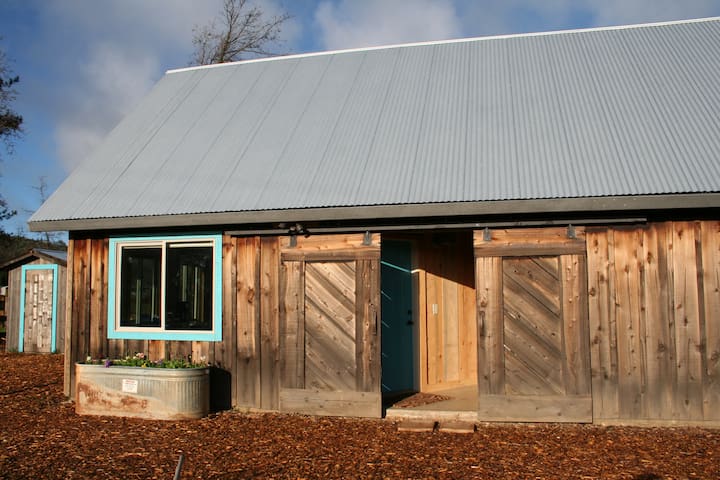 Price quoted is for 2 persons, $12 extra per person rents the entire LOWER LEVEL, over 1,000 sq ft for your own use, plus a private patio. 6 persons max. 30 min from the North Gate to Yosemite. 2 Queen bedrooms, bunk bedroom, futon in living room, hot tub. Gated community: lake, pool, golf course. Full kitchen for guests. We do not rent to multiple parties. You and your group have the space to yourself. Plus $27 entrance fee PER CAR, good for 7 days, into our gated community
Full Guest Kitchen. Cooktop, microwave, refrigerator, coffee bar, toaster oven. There is a BBQ available on the patio. We don't have cable TV, but do have a TV for DVDs and Videos from our collection in the living room. Separate outside entrance and lighted pathway to your car. Great view of the mountains. Covered patio with table, chairs and recliners next to a great hot tub. We do have a small, sweet dog named Pearl who lives upstairs. Wireless internet available. Club house for children and a nice toy area. Small dogs are allowed, but not allowed on the beds. Everyone remarks how quiet it is here.
Private, gated community, 3200 ft. elevation, surrounded by trees, cool in the summer, mild in the winter. 30 min drive to the North Gate of Yosemite National Park + 45 min travel to Yosemite Valley. Grocery store 10 min. away. Closest restaurant is 2 min. away called "The Grill". Several others 12 min. away.
We spent a great time at Mary &John's house. The house is nice in a very quiet neighborhood and rather close to Yosemite, it has all comfort necessary. Breakfast are good (we enjoyed your croissants!), and last but not least John and Mary are very nice &welcoming persons, they made us feel home and gave very good tips to get the best out of our days in Yosemite. Thanks for the tme spent with you! P, J, S AND C
Sophie
2015-08-07T00:00:00Z
It has been simply excellent. John contacted us before the stay to help us and to give good advices. We have been warmly welcome by John and Mary. The house was nice and furnished as described.
JEAN-JACQUES
2016-07-15T00:00:00Z
John and Mary were wonderful hosts! We got in late and they were waiting in the driveway to welcome us! Their home was lovely and exactly as described. The beds are big and cozy. The outdoor space is beautiful and the hot tub was a great treat. John and Mary brought us warm croissants in the morning and there was fruit and coffee for us also. It was a perfect little getaway in the mountains and we loved staying with them!
Elyse
2016-05-04T00:00:00Z
John and Mary weren't here but Michelle, their friend, made us feel right home. The place was exactly as described and beds very comfortable. We didn't get a chance to explore much Groveland as we mostly spent our time in Yosemite park but the area seems nice with a big lake and a Western style town.
Delphine
2015-09-12T00:00:00Z
This is hands down one of the best experiences I have ever had on airbnb. I'll only mention a few things I care the most, all of which were top here. The beds. Very comfortable. With the natural sounds outside the window in the mountain, we had good sleeps. The coffee. A high profile k cup machine with many good k cup options. The consideration of the host and hostess. Clear instruction in the welcome letter, and fast responses.
Changning
2016-05-18T00:00:00Z
John and Mary were just awesome. They guided us through getting in to the area, and gave us great tips for what to see at Yosemite nearby. We had a lot of things we had close to our hearts. I wish we could have visited longer.
Paul
2016-08-02T00:00:00Z
What a terrific weekend! John was in contact with me through email several times prior to our visit to be sure we had detailed driving directions and clear expectations for our adventure. The living accommodations were ideal for my group of four, offering privacy and comfort. We lit a fire in the wood stove to tame the chill in the air at night. We really enjoyed the hot tub just outside the back door of the bedroom too. My group was pleased by the close proximity to Yosemite. Hiking in the park was the focus of our trip. Thank you for a relaxing weekend. You made us feel right at home.
Marvin
2015-11-16T00:00:00Z
Clear directions and easy check in process. Plenty of beds and very warm. Host was accomodating and let us use the upstairs kitchen.
Erica
2016-04-24T00:00:00Z
Tipo di stanza
Intera casa/apt
---
Tipo di sistemazione
Casa
---
Può ospitare
6
---
Camere da letto
Groveland, California, Stati Uniti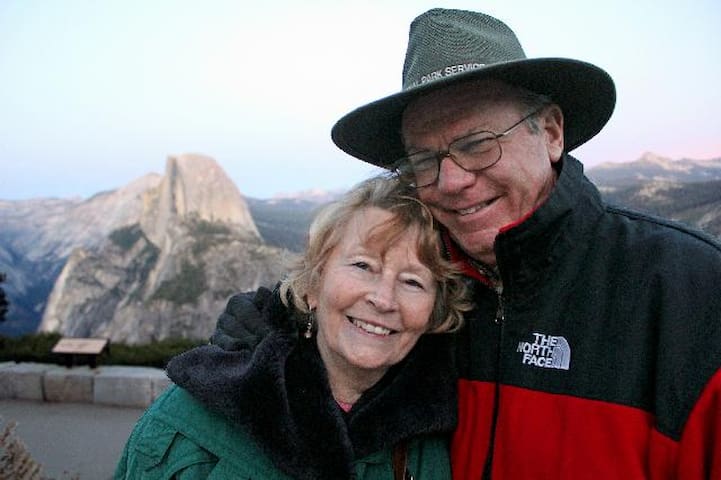 Remodeled home. Very sunny, on a large lot with all amenities that you may ask for :) Only 2.5 hour drive from San Francisco, 26miles to Yosemite entrance and plenty to do within 10min around. Best offer in the area! If you find a lower priced (but comparable!) home, send me what you've found! :)
* During the holidays and holiday weekend we have a 3day minimum stay * (unless it is a last moment reservation :) We rent the house when we don't use it ourselve. We equipped it with things that we use ourselves and like. You will find comfortable beds with nice foam mattresses and good pillows. The kitchen is perfect for a regular use, but you may find it to be too small to cook for a huge party. Living room has a wood burning stove and firewood is provided during allowed burn season. Home has central heat and a/c system. As of this moment the house has a TV screen with HDMI input. There is a Roku player that allows to stream online content like Netflix, Youtube etc. You are welcome to bring your laptop or other source of video/movies. There's no Cable TV service. As of Jan 18th, 2017 we finally got a dedicated internet line! ;) A big tree came down during the last storm and opened up a direct view to antenna tower! It is a stable 1.5Mbps (people form Bay Area don't read ;) good enough to read online, check e-mail, on-line chats, skipe/viber calls etc. It may be a bit slow for streaming HD videos, but Netflix, Youtube and alike work fine! Summer time or when there are no rains there's a patio table with 6 chairs outside on the back deck. You are welcome to use propane grill as well. Verizon and AT&T phones will usually work for calls/text, but 4G is not always there. New tower will be added nearby sometime soon.
The place is exactly as pictured and advertised, equipped with sheets, towels, and cooking utensils. It's in a nice area too, we would see deer in the morning just outside the windows.
Tiffany
2016-06-27T00:00:00Z
This was a great place at a perfect location. Aleksey was available by text at all times and was able to get a minor requested repair done within a few hours. Beds were ok, similar to sleeping on a futon. Kitchen was fully equipped and ready to prepare meals for a family. Laundry and both bathrooms were ready to go and a crib was there for our baby. We had to leave early because of an emergency and Aleksey even offered us a refund. This was a great deal and we would stay there again.
Gerard
2016-05-04T00:00:00Z
The house was perfect, everything described and more! We stayed so we could travel into Yosemite each day and the location was perfect, a little over an hour to get in which is as close as you can be outside of the campgrounds. Alexsey was a perfect host even leaving a tip sheet for us on where to go and what to do. I would definitely stay here again and would recommend it to anyone planning a similar trip.
Tom
2016-07-22T00:00:00Z
Aleksey provided us with a great home to stay in during our trip to Yosemite. Each bedroom was stocked with bedsheets, blankets, and pillows; ample towels and toiletries in the bathroom. Great location, with the market just 1.5 miles away and only a 40 minute drive from Yosemite entrance. The only gripe I had was with the Wi-Fi - the house is listed to have wireless internet available, but none of the 6 of us were able to connect. Other than that, a relaxing place to stay. Thanks Aleksey!
Jessica
2016-11-13T00:00:00Z
Great location and amenities.
Boaz
2017-01-10T00:00:00Z
Small town close enough to Yosemite. The place was clean with a gas grill. My family and I had had a good time as the house provided the amenities needed.
Cindy
2016-04-18T00:00:00Z
Aleksey was a very good host and the home was just as described. We saw deer nearby :)
Anni
2016-07-15T00:00:00Z
I had an excellent stay -- the home was well-situated for access to Yosemite if you are not staying in the park itself. It was clean, comfortable, and quiet. I would definitely stay here again!
Caleb
2016-10-03T00:00:00Z
Tipo di stanza
Intera casa/apt
---
Tipo di sistemazione
Casa
---
Può ospitare
6
---
Camere da letto
Groveland, California, Stati Uniti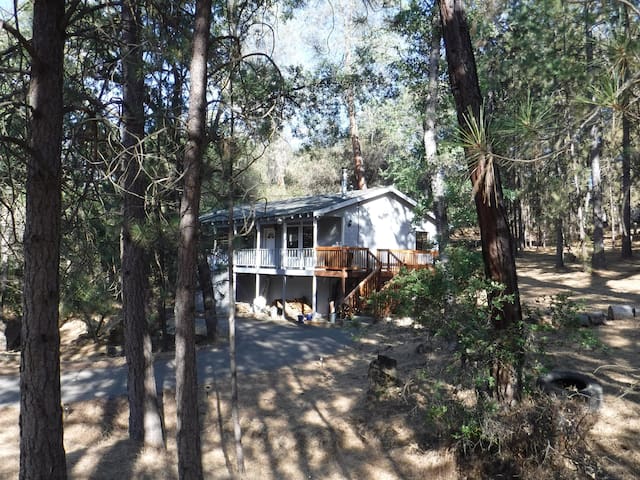 Private, clean, large bedroom suite 5 miles from Groveland, 30 minutes to Yosemite's North gate. Queen bed with memory topper, sitting area, frig, microwave, coffee pot. Private entrance, private shower, private retreat!
This is a large room with ample space to move about, situated in a separate wing from the main house. You have your own entrance with parking close by the door. The queen bed has a memory gel-foam topper, comfy pillows and a down blanket. The sheets and towels are dried on the clothesline in the summer. Your bedding and towels will always be fresh. The room has two chairs to relax in, maps and tour-books to help plan your excursions. There is a frig, coffee pot, hot water pot, coffee and teas for morning, a microwave along with necessities. You will find a light breakfast of yogurt, fresh fruit and such for the first two days. There is a small coat-rack and hangers for clothes. The bathroom is not connected to the room, but is strictly for your use and is located in your wing of the house. Outside your retreat is a summer sitting area to enjoy the evening or early morning hours. The house is on a small ranchette with a backyard pool. Must like dogs, horses, and cats!
The house is situated 1 mile down a one lane road crossing a short bridge. There are 9 private homes, each one fairly secluded on its own acreage. There are no street lights, sidewalks, curbs or trash. Please drive in slowly as there may be walkers, horses, or bikes on the narrow road. Big Creek has a trail for use if you like a morning run or stroll off the beaten path. Groveland has a nice grocery store with organics, a great Mexican restaurant and several other places for fine dining and otherwise eating!
Semplicemente perfetta! Si tratta di una camera davvero spaziosa separata dal resto della camera, con bagno e doccia privati collegati alla stanza da un corridoio. Pulizia impeccabile e tutte le comodità possibili: frigorifero con dentro frutta, yogurt, latte, acqua, birra; mappe e guide per lo yosemite park; persino una borsa frigo per fare escursioni nel parco! Susan e Randy sono fantastici, sono venuti a salutarci quando siamo arrivati e prima di uscire, ti fanno sentire parte della famiglia! Mi dispiace solo non aver potuto fare più giorni in questo splendido posto Ps: ci sono polli e cavalli nel giardino, e arrivando la sera abbiamo anche visto passare un cerbiatto!
Cristina
2015-08-03T00:00:00Z
Susan was excellent! It would be hard to imagine someone more thoughtful and friendly. She had everything together down to the details, and her b&b is much more than we expected! This was my first time with airb&b and wont be the last! Thank You Susan!
Lorenzo
2016-07-21T00:00:00Z
Susan and Randy were very welcoming and made us feel at home straight away. The room was spacious, comfortable, private and in a very peaceful location. The little extras provided were great after weeks of camping.Randy and Susan's recommendations for things to do were spot on. Had a great time.
Ange
2015-10-06T00:00:00Z
Our stay with Susan and Randy was great! They were extremely friendly and welcoming. The room was very spacious and laid out nicely. The bed was very comfy as well! The snacks and light breakfast were convenient. The location of their house to Yosemite was perfect. We really enjoyed our stay and highly recommend staying with them.
Marshall
2016-04-18T00:00:00Z
We had a fabulous stay at Susan's place. She provided extensive communication prior to our arrival and was an extremely gracious host. We awoke to five hummingbirds flitting around her feeder outside our window, and enjoyed fresh fruit, yogurt and coffee that she provided. Yosemite was an easy drive from her place and it made for a great weekend getaway
Craig
2016-05-09T00:00:00Z
One of my best Airbnb experiences! Susan and Randy were so welcoming, and completely made us feel at home. The room itself is very large, with its own private bathroom and a lounging area. There is a small fridge stocked with water, beer, fruits and yogurt. The bed is sooo comfortable too. We were pretty hungry when we got there, and Susan helped us track down a wonderful restaurant and even called them multiple times to check if they were open. I'm sad I didn't spend more time here since we tried to make most of the park as well. I'm always tossing a coin between hotels and Airbnbs when I travel, but places like this really make you appreciate Airbnb with the feel of staying at home.
Anoo
2015-09-08T00:00:00Z
Our stay at Susan's place was wonderful. The house is surrounded by the trees and very conveniently located close to Yosemite's park entrance and to the nice little village of Groveland. We really enjoyed the lovely breakfast that Susan prepared and took full advantage of her expert advice about visiting the park. Everything in the house is well explained and organised. We would definitely recommend Susan's place if you plan to visit Yosemite.
gianluca
2016-05-11T00:00:00Z
Susan is unbelievably thorough and it really doesn't get any better. We loved the whole experience in the Yo!semite area and can only say 'just go'!!!
Steve
2016-09-22T00:00:00Z
Tipo di stanza
Stanza privata
---
Tipo di sistemazione
Casa
---
Può ospitare
2
---
Camere da letto
Groveland, California, Stati Uniti
A rustic chalet cabin on a cul-de-sac. Great little getaway cabin for those who wants to escape the craziness of a big city. The home is perfect for a small group of up to 5 (max) including kids. About 25 miles to Yosemite National Park entrance and 1hr 15min to Yosemite Valley.
Patio: A wrap around deck with 2 umbrellas and a gas grill. A great place to start your day with a morning coffee while listening to birds chirping or star gazing at night with a glass of wine. If you are lucky, you may even spot an albino squirrel lurking around. Living Room: There's a cast-iron wood burning 70s fireplace as the focal point in the living room. The room is filled with natural light and has vaulted ceiling with exposed beams. There is a TV (with no receptions) and Blu-ray player with limited DVD selections in the living room. (Feel free to bring your favorite movies.) There is also a game chest with a number of board games. Kitchen: The open concept kitchen is equipped with a gas range, microwave, dishwasher, toaster, and coffee machine. Guests are welcome to free coffee/tea. Dining Room: A large dining table comfortably sits up to six people. Bathroom: Includes shampoo/conditioner, body wash, lotion, and a hairdryer. The house is equipped with central AC/Heating.
Tipo di stanza
Intera casa/apt
---
Tipo di sistemazione
Chalet
---
Può ospitare
5
---
Camere da letto
Groveland, California, Stati Uniti
Walking distance to town, beach, pool and golf course. Featuring queen bed in master & a double bed in guest loft. Inside laundry, games, rediculously awesome VHS collection (please be kind and rewind), Wifi and a great deck with forest views. Only 40 miles to Yosemite.
Convenient location, beautiful wood ceilings, and accents gives this cozy cottage the perfect cabin feel.
Nearly half of all homes in PML are owner occupied the other half are second homes with some vacation rentals. The community is very friendly and respectful and serves many outdoor enthusiasts. There are quiet hours from 10pm-7am where residents and guests should be aware of. The PML staff are friendly and full of information.
The Cozy Cottage was so cozy and amazing. Everything went very easy with the booking. Any questions we had were answered in a timely manner. We were traveling from a different state and everything went smoothly for us. Got to the cottage and was able to just relax and enjoy our little mini vacation. The VHS movies were a hit for us. We felt like we were kids again, having to rewind our movies. Like back in the day, we enjoyed every minute.
Rachelle
2017-01-08T00:00:00Z
Cadre naturel et paisible. Cottage propre et décoration dans l'esprit du parc naturel de Yosemite. Seul bémol entrée payante et information non communiquée par l'hôte. Confortable à part le canapé lit qui commence à avoir de l'âge.
jack
2016-08-10T00:00:00Z
We had a pleasant stay at Steve's house. The cottage is indeed a cozy one. It is really clean and spacious. Few minutes drive from Pine Mountain Lake, a really nice lake to enjoy some water sports, and 30min drive to the west entrance of Yosemite park. Great location!
Lingbin
2016-06-03T00:00:00Z
Perfect location for our family of 3 to get away after Christmas. Our goal was to see Yosemite and snow- we were a short hour to the valley floor and plenty of snow! Wi-fi was better than anticipated (though no streaming). Deer in the backyard daily were an added bonus! We would love to come again in the summer time.
Coby
2016-12-28T00:00:00Z
Minimal interaction with the host.
Jie
2016-07-25T00:00:00Z
We loved it! Comfortable, well equipped cottage; we mainly cooked/ate at home without any difficulty. The shady deck was a refuge from the June heat, with towering pine trees.. we were regularly visited by deer. Everyone enjoyed Steven's vintage movie collection. We played some excellent golf. The kids loved the beach, offshore dock with water slides. We will definitely be back!
jennifer
2016-06-25T00:00:00Z
Nice place set back from the main road in small gated community. No traffic noise and great deck for grilling and watching the deer. The sheets and towels looked new and were very comfortable. It's a great place to drive to the lake for a swim, do some fishing, and get a hike in Yosemite about an hour to the Yosemite village. The kitchen could use some spring cleaning (fridge, cabinets, etc..) Great place for a weekend adventure!
Alex
2014-09-15T00:00:00Z
Great response time and a lovely place to stay! Listing was accurate. Very clean and comfortable. Kitchen is well stocked with tools and dishes, and there's a supermarket right around the corner for anything you need. The gas fireplace made everything feel homey, and Steve even encouraged us to use the Wii (which we did). Had a great time. Thank you!
Erin
2015-01-01T00:00:00Z
Tipo di stanza
Intera casa/apt
---
Tipo di sistemazione
Chalet
---
Può ospitare
4
---
Camere da letto
Groveland, California, Stati Uniti
A cozy retreat nestled within Pine Mountain Lake Community. This Lovely Condo features 3 levels, 2 bedrooms , 2.5 baths (1450 sq ft). A Rock fireplace Adorns the Sitting area. (Pillar Candles) Enjoy a glass of wine on one of three decks. Property is located near a Seasonal Creek, Pine Mountain Lake Golf Course, and Main Lake with Marina Store, swimming/boating and snack bar. Yosemite is approx 40 minute drive as well as Sonora (35-40 min) *Required $27 Gate/Parking fee
This cozy, tranquil property features 3 levels with stairs and 3 separate decks; Approx 1450 sq. ft Two bedrooms, each with a queen bed and private restroom w/shower. (Upstairs) Kitchen (main level) is furnished with stainless steel appliances and dining area has small table to accommodate up to four. Breakfast bar as 4 stools. Rock fire place has Pillar Candles for your enjoyment. Half bath also located on this level BASIC Wifi is available as well as TV with DVD player. Third level is lower Parking level which has washer/dryer but no garage use. May be used as an emergency exit. Parking area available.
Salvador Court is nestled on a quiet street overlooking beautiful trees and wildlife. Near town, market and front gate. Mar val Market located off of Hwy 120-Ferretti Rd. 5 minutes from Front Gate Don't miss Two Guys Pizza Pies on Ferretti Road- Great Food, Nice People! If Mexican Food is your taste, then we have that also! Main St, Cocina Mechado. Larger Name Brand Stores (Safeway, Grocery Outlet, Kohls, TJMax. Ross and Walmart) are in Sonora, along with great shops and dining. Don't forget about Jamestown (Antiques, Casino Winery and Train) Medical Clinic in town (9-5), Pharmacy, Fire Department, etc Main Hospital with ER is in Sonora (35 minutes away) or Modesto 1.5 hr. Oakdale and Manteca are about 1- 1.5 hours away *Note about Yosemite: 120 is open through entrance and closes about 20- 30 miles after front gate b/c of landslide. Many areas and activity is still available from the Big Oak Flat Entrance.
This spot was beautiful, extremely neat and tidy, and in a prime location. The complementary wine and chocolate immediately won our hearts, the moment we walked in. Sherri was available if we had any questions or concerns, and responded quickly to our messages. We Loved it!
Clara
2017-02-26T00:00:00Z
This house has everything you have at your home, no need to over pack and the grocery store is around the corner as well as the pizzeria and the bar!
Josefina
2017-04-02T00:00:00Z
Sheri is a wonderful host. She's put a lot of love into furnishing her rental unit. The setting is beautiful, and we had everything we needed since we make all our own meals. It's also very, very quiet. Close to Yosemite when 120 is open (it was closed while we were here, due to landslides). We talked to Sheri frequently, and she was always upbeat and willing to help in any way possible. She was also very accommodating about changes in plans. Groveland is quaint and cute. Plenty of places to eat - the Mexican restaurant is a particular favorite (and the tea room a few doors down). This is the last stop before you enter Yosemite park. Pine Mountain Lake is gorgeous. If you rent here, you will want to move up here! The allure is irresistible...
Walter
2017-03-06T00:00:00Z
Sheri was a fantastic host! The house is cozily tucked in a quiet community with a soft rush of a creek nearby. Tons of space! I lost count of how many porches there were, and oh my god there's a double shower in the upstairs rooms - total bliss. Would absolutely recommend staying here!
Rob
2017-02-23T00:00:00Z
Really beautiful house and Sheri is very nice
TING
2017-03-27T00:00:00Z
Sheri's house is wonderful and spacious. We had a great time, unfortunately road 120 was still closed, so instead of a 40 minutes drive to Yosemite Valley its 2,3h going down an extremely curvy road. The ride is really annoying, so i would definitely not stay here again to visit Yosemite valley. I guess its better once Tioga Rd opens up again in May. Definitely check back on Yosemite homepage what roads are open (URL HIDDEN) ! Sheri was really helpful and kept asking, if we needed anything! Pay attention, there is an additional parking fee of 27$ that has to be payed at the gate! I would recommend staying here, even with a family in the summertime to hang out at the lake. Once 120 opens up again, or Tioga Rd this is definitely the place to be. Hwy 120 towards the park is a wonderful straight and wide road and its a quick ride. As long as the road is still closed i would not recommend staying here if Yosemite is your main destination. (definitely really sorry to be saying that!)
Sylke
2017-03-21T00:00:00Z
Tipo di stanza
Intera casa/apt
---
Tipo di sistemazione
Condominio
---
Può ospitare
4
---
Camere da letto
Groveland, California, Stati Uniti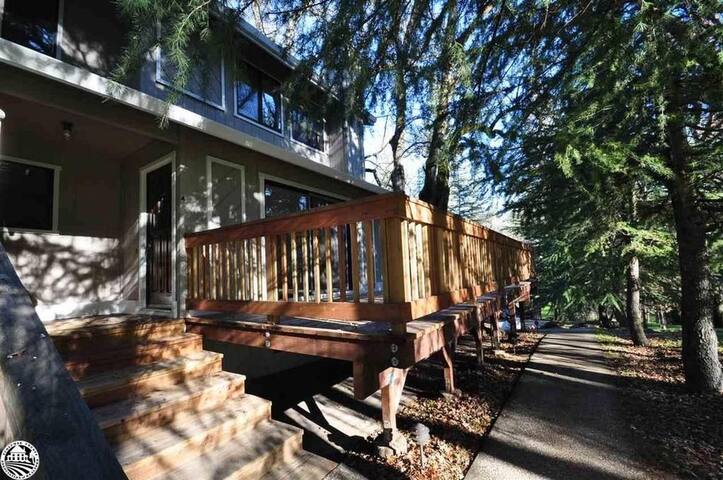 This recently remodeled 4 bedroom (2200+ sq. ft) house is located in the gated community of Pine Mountain Lake, approximately 26 miles to Yosemite, and 15 miles to Rainbow Pools. PML's amenities: 18 hole golf course, hiking & biking trails, fishing, archery & gun range, horse stables, boat rentals, swimming pool, private lake, (2) playgrounds, tennis courts, and its historic downtown. It also has a variety of great places to eat downtown, or at the Grill at Pine Mountain Lake Golf Course.
We are opening up our fully remodeled Dream Cabin to guests. What started as a vision for our family, has become our weekend escape in the Mountains. It has 4 bedrooms (8 beds: Room#1/Cal King, Room #2 & 3/Queen & Full, #4/Bunk with full size beds and full trundle, 3 full bathrooms, two large living areas with fireplaces, a newly remodeled kitchen with new granite and stainless appliances, brand new HVAC system, a Granite Bar area with mini fridge, and a half acre of backyard with a firepit (seasonal use only). We also have Wifi Internet, 55" Smart TV's on both levels with Blu Ray, and our favorite part of this cabin is two BEAUTIFUL decks on both the top and bottom level with a view Above the Pines. We are about a 3 minute drive to the golf course (less than 1/2 mile) and 5 minute drive (about 1-2 miles) to the Main Lake area. There is parking for 4-5 vehicles in our driveway. A $27 guest fee per car charged at gate by Mountain Lake.
Marcus was a great host, very accommodating. The cabin was everything we hoped it would be. The area is beautiful, deer were hanging out just outside the windows. It held 8 people very comfortably. I would stay here again!
Kevin
2016-04-11T00:00:00Z
Everything about our stay was exceptional. From the very beginning, Marcus was a pleasure to work with. He made sure we had all the information we needed prior to getting to the home. The pictures don't do the house justice; its beautiful and so comfortable! We had 8 in our party and could have easily had more. The house was filled with dishes, pots & pans, and coffee (thank goodness). The backyard was peaceful and the fire pit was a hit. Note if you're bringing dogs, there's no fence around the property, so you have to keep them on-leash but that was no problem for us. We had an incredible time! We visited Yosemite which only took us about 30 minutes to reach and the little Groveland town had so much charm. We will be back and I highly recommend.
Lauren
2015-12-01T00:00:00Z
We had a family weekend get-together, and this place was really awesome. Family and kids friendly. The cabin was enough to accommodate our group of 10 persons with all the comfort of home. The rooms, kitchen, living room and bathrooms were clean. The beds and pillows were comfortable. Location is perfect, located near the lake (few minutes drive) and also near a grocery store. We spent the whole day fishing and the kids swimming in the lake. Since we have kids, security was also our concern, and we felt secured with the gated community security and also in-house security system. Thank you Marcus for your wonderful cabin. On top of that communication with Marcus was a breeze without problem.
Regan
2016-09-11T00:00:00Z
We had a wonderful time! The place was great. We really enjoyed the view from the double porches. Loved the two living areas. Really nice neighborhood. I was really impressed with Marcus! He was kind, attentive and very accommodating. I would highly recommend staying at his place :)
Sarah
2016-08-02T00:00:00Z
I traveled with a eight other friends this weekend from all over California and we stayed at the Pines. The house was perfect for all of our needs, and much more beautiful in person than the pictures give it credit for. Beautiful kitchen, lots of space to hang out upstairs, in the basement, and outside. After a long day of hiking in Yosemite Valley (it's about 75 minutes away), we were all very much looking forward to a cozy dinner in the house. Only wish we had had more time to spend there! Although we didn't meet in person, Marcus was a great host, gracious, accommodating and very communicative. He gave us detailed instructions on what to expect when we arrived. Definitely heed his warning to bring flashlights, as the neighborhood is very dark at night, and the driveway can be tricky to turn into. Marcus even let us check out late on the last day, so we could lunch together prior to driving back to our respective cities. Would definitely recommend to anyone. Thank you, Marcus.
Janice
2016-11-06T00:00:00Z
Marcus went out of his way to help us when difficulties booking the premises happened. He was helpful, kind and understanding and his house was amazing! Lots of room, cozy and comfortable!
Ariel
2015-09-22T00:00:00Z
Marcus was an excellent host! I had planned a retreat for my university's business club organization board and we had an amazing time! Marcus' home is fantastic and is everything seen in the photos. The stargazing was incredible- we had never seen so many stars before! Communication was fantastic as well, as my board and I experienced some personal difficulties, Marcus was incredibly flexible with our needs and concerns. I would definitely recommend staying here. We had so much fun. Overall fantastic stay! P.S: There are TWO floors! We thought there was only one and didn't realize that there was a closed door leading to a staircase down to a second floor- with a huge couch, bar, round table, TV, bathroom, and bedroom with an amazing bunkbed! Definitely will have to see if we can come back again to experience it all.
Ivy
2016-09-25T00:00:00Z
Good stay
Yuheng
2016-05-21T00:00:00Z
Tipo di stanza
Intera casa/apt
---
Tipo di sistemazione
Chalet
---
Può ospitare
12
---
Camere da letto
Groveland, California, Stati Uniti
Private studio features a locally crafted, artisan queen bed with new, comfortable mattress, trundle couch/queen bed, fully equipped and stocked kitchenette, breakfast table, artwork, 50" TV/Blueray (with library), cozy fireplace, games, shaded patio with BBQ & dining table, Fire Pit, Dart Board, Hammock, Table Tennis, EV charger. One time $25 per car HOA fee provides security, access to swimming pool, lake, marina, etc. No others on property during your stay! Pet fee. ROAD REOPENS MAY 1!
This house resides in the resort community of Pine Mountain Lake, within the quaint little historic Gold Rush town of Groveland -- traditionally the real gateway town to Yosemite, Hetch Hetchy, Tioga Pass and Tuolumne Meadows. We recently remodeled this home to make it more of an "Italian villa in the woods" with warm colors, wood floors throughout, all new appliances and fixtures, and upgraded outdoor living spaces. Most of our beds and dressers are distinctive, reclaimed log furniture crafted by a local artisan. We are eco-friendly, child friendly, pet friendly safety-friendly and parent friendly! We are a child friendly home that is designed with their safety and comfort in mind. The suite has a trundle bed for sleeping two kids or adults. There are games and DVDs for them to watch. Darts and Ping Pong table for older kids and adults. We are parent-friendly and as parents ourselves, we are sensitive to how costly it can be to vacation. Therefore, infants (age 2 and under) and the first two kids (ages 3-15) stay for free. We love kids and want to make this their vacation home too! When you book, just adjust the number of guests accordingly. We are a pet friendly home ($15 additional per pet -- airbnb has a separate booking mechanism for adding this fee). We supply water and food bowls as well as poopy bags for your convenience. Please clean up as they go and regardless of where they go -- we hike all over this property! Studio: 2 bed / 1 full bath, sleeps 4: 1 Queen and 1 trundle couch which expands to queen bed. Accessible via separate private entrance, electric fireplace, 50" LED TV with bluray player, breakfast table and fully equipped / stocked kitchenette (refrigerator, sink with disposal, toaster oven, 2 induction (cool to touch) hot plates, coffee maker, teapot. Views to patio and trees. Great sunsets! Outdoors: We have invested heavily in making comfortable, cozy and functional outdoor living areas -- after all you are in the mountains! Lower Patio: Over 400' of outdoor living space on private, downstairs shaded brick patio with dining table and propane BBQ -- handy on hot days! There is also a beautiful two person hammock off the back for watching the sunset or just catching up on a book or sleep! Dart board. Front patio: 800 sq/ft front brick patio has propane fire pit and seats 12, picnic bench seats 8, ping pong table, landscaped yard. Kid / adult safety and green features: When we remodeled we wanted to make a safe space too. Many homes in the area are older and do not meet current deck safety standards (for instance: 42" high rails, no more than 4" spacing between rails), have old and failing electrical systems, old and dusty carpeting/blinds throughout, and older not very energy or water efficient fixtures and appliances. We set out to bring our home up to todays standards both in safety and environment. Safety: Our deck railings have all been redone to reflect the latest standards for safety and meet new minimum height standards and spacing between rails. In addition, deck posts and house connections have all been fully beefed up for additional strength. We sit off the road and there are safe places to play on our half acre parcel. We keep most cleaning supplies locked up or out of reach of small children. However, we do keep detergents under sinks but can move those if you request in advance. State-of-the-art Nest CO2 and smoke detectors that guide you in the event of a problem are installed on both levels. Fire extinguisher located in kitchen. A physical landline exists for emergencies and LED lanterns are nearby in case of power failure. An emergency kit is located in the closet. All electrical outlets, switches and fixtures have been replaced. We installed a whole-house surge protector to protect your and our devices! Automatic lighting at the side of the house and top of bottom of outdoor stairs. Clean and Green: When we embarked on our remodel we wanted to make this home as clean and green as we could. To that end we invested in: Electric Vehicle charging system: We currently have a Clipper Creek Universal 32 amp charger which will work with any electric or hybrid vehicle. We are adding a Tesla-specific 40 amp charger this spring. There is no charge for you to use this service! Clean and germ free: We installed wood and stone floors, and metal or plastic window blinds exclusively throughout the living areas to keep the home as sparkling clean, dust free and mildew free as possible. A state-of-the-art Lennox, whole-house, PureAir air filtration system eliminates airborne particles, germs and bacteria, chemical odors and vapors. We used low VOC paints throughout. Lighting: We use LED lighting exclusively -- indoors and outdoors! In addition we use zero-light-polluting exterior fixtures (Dark Skies). We love our incredibly clear, Milky Way skies for night viewing and do not want to detract from it in any way. BTW, did you know our whole village of Pine Mountain Lake has NO streetlights! Water Heater: We installed a state of the art GE Geospring hybrid water heater which is extremely efficient with its heat pump architecture yet allows us to adjust it for maximum output when we have a large number of guests. This is the only conventional water heater certified by PG&E and the US Dept. of Energy as energy efficient enough to warrant rebates and tax credits. Low water usage: All toilets are state of the art for minimum fuss, and extremely efficient water usage and qualified us for a recent rebate offered by the state. All other bath fixtures are low flow yet are very comfortable to use. We are on a sewer line so none of our waste impacts the land or the lake. We have minimal landscaping that requires minimal watering, using rocks and boulders and the natural surroundings to enhance the yards. This summer we are looking at adding grey water and storm water capture systems. We capture much of our storm water and currently have implemented some bio-swales to keep 90% of storm water from running off the hillside and recharge the groundwater instead. You may have heard of the bark beetle. It has caused a lot of damage throughout California. We took steps years ago to thin out our parcel both for fire and tree health. We have not lost a single tree to bark beetle (knock on wood) and we have pro-actively had them injected this fall with medicines that should help protect them for the next several years. Drought and poor forest and stormwater management are the biggest culprits leading to this damage. Heating and Air Conditioning: Our Lennox whole home HVAC system is so energy efficient it qualified for Federal energy efficiency tax rebates. We use a Nest learning thermostat to also save energy and have been impressed with how good a job it does! Solar: We are currently evaluating solar options and hope to have a system sometime this summer. This is our highest priority but also requires the most research and investment. The Lake: We are situated conveniently in Pine Mountain Lake, a private, resort community with a lake for swimming (cordoned off area and diving platform), kayaking, boating and fishing. The marina features a store, rental office, restaurant, grassy park for picnicking, BBQs, bocce ball and volleyball. Other facilities you may access (additional fees may apply): * Championship 18 hole golf course, driving range, pro shop, Country Club bar and restaurant (live music and dancing on weekends). * 6 lighted tennis courts * Swimming pool * Equestrian Center offering horse rentals, trail rides and lessons * Archery range * Shooting range * New Hiking and Mountain Biking trails currently being built. Other nearby attractions: Checkout the photos to see other nearby attractions but here's a summary: * Hiking / Walking trail: - 6 miles roundtrip of hiking along Big Creek * Rainbow Pools: Locals swimming hole with diving off large rocks * Rafting: Raft down the Tuolumne River! Up to Class 5! * Wine tasting: Several great wineries in Jamestown and Murphys 30-90 minutes away. Some newer wineries right in Groveland. * Lake Don Pedro: Bring your boat and waterski! * Giant Sequoias: Merced Grove and Calaveras Big Trees state park are nearby * Railtown: historical train museum and rides, music. * Gold Panning: take a shot at finding the next Motherlode! * Rim Fire: See the devotion and regrowth from the Rim Fire * Hetch Hetchy: We are 30 mile from the "Other" Yosemite Valley * Biking: Great road and mountain biking all around us * Tuolumne Meadows: Another side of Yosemite most people never see * Carlon Falls: A beautiful hike and swimming hole nearby
"Downtown" Groveland is about 2 blocks long, so don't sneeze or you will miss it. Essential Places you need to know: Marval Market -- good store for most items you may need. Firefall Coffee -- they roast their own coffee and make great breakfast items Randy & Kevin's -- great delicatessan and GREAT PLACE to buy meats for BBQ! Iron Door Saloon -- great spot for food, drink and music Two Guys Pizza - don't bother with anything else! Pharmacy -- for prescriptions, etc. Fork and Love (in the Charlotte hotel) -- great restaurant! Cellar Door restaurant (in the Groveland hotel -- great restaurant Vetinarian and Medical clinic.
Bill's studio was, in a word, perfect. Our travel group consisted of my husband, myself (six months pregnant), our daughter (8 months old) and our two big dogs. There was plenty of room for our pack and play as well as the two pups. Beyond having enough space, the place was SPOTLESS. I was blown away by how clean Bill's housekeeping folks were able to leave this house in the woods! Comfortable bed, directv, full kitchen and great shower. We will always treasure our memories of stargazing from the two person hammock out back - the surrounding area has no/low light restrictions so the night sky is remarkable, we even saw a few bright shooting stars. Playing darts on the deck's great board was another highlight and super addicting. Bill himself certainly qualifies as a super host. Extremely communicative and helpful when needed, but otherwise gives you space to enjoy your time away. He gave us good recommendations for easy hikes in the area as I'm unable to strain myself too much in my current state. He also has thought of everything to make his guests' stay more enjoyable, from games (even Cards Against Humanity!) to the smores waiting for you upon your arrival. In short, we would have considered it a fabulous, relaxing two night getaway if we'd stayed in Bill's place the entire time. But we spent a full day in Yosemite Valley as well (which was about an 80 minute drive one-way) and of course also fabulous. Highly recommend staying at Bill's place - he never rents out both the larger upstairs area and the studio at the same time, so there's plenty of privacy and room no matter what the size of your group is!
Amanda
2016-09-27T00:00:00Z
Bill was a perfect host in all respects. He shared recommendations for Yosemite and local dining. Although a storm kept us indoors most the trip, Bill was thoughtful enough to make sure we were safe and enjoying our stay. The bungalow was extremely well maintained and provided more than enough space and amenities for my girlfriend, me, and our cat. The electric heater kept us warm and the extensive DVD collection upstairs came in handy. The best part was having our morning coffee from the private, covered balcony – what an amazing view! Bill – we can't thank you enough for your hospitality and we hope to return in the future to enjoy your wonderful home.
Jon
2017-01-08T00:00:00Z
William's bungalow was absolutely beautiful! Perfectly clean and very cozy - I wish we had spent more than one night here! It is located in a gated community (there is a $25 fee to enter) and has lovely dark skies and a very secluded feel while still being close enough to the Groveland community. Very close to Yosemite and many other Sierra destinations. We would love to come back here on our next Yosemite excursion!
Madhuvanti
2016-09-17T00:00:00Z
William's place is in a gated community which is very safe and calm. The studio is beautiful and very functional! Love the custom bed made by local artist and we had the best sleep ever. William is a great host that provides excellent recommendations. We surely want to come back again!
weitung
2016-12-11T00:00:00Z
Amazing view with a quiet location to be productive and romantic.
Cameron
2016-12-29T00:00:00Z
This was the best AirBnB rental that we've ever stayed at. From the views of the scenic mountainous back drop to all of the accommodations provided by Bill, this was a home run! Trust me when I say, the pictures of this place don't do it justice... you have to see it for yourself. Bill is an excellent communicator and really took the time to provide very detailed information in regards to all of the activities and points of interests in the area which made our lives very easy. We are already planning a return trip with friends and family. If you're looking for a cozy getaway packed with amenities for the entire family, I highly recommend "Bill's Oasis."
Zach
2017-03-21T00:00:00Z
My wife and I stayed here for part of our 5-year anniversary getaway. Lots of peace, quiet, and privacy. Perfect jumping off spot for Yosemite! Full Milky Way visible at night, too! Our host, Bill, went above and beyond to accommodate our every need & provided lots of suggestions for our trips into Yosemite. Very responsive to communication. A++ Would stay again!
Gregory
2016-09-03T00:00:00Z
The house was comfortable, luxurious, and a wonderful escape! The amenities and bed were very upscale and updated. The decor was nice and the view was excellent. A true mountain retreat. Bill was an incredible host that showed amazing customer service. He provided snacks and movies, left very detailed directions, helped with the planning process of hiking, and kept open lines of communication. One of the best hosts I've had since using Air BnB!
Morgan
2016-12-20T00:00:00Z
Tipo di stanza
Intera casa/apt
---
Tipo di sistemazione
Bungalow
---
Può ospitare
4
---
Camere da letto
Groveland, California, Stati Uniti
Completely remodeled and newly listed vacation rental in Pine Mountain Lake! All new furnishings, bedding, & housewares. Full of amenities, games, and great deck with views of the pines. All new flooring, appliances, & more!
Great space for friends, families and entertaining. Large, covered back deck with new slate flooring. New tile, carpet, and flooring throughout the entire house. All new appliances in the kitchen as well as washer and dryer. Completely repainted interior. Everything in the house is brand new. Perfect for anyone looking for a great place to stay while visiting Yosemite or any of the other nearby areas or enjoying the amenities of Pine Mountain Lake. All new furniture, bedding, mattresses, and house ware items throughout the entire house. Lots of parking and a very easy, flat driveway (some places can be difficult with their steep driveways) that will fit up to six cars in front of the house. - Free internet and Wifi - Flatscreen TV with Netflix - New Ping Ping table - Well stocked kitchen - just added more kitchen accessories including: blender, crock pot, and rice cooker. - All linens, pillows, and blankets are included - Towels, wash clothes, etc. are included - Sleeper couch folds out to a queen size bed - DVD Player and several DVD's - New 5 burner BBQ - Lots of board and card games - Hairdryer (located in master bath, top right drawer) - New, large refrigerator - All new kitchen appliances - New washer and dryer - lots of new, large extra blankets and pillows - Flat screen, wall mounted TV with Netflix streaming - Coffee pot - Toaster - New art, décor throughout the house -Nest thermostats (let us know what temperature you would like it to be when you arrive) -The kitchen is stocked with all new dishes, glassware, cooking utensils, pots/pans, mixing bowls, measuring cups, corning ware and even Tupperware for those delicious leftovers.
James was awesome, responded to all enquiries promptly. The house was perfect. Great base to explore the beautiful countryside and had everything we needed when we where relaxing after a day out.
Kevyn
2016-06-26T00:00:00Z
My friends and I loved the spaciousness of James home. It fit our group of 8 and there still was plenty of room. Yosemite was just a little under an hour drive and there was a cool Rainbow Pool/Fall not to far away. There was plenty of room for our group of 8. We loved the ping pong table, Netflix, and wifi at the home. The rooms were great and the beds were super comfortable. Loved the binder that provided things to do and places to eat. Would definitely recommend to anyone who is looking for a great deal and spacious place to stay near Yosemite. There's a quaint little town down the street as well.
Lyn
2016-02-21T00:00:00Z
Amazing house for my family's travel to Yosemite. Same to the described on web. My daughter was so excited when she saw 3 deers at the back of the house. It is a good and quiet place for holiday. I will rent it again if I travel to Yosemite next time.
Lei
2016-10-13T00:00:00Z
James' place was great! We stayed here for a day trip to Yosemite (~2 hr drive away). We had a large group of 9 and the place felt very spacious. The bunk bed took a while to get used to, but overall our group had a great time here!
Diana
2016-08-13T00:00:00Z
這是一個令人難忘的美麗地方,有星星、鹿、森林、湖泊,非常安靜舒適,距離優勝美地很近,很棒的Apple TV,感謝。
po chih
2016-12-24T00:00:00Z
We had a wonderful time staying at James' house. It was awesome, both the house itself, and the neighborhood surrounding it. The house is very comfy, but roomy. The fireplace in the den is really a great place for everyone to congregate and hang out, especially in the winter. The house is in a very reasonable distance to yosemite (about an hour and 1/2), Dodge ridge ( about an hour 1/2 - 2 hours with traffic) and Badger Pass (about 2 hours). James was also very attentive to any situation that came up or questions we had. Thank you so much James!
Elijah
2017-02-20T00:00:00Z
Absolutely great environment and good location. The house itself was absolutely wonderful as well - the communication was instant and always very clear.
Scott
2017-03-05T00:00:00Z
James is a fantastic host! He communicates very quickly, and all his instructions were very easy to understand. The house is very spacious, and it's also close enough to local supermarkets and restaurants. It's an hour drive to Yosemite, but overall I highly recommend this place! Will definitely be coming back.
Evander
2016-12-21T00:00:00Z
Tipo di stanza
Intera casa/apt
---
Tipo di sistemazione
Casa
---
Può ospitare
9
---
Camere da letto
Groveland, California, Stati Uniti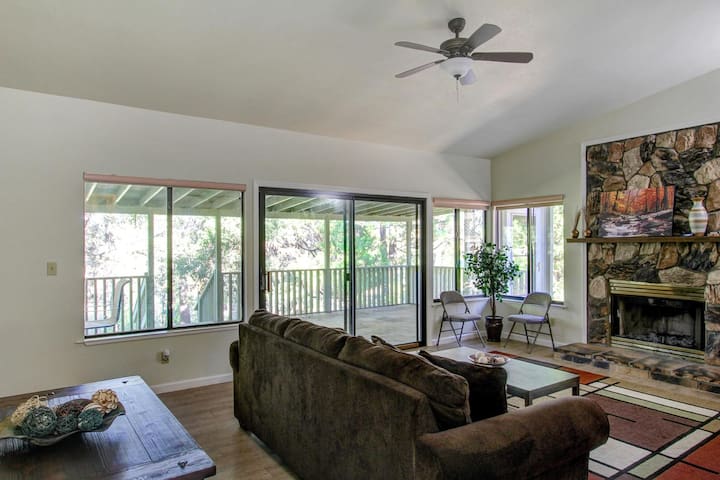 Nestled in the heart of Gold Country and only 26 miles to the North entrance of Yosemite, our home is a newly-remodeled, 2600 square foot, two-story unit with three bedrooms and three baths. It has a large kitchen, multiple living rooms, a wood burning fireplace and a large covered patio with amazing views of the pines. It sleeps 10 comfortably on beds and futons. It is located in a gated community and you will have access to many wonderful amenities, including a private lake and golf course.
Sleeping up to 10 travelers, this crisp, clean, newly remodeled Groveland cabin is relaxing, welcoming, and brings the beauty of Northern California right to you, along with all of the essentials to ensure you feel right at home. Set just 26 miles (41 km) from Yosemite National Park in the Pine Mountain Lake community in quaint Groveland, you'll have access to a beautiful and fun lake where you can spend afternoons at the marina swimming or fishing, as well as access to the shared tennis courts, a championship golf course, seasonal pool, gun range, horseback riding opportunities and hiking trails throughout. Although there's no doubt much of your time will be spent exploring breathtaking Yosemite, with so many activities within the community, everyone will stay happily occupied even during downtime. There are plenty of spaces to spread out with two comfortable living rooms and two flatscreen TVs with cable, though you could also gather everyone together to play some of the board games at night at the two dining tables that each seat six people. There are children's toys too, which means less things to pack if you have little ones. Head out to breathe in fresh air on the covered deck or large patio, or play a game of pool at the pool table or use the dart board after a day of hiking in Yosemite. More great amenities here include WiFi and a private washer and dryer, which makes this cabin ideal for longer stays. The large open kitchen makes meals a breeze with granite and butcher block countertops, stainless steel major appliances, and additional smaller appliances such as a coffeemaker, dishwasher, microwave, toaster, and blender. There is even a highchair should you need it. Whip up holiday meals or easily store quick snacks in one of the two refrigerators in the home. On warm summer nights, you can enjoy the spacious covered deck right off the living room and kitchen that has a gas grill and hammock or the large downstairs patio with a wood barbecue, and when it's a little too cool, grab one of the blankets and snuggle up by the downstairs wood burning fireplace. With three spacious bedrooms, all ten guests will have a comfortable place to rest each night. The master bedroom features a king-size bed, a marvelous en suite bathroom with a shower, as well as its own deck. There is also a Pack N' Play crib and play pin stored in the closet should you need it. Another king-size bed is found in the next bedroom, and the third bedroom upstairs has a queen bed. The remaining beds downstairs are two futons with full size mattresses. There is a bathroom with a tub/shower combo upstairs and another bathroom with a shower downstairs. Grab the whole group and head off to Yosemite National Park for a day packed with fun that is only 26 miles (41 km) away. Some great family-friendly hikes in the area include Glacier Point, Mariposa Grove for an up-close view of the world's largest sequoia and a hike through the Tunnel Tree, which the kids will love. Lower Yosemite Falls is short and takes you to the base of the tallest waterfall in North America, or you can hike to the top for some incredible views. Inspiration Point, The Mist Trail, and Mirror Lake are some more advanced trails. There is also rocking climbing at Camp 4. And in between exploring the trails, try horseback riding tours or rafting and kayaking tours too. In the winter, skiing and snowboarding can be enjoyed on the slopes at Dodge Ridge Ski Resort just 54 miles (87 km) away, and indoor gaming and bowling are available at Black Oak Casino just 27 miles (43 km) away. And don't forget to take in the small town feel of Groveland with its historic sites, eateries, and shopping. With everything you'll need, this Northern California home is just the place for your next family or friend getaway, so book now! *Please be aware cell phone reception can be spotty in this area. *Also, we are available to help answer any questions you may have, so please don't hesitate to email us. Thank you and we look forward to your stay!
Once you book, I will email you a few helpful tips to make your stay more enjoyable, for example: *What we provide and what you should bring *Local restaurant recommendations *Nearby Summer Activities *Nearby Winter Activities *Children's Activities *Pine Mountain Lake Amenities and Information * Plus, I am happy to answer any questions you may have.
Tipo di stanza
Intera casa/apt
---
Tipo di sistemazione
Chalet
---
Può ospitare
10
---
Camere da letto
Groveland, California, Stati Uniti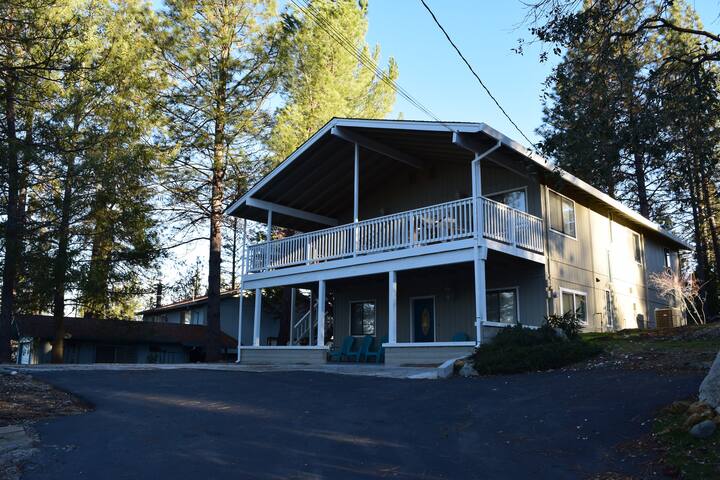 Enjoy a tranquil private retreat for 2 nestled in the pines w/ separate entrance close to Yosemite. Located in a gated community w/ 24 hr security, enjoy the serene garden, stargaze and sleep on a Tempurpedic queen size mattress. Kitchenette/seating!
Contact the owner if you need to add a person. Rare exceptions are made for an additional fee. Interested in a tranquil retreat for 2 nestled in the pines near beautiful Yosemite, California? Rest and revitalize at "The Comfort Zone". Soak up some warm California sun in our beautiful yard and enjoy the gorgeous garden view from your room. Or enjoy our 'winter wonderland' surrounded by the beauty of nature. Ski at our very own Badger Pass located inside Yosemite National Park. The beauty and serenity on the slopes is breath-takingly magnificent! Certainly a site to mark off your 'bucket list'. Amenities include: Private Entrance Tranquil yard and garden access New Queen Sized TempurePedic Bed Micro-fiber sheets Plush towels Healthy snacks Small kitchenette with refrigerator, microwave, coffee pot, toaster, plates, silverware, cups etc.. Propane BBQ Grill Private bathroom includes soap, shampoo and conditioner 32 inch flat screen high definition television with cable and DVR Free Wi-Fi Pine Mountain Lake includes additional amenities such as, swimming, boating, water rentals (kayak, canoe, fishing boat, paddle boards, paddle boats etc..) hiking, tennis, golf, riding stables, community pool, lake, fine dining and much more. *Owners have one indoor/outdoor cat (He has no access to your room) Due to this we are unable to take additional pets. Sorry! We look forward to your inquiry. Feel free to ask any questions you may have. Please tell us about yourself and what you are looking for. We will let you know if we think this place will, or will not suit your needs. Your comfort and enjoyment is of utmost importance. We look forward to hearing from you.
We live in a private gated community known as Pine Mountain Lake with quiet requirements between 10:00 p.m. and 8:00 a.m.. The area is safe with active security.
The Comfort Zone è un ottimo punto di sosta per chi vuole visitare lo Yosemite. Dan e Penny sono gentilissimi e l'appartamento è davvero delizioso, immerso nella natura (avevamo i daini in giardino) e curato nei dettagli. Bagno splendido e ci hanno fatto anche trovare una graditissima welcome bag per la colazione del giorno dopo e tutte le informazioni per visitare la zona. Unico consiglio: verificate bene la strada per raggiungere la casa, il navigatore da informazioni sbagliate. Grazie a Dan e Penny!
Aurora
2015-08-10T00:00:00Z
Logement très agreable et propreté impeccable. Proprietaires plein de petites attentions a notre egard et toujours prêts a nous donner des conseils. Jardins et alentours très agréables egalement. Je recommande vivement ce logement.
Hélène
2015-07-21T00:00:00Z
We had such a great time at your Comfort Zone ! Penny welcomed us and we had a great talk. It was the most comfortable place, cosy, private, but with the advantage to have Dan and Penny's advices before and during the trip. Their place is close to Yosemite and the village Groveland is very cute and has everything you need. On our departure day, we had the chance to get Dan's advices about our next trip in Lake Tahoe, that we followed and which were great. Thank you so much for everything!!
Samantha
2015-07-17T00:00:00Z
Staying at Dan's place was really great! Me and my friend enjoyed staying there. You got the whole room for yourself. The place is very clean and neat. Bonus: the bed is very comfortable. Well worth the price!
Albert
2016-03-18T00:00:00Z
Had a great experience staying here for a couple of nights while visiting Yosemite. Penny & Dan are very welcoming and knowledgeable about the area.
Gil
2014-07-07T00:00:00Z
The Comfort Zone Suite was even better than we had expected. Everything was done perfect, from the amenities like offered snacks, juices, water and bath utensils to kitchenette and informations provided about the area. And because of the friendliness and helpfulness of Penny and Dan even better than in a hotel. Clean, spacious, well equipped and nicely decorated. We liked it a lot and can recommend it highly!
Alma
2014-07-22T00:00:00Z
The Comfort Zone was very comfortable, clean and quiet. The hosts were very helpful with details upon arrival.
Linda
2015-10-15T00:00:00Z
Staying with Dan & Penny in wonderful groveland was a pleasure. We felt like in a 5 -Star-Hotel with a full breakfast and Snacks for the next day waiting for us. Dan & Penny are so kind and friendly that we felt welcome since the first contact. Both of them are really superhosts. Chatting with Dan at the Veranda was great. In the mornings we saw deers in the backyard. Everything was so peaceful. We highly recommend this place.
Stephanie
2015-09-29T00:00:00Z
Tipo di stanza
Intera casa/apt
---
Tipo di sistemazione
Chalet
---
Può ospitare
2
---
Camere da letto
Groveland, California, Stati Uniti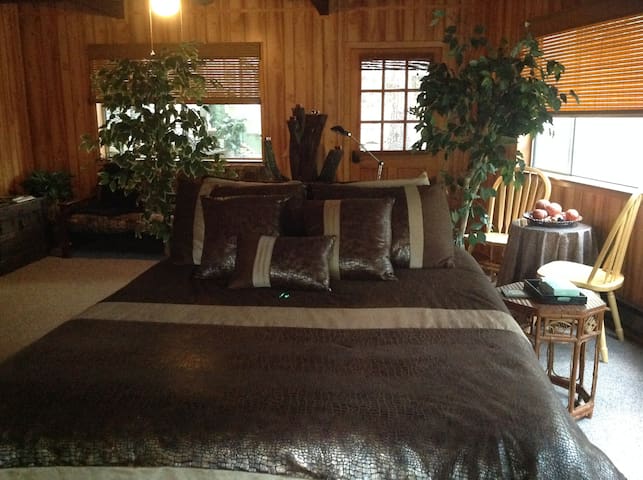 This newly remodeled house is located in the gated community of Pine Mountain Lake, approximately 26 miles to Yosemite & 15 minutes to Lake Don Pedro. PML's amenities:horse stables, boat rentals, private lake, 18 hole golf course, tennis courts. Enjoy breakfast on the deck, a day at the marina or fish at Fisherman's Cove...there is a lot that Pine Mt. Lake has to offer!! A hidden gem for sure!!
We are happy to share our newly remodeled Pine Mountain Lake House. We just spent the past 6 months turning the inside into a cozy retreat that any family would enjoy. This is a three bedroom two bath house (over 1500 sq ft) with views of the nearby forest and hills. Both bathrooms are brand new from the studs up and very clean and nice. The kitchen is brand new with new quartz counters and appliances, and all the accessories, the flooring is new. Even the heating and air conditioning system is new. There are two bedrooms upstairs one of which has a new King mattress with memory foam topper. The other upstairs room is larger and has a twin bunk bed and separate twin bed. The downstairs is a nice couples retreat and has its own full bathroom and laundry area. That room has a brand new Tempurpedic mattress. The rear deck is all new and has a nice Kitchenaid BBQ to cook on and brand new patio set. The living room has a large fireplace with a 50" flat screen TV/DVD above it. There are two nice leather sofas and a love seat that fold out into a twin bed. There is parking for multiple cars in our long, flat driveway. We are approximately 2-3 minutes drive to the Marina and located on a nice quiet street. Community Amenities * Marina and 3 beaches with water taxies between beaches -all types of water sport equipment available for rental * 18 hole golf course * Club Restaurant * Horse Stables (trail rides available) * Private Airport * Hiking Trails / Biking Trails Nearby Attractions * Yosemite is 25 miles from our cabin. * Rainbow Falls * Historic Downtown Groveland with coffee shops, shopping, restaurants and Iron Door Saloon * Gold Country * Sonora casinos * Cave explorations * Lakes * River Rafting Surrounding Features: Yosemite Park's 750,000 acres and 1,200 square miles contain thousands of lakes and ponds, 1,600 miles of streams and creeks, 800 miles of hiking trails and 350 miles of roads. Two picturesque rivers, the Tuolumne and the Merced, flow westward from the Yosemite into the Central Valley of California.
This is one of the most peaceful and beautiful areas in California. Our home is situated in a very quiet area of the lake that doesnt get excessive traffic. Peace and tranquility is what we enjoy about Pine Mountain Lake and our Home.
Beautiful location and near to the lake. Deer seem to be the neighbours, wondering around the house grounds. Everything for a relaxing break or a full activity break is provided for. Beds were wonderfully comfy. We were a group of 4 adults (2 seniors) and a child. Everyone was over the moon with their room. It is the kind of property that feels more like a home you are invited to rather than a short term rental. Pride of presentation was evident.
CLIVE
2015-10-27T00:00:00Z
The house is lovely: bright, beautifully decorated, perfectly clean and during our 3 day stay there was nothing we needed but couldn't find - guests are very well provided for! All instructions are clear and the wifi works well. Groveland has a fair few eating options, it's a reasonable drive to Yosemite and there are plenty of other places to see in the area (and a folder in the house details these). I'd very happily stay there again. Two points to consider (but definitely not deter you): 1. The gate to the resort can have ridiculously long queues at the weekend. We waited 15 minutes just to show our 'pass' late on a Friday night & when we asked whether there was a way to avoid that we were told: no & the wait can be an hour and a half on Friday evenings in the summer. 2. The driveway up to the house is very steep and abrupt. Regardless of the angle you take, don't even attempt it if your car has very low clearance. A modern sedan with nothing in it barely gets up unscratched.
Marsha
2016-10-15T00:00:00Z
We are a family of 5 with 3 boys aged 6, 4 and 1 year old. We stayed at the house for 2 days and would have loved to stay longer. The house is beautifully decorated and - as described - newly remodeled. It felt like home immediately and the kids loved it. We will recommend it to our friends and everybody who looks for a place to relax in a light, airy place close to Yosemity (40-50 minutes drive). Thanks for having us!
Anne
2015-05-25T00:00:00Z
Our family had a fabulous time at the cabin! The house was beautiful and comfortable with deer visiting us frequently. Groveland was fun to explore and the kids had a blast at the lake. We will definitely be coming back.
Brandi
2015-09-14T00:00:00Z
This is my second time staying with Missy and it was perfect, again! The fireplace was cozy, the kitchen had all the untensils we needed to make our New Years Eve feast, and the area is easy to get in and out of even during winter. Thanks Missy and your family for giving us a wonderful stay!
Rachael
2016-01-05T00:00:00Z
Vi havde et par fantastiske dage i Missy's hus. Opholdet var over al forventning, og jeg kan kun anbefale andre at tage derhen.
Christian
2016-11-19T00:00:00Z
The Paul Family home was clean, beautiful and perfect for our Yosemite trip! The drive into Yosemu Valley was about 90 minutes of beautiful and majestic scenery and never an issue in September. Missy was prompt in responding to our questions and her home had everything we needed. She left detailed, clear instructions at the house for us. We hope to someday bring our whole family back!!! We felt we were at a home away from home and hated to leave!!! Thank you Missy for helping make our 30th anniversary trip special!
Ann
2016-09-17T00:00:00Z
We had a great time staying at your cabin. It was very comfortable, spacious and nicely decorated. It is a great location for getting to all the sites we wanted to see in the area. Thank you!
Bernadette
2016-03-05T00:00:00Z
Tipo di stanza
Intera casa/apt
---
Tipo di sistemazione
Casa
---
Può ospitare
8
---
Camere da letto
Groveland, California, Stati Uniti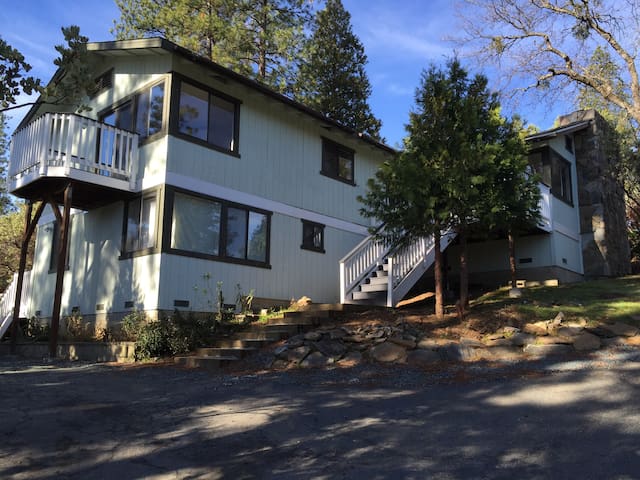 Private entrance "bear" decor room features canopied queen bed, 2 open up futons, private bath, sitting area, deck, fridge, microwave, toaster oven, coffee/water pot, phone for local & statewide calls, TV/video & dvd player with movies to watch provided (no satellite) in a setting with a 50 mile scenic view of the Sierra Nevada Mountains, just 20 miles away from Yosemite. Tuolumne County 10% tax is included in the price. Great base camp for Yosemite National Park travelers.
Winter or summer or any season, the views are great and Yosemite is delightfully different in any season. Peace and serenity are found here, indoors and out. Stars usually shine very brightly on most nights and the sunrises are usually gorgeous. We have a three story home, "bear" room on bottom, kitchen/Grandma's room on main level, and our quarters on top. Outside has many places to sit, picnic bench and swing set. Front deck has wonderful view of the Sierra Nevada; on a clear day you can see several peaks. We do get snow a few times in the winter and the view is great of the Sierras with snow-capped mountains.
There are deer, rabbits, squirrels as our most popular neighbors. We are located on a cul-de-sac, quiet area.
My husband, friend and I were delighted with our accommodation during our 2 night visit to Yosemite- the room was comfortable and quirkily bear themed and only a quick drive to town or the national park. Tony and Erna were wonderfully hospitable and informative both before and during our stay. We thought it was great value for money and would definitely return if we were back in the area! Worth noting that phone signal and wifi is very low in the area, but that was fine for us as it added to the 'rat race' escapism.
Heidi
2015-07-17T00:00:00Z
The proximity to the Yosemite park is a real plus. The flat is well equiped and propose some nice information to prepare your visit in the park.
Elodie
2016-08-13T00:00:00Z
Tony and Erna's was as pictured and expected, everything was clean and tidy upon arrival. We didn't have much interaction with them, but they responded very quickly when we accidentally blew a fuse, and it was a good place to travel into Yosemite from. Thank you for a nice stay!
Wendy
2016-10-03T00:00:00Z
Much to my husband's dismay, the only bear he saw during our Yosemite Bucket List trip were the ones in the Bear Room. What a delightful, whimsical place to lay one's head after a long day in the park. Erna welcomed us like old friends and made us feel right at home (loved the little welcome plaque Erna). More genuine, kind hearted people than Erna and Tony I don't think you can find. Everything you could possibly need has been provided for you in the Bear Room and if something is missing, you need only ask. The bed is comfy, the bathroom clean, there are extra linens and towels. You can fix yourself a Continental breakfast with the coffee, tea, oatmeal and granola bars. There's a small fridge with freezer which was handy as we traveled with a cooler and could refreeze our ice packs at night. It's an hour's ride to Yosemite Valley and in the event that you haven't done your homework before your arrival, Erna has books full of information and vhs and dvd's about the park, as well as being a wealth of information herself. We thoroughly enjoyed our stay in the Bear Room and should we ever pass this way again, we would love to call the Bear Room home. Thank you Erna and Tony. God Bless You.
Stephanie
2016-05-26T00:00:00Z
Tony and Erna were very warm and accommodating. The room was cozy and had everything we needed for our trip to Yosemite especially the guidebooks and some brochures. Best place to stay when visiting Yosemite, and its also very close to Groveland town- perfect place to see the old "wild west". Make sure to try the oldest Saloon in California - the Iron Door Saloon.
Alex
2016-07-02T00:00:00Z
Der Aufenthalt im Bear room hat uns sehr gut gefallen. Alles hat sehr gut geklappt, das Dorf war sehr ansprechend und wir genossen die ruhige Umgebung. Schade, dass wir die Gastgeber nicht persönlich getroffen haben.
Sabine
2016-08-29T00:00:00Z
Very nice room. Erna was extremely helpful and hospitable. Would recommend to anyone.
Neill
2015-08-07T00:00:00Z
Tony & Erna were really friendly & helpful. They allowed us to change and modify the booking several times. They also provided us the detail directions & guidelines to the house. Unfortunately, I personally did not have chance to stay with them, but 2 other friends in my group had a great time there. The house was clean & quiet during their stays.
Nam
2016-07-10T00:00:00Z
Tipo di stanza
Stanza privata
---
Tipo di sistemazione
Dormitorio
---
Può ospitare
6
---
Camere da letto
Groveland, California, Stati Uniti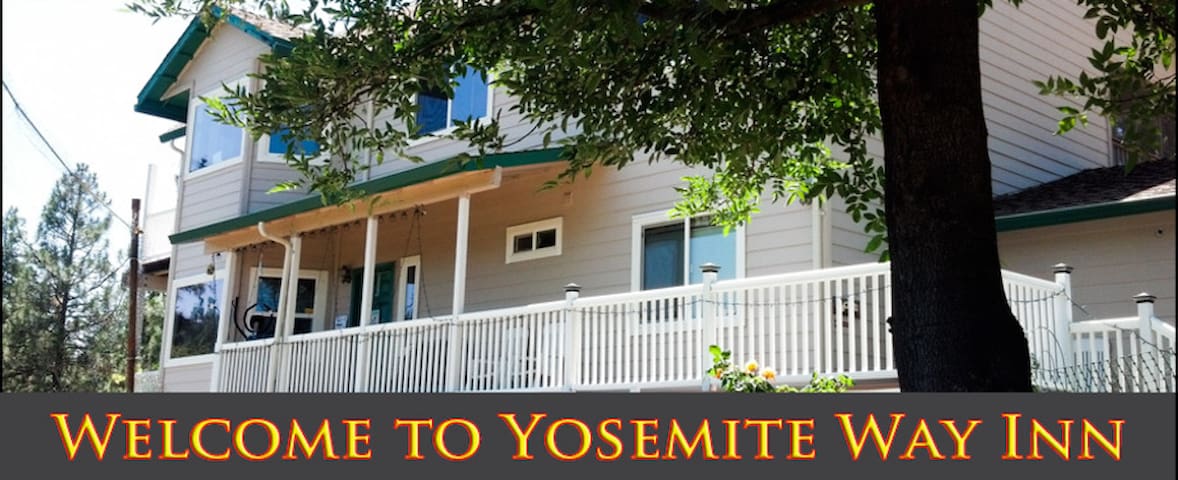 Beautiful cabin in a secure gated community with a lake, three beach areas and marina, 18-hole golf course, horse stables, airport, and hiking trails. Perfect for weekend get aways or week long vacations. Near Yosemite. Come Relax, Rest, Enjoy.
Relax, Rest, Enjoy. Beautiful, golf course, stables, airport, private lake with three beach areas and marina in secure gated community. Chalet Cabin, with 3 bedrooms, 2 lower, and 1 large loft bedroom with TV/DVD/Internet. Kitchen has granite countertops and full cooking and dish setup. Just stop at the local grocery store on the way into town and you will be set! The deck has a grill and seating area for entertaining. The family room has sectional seating, a flat panel TV with DVD player and wireless sound system. Logs are provided for the wood burning stove. **Please Note: there is a one time entrance fee of $25 per car upon entering the community. Also, there is no trash service. You must take your trash with you or purchase a bag (holds 3 kitchen size bags) from the security at the front gate for $6.90 and dispose in the designated area. We try to keep our nightly rental fees low in order to offset these extra charges. Community Amenities * Marina and 3 beaches with water taxies between beaches -all types of water sport equipment available for rental * 18 hole golf course * Club Restaurant * Horse Stables (trail rides available) * Private Airport * Hiking Trails / Biking Trails Nearby Attractions * Yosemite is 25 miles from our cabin. * Rainbow Falls * Historic Downtown Groveland with coffee shops, shopping, restaurants and Iron Door Saloon * Gold Country * Sonora casinos * Cave explorations * Lakes * River Rafting Surrounding Features: Yosemite Park's 750,000 acres and 1,200 square miles contain thousands of lakes and ponds, 1,600 miles of streams and creeks, 800 miles of hiking trails and 350 miles of roads. Two picturesque rivers, the Tuolumne and the Merced, flow westward from the Yosemite into the Central Valley of California.
Pine Mountain Lake is beautiful, private, and secure. Lots of things to enjoys and see in the surrounding area. I always say no matter what time of year it is, "what a perfect day it is up here".
The cabin was in a great community with lots of activities and restaurants available. The cabin was very clean, but we had to make our beds ourselves and the beds downstairs were full beds not queen beds. There was free wifi, but no phone signal or landline so it was hard to communicate if there had been an emergency. There was only one full bathroom and one half bathroom. It would have been difficult to fit 8 people in the cabin. The grill outside was wonderful. We had to pay 6.75 for a special garbage bag to dispose of the trash and parking was 20 dollars. Yosemite was around 45 minutes away. There was a convenient grocery store and lots of restaurants in groveland. Overall, we had a good experience. Jeff was also easy to communicate with.
Anita
2015-06-20T00:00:00Z
Jeff's cabin is so cozy! It's fully stocked with everything you could need including kitchen utensils, movies, shampoo, games, etc. The entire place was so clean and clearly taken care of. The lake is only a 15ish walk away and one of our favorite spots. It's just under an hour drive to the Yosemite gates and depending on where in the park you're headed, it might take you an additional 45 min or so to get there but for us it was definitely worth the drive just so we could end up back at Pine Mountain Lake. Jeff was great at communicating, sent us all the info we could possibly need and it was a super super easy check in/check out process. Would highly recommend this cabin and really hope to be back again! Thanks Jeff for a great airbnb experience.
yelena
2016-10-23T00:00:00Z
Esta cabaña es preciosa, incluso mejor que en las fotos. Está situada en un área vacacional con un lago, muy tranquilo y con todos los servicios imprescindibles. Bien situada para visitar Yosemite Beautiful cabin, even better than the pictures. It is located in a vacation area, close to a lake and with all services nearby. Well located to visit Yosemite.
María
2015-08-25T00:00:00Z
This cabin was a great place for me and a group of friends to stay during a weekend trip to Yosemite. It was a bit of a bummer to pay $25/car at the gate (cost us an additional $75), but Jeff keeps the nightly rate relatively low to account for that. Otherwise the house is in a gated community with close access to the main street in Groveland, and well-equipped for a weekend stay.
Jin
2017-02-19T00:00:00Z
Our stay was overall okay.
Santos
2016-12-25T00:00:00Z
The cabin is as advertised and Jeff is a very responsive and accommodating host. Excellent location close to Yosemite. Hope to return again someday!
Casey
2017-03-12T00:00:00Z
Lovely place to stay. Really close to the main road (120) which leads you into Yosemite Park. It took us 1 hour from the cabin to get to Yosemite Valley on both days. Thankfully we did not hit any of the traffic entering the park that we hear so much about in Summer months. The small grocery store is really close to the Chalet Cabin for our supplies. The prices were a little high but that is to be expected in a small town. Also enjoyed pizza from the local pizza place (2 Guys Pizza Pies) which was tasty and close by. Also took advantage of the lake and marina one day. We took a really nice swim and the view of the lake was awesome. There was sand to lay in as well as some nice grass with shade. There was a place to rent boats, kayaks, etc and also a snack bar. Please note both bedrooms downstairs have full size beds (for anyone expecting a queen). The neighbor was doing some construction on his home and we could hear power tools in the late afternoon until the early evening which wasn't so peaceful but some things can't always be controlled :)
Melissa
2015-06-18T00:00:00Z
The cabin was wonderful, spacious and exactly as described. We stayed there with 4 adults, 2 adolescents and one kid. Communication upfront was excellent and we had no problems to find the cabin. Yosemite vally is about 40 minutes by car and a grocery store is more or less around the corner. We had a great time in the cabin and Yosemite! Thank you Jeff!
Andrea
2015-05-11T00:00:00Z
Tipo di stanza
Intera casa/apt
---
Tipo di sistemazione
Chalet
---
Può ospitare
8
---
Camere da letto
Groveland, California, Stati Uniti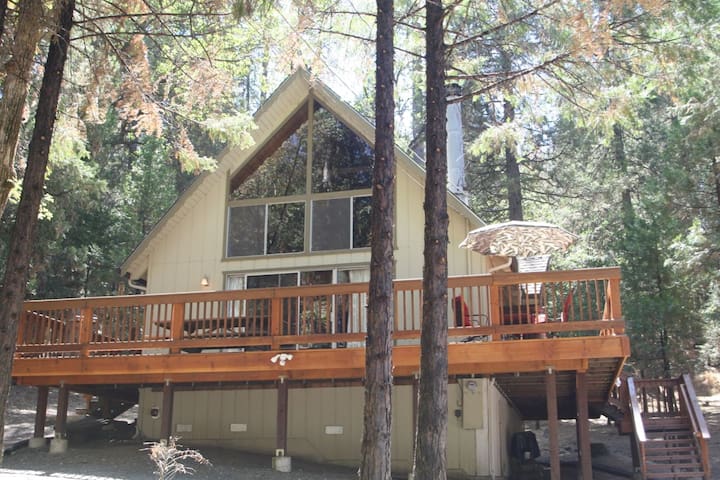 Newly remodeled house located in the gated community of Pine Mountain Lake, approximately 26 miles to Yosemite entrance. Sleeps 8, comfortably 6 guests. Beautiful new 2nd story deck overlooking the property, great for BBQ's and outdoor eating. Updated: 08/02/16 - You've reviewed, and we've listened. The downstairs bedrooms have been equipped with privacy curtains on the windows. The 2nd bedroom bed has also been replaced with a more comfortable memory foam mattress.
Kitchen: Full kitchen with fridge, freezer, stove (electric) microwave and dishwasher. All you need for preparing meals with pots/pans, bowls, plates, glass ware, utensils, knives and cutting boards. Kitchen also has a keurig and complementary K-cups. Update 01/01/2017: We have replaced Plates, bowels, and additional cookware for the 2017 year. Upstairs Bedroom: Queen size bed, full linens and comforter. Futon Bed for extra sleeping arrangements. 40" flat television Upstairs Bathroom: Shower only, toilet, and full vanity sink w/Blow dryer Living Area: 40" Flat Screen TV with upgraded sound bar, and bass speaker for an enhanced viewing pleasure. DVD player, and DVD's available for use (recommend bringing your own classics or favorites to view). You can also bring your own hard drive with movies. Also have a bluetooth speaker tower for listening to your favorite songs or podcasts. Downstairs Bedroom #1: Full size bed complete with linens and comforter. Updated: 08/02/16 - Privacy Curtains installed on window Downstairs Bedroom #2 Queen Size bed complete with linens and comforter. Updated: 08/02/16 - New memory foam bed, and privacy curtains installed on window Downstairs Bathroom: Bath and shower combo, toilet, and full size vanity w/blow dryer Outside deck: Brand new 2nd story viewing deck, complete with BBQ and outside table and chairs (2). *Remember this is a home not a hotel & we have a cleaner not maids. *All of our beds are encased in a bedbug and skin protection cover
There are 3 different areas PML falls under; There are owner occupied homes, part time homes, or vacationers. Everyone we've experienced in PML or Groveland has been very nice and courteous, we ask that you do the same.
Robert's place was very clean and cozy. We went during Christmas time and the rooms were all comfortable and warm (we didn't need to turn on the heaters downstairs). There were some DVDs which was a nice touch, and the TV easily hooks up w/ HDMI for playing movies or music from your laptop. Easy access to Yosemite and other nearby parks like Hetchy Hetchy. Overall one of the cleanest places we stayed at and surpassed our exceptions, will book again if we visit Yosemite.
Mike
2016-12-26T00:00:00Z
Overall experience was great. Super cute home. Has a nice modern feel thats very comfortable and pleasant, yet you still get that cabin/nature vibe. The place was well equipped with extra toiletries and kitchen had everything you would need. Robert was quick to respond to any questions/concerns. We enjoyed our stay very much.
Kyle
2017-01-01T00:00:00Z
Robert is awesome. Very attentive, very clear, really warm. He even messaged us the day of to ask what temperature we wanted the home to be when we got there! The picture of the place don't do it justice. Tons of space, very clean, all new. I plan to stay here again if I can. Perfect location for visiting Yosemite.
Nicholas
2016-05-16T00:00:00Z
Robert is an A+ host. You're getting a fantastic place, meticulously tidy and comfortable. The location is ideal for a visit to Yosemite or just being in the embrace of nature. Robert's place is tech ready with Internet enabled flat screen TVs, wifi and modern appliances. This is the place if you're in Groveland or want to be near Yosemite and want a spacious place where at the end of the day you can fire up the gas grill and kick back on your porch and marvel in the California mountain air!
Marc
2016-08-23T00:00:00Z
Robert was a great host, very communicative and friendly. The house was perfect for our family. Enough space for everyone and the kids had a fun time with the big screen TV (we don't have one.) The area is really nice and we plan to come back to take advantage of everything PML has to offer during the summer. It is close to the market and everyone we came across were really friendly.
Maceo
2017-02-21T00:00:00Z
Really nice house for a visit to Yosemite. Very clean and quiet and all the staff is prepared.
Wei
2016-06-02T00:00:00Z
Wir haben zu 4t in dem ruhigen Haus gewohnt, ein Paar oben mit Bad, das andere Paar unten auch mit Bad. Einkaufen kann man ca 5 Minuten vom Haus entfernt in einem kleinen Supermarkt. Wir haben das Haus genutzt um den Yosemite Park zu erkunden, dafür sind wir jeden Tag ca 1h nach Yosemite Village gefahren um von dort aus Wanderungen zu starten. Abends haben wir dann auf der Terrasse gegrillt oder zusammen gekocht. Ich kann die Unterkunft empfehlen wenn man nicht direkt im Yosemite Park wohnen möchte.
Luca
2016-09-23T00:00:00Z
Our family had a lovely time in Groveland. Robert was an excellent host, communicating regularly with us. We appreciated the close proximity to Yosemite's entrance, as well as the nearby market. We would love to return!
Ivana
2016-12-29T00:00:00Z
Tipo di stanza
Intera casa/apt
---
Tipo di sistemazione
Casa
---
Può ospitare
8
---
Camere da letto
Groveland, California, Stati Uniti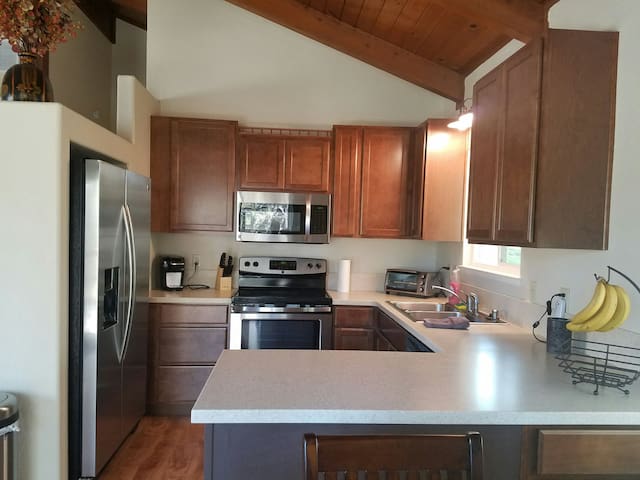 Moondance is located at Pine Mountain Lake but not behind the locked gates. This means you don't have to pay $25 for the PML pass unless you decide to visit the lake itself. A short 30 minute drive gets you to Yosemite. The Guest Guide includes Yosemite Host-clear, concise information designed to help you make the most of your time in Yosemite. You also get free use of a CD/flash drive "guided" trip from Groveland to Yosemite. MORE THAN 8 GUESTS IS $50/night/PERSON EXTRA INCLUDING CHILDREN.
The main level has a large great room area and a spacious deck with two reclining lawn chairs and a table with umbrella and 4 chairs. There is one bedroom (queen size bed) and 1 1/2 baths on this level. Downstairs is a large family room with a set of bunk beds and a comfortable, easy to use, full size sofa bed. Stepping out of this area through a sliding glass door you reach the 2nd private bedroom (also a queen size bed). There is one bathroom on this level as well as a washer & dryer for your use.
I love how you can see the stars, especially when there is s new moon. I love the total quiet that one can experience here. I love the high country of Yosemite as my backyard.
Luci was an excellent host, and Moondance was superb. In fact, I would actually say that some of the pictures in the listing don't do it justice. Luci gave us all the important information we needed about the house and the area (Groveland) as well as stocking the house with helpful tips and trails for Yosemite (which is an easy drive away). Luci also provided directions to the house that made our trip smoother. The house was impeccably clean and had everything we needed. The beds were comfortable, and the living room area was relaxing and well-appointed--a perfect space to be in after a long day in the heat at Yosemite. The wrap around porch was perfect for coffee drinking in the morning. I would definitely recommend Moondance!
Michelle
2016-09-26T00:00:00Z
We loved the place and Luci was very quick to respond to our messages. Very cosy, lots of space and a really great secluded location with a good supermarket a short drive away.
Jimi
2016-10-10T00:00:00Z
This is a wonderful home! If you plan to visit Yosemite you cannot beat this place. Groveland is a very easy drive from the park, and the town is really great. 5 stars all the way!
Daniel
2016-11-26T00:00:00Z
Everything about our stay was awesome. Upfront communications prior to the visit was great with Luci giving great information and answering every question. This made our stay awesome. Her recommendations for restaurants and food was on the mark. Fork and Love restaurant was fantastic. As for location, we went north to the Big Trees state park and East to Yosemite. The location is perfect to enjoy a broad range of the area. The house itself is immaculate and beautiful I highly recommend.
Don
2016-09-21T00:00:00Z
Moondance combined the highest level of accommodations and host courtesy. We were very pleased with both the home and Luci's willingness to go above and beyond with driving directions, advice on the area and thorough resolution of one minor issue we encountered that was largely out of her control. We'd love to stay here again!
Hadas & Yoni
2016-12-26T00:00:00Z
Luci was a great host- the house was really clean, comfy and ideally located close to Yosemite and the small town of Groveland( with restaurants and a market.) In anticipation for our trip, she gave us lots of helpful info preparing us for the local road conditions and the best route to take given the road work conditions. The night we arrived there was a road closure and our gps wasn't helping- we called her( a few times!) and she was very nice and extremely helpful. When we had a small issue with the sliding glass door sticking, she promptly sent her handyman over to try and fix the issue. We were a group of two families with young children, and the house was perfect for a relaxing weekend visiting Yosemite. We would highly recommend Luci and Moondance!
glennie
2016-12-30T00:00:00Z
Great communication; thoughtful host who updated us about road construction and weather in the area!
Julia
2016-10-02T00:00:00Z
We had a lovely, relaxing, cozy weekend playing games and exploring the area. Thanks for a great stay!
Patrick
2017-02-20T00:00:00Z
Tipo di stanza
Intera casa/apt
---
Tipo di sistemazione
Casa
---
Può ospitare
8
---
Camere da letto
Groveland, California, Stati Uniti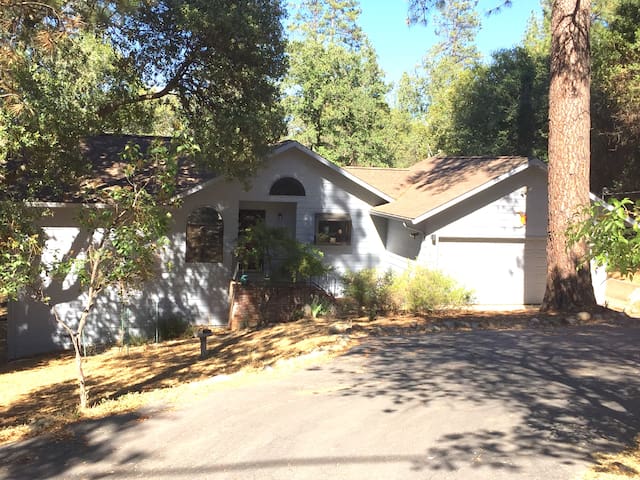 Inserisci le date per visualizzare il prezzo totale. Ci sono dei costi aggiuntivi e potrebbero venire applicate alcune tasse.