This newly remodeled loft sits on the top floor of a rehabbed masonic temple located in the Madison Street Shopping/Dining District w/ first class dining at eateries and pubs and within minutes of downtown Chicago and the United Center.
Crowned "The best in neighborhood dining" according to a 2008 Chicago Tribune readers poll, the variety of Forest Park restaurants offer something for everyone. The unit is a charming two bedroom, two bath loft a stone's throw from historic Oak Park and just three blocks from the CTA Blue Line making downtown Chicago a 20 minute train ride away. The condo includes additional amenities such as: - Elevator in building •Secure front and back entrances. •Two assigned parking spots in the back of the building. •Full kitchen with stainless steel appliances (stove, dishwasher, refrigerator), cookware, and dinnerware. •Granite countertops. •Two full bathrooms. The master bathroom includes a Jacuzzi tub. •Two full bedrooms. Both have queen sized beds. •Smart TV with cable access and access to Netflix. •Central Air conditioning •Working fireplace •Balcony with a view of downtown Chicago •Washer and dryer in unit. Just to the east lies historic Oak Park, which offers an array of attractions such as: •Brookfield Zoo •Chicago Architecture Foundation •Ernest Hemmingway Museum and Birthplace •Frank Lloyd Wright Home and Studio •Frank Llyod Wright's Unity Temple •Oak Park Conservatory After soaking up some attractions in Oak Park, Chicago is only a short twenty minute train ride away, and it offers such noteworthy experiences as: •Shedd Aquarium •Architecture River Cruise •Skydeck Chicago •Navy Pier •The Field Museum •John Hancock Observatory •Adler Planetarium •Art Institute of Chicago •The Museum of Science and Industry
This is a fabulous place, we would highly recommend it. It's decorated beautiful, it has all the comforts of home. The area is great! It's quite and there are great little restaurants just a out the front door. The hosts were great and have an awesome response time.
Stacy
2017-01-31T00:00:00Z
Jeromy & Jordan are great landlords...they handle any issues immediately. Their place is always clean and they leave you with coffee, orange juice, bottled water, yogurt, and granola bars. The location is also ideal with everything you could need within walking distance. Do not hesitate to stay here!
Scott
2016-02-12T00:00:00Z
Jeremy and Jordan's Loft was everything they said it was. Very clean and lots of goodies in the fridge. Bed was comfortable and you can't beat the location. Downtown Forest Park is really nice too. Thanks again for being such nice hosts.
Nancy
2014-11-11T00:00:00Z
The pictures really don't do this home justice. The loft is well laid out, spacious and truly amazing. It is filled with tons of charm and character while keeping comfort front and center. Jeremy and Jordan were incredibly helpful and great to work with. They made the transaction simple and seamless. I can't imagine going anywhere else when we are back in town.
Liza
2016-02-04T00:00:00Z
A great loft in an ideal location! I am from Forest Park and now live in Europe with my Family. We were back to visit for two weeks and rented the handsome loft- what a great decision! Within walking distance to all that makes the area great: Bars, Pubs, Shops, Public Transportation, etc. Downtown is only 11 minutes away by car. The loft is spacious, clean, stylish and very well equipped. Despite it's open floor plan we had ZERO issues with our two little ones sleeping comfortably and undisturbed. And having not one but two parking spots is so rare and such a plus for this property! The balcony is great for grilling of having a cocktail in the evening. The owners were so great and so helpful in allowing my Mother to come by early and drop of essentials like a baby bed and highchair prior to our arrival from Europe. This flexibility was a great help! We would highly recommend and would be back. Great for Locals returning, new visitors to the area including families!!! Loved it!
John
2016-07-22T00:00:00Z
Our trip to Forest Park, IL and our airbnb experience with Jeremy and Jordan as our hosts were second to none. If you are looking for a unique Chicago experience and are used to top-notch hotels, well you've come to the right place with J & J's Madison St. Loft. We traveled from MI to meet WI friends in this professionally decorated, exceptionally clean loft. J & J have hosting down to a "t" with excellent communications and little "extras" such as a supplied Keurig Coffee Maker, fresh coffee, bottled H2O, juice, frozen dinners, eggs, yogurt, extra toiletries (I could go on and on here); not to mention a wealth of suggestions with where to dine, and how to get to local destinations. We were met at our car at one of the convenient parking spaces and Jeremy even helped us carry our stuff inside. Don't hesitate! There is no need to look further! We'll be back! Thank you J & J!
Audrey
2014-02-17T00:00:00Z
Jeremy and Jordan's loft is wonderful, and they treated us like friends. It was really a great experience. They communicated with us promptly and thoroughly, and met us in person to give us our key and to answer questions. We would recommend their loft to anyone.
Amy
2014-04-03T00:00:00Z
it was very nice loft we have ever seen. Meanwhile, owner are very hospitality and kindness. For sure we will come back if we visit Chicago again
申俊
2014-11-20T00:00:00Z
Tipo di stanza
Intera casa/apt
---
Tipo di sistemazione
Loft
---
Può ospitare
6
---
Camere da letto
Forest Park, Illinois, Stati Uniti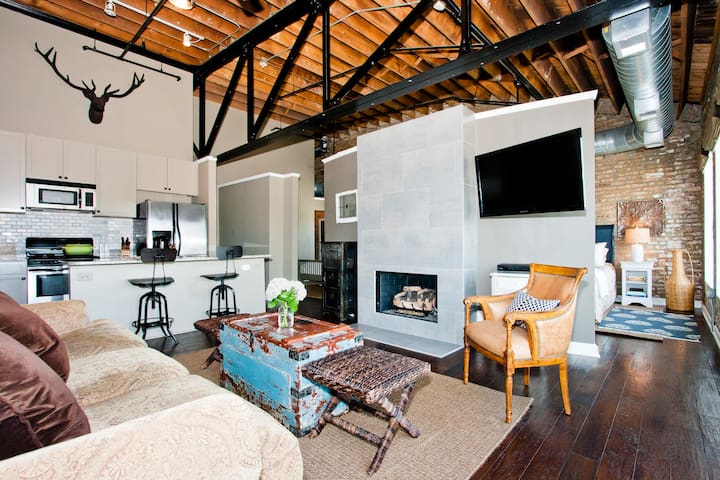 New Studio with attached garage and private stairs to large space. My place is close to nightlife, great local shopping and 2 very nearby malls, many restaurants of every type, the airports, and parks. Easy access to all roads leading to the airports and downtown Chicago. Located in a heavily wooded neighborhood. You'll love my place because of the ambiance, the neighborhood, the comfy bed, wonderful furnishings and the light. My place is good for couples and business travelers.
The Studio is fully furnished, designed and decorated for your comfortable enjoyment with a great King size bed, kitchenette, large TV, comfortable sitting areas, private access from your included garage space and respect for your privacy.
Located in a very quiet area but very near everything the area offers.
Tipo di stanza
Stanza privata
---
Tipo di sistemazione
Loft
---
Può ospitare
2
---
Camere da letto
Lombard, Illinois, Stati Uniti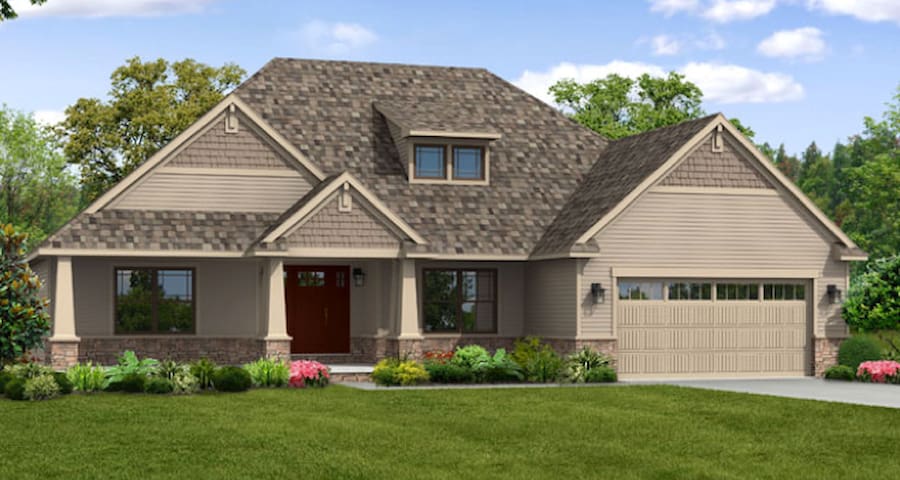 Our little loft is a safe space for everyone. It's fantastic for artists, couples, solo adventurers, business travelers, and you. We are close to Toyota Park (8 Minute Drive), Amtrak Station (8 Minute Drive), Parks, Restaurants & Midway Airport (11 Minute Drive). The Z Room is one of a kind magic space. There is a small garden space, cute little kitchen & a cozy common room containing books, movies, board games & records for your enjoyment. Harmony!
Read a book. Listen to records. Play a board game. Have a snack. Relax on the couches. Make art. ...The Z Room is infinite. Private Room, Living Room, Kitchen, Bathroom & Backyard
Located in the lovely quiet village of Summit IL.
I loved the location as it was not in the downtown area and not around a lot of traffic. There are restaurants around the neighborhood and about a 20-25 min drive to downtown. The space was clean, comfy, and exactly what was needed. It fits a hippie and minimalist lifestyle. There were snacks and tea available if needed. Z was definitely a great host! He was also very accommodating as we needed to check in late and check out late. The conversation natural flows with him as if he's a friend you haven't seen in awhile. We will definitely book with him next time in Chicago!
Qyonna
2017-02-20T00:00:00Z
Todo bien para pasar la noche, la cama estaba algo sucia, parece que las sabanas no las limpiaron ni cambiaron reciamente, había mucho cabello en toda la cama, la cama es cómoda y el lugar es muy agradable.
Joel
2016-12-21T00:00:00Z
Very good host who love his city and is very welcoming. We had a great trip.
Jennifer
2017-01-01T00:00:00Z
The host took good care of me and made me feel welco.ed and comfortable
dale
2016-11-07T00:00:00Z
The Z room was very warm and cozy, with a host equally as accommodating and welcoming. We could have benefitted from having our own key to the apartment when we stayed out late so we could come and go as we pleased, but otherwise, we enjoyed our stay. Would certainly recommend for anyone looking for a quaint, comfy place with an openminded and easygoing vibe, especially if they want to be a little away from the hustle and bustle of the city.
Marcus
2016-11-21T00:00:00Z
The neighborhood was tucked away in a quiet Hispanic neighborhood. The place was beautiful and simply stylish. I absolutely loved the stairs leading to the loft. Our host was wonderful making it feel like visiting long lost friends. It was nice to share our crafts together and he even let me photograph him. He was very hospitable. It truly is an artists haven where you are free and safe to be yourself and experience Chicago life. I would recommend Z's to anyone who is looking for a place just outside the city but in a great neighborhood. Lots of culture and if you like baked goods there's a cute little place that is a couple blocks up that have seriously amazing churros. Z is knowledgable such a blast to know. We plan on staying there again next time we visit.
Amanda
2016-11-13T00:00:00Z
Tipo di stanza
Stanza privata
---
Tipo di sistemazione
Loft
---
Può ospitare
2
---
Camere da letto
Summit, Illinois, Stati Uniti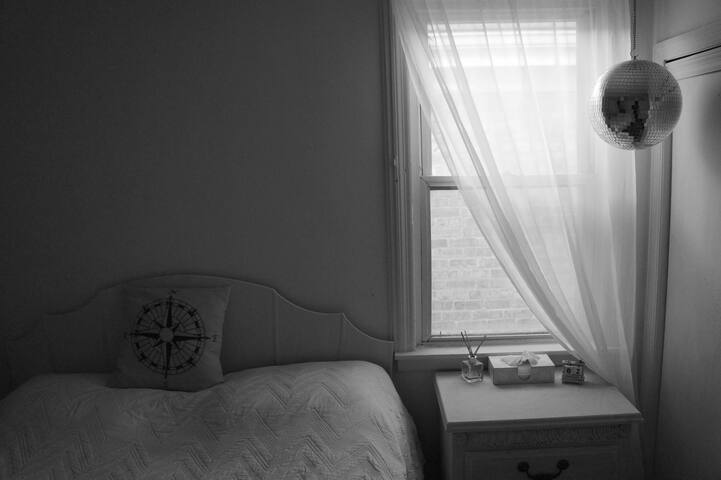 Walking distance to Downtown Des Plaines. 15 minutes to O'Hare. Walking distance to train station to downtown Chicago
Loft Apt. Street parking, Sleeps two. Fridge, Coffee maker, Hot plate, Microwave, Bathroom with shower. Awesome yard, Gas Grill available. Des Plaines bike trail entrance 2 blocks away. 2 night minimum nov-mar 1 Walking distance to Bus & Amtrak
Michael has a gorgeous home on a really quiet neighborhood. The space we stayed in was above the garage and overlooked part of the yard. It was a very private, beautiful space that had all the amenities that we needed.
Sunny
2016-08-22T00:00:00Z
Great stay, highly recommended.
Constantino
2017-03-20T00:00:00Z
Excellent price in a great location. Mike was an amazing host who made sure we had everything we needed. Very flexible and accommodating. Highly recommend.
Nic
2017-01-01T00:00:00Z
The host canceled this reservation 4 days before arrival. This is an automated posting.
Vickie
2017-03-07T00:00:00Z
Micheal was an amazing host, he picked me up from the airport and was very accommodating with any requests. The place was clean and just like the pictures plus a TV on the wall where the clock is. All the amenities were included that one needs. The place has its own entrance so you will get your privacy. There's an extra mattress and plenty of blankets and pillows if there's a couple of you. The room heating is great there's a split AC/heater as well as few floor radiators which were more than enough during the freezing winter. The water heater is only 5 gallons however, enough for a quick shower but if there's a couple of you then you will have to take turns waiting for water to hear back up. The place is a 2 minute walk to the nearest bus stop and a 10 minute walk to the train station from which you can take a 30 min train ride to downtown. Highly recommend for couples and singles travellers looking to stay in the suburbs during their visit.
Saad
2017-02-01T00:00:00Z
he is so nice and the price of this place is amazing. Very near ohare. Recommend:)
Xiang
2016-09-03T00:00:00Z
The place was cozy and had a lot of privacy. If you open the windows, you can hear the birds chirping in the morning, which I love. Michael was a wonderful host. He was kind and attentive. It was a pleasant stay and took care of our needs for the weekend. If your a couple, you won't be sleeping together. The twin beds are separate from one another, so this is no romantic get away. From all my travels in hostels, I would say this Airb&b has that feel to it. You get what you pay for and its just enough for your basic needs and nothing more.
Rebecca & Ryan
2016-06-06T00:00:00Z
Awesome dude! Picked me up from the airport, very accommodating and had resultant suggestions. Would absolutely stay again!
Raphael-John
2016-10-21T00:00:00Z
Tipo di stanza
Intera casa/apt
---
Tipo di sistemazione
Loft
---
Può ospitare
2
---
Camere da letto
Des Plaines, Illinois, Stati Uniti
Private room with lock on top floor, no elevator. Recently remodeled, queen size bed with memory foam. You have your own fridge as well. Beautiful space, murals, artwork and sculpture. Really have to see to believe.
Very comfortable, friendly and diverse building with multiple artists. Over 35 works from various artists shown throughout building and loft.
Beautiful neighborhood of southwest Westmont. Tree lined streets and just minutes from downtown Westmont and downtown Downers Grove.
Very comfortable stay. Easy commute. Issac was very accommodating and answered any questions
Matt
2015-09-04T00:00:00Z
Isaac is very kind and helpful. He welcome you with a great smile and help you to take your heavy luggage. The evening of my arrival, he prepared meal and when you are exhausted by a trip you are very happy by this offer. Everytime he tryed to give service, help, proposal... The room is simple but comfortable. You can cook easily. No internet but discussion with the host is more important and if you are for job, phone link is enough. For the runner : long way pleasant and calm in the morning. Chicago by train is very convenient, for the Isaac house to train station, about 45 min by walking. Good place for calm and qiet rest.
Georges
2015-09-21T00:00:00Z
Tipo di stanza
Stanza privata
---
Tipo di sistemazione
Loft
---
Può ospitare
1
---
Camere da letto
Westmont, Illinois, Stati Uniti
Hotel room with standard amenities, including gym, soap, shampoo, and towels.
Tipo di stanza
Stanza condivisa
---
Tipo di sistemazione
Loft
---
Può ospitare
1
---
Camere da letto
Rosemont, Illinois, Stati Uniti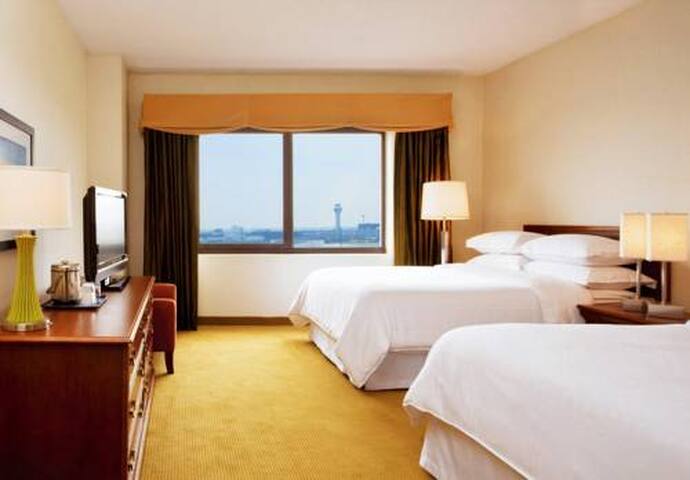 Inserisci le date per visualizzare il prezzo totale. Ci sono dei costi aggiuntivi e potrebbero venire applicate alcune tasse.