Mariposa was such a pleasant surprise, as we booked it at the last minute during holiday season. We felt like we were home. We stayed in the Monarch room - bed was so comfy, the fireplace, and the silence - you could hear the snow falling. Highlight was the homemade breakfast and the really nice host who cooks it for you. Great conversation with the other guests over breakfast. Only a 15 minute walk to town. Would definitely come back.
oritte
2016-12-29T00:00:00Z
Excellent. Highly recommended.
Trevor
2016-08-15T00:00:00Z
We had an absolutely incredible stay at Mariposa! The place felt just like home, it was cozy and clean, and the room was exactly as it appears in the photos. We never got a chance to meet the hosts, but we were surprised with a delicious breakfast waiting in the fridge after we woke up late on Sunday. Thank you so much for making our quick weekend getaway so incredible, we will definitely be back in the near future!
Eric
2016-10-30T00:00:00Z
This is a great place to stay and we highly recommend it to others! The location is convenient to downtown yet in a quiet setting and the lodge/our room is very nicely decorated. The home-cooked breakfast was delicious! We will definitely stay here the next time we are back in Steamboat!
Brenda
2016-08-13T00:00:00Z
Our hostess very welcoming and made it easy for arrival. Wonderful location, feel, and experience! Would ABSOLUTELY stay there again. Just for the breakfast alone!
James
2016-07-24T00:00:00Z
Tipo di stanza
Stanza privata
---
Tipo di sistemazione
Bed & Breakfast
---
Può ospitare
2
---
Camere da letto
Steamboat Springs, Colorado, Stati Uniti
The Deer Room is located in the Cookhouse at the Ladder Ranch. You will have the opportunity to interact with the employees and family while you stay here The Ladder Ranch is a working sheep and cattle ranch located in the Little Snake River Valley
Tipo di stanza
Stanza privata
---
Tipo di sistemazione
Bed & Breakfast
---
Può ospitare
2
---
Camere da letto
Savery, Wyoming, Stati Uniti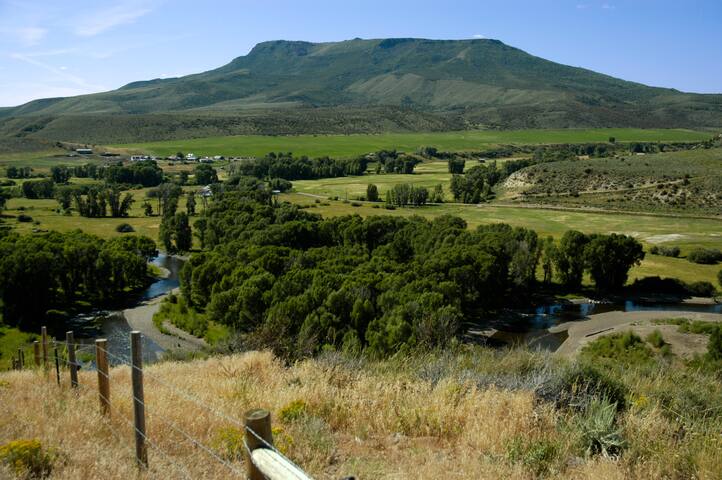 Incredibly cozy room, delicious, and great company. We were there in January when it was about 10 degrees and the downtown shops were close enough that we could walk there. Definitely recommend this BnB to others!
Brian
2017-01-26T00:00:00Z
Loved the rooms
Graham
2017-01-08T00:00:00Z
Beautiful accommodations! Kyle was very helpful and arranged out late arrival with a nice note and instructions. Would certainly come back!
Ethan
2016-08-14T00:00:00Z
Loved the people and the breakfast was beyond good.
Patrick
2017-02-27T00:00:00Z
Mariposa Lodge provided an excellent experience and exceptional service. With a great location that is walking or biking distance to downtown Steamboat, it's quiet peaceful location was ideal.
Edward
2016-08-14T00:00:00Z
Perfect weekend retreat with comfortable accommodations, delicious breakfast, fantastic hospitality, and a serene setting. We can't wait to visit again!
Baxter
2015-06-21T00:00:00Z
Our stay at the Mariposa Lodge was wonderful! We had never stayed in a bed and breakfast before or any sort of lodging that was not an entire apartment/home just to ourselves, so we were a little nervous, but all of that was instantly better when we entered the lodge and saw our beautiful bed and private bathroom! Having a private bathroom made us feel like our stay was very private! Both mornings of our stay, all the guests gathered in the kitchen around 8 AM for the delicious breakfast they cook and serve to their guests, all around a huge wooden table. It's adorable. We also loved meeting the manager--she was so sweet! We hope to come back!
Linas
2015-12-31T00:00:00Z
Beyond charming! The Mariposa Lodge is absolutely beautiful and my stay was fantastic. The daily breakfast was so delicious and plenty to get fueled for full days of skiing. Great hosts!
Michael
2016-02-08T00:00:00Z
Tipo di stanza
Stanza privata
---
Tipo di sistemazione
Bed & Breakfast
---
Può ospitare
2
---
Camere da letto
Steamboat Springs, Colorado, Stati Uniti
Beth was very kind and prompt in communication! She was extremely accommodating to us which made our vacation that much better. The lodge was simply dreamy! Very clean and cozy and it was furnished and decorated phenomenally. You can tell Beth put a lot of heart and energy into the place. Its the perfect lodging spot for a weekend getaway to the Hot Springs! In the morning Beth made us The beautiful gourmet breakfast with Orange juice and coffee. I would definitely stay again!
Ramona
2016-05-10T00:00:00Z
The Mariposa is a gem! Our hostess Beth was absolutely lovely and made our stay all the more special. Class act all the way. I highly recommend. Thanks Beth!!
Amy
2017-02-19T00:00:00Z
Beth was great! The room was clean and comfortable. Breakfast was amazing! Overall, wonderful service and I would definitely recommend it.
Kerry
2017-02-20T00:00:00Z
With over 20 AirBNB stays, Mariposa is one of my top! We read a lot of reviews for breakfast and it did not disappoint. Visiting on a sisters trip, we all agree the breakfast was worth the stay in itself :) Great and safe location (10 min walk to main town, restaurants, bars, shops and farmers market), very clean, comfortable bed, hot shower and a beautiful porch and garden to relax. Not to mention they were very accommodating by our last minute request to stay and even provided an extra cot for a 3rd guest! We really enjoyed getting to know Kyle, another sister of 3. We hope you go on your sisters trip soon!!! Thanks for a great stay. We will have to return!
Jamie
2016-08-13T00:00:00Z
What a lucky find this little place is!! And we lucked out with the entire lodge all to ourselves!! And as many have said before, Beth is a doll! Gotta love a gal that knows how to make a great cup of coffee! Blueberry dutch babies and granola parfait for breakfast, yum! Our only fault is that we didn't stay two nights!!
Lindsay
2016-03-11T00:00:00Z
Beautiful Bed & Breakfast walking distance from the main thoroughfare on Lincoln. The hosts were very warm and welcoming, with a wonderful breakfast made every morning, individualized to particular dietary restrictions. I would highly recommend choosing Mariposa for your stay in Steamboat.
Chris
2016-02-07T00:00:00Z
Lodge was amazing! It was only a 10-12 minute walk from downtown. Beth had suggested a hike to Strawberry Park Hot Springs from Mad Creek Trail and we absolutely loved it! The lodge itself was amazing and super well kept! After a day of hiking we got a bottle of wine and just sat outside on the deck and enjoyed the beautiful garden and the sound of the creek near by. Lastly, and my favorite part about the lodge was the breakfast that was prepared by Bob and Beth. It was delicious! Me and my girlfriend could not have been happier with our choice! I would highly recommend this place to any couple visiting Steamboat!
Vik
2016-08-08T00:00:00Z
Tipo di stanza
Stanza privata
---
Tipo di sistemazione
Bed & Breakfast
---
Può ospitare
3
---
Camere da letto
Steamboat Springs, Colorado, Stati Uniti
Al igual que todas nuestras suites en la cama y desayuno, el Gemelo cuenta con un baño privado con ducha de azulejos. Esta habitación adaptables se puede configurar como una cama extra grande, o como dos camas individuales, dependiendo de sus necesidades. Esta habitación es perfecto para los niños y adultos por igual.
Wonderful place! Peaceful, beautiful and amazing food. It was a sanctuary. We loved it.
Marybeth
2016-07-07T00:00:00Z
Quiet, clean, and comfortable. Checking-in and checking-out were both very easy and lenient. Even though there are no tv's in each individual room, it certainly want a problem as we were out and about most of the time. The hot springs are a 10-15 minute drive up the road, and I would estimate it's a 5-10 minute walk to town. Beth cooked us a real breakfast that was healthy and delicious. This was our first bed and breakfast and we thoroughly enjoyed it. Definitely would recommend staying at Mariposa's if you find yourself in Steamboat!
Matt
2017-02-15T00:00:00Z
Beth made our stay wonderful! The lodge was gorgeous, styled in Southwestern decor. We loved the beautiful open sunroom, the backyard with a creek running through it, and the beautiful room (not to mention the pillow soft bed!). The neighborhood was safe, clean, quiet, and well-maintained. We loved all the outdoor seating and gardens! The breakfast was made with love and care. Thanks for helping make our wedding anniversary so special!
Courtney
2016-11-13T00:00:00Z
The room was better than the picture. It was actually a queen size bed or they put the beds together. Beth is great. Very helpful, great breakfast and the house is very cozy. For skiing, short drive (5 min.) to Meadows Parking lot and then you take shuttle to ski base. Not a big deal unless you want to be the first at the mountain. The lodge is less than 20 min. from the famous hot springs. Great time!
Roberto
2016-02-22T00:00:00Z
You drive down a little road that dead-ends at some land, and there you are. Super-cute property outside and very mountain/Southwestern cute on the inside. Good wifi, ridiculously comfortable bed, tasty breakfast and terrific hosts. What more could you ask for? Yes, I'll be back.
April
2016-08-06T00:00:00Z
Very quiet, clean, and comfortable B&B in a cute neighborhood! Hosts were so sweet; they made a delicious, sit-down breakfast in the morning, and checked in the day before we arrived about our dietary restrictions. Will definitely stay here again!
Alexandra
2017-02-20T00:00:00Z
My daughter and I had a wonderful stay at Mariposa this December. Convenient location. Beth was a great host - full of information and recommendations about the area. The room and the general areas were clean and cozy during our cold winter stay. The breakfasts were absolutely fabulous - good food and good company chatting with the other guests. We highly recommend staying here.
Audrey
2015-12-31T00:00:00Z
We booked this on short notice while visiting Steamboat. The host was considerate and asked if we had any food allergies and what not. Gorgeous home! We saw a deer and fox when we arrived, so it made the visit that much more wonderful. Had a chance to meet the owners when we locked ourselves out of the house. Lol great b&b! Coming back again!
Christina
2016-08-15T00:00:00Z
Tipo di stanza
Stanza privata
---
Tipo di sistemazione
Bed & Breakfast
---
Può ospitare
2
---
Camere da letto
Steamboat Springs, Colorado, Stati Uniti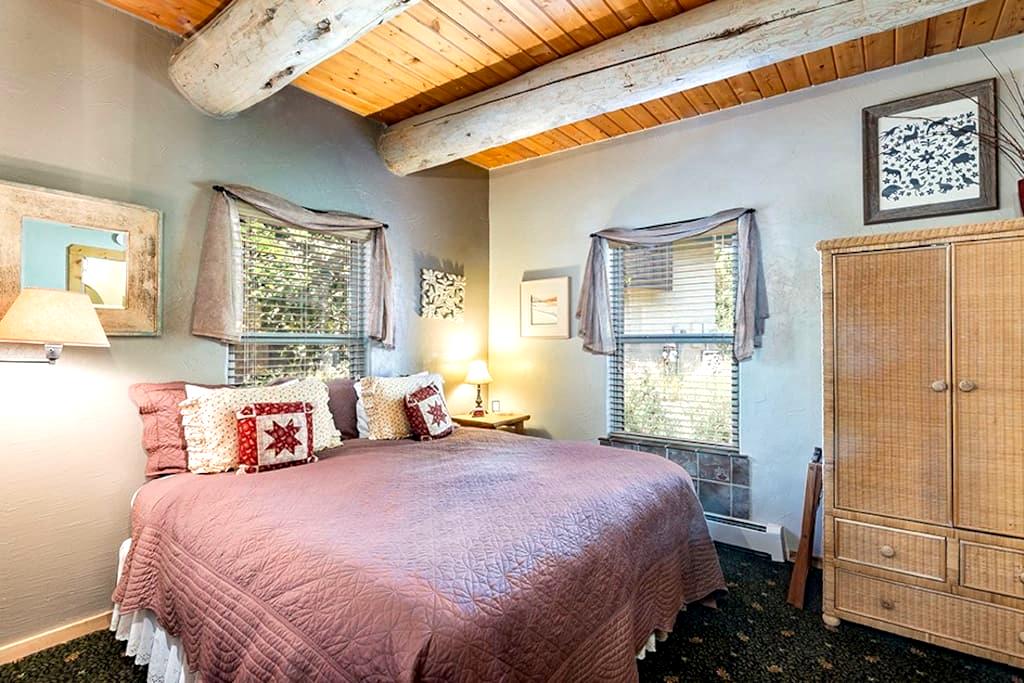 Craig - Airbnb
:
Media di

5

stelle su

5

da

31

recensioni degli ospiti
1

–

5

di

5 bed & breakfast
Inserisci le date per visualizzare il prezzo totale. Ci sono dei costi aggiuntivi e potrebbero venire applicate alcune tasse.