Inserisci la data del check-in nel seguente formato dd-mm-aaaa
Inserisci la data del check-out nel seguente formato dd-mm-aaaa
Annunci che puoi prenotare senza aspettare l'approvazione dell'host.
2 bed & breakfast
· Bancroft
2 bed & breakfast
· Bancroft
Inserisci le date per visualizzare il prezzo totale. Ci sono dei costi aggiuntivi e potrebbero venire applicate alcune tasse.
Nei mesi di luglio e agosto puoi provare uno di questi 100 alloggi ad alto rendimento, per ogni fascia di prezzo, e vivere una visione locale di Sonoma. Prova il check-in continuato, la Prenotazione Immediata e vino e spuntini locali per rilassarti e godere al massimo del tuo viaggio.
on National Historic Registry. Beautiful old farm house and 110 ft post and beam barn. Located on 16 acres with in walking distance to village of Patten. 45 min. to Northern Entrance of Baxter State Park. Fishing, nature, 4 wheeling, photography. Price includes Maine 9 percent sales tax.
our guests have the front parlor, front porch, and the grounds for their enjoyment. each room has cable tv and wireless internet. we provide a full breakfast for an additional fee of 12.50 per person. you have the front parlor, front porch, and all grounds for your enjoyment. we are on site to help any way possible
you will have total relaxation as well as wonderful breakfasts if you choose to eat with us. We are not near any public transportation. If you fly into Bangor, Me. you would need to rent a car. This is a very rural area, if you are looking for lots of shopping or commercialized activities this is not for you. we offer the wilderness, natural, small village, wild animals such as moose, white tailed deer, fox, beaver, black bear, bobcats, coyotes, and a very serene life style. There are Amish communities around Patten as well as families settling in Patten. You will feel like you have stepped back in time. Price includes 9 percent Maine sales tax.
Filena and Steve were warm and welcoming, as was their beautiful home. Our bedroom, the bathroom and the common spaces are well maintained and sparkly clean. The restored barn is fabulous and Steve generously toured us through it. The location is great. We were able to walk easily to a little diner, the drug store, the grocery store to pick up some snacks for our day trip, and the hardware store. We would go back again!
George L
September 2016
I can't stress enough how wonderful Filena and Stephen were! They could not have made us feel anymore comfortable at the Inn. This is the perfect B&B if you are planning on hiking Katahdin or exploring Baxter State Park. After a long day on the trails, you are going to want to stay here!!! Also, Filena makes the BEST Blueberry Muffins and cookies! Thank you , thank you, thank you!
Edward
August 2016
Filena's house was so lovely and perfectly decorated for its style. Filena was an absolutely gracious host, going the extra mile for us. The breakfast was delicious and huge — so big that I couldn't finish my meal. The cinnamon toast was especially evil - err. I mean delicious. I would love to stay at the farm house again and may well make a point of visiting that out-of-the-way corner of Maine.
Paul
August 2016
Although Patten is a bit sleepy we had a relaxing stay at Filena's place with her being there for a lot of tips for the region. And her delicious muffins
Arne
October 2016
I loved staying here! Filena and her husband were so kind and accommodating but not at all overbearing. I could tell they put a lot of thought into making sure we had everything we needed. Their complete breakfast was wonderful. I would absolutely stay here again if I'm ever back in Maine!
Jessica
July 2016
The hosts were wonderful, breakfast was excellent (for an additional charge), and the linens and towels were very nice and of excellent quality. The house itself was very historically interesting and super clean. The town has clearly fallen on hard-times and there are no quaint resturants or stores if that is what you are looking for--this location is pretty remote. The physical beauty of the area and Baxter State Park (this house is 45 min from the North entrance) is unparalleled and you couldn't ask for nicer hosts.
Bill
October 2016
Excellent hospitality, good conversation and a beautiful home. Thank you.
Tom & Fon
August 2016
Tipo di stanza
Stanza privata
---
Tipo di alloggio
---
Può ospitare
2
---
Camere da letto
1
Patten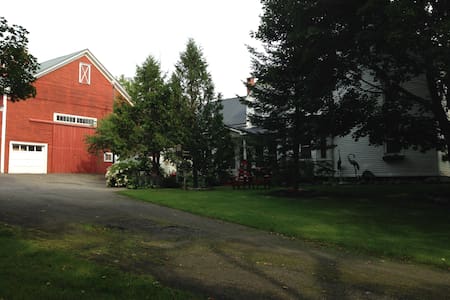 Our remodeled third floor attic space is spacious and very comfortable. It is an ensuite with a full bed and a twin bed in main area, a twin bed in a cozy corner with privacy, a full bathroom, a small refrigerator, a couple of recliners for relaxing. Sales tax included
Very private, spacious , area -- Front parlor, front porch, all outside areas, wireless internet. We live on site and are available with a phone call
It is minutes from town but very private and quiet. It is about 45 minutes to northern entrance of Baxter State Park No public transportation Lots of wilderness, wild life, lakes, ponds, hiking trails, 4 wheeling trails. If you do not like wilderness this is not a place to visit! 9 percent Maine sales tax included.
Tipo di stanza
Stanza privata
---
Tipo di alloggio
---
Può ospitare
4
---
Camere da letto
1
Patten
1

–

2

di

2 bed & breakfast