Lakeside property in bucolic setting 1 hour from Madrid. 3 double ensuite rooms, €90 each a night. The large country house is a family home furnished with great taste. The use of the swimming pool and paddle tennis court are included and lunch and dinner are available on request. Guests can also swim in the lake.
The house has eight bedrooms and seven bathrooms. We offer three double bedrooms for B&B, which cost €90 a night. We also have a room with 4 bunk beds (8 beds) that can be used for children (price to be arranged). The house is set in a beautiful pine wood, on a private estate, overlooking a lake. There is an outdoor kitchen with a BBQ for those long and lazy Spanish dinners! It's a very peaceful and beautiful place to have a good rest surrounded by nature.
Our house, "Campanilla", is only 60 mins drive from Madrid airport. It is in a secure gated community at the edge of a lake. The countryside is wild and unspoiled, with lots of wildlife. It is also interesting for birdwatchers. In the lake you can do fishing, swimming, sailing and waterskiing. All country pursuits are catered for. You may water ski by arrangement, and we have golf and riding close by. Also you can do cultural visits, for example a nearby there is a Cistercian monastery, a Roman city, a castle, a Visigod city and lovely villages.
Staying at Campanilla was an absolute joy from beginning to end. Carmel and Patrick welcomed us like old friends and were at pains to ensure we had every comfort from tea and cake on arrival, a cold beer after our walk to ensuring there was a warm rail for our towels. The house itself is just a lovely family home filled with carefully chosen treasures by the owners who have extensive experience of antiques and interiors. Our en suite room felt very private and I defy anyone not to sleep really well. Designed to make the most of the stunning location the house has two comfortable terraces from which to enjoy the incredible lakeside views and clear night skies. The house is on a private estate several km from the nearest town and having booked ahead we enjoyed a delicious evening meal with excellent local wines. Our hosts asked us to join them for coffee after our meal and we found them great fun and super company. A substantial breakfast was freshly prepared and served at the time of our choosing. We were able to enjoy lakeside walks in every direction directly from the house and had a great time photographing an abundance of wild flowers and the local wildlife. Knowing very little about the surrounding area and Carmen and Patrick kindly took the time to help us plan our onward journey following a fabulously scenic route with plenty of tips for places to stop off. We would love to return and would recommend a stay here to anyone with no hesitation. Thank you Carmen and Patrick.
Polly
2015-05-03T00:00:00Z
Experiencia inigualable en un Ambiente que es muy dificil de igualar. Clase y sensación de estar en casa en todo momento. Se ve el esmero y detalle en cada momento durante el alojamiento, asi como sugerencias muy utiles para descubrir lugares en las cercanias En nuestro caso particular nos permitieron llevar mascota (ya que estaba en comvalescencia quirúrgica) tratandolo tambien a el fenomenalmente . Comidas y cenas opcionales con un entorno inigualable Experiencia completa para repetir siempre !
Juan
2014-12-08T00:00:00Z
We were happy that we arrived earlier than expected to Patrick and Carmen's enchanting home as it allowed us to enjoy the views, the antiques, and best of all the conversation. The attention to detail, from the bedside fresh cut flowers to the fresh water to the bathroom amenities, was a pleasant surprise. It was obvious that they took pride in hospitality. We also arranged to have a meal prepared which provided the opportunity for Carmen and Patrick to wow us with their taste for food and drink. The evening has proven to be one of the highlights of our trip, especially since they gave fantastic recommendations for our remaining time in Spain. We highly recommend and hope to return in the future.
Jackie
2015-05-24T00:00:00Z
Carmen y su familia son encantadores. Un lujo de anfitriones. La Casa es ideal para relajarse y tiene todo tipo de comodidades, vistas increíbles. Recomiendo cenar en la casa los exquisitos platos que prepara Carmen. Such a beautiful place, relaxing views, Carmen and her family are so lovely and the dinner was amazing. Thank you so much!!!
Tamara
2014-07-14T00:00:00Z
Hemos pasado unos días en Semana Santa mi novia y yo. Ha estado todo fenomenal. La casa es mejor que en las fotos y el lugar esta genial, al lado del pantano, apartada de otras casa, sin ruido... Pero lo mejor sin duda son Carmen y Patrick, anfitriones super atentos y simpatiquísimos. Recomiendo totalmente la Campanilla para unos días de relax en el campo y con buena gente.
Néstor
2015-04-05T00:00:00Z
ASLKNmma
Pablo
2014-08-04T00:00:00Z
Great house, very well decorated. I had a warm welcome on arrival and Carmen cooked me a very nice dinner. The family were great especially the entertaining doggy socks. Good room and bed. The breakfast was great and I felt very comfortable chatting away the entire time with Patrick and Carmen. If I am travelling this way in the future I will definitely try and stay again.
Kevin
2014-12-21T00:00:00Z
Genial fin de semana en Campanilla con Carmen, Patrick y toda su familia. Nos hemos sentido como en casa. Piscina maravillosa, cena a la luz de las velas y magníficas conversaciones con los anfitriones. Volveremos muy pronto amigos.
rocio
2015-07-05T00:00:00Z
Tipo di stanza
Stanza privata
---
Tipo di sistemazione
Bed & Breakfast
---
Può ospitare
2
---
Camere da letto
Pareja, Castiglia-La Mancia, Spagna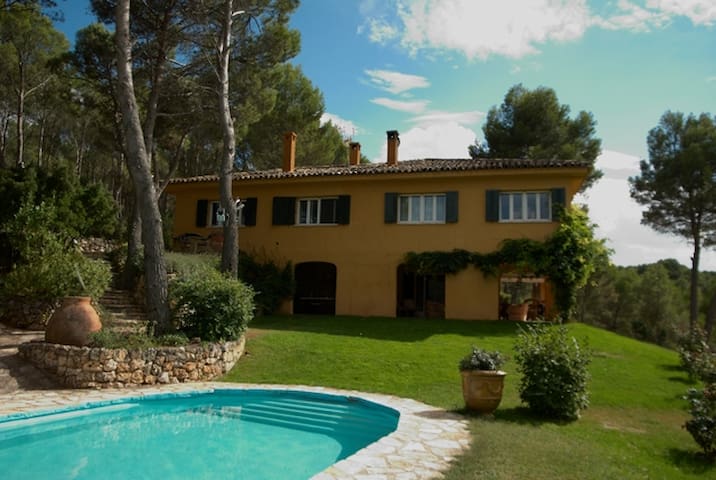 El Vergel is close to Madrid Airport 1 hour, golf course 30 minutes, the lake, beautiful countryside and a national park area, historic remains, restaurants, medical facilities. There is a swimming pool, Padel tennis court, very large spaces in the villa and very large external terraces, a Bar, various BBQs, a Breeze House, which is a South African Rondavel, overlooking the lake and overflying the beautiful gardens. The house is good for families (with kids older than 2) and groups.
This is a large luxury villa with marble and glass finishes on many different levels and zones, making it very suitable for 12 to 14 people in comfort - (not so good for very young children!!) The internal space is extensive including a very large salon, TV Room and Bar. The main terrace is 308 sq m and is superb for outside dining and relaxing. The Breeze House - (South African Rondavel) - overlooking the lake and gardens, is fabulous for pre-dinner drinks and there are lots of areas where it's possible to slip away and grab some peace and quiet. What with the swimming pool, the Padel tennis court, table tennis and external chess, there is lots to keep all amused and involved.
Places of Interest near the sea of Castilla – the lakes of Entrepenas and Buendia. There are several towns of architectural and historical merit: • Guadalajara – palace, monastery, churches, cathedral, museum, shopping, train connections to many towns and Madrid and a great restaurant, "Amparita Roca". • Siguenza – serious cathedral, arcaded gallery, Renaissance town hall and castle, which has been preserved and restored as a Parador, several good restaurants. • Cuenca – 14C "hanging houses", 13C anglo-norman cathedral, Parador, many museums, old town and new town, close to the "enchanted city" – limestone rock formations created by the natural elements. • Brihuega – walled town with castle and churches: two speciality shops, one selling unusual local cheeses and "Apicolo Moreno" with its honey and natural products. Very good restaurant "Quinoneros". • Slightly closer to home, there are small, attractive villages worthy of a visit: • Pastrana, Horche, Buendia, Priego, Cifuentes, Alcocer, Alocen and El Olivar. Some of these places have roman remains, baths, castles, attractive churches and a "plaza mayor" with interesting buildings or churches. • The remains and excavations of the Roman City at "Ercavica" are very special and also provide a wonderful strategic position to view the central plains and Buendia. There are some basic but good local restaurants including: *"Goyo" in Alcocer, *"Asador El Molino" in Pastrana, *"Rincon" in Budia. As you know, the restaurant business can be very fickle, so if you find one of these closed, please forgive. Other eating places include: *A café/bar/restaurant at the entrance to Penalagos, some 600m from the house, *The two 'member-only' club-houses of "Las Brisas" and "Las Anclas" situated beside the lake – (ask Patrick how access is gained to these), *The restaurants/café bars in Sacedon: "Hostal Mariblanca", "La Esquinita", "REstaurante Pino", "Café Bar Espana", "Hostal Plaza", "Cerveceria Capri", "Posada D Francisco Perez", "Pollo Asado" and "Café Camping". • There are two golf courses within 45/50 minutes' drive: "Valdeluz GC", our side of Guadalajara, and "Cabanillas Guadalajara GC", the other side of Guadalajara. • There is the AVE (High Speed Train) Station at Yebes, Guadalajara, approx. 45 minute drive, alongside "Valdeluz GC". This service takes about 20 minutes to the centre of Madrid (Atocha). • There is a large retail and cinema complex on the Sacedon side of Guadalajara, El Corte Ingles, accessed as you turn off the A2 on to the N320 Sacedon/Cuenca road.
Tipo di stanza
Intera casa/apt
---
Tipo di sistemazione
Villa
---
Può ospitare
14
---
Camere da letto
La Alcarria, Castilla-La Mancha, Spagna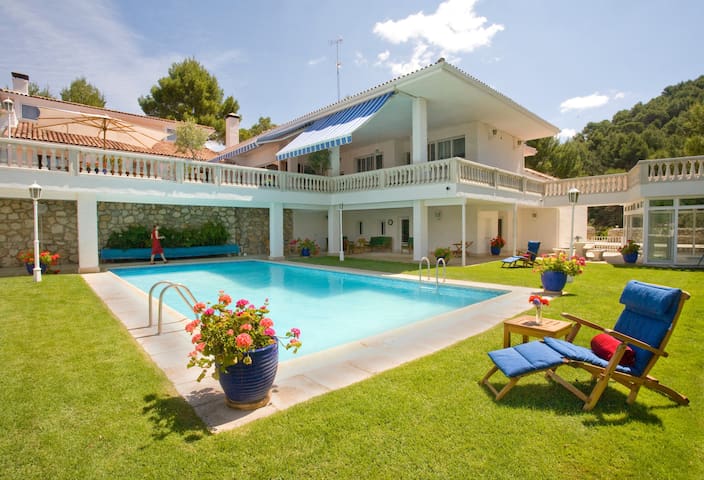 Mucha luz, con club nautico en la urbanizacion,con cursos de vela para niños, zona de columpios en la parcela y arboles frutales
The host canceled this reservation 51 days before arrival. This is an automated posting.
Rosi
2017-02-21T00:00:00Z
Tipo di stanza
Intera casa/apt
---
Tipo di sistemazione
Casa
---
Può ospitare
9
---
Camere da letto
Sacedón, Castilla-La Mancha, Spagna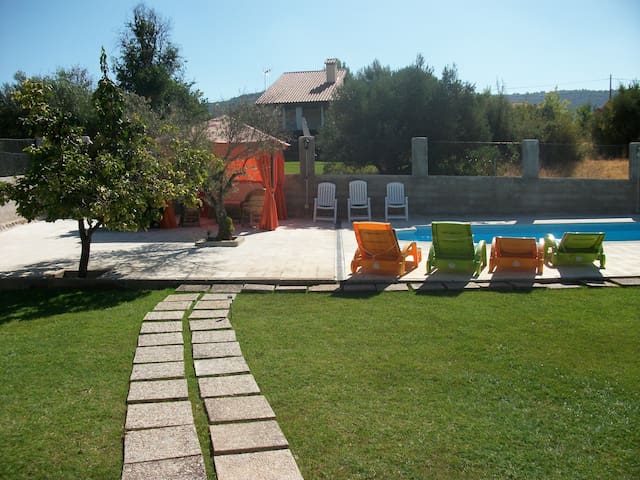 Nuovissimo villa di lusso, con 24 m2 piscina con idromassaggio e vista mozzafiato sul lago. A solo 1 ora di macchina da Madrid (100 km di autostrada o superstrada). con piscina, jacuzzi, caminetto, barbecue, aria condizionata, veranda con vista lago, completa e nuova cucina, 6 camere da letto doppie e 3 bagni, oltre 200 m2 di spazio di vita interna. Gli ospiti possono trovare diversi ristoranti e supermercati a 15 minuti a piedi. Il Villaggio Sacedon si trova a 10 minuti a piedi.
Situato proprio di fronte al lago, con una splendida vista dal portico o sulla piscina.
La casa genial, muy nueva, tan solo diríamos que parece que hay alguna cosilla por terminar de rematar.
Pablo
2016-09-25T00:00:00Z
¡No perdáis la oportunidad de alojaros aquí!. Es un lugar perfecto para una escapada en familia o con amigos. La casa está mejor que en las fotos, recien reformada , muy limpia, equipada y con todas las comodidades: tiene hasta Smart TV. Al pueblo se puede ir hasta andando a comprar y estás en un sitio independiente con vistas al pantano (y puedes bajar si quieres, está al lado). Nos han tratado estupendamente y se puede ir (como nosotros) en invierno porque hay buena calefacción. La carretera está muy bien, desde Madrid se llega rápido y con menos tráfico que a otras zonas. ¡Todo un descubrimiento y volveremos seguro!
Javier
2016-11-20T00:00:00Z
La casa esta fenomenal, Natalia fue muy atenta y nos aconsejo sobre que hacer por la zona. Muy buena experiencia.
Alfonso
2017-04-02T00:00:00Z
La casa está bastante bien comunicada, un pueblo grande y cerca de Madrid. Las vistas al lago muy bonitas aunque con bastantes mosquitos... Nos quisimos quedar 3 horas más y por ello nos cobraron 35 euros,cosa que en otras casas nunca nos han hecho. Justo hemos sido los primeros en alquilarla y pensamos que le faltan mejoras antes de seguir alquilándola: 1- la casa podría haber sido limpiada después de la obra Las ventanas están sucias, contraventanas con pintura, interior de armarios,los baños,los suelos las escaleras... Y con restos como cable de instalación de electricidad... 2-El jacuzzi no funciona aunque dijo que funcionaba a veces... 3- hay una cazuela que no vale para inducción 4- el horno tiene hasta el papel albal de la última vez que hicieron una pizza 5-faltan utensilios de cocina para más de 10 personas 6- la cama de matrimonio solo tiene cojines de decoración 7-a la suite le faltan persianas 8-en los exteriores por la noche falta alumbrado, un césped, adoquinado... 9- en alguna de las habitaciones falta una bombilla, mesillas y mejoras de acabado
Sara
2016-09-04T00:00:00Z
La casa esta genial, una mezcla de estilos fantástica, mezcla antiguos portones y ventanas con muebles modernos, una tarima que da calidez a la casa, una cocina grande moderna y bien comunicada con salon, barbacoa y habitaciones. Muy buena distribución. Una decoración muy acorde y con mucho gusto, en toda la casa. Un lugar idóneo enfrente del embalse, que aunque tiene poca agua, es un lugar genial para pasear y ver lugares cercanos de interés. Un gran porche para pasar los días de sol y una piscina que no hemos podido disfrutar. Muy grande y espaciosa, y una habitación en el piso de arriba que muchos hoteles no la tienen ni de suite. Es una lástima que la cantidad de alfombras y plásticos duros protectores desluzcan la tarima de la casa, faltan algunos enseres en la cocina, sartenes, y nos lo encontramos no muy limpios, al igual que los baños y algunos enseres de la casa. Incluso encontramos un excremento de animal debajo de una cama del piso superior. Los sumideros no tragan bien, y la presión del agua caliente es muy deficiente. Una casa ,en estas fechas, provista de chimenea y barbacoa es impensable que no provean de leña, hemos tenido que ponernos en contacto con un lugareño para conseguir, que nos ha hecho un favor, ya que venden muchos kilos. Podrían dejar la llave para guardar los coches dentro de la parcela. Lo peor que me pareció, es que viajamos con dos niños y pedimos una trona, y propusieron que como no tenían, pagar los gastos de envío de la compra de una... insólito. Aún con estas pegas, simples críticas constructivas, se puede mejorar muy poco quedando un sitio muy recomendado para pasar varios días.
Pedrulas
2017-02-28T00:00:00Z
La casa es fastástica para las familias. Un pequeño paraíso para los niños. Lo recomiendo al 100%. Profesionalidad y veracidad. Gracias por este fin de semana en familia.
Laura
2017-03-05T00:00:00Z
Muy buena experiencia cerca de la naturaleza y en unas instalaciones estupendas.
Fernando
2017-03-12T00:00:00Z
Magnifica casa en la que hemos pasado el fin de semana 7 adultos y 4 niños. Muy cómoda para 12 personas. Tiene todo lo que se necesita, incluido juegos para niños. El dueño Ignacio estuvo pendiente de todo y nos facilitó todo lo que necesitamos. La recomiendo totalmente para fin de semana de desconexión.
Cristina
2016-09-18T00:00:00Z
Tipo di stanza
Intera casa/apt
---
Tipo di sistemazione
Casa
---
Può ospitare
14
---
Camere da letto
Sacedón, Castilla-La Mancha, Spagna
La cabaña se sitúa en una parcela de 700 m2, con vivienda de 50 m2 con 3 dormitorios (1 de cama matrimonio, 1 con camas literas y 1 con cama nido). Cocina con electrodomésticos , baño. Exterior con piscina, jardín, futbolín. Pantano enfrente de cas
La cabaña " La Canica" se sitúa en una parcela de 700 m2, con vivienda de 50 m2 con 3 dormitorios (1 de cama matrimonio, 1 con camas literas y 1 con cama nido). Cocina con electrodomésticos (vitro cerámica, nevera, lavavajillas, microondas), baño con bañera, lavabo e inodoro y salón con aire acondicionado, chimenea eléctrica, televisión y mesa comedor para 4 personas.
Tipo di stanza
Intera casa/apt
---
Tipo di sistemazione
Casa
---
Può ospitare
5
---
Camere da letto
Pareja, Castilla-La Mancha, Spagna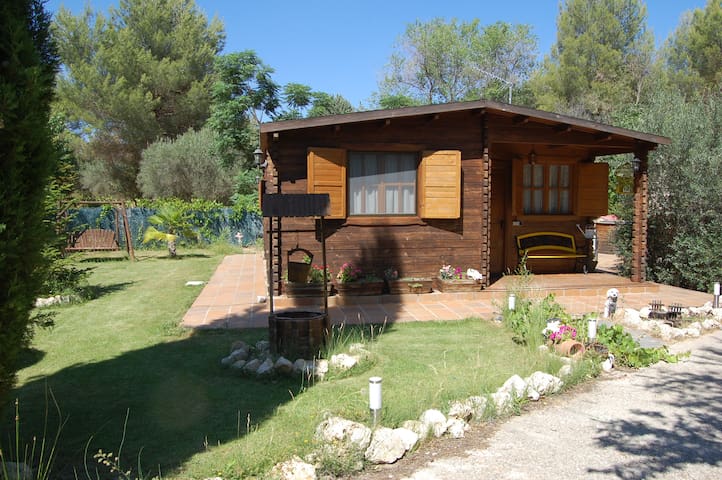 Pareja - Airbnb
:
Media di

4.78

stelle su

5

da

29

recensioni degli ospiti
Inserisci le date per visualizzare il prezzo totale. Ci sono dei costi aggiuntivi e potrebbero venire applicate alcune tasse.