Vous allez adorer ma place à cause de votre chambre est spacieuse avec un lit king size confortable et salle de bains avec douche de pluie et une grande baignoire de trempage. Il suffit de marcher pour le transport à Chicago qui vous emmène au cœur de Chicago en 20 minutes. Le quartier est super pour la course, la marche, le vélo. Ne hésitez pas à utiliser nos 2 vélos. Café / thé, muffins pour vous dans la matinée.
That is great place to stay. A nice neighborhood. A very reposible host.
shervin
2016-10-22T00:00:00Z
Sandy's home was great and she was a fantastic host. She communicated well via text and phone call about my check-in and also just touching base during my stay. She even provided an nice welcome snack and toiletries for use during my stay. Very comfortable king size bed, large room and private bathroom, and very private area of her home. She was very respectful of my privacy, but was also very nice to interact with. I was very busy while in town and staying at her home was a treat. Will definitely stay again next time I am in the area!
Bob
2016-10-15T00:00:00Z
We had an amazing stay with a great breakfast made for us and so much respect. There was a perfect amount of communication and we got privacy when we needed it. In the morning we biked to a nearby beach which was beautiful. We wouldn't have known about it if it weren't for Lily. Great place to stay!
Veronica
2016-10-09T00:00:00Z
Sandy was very welcoming - she greeted us with snacks and iced tea which were very nice considering we had just driven 8 hours that day. She had great suggestions for dinner and the muffins and coffee in the morning were great! We would definitely stay at her place again!
Brian and Mary Rose
2017-02-18T00:00:00Z
Convenient, friendly and welcoming. A great host. Looking forward to another visit.
Rick
2016-10-08T00:00:00Z
House is beautiful, location is fantastic near transit and temple grounds. Lily made me feel very welcome.
Janet
2016-10-05T00:00:00Z
Tipo di stanza
Stanza privata
---
Tipo di sistemazione
Bed & Breakfast
---
Può ospitare
2
---
Camere da letto
Wilmette, Illinois, Stati Uniti
Chris and Molly are lovely people. They welcomed me into their home and were very friendly. The room itself is large and comfortable. The surrounding area is gorgeous! I highly recommend this.
Anastasia
2016-08-12T00:00:00Z
Molly and Chris were amazing. I came in ridiculously late and Chris was graciously waiting up for me. The entire basement was set up to make me feel at home. The rest of the house was also offered to me if I needed. They live in such a pretty area of Ilinois, I fell in love with the area, most likely because my hosts went above and beyond to welcome me. They made me feel like family. It really was a wonderful experience. I've never used airbnb before and look forward to staying with them again.
Kari
2016-05-24T00:00:00Z
The bedroom was spacious, quiet and private. It's a lovely neighborhood and I wish I would've had more time to explore the beach and surrounding area.
Jacquie
2016-07-24T00:00:00Z
We felt very welcome. Comfortable room and quiet setting.
lois
2016-06-06T00:00:00Z
I stayed in oak wood hills while visiting friends and family for a long weekend. Chris And Molly were very accommodating and responsive. The neighborhood is quiet, I felt safe and there is a nice lake within walking distance that was very peaceful. The room is the downstairs portion of their split level home, which was cozy and clean. Having my own bathroom was nice. Both Chris and Molly are fun and easy to talk to and had good suggestions for nearby places to eat and visit. I would definitely stay here again when I come back to visit!
Kristina
2016-10-29T00:00:00Z
Staying here was an excellent experience. Highly reccomended.
Evan
2016-07-04T00:00:00Z
Tipo di stanza
Stanza privata
---
Tipo di sistemazione
Bed & Breakfast
---
Può ospitare
2
---
Camere da letto
Oakwood Hills, Illinois, Stati Uniti
The Lark Inn is an intimate, elegant, secluded inn within a five minutes drive to quaint downtown historic Libertyville. We are on a heavily wooded residential area five minutes from interstate 94.
The Lark Inn is an intimate, elegant, secluded inn within a five minutes drive to quaint downtown historic Libertyville. We are on a heavily wooded residential area five minutes from interstate 94. We have one bedroom upstairs with a king sized bed and ensuite shower. We have one bedroom upstairs with two twin beds and a shower down the hall. We have one bedroom downstairs with a queen bed and an adjoining bath. We serve a delicious, three course breakfast in the formal dining room. Weather permitting, we serve on the screened porch or poolside. In the afternoon, wine and cheese are offered. Complimentary water, soda, coffee and tea. Cornelia Day Spa amenities.
We live in a quiet residential neighborhood in a yard surrounded by woods.
We were absolutely thrilled with the Lark Inn. Beth and Russell's home is a beautifully landscaped place on ample acreage in a northern bedroom community of Chicago. It's ensconced within a mixture of large and large-medium-sized homes in a quiet, upscale neighborhood. The Lark's design has the agreeable gift of hiding a much bigger building than is apparent from the outside. Its guest rooms and owners' space sprawl around a large central common area including a lovely and airy living room, large and comfortable dining room, library/office, and more. The decor arrays eclectic decorations from a life well-lived within an overall French (Louis XVI/First Empire) theme, but one that puts people's comfort first. Beth and Russell put their well-equipped kitchen to work giving us a succession of savory and first-rate breakfasts. They're skilled with pastries and great with changing excellent main courses. We could count on three tasty dishes each morning, with a variety of fresh fruit and good fresh-brewed coffee. (We were free to pick our choice within several hours for breakfast, from a normal hour through delightfully lazy.) On top of this, Beth put the perfect touch on a lazy Saturday spent frolicking in the pool and hot tub by bringing out an assortment of wines, cheeses, bread, crackers and olives. Russell read minds by popping out throughout the day to unfurl a giant rotating umbrella, fire up the hot tub and otherwise cater to comfort. The large and beautifully-kept back yard is on a par with dedicated high-end inns with full-time gardening staff--it's that good. Its blend of spacious vistas and privacy is great for unwinding. The heated pool and gently-bubbling hot tub are musts. And the rooms. Ah, the rooms. Our suite boasted a monumental king-sized four-poster, with high-thread-count sheets and deliciously soft pillows and comforter. The window treatments screened out the morning sun almost completely until we were ready to awaken. The Lark has a wide selection of cable channels, if you want to cocoon. The furniture continues the overall theme described above, all in great condition and immaculately clean. The inn is within a five-minute drive of downtown Libertyville, which hosts a diverse selection of excellent restaurants; and ten minutes from a major shopping mall and all the major big-box chains, just in case you forgot something. It's 45 minutes from the Loop on a weekend, which is close enough to enjoy all the offerings of one of America's biggest and most fascinating cities, without suffering urban noise or crowding. If business brings you to the northern suburbs, to places like the Allstate complex in Northbrook, you should seriously consider the Lark as your home base. If you need directions or activity suggestions, the hosts are right there to offer them. We recommend the Lark Inn without hesitation. Come expecting to relax and be cared for by friendly hosts in a wonderful setting.
Matt
2014-08-04T00:00:00Z
Beth and her husband were wonderful hosts, they was so accommodating to my family for breakfast times. They was so welcoming for my brother who was graduating from the navy and he got to spend time with us there, Beth even made breakfast for him too! Breakfast each morning was amazing, we walked away with very full bellies. The room was clean and beautiful along with the rest of the house. It is tucked away in a safe, quiet neighborhood. The lark inn was everything we could have asked for and more! We would recommend the lark inn to everyone, its a wonderful place to stay!
Ashley
2014-09-14T00:00:00Z
Beth and Russell were great and welcoming. They have a very nice home in a quiet and private neighborhood. The room and bed were comfortable and as advertised. The breakfast was incredible and the main thing I was looking forward to. Beth asked what we would like for her to make and she delivered. You will not go hungry in the morning. Upon our arrival that evening, wine/beer and a cheese plate were offered. It was nice to kick back and have that after a long day. If you follow Chicago/Boston sports they know their stuff too. They were awesome hosts and I would definitely recommend them and go back anytime.
Mitch
2015-05-15T00:00:00Z
Beth and Russel are two of the nicest, warmest, most kind-hearted people i've had the pleasure to meet. They were amazing hosts and very welcoming to my family (four children). My oldest son was graduating from Navy Boot Camp and Beth offered to include him in our delicious three course breakfasts both Saturday and Sunday morning. The accommodations could not have been more perfect: spacious, clean, quiet (although we were anything but quiet) and so very comfortable. We will all miss Beth and Russ as well as their two terriers (Gilbert and Riley). We would definitely stay at the Lark Inn again and highly recommend it to fellow travelers.
Kathleen
2012-10-09T00:00:00Z
Beth and Russell, were great hosts. They made us feel very comfortable in their home. They welcomed us with wine, cheese, and crackers which was a nice touch! The king bed was very comfy. The breakfasts were very yummy! The pool was heated and it was so relaxing to swim and read by the pool. It was a very good experience for us!
Deb
2016-08-07T00:00:00Z
Beth and her husband Russ are terrific hosts! The Lark inn is located in a quiet, clean residential neighborhood in Libertyville. My girlfriend and I stayed at The Lark Inn during a visit to her parents who live nearby. Beth greeted us at the door and gave us a lovely tour of her gorgeous home. There is a sitting room with coffee and refrigerated water, as well as a study with a computer you can use. She has a few rooms in her homes. We stayed in a super cozy room with a King sized bed and private bathroom. The bed was probably the most comfortable bed we've slept on in the longest time! Beth served us an amazing three-course breakfast in the morning! We had cheese quiche with grilled tomatoes and asparagus spears, fresh fruit, coffee, banana bread, and bacon. Beth and Russ also offer an afternoon serving of wine and cheese, although we were not around to partake. Beth was very responsive to emails and even offered to give directions to her home over the phone. She has two small, very charming dogs (Gilbert and Riley) in the house who greeted us when we arrived. She and Russ are two very nice people, and you'd be hard pressed to find nicer, more comfortable accommodations in northern Chicagoland Lake County. Everyone will enjoy The Lark Inn.
Justin
2011-11-23T00:00:00Z
This is the second time we've stayed with Beth & Russ at The Lark Inn, and we hope to again and again and again! We just love our visits there. Beth serves a delicious, amazing breakfast each morning, and the room is just as comfortable and accommodating as could be. We've stayed in the King bed room twice now. We just adore our visits, and feel like family whenever we come. Thank you for being such excellent hosts, Beth & Russ!
Justin
2012-12-25T00:00:00Z
I had such a wonderful time at my stay in the lark inn (I was there for four days and three nights). You couldn't find more accommodating and welcoming hosts and the room and private bath were beautiful. The bed was so comfortable! better than any hotel accommodation. I only wish I knew of the lark inn months ago as I would have stayed here than at the corporate hotel I stayed at
Eleanor
2014-07-26T00:00:00Z
Tipo di stanza
Stanza privata
---
Tipo di sistemazione
Bed & Breakfast
---
Può ospitare
2
---
Camere da letto
Libertyville, Illinois, Stati Uniti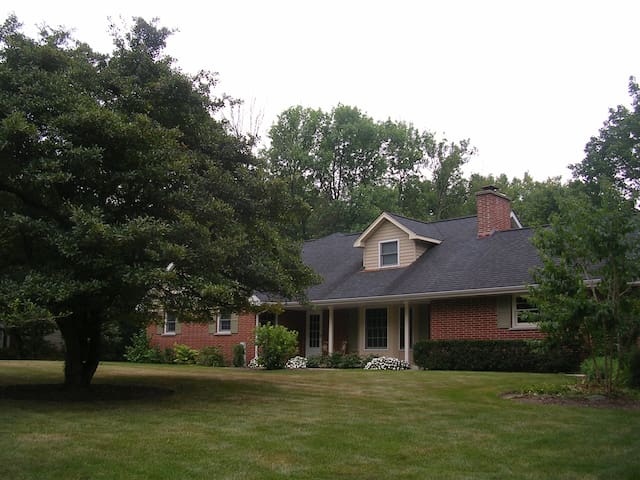 Zion - Airbnb
:
Media di

5

stelle su

5

da

24

recensioni degli ospiti
1

–

3

di

3 bed & breakfast
Inserisci le date per visualizzare il prezzo totale. Ci sono dei costi aggiuntivi e potrebbero venire applicate alcune tasse.