North Adelaide is one of Adelaide's premier suburbs and this self-contained apartment is the perfect base to explore all that Adelaide has to offer. Situated directly opposite the North Adelaide golf course and just a short walk to O'Connell St, North Adelaide is one of Adelaide's most prestigious addresses. You'll love staying in this leafy suburb, including your very comfortable accommodation.
The apartment is located upstairs at the rear of a large property in beautiful North Adelaide. Access is via a security coded driveway and garage area.
Tipo di stanza
Intera casa/apt
---
Tipo di sistemazione
Loft
---
Può ospitare
2
---
Camere da letto
North Adelaide, Australia Meridionale, Australia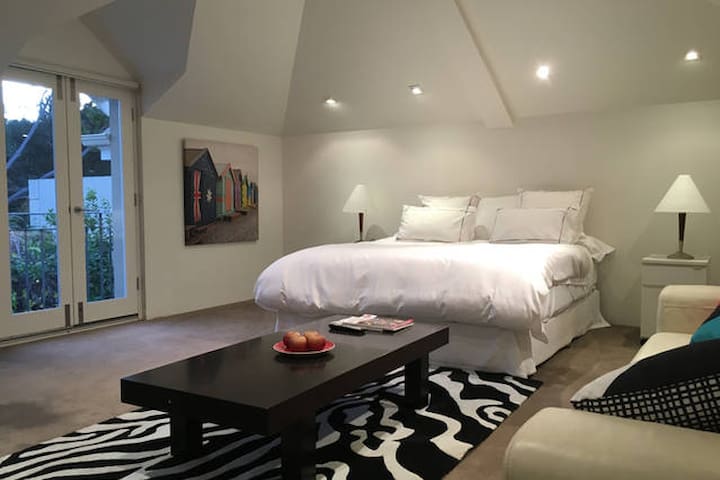 Private, peaceful & immaculately clean, our popular loft is ideally located to explore Adelaide. Separate from our house with your own access, the large space includes quality bedding, TV (+ Netflix), stereo and a comfortable couch. You have your own bathroom and secure off street parking immediately downstairs, directly below the loft. An oven, microwave and fridge plus cutlery, plates & glasses are all provided and we supply quality coffee, tea, breakfast supplies and Adelaide tips!
The loft is stylish and spacious with everything you need for a very comfortable stay. It includes a queen bed, double bed and a double bed floor mattress/futon or baby cot (and toys!) if needed. Its brilliant for 1 or 2 people, very comfortable for 3 to 4 and excellent for 5 or 6 people on a budget! The breakfast supplies, bedding, towels and shampoo/conditioner are high quality and the bathroom is like new and all yours. There is space for a car and/or bikes and you can help yourself to the laundry facilities, which are all new.
Adelaide's premier restaurant strip (Gouger St), China Town and the Adelaide Central Market are just 3 minutes walk away – a food paradise! All of the Adelaide's tourist, business, sporting and convention facilities are accessible in minutes by a free bus/free tram, by bike or a 15 minute stroll through the city's most interesting streets and squares.
We had some beautiful days at the Yearwood's home and felt very comfortable in our own apartment. We had everything we needed and a lot of privacy, too.
Nehle
2015-10-11T00:00:00Z
Stephen and Emily were fantastic. The space is amazing, and is so private it's hard to ask for anything more. We were provided with fantastic coffee and other assorted morning goodies. Emily was quite helpful in planning our travel routes for exploring and a joy to talk to.
Jeremy
2015-12-09T00:00:00Z
It was like staying with people you have known for years. Helpful, friendly and interacted when you needed with all the right answers. Highly recommend!
Nikki
2016-09-11T00:00:00Z
Stephen and Emily have a lovely home which they opened up to us. Such a welcoming couple, they gave us great advise on things to do and go see! We were able to hire their bikes for a morning and see the city, Stephen even helped us adjust our seats! Loved the little information sheets they provided with the maps. The loft itself was described as luxury and I wholeheartedly agree! The bed was so comfy, and we had access to Wi-Fi and Netflix (woot woot), as well as plenty of water and breaky in the room. The only downside would be having to go to the bathroom downstairs in the middle of the night, however the fact is clearly listed in the description. Having our own entrance to the loft was a treat, as we had a couple if late nights- was great that we didn't need to disturb anyone. Overall, we had a fantastic time in Adelaide. Thank you again Stephen, Emily and Oliver!
Laura
2016-09-26T00:00:00Z
Emily and Stephen were great hosts; they were easy to contact, had prepared a lot of information for us regarding how to get around Adelaide/recommended eateries, sightseeing options etc. The Loft felt secure and was a great size, very liveable!
Caitlin
2015-11-29T00:00:00Z
Stephen and Emily are brilliant hosts. The apartment was perfect for us. It is exactly as it is in the photos, and we loved it. The location in Adelaide is absolutely superb. Stephen and Emily are both very friendly and made us feel very welcome. We completely enjoyed our stay and will definitely be back.
Damien
2015-09-08T00:00:00Z
Fantastic stay, great loft and really hospitable hosts
Rory
2015-05-14T00:00:00Z
Great neighbourhood and welcoming hosts. A lovely, comfortable room, bed etc.
Bettina
2015-09-30T00:00:00Z
Tipo di stanza
Stanza privata
---
Tipo di sistemazione
Loft
---
Può ospitare
6
---
Camere da letto
Adelaide, Australia Meridionale, Australia
Private, quiet & bright, the Loft is in a beautiful tree-top setting; it is a breath of fresh air! Enjoy morning coffee on the Balcony, to the sound of birds or head into the village for brekky. Queen & Single bedrooms, open-plan living, kitchenette (basic cooking facilities) and a desk area. 15 min easy stroll to Stirling, the most stunning village of The Adelaide Hills. 20 min drive to Adelaide city. Fabulous base to explore the attractions of "The Adelaide Hills" and beyond. Stay and Relax!
This clean, appealing self-contained Loft Apartment sits above the garage in amongst the tree-tops; cosy in Winter, just right in Summer! Stone steps through the garden welcome guests to the private entrance, away from the main house. A place to relax and unwind with a welcoming ambiance, you will instantly feel at home. An easy and lovely stroll to the pretty village of Stirling, the darling of the Adelaide Hills. The Apt is equipped with everything you should need for a comfortable and enjoyable stay. A perfect location for exploring the attractions of the popular Adelaide Hills region and just a quick trip down the hill to the charms of the Adelaide.
Stirling, in the Adelaide Hills, charms all with its amenities, community spirit and environment. Great eateries, wine bars, art & craft, homewares, boutiques, markets and gardens. Walking trails and impressive homes with stunning gardens welcome you. Adelaide Hills Wine Region, the home of award winning cool climate wines, and boutique Cellar Doors, Mt Lofty Botanic Park, Cleland Wildlife Park and the German settlement of Hahndorf, which is now a treasure trove for Arts & Crafts, Food & Wine and "The Cedars" home, garden & studio of the famous artist Sir Hans Heysen. Charming small towns and villages with seasonal food roadside stalls, Cellar Doors with gorgeous scenery and friendly locals are found everywhere! The secrets of South Australia are yours to discover......
Kathryn is very friendly and made us feel welcome. The accommodation is clean and comfortable and we really enjoyed our brief stay. The location is very central for exploring the Adelaide Hills. Dean and Jenni
dean
2016-05-04T00:00:00Z
Loved our stay although it was only for one night. Mattress in bedroom could do with a change. Beautiful loft and definitely great on a Sunday with the markets! Will recommend!
Nabilah
2016-05-23T00:00:00Z
Katherine's apartment is lovely. We were really comfortable here - Katherine has thought of everything. A great location for exploring the Adelaide hills. Thank you for a lovely (albeit short) stay
Ross & Karen
2016-11-12T00:00:00Z
We really enjoyed our stay at Kathryn's apartment. It is a very modern home in beautiful surroundings. We certainly wish we could have stayed longer - the place has a glowing warmth about it that I am sure other guests will thoroughly enjoy. Thank you once again, Kathryn. We appreciate your accommodation.
Ben
2015-10-18T00:00:00Z
Kathryn your little flat was perfect. Clean, warm, beautiful garden and quiet.. and in the sweetest little town in the Adelaide Hills region. We'll be back!
Joshua
2015-09-21T00:00:00Z
We thoroughly enjoyed staying here! It was the perfect location for exploring the hills, the Barossa and Adelaide. Kathryn was a lovely host who greeted us on arrival and made us extremely welcome. The apartment was well furnished and had everything we wanted. Thanks for a lovely stay Kathryn!
Jayden
2016-11-08T00:00:00Z
Absolutely peaceful and relaxing villa, enjoyed the atmosphere and the tranquility it offered. Thankyou very much for having us stay!
Lisa
2016-08-24T00:00:00Z
Kathryn welcomed us on our arrival. The loft was nice and warm when we got there. At the time that we visited, the autumn colours were still very obvious and made the area look stunning. The loft is beautifully furnished and the bed was very comfortable.
Yvonne
2015-05-16T00:00:00Z
Tipo di stanza
Intera casa/apt
---
Tipo di sistemazione
Loft
---
Può ospitare
3
---
Camere da letto
Stirling, Australia Meridionale, Australia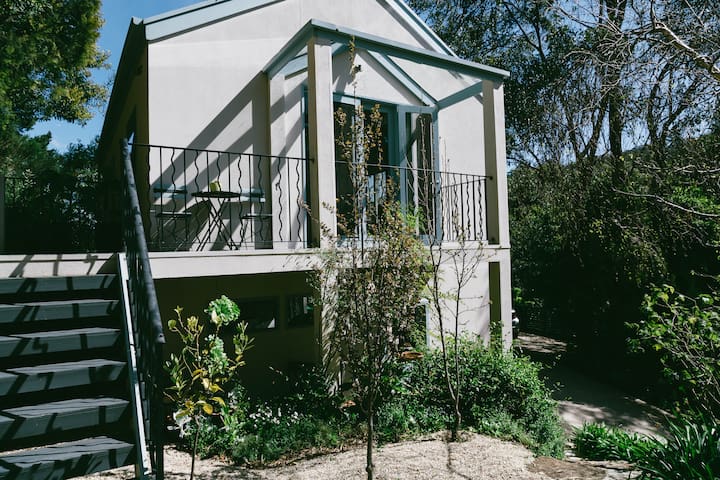 Rear and outside private access via stairs. There is your PRIVATE balcony on a wooden deck that gives a very relaxing view of a tall forest of trees. . ......like a tree house. Close to public transport.... perfect Adelaide Hills retreat. You will love the peace and tranquility of the environment and the singing birds.
Aldgate Loft is on the first floor of the main house and its outside rear stairs lead to a deck that offers wonderful viewing of a forest of tree tops and garden. The inside rooms are paneled with Asian hardwood and the bathroom is paneled with red cedar which altogether gives a feeling of comfort and warmth. The main room has a queen size bed and the second room has a single bed so altogether 3 people can be very comfortable. It is a welcoming space to be enjoyed.
Aldgate Loft is a 7 minute walk down the hill to the local village and supermarket. The local Aldgate Pump hotel serves a good meal. There are lots of food outlets to please as well as am interesting village to explore. The people are friendly and there are lots of walking trails about and for the energetic a few kms away is the Mt. Lofty Botanic gardens. Local buses are walking distance from the house.
Aldgate Loft was like a home away from home. We were provided a clean, homely, light-filled space with comfy beds, fluffy towels, a terrific shower and a charming wooden deck where we drank our morning coffee whilst overlooking trees and birds. There were lots of little touches which showed us that our hosts were thoughtful, kind-hearted and generous. The location is perfect if you're interested in exploring Adelaide City, the Adelaide Hills or the wine regions around Adelaide as it's both near the Freeway and close to public transport. I highly recommend Aldgate Loft and can't wait to return!
Sarah
2015-03-10T00:00:00Z
This unique place is like sleeping in a treehouse. But with a nice warm bed and hot shower. It's super quiet and close to all the best stuff in the Adelaide Hills.
Mike
2017-04-02T00:00:00Z
Beautiful loft in a beautiful location. Great cafes and shopping near by and only a short drive to the city. Minor problems with wifi connectivity, however they were fixed as soon as we mentioned them. Would definitely recommend the loft.
Matthew
2016-07-09T00:00:00Z
Helena was a very welcoming host and she provided everything we needed to make our stay comfortable and relaxing, the bed is cosy and the room has a lot of charm. The location is also pleasant, quite remote with a few nice walking trails nearby. The only downside was the interstate freight trains across the road which woke me a couple of times in the night.
Matthew
2015-04-06T00:00:00Z
Lovely little attic space at the top of a small flight of stairs. Perfect deck to enjoy the garden and surrounds. Not really close to shops but a great place to access local restaurants in Stirling, Algate and Bridgewater
Lyn
2017-03-04T00:00:00Z
Great place for a short break.
Catherine
2017-01-11T00:00:00Z
Lovely private accommodation nestled in the trees. Clean and comfortable. We enjoyed our short stay. Thank you.
Alissa
2016-12-11T00:00:00Z
Helena's place was just as described. Sitting on the deck amongst the trees was wonderful. Would definitely stay here if visiting Adelaide in the future.
Catherine
2017-03-17T00:00:00Z
Tipo di stanza
Stanza privata
---
Tipo di sistemazione
Loft
---
Può ospitare
3
---
Camere da letto
Aldgate, Australia Meridionale, Australia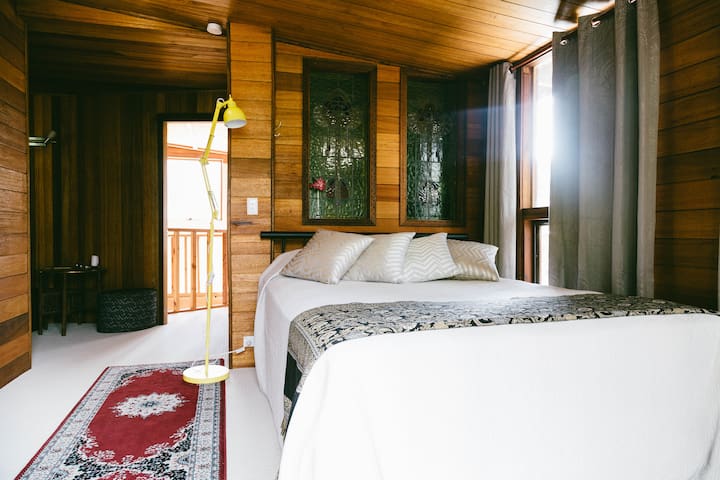 Charming, elegant, upstairs suite with rear Private entrance via outside stairs. Large open deck with relaxing views of tree tops and garden. Spacious main room with Queen bed digital TV and reverse cycle aircon. Second room for relaxing or as additional bedroom. Light and welcoming space among the tree tops.
The Loft is within the prettiest section of the Adelaide hills.... bursting with natural beauty and easy access to many attractions. Relaxed country living at its best is only 25 kms from CBD and with easy access to dozens of activities from all directions. Its the perfect getaway to relax in after exploring and enjoying our beautiful city.
Adelaide hills is bursting with friendly and helpful people. TheAldgate Loft is in a suburb called Aldgate in the Adelaide hills which is approx. 25kms from CBD. It may seem as if you are a long way from everything but in fact there is very easy access to many local attractions in surrounding Villages just a short bus or car drive away. If you prefer you can take a nature walk of which there are many. There is easy access to our "Festival City" (Adelaide) which is about to launch hundreds of cultural activities that attract thousands of interstate and foreign visitors. Exciting times. Your Host has details of venues and events and encourages you to enjoy a wide variety of world class entertainment. For scenic drives there are, famous wineries, north and south from The Loft as well as great local and southern beaches which are some of the best in the world. For music/art/cabaret, there is The Fringe Festival, Womadelaide and the Festival of Arts Theatre. This is a very exciting time of the year in Adelaide and Hills.
Tipo di stanza
Stanza privata
---
Tipo di sistemazione
Loft
---
Può ospitare
2
---
Camere da letto
Aldgate, Australia Meridionale, Australia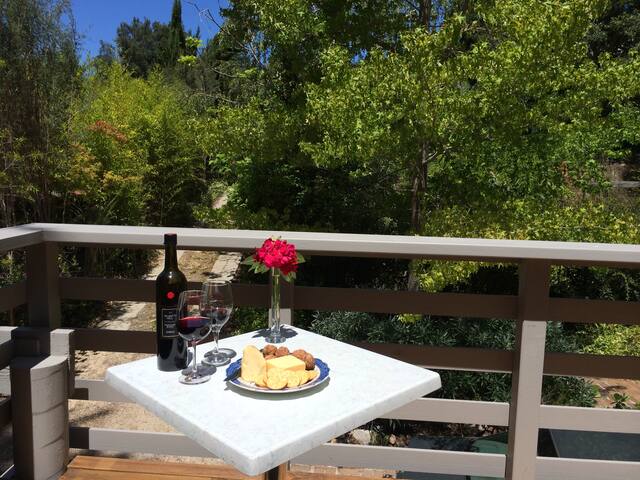 This cosy 1 bedroom loft is a short walk to Glenelg cafes, shops, transport, beach and parks. Built into the extended roof space of the original 116 year old cottage it comfortably accommodates 2 people.
In the heart of Glenelg this 1 bedroom loft apartment has sloping ceilings Queen size timber bed and built in robe in the separate bedroom. Linen, bath towels, face washers and tea towels are also provided. The lounge / kitchenette area is set up with a wall TV/DVD, split system air conditioning, comfortable lounge and coffee table. The kitchenette is equipped with kitchen sink, crockery, cutlery, glasses etc., and has a small fridge, micro-wave, kettle, toaster, tea and coffee making facilities. We provide a Continental breakfast of cereals, fruit, bread, jams, honey, vegemite, butter and juice. The white tiled bathroom facilities has a shower enclosure with hand shower, toilet, basin and stand.
Glenelg is a popular seaside suburb holiday destination. Stroll down Jetty Road towards our beautiful beach and have a meal or a cuppa from one of the many cafes or restaurants along the way, the choices are endless - Thai, Indian, Mexican, Turkish, Chinese, Japanese, Italian or one of our many Aussie pubs and the list goes on!! Visit our new Movie Theatre or shop at our many Boutique clothes shops, book shops, supermarkets, health shops and all essential amenities are available or catch a tram to the City and wander around our Central Market or travel onto the Entertainment Centre and catch a show.
Cathy was very friendly and helpful, the place was lovely with a lot of nice touches from Cathy. Location worked for us, far enough away from the bars to be quiet enough but close enough for easy access. Great for a couples getaway to Glenelg.
Shaun
2017-03-26T00:00:00Z
Tipo di stanza
Intera casa/apt
---
Tipo di sistemazione
Loft
---
Può ospitare
2
---
Camere da letto
Glenelg, Australia Meridionale, Australia
Yattalunga - Airbnb
:
Media di

4.64

stelle su

5

da

210

recensioni degli ospiti
Inserisci le date per visualizzare il prezzo totale. Ci sono dei costi aggiuntivi e potrebbero venire applicate alcune tasse.