Inserisci la data del check-in nel seguente formato dd-mm-aaaa
Inserisci la data del check-out nel seguente formato dd-mm-aaaa
Annunci che puoi prenotare senza aspettare l'approvazione dell'host.
Inserisci le date per visualizzare il prezzo totale. Ci sono dei costi aggiuntivi e potrebbero venire applicate alcune tasse.
Nei mesi di luglio e agosto puoi provare uno di questi 100 alloggi ad alto rendimento, per ogni fascia di prezzo, e vivere una visione locale di Sonoma. Prova il check-in continuato, la Prenotazione Immediata e vino e spuntini locali per rilassarti e godere al massimo del tuo viaggio.
The listing is for the guest house, separate from the main house. It includes a loft with one bed, private bathroom, kitchenette, refrigerator, and private screened in porch. Complimentary light breakfast The main house is a masterfully renovated 1789 home set on top of a mountain that overlooks a pond and field. Surrounded by woods, colonial homes, wineries, and quaint towns. There are close ski resorts (Mohawk Mountain, Ski Sundown) and craft breweries that I love!
This is a loft with high beam ceilings, a small kitchenette, and a private screened in balcony overlooking the pond and barn. Guests have a private entrance and access to the gardens leading to the pond. This property has 8 acres of beautiful forest with birch trees, ferns, and a brook to hike through. The loft is equipped with cooking supplies, spices, coffee pot, Flat screen,and breakfast treats. If you need laundry done, just let me know in advance. You will have access to the pond, gardens, and woods. I am available for guests during their stay and can help direct them to beautiful hikes, cute towns, and delicious restaurants. I prefer contacted through text with questions prior to the stay as I work during the day. I do have a laundry/dryer in the main house so if something comes up (wine all over dress!) I am happy to help!
There is access to skiing resorts, high quality spa's, golf courses, New York City and the ocean within 2 hours! This house is secluded but in the center of culture, outdoor activities, and city life! The best way to get around is via car as there are scenic drives and bike routes around the county. The town is Kent has great ships and café's, as does Bantam. There is skiing, lake activities, waterfalls, and the Appalachian trail is close by. We are close to many boarding schools for parents looking to visit their child for the weekend. This home was run as a BnB by my grandmother and I am working towards continuing her legacy! It is important to note that this is the perfect stay for a guest looking for a remote, beautiful, quiet getaway experience. There is minimal cell phone reception. There is Wifi and guests can access our Netfix account.
The loft is extremely clean and the perfect size - it is decorated like a traditional B&B and the farm view is very nice.
Elizabeth
November 2016
The farm is beautiful!
Andrew
September 2016
We only spent about 24 hours in Warren and the surrounding area, but had a really nice quiet visit at Andrea's place. Very cute, lovely views, cozy and picturesque. Thank you!
Chloe
November 2016
Andrea's place is great. Everything was exactly how it looked in the pictures. Neat, clean, and cozy. A perfect getaway.
Gabriel
November 2016
My boyfriend and I came for a Sunday night get away from the city and we loved Andreas place. It is a romantic, loft style farmhouse setting with a lovely pond and plenty of land. We were also very happy that we were able to bring our dog! It is a short 15 minutes from the town of Kent and only about 5 minutes to Kent Falls State Park. Andrea was very easy to contact and communicate with. It was a perfect one night stay, would love to stay again sometime.
Kelly
December 2016
Andrea was a great host who provided everything she said. We had an awesome stay.
Joe
October 2016
Great little getaway place in the country. Nice and relaxing in December, but I bet it's gorgeous in early fall. Beautiful property, with pond and farm views. I liked the proximity to Kent, West Cornwall and Litchfield. About 15-20 minuted from great dining and shopping. Thanks Andrea!!!
Robby
December 2016
Absolutely loved my stay with Andrea. She was a great, friendly and helpful host. The place is cozy and charming. Her dog is gorgeous. Perfect weekend getaway, cant wait to visit again.
Yael
October 2016
Tipo di stanza
Intera casa/apt
---
Tipo di alloggio
---
Può ospitare
2
---
Camere da letto
1
Warren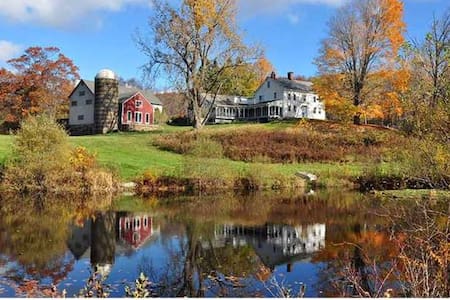 Let it snow! Just a five minute taxi ride from the local Amtrak station is our comfy loft, right in the heart of Rhinebeck. Outstanding restaurants, interesting shops, indie moviehouse, health food store and yoga studios are a moments walk away.
Romantically lit main room has comfy queen bed with reading lights and USB ports, two sofas, TV with Roku, large dining table, bureau, closets w hangers and full length mirrors. Fully equipped kitchen has coffee and tea supplies, and well lit bathroom is stocked with toiletries and hair dryer. Umbrellas and iron there too! The loft is located on the third floor of the building, and is one of two units on the floor. When you get to the third floor, go left and the door straight ahead is the entryway. We live 25 min away and are happy to be available for guest's needs, inquiries, or emergencies. Also happy to not loom and allow guests to enjoy the same privacy that attracted us to the loft initially.
Our listing is the most central to downtown Rhinebeck of all available area listings. Walk to all restaurants and shops in 1-2 min (LITERALLY) Within one block, there is a craft beer and charcuterie cafe (feel free to fill up our growler if you wish), wine and tapas bar, indy movie house, wine shoppe, nostalgic five & dime (a bunch of fun for kids and adults alike), wood-fired pizzeria, walk-in crafting studio, impressive farmer's market, pharmacy, convenience store, and too many restaurants to name them all. Additionally, all these destinations are within 15-30 min by car: Olana, the Roosevelt library, Vanderbilt Mansion, Mills Mansion, Ferncliff Forest, Old Rhinebeck Aerodrome (6 miles), Poets Walk, Thompson-Mazzarella Park, Burger Hill Park (fabulous 360 views), The Culinary Institute of America, The Omega Institute, (in summer) The Spiegel tent at Bard College, Bardavon theatre in Poughkeepsie, as well the Walkway Over the Hudson in Poughkeepsie. Amtrak ststion two miles away in the hamlet of Rhinecliff. Buses from NYC drop at the intersection of NY Route 9 and East Market St. located directly outside the entrance to the apartment. Metro North has service to Poughkeepsie, 20 miles South. Parking available in the Municipal lot at 61 East Market St, just one block away. Two flights of stairs required to enter. Downstairs yoga studio during business hours.
Dara was such a gracious host. The loft was better then the pictures. It was clean, stocked, and beautiful. The location was perfect and near everything in town. She had even had suggestions of restaurants and local places to visit. She was easy to get a hold of and easy to speak to. I already told her I'm booking the loft again next year; I had so much fun and the loft was the perfect place to come home to. I really can't say enough good things about the loft and Dara. It was just that great of a trip. Thanks Dara!!
Carol
October 2016
Dara's loft was a wonderful setting for a quiet, cozy Thanksgiving weekend in Rhinebeck. My fiance and I took advantage of the kitchen to cook our holiday meal. The bed and couches were super comfortable, the lights and candles around the apartment were such a cute touch, and we had basically everything we needed. Dara was so communicative and flexible and made sure we were all set with everything! We're pretty familiar with Rhinebeck and didn't have a car with us this time around so we stuck to the main drag (CVS, Bread Alone, Grand Cru, Local) for whatever we needed. Great location- we'd love to stay again!
roberta
November 2016
Dara's loft is uniquely decorated -- my assumption is that she is some sort of artist. The loft is centrally located in downtown Rhinebeck. Public parking is a 2-3 minute walk away. Check-in was super easy and Dara had left notes throughout the loft so that it was easy to operate everything from the shower to wifi. Would recommend this a great place for a Hudson Valley getaway.
Lauren
November 2016
I booked this stay last minute as I wanted an extended Hudson Valley weekend. Dara was great to deal with. She was very responsive and gave me all the information I needed to enjoy my stay. The loft is ideal as it is located right in the town of Rhinebeck and you don't need a car to get around. The space is wonderful-large and inviting and looks even better than the pictures. It is very comfortable and quiet. Dara was very nice to leave fruit and home made biscuits and jam for me. This listing is a gem if you are traveling to Rhinebeck.
Lillya
June 2016
The host was very responsive and had provided many suggestions of places to eat. And also things to do.
David
August 2016
Dara was an incredible host. She was flexible in working around our delayed arrival and spent time showing us around the apartment. She is warm and friendly and made us feel right at home. That apartment is even better than the photos show. It is large, and super charming. It was just what we were looking for. Also, the location couldn't have been more perfect!
Eliza
July 2016
We were delighted by every detail of our stay at Dara's loft apartment. She was very responsive to all of our questions. The space is charming, clean, and comfortable. It's location in the heart of Rhinebeck made everything easily accessible. We arrived during an especially warm summer weekend, so I was also pleased to find the apartment stayed cool enough for us to sleep comfortably. We'll be back!
Matt
August 2016
This place was fantastic! Charming, spacious and close to all shops and restaurants. Even walking to the fairgrounds was a simple 15 minute walk. Dara was an excellent host! Would definitely do this again!
Ryan
September 2016
Tipo di stanza
Intera casa/apt
---
Tipo di alloggio
---
Può ospitare
2
---
Camere da letto
0
Rhinebeck
Soho in the Berkshires - 700 square foot loft in renovated barn with downstairs kitchen and dining room with deck overlooking rolling hills and stream. Light filled, spacious, with contemporary furnishings. Close to culture and nature.
Beautiful, light filled space convenient to culture - theater, music, dance, and film, and more as well as nature including hiking, lakes, skiing. Lovely dining space. An extra studio with a trundle bed and living room furniture is available for $100/night. Loft space includes sleeping (one queen size bed with an organic mattress), one comfortable day bed), living and dining areas. Downstairs includes kitchen, bath, outdoor deck. The yard has a stream and organic vegetable and herb garden. There are weights in the closet for your use. Large screen tv with apple tv and internet access. We are happy to recommend restaurants and other local attractions, by phone or if you catch us in the yard. We'll leave you a list of our favorite restaurants and such. The loft is a separate building and contact is minimal although we always like to meet new people.
Nestled in the beautiful southern Berkshires, replete with myriad cultural activities and half an hour to Columbia County including Hudson, New York and Litchfield County, Connecticut. Nearby outdoor activities include hiking (the appalachian trail is a few minutes away), lakes, bicycle riding. Fairs and flea markets, a variety of good restaurants, local sustainable food and farmers markets abound. We are three miles from the center of Great Barrington, 30 minutes from Hudson, 20 minutes from Tanglewood and Lenox. There are lots of great places to ride bicycles as well. We have two bikes and helmets you can use. You can walk (a half mile) into the town of South Egremont, where there are a two restaurants, a small deli, and a couple of other shops, and a bank. We are a few minutes from the Appalachian trail and there are also some lovely local walks. Direct questions to Charlie (413-854-1155) and if you don't hear back within a few minutes, try Cynthia (917-754-5284 or 413-528-4281). We provide an outdoor gas grill, French press coffee pot, pots and pans and utensils, and plates. It's bright in the morning; you may want an eye mask.
The perfect place to stay for a quaint, easy going weekend. My wife and I enjoyed staying in Cynthia's refurbished barn. Even though cell reception was spotty, I didn't have a problem with it because it remove the distraction of work. I'd definitely stay here again.
KaRon
June 2016
We had a lovely stay in Cynthia's charming loft. It's much bigger than I expected for some reason, which is nice. The kitchen was very well outfitted in my view, but we were only making breakfast and some snacks. The back yard is particularly nice and the location is very convenient to Great Barrington. Great spot for star gazing and firefly-watching! We had absolutely no cellular reception there with AT&T, so it's a good idea to write down the wifi details before arriving on site. And it's rural, so there are critters, but it's mostly to be expected.
Susan
July 2016
We had an awesome time at Cynthia's loft. Beautiful area, beautiful building, cool funky furniture... it was even better than the photos! I highly recommend staying here(URL HIDDEN)
Joseph
December 2016
Great loft. Lots of space and located in a terrific, beautiful setting. Situated at the corner of two rural roads, however the noise was never bad. Afternoon sun very intense into the kitchen but cooled off after we opened windows. Plus there is air conditioning.
Ned
July 2016
Cynthia's place was perfect for what we wanted. We came for 3 days over Thanksgiving for some quiet time. The barn is spacious and the loft space is great. Lots of room to spread out and nicely designed with all the basics you need. The area is full of great places to eat, and although we mostly ate out, the kitchen is equipped with 2 induction tops, plenty of dishes and utensils, coffee maker and French press, microwave, toaster oven, with a nice view of the property's outdoor area and deck. Location is good too. Catamount Ski Resort is just 4 miles away, and Great Barrington is just 3. We'd definitely come back, if even just for a day.
Jessica
November 2016
The loft is a great place to stay when visiting the Berkshires. The space is large and is stocked with everything that we needed to feel right at home (including coffee, tea, and local milk). The kitchen was well equipped with utensils, plates and glasses, a mini-fridge, sink, hot plates, hot water heater, etc. Cynthia made sure we had more than enough towels and linens. A big plus - the bed was very comfortable! Cynthia is a terrific host - she always responded to my questions very quickly and she gave us great recommendations for things to do in the area. She was very friendly and welcoming and made sure that we had everything we needed for a great stay. The location is great - a short drive to Great Barrington and Stockbridge, as well as local hiking. There was only one downside for us - the fact that the loft is located right on a country road. At nighttime, the traffic headlights shined directly into the sleeping area, and even with the windows closed we could hear road noise. If you stay here, you may want to bring an eye mask and/or a white noise machine if you are a light sleeper. Overall, a wonderful, fun, convenient, place to stay and we would gladly stay again.
Sarah
October 2016
Amazing location. I liked the concept of the barn, accommodations were ok. Cynthia offered some good restaurant and hike recommendations. Not as private as we would have liked, owners home is a few steps from the barn. They entered without notifying us while we were out, causing our trained Boston Terrier to pee by the door on the wood floor when they came in. If we'd have known they had to enter, I would have informed them how to handle my dog, immediately letting her out as we always do ensuring no excited accidents. We came home to our "pets welcome" dog missing, finding her locked in a dark bathroom without water and a note requesting $60. However, she did waive this after I pointed out that a fee was never on the listing (and no damage). Wireless signal is too weak to stream anything to the Apple TV. No cable either so no usable TV. Also, both mornings the hot water ran out rather quickly.
Talia
November 2015
A last minute booking that lead to a wonderful experience- thank you, Cynthia! The house comes as promised and they are accommodating hosts without being intrusive. A neat loft we will certainly consider again! Best- James & Meg
James
January 2016
Tipo di stanza
Intera casa/apt
---
Tipo di alloggio
---
Può ospitare
2
---
Camere da letto
1
Great Barrington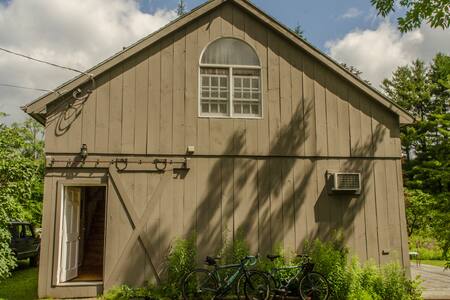 Located in the heart of the Hudson Valley, just off the Taconic Parkway. We have a studio loft nestled in the rolling hills of Columbia County. 20 minutes from Hudson New York, 20mins from the Berkshires, and 10mins from Bash-Bish Falls. The loft is located atop Betzie's art studio. With stunning views and tons of privacy its a great space for anyone looking to get away. Extremely quiet, surrounded by beautiful gardens.
Super cute cabin-like room. It felt really private, and practically as if we were in the woods. The landscaping is really beautiful around the cabin, and I think it would be amazing to see in the spring/summer when things are in bloom. Great location on winding country roads, and not too far from Hudson and apple orchard farms. Good escape from the city. Has all the amenities of a house, while still having a cozy cabin in the woods feel to it.
Sarah
October 2016
This place was amazing! The loft is cozy and the perfect woodsy getaway for my me and my friends. It is definitely the right place to stay to get away from all the hustle and bustle of everyday life. The loft is private in the back of the property with the ability to cook food and take a shower. I stayed with friends and our favorite part of the stay was the property! There are gardens everywhere with beautiful flowers and great places to sit and unwind. We had the time of our lives just taking pictures all over the property (great Instagram opportunities). At night we sat on the hood of my car and just watched the stars. During the day we went to a near by state park and hiked up to see a waterfall. Our whole trip was calming and a great way for us to take a step back from life and just enjoy each other. Definitely recommend staying here and I know I will be back in the future.
SiSi
October 2016
Betzie is the best, I had such an amazing time. i would stay hear again 100%!
Tyler
October 2016
The loft is awesome! It is very private, occupying an isolated part of their expansive property. It sits atop an artist's studio and was nicely appointed with everything we needed. Betzie and Keith were wonderful hosts, getting us set up and checking in periodically to make sure we were doing well. We would undoubtedly stay here again!
Jeff
October 2016
Tipo di stanza
Stanza privata
---
Tipo di alloggio
---
Può ospitare
3
---
Camere da letto
1
Ancram
Charming detached loft bedroom [1/2 bath inside the back door to the house & full bath is on the second floor of home]. The loft has its own small table & chairs to eat at, a frig, coffee maker, outside sitting area on a private deck, a full sized futon & a queen sized bed. There are two staircases to the loft one is steep [not for the elderly or children.] It is walking distance to restaurants, banks, supermarket, & gas stations. You may see deer, racoons, or rabbits, definitely cows!
Charming Dutch Colonial home surrounded by acres of farmland yet within walking distance of all amenities [restaurants, banks, supermarket, gas stations]. Yet, none are visible from the home which has views of the farm. There are often cows in the pasture, deer roam in and out of the yard at night, and yes you can hear both cicada & coyotes! Expect a quiet stay with a worldly hostess. There is a private loft over the garage a lovely bright southern exposure with a view of the rye field. The bathrooms are in the main house and would be shared. Come pick strawberries in Spring/Summer, then blueberries & your Christmas Tree in winter. I am a half hour from Yale in New Haven, an hour and a half from NY City, hour from Hartford, CT [Mark Twains home], and 3 hours from Boston, Mass. I am also a Massage Therapist trained internationally & a Reiki Energetic Healer, these services would be available to as well as guided hikes on the Blue Dot Trail. The second floor of the house for showers. The first floor bathroom by the backdoor is the guests bathroom for their stay. As much interaction as the guest would like, from me being totally out of sight, to tea & coffee chats, to suggestions of fun things near by to do.
I love that it is NOT a neighborhood. It was a private farm years ago and the original owners family lives next door & raised beef cows. He hays the fields in the fall which is great fun to watch. I am in walking distance of a bus route but a car is the most likely means of transportation. Charge for more than 2, $15 extra. [There's a full size futon bed in the loft as well as the queen sized bed, so it could sleep 1-4 people. The loft over the detached garage is 15 x 24 and has a frig. and a coffee maker. Not really a good place for small children, or those having trouble with stairs. More of a place for singles and couples. Massages are available at $80 an hour & Reiki sessions for $60 an hour.
The room is true to the pictures. It is comfortable and quiet. The house is well located in Monroe and near Shelton. Debbie was kind and helpful.
Frédéric
August 2015
Very positive experience - loft and house were as described and were homey and comfortable. Debbie was very hospitable. Pleasant location and accessible to stores and restaurants. Refrigerator available; no cooking or water in room; bathroom in main house.
Jessica
August 2014
The room is true to the pictures. It is comfortable and quiet. The house is well located in Monroe and near Shelton. Debbie was kind and helpful.
Frédéric
August 2015
Debbie是热情好客的好房东,让我感受到了无比的热情和关爱。房间很整洁,舒适。周围的环境便利而安静。我非常满意。
Yiming
September 2015
I have been using airbnb for a while and I Must say, this place is really a gem, it's roomy, cozy and very quiet, well equipped for a comfortable stay. Debbie was perfect, she has a warm character that really made me feel at home. Thank you Debbie.
Carlos
March 2014
This was my first experience using Air B&B and it was wonderful! Everything was exactly as I had anticipated. I had to travel to the area for a four day work training so really wanted a quiet place to decompress and recharge after full days of being trapped inside a classroom. :-) Debbie was a gracious and warm hostess and my little studio retreat was spacious, clean and comfortable. As an added treat, her sweet cat, Smoky, would great me every morning on my way to the bathroom and every evening when I would pop in to wash up before bed. Debbie was also very accessible and quick to respond to emails when I was coordinating my plans with her. Definitely a positive experience all around. What you see in the listing is exactly what you get, and more! Highly recommend.
Andrea
May 2015
This place is a hidden gem! I absolutely loved the landscape and room decor. Perfect for a peaceful getaway (we were three girls) and Debbie was very accommodating. She gave us information and suggestions to different locations in the area; Monroe is definitely a small town that has a lot to offer, especially if you are into locally grown produce and family-owned stores/shops. Other guest review: Debby was a wonderful host. She was very accomadating, and went out of her way to show us around town. The loft was very clean, spacious, and sunny. It was a positive and peaceful environment for a quick getaway.
Edra
September 2014
Debbie was a wonderful host, the location was close to a few great hiking spots and walking distance to a supermarket and restaurants. Would definitely stay again.
Vladimir
July 2015
Tipo di stanza
Stanza privata
---
Tipo di alloggio
---
Può ospitare
2
---
Camere da letto
1
Monroe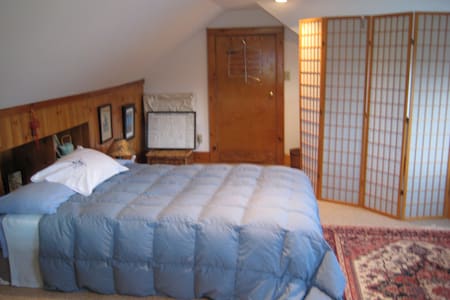 This contemporary 1900 sq ft. loft is the original viewing room to the indoor riding arena on a 70 acre equestrian property located in the heart of Millbrook hunt country. The loft has been recently renovated and suited for those who desire a spacious modern atmosphere, yet want to enjoy the outdoors. There is a partial kitchen with a refrigerator, coffee maker and toaster to help start the day. The property is situated on a bucolic dirt road and is great for a variety of outdoor activities.
The loft was recently completed so pictures do not adequately reflect what it will ultimately look like. The space is new, clean and spacious and will have a warm, but minimalist feel. There is only a partial kitchen for now but we do have a fridge and coffee maker and the essentials to start your morning. The property itself has manicured trails and a large pond that is available for exploring. We would be happy to make suggestions for things like restaurants, places of interest and anything else that you need while you are here. We are close to places like Salisbury CT., Gt. Barrington, The Berkshires. Skiing at Catamount is just 25 minutes away. Butternut is 45 minutes. Sharon Playhouse, Tanglewood, Jacobs Pillow, are all within a 45 mile radius. If you enjoy shooting Orvis is 7 minutes away.
We are situated on one of the most historic roads in Dutchess county which allows guests to enjoy beautiful undisturbed walks, bike or horse rides and in the winter cross country skiing. This is a place to reconnect and recharge especially if coming from a city environment. We are just under 2 hrs or 90 miles North from Manhattan via car. The Metro North train line does come up here and the stop is Wassaic. We are located exactly 8 minutes from the station. Train is also 2 hrs. and taxi's can be arranged from the station or we can help arrange private transportation. We can also arrange plane transportation from most airports within a 250 mile radius if that is of interest. As this is a working horse farm guests have the option to lesson or ride out in the surrounding countryside depending on ability and availability of horses. Depending on the time of year we can probably arrange a horse drawn carriage ride right from the farm.
My Husband & I absolutely loved loved John's loft! Not only was it exactly how we expected it from the photos & description, but John's hospitality and welcome was wonderful. He was extremely helpful with everything from directions & tips to easy communication & sincere kindness. THE BEST part of our stay was the beautiful grand piano that was the centerpiece of this airy super clean beautiful space amongst acres of sprawling fields filled with horses & everything equestrian! As a pianist, I loved every minute I played and was happy to be able to practice amongst such beautiful surroundings. We definitely would love to go back & highly recommend this very special place. Thank you John! :)
Allison
October 2016
John was very welcoming and engaged in our arrival for a smooth beginning to our vacation. Unit was large, clean, and located on a beautiful horse training property. My three sons appreciated the pool and wifi, while the location for me was most suitable. No issues on our stay and the hosts were available should we have needed anything. The unit is a brand new remodel with a very spacious main room on a beautiful country road.
Joe
August 2016
We had an absolutely fantastic stay at John's beautiful home. The house is located on an idyllic property with views of horses grazing in virtually every direction. The space is a brand new renovation, beautiful and comfortably appointed. John and his wonderful family are excellent hosts and give great recommendations on what to see and where to eat in the area. Our weekend was incredibly relaxing and comfortable and we will definitely be back!
Zachary
September 2016
Tipo di stanza
Intera casa/apt
---
Tipo di alloggio
---
Può ospitare
6
---
Camere da letto
2
Millbrook
The airy loft is a large private room above a stable that is part of an historic estate. There is a cozy bed and fairly new bathroom with shower, and a coffee maker and toaster downstairs. Pool access. Less than 10 minutes to Great Barrington.
The loft was a perfect weekend getaway. Mark and Linda were very welcoming and responsive. The loft is spacious, comfortable and private, and has a little kitchenette downstairs where our hosts kindly left a delicious light breakfast. Little details are thought of like providing beach towels and flash lights so we could wander up the back hill and enjoy the sweeping view. And the swimming pool is just the best! The place is only 10 mins drive to Great Barrington where there are many great restaurants and cafes, and 5 minutes to Lake Garfield where there is a lovely little public beach. Highly recommend, thank you for a great weekend.
Alice
August 2015
We couldn't have picked a better place to stay for our one year anniversary. Their property is amazing and Mark and Linda were perfect hosts! They were too sweet, leaving us a bottle of wine with a Happy Anniversary note. We will definitely stay there again next time we visit the area.
Kathleen
August 2015
Mark and Linda are wonderful hosts. We stayed 4 days at their property and it was the highlight of our vacation. It is located close to all the attractions in Great Barrington, Stockbridge and Lenox (Tangelwood). If you want to unwind and relax, this is the place to be. Did I mention the pool? Yes, awesome indeed. We had a great time and highly recommend this unique Airbnb listing.
Jerry
September 2015
Our stay at Linda and Mark's house was perfect. The loft is comfortable, clean, spacious and private. The space is situated on a lovely, quiet property with a stunning swimming pool. Their place was an easy drive to some great restaurants, beautiful hiking and Tanglewood. Linda and Mark were warm and welcoming. We would stay there again for sure and recommend it to anyone looking for a relaxing Berkshire stay.
Shawn
July 2015
Mark and Linda were lovely hosts and the loft was perfect for our weekend in the Berkshires. When we arrived we found a sweet note and an assortment of wonderful shortbread cookies. The loft was beautiful and spacious with a huge pillow-topped bed. Breakfast consisted of locally baked bread, lovely jam, juice, and coffee. It's just a short drive to Great Barrington and on to all sorts of hiking and swimming-hole opportunities, that is if you haven't gotten your fill swimming in their incredible pool. We would definitely stay here again and recommend it for anyone wanting to explore the area.
Anne
July 2015
Wonderful apartment above beautiful old stables. Amazing pool and the perfect combination of independence and service. Would stay again in a heartbeat!
Mark
August 2015
Tipo di stanza
Stanza privata
---
Tipo di alloggio
---
Può ospitare
2
---
Camere da letto
1
Monterey