Studio nel 12 ° distretto, luminoso, in stile industriale con mattoni a vista, soppalco in acciaio e cabina doccia. Vicino alla metropolitana, autobus e tram. Un letto matrimoniale in soppalco e divano letto 2 pers. Cucina con utensili da cucina.
Si tratta di un vecchio lodge 13m² (140ft²) del custode ripristinato. Questo antico edificio parigino centenario nascosto resistenti nel 1940. Il letto sul "mezzanine" (6.2inch sotto, al piano superiore 4 inch) è di 160 cm (8 piedi, piazza e mezzo) e il divano letto è di 140 cm (7ft). La cabina doccia può in gran parte essere adatto per 2 persone;) La cucina è dotata al minimo, ma ha tutto il necessario. Il Lodge è luminoso.
piacevole zona del 12 ° arrondissement (classe media e vecchi parigini). "Porte de Charenton" facilmente raggiungibile con i mezzi pubblici. 20 minuti dal centro di Parigi con la metropolitana (linea 8 quindi 1). Vicino al parco e bosco di "Vincennes". Piccolo stadio "Léo Lagrange" di fronte, accanto a "Espace-Charenton" (centro congressi). Zoo, Senna e il nuovo quartiere parigino di Bercy a un Tramstation.
L'appartamento di David è davvero molto carino, piccolo ma arredato con gusto, curato in ogni dettaglio e munito di ogni accessorio anche per cucinare. Ideale per un weekend romantico! Lo consiglio anche per la comodità sia della metro che del tramway che sono letteralmente ad un passo e che ti permettono di spostarti per tutta Parigi. L'appartamento era pulito e dotato di asciugamani e saponi. David è stato molto gentile, discreto e attento ad ogni richiesta. Unica nota da riportare: il bagno non ti permette molta privacy essendo praticamente all'interno della stanza e avendo delle pareti molto sottili. Forse con un rivestimento adatto si potrebbe ovviare a tale mancanza. Ma comunque rimane una sistemazione molto ben curata nel design e molto tattica per spostarsi e visitare Parigi. Lo consiglio!
Eleonora
2015-06-01T00:00:00Z
Had a great stay at David's. Nice and close to the Metro, convenient for getting around. It was clean and well stocked with everything you'll need. Also make sure you go to Porte Dorée for supper.
Tyler
2015-09-21T00:00:00Z
David was not in Paris during our stay, but arranged for a neighbor to provide the key, and for us to get the key if arriving late (as we did). He provided detailed info and was patient with us when I forgot the prior info he had provided. The place is as advertised, right by a Metro and light rail stations, with all you need a short walk away, including a great Sunday market. The place is small, as noted in his description, but the loft bed gives two people plenty of room, and storage is cleverly built into the walls and into the loft beside the bed. Lovely shower of the European type where the bathroom becomes the shower stall, with a 'rainforest' type shower as well as a spray wand. Be aware you will need to climb a ladder to get into the loft - just a few rungs, and the loft allows for a big futon style bed. There is a fold out bed on the first level we did not try as a bed - works okay as a couch. The kitchen has the necessaries, including a bar to eat at. Because it on the ground level, the window opens right onto the sidewalk - there are shutters that let in air without putting you on display, but be aware that opening the shutters and windows makes the place much lighter, but also brings the outside in - we had someone stop and comment on our dinner one evening.
Jerry
2015-07-29T00:00:00Z
Excellent accueil de David qui est disponible et arrangeant. Le logement est très bien agencé, il y a tout ce qu'il faut dans un petit espace où l'on se sent très à l'aise. Transports en commun "à la porte". Excellent à tout point de vue.
Pascale
2015-03-28T00:00:00Z
Logement confortable et conforme à la description. Hôte accueillant. Je recommande
Yvan
2016-11-17T00:00:00Z
We had a fantastic time at the apartment , we were able to check in early and out a bit later due to our train times so this was really helpful , the apartment is literally on the metros door step so it's great for getting around and if you fancy something different its walking distance to the zoo , would definitely recommend it and would return
Courtney
2015-03-02T00:00:00Z
David was super accommodating with our check-in time and we were able to leave our luggage at the apartment when we arrived in the morning. He was communicative right off the bat, which was helpful! He was also readily available if you have any issues. The apartment is located next to a tram stop and metro. It is right on the ground floor, perfect if you have heavy luggage.
Sienna
2016-02-25T00:00:00Z
Très bonne communication dès le début. David a été présent à mon arrivée et a bien fait savoir qu'en cas de besoin je pouvais le contacter. Le lieu est superbement aménagé et très propre. Merci pour tout!
Pauline
2016-02-14T00:00:00Z
Tipo di stanza
Intera casa/apt
---
Tipo di sistemazione
Appartamento
---
Può ospitare
3
---
Camere da letto
Parigi, Île-de-France, Francia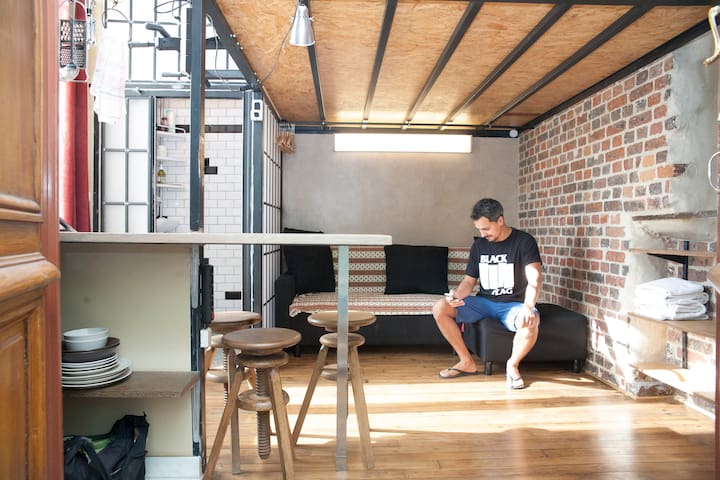 Nel cuore della città, vicino ai trasporti, vi farà scoprire questo incrocio piatta, l'apertura di ogni lato sul verde. Ideale per una visita a Parigi si possono trovare serata qui tutta la calma necessaria per un buon riposo. Appartamento molto chiaro è composto da un ingresso e due pezzi di 15 m², un soggiorno in cui troviamo una cucina completamente attrezzata, un salotto dotato di un divano letto 2 posti. Questo viaggio si apre su un piccolo balcone. dall'altro lato, si scopre una bella sala con un ampio finestra sul giardino, un sacco di stoccaggio e di un incantevole giardino di design (URL HIDDEN) è accessibile e potete ricevere il vostro amico per un barbecue, o di una griglia o alla piastra, altrimenti ti trovi sotto i maggiori allori in sedie a sdraio. Sono sul posto e vorrei entrare in casa mia. Sarò presente se avete bisogno di qualsiasi cosa, non esitate a chiedere a me. Molto disponibile, io sono lì per aiutare. L'appartamento è situato nei pressi del Bois de Vincennes, che non mancano di interesse. È possibile visitare lo zoo, il castello, i campi di gara. Siamo in grado di organizzare una passeggiata a cavallo, un giro in barca su un lago bucolica. Una magnifica piscina è a meno di 5 minuti a piedi. Le novità offre una zona relax vero e proprio con una grande terrazza sulla Senna. Non lontano si trova la art contemporain Musée d'du Val de Marne a Vitry-sur-Seine, inaugurato nel 2005, è il primo museo nella periferia di Parigi. Ma soprattutto sarà sicuramente andare a visitare il Museo del Louvre o si va in meno di mezz'ora. Si può anche fare shopping al "Châtelet Les Halles" dove si va in pochi minuti. L'appartamento è situato nel cuore della città, è tutto ciò che è necessario: 2 panifici pasticceria, 1 farmacista, 1 ufficio di tabacco, 1 Mercato coperto 2 mattine a settimana, il mercoledì e il sabato. Ci sono verdure fresche di formaggi, pollo alla griglia ... etc, 1 lavanderia, 1 Bank, 1 parrucchiere A meno di 200 m Molto vicino al RER D (5 min), a 10 minuti è il posto du Châtelet, a 7 minuti dalla stazione di Lione, e l'appartamento si trova anche tra i due aeroporti di Roissy Charles de Gaulle (20 minuti) e Orly (15 mn)
Nous avons été très bien accueillis par Isabelle lors de notre séjour à la capitale avec nos 2 enfants. Elle a été très arrangeante et à notre écoute. La maison est propre, bien équipée et cosy, bien située non loin de la gare RER (10 minutes à pied) et des magasins de première nécessité (boulangerie, pharmacie...). Nous conseillons vivement cette adresse pour un week-end , voire plus, à Paris !!!
Isabelle
2016-12-20T00:00:00Z
Isabelle was incredibly helpful and welcoming. The place was gorgeous and spacious. Loved using the kitchen to cut down a bit on the cost of our trip. Pretty easy to get around and head into the city. Highly recommended.
Erin
2016-06-06T00:00:00Z
A nice apartment and a ok neighbourhood with bakeri, cafe and grocery. Easy access to Paris. The garden is fantastic! We didn't meet Isabelle, but her sister Christin was very nice and helpful. We recommend this apartment.
Tom
2015-07-18T00:00:00Z
Nice apartment in Alfortville (15 min from the subway station, 15 min by RER to Paris center). Clean, spacious enough for 2 people. There are 2 bakeries and a supermarket around. The area is clean and safe. Nice garden - in the summer you can even have a bbq there. Some people might find it a bit chilly (in winter) since there is only an electric heater, for us this was not a problem. Finding a parking place on the streets around is very difficult, you have to be extremely lucky. For the right price and if you want a quiet place outside Paris not too far from the center, a good option for few days in Paris.
Razvan
2016-12-11T00:00:00Z
Bel appartement très soigné et hôte extrêmement gentille et disponible.
Sabrina
2014-05-06T00:00:00Z
Isabelle is very friendly and helpful.. She was easy to to communicate and very fast to respond.. The flat fit a group of 4 adults, and the beds were very comfortable and clean.. Parking wasn't easy, but sometimes you might find an empty spot in front of the building.. All parkings in the area are free.. I totally recommend the place..
Ahmed
2015-01-23T00:00:00Z
Isabelle a été extrêmement accueillante, d'une grande gentillesse et chaleur, et toujours très disponible. L'appartement est très bien aménagé, totalement conforme aux photos et est tout équipé. Isabelle nous a même rajouté une chaufferette parce que nous avions froid. Le lieu est très calme, avec accès au jardin si besoin. Il y règne très bonne atmosphère et positivité. Le quartier est pratique avec pharmacie, épicerie et boulangeries en face de la maison. Le RER D est à moins de 10 minutes à pied et atteint la Gare de Lyon en 7 minutes. Notre hôte a été à l'écoute pour faire de notre séjour une expérience des plus agréables. Nous recommandons chaudement ! Merci beaucoup Isabelle, et à bientôt !
Emma
2016-02-22T00:00:00Z
Isabelle es una excelente anfitronia aparte de una persona amable, nos entendimos con ella en ingles y nos ayudo en las dudas que teniamos sobre Paris durante los primeros dias mientras nos acostumbrabamos al ritmo de vida de la ciudad. El piso es tal cual se ve en las fotos: limpio, comodo, bien ubicado y equipado ademas del buen precio. Sobra decir la conveniencia de la linea RER que esta a 10 minutos caminando, asi como los comercios locales cercanos que todos los anteriores huespedes tambien han comentado. Definitivamente regresaria a su casa, saludos desde Mexico!
Teresa
2015-10-07T00:00:00Z
Tipo di stanza
Intera casa/apt
---
Tipo di sistemazione
Appartamento
---
Può ospitare
4
---
Camere da letto
Alfortville, Île-de-France, Francia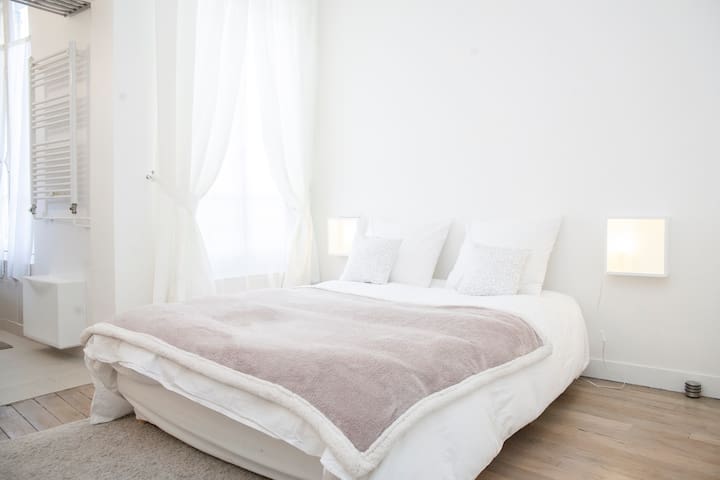 30 m2 Studio + = camera principale + cucina separata + bagno separato / WC + balcone. 1 vero e proprio letto matrimoniale + 1 divano letto doppio Tranquilla, soleggiata, piacevole, vicino ai mezzi pubblici. Ristrutturato nel mese di aprile 2014 (compresi tutti i dipinti).
Siamo 10 minuti a piedi dalla stazione della metropolitana della linea 14, che è la linea moderna e veloce che vi porta direttamente al cuore di Parigi in meno di 10 minuti (e la linea 14 ha collegamenti con le altre linee della metropolitana). Vi offriamo, se siete interessati una breve corsa libera 10-15 minuti (io sarò l'autista) sul Autolib, l'enorme programma di car-sharing elettrico di Parigi (vedi dettagli sotto). SILENZIOSO: studio tranquillo in un piccolo edificio residenziale situato in una strada secondaria, in una zona tranquilla, ma vicina al vivace strade dello shopping e di buoni collegamenti con i mezzi pubblici, molto tranquilla perché si affaccia su un cortile interno (non ha accesso a questo giardino). SUNNY: Lo studio ha una porta finestra che dà molta luce + un'altra finestra + una finestra in cucina. Il sole diretto al mattino. PIACEVOLE: Il monolocale dispone anche di un layout bella camera e un piccolo balcone con spazio per due persone di sedersi sul balcone. POSIZIONE COMODA: Vedi dettagli di seguito
La zona è tranquilla, ma vicina al vivace strade dello shopping: grande supermercato a 10 minuti a piedi e curato negozi entro 5 minuti a piedi: molto buona macelleria, formaggiaio, enoteca, prodotti da forno, e pescivendolo. cinema multisala entro 10 minuti a piedi. La Senna si trova a 15 minuti a piedi. La Biblioteca Nazionale francese ( "BNF") è di 10 minuti a piedi e l'affascinante giardino di Bercy (attraverso la Senna) è una piacevole 15-20 minuti a piedi. Ci sono anche molti altri piccoli giardini pubblici vicino all'appartamento.
La migliore esperienza di soggiorno che si possa desiderare: l'appartamento è perfetto, in ottime condizioni, pulito, fornito di tutto quello che può servire per una permanenza breve o anche un po' più lunga. Frédéric e la sua famiglia sono gli host perfetti: disponibili, ma discreti, attenti alle esigenze di chi visita Parigi o il loro quartiere per la prima volta (la guida realizzata da loro con indicazioni sui negozi e i ristoranti della zona è utilissima e ben fatta). Un soggiorno che rifarei subito (e spero di rifare) e che consiglio a chiunque sia a Parigi per esigenze di lavoro (l'appartamento è vicinissimo alla BNF e alle nuove sedi di Paris 7 e Inalco) o di svago.
Caterina
2016-04-04T00:00:00Z
Studio bien équipé et propre, conforme à la description. Je le recommanderai volontiers à des amis. Quartier très calme et proche métro. Prêt du linge et produits de toilette bien pratique pour alléger les valises! Nous avons pleinement profité de ce week-end à 4 (2 adultes + 2 enfants) et retournerons chez cet hôte pour notre prochaine escapade dans la capitale !
jerome
2016-03-30T00:00:00Z
Je suis très content d'avoir choisi le logement de Frédéric où j'ai passé dix jours en couple.
Belgacem
2016-02-10T00:00:00Z
Frédéric was a terrific host - he was precise with his instructions on how to reach his apartment and provided very good information on restaurants, nearby bakeries and attractions. His apartment is exactly as it appears in pictures and it was very clean and tidy when we arrived. Everything we needed in the house was provided, including toiletries, towels and even extra linens. Location of the apartment was very convenient since it was just a ten minute walk from the Metro which takes you to Chatelet in less than 15 minutes. Would definitely recommend Frédéric's apartment to anyone who wishes to visit Paris
Benjamin
2014-09-23T00:00:00Z
I spent almost one month as guest of Frederic. The apartment is new, clean and very beautiful. Frederic and his family are just great! Very kind and helpful. They also gave me a guide of the surroundings full of useful tips. In particular, surroundings are super quiet, very close to 2 metro stops and to the tram. I really enjoyed living in this apartment!
Salvatore
2014-02-01T00:00:00Z
It was my First Time to use AirBnb & my first time to Paris. It was Perfect! The studio's location is in a lovely one, it looks exactly like the pictures, super clean & Cozy. My friend & I Loved our stay there & i would definitely recommend it to any I know. Frédéric was very helpful & friendly, he gave us a manual of the neighborhood and a few tricks for paris and when we had to leave he helped book us a taxi.
Mi
2015-09-27T00:00:00Z
Our stay at Frédéric's was excellent. The apartment is large by Paris standards. The apartment is fully equipped, lovely bathroom, plenty of space, great kitchen. Wi-fi worked well, area is safe. Frédéric was really great, very accommodating and friendly. I would highly recommend this apartment, one of the best I've stayed in.
Michelle
2013-02-03T00:00:00Z
Logement totalement rénové, irréprochable, sobrement décoré, spacieux et clair. Très bien équipé. Literie de qualité. Nombreux rangements disponibles. Petit balcon sur l'arrière de l'immeuble. Très calme. Plein de petites attentions pour vous inviter à vous retrouver comme chez-vous, mais je vous laisse les découvrir ! Frédéric et sa famille habitent le second appartement de ce troisième et dernier étage. Ils s'inscrivent totalement dans la dynamique d'accueil et d'échanges d'Airbnb. Nous nous sommes d'ailleurs aussitôt trouvé plein de centres d'intérêt commun et avons pris plaisir à échanger longuement à mon arrivée; mon seul regret : ne pas avoir pu me libérer un soir pour accepter sa proposition de discuter davantage. Ce sera pour une autre fois. Je recommande sans hésiter... à condition que vous me laissiez la priorité !!! Jean-Charles
Jean-Charles
2016-04-07T00:00:00Z
Tipo di stanza
Intera casa/apt
---
Tipo di sistemazione
Appartamento
---
Può ospitare
4
---
Camere da letto
Parigi, Île-de-France, Francia
Benvenuti nella nostra casa a Savigny sur Orge. Godetevi il comfort e la tranquillità dopo una giornata trascorsa a visitare Parigi. Faremo del nostro meglio per rendere il vostro soggiorno sicuro e piacevole. Se si sceglie di avere la prima colazione (5 euro a persona) fatecelo sapere al momento della prenotazione.
Una camera da letto con un ampio bagno privato (grande doccia italiana) al piano terra della nostra casa. La camera è sul lato del giardino della casa. Ingresso indipendente attraverso il garage. Zona molto tranquilla, vicino a negozi di alimentari scopo. La fermata dell'autobus dall'altra parte della strada vi porterà alla stazione RER in 5 minuti (Savigny on line orzo C) per l'aeroporto di Orly siamo una stazione di distanza con il tram nel corso di un breve tragitto in autobus, a seconda del giorno è arrivato, potremmo essere BLE di venirvi a prendere. Da qualsiasi linea gialla RER C, si hanno 6-treni a Savigny sur Orge chiamato Scaduto: BALI, LARA, SARA, CIME, ELBA, DEBA Prendendo la RER C, si va direttamente a - TORRE EIFFEL, - VERSAILLES CASTLE - NOTRE DAME (SAINT MICHEL) - Museo d'Orsay - La stazione ferroviaria di Austerlitz - Biblioteca François Mitterrand La camera ha una TV a schermo piatto un lettore CD, una sveglia, una fontana di acqua con acqua fredda e calda, una scrivania con mappe e informazioni turistiche all'interno. Ci est aussi un rack indumento robusta e un treno di legno. Un frigorifero e freezer est disponible a voi nella lavanderia È possibile regolare il calore per il vostro comfort durante l'inverno e la stanza è fresco durante l'estate. Internet attraverso la casa. In estate si sceglie di maggio-fare colazione sul nostro balcone con vista sul nostro ampio giardino (4 euro a colazione) Sono bilingue, francese / inglese e può aiutare a trovare le informazioni. È possibile chiamare la tua famiglia con il nostro telefono linea di terra. Troverete in camera un opuscolo su Parigi di trasporto, ristoranti e negozi intorno al nostro posto. Dalla RER C a Savigny si raggiunge Bibliothèque Mitterrand in 15 minuti, la Torre Eiffel in circa 35 minuti. Per i miei amici americani e canadesi, si tenta di portare una carta di credito con un chip, che renderà le cose più facile per voi, Una bella camera con ampio bagno con doccia in stile italiano. La camera si trova al piano terra della nostra casa, lato giardino. C'è un ingresso privato dal garage, è molto tranquillo, molto vicino a tutti i negozi. C'è una fermata dell'autobus a 50 metri dalla casa, la linea 292 vi porterà alla linea RER C. Da Orly abbiamo una stazione del tram in un breve giro con lo stesso bus 292. T7 tram va direttamente al Villejuif metro che può essere un'alternativa alla RER RER linea C va direttamente alla biblioteca Mitterrand, la stazione di Austerlitz, il Musée d'Orsay, Notre Dame, la Torre Eiffel e il Palazzo di Versailles La camera ha un televisore a schermo piatto, lettore CD e una fontana con acqua calda e fredda. Un frigorifero / congelatore è a vostra disposizione nella lavanderia. È possibile regolare da soli il calore nella stanza e la stanza è fresco d'estate C'è wifi in tutta la casa In estate è possibile fare colazione (5 euro a colazione) sul nostro grande lato terrazza con giardino.
Si tratta di un quartiere residenziale, molto tranquilla, ma vicino a ristoranti e un piccolo supermercato è raggiungibile a piedi.
The room is very clean, Jean Pierre (host) is really kind, he even give us a bottle of Champagne. On the first day he show us around his place, where to get bus, train station to Paris, where to eat, etc. The house is very quiet, a bit far from central Paris, on the other hand is not hard to go to central Paris. You only need to take one bus to the train station and then take a train to Paris.
Francesco
2016-05-25T00:00:00Z
We had a great time staying with Frédérique and Jean-Pierre! They are hospitable, accommodating, helpful. We were lucky to have found them for our first visit to Paris. Had some good conversation too! Would definitely recommend.
Scott & Katie
2013-09-07T00:00:00Z
Staying with Jean-Pierre was great! We stayed for six nights. Frederique was out of town, but Jean-Pierre speaks English well enough that with a tiny bit of help from (SENSITIVE CONTENTS HIDDEN) we were able to completely understand each other. Also, Frederique talked with us several times on (SENSITIVE CONTENTS HIDDEN) and made sure that we were taken care of and able to communicate with Jean-Pierre. The apartment itself is great. We were given a key so we could enter through the garage, and a cell phone to contact Jean-Pierre if we ever had any problems. We had a bedroom, bathroom (with a very nice shower that had side jets) and had access to the kitchen if we wanted it. WiFi had a very strong signal. Also, Jean-Pierre let us wash our clothing in his washer as well, which meant we never had to go to a laundromat. Jean-Pierre was a great host, and it was obvious that he would go out of his way to help us have a great experience. He even cooked dinner for us twice! Breakfast was more than sufficient and delicious. With Jean-Pierre's recommendation, we purchased a Navigo card from the closest train station and used that for almost all of our trip (it runs Monday-Sunday, and we arrived on a Sunday, so we just bought a few individual tickets for our first day and then used the Navigo for the rest of our trip). It worked for the train into town (RER), the metro, and the bus we used to go from the train station to Jean-Pierre's house. We had a slight problem when we arrived--we don't have a phone with us, and we had to call Jean-Pierre when we got to the train station so he could pick us up. The pay phone at the station didn't work for us (it wouldn't accept coins, and would only accept the newer credit cards that are used in Europe that have a chip in them, and we are from the US and have the older magnetic-strip cards). Eventually we were able to call him by going to a Pizza Hut across the street and with the help of (SENSITIVE CONTENTS HIDDEN) Translate ask if we could borrow someone's phone. So, if you have a phone, that is not a problem at all, and it was very kind of him to pick us up. Also, the walk from the train station to the house is doable if you don't have much luggage. It took us about 20-25 minutes of walking (we walked it a couple of times just because we wanted to). Each morning and evening we had about a 30-45 minute commute including taking a bus to the station and a train ride (RER) to get into central Paris, so it is a little out of the way. However, we personally enjoyed having that time in the morning to finalize our plans for the day, and the evening ride back was a good time for talking about the next day too....
Jared and Ariel
2014-05-10T00:00:00Z
Frederique and JP are most heartwarming and kindness host !! This is my first time using for Airbnb and I was so happy to stayed in there :) They were care about everything and I loved to talk with them !! I definitely recommend to my friends too :) You will be love to stay in there !
Nanase
2015-01-10T00:00:00Z
2nd time to stay Frederique and JP's house during the stay in Paris. It was really nice to stay and my mom also loved it to stay in there ! I really appreciated and want to stay again ! next time I want to stay much more longer :)
Nanase
2015-01-21T00:00:00Z
Jean Pierre was absolutely amazing. Very accommodating and hospitable. He was very informative and made our stay absolutely delightful.
Sebastian
2016-07-13T00:00:00Z
Bon accueil. Quartier calme. Chambre comme décrite sur le site. Arrivée par le garage.
catherine
2015-12-22T00:00:00Z
J ai passer un très agréable séjour chez eux ils sont très gentil ,arrangeant, j ai beaucoup apprécié leur accueil dès que je suis arrivée à recommander car vraiment excellent concernant la chambre elle est très confortable avec un très grande douche, rien à redire
thierry
2016-03-14T00:00:00Z
Tipo di stanza
Stanza privata
---
Tipo di sistemazione
Casa
---
Può ospitare
2
---
Camere da letto
Savigny-sur-Orge, Île-de-France, Francia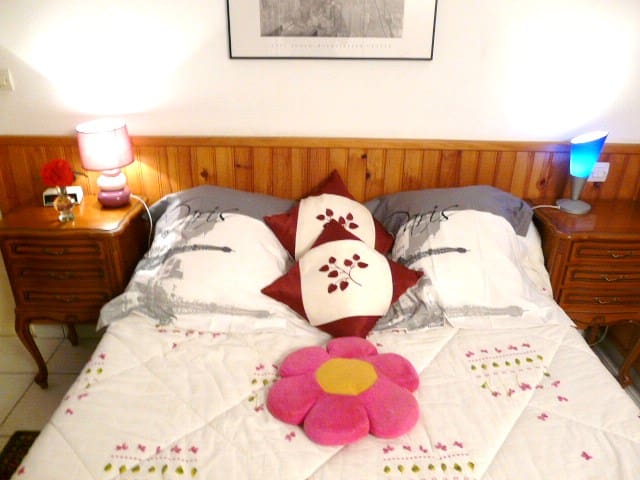 Au pied du bois de Vincennes, cet appartement au 7ème et dernier étage vous offre une chambre avec salle de bain, véranda et petit balcon, le tout privatif. Le métro face à l'immeuble vous permet d'être au centre de Paris en 20 min.
Venez vivre pleinement la vie parisienne tout en profitant du bois de Vincennes et de ses infrastructures sportives. À 20 min de métro du centre de Paris, notre bel appartement au dernier étage et en duplex vous garanti tout le calme et l'intimité que vous souhaitez.
Loved staying here! The room was great, super clean with a great private ensuite. One of the best showers of my travels so far! Alexis was great and super helpful with everything :) I just had two issues - the bed was super uncomfortable, not a great mattress at all. Doona and pillows were great, but the mattress was thin and uncomfortable. So that was a shame. The other thing was it was 20-30 minutes from the city, which I knew when booking it but that was still a shame. The metro is literally outside the front so that's a bit of a savior! Would recommend the room if you're happy for the commute :)
Paige
2016-02-11T00:00:00Z
Alexis and Anaïs were incredibly welcoming and accommodating. The room is spacious and clean, very well located at the foot of a metro station. The balcony is so nice, with a sunroom and porch that lets you peep at the Eiffel Tower. Ive been to Paris many times, but this spot is definitely one I'll keep in mind next time I'm here.
Clemence
2016-01-22T00:00:00Z
Super contact avec les hôtes qui ont répondu rapidement à nos questions avant notre séjour et qui nous ont accueilli chaleureusement le jour J. Chambre très agréable avec tout ce qu'il faut et en bonus le balcon privatif avec vue sur les toits de Paris. Séjour d'une nuit seulement mais à refaire!
margaret
2016-10-17T00:00:00Z
Alexis et Anaïs sont très gentils. La chambre est propre comme les photos. Merci beaucoup pour votre accueil!!! 房间很美,干净,私人的卫生间,有个小露台。地理位置很棒,楼下就是地铁八号线,到市中心很方便。房东有条大狗,很温顺,时刻想跟你玩。重点是价格很优惠,尤其是这么好的住宿环境,性价比很高了
梦柳
2017-03-09T00:00:00Z
Logement très sympa, bien situé et très calme. Nous avons été accueilli très sympathiquement par Alexis. Il est, de plus, très facile de s'y rendre : stations de métro et de tramway au pied de l'immeuble ! !!! En plus on est à 15-20 minutes à pieds de l'hôtel accord arena donc très pratique pour les concerts !!!
Vanessa
2016-06-30T00:00:00Z
Appartement très mignon et jolie chambre. Très agréable d'avoir un petit balcon duquel on peut apercevoir la tour Eiffel. Tout était très propre, salle de bain, chambre et l'appartement en général. Très bonne communication et indications pour arriver jusqu'à l'appartement. Nous savons déjà où nous rendre pour notre prochain séjour parisien!
Adrien
2015-12-13T00:00:00Z
Super bon accueil à notre arrivée de la part de la maman d'Alexis ! Chambre confortable, propre et très mignonne ! Alexis et Anaïs ont été très accueillants et dispo pour toutes nos questions. Métro et tram à proximité donc très pratique pour notre petit weekend à Paris.
Asma
2016-01-17T00:00:00Z
TRÈS BON ACCUEIL ET DE BONS CONSEILS POUR LE PARKING LA CHAMBRE ET ANNEXES SONT CONFORMES au descriptif et Alexis et Anaïs sont très arrangeants. dommage, compte tenu de nos contraintes respectives que nous n'ayons pas pu faire plus amples connaissance! la prochaine fois peut être christiamarie
MARIE
2016-03-20T00:00:00Z
Tipo di stanza
Stanza privata
---
Tipo di sistemazione
Appartamento
---
Può ospitare
2
---
Camere da letto
Parigi, Île-de-France, Francia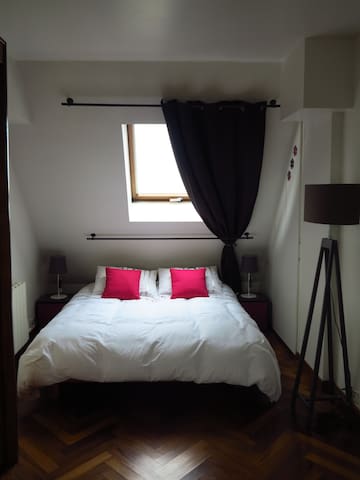 Charmant T2 : Très Grand séjour 30m2 avec cuisine ouverte , une grande chambre au silence et salle de bain moderne avec wc. en bordure du bois de Vincennes/ bords de marne/parking Vinci 1min à pied.
Logement spacieux, calme, lumineux, en très bon état et bien tenu.
commerces de proximité : market, tabac, restauration rapide ou pas, boulangerie etc.
Tipo di stanza
Intera casa/apt
---
Tipo di sistemazione
Appartamento
---
Può ospitare
4
---
Camere da letto
Saint-Maurice, Île-de-France, Francia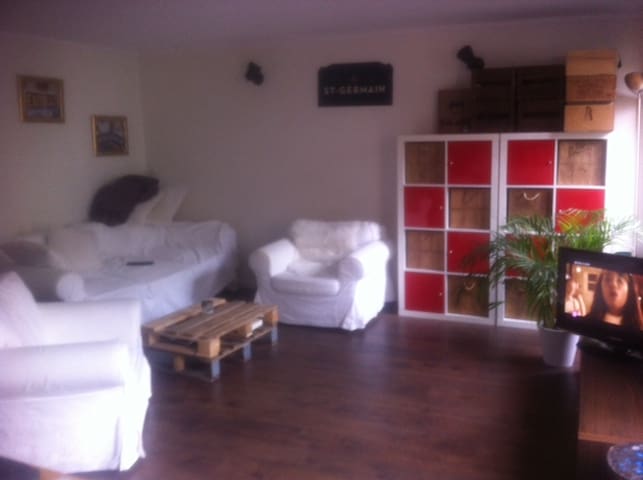 A 15 minutes de Paris : le "TY - YOUEN" vous attend! Découvrez le charme de la banlieue parisienne! Profitez dune belle petite cour et sa belle table de pique-nique pour prendre l'apéro, ou faire un barbecue! Vous allez aimer la proximité de paris sans les inconvénients . LA ville n'est pas touristique en soit mais efficace comme point de départ vers d'autres lieux par sa proximité et son transport inégalé
Le logement fait 44 m2 sur deux niveaux , il est située dans un quartier pavillonnaire , il peut accueillir jusqu'à 4 personnes (pour la 4éme personne, c'est un matelas par terre). il est parfait pour les couples, les voyageurs d'affaires et les familles (avec enfants). une petite maison des années 30. elle a une entrée indépendante , le portail extérieur est commun , une petite cour avec table de pique-nique et un barbecue! Vous pouvez garer votre voiture ou véhicule de société dans la rue du château gratuitement . 1 grande chambres de 15 m2 avec 3 lits simples , une salle de bain et rangement : possibilité de rajouter un matelas par terre . coin salon, télévision TNT , jeux de société, plan de Paris, livres, revues à disposition, et rangements multiples pour vos valises sous escaliers . Cuisine (micro-ondes, frigidaire,cafetière Nespresso, bouilloire, agréable table de cuisine , vaisselle) Salle de bain avec tout le nécessaire - toilette . machine à laver dans le garage .
Beau quartier pavillonnaire tranquille et en face d'un beau petit château Vous apprécierez la proximité des commerces : boulangerie, Franprix, le grand marché deux fois par semaine (mercredi et samedi), pizzeria, japonais (livraison à domicile) , un QUICK à 200 m pour les enfants .
Abdennour m'a très bien accueilli, des boissons, du café, du chocolat et de quoi petit déjeuner mon était offert à mon arrivé. De plus il m'a très bien conseillé et à prêter attention à ce que mon séjour se passe bien. Je recommande vivement
Ichem
2017-02-28T00:00:00Z
La maison est très confortable. L'equipement est complet avec le souci du détail. Le quartier est calme. La proximité de la gare très pratique. Quelques minutes de la Gare de Lyon. L'accueil est chaleureux et la disponibilité totale. Chauffage, sanitaire, literie... rien à redire. Le décor est bien choisi. Ce petit pavillon de banlieue n'a rien à envier aux maisons modernes. Il y a même de quoi manger si on arrive affamé.... Bravo!
(EMAIL HIDDEN)
2017-04-02T00:00:00Z
Tout simplement parfait très propre et tout selon description
Marco
2017-03-31T00:00:00Z
Nous avons reçu un merveilleux accueil de la part d'Abdenour et de Akiela. Abdenour est venu nous chercher à la gare pour nous montrer le chemin jusqu'à la petite maison. C'est une très jolie maison toute neuve, très propre, chaleureuse et décorée avec goût. Akiela avait mis dans le placard et le frigo plein de surprises. Mon fils a jouer au foot avec leur fils Mathis qui est adorable . Il y a un espace devant la maison pour manger dehors qui doit être agréable en été . La maison est dans une rue très calme. C'est à 10min à pied de la gare, puis à 15min de la gare de Lyon . C'est proche d'un quick et d'un carrefour market. Je vous conseille vivement ce logement pour la grande qualité prix et cet accueil incroyable .
magali
2017-02-24T00:00:00Z
Tipo di stanza
Intera casa/apt
---
Tipo di sistemazione
Casa
---
Può ospitare
3
---
Camere da letto
Villeneuve-Saint-Georges, Île-de-France, Francia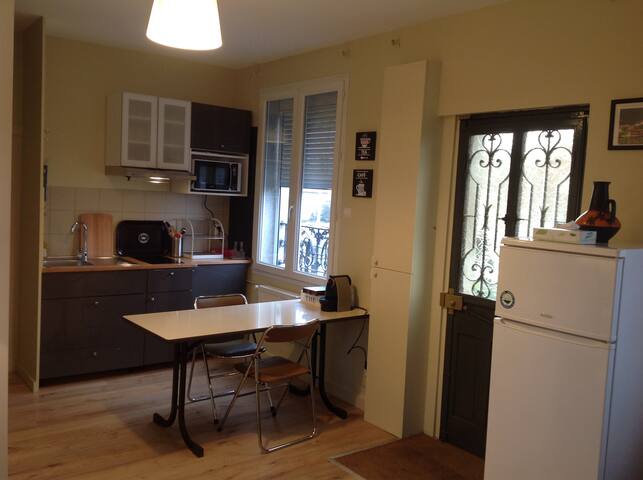 Appartement à 5min de la gare. Proche Paris (centre à 20 minutes en train) et aéroport paris orly.
Appartement de 42m2. Une cuisine de professionnel. Une douche italienne immense,sèche serviette et des WC japonais. Un futon 200x160 et un canapé convertible pareil. Inédit sur airbnb :des draps propres et des coussins qui ont connu intimement le lave linge à chaque visiteur. Commode pour ranger vos affaires. Une télévision dans la chambre.
Quartier vivant en journée et très calme la nuit. Commissariat à 50m. Magasin lidl à 100m. Gare rer de villeneuve st georges à 700m. Des fastfoods ouvert jusqu'à 2h du matin et d 'autres commerces pour combler vos besoins jusque tard la nuit.
The place was more than I expected and Fabien was very helpful making me feel welcome and helped with getting to know Paris ...Great stay
kyle
2015-11-06T00:00:00Z
Fabien est très accueillant. Merci
Kamal
2015-10-09T00:00:00Z
L'appartement correspond exactement à la description faite sur le site. Il est cozy et l'ambiance est zen. L'hôte est resté discret et n'a pas manqué d'être prévenant s'il l'estimait nécessaire.
Patrick
2015-12-24T00:00:00Z
Bon accueil et appartement agréable, mais la chambre mise à disposition ne permet pas un accès indépendant aux sanitaires et à la possibilité de boire un café le matin lorsque l'hôte dort. Dommage. Pour nous la dureté du futon nous a posé quelques soucis.
claudie
2016-03-03T00:00:00Z
Très accueillant
Kamal
2015-10-16T00:00:00Z
Al binnen 5 minuten na de ontmoeting vertelde de verhuurder dat ik extra moest bijbetalen voor de 2de persoon. Ik bleek een verkeerde reservering gemaakt te hebben, hoewel dat niet duidelijk te zien was op de website van Airbnb. Dat heeft de sfeer tijdens mijn gehele verblijf in zijn huis zeer negatief beïnvloed. In de advertentie stond dat de kamer inclusief ontbijt was. Toen ik vroeg waar het ontbijt uit bestond, gaf de verhuurder aan dat het ontbijt zich slechts beperkte tot een kopje thee of koffie. De Fransen ontbijten niet volgens hem. Later moest hij toegeven dat hij zelf niet ontbeet. Omdat wij beiden foutieve informatie hadden verstrekt, stelde ik een lager bedrag als bijbetaling voor de kamer voor. Maar daar ging hij niet mee akkoord. Airbnb is mij financieel tegemoet gekomen voor het ontbreken van het ontbijt. Ik heb mij vanaf het begin niet welkom gevoeld in het huis van de verhuurder. Er was ook weinig privacy in het huis. Ik sliep in zijn ruime slaapkamer. Zelf sliep hij op de bank in de kleine woonkamer annex open keuken, zoals op de foto te zien is. Daarnaast was de kamer koud, de verwarming werd automatisch door de verhuurder geregeld. De buurt waar ik verbleef, was tamelijk onveilig en onrustig, vooral 's avonds. In diverse auto's was een volgende dag ingebroken.
Rene
2015-10-24T00:00:00Z
Excellent nouveau séjour. Je recommande vivement.
Patrick
2016-01-14T00:00:00Z
Je recommande très propre bien placé pas Loin De la Gare et des magasins on se sent chez soi
Attoumane
2017-03-31T00:00:00Z
Tipo di stanza
Intera casa/apt
---
Tipo di sistemazione
Appartamento
---
Può ospitare
2
---
Camere da letto
Villeneuve-Saint-Georges, Île-de-France, Francia
Appartement type f2 avec cuisine équipée. Située à 10 minutes de l'aéroport d'Orly et 15 minutes de Paris via RER D. La gare se trouve à 10 minutes à pieds.
Tipo di stanza
Intera casa/apt
---
Tipo di sistemazione
Appartamento
---
Può ospitare
4
---
Camere da letto
Villeneuve-Saint-Georges, Île-de-France, Francia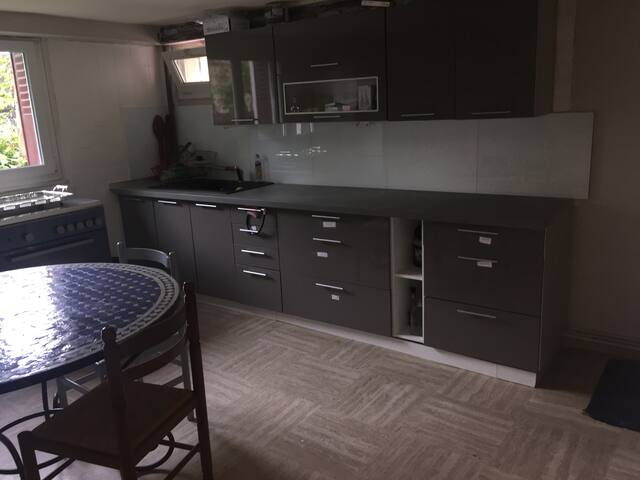 Loue une chambre dans un appartement ,plein centre ville de Villeneuve saint Georges,quartier très animé,beaucoup de commerces a proximité ouvert tous les jours jusqu'à 23h ,la gare est a 2min (en face) pour les conditions de location merci d appeler
The host canceled this reservation 3 days before arrival. This is an automated posting.
kevin
2017-01-31T00:00:00Z
Très déçues par la prestation, logement insalubre, encore en travaux, propreté laisse à désirer. Je ne recommande pas.
NATACHA
2017-04-01T00:00:00Z
Accueil chaleureux dans un cadre à améliorer. Chambre très privée donc intimité limitée (meubles et toilettes restent accessibles et à partager avec l'hôte dans et à travers la chambre louée). Proximité des commerces et transports en commun.
Siméon
2017-01-29T00:00:00Z
Bel échange avec Hameida qui a été très accueillant. La chambre est très proche du RER D, donne sur la route mais assez calme, par contre confort à améliorer.
Bénédicte et Eric
2017-01-22T00:00:00Z
Tipo di stanza
Stanza privata
---
Tipo di sistemazione
Appartamento
---
Può ospitare
2
---
Camere da letto
Villeneuve-Saint-Georges, Île-de-France, Francia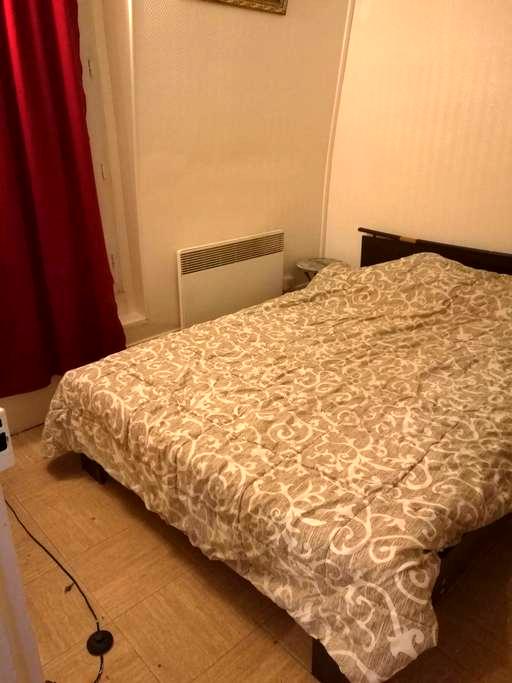 Hello , Nice atypical apartment in the city center , on the ground floor of an old building. With large private terrace overlooking the Seine , you can fish directly from the terrace.L apartment is very bright, it features two spacious bedrooms and a
Hello , Nice atypical apartment in the city center , on the ground floor of an old building. With large private terrace overlooking the Seine , you can fish directly from the terrace.L apartment is very bright, it features two spacious bedrooms and (URL HIDDEN) first bedroom with double bed 2 personnesLa second bedroom with two beds 1 person . (With Extra bed available for 5th person ) This ideally located apartment is furnished with all modern facilities : TV, Internet , wifi, PC , washing machine, stove, everything needed to cook ... Shower and modern toilet. Spacious entrance . Sheets and towels are provided , very fast and easy access to Paris : The apartment is 7 minutes walk from Villeneuve St Georges RER station D. The process leads to Paris Gare de Lyon in 10 regular minutes.Trains up to 00h40.Le area is cosmopolitan , so you will have the opportunity to taste lots of flavors of the world and go to the Wednesday and Saturday market. ( At nightfall the area becomes very quiet) Nearby you will find : supermarket, tobacco , pharmacy , restaurants , trains ...
Good location, clean
Grace
2014-05-01T00:00:00Z
Une super semaine en compagnie Lamia, merci pour ton accueil, ta gentillesse. Je reviendrai sans aucune hésitation. L'appartement est très bien entretenue, au calme et juste à côté des transports, on se sent comme à la maison !
Manon
2017-02-25T00:00:00Z
Toujours souriantes et serviables, Lamia et Nadia ont fait tout le nécessaire pour me faire passer un bon séjour.
Serhat
2017-02-05T00:00:00Z
C'est très bien passé
MOHAMMED
2017-01-30T00:00:00Z
Everything was perfect, thank you!
Peter
2014-07-24T00:00:00Z
Merci Lamia pour cet accueil, séjour très agréable et appartement conforme aux descriptions de l'annonce. Lieu propre et tranquille. Je recommande. A bientôt
Olivier
2014-02-14T00:00:00Z
Bien situé et Nadia est tres gentille
QUENTIN
2017-01-28T00:00:00Z
As mentioned before, great apartment, and we look forward to returning one day.
James
2013-07-09T00:00:00Z
Tipo di stanza
Stanza privata
---
Tipo di sistemazione
Appartamento
---
Può ospitare
3
---
Camere da letto
Villeneuve-Saint-Georges, Île-de-France, Francia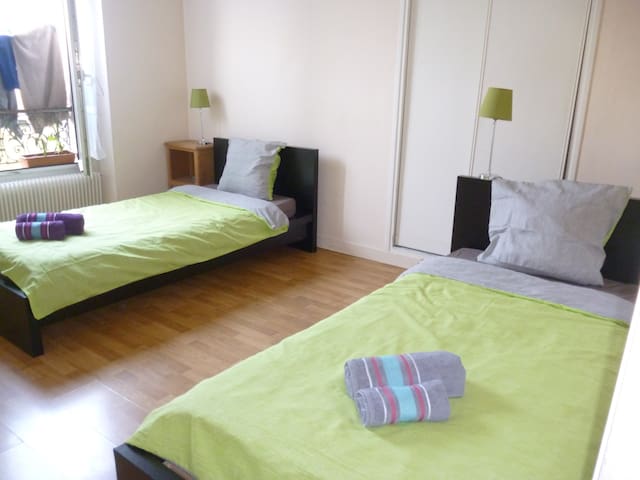 Loue STUDIO MEUBLE 20M² avec TERRASSE dans quartier pavillonnaire. A 5 min à pied de la gare RERD de Villeneuve saint Georges (94) A 15 min de paris en RER
un petit logement très confortable. idéal pour des vacances. très bien situé, à 5 minutes de la gare, proche des petits commerces. Cédric et Magali sont sympathiques.
Sandrine
2016-11-13T00:00:00Z
Logement calme et abordable près du rer d et accueil très sympa !
Olivier
2017-03-09T00:00:00Z
Très bon accueil, le studio est fonctionnel, équipé comme il faut. Je recommande vivement ce logement pour une ou deux personnes.
Laurent
2017-03-04T00:00:00Z
My stay at Cedric's was fantastic. Everything was as described! The apartment was just perfect for our needs. There is a small village down the mountain, with an amazing bakery and little shops and restaurants. The RER B (RER D takes you back to Villeneuve Saint Georges) is near by and will take you to Gare De Nord, from there you can get to just about anywhere in Paris. If you need Cedric just get in touch with him, he answers lightening fast. You really will enjoy this listing, its an incredible bargain for your money. Additionally, the he has kitchen utensils in the apartment should you wish to cook while there, and coffee. He is definitely a thoughtful host.
Maria
2016-12-14T00:00:00Z
Tipo di stanza
Intera casa/apt
---
Tipo di sistemazione
Appartamento
---
Può ospitare
2
---
Camere da letto
Villeneuve-Saint-Georges, Île-de-France, Francia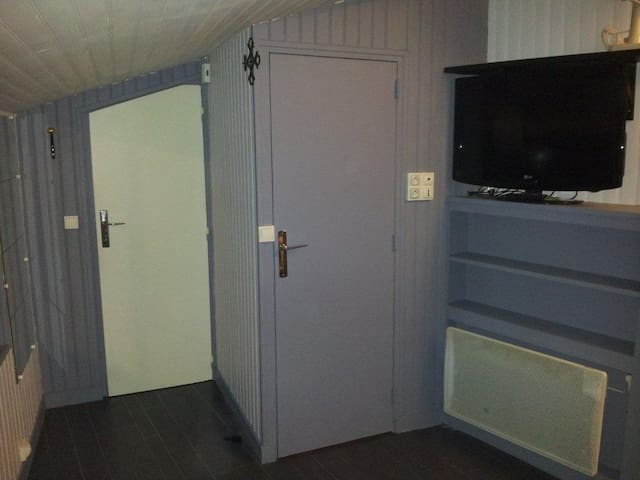 15 minutes from Paris : The "Georgette" is waiting for you! Discover the charm of the Parisian suburbs! Enjoy your beautiful private garden for an aperitif under the sun, a football match or a barbecue dinner RER D direct to Stade de France EURO2016
The accommodation is situated on the first floor of a beautiful house of the 50s . Housing is independent. Spacious, parquet floors, large windows overlooking the garden, not overlooked . You can park down the street (50 meters with blue disk) or up the street for free (150 meters). If you use public transport, it's only 3 minutes walk (really :-))from the station. 2 large bedrooms with office : Bedroom 1: 20m2 , 1 large king size bed for 2 people , with 1 single bed, possibility to add a mattress (7th person) on the floor or a cot. Bedroom 2: 1 sofa bed 2 places, 1 bed 1 place Dining room - seating area , board games , map of Paris, books, magazines available, Kitchen (microwave , fridge , kettle , toaster , dishes) Bathroom - Toilet Possibility of adding a high chair and cot if necessary. And we lend you : soccer ball , baby / kids games, and a barbecue!
Beautiful residential area , with small pedestrian streets and beautiful homes millstone . Enjoy the proximity of shops : bakery, Franprix , a big market twice a week, with clothes, food... ( Wednesday and Saturday) , pizzeria , Japanese restaurant ( which deliver at home),...
Avons passé un bon séjour chez Armelle. Seul l'escalier de l'appartement nous a un peu rebutés à notre arrivée (à cause des nombreux bagages à transporter) ... mais il a vite été oublié et n'a plus été un problème. L'appartement est plutôt spacieux avec 2 grandes chambres, une cuisine et une salle de bain fonctionnelles. Malgré l'absence d'accès direct avec la voiture, nous n'avons eu aucun problème pour nous garer à proximité. Très beau jardin à disposition, parfait en période estivale ! Quartier calme. Merci à Armelle qui nous a facilité notre arrivée.
Karyn
2016-07-16T00:00:00Z
De ontvangst was goed, Armelle was informatief en vriendelijk. Het was leuk later in de week nog nader kennis te maken. Het huis is erg prettig en comfortabel met mooie ruime kamers en sfeervol ingericht. Het centrum van Parijs is goed te bereiken met de trein. Het was heerlijk na een dag in de stad in de tuin te kunnen relaxen. In die zin een mooie combinatie van rust en de drukke stad. Er is vlakbij een supermarkt dus ook als je geen auto hebt is dit een prima locatie.
karin
2016-08-15T00:00:00Z
Nous avons passe un excellent séjour chez Armelle et sa famille. Ce sont des gens charmants, très accueillants. L'appartement est chaleureux et fonctionnel. Nous avons beaucoup apprécié le guide laissé a l'attention des locataires. Nous les recommandons vivement.
Mireille
2015-08-11T00:00:00Z
Tré bien accueillis par armelle. Logement bien situé à qqminutes à peine de la gare RER. Ns recommandons ce logement et n 'hésiterons pas à y retourner. Seul petit bémol pr les escaliers un peu exigus.
Isa
2016-06-27T00:00:00Z
Armelle was wonderful and her place was perfect for what we needed. It was quiet and close to transit to get into Paris: it was easy! We visited Versailles on a day trip, and all the sights of Paris. The food is incredible there! And Paris is especially beautiful at night.
Nicole
2015-10-27T00:00:00Z
Très bon séjour. Merci à Armelle qui s'est montré disponible. L'appartement est chaleureux et agréable ! Comme je vous l'ai précisé, il faut prévoir un disque pour le stationnement. Merci pour ce séjour.
Emeline
2016-04-09T00:00:00Z
Paris is WOUNDERLAND!! Time we spent there was excellent. Armelle and her family was very very welcome. Apartment was very good, we are family of 7. 5 kids may husband and me. Place we lived was 18 min from centre, easy to go. Need time to get use using metro and train (RER), we are from small country LATVIA , we don't have metro, but it is ok, and experience was great. All we need was wright there, food shops.... Thank You Armellle and Vincent- you are great. And we hope to come once more. Ieva Taranda from Latvia, Riga
Ieva
2015-12-28T00:00:00Z
We can't fault this listing either on quality of accommodation or the host's hospitality. I got a great feel about the place before we arrived because (apart from the photos, which probably don't do it justice) Armelle had been so helpful and prompt in her communications. Armelle had lit candles in the apartment and had a bottle of bubbly cooling in the fridge; a really nice touch whether you are arriving as a family (like us) or for a romantic visit (is it possible to combine both?) The apartment is spacious, warm, stylish and nicely lit. The kitchen and shower room are small, but again nicely appointed and functional. Armelle and her partner speak good English and are most helpful and welcoming. Armelle recommended a place for us to eat near Gard du Nord before we left - the place was great and felt like a true Paris experience (not a tourist place). We really liked the area. The house is very close to the train (3 mins) which is 15-20 mins into Paris - depending on where you get off. While the town feels busy it also feels safe and the house is away from cars on a beautiful narrow pedestrian road which feels private and secure. We didn't make use of the private garden, but hope to return in warmer weather when it would be a real bonus. The town has a great food market twice a week, a supermarket open till 8pm and a good friendly boulangerie on the way to the station 2 mins from the apartment. Why stay in a cramped central flat or pay two or three times the price for central Paris when transport links are so good? We can't recommend this host highly enough!
Kate & Ian
2015-12-07T00:00:00Z
Tipo di stanza
Intera casa/apt
---
Tipo di sistemazione
Appartamento
---
Può ospitare
7
---
Camere da letto
Villeneuve-Saint-Georges, Île-de-France, Francia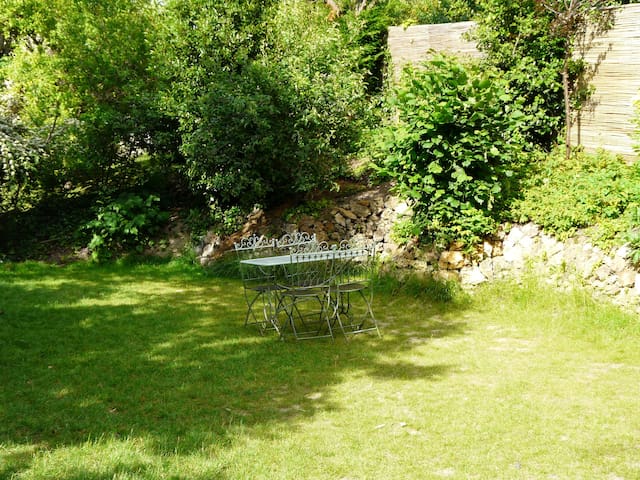 Mon logement est proche des restaurants, commerces et des transports . Il est parfait pour les couples, les voyageurs en solo, les voyageurs d'affaires et les familles (avec enfants). stationnement possible.
C'est une chambre meublée mansardée, de 50 m² comprenant une cuisine tout équipée + mobiliers de rangement.
zone pavillonnaire, calme.
Tipo di stanza
Stanza privata
---
Tipo di sistemazione
Casa
---
Può ospitare
3
---
Camere da letto
Villeneuve-Saint-Georges, Île-de-France, Francia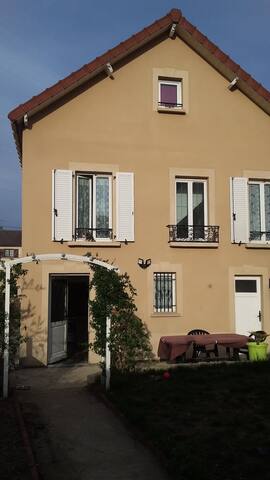 2 pièces de 40 m² au 2eme étage. 80 m2 de jardin et garage privatifs à disposition. Belle vue sur la Seine. Gare RER à 10 min à pieds. Rue calme. Idéal pour un couple en vacances ou travaillant pour une courte période sur la capitale.
Logement de 40m² au deuxième et dernier étage dans une petite copropriété. Vue exceptionnelle. Idéal pour un couple. Pour 4 personnes maximum. Internet, cuisine et salle de bain équipées. Linge de maison, draps, serviettes, torchons. Jardin et garage privatifs. Possibilité de faire des courses pour les voyageurs, sur demande 3 jours avant votre arrivée. Documentation pour se faire livrer des repas et des pizzas à domicile. À proximité des transports, quartier calme, peu de passage. À 10 minutes à pieds du centre ville, des commerces et du marché (mercredi et samedi matin). À 10 min à pieds de la gare RER. En transport : la gare de Lyon est à 25 min et l aéroport d Orly à 30 min. Box privatif et jardin de 80m2 à disposition.
À proximité des transports, quartier calme, peu de passage. À 5 minutes à pieds du centre ville, des commerce et du marché (2 fois par semaine).
Très bonne expérience avec Annlaure qui nous a très bien accueilli. L'appartement est sympathique, bien aménagé, avec une vue imprenable sur Paris. Si l'occasion se représente nous n'hésiterons pas à réitérer l'expérience.
Mercier
2015-12-21T00:00:00Z
Première expérience airbnb parfaitement réussie dans l'appartement d'Annlaure. Merci à Annlaure pour son bel accueil.
joel
2015-10-28T00:00:00Z
Accueil fort sympathique de la part du compagnon d'AnnLaure, appartement super sympa surtout après un retour de New York du coup j'y suis rester une semaine de plus et je compte bien y revenir. Merci encore.
SYLVAIN
2015-05-15T00:00:00Z
Super appartement, pour une première expérience airbnb. Tout le nécessaire est disponible, pour finir hôte très sympathique.
Benoit
2016-12-02T00:00:00Z
We arrived into Paris late at night making it a little difficult to navigate to the place (in a taxi). Due to some constructions and one way streets, it took a bit longer to get to the location. The apartment was very well kept and Annlaure was available via phone to help guide us into the apartment. Menus to order food were available for us and the place was as described on the ad. It took us approximately 30 min to get to Paris Orly airport and was overall convenient for our purpose.
Dominique
2015-09-04T00:00:00Z
Accueil très chaleureux et appartement très sympathique j y retourne des la prochaine occasion merci a Annlaure et son ami pour les petites astuces autour de chez eux. A bientôt je l espère
SYLVAIN
2015-05-23T00:00:00Z
Agréable week end passé à Paris grâce à notre hôte. L'appartement est très propre comme indiqué sur l'annonce. Un endroit très calme avec une super belle vu en hauteur. Boxe disponible afin de pouvoir garer tout véhicule. Je recommande fortement.
Lam
2016-04-05T00:00:00Z
Très bon séjour, un très bon accueil. L ' appartement très fonctionnel avec en bonus une super vue sur Paris! Ann Laure est disponible et bienveillante . En somme à faire !
Thi Thu Van
2015-09-21T00:00:00Z
Tipo di stanza
Intera casa/apt
---
Tipo di sistemazione
Appartamento
---
Può ospitare
2
---
Camere da letto
Villeneuve-Saint-Georges, Île-de-France, Francia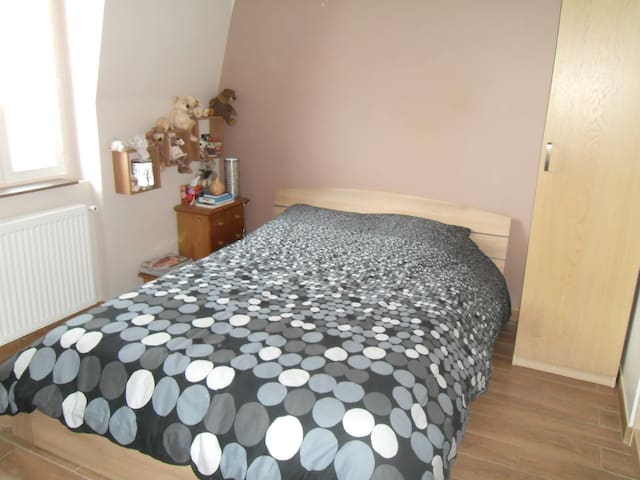 L'appartement est bien agencé chaque partie ( cuisine, douche, pièce principale ) est séparée par une porte. Il est situé à moins de 25 minutes en RER de Paris Gare de Lyon. Il y a un arrêt de bus en face de la résidence.
Tipo di stanza
Intera casa/apt
---
Tipo di sistemazione
Appartamento
---
Può ospitare
2
---
Camere da letto
Villeneuve-Saint-Georges, Île-de-France, Francia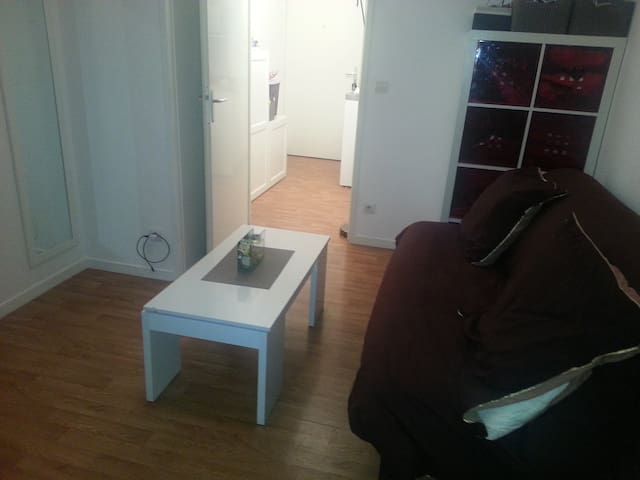 Une chambre spacieuse avec un grand lit dans un appartement F2 à 12 minutes de la gare de Lyon dans un quartier très calme. Situé à 5 minute à pied de la gare RER D Villeneuve Saint Georges qui vous permet de rejoindre Paris directement
Tipo di stanza
Stanza privata
---
Tipo di sistemazione
Appartamento
---
Può ospitare
2
---
Camere da letto
Villeneuve-Saint-Georges, Île-de-France, Francia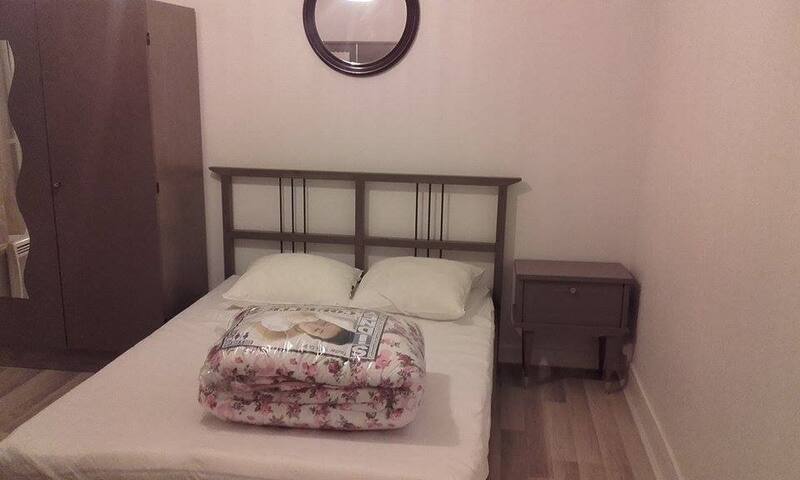 Adorable petite dépendance type "chalet", parfaitement aménagé pour une tranquillité et une autonomie sans pareil (canapé-lit, tv, kitchenette, douche,bureau, toilette: type camping). Logement idéal pour une à deux personnes
Proche de la gare RER Villeneuve Triage et Villeneuve St Georges (20 min de Paris), station de bus à 2 min à pied, zone commercial à 10 min pied
The host canceled this reservation the day before arrival. This is an automated posting.
Mélanie
2017-01-08T00:00:00Z
Ikrame est une personne très chaleureuse et particulièrement attentive au confort de ses hôtes.
Augustin
2017-01-03T00:00:00Z
The host canceled this reservation 4 days before arrival. This is an automated posting.
Mohamed
2017-01-11T00:00:00Z
Tipo di stanza
Intera casa/apt
---
Tipo di sistemazione
Chalet
---
Può ospitare
2
---
Camere da letto
Villeneuve-Saint-Georges, Île-de-France, Francia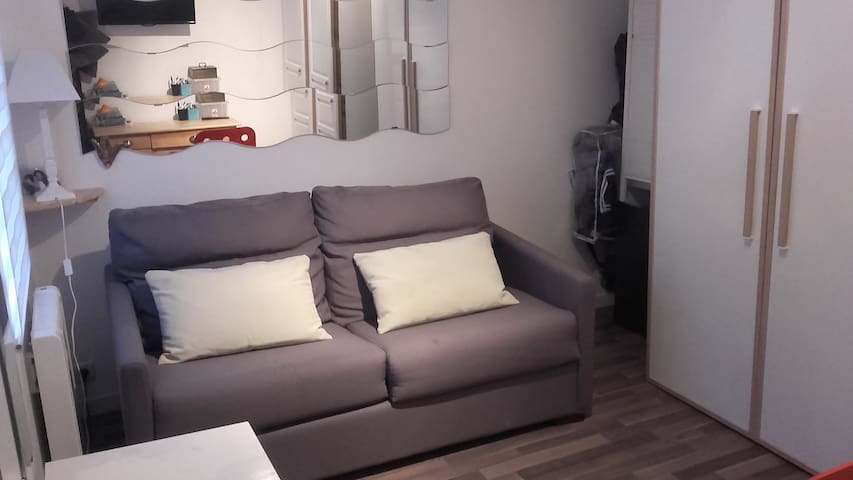 Inserisci le date per visualizzare il prezzo totale. Ci sono dei costi aggiuntivi e potrebbero venire applicate alcune tasse.