Our cool Loft was built in '06, and received the 2006 Urban Development Design Award. This 2400 sqft artist loft is in the historic part of Santa Ana and located in the heart of Orange County. It's directly across from the Santa Ana Train Depot
The Santiago Street Lofts were built in 2006, and received the Urban Development Design Award. This 2400 square foot artist loft is in the historic area of Santa Ana and located in the heart of Orange County. It is directly across the street from the Santa Ana Train Depot and is only a 10 minute drive to Disneyland and California Adventure. The ground floor has a ping-pong table, an electronic dart board, a wireless iPod cradle and an attached 2 car garage. The main floor (2nd) has 19 ft ceilings with an incredible feeling of open space, stunning Golden Kempas hardwood flooring and an open kitchen with stainless steel appliances. This floor also includes a full bath. There is also an open doorway into the large bedroom with a full-size bed including a 42'' HD TV. There is also an IPod/Iphone cradle for your music. The Loft floor (3rd) overlooks the 2nd floor and has a queen bed, a walk-in closet and another full bath. The Loft is located just a half mile from downtown Santa Ana and its new art district with many award winning restaurants and bars. It is very close to Disneyland, only a 45 minute train ride to downtown Los Angeles (Union Station) and a 2 hour train ride to San Diego's Santa Fe down town train depot. The space is ideal for filming shooting and video. Please contact me for pricing
This is one of the coolest places in Orange County for Urban Style vacation rentals. We have amazing places to dine and was listed as one of the new and upcoming places in the county for dining. The property is also located directly across the street from the Santa Ana Train Depot.
We had a great time your loft was exactly like the pictures
Tina
2016-02-16T00:00:00Z
Very quiet neighborhood. Although it's right next to the Santa Ana Train station, you never hear the train. Only 10 minutes from just about any activity in Anaheim, without having a zillion kids running around. This loft is like a modern, New York style loft. Very open, modern, and very well kept. He's a professional photographer (amongst other things), and he hangs his work for decoration, which is very nice, and adds to the modern, cool vibe of the loft. Also, whatever you need is pretty much there. I've learned from experience that the owner of the property is not a minor issue. You will get people who are unprofessional, unclean, trying to save money at the residents expense, and there is no worry with any of that here. Renere is the ultimate host. The place was ready, is well stocked with everything you need, and during a one week stay, there was a minor A/C problem that he fixed within 30 minutes. Every time I contacted him, it was very clear he wants expectations to be high, and he delivers. He's a professional, and a good guy at the same time. This was a great choice.
John
2016-07-17T00:00:00Z
The host canceled this reservation 7 days before arrival. This is an automated posting.
Kimberly
2016-08-15T00:00:00Z
Renere is a brilliant host, and his loft is outstanding. He communicated promptly and couldn't be more helpful. The water and wine were nice touches and we couldnt be more comfortable here. Definitely would use again, and some real gems very nearby for food and coffee. 4th Street market is a great place to start..
Ed
2015-08-16T00:00:00Z
Tipo di stanza
Intera casa/apt
---
Tipo di sistemazione
Loft
---
Può ospitare
5
---
Camere da letto
Santa Ana, California, Stati Uniti
Spacious, clean and comfortable. Located 5-25 minutes from Disneyland, Chapman University, Knotts Berry Farm, beaches, major malls and trending eateries. Private entrance to this detached unit on the residential property of a 7k lot, end of the cul-de-sac of a quiet street. French doors, kitchenette a full-size fridge and induction burner for lite cooking. Grill or relax on your own roomy patio. Queen-size super comfy brand new mattress, pullout sleeper (twin) queen air mattress if needed. Park on driveway.
Nicely converted detached, 450 square-foot loft.
We are in the located in the wonderful town of Orange in Orange County, California. The city of Orange is popular because of antique stores and restaurants at the city's "Circle" and the many movies that were films here, including "Forest Gump". Surrounding cities are Anaheim, Villa Park, Tustin, etc. Close to John Wayne airport, Disneyland, Anaheim Convention center, UCI, Angel stadium, the Honda Center (Twenty-one Pilots, Ariana Grande, Mighty Ducks, LA Kings, Brad Paisley) and the Grove Concert Hall. Position between several major freeways. Also walking distance to shopping and restaurants. Every night at 9:30pm (for 15 mins) you can definitely hear and sometimes see the exciting Disneyland firework display.
Me and my boyfriend took a weekend vacation here and, out of our AirBnB experiences thus far, it has been the best! The place is exactly how the pictures portrayed it -- it was very clean, cozy, and comfortable! It was a little colder in Orange when we visited, but Pam had the loft equipped with enough heaters that we stayed warm all throughout the night. In addition to great decorations, Pam also had supplied towels, toiletries, light snacks, tea/coffee, and hair dryer/straightener (a huge plus for those who are packing light!!) Since our travel plans had been a little hectic on check-in day, we arrived earlier than planned. Thankfully Pam was more than willing to accommodate our schedule and let us check in early -- a HUGE help! She even offered to pick us up from the airport -- above and beyond what we had expected! The neighborhood was very quiet, calm, and secluded but close enough to get around to the bigger parts of town. We used Uber/Lyft while we there and to get to the club area / Disneyland / airport, it only cost about $15.00! I would definitely recommend staying at Pam's loft -- the location was excellent for our needs, the unit was comfortable, clean, and nicely decorated, and our hosts were attentive and quick to respond with any of our requests. Thank you so much for having us!!
Teresa
2017-02-26T00:00:00Z
It felt like staying with family. Pam, the host, is warm and accommodating. The space is beautiful and located in a quiet yet accessible part of town.
Tanya
2017-03-07T00:00:00Z
Pam was a lovely host. The communication was superb. To be honest, they have inspired me to make my own "loft"! Beautifully decorated and the simplistic style compliments the whole stay. I am very grateful they opened up their residents to AirBnB.
Leonardo C.
2017-02-20T00:00:00Z
Pam was a great host and easy to communicate with over email.
Josh
2017-03-19T00:00:00Z
Pam's place was a great bargain during a busy convention in Anaheim. It's on a quiet cul-de-sac about 10-15 minutes from the convention center and Disneyland, and will save you hundreds compared to Anaheim hotels.
Jedediah
2017-03-11T00:00:00Z
Great location if you are traveling to the Eastern Greater Los Angeles area. Pam is very good with communicating and will help with any issues that may arise throughout your stay. As always, I wish my trips were for recreational purposes but I had a comfortable stay nonetheless.
Richard
2017-04-07T00:00:00Z
Pam's place is super cozy and she is an awesome host! Super responsive to any issues and very communicative - just remember to let the hot water run for a while before you plan to take a shower as it takes a while to warm up. Will definitely stay again for future trips down to Anaheim!
Rick
2017-04-02T00:00:00Z
This is the perfect place to stay for a quick get away or a business trip. Close to the freeway, a variety of restaurants, and easily accessible, I highly recommend staying here. Perhaps the best part is the friendly smile upon your arrival, Pam is better than any hotel concierge! She knows exactly where to find the best of everything. The room was spacious and clean; the bed comfortable; everything I could/would need was available. I'd definitely stay here again!
Sean
2017-03-27T00:00:00Z
Tipo di stanza
Intera casa/apt
---
Tipo di sistemazione
Loft
---
Può ospitare
3
---
Camere da letto
Orange, California, Stati Uniti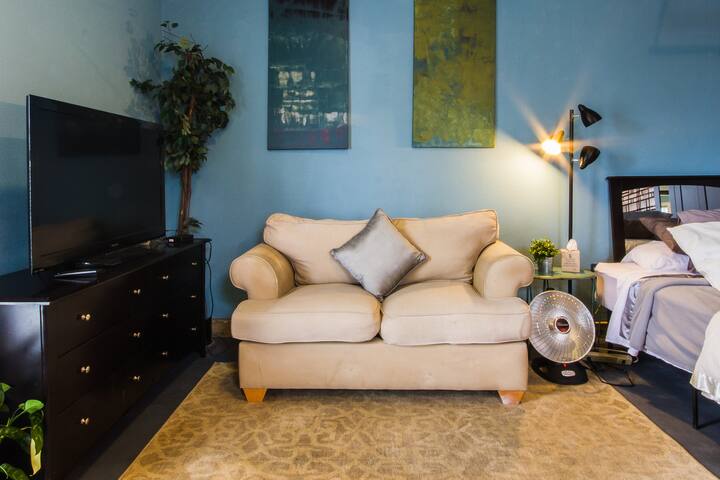 Inserisci le date per visualizzare il prezzo totale. Ci sono dei costi aggiuntivi e potrebbero venire applicate alcune tasse.