A large, self contained room above the garage, separate from the house, with a kitchenette and bathroom. Convenient 5 minute walk to train station and only a 15 minute walk to the bush. Local shops 10 mins walk, more shops 5 mins in car/train.
Large single self contained room in the lower Blue Mountains, complete with 2 seater lounge, large table, TV, kitchenette & double bed. Bathroom.
One of the quieter suburbs in the Lower Blue Mountains. 30 minutes drive from Katoomba, 10 minutes drive from Penrith. Great Italian Restaurant and convenience store/post office are just over the highway.
Description of room was accurate... Nice & cost. The barn was well stocked up with food. Jacqui was extremely accommodating & helpful!
Rebecca
2016-07-06T00:00:00Z
We had a wonderful and relaxed stay at "The Barn" in Warrimoo. As we intended to spend one day in Sydney and another one in the Blue Mountains this was the perfect location for us. Direct train service operates on an hourly basis to Sydney as well as to Katoomba so both places are accessible even without a car. Jacqueline gave us helpful advices for our trip to Sydney, that was very kind. There is nothing to add to the other good review, truly an excellent place to stay.
Eckart
2016-09-18T00:00:00Z
Wow what a little gem. We stayed at Jaquies for two nights , we had a wedding in the mountains. The barn is very private , bigger than what we imagined and spotlessly clean. The bed is extremely comfortable and warm, shower excellent and sitting area very good. Jacquie has thought of many special little treats for her guest, chocolates on the pillows, soaps, fruit , water bottles and fresh flowers.. So special. Breakfast supplies were more than adequate with yoghurt, bread , cereal, milk, spreads and a wide range of teas and coffees . There's an excellent Italia restaurant a short walk away and an easy drive to other shops. Jacquie was prompt with any replies and a friendly and sensitive host. Can't recommend this place enough for value for money.
ANNE
2016-10-10T00:00:00Z
'The Barn' was cosy & comfortable and as described. Jacqui welcomed us warmly on arrival and even invited us to join her and Paul for a glass of red by the fire pit. Highly recommend it & we would stay at 'The Barn' again.
Manja
2016-07-11T00:00:00Z
Wonderful stay. Appreciated the 24hr checkin and clear instructions for arrival. Jacqui was so warm and kind and very helpful in answering any questions. The barn was amazing and there were so many little things that made it feel homely and special. We were so thankful for all the love and effort put into this little abode by the hosts. Wouldn't hesitate in recommending them.
Bel
2016-07-18T00:00:00Z
What a lovely stay, we really couldn't fault it. Very generously stocked and well kept, Jacquelines place is immaculate, I would highly recommend to anyone looking for privacy and comfort close to Katoomba. I wish we could have spent a few days here but the night we did spend was lovely. 10/10 Thank you.
Rebecca
2016-03-28T00:00:00Z
The place was even better than described online it was made to feel like a home away from home with every detail covered. The area was very quiet and most relaxing for our trip. It was the perfect location to explore the blue mountains.
Philip
2016-06-18T00:00:00Z
We needed to be in the mid-Mountains for an early start next morning, so the location was perfect. Not glamorous, not a secluded bush retreat, but very comfortable, very welcoming, very private and quiet, plenty of room for two people, all the food supplies you could want for supper and breakfast..... why would you go to a motel?? We'll be back for sure. Thanks Jacqueline!
Geoff
2016-09-11T00:00:00Z
Tipo di stanza
Intera casa/apt
---
Tipo di sistemazione
Loft
---
Può ospitare
2
---
Camere da letto
Warrimoo, Nuovo Galles del Sud, Australia
The boathouse is a self contained deep waterfront timber cabin sleeping two upstairs in the loft and two downstairs in the giant day bed. Pitched ceilings and roaring fires. Waterskiing, reading and snoozing. Only an hour by car from the harbour bridge. And a five minute boat ride from Brooklyn.
Set on the beautiful Hawkesbury River, this is not just a 'river view'. The boathouse is literally on the riverbank. Tastefully decorated with a cosy wood burning fire, own bathroom and small kitchenette, bring whatever you need to eat and drink and settle in to get away from it all. We have cosy blankets, great books, games, wine glasses and everything you need for a romantic getaway or some family time. The River House, set above the boat house, is also available to rent with space for four adults, four children and a baby.
Milsons Passage is a lovely quiet community a short boat ride from Brooklyn and the Mooney Mooney boat ramp at Deerubbun Reserve. Stock up on supplies at Brooklyn as there are no shops or restaurants in Milsons Passage. The beautiful Estuary Restaurant is a short trip up the river and Peats Bite will send their own boat to pick you up and drop you back again after your amazing degustation lunch. There are tiny beaches dotted along the river and a shipwreck, waterfall and the remains of a church and cemetery can be found by those with an adventurous spirit. Milsons Passage is a small, quiet community of permanent residents and weekenders. It is not a resort style atmosphere. Loud music and disrespectful behaviour will not be tolerated by us our neighbours. BOAT ONLY ACCESS
The Boat House is pretty much as described with lots of character, right on the waterfront, and the 'highway' right out front, with its traffic of a different sort! As its the first stop, 5 minutes upriver from Mooney Mooney all the boats go past here and it makes for a diverting passing parade, with most observing the 'go slow' signs for this stretch of the river. For the 2 of us, a parent with his teenage son, the sleeping arrangements were fine, with the 2 beds, up and down. 2 adults on the day-bed downstairs would be pushing it though. It would be all right, if a bit squishy for a couple with 2 smaller children or better, just a couple. The upstairs loft is a lovely place to sleep but the mattress could definitely do with an upgrade. The highlight for us was the access to the 2 person kayak, a great way to explore the river if you are fit and a bit adventurous. The kitchen could be better equipped given you will be preparing all your meals at home. I would recommend it for anyone wanting a quick escape from Sydney, and having your own tinny would be the way to go.
Grant
2016-10-04T00:00:00Z
My children and I had a wonderful couple of days relaxing at milsons passage. The facilities were really comfortable and all the extras of hammocks, kayaks and outdoor chairs .etc. made it easier to enjoy the beautiful surroundings and weather. All the information that the host gave us was very helpful and accurate and Rob who transported us to the accomodation was on time and friendly and communicated well for our return transfers. We will definitely be coming back with my partner to share the beauty and feeling of the boathouse. My kids want to move there! Thank you.
Anthea
2016-09-29T00:00:00Z
We had a fantastic stay at Susan's boathouse. The location was unbeatable, metres from the river and easy to find by water taxi. Communication with Susan was great and a small issue with the toilet was fixed as soon as it was raised. The new 2.5 person kayak was great as we're all other facilities. If you're scared of heights the ladder to the bed is a little precarious to get down to the bathroom in the middle if the night but for us it was fine. Highly recommend as a great relaxing getaway.
Emma
2016-09-26T00:00:00Z
Awesome place, lovely hosts.
julien
2016-07-23T00:00:00Z
One couldn't find a better view in all of the Hawkesbury River. The boat house was well equipped, clean and tastefully decorated. The nights were a little chilly and the fireplace worked a treat! Susan was the perfect host. She communicated well answering our questions. We had a last minute change of plans which she was able to work around. It represents very good value for money. There was lots to see and do boating wise.
Mandy
2016-10-23T00:00:00Z
An amazing property that was perfect in every sense. The river boat house is in a tranquil and idyllic setting, with views we never tired of looking at. Our hosts were extremely helpful ensuring that we got the most out of our stay. Both our children enjoyed the trails and surroundings, it was lovely to see them minus their Ipads and actually enjoying nature. If you want a beautifully maintained accommodation with fantastic surroundings look no further. We will be back, if you'll have us!
Claire
2016-07-05T00:00:00Z
Upon arriving Dan and susan helped us with boat transfer and settled us in!! The place is absolutely stunning and has everything you need to escape reality for a few days! The games,books and DVDs are welcome additions! We cannot wait to return here!! Definitely be back if they will have us!
Lisa
2016-08-27T00:00:00Z
Had the most amazing 3 day stay at the Boat house! Perfect place to unwind from the stress of the city and was only 40 min from home. We were very lucky to have such warm weather in September (22-23 degrees everyday) so we spent most of our days sitting on deck chairs out on the jetty (Got a lovely tan too!) We caught a huge bream while fishing off the jetty and cooked it in the fire place for lunch. Delish! We came prepared and brought a few things to marinate the fish. We caught two jewfish while we were there but were undersized unfortunately, and after a few run in's with catfish, we gave up on the fishing. Perfect place for those who love to fish!! We woke up to watch the sunrise at 6am every morning. The mist over the water in the morning is so beautiful and worth the early wake! We watched a DVD from their large collection every night. In the evening we lit a fire in the fire pit and sat out watching the sun go down. It was the perfect getaway - we are already planning our next visit when we return from overseas!!
Brenda
2016-09-07T00:00:00Z
Tipo di stanza
Intera casa/apt
---
Tipo di sistemazione
Loft
---
Può ospitare
4
---
Camere da letto
Milsons Passage, Nuovo Galles del Sud, Australia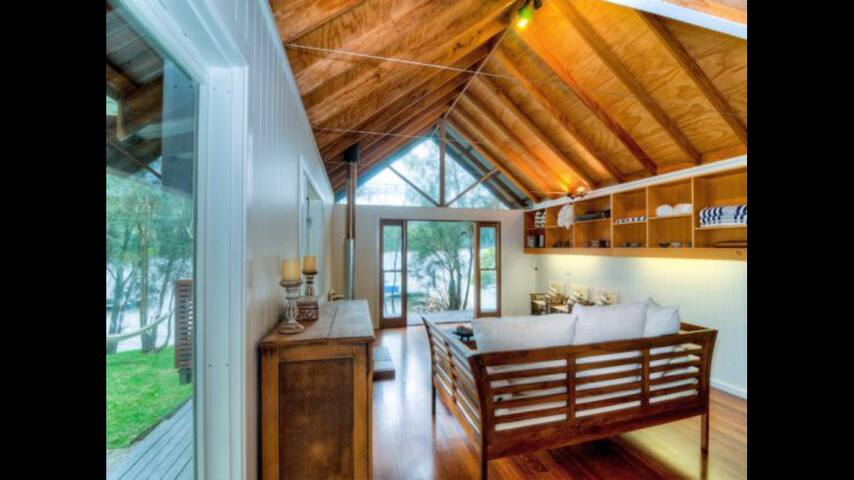 Monkey Creek sits high on a ridge with commanding views over World Heritage area. The Attic sits above the Café with great coffee and private decks to watch the spectacular sunsets and moonrises. Fully self contained. 3 night minimum Long Weekends
Monkey Creek has been developed with high environmental standards such as double glazing, rainwater harvesting, extra insulation, composting worm farm and solar power. The design withstands the sometimes hostile mountain climate while taking advantage of expansive views to the north east and southwest. It a truly remarkable place for watching sunrise, sunset and phases of the moon; all without having to get out of your chair! It offers a fully equipped kitchen with oven, convection microwave and necessary utensils to self cater or you can take advantage of the café downstairs.
the skyscape is spectacular! there is a local saying "if you don't like the weather up here, wait a minute" and there is no better place to watch the everchanging spectacle than from Monkey Creek. If you are into moonrise and sunsets here is a place you can get to see both without leaving the dining table.... or to watch the mountain mists swirl and blanket the valleys below before magically evaporating.... or to hear the sounds of lyre birds mimicking in the rainforests... simply divine
We really enjoyed our stay at Monkey Creek. Mark was a wonderful host. He was friendly and welcoming, and we appreciated his tips on nearby attractions and walks. The kitchen was well-equipped, the bathroom was pristine, and the bedding was very comfortable. The view from the large deck was beautiful during the day, and the perfect place to watch the sun set while having dinner. The staff at the café below were friendly and we enjoyed the coffee and the option to have a lazy lunch. We actually expected to be able to hear more noise from the café, but didn't feel that it disturbed us at all when we were in the Attic (maybe it was the double glazing!). Mark also invited us to visit his nearby cave, which was amazing – it felt like we were in the middle of nowhere. The walk there was also lovely. We would definitely recommend staying at the Attic (and also at the cave!). Thanks Mark :)
Ly
2016-01-21T00:00:00Z
Mark was VERY welcoming. The accommodation was really comfortable with stunning views. It is about 50m to the main road which was a surprise. Having the cafe downstairs was very convenient & we had an awesome weekend. Thank you Gab
Gab
2015-04-20T00:00:00Z
Lovely place to stay. Fantastic views, brilliant sunsets, delightful location. Flat was clean, well presented, lovely living space.
Aditi
2015-02-19T00:00:00Z
Fabulous find. Mark is very friendly and helpful and his architecturally exceptional apt. is clean, well-kitted out and has a welcoming feeling, with superb views. Glad we found this one.
John
2015-09-24T00:00:00Z
Mark was flexible with our arrival time, helpful with info on the area and a good for a yarn. Great spot, apartment and view. Thanks again!
Tony
2015-05-19T00:00:00Z
Beautiful house in an wonderful spot off the beaten track. Mark is s great, accomodating host, many thanks for a memorable stay
Rory
2015-07-20T00:00:00Z
Our experience was amazing and relaxing looking out into the valley. Mark was very easy to deal with, gave us the run down on the whole place and pointed us in the right direction to be tourist around the local area.
Andy
2016-01-11T00:00:00Z
Mark was very welcoming and happy to show us around. The apartment was nice, out of the way and the cafe downstairs made for an easy breakfast. Thanks! :)
Steve
2015-07-27T00:00:00Z
Tipo di stanza
Intera casa/apt
---
Tipo di sistemazione
Loft
---
Può ospitare
2
---
Camere da letto
Dargan, Nuovo Galles del Sud, Australia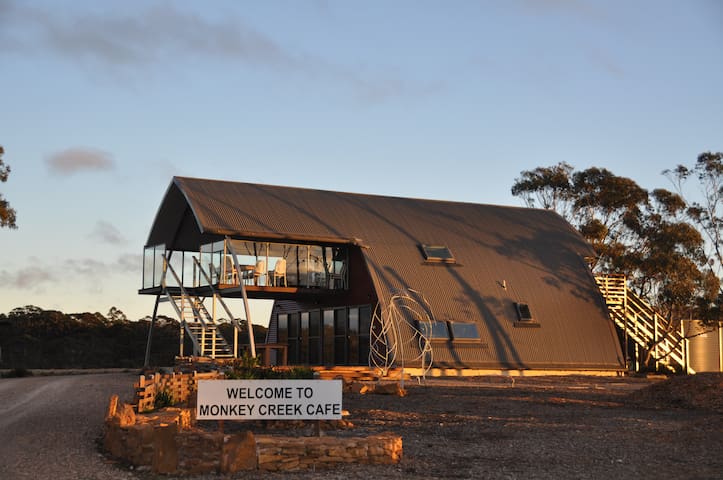 Complementary wine on arrival and 10% discount at great local restaurant in Leura (Flemish Flavours). Our private loft is the perfect cosy mountain retreat! Situated in a quiet, leafy street, only 15 mins drive from Leura & Katoomba, 10 mins walk to the train station, and 5 mins drive to the local cafe, restaurant & shop.
We have private off street parking . A complimentary bottle of wine is provided on arrival. A 10% discount on food at Flemish Flavours in Leura (10 min drive) is also offered. The loft is a large upstairs room, chalet-stye with an apex ceiling. Exposed warm wooden beams add to the cosy atmosphere. The bathroom is separate downstairs, and coffee and tea facilities and fridge space are all available. A baby cot and a child bed can be made available upon request.
Wim was a great host. Really great communication and made the experience very easy. The loft is very cosy and nicely designed! Would recommend others to stay.
olivia
2017-03-03T00:00:00Z
Claire & Wim's place is a really lovely, cosy and calm place to stay when visiting the blue mountains. Very very close by car to Leura and Katoomba. We had the chance to stay there one night with our 4 year-old daughter and would have loved to have the time to stay more. The studio is big, with pretty furniture and very clean. And we had the chance to have dinner at their restaurant Flemish Flavours where we ate so well ! Claire and Wim are lovely hosts, we would be happy to come again. Thanks a lot !
Eugenie
2017-01-08T00:00:00Z
It is a nice and quite location,i drive 15mins to echo point outlook. The dog is really cute. It really suits couples and animal lovers.
Jenny
2017-02-02T00:00:00Z
Cosy place, Love the doggo!
Joshua
2017-02-25T00:00:00Z
Amazing place! Highly recommend!
Lara
2017-04-04T00:00:00Z
We had a wonderful time at Wins' It was just so comfortable and clean and it was great to have some privacy
Clementine
2017-03-19T00:00:00Z
The loft was cosy, neat and lovely overall. We enjoyed the stay.
Liz
2017-02-04T00:00:00Z
Thank you so much to Claire, who accomodated us at short notice,and was absolutely charming. This a lovely, modern and funky converted loft space above a double garage. The photos do not do it justice. It has been converted with a lot of thought and with many clever details. Totally private and in a beautiful location, we were sad to leave, and would definitely stay again. A bottle of wine was a thoughtful and lovely touch,and very much appreciated. Thanks for having us.
Claire
2016-12-05T00:00:00Z
Tipo di stanza
Intera casa/apt
---
Tipo di sistemazione
Loft
---
Può ospitare
2
---
Camere da letto
Bullaburra, Nuovo Galles del Sud, Australia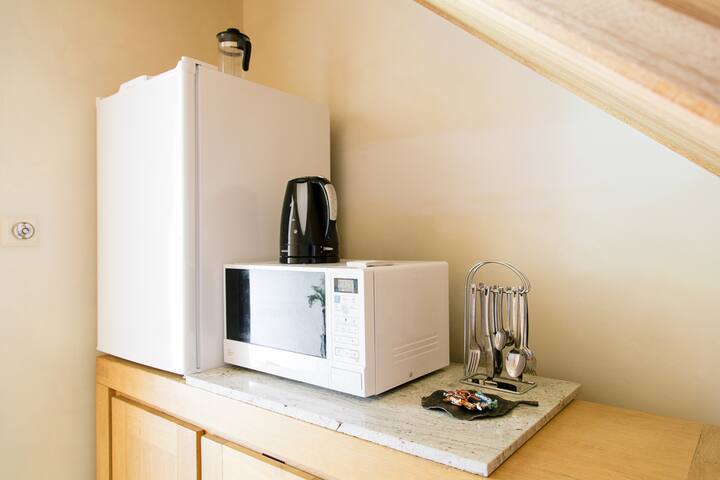 Upper Colo - Airbnb
:
Media di

5

stelle su

5

da

227

recensioni degli ospiti
Inserisci le date per visualizzare il prezzo totale. Ci sono dei costi aggiuntivi e potrebbero venire applicate alcune tasse.