Das Gästehaus verfügt über einen Blick auf den Mt. Adams und den unten Obstgärten. Es verfügt über ein französisches Bett, Tisch, und eine einfache Küche (Mini-Kühlschrank, Toaster, aber kein Herd oder Mikrowelle). Sie befinden sich in der Mitte der Frucht Schleife auf einer ruhigen Landstraße. Sie können nachts Kühe in der Ferne und Grillen hören. Es gibt kein WiFi oder Fernseher, aber Sie tun Zelle Service und Sie können eine Million Sterne in der Nacht zu sehen. Das Haus ist 250 Meter vom Haupthaus entfernt, wo wir sind manchmal zu Hause
Schauen Sie sich die Instagram-Feed für das Haus an: @HoodRiverGuestHouse Hier ist eine Liste von dem, was Sie in dem Gästehaus finden: Elektrischer Kamin Toaster Wasserkocher Wasserkocher Kaffeemaschine (beide Tropf und übergießen) Minikühlschrank Kochmesser, Schälmesser, Brotmesser Korkenzieher, Dosenöffner, Reibe Sieb große Schüssel Geschirr, Besteck und Gläser Verbandkasten Outdoor-Lounge Stühle Fön Brettspiele Kartenspielen bincoculars
Sie befinden sich direkt in der Mitte des Hood River Fruit Loop. Hier sind einige unserer Lieblingsorte: Draper Mädchen Land Hof- 3,5 Meilen südlich auf dem Highway 35 Dieser Bauernhof stehen hat viele frische Produkte und frisches Lammfleisch und Marmeladen. Sie haben Zwergziegen, die Sie füttern können. Es gibt auch einen riesigen Baum schwingen, mit dem Berg Hood im Hintergrund. Viele Familienporträts wurden auf dieser Schaukel genommen. Packers Orchards und Bäckerei - 1,5 Meilen nördlich auf dem Highway 35 Hier können Sie frisches Obst, Marmelade, Eis, Kuchen und Kekse bekommen. Gorge White House - 5,5 Meilen nördlich auf dem Highway 35 Dies ist ein beliebter Stopp für uns. An den Wochenenden von April bis November gibt es ein Nahrungsmittel-LKW geöffnet. Es ist von einem Cordon Bleu Koch geführt und verfügt über einige der besten lokalen Waren. Es gibt eine U-Pick Blumen- und Obstfarm. Sie machen eine Weinprobe im Haus und Cidre Probe im Schuppen aus zurück. Pine Grove Pit Stop - 5 Meilen nördlich auf dem Highway 35 Sie haben immer das billigste Gas in der Umgebung. Und sie haben Juanitas berühmte Tortilla-Chips (plus einige Spezialität Juanitas Aromen, die Sie an anderer Stelle bekommen) und frische Salsa Vernonica. Die Pine Grove Jungs sind immer freundlich und sind Verwandte des lokal bekannten Juanita. Es gibt einen gut sortierten mexikanischen Lebensmittelgeschäft im Inneren. Michoacan Grill - 3405 Odell Hwy (3,5 Meilen entfernt) Dies sieht nicht so viel, wenn man das Hotel betritt, aber Sie werden die besten carnitas in Hood River finden Sie hier. Das Personal ist sehr freundlich, und Sie werden glücklich und voll verlassen. Mt. Hood Winery - 5 Meilen nördlich auf dem Highway 35 (2882 Van Horn Dr.) Dieses herrliche Gebäude hat Verkostungen von innen und außen mit einer herrlichen Aussicht und einige gute Weine. Sie können einen 6 Flug Probe für 10 $ zu bekommen. McIsaccs General Store 4990 Baseline Dr. Parkdale, Or (6,5 Meilen südlich) Unsere Lieblings-Supermarkt sowie Hardware-und Bauernhof liefert. Apple Valley BBQ 4956 Baseline Dr, Parkdale (6,5 Meilen südlich) Der beste Grill in der Gegend. Celilo - 16 Oak St, Hood River (Innenstadt Hood River) Dies ist ein modernes High-End-Restaurant mit toller Koch und Konditor. Es ist mein Lieblingsplatz für einen besonderen Abend. 3 Rivers Grill 601 Oak St, Hood River (Innenstadt Hood River) Dies ist auch eine höhere End-Restaurant. Holen Sie sich ein Fenster oder Terrassentisch und genießen Sie einen herrlichen Blick auf die Schlucht. Sie haben auch eine große Happy Hour.
We stayed two days in the guesthouse and it was awesome! The views are beautiful, and the inside of the cabin is clean and beautifully put together! Loads of cool stuff in the area, we hiked up to the waterfall mentioned in the guest suggestions - it's a short 10 minute drive up the road to the trail head (make sure you keep hiking over the rocks to get behind the falls as well). All in all, great stay - would recommend to anyone!
Fionn
2016-04-28T00:00:00Z
We loved staying at this guest house! The space was beautiful & well-appointed, the location was gorgeous, & Dawn was a very thoughtful host. We didn't see much of her (she was only there the first night) but she greeted us warmly when we arrived & made sure we were comfortable. We had fun during the day dining & walking around Hood River, & in the evenings relaxed in the very cozy bed or hung out on the porch. Thank you, Dawn!!
Milo
2016-04-19T00:00:00Z
Beautiful property and lovely cabin. It was exactly as described. Communication with Dawn was excellent as well. We will be back for another stay in the future.
Kristen
2016-08-02T00:00:00Z
Had a romantic time at this lovely guesthouse in hood River. Loved hiking and checking out breweries nearby. Would definitely recommend and would stay here again next time
Megan
2016-05-08T00:00:00Z
This cottage is so cozy! It was nice to be away from technology for a weekend in such a beautiful, secluded place.
Callie
2016-10-11T00:00:00Z
The guest house is a perfect getaway! It was quiet, calming and beautiful. The accommodations are thoughtful, we spent a lot of time relaxing in the cozy guest house, drinking coffee and tea. Dawn was so helpful with recommendations of where to visit in Hood River. We will definitely be back!
Sam
2016-11-06T00:00:00Z
The guest house was lovely! It had everything we needed for a few relaxing nights away. Dawn was so gracious and helpful as we had a few reservation changes at the last minute. You are so close to Hood River, but also feel very secluded and peaceful!
Hana
2016-10-18T00:00:00Z
We loved staying at this cute little guest house. Dawn was very communicative before our stay. The guest house is just as neat and clean as it looks in the pictures. The bed seems quite new and was "not too hard, not too soft". There is a very comfortable couch too. We had beautiful weather while we were there, and the fireplace and heater were very adequate. We hope to be back next year!
Mark
2015-10-17T00:00:00Z
Tipo di stanza
Intera casa/apt
---
Tipo di sistemazione
Villa
---
Può ospitare
3
---
Camere da letto
Hood River, Oregon, Stati Uniti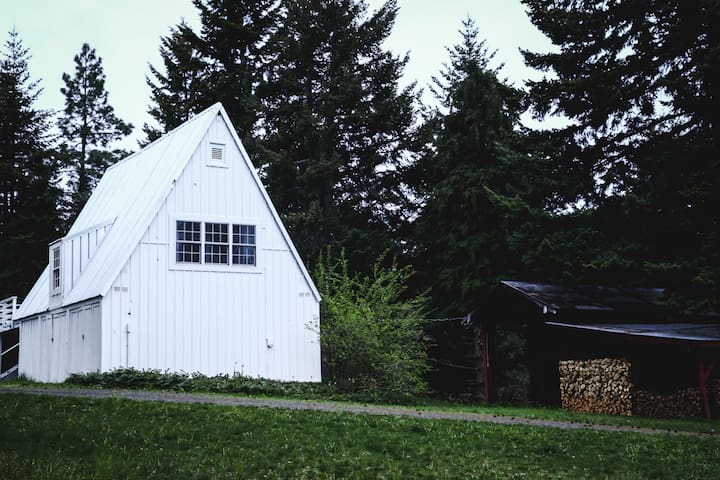 this place was perfect! what a great location, and beautiful home killer views, and all the accommodations we could have asked for. the hosts were great! super friendly, very responsive, and helped us out with anything we needed! it is certainly a place we hope to stay in again, and would encourage anyone traveling to hood river to stay here!
Dave
2016-06-13T00:00:00Z
A clean and gorgeous place to stay!
Morgan
2016-07-26T00:00:00Z
This house was gorgeous with plenty of space. The pictures don't do it justice and the view of Mt. Hood was perfect! Alli always quickly responded to any questions and was easy to coordinate with. We were a group of seven, and although it can be hard to please everyone, every single person raved about this house. It was also very conveniently located with in a short walking distance to downtown Hood River, Walmart, Safeway, McDonald's, Starbucks, TacoBell, some great local restaurants and coffee shops, and much more. This house set the tone for an amazing trip that we'll never forget. Thank you so much Alli!
Nicki
2016-07-12T00:00:00Z
Alli and James were excellent hosts. Super speedy responses to our handful of questions. Offered tons of fun ideas of things to do in Hood River. Hands down the best AirBnB experience I have had. I have 5 brothers and sisters and for big family events we try to get a place that can hold all of us. This was the best place we have ever stayed and will be back. The 3rd floor presidential suite was perfect for my wife, our 1.5 year old, and I.
Matthew
2016-06-27T00:00:00Z
The house was great and exactly what we needed. Eight of us stayed here as the bridal party of a wedding nearby. There was plenty of space for everyone and then some! The house stayed cool in the 90 degree heat and was in a great location- we walked into town several times.
Kiesha
2016-08-08T00:00:00Z
Tipo di stanza
Intera casa/apt
---
Tipo di sistemazione
Villa
---
Può ospitare
8
---
Camere da letto
Hood River, Oregon, Stati Uniti
The Dalles - Airbnb
:
Media di

5

stelle su

5

da

109

recensioni degli ospiti
1

–

2

di

2 Ville in Affitto
Inserisci le date per visualizzare il prezzo totale. Ci sono dei costi aggiuntivi e potrebbero venire applicate alcune tasse.