駅前マンション 交通・24H 買い物等至便 名 称: ホワイトキャッスル小金井 オートロック付き ロフトタイプベッド付きワンルーム 約6.5畳 15.12㎡ シェアルーム・ゲストハウスではなく、鍵をお貸しする完全独立利用のワンルームマンションです。
ワンルームの小さなお部屋ですが、便利な立地です。 付帯設備: 寝具、タオル類、ドライヤー、歯ブラシ、食器、炊飯器、電子レンジ、電気ポット、電気コンロ、ミニ冷蔵庫、洗濯機、エアコン、送風機、温風機、ハンディクリーナー、高度遮光カーテン、簡易クローゼット、シュレッダー、32inAQUOS、Bluetoothオーディオ、携帯充電器 Wi-Fiレンタルご希望の方は、 検索:ジャパンWi-Fiレンタルネット
JR 武蔵小金井 駅前 近隣施設: 西友(24時間営業)隣接 イトーヨーカドー、ドンキホーテ、飲食店多数、 金融機関多数、 学校等: 東京農工大学 法政大学 学芸大学附属 中央大附属 電大附属 公園等: 小金井公園 江戸東京たてもの園 都立野川公園 国営昭和記念公園(西立川) 観光、東京滞在のベースに 高尾山、富士山、 JR東京、秋葉原、新宿、中野、吉祥寺、立川、八王子、高尾、各駅まで直通 渋谷、池袋、六本木、各ターミナル駅へ至便(一回乗換え)
Comfy and safe location extremely close to the station. Had a blast.
Keenan
2017-03-18T00:00:00Z
駅からとても近く、直前のチェックインの変更等にもすぐに対応していただけました。宿も綺麗で、とても居心地良かったです。
Rina
2017-03-22T00:00:00Z
とても親切の人たちでした、是非利用してください!
赵
2016-11-13T00:00:00Z
すごくいい部屋です
Edward
2017-02-09T00:00:00Z
とてもいい部屋です。ホストさんは本当に親切な人です。とてもいい旅と思います。 The room was so good. Although it's not a big room, it's very comfort. Nice stay.
雷
2016-11-20T00:00:00Z
This turned out to be a great choice. The apartment is located within a 2 minute walk of the station. Although it was small it had everything I needed for 3 days in Koganei. The fridge was well-stocked with free drinks, there were plenty of clean towels and bedding, and all the amenities you could imagine were provided. Two adults would have been a squeeze but for me and my nine-year-old son it was perfect. Highly recommended! Thanks!
Steven
2016-10-03T00:00:00Z
事前のやり取りも迅速で、鍵の引き渡し時の施設の説明も丁寧にしていただけました。 立地も良く、快適でした。 また、機会があれば是非、お願いしたいです。
塩崎
2016-09-18T00:00:00Z
とにかく、駅前でお店も多く大変便利なロケーション、小さいながら全てを揃えていただいている、またコミュニケーションもお心遣い溢れる対応で気持ちよく利用させていただきました。
Ono
2016-12-23T00:00:00Z
Tipo di stanza
Intera casa/apt
---
Tipo di sistemazione
Loft
---
Può ospitare
4
---
Camere da letto
小金井市本町5-13-1, 東京都, Giappone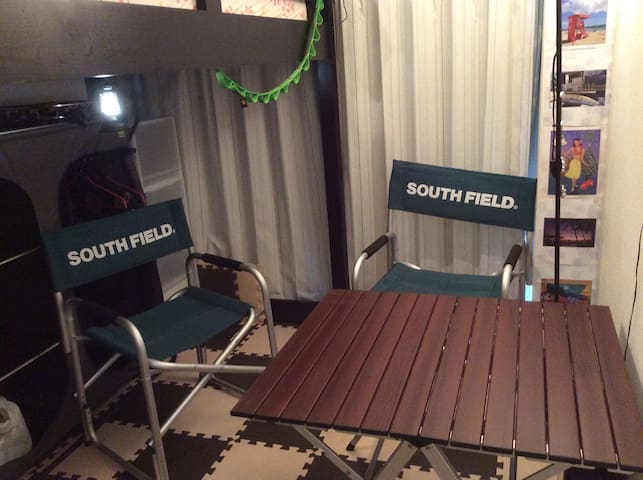 Listing a couple, traveling alone, it is perfect for business travelers.
Shu's accommodations were *perfect*. A small loft apartment, suitable for a solo traveler, couple, or two to three persons maximum. Three adults would be a very very tight fit. Shu provides a capsule-style coffee maker (and a personal tutorial on its use), towels, bedding, and there were coffee capsules, milk powder sticks, sugar sticks, and even a couple of bottles of water in the fridge :-) The loft bed is very sturdy (I weigh ~160lbs/72.5kg)... but he'll make up a futon on the floor for you if you'd prefer. The apartment is also enhanced with a lovely garden (ground floor) out the sliding glass door, a separate bathing room and toilet room (with bidet), and kitchen with fridge, microwave, and induction cook top. The building is less than ten minute walk to either Yokota AFB to the East or Fussa Station to the West. Also within walking distance are several delightful restaurants, including a delectable curry eatery right across the street (that also does take away!!!) as well as convenience stores, Ramen houses, drugstores, shopping markets, Mcdonald's, and more. You don't need to rent a car while staying here, that's for certain! And Shu was lovely enough to come pick me up from base after the shuttle dropped me off even though it's a fairly straightforward walk. I give his accommodations the highest possible recommendations, and Shu himself even higher for his quiet kindness, respect, and dignity. Thank you and look forward to seeing you again, Shu!!!
Meisha Krutar (And
2016-11-07T00:00:00Z
Nice simple clean apartment. Only few minutes walk to the train station and restaurants and 7/11 very nearby also. Host was very helpful even going beyond what was expected. Would definitely stay again.
Dan
2017-01-04T00:00:00Z
Shukichi's place was Excellent! With lodging being booked, this place was perfect. It's just outside Yokota AB, right next to a train station, and Right across from many restaurants and a coin laundry. Shukichi was very hospitable, on time, available anytime, and gives you as much privacy as you want. I'd prefer this place over for the convenience any day! Thank you Shukichi-san!!!
Kenneth
2016-12-26T00:00:00Z
We stayed at Shu's apartment for 15 days and we enjoyed every moment of it. We felt it was our own home. The apartment is relatively close to the Yokota base where my husband works, so it was perfect for us. It is also very close to a lot of restaurants along route 16. A supermarket and coin laundry are just two blocks away. We appreciate Shu's hospitality and helping us with our requests such as letting our Shiba Inu, Kato, stay with us and that 1 day when the wifi in our apartment was acting up, he went over and tried fixing it until late at night. From time to time, he would offer us fresh towels, set of toiletries and bed spread. Thank you for everything Shu.
Sheena
2016-09-29T00:00:00Z
Tipo di stanza
Intera casa/apt
---
Tipo di sistemazione
Loft
---
Può ospitare
3
---
Camere da letto
Fussa city, Tokyo, Giappone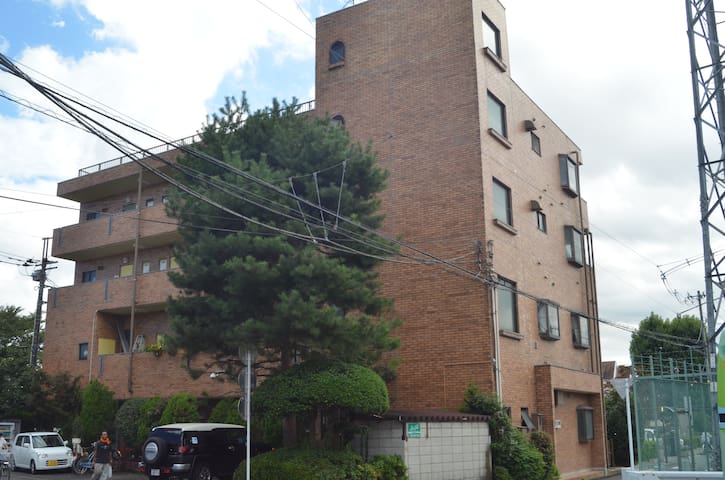 ロフト付き物件に住んでいて、ロフトを使用していないため貸し出します。 スペースのみの貸し出しになりますので布団やソファなどの家具やアメニティはありません。
Tipo di stanza
Stanza condivisa
---
Tipo di sistemazione
Loft
---
Può ospitare
1
---
Camere da letto
日野市, 東京都, Giappone