I have a quiet bedroom available, with a double bed, en-suite bathroom and garden views. Pick up, drop off and a full English breakfast (very late or very early no problem!) are all included. Parking is also available on request.
I am 10 minutes from Gatwick airport and with pick up/drop off included in the tariff, you will find the rural peace and quiet the ideal start or finish to your UK or overseas travel adventure. Included in the price are a full English breakfast, and a lift to/from the airport or station. Located in the countryside with fields and seclusion, this is the rural heart of the South of England - but is also only 30 minutes from central London by train. Reigate nearby offers many features of interest including the Priory with Priory park, a Norman castle and many countryside walks on the North Downs. Don't worry about early pick ups or drop offs - I am a very early riser. I enjoy the company of my Airbnb guests, and hearing about their lives and travel plans. There are other accommodations listed that are closer to Gatwick Airport. If the noise of jet planes at a busy 24 hour airport appeals, then these alternatives are for you.
The area is peaceful countryside, with plenty of scenic walks and birdlife to see.
John was an absolutely super host - we could not have asked for more. Following a nightmare journey to our destination John could not have made things easier for us. We settled very quickly thanks to great hosting skills and slept like logs too. And then there was the breakfast - full marks on every front and a great start to the day. As our first airbnb experience we could not have been happier with our choice.
Ian
2014-05-05T00:00:00Z
What a good choice we made to start our trip through England at John's house. He and Judith were just lovely, very concerned about our comfort and well-being. Merci beaucoup, cher John, c'était super. Si l'occasion se représente, nous y retournerons sans hésiter!
marie
2015-08-02T00:00:00Z
John and Judith were warm, friendly and welcoming hosts in their comfortable home, in a lovely, peaceful rural setting. John makes the best breakfast in the south of England! I would definitely visit again.
Victor
2015-07-29T00:00:00Z
What wonderful hosts and his girlfriend Judith are. They make you feel welcome and at home immediately. It was so nice to be picked and dropped off at the airport, particularly after traveling for a few weeks prior, getting tired and preparing for my final leg home. John's home is lovely and as mentioned by others has a lovely garden outback which just adds to the charm of his place. John and Judith kindly invited me to dinner for one of John's perfectly cooked roast chickens served with Judith's outstanding gravy :-). It was by far the best of my B&B stays and a perfect end to my vacation.
Suzanne
2012-09-22T00:00:00Z
John's house was a perfect place to stay the night before our flight the next morning from Gatwick. We had a warm, friendly welcome and then slept peacefully to be woken to the sound of birdsong in John's fabulous garden. My husband and I enjoyed a delicious fresh fruit salad and a beautifully cooked massive English breakfast. This was all topped off by a lift to Gatwick airport. John is an extremely friendly host with many interesting stories and he will go the extra mile to make sure you enjoy your stay. When we return we will definitely stay longer than one night.
Angela
2014-05-22T00:00:00Z
John and Judith were extremely welcoming, especially given our late arrival. John's house is a tranquil haven which takes you by surprise being only 10 minutes from Gatwick. We had forgotten our bag with papers/boarding passes etc in and John very kindly let us print off new passes (and supplied toothpaste), thus alleviating my partner's growing panic! John prepared a light breakfast and even ran us to the airport at 4.30am for which I am eternally grateful. I was impressed with his intelligent and gracious manner and would thoroughly recommend him and his lovely home.
Jennie
2015-08-18T00:00:00Z
John and his partner Judith did everything possible to make us comfortable. John's home is in a very quiet, rural area (even though 10 minutes' drive from Gatwick), and has a lovely garden with bird feeders so you can watch the woodpeckers eating breakfast as you have yours. We had our own bathroom and shower, lovely bed linens, and a nice wardrobe for our things. John and Judith are also interesting people, and well-travelled. This would be a very pleasant introduction to England before heading out elsewhere, or a great base for exploring London attractions if you would prefer a rural setting. Would heartily recommend!
Laura
2011-06-19T00:00:00Z
John was very friendly and hospitable. The house is in a lovely secluded location and the room was clean and comfortable. John made me a cooked breakfast in the morning and even picked me up and dropped me off at the railway station, which was very kind.
Andrew
2014-08-16T00:00:00Z
Tipo di stanza
Stanza privata
---
Tipo di sistemazione
Bed & Breakfast
---
Può ospitare
2
---
Camere da letto
Reigate, Regno Unito
We enjoy having people from all over the world come and stay. We are fluent in Spanish and have some Italian and German language. We are close to Epsom town centre and the railway station which you would never think looking at the pictures.
Hi, we are Paul and Jacquie and are happy to welcome you to Epsom. We are well travelled and speak fluent Spanish and some German. We have a large detached house 12 minutes walk from Epsom train station (30 minutes to London Victoria or Waterloo station). The house is on the edge of the woodland of Epsom Common with lovely walks from outside the house. We are happy to offer our spare double room. There is a shared family style bathroom and an additional private toilet with large mirror and basin. Look out the window in the morning and you may see the local wild deer. The room and house is most suited for an individual or couple looking for a quiet location in a lovely location within easy of reach of London and other locations in the South East of England. The room is provided with bedding, access to a either a small or large lounge depending on availability, a conservatory dining room, some access to the kitchen for drinks and basic food preparation by agreement, and a lovely garden. Unlimited Wifi internet is available throughout the house. Epsom is known for its historic links to the Victorian spa era, and more recently to its famous horse racing at Epsom Downs. It is now a very popular and upmarket location for a global consultancy company, and as a pleasant commuter town to the centre of London. Epsom offers a range of chain and independent shops, restaurants and other services, as well as the town centre cinema and Epsom Playhouse. Epsom is very close to the route of the 2014 Olympic road race route. Parking is available on the gravel track outside, and secure storage for bikes is available. Epsom is easily accessible to the M25 (Leatherhead Junction9) four miles away, half an hour from Gatwick, and 45 minutes from Heathrow (both easily accessible by public transport of train and/or bus). Local attractions easy to get to include: Wimbledon (for the tennis); Hampton Court Palace; and Kingston-upon-Thames Breakfast will be provided if we are at the house, or left out for you to help yourself.
Epsom has been voted as one of the best places in England to live, and we agree! We are exceptionally fortunate as we live close to the town centre but our back door comes out onto lovely Epsom Common with it's deer and foxes. Epsom is famous for it's race course on the Downs and the centre of London is only 30 minutes away by train to Waterloo or Victoria.
My mum had a great stay with Paul and Jacquie. They were lovely hosts and their house is in a wonderful tranquil location with everything you need for a comfortable stay. Thank you!
Naomi
2017-02-06T00:00:00Z
This was our first time using air b&b and we will certainly be doing it again. It was a very pleasant experience. Our hosts were very friendly and helpful. It felt like home from home, relaxed, cosy and comfortable. The location is perfect for anybody wanting piece and quiet but at the same time easy access into Epsom town centre, which is a pleasant 10 minute walk away.
christina
2015-07-25T00:00:00Z
Great place. Quiet neighbourhood and welcoming hosts.
rich
2016-10-28T00:00:00Z
We felt extremely welcome (me & my Mum) and the stay really exceeded expectations on this instance. The breakfast was wonderful and I slept extremely well in the bed. Everything had been thought about and they even got eggs especially in for me which was appreciated. My mum talked to Paul for hours and found out many new wonders of the world! It was great being able to walk into the town. Highly recommend this stay in Epsom.
Laura
2016-10-23T00:00:00Z
Paul是一位非常热情好客的主人,听说我第一次来Epsom小镇,主动去火车站接我。他的房子的位置非常好,离小镇和火车站都只需要步行几分钟。同时,他家周围环境非常好,有一片小森林,我早上散步还看到了几头小鹿。床很舒服,是我来英国睡的最舒服的床,早餐很美味。我下次来还会住这里。
xiaohang
2016-11-13T00:00:00Z
Excellent stay, Paul made every effort to ensure everything was great. Superb location and a very nice pub just 100m away!
Guy
2014-03-08T00:00:00Z
Very pleasant hosts, helpful and well informed. Nice clean room in a quiet house and welcoming atmosphere. Cheers! Vesi
Vesela
2014-11-29T00:00:00Z
We had a great time in Epsom at Paul's place! It was an ideal spot for us to explore London and the the surrounding villages (thanks to tips from Paul). We were actually on our way from Dover to Cornwall, so Epsom was an ideal pitstop for us. Thank you Paul for your quick response and interesting talks!
Daan
2014-04-29T00:00:00Z
Tipo di stanza
Stanza privata
---
Tipo di sistemazione
Bed & Breakfast
---
Può ospitare
2
---
Camere da letto
Epsom, Regno Unito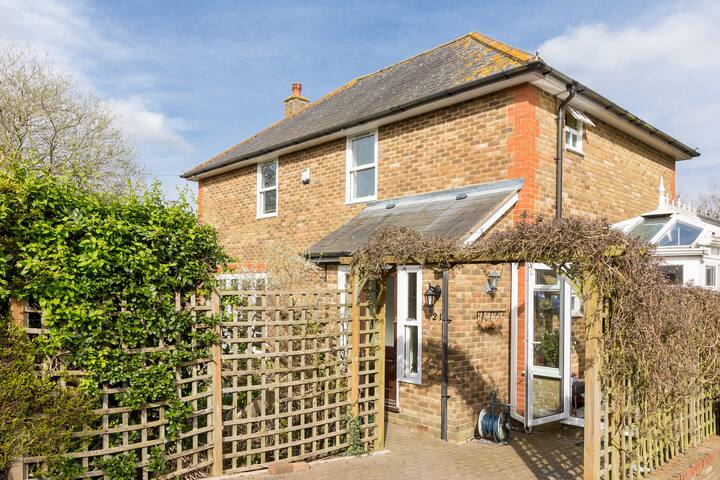 CLOSE TO COULSDON HIGH STREET, GATWICK AIRPORT, M25, PURLEY & COULSDON TRAIN STATIONS & CROYDON TOWN CENTRE . LARGE DOUBLE ROOM IN LOVELY LARGE MODERN HOUSE WITH ONE WELCOMING AND FRIENDLY FEMALE OWNER. BEDROOM HAS TWO DOUBLE WARDROBES WITH FULL LENGTH MIRRORS & CHEST OF DRAWERS. USE OF OWN BATHROOM WITH LOVELY SHOWER, FREE WIFI AND PARKING. USE OF KITCHEN & LIVING ROOM WITH LARGE TV AND FREEVIEW CHANNELS. USE OF GARDEN AND FREE TEA AND COFFEE PROVIDED, ALONG WITH TOWELS AND BREAKFAST INCLUDED.
The service was amazing, literally the best bed and breakfast I have had ever. The bed was comfy and big which is great, beautiful home with a matching host :)
Sulaiman
2016-12-19T00:00:00Z
Debbie was an excellent and kind host. We were very tired when we arrived and she did everything she could to make our evening pleasant. The bedroom is not en suite and the bathroom is downstairs - useful to know for mobility and convenience. Good Indian restaurant nearby and wonderful garden centre.
Jenny
2017-03-11T00:00:00Z
Spacious room, beautiful house, good parking, warm reception.
Dave
2017-02-09T00:00:00Z
Debbie is a wonderful host. She piked me up at the train station, welcomed me in her beautiful home, made delicious breakfasts and showed me where to go in town. I enjoyed our talks and felt very comfortable living in her home.
Sonja
2017-03-03T00:00:00Z
The host canceled this reservation 17 days before arrival. This is an automated posting.
Simon
2016-12-14T00:00:00Z
Very large and comfortable room. Friendly host and breakfast offered. Tea making facilities provided in room. Dog very friendly :)
Andrew
2016-11-30T00:00:00Z
A great host, lovely home from home.
Harvey
2017-01-06T00:00:00Z
We spent a whole week in Debbie's B&B and it was a great experience. She is a very nice person. She recommended us a few places to visit in London that were fantastic. She also picked up us from the train station and gave us instructions to go to the train station by walking. The house is lovely and the bed is very comfortable. As a summary, I would definitely repeat it here.
Antonio
2016-10-29T00:00:00Z
Tipo di stanza
Stanza privata
---
Tipo di sistemazione
Bed & Breakfast
---
Può ospitare
2
---
Camere da letto
Coulsdon, Inghilterra, Regno Unito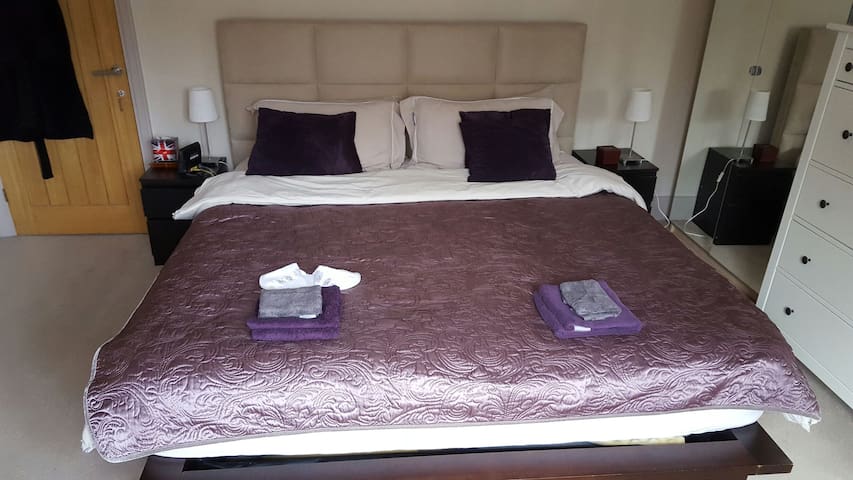 This Double room in our Sutton Aparthotel comes with private bathroom and free all day self service breakfast. 12 Minutes walking distance to Sutton Station. 20-25 minutes to Central London by direct train. Royal Marsden Hospital 5 minutes walk away.
These spacious rooms each have a double bed and a digital flat screen TV. The rooms also feature a work desk with chair, ironing facilities, Welcome tray, Kettle, and comes with a private bathroom. Flexistay also offers free use of a self service washing and drying facilities for your clothes. There is a fully-furnished communal kitchen, and tea/coffee-making facilities are provided. The self service breakfasts is available throughout the day. -Private bathroom -Communal kitchen -24hr Self service breakfast -Communal laundry facility -Free limited parking Flexistay Sutton Aparthotel is just a few minutes walk from the town center with its many shops, restaurants, coffee houses, licensed bars, cinema, theater and library; and you can be in the heart of London from the nearby mainline station in less than half an hour. It is just 10-minute walk from Sutton Rail Station which provide excellent links to Wimbledon, Croydon, London Victoria and London Bridge Station. The M25 is about ten minutes drive away from where the London airports of Gatwick and Heathrow can be reached by car usually within fifteen and thirty minutes respectively.
Flexistay Sutton Aparthotel is just a few minutes walk from the town center with its many shops, restaurants, coffee houses, licensed bars, cinema, theater and library; and you can be in the heart of London from the nearby mainline station in less than half an hour.
This is a very quiet neighborhood. It was very comfortable for us. They kept the room clean for us. Thank you so much !!
Hirotaka
2016-10-15T00:00:00Z
The property was very nice. The room clean and the bed comfortable. The were brilliant and we look forward to staying again.
Matt
2015-09-14T00:00:00Z
Tipo di stanza
Stanza privata
---
Tipo di sistemazione
Bed & Breakfast
---
Può ospitare
2
---
Camere da letto
Sutton, Regno Unito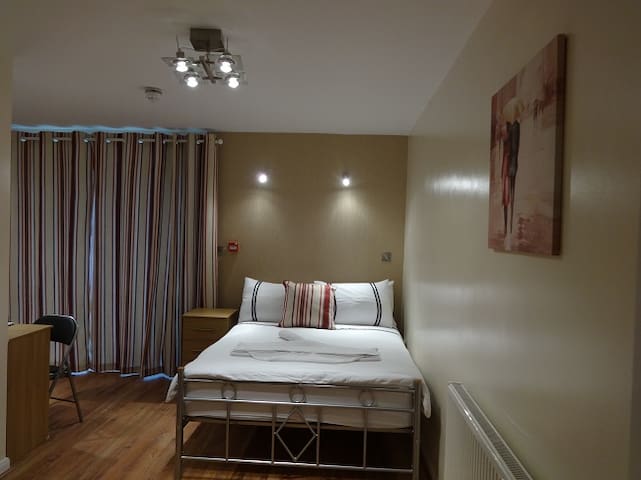 Spacious, ground floor, double bedroom in a quiet residential area. The room is light and airy with a wardrobe, desk and large ensuite shower room. There is also a double sofa bed that could be used for an extra guest/children. Breakfast is included in the room price. You are welcome to join us for a home cooked evening meal (extra charge).
Breakfast is included in the price. Home cooked evening meals are available on request. There is a large family room at the back of the house looking out over the garden and a separate quieter room with a TV also available. These rooms are shared with the owners.
I loved everything about this place. I am not sure what is the best way to start? The room is spacious and more than comfortable. The fact that the bedroom is in the front part of the house make such a difference in terms of convenience, practicality and privacy. I cannot write enough about how clean the place was. Just spotless. My room had fresh flowers from their beautiful garden. Jane, Jerry and their dog are great hosts!! Made me feel like home!!!I I would highly recommend this place and I would definitely come back. Thank you
Dora
2017-03-09T00:00:00Z
I booked a room at Jane's house on behalf of my daughter's Godparents who had come to Ashtead with their two young boys for her First Holy Communion. My friends simply couldn't praise Jane and her hospitality highly enough. Having been round to Jane's house to take a look at the room before my friend's came to stay, I can concur with their view that the house is impeccably clean and that Jane is very helpful and personable. Thank you for looking after them so superbly.
Adam
2016-06-13T00:00:00Z
Lovely stay again with Jane and Jerry, great food, and the flowers on the road look lovely at this time of year
Sarah
2016-05-03T00:00:00Z
Jane and Jerry were very friendly hosts who welcomed me into their lovely home with open arms. I was their first booking, although you wouldn't have known it because they were great hosts! The room is spacious and very tastefully decorated, clean and comfortable. The ensuite is also generous in size and the shower was lovely. I'd heartily recommend staying with them when you're in the area. In fact, as my work project was extended, I've actually booked to stay with them again next week!
Yvonne
2016-02-26T00:00:00Z
Lovely room and Jane is especially lovely too! I was made to feel very welcome and would defiantly stay again :-)
Marcus
2016-04-27T00:00:00Z
This was my last week :( I spent 4 weeks with Jane and Jerry, and they really are lovely. I wish them all the best with their endeavours, and with future guests lucky enough to stay with them.
Yvonne
2016-03-18T00:00:00Z
A very welcome weeks stay in a large comfy room with beautiful on suite shower. Jane very welcoming and on my first night gave me a heater in case room not warm enough. Delicious dinners as convenient extras which were for me on the days I worked. Close to train station literally 7-10 min walk. Both Jane and Jerry helpful in advice and directions of places to visit . Greatly appreciated. Will definitely visit again.
Nicky
2016-04-26T00:00:00Z
Very welcoming, a lovely couple and a lovely house
Sarah
2016-05-23T00:00:00Z
Tipo di stanza
Stanza privata
---
Tipo di sistemazione
Bed & Breakfast
---
Può ospitare
3
---
Camere da letto
Ashtead, Regno Unito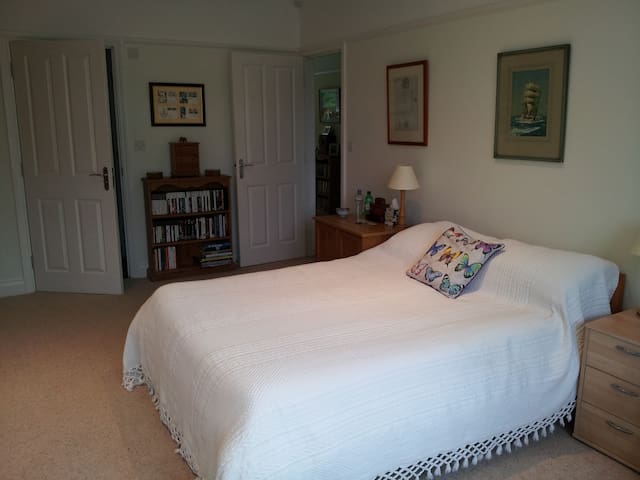 On airbnb we also have another double room with en-suite plus a garden chalet also has en-suite, ideal for visiting London, Gatwick, Heathrow, Banstead village only a 6 min walk, buses on the door step and trains nearby.
This room is on it's own floor, with your own shower room, (upstairs). The bed is a kingsize and the room is large, clean and has all you need, tea and coffee, hairdryer etc etc. Banstead village offers a wealth of coffee shops, retail outlets, restaurants and pubs, London only 30-40 mins by train, if you don't want to get a bus to the station, we offer a good taxis service, Wimbledon only 9 and a half miles.
Banstead is a leafy Surrey suburb but has the advantage of being within easy access to London, Wimbledon, Gatwick etc
The double room I stayed in was extremely comfortable and private with a large and attractive bathroom. Alison is a charming and attentive host who provides a high level of service and a spotlessly clean property . She cooked an excellent breakfast too. I would think her property must be amongst the best listed. Many thanks Mark.
mark
2016-06-04T00:00:00Z
Allison and Jim made us very welcome and we enjoyed our four day stay. The property is lovely and well maintained.and all the facilities described by air b&b are correct. We would not hesitate to recommend this property to anyone.
PETER
2016-12-16T00:00:00Z
Myself my husband and my two children 13 & 7 stayed with Ali and Jim recently. They were both so welcoming and accommodating. Their house is beautiful and comfortable. The breakfast is delicious and was enjoyed by everyone. The gardens at their property are also so lovely and we hope to enjoy them more when we stay with them next time. We are also looking forward to visiting the Lavender Fields when we return.
Corinne
2016-08-06T00:00:00Z
Ali and Jim were very friendly and welcoming, and their home is beautiful, exactly as described in the listing and photos. The full breakfast and coffee in the mornings were wonderful, and I really appreciated that Ali volunteered to give me a lift to the Sutton train station upon my departure.
Jon
2016-11-09T00:00:00Z
超级超级棒的体验,房东很热情。来车站附近接我们,又免费送我们去薰衣草花田。房子很漂亮,很干净。
HUANMING
2015-07-25T00:00:00Z
This is a great find for this area and was a very welcome alternative to a hotel stay. Alison was very prompt at getting back to us and sending directions. She was very helpful and friendly during our entire stay, the room was lovely and breakfast was great. Would highly recommend.
Helen
2015-12-06T00:00:00Z
Fantastic host, super sweet and nice! Beautiful rooms and Garden Chalet! All perfect and really hope to come back one day again and Ali isn't totally overbooked. Big kiss to Banstead.
Eva
2016-04-15T00:00:00Z
Tipo di stanza
Stanza privata
---
Tipo di sistemazione
Bed & Breakfast
---
Può ospitare
2
---
Camere da letto
Banstead, Regno Unito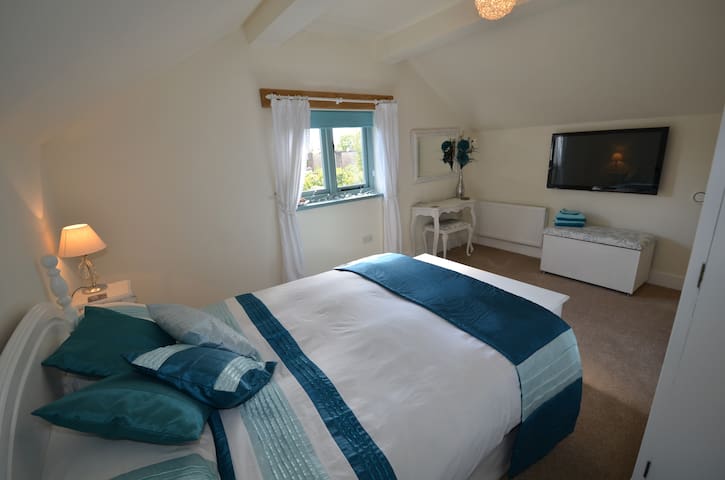 Two double rooms available both with private bathrooms and each with a double bed.This is our family home and we are familiar with having guests. We have two small dogs and a large garden to relax in. We are very close to mainline station to London about 45 mins away.
Large double bedroom with en suite. Overlooking beautiful garden. Second double had own separate bathroom with bath and shower attachment and bidet. We can supply towels to both rooms.
It's leafy green surrey! Close to transport links and lively lovely towns. Bus stop 2 minutes walk.
What lovely people and what a lovely home! My partner and I had a wonderful couple of weeks staying with Clare and her family. Her home was even better than described - our room was perfect and the en-suite was great. The home is large so does not feel at all crowded. Clare really made us feel at home and all the extra little touches (kettle and fridge in room) were really appreciated. Thank you for a perfect Airbnb stay! :)
Charlotte
2016-09-13T00:00:00Z
Clare and Peter and their family are lovely friendly helpful hosts. Their house and garden are beautifully set in quiet surroundings. We had a wonderful stay and hope to return soon.
Frances(Helen)
2017-03-31T00:00:00Z
Tipo di stanza
Stanza privata
---
Tipo di sistemazione
Bed & Breakfast
---
Può ospitare
2
---
Camere da letto
Ashtead, Inghilterra, Regno Unito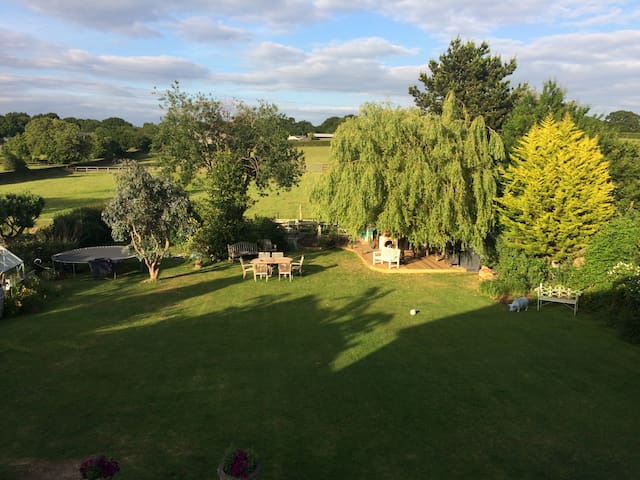 Modern, 3 storey town House in south Leatherhead, a short walk to the town and station, offering delightful bedroom on the top floor, with separate bathroom, private parking and free wifi. Lots of beautiful countryside within a short drive, including many National Trust properties and Box Hill. Easy walk to Leatherhead train station for access into London. M25 junction 9, 5 minute drive.
Tipo di stanza
Stanza privata
---
Tipo di sistemazione
Bed & Breakfast
---
Può ospitare
1
---
Camere da letto
Leatherhead, Regno Unito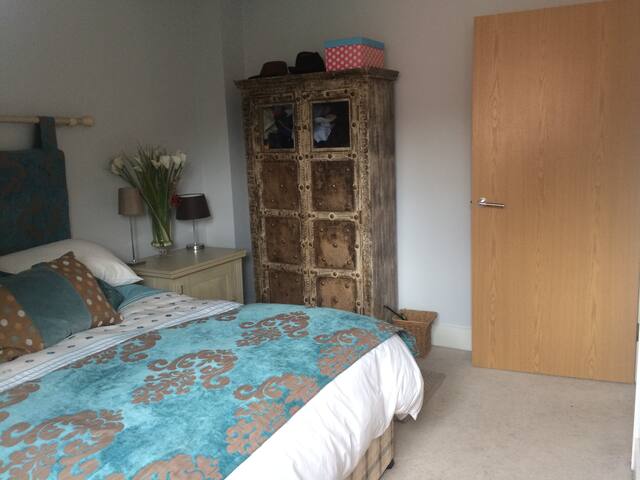 I have a very comfortable double bedroom available in my lovely house on the border of Redhill & Reigate. Our location is really convenient for the M25, Reigate & Redhill (30min train ride to London Victoria). You'll be staying in a private bedroom with a very comfy double bed. The room has a large desk, wardrobe, soap, shampoo, hairdryer, iron and tea/coffee making facilites. The house has high-speed Wifi internet
As well as your private double bedroom, you'll have access to a brand new shower room. There is an iron, radio, hairdryer, tea/coffee and cereal bars in your room as well as TV and DVD .
The house is located in a lovely, quiet road on the border between Redhill & Reigate.
Lovely one night stay, very comfortable and Mel made sure I had everything I needed on arrival.
Rosie
2016-07-14T00:00:00Z
Mel and Jon were very welcoming and friendly hosts and nothing seemed too much trouble. The room is lovely with very appliance needed and the bed very comfy whilst the bathroom is gorgeous and very spacious. There was plenty of hot water, everything worked perfectly and Mel ensured l understood how the shower worked. The area is really nice and the road easy to find not too far from the town. The in room breakfast was also just perfect for me. - Oh and of course everything was beautifully clean. Thank you both you are doing a great job here.
Joy
2016-06-16T00:00:00Z
Extremely hospitable with text, email and personal greeting. Could not be better.
John
2016-09-17T00:00:00Z
Was Airbnb was perfect for us as we were in the area for a wedding. Mel was extremely welcoming, flexible on our arrive and made us feel at home. The room was clean and comfortable with amazing amenities. Would definitely recommend anyone staying in the area looking for a room to stay. Thank you Mel.
Daniel
2016-07-18T00:00:00Z
Mel and John are great folks, and I thoroughly enjoyed my stay. Mel has outfitted the room wonderfully, and has gone above and beyond supplying everything/anything you'll need. I especially appreciated the snacks and beers left for me, and the personal note left for me when I returned late evening. I did think the bed a bit stiff, but I have heard that's more healthy. If business or holiday brings you to Redhill, I recommend you stay here.
Chris
2017-01-28T00:00:00Z
Tipo di stanza
Stanza privata
---
Tipo di sistemazione
Bed & Breakfast
---
Può ospitare
2
---
Camere da letto
Surrey, Regno Unito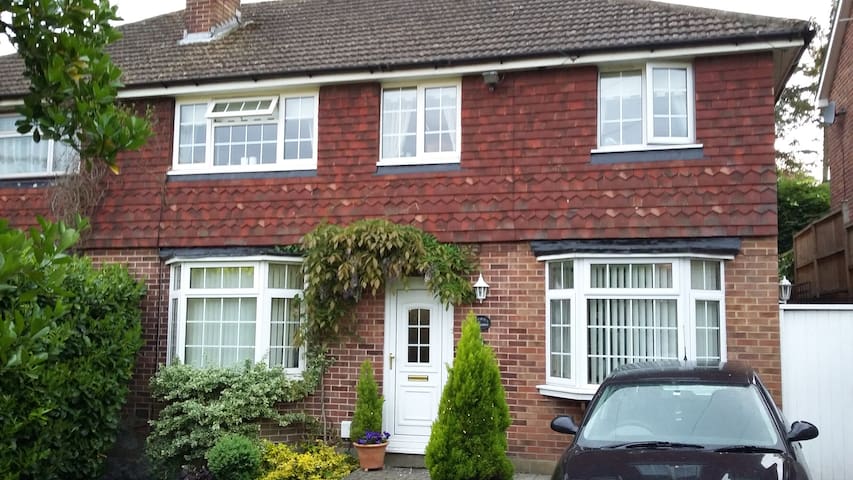 On airbnb we also have another double room with en-suite plus a garden chalet with en-suite, ideal for Wimbledon, London, Gatwick, Heathrow, Banstead village only a 6 min walk, the lavender fields are just up the road, buses on the door step and trains nearby. I provide a buffet breakfast which is included
This room has a real country feel, it has a very large en suite shower room, All our rooms are clean and have everything you need, tea and coffee making facilities, hairdryer etc etc. Banstead village offers a wealth of coffee shops, retail outlets, restaurants,banks and pubs, and only a six minute walk. London only 30-40 mins by train, and buses outside, Wimbledon only 9 and a half miles.
Banstead is a leafy Surrey suburb but has the advantage of being within easy access to London, Wimbledon, Gatwick etc The Lavender field are just up the road and are well worth a visit (June to Aug)
My sister booked for me and made a great choice! Great facilities great brekky and a wonderful host. Would happily stay sgain.
Karen
2015-09-26T00:00:00Z
We were greeted with such a warm welcome from Alison and Jim, and instantly felt very comfortable to be staying in their home. Their home was so magical, and the chalet was particularly beautiful and warm. As it's situated at the bottom of the garden, we had our privacy and everything we needed within the chalet. I would highly recommend staying with Alison and Jim, they are great hosts and their attention to detail makes your stay very special.
Lisa
2016-01-21T00:00:00Z
Alison was a great host, went out of her way to make me feel welcome and nothing was too much trouble, even gave me a lift. The accommodation was superb, lovely bedroom with a fantastic en-suite and the location was perfect for me. The experience was topped off by an excellent breakfast and Alison took the time to chat about my evening. Overall I would recommend the experience to anyone staying in the area.
Alan
2016-05-04T00:00:00Z
I booked with Ali as our son was marrying locally. Being from Cheshire I didn't know the local area well and Ali firstly reassured me that we were very close to the church and reception venue which was absolutely spot on.Ali couldn't have done more to help me, from offering to have our little dog to stay in her private quarters ( which wasn't eventually required, but a hugely generous offer) to almost recruiting all her friends to make 17 desserts when a potential disaster loomed for the wedding breakfast ( very thankful this wasn't required !) but again shows Ali's generosity and huge heart. To the bnb element; Ali and Jim have a beautiful home. Everything was presented so very well but in a very relaxed way. I loved the little details of mix and match pretty breakfast cups and Ali's love of Tiffany and glass lighting. We enjoyed home grown berries and tomatoes for our breakfast which was cooked to perfection made from locally sourced ingredients, just delicious and served at a time that suited us. The room was bright and airy with the comfiest of beds the large beautifully appointed ensuite with large rain shower a delight to relax in as the ' mother of the groom' got ready for the big day! After three long days of preparations it was lovely to get arrive back at the house and sit down and relax with a glass of wine and have a chat with Jim and Ali. I asked to see Ali's other two rooms and have to say they were excuisite too. The garden chalet was so cleverly done and would be an ideal space for a family who might be worried about disturbing other guests,having a cute little kitchen area but the space for travel cot and air matress( I think). I wouldn't hesitate to return, in fact am looking for the next opportunity to do so! My husband who currently travels to the south on business from time to time will now book with Ali if she has availability. We feel we have made new friends and thank both Ali and Jim so much and finally mustn't forget to say the stay offers the most AMAZING VALUE FOR MONEY I think you could find in that area. Thanks you both so very much for a wonderful stay.
lynda
2016-09-05T00:00:00Z
We stayed here in June for a couple of nights. We were very pleased we had chosen to stay here. It is a spacious, clean, tidy and attractive property. This double bedroom has a modern ensuite. The friendly hosts provide a great breakfast and make you feel very welcome. Its an easy walk into Banstead Village where there is a good selection of eating places. Would I stay here again? Yes without a doubt.
Steve
2015-06-20T00:00:00Z
This was our first visit and would definitely recommend staying with our hosts Alison and Jim who have a lovely home. The accommodation was delightful. The room was pretty and very clean. The bed was comfortable and the ensuite modern and stylish. Breakfast was very good and Alison and Jim were charming, extremely friendly, welcoming and accommodating. Nothing was too much trouble and they even gave us a lift to our party. We have left feeling we have made new friends and look forward to an excuse to visit again. Would definitely recommend!
Johanna
2016-05-23T00:00:00Z
This was my first AirBnB experience and I have a feeling it will be incredibly hard to beat! The house is beautiful, the hosts welcoming, relaxed and friendly. I had the best night's sleep in a long time in the super-comfy bed and felt invigorated after a shower in the spacious bathroom. The cooked breakfast was a perfect start to my homeward journey, a delicious treat as I don't usually eat in the morning. I'm already planning a return trip to this lovely B&B, seemingly Banstead's best kept secret!
Sarah
2015-10-21T00:00:00Z
Alison was an exceptional hostess and the room, shower and breakfast were excellent. Alison went to a lot of trouble to help me make my booking which was the first airbnb and proved to be challenging. We ook forward to our next stay.
Linda
2016-06-05T00:00:00Z
Tipo di stanza
Stanza privata
---
Tipo di sistemazione
Bed & Breakfast
---
Può ospitare
2
---
Camere da letto
Banstead, Regno Unito
Tadworth - Airbnb
:
Media di

4.85

stelle su

5

da

199

recensioni degli ospiti
1

–

10

di

10 bed & breakfast
Inserisci le date per visualizzare il prezzo totale. Ci sono dei costi aggiuntivi e potrebbero venire applicate alcune tasse.