Quiet and peaceful, this cabin is perfect for families with children, who come to Stillwater for game day! This cabin sits on 40 acres surrounded by wildlife, walking trails, and the sound of wind in the trees. The stress of the day will melt off!
With 3 bedrooms and 2.5 baths the space is abundant! The cabin has 3 king beds, 1 double sofa bed, and two fold out twin beds..sleeps up to 8 comfortably. Outside there is a fireplace on the back covered porch to roast marshmallows or just hang out. Plenty of parking for everyone. Please note, no more than 10 people allowed in the cabin at a time. Large gatherings and parties are not allowed.
Quiet country living about 10 minutes from town, no noisy neighbors to interrupt you vacation!
This place is a great getaway for a family reunion or a small group of friends looking for a secluded location to have a good time.
Tennyson
2016-10-31T00:00:00Z
This log cabin house is perfect to celebrate or relax with family and friends. The fireplaces are warm and cozy. Everything was decorated so nicely you felt like you were at a fancy lodge. We would highly recommend to stay there whenever your in Stillwater. Go Pokes!!!
Karen
2016-12-11T00:00:00Z
Tipo di stanza
Intera casa/apt
---
Tipo di sistemazione
Chalet
---
Può ospitare
10
---
Camere da letto
Stillwater, Oklahoma, Stati Uniti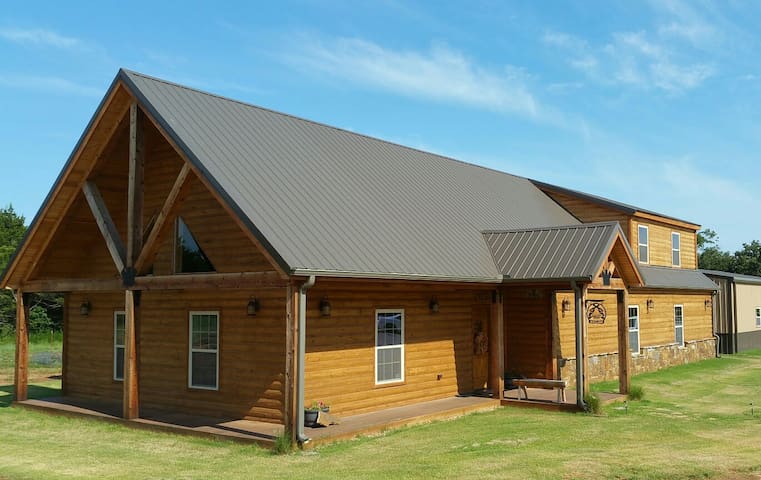 Secluded cabin in the woods. Privacy, great views, lots of glass and vaulted ceiling. Full kitchen, laundry facilities, covered parking. Fireplace and screened in porch. 100 Yds from waters edge via trail through woods. Bring hiking shoes. Kayaks available. Wi Fi and cable tv provided. Sorry, not suitable for toddlers.
Great place to get away and relax. Well designed, Rustic and secluded
The cabin is secluded from neighbors with a gated drive.
terrific stay. cute cabin
Craig
2016-10-30T00:00:00Z
This place was awesome! So cozy and the quietness was wonderful! I love how secluded it is. And it's very well equipped. Leslie is also super nice! Will definitely come back!
Sydney
2017-01-22T00:00:00Z
Beautiful, secluded, super comfy Murphy bed and surprisingly good Wi-Fi.
Laura
2016-06-25T00:00:00Z
Didn't get to meet Leslie in person but she was very responsive. The cabin is nice and secluded, just what we wanted for our anniversary trip. Eclectic decorations made it interesting and memorable. And close enough to Tulsa to have dinner downtown and drive back to nature for the evening. We made use of the kayaks for some fun and exercise on the lake, and saw plenty of geese, turtles, hawks, pelicans, even a deer! The only disappointment was it was not cold enough yet to build a fire... we'll have to go back!
Kevin
2016-11-06T00:00:00Z
This little cabin is a gem by thw lake. Leslie was great at getting back with me in a timely manner and called while we were on our way to make sure we weren't lost. She also messaged me during our stay to see if we needed anything. The cabin is adorable and we very much enjoyed the beautiful lakeside location. Was only 45 minutes from the Pioneer Woman-Mercantile in Pawhuska.
Kristy
2016-11-13T00:00:00Z
What can I say? AMAZING! It won't soon be forgotten!
Traci
2016-10-24T00:00:00Z
Leslie's cabin is in a perfect location - close to restaurants, shops, etc. but is very secluded, quiet and private. We were surprised how nice the cabin is. Very nice!! Leslie provides everything you need to be comfortable. You are all by yourself in the woods. There is a wonderful deck. The cabin has full length windows on 3 sides of the cabin. We enjoyed the fireplace and the really wonderful furnishings. We will definitely stay here again.
Cindy
2017-01-14T00:00:00Z
She was awesome!!
Jeff
2016-08-09T00:00:00Z
Tipo di stanza
Intera casa/apt
---
Tipo di sistemazione
Chalet
---
Può ospitare
4
---
Camere da letto
Cleveland, Oklahoma, Stati Uniti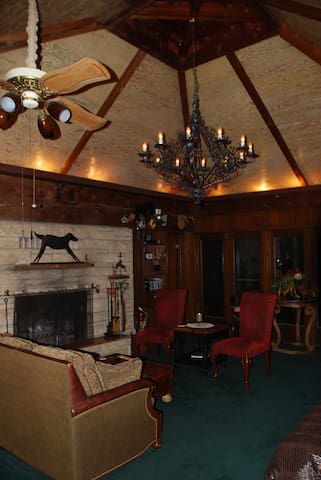 Enjoy the quiet, peaceful farm land and rolling hills. Open floor plan, sleeps 7-8 with full kitchen, all bedding included, lots of space and parking. Great stars at night. We are located in the country only 20 minutes from the downtown Oklahoma City.
The bunkhouse has one step to go up. It has a queen bed, a two sets of bunks and a twin bench that anyone can fall asleep on, also a pull out twin. Sleeps seven to eight, if you don't mind a mattress on the floor, full kitchen, a half bath with a shower, The shower is run off a small water heater but if you are quick you wont run out of hot water. Towels are available. The bathroom has a shower and a toilet. The bunkhouse was built from lots of recycled materials, from the deck boards to the 2x4 wall. I have a large family that comes for Thanksgiving and other family gathering so my dad, who all the grand kids call Fafa thought we needed the space. It's a bit crowed with 27 people in the house so that is how the bunk house came about. If you are lucky enough to meet "Fafa" you will never be the same. He is a man of many stories and can build anything, you will see some of his work just being here. You won't believe the space of this 12X40 area.
We are out in the country so neighbors are a quarter of a mile away. Very peaceful. The bunkhouse has information on lots of things to do in and around the area and you are free to take them if you wish.
The entire experience was pleasant. Tammy made us feel welcome and like family. We will be staying there again and recommend it to anyone else wanting to visit Oklahoma City or the Oklahoma City area. It is in Jones, a short drive from the city but I would prefer quiet night lights over the city. There were snacks, drinks, water, coffee, etc. and the Bunk House was like no other. My sister and I loved our visit! Tammy's Bunk House is a home away from home to us...
Johnathan
2016-04-30T00:00:00Z
The Bunkhouse was so cute and Tammy is so sweet as is her dad and grandkids!!! It is very clean and I'll go back for sure!!!
Beth
2016-03-12T00:00:00Z
We had a great time! This place was adorable and it was amazing to just get away and relax for the night! We loved the decorations in the bunk house and the bed was super comfy!! The view was incredible and we loved the makeshift swings outside!! So creative!! Thanks for a great time Tammy, and thanks for the trinket we were allowed to take home :)
Ariel
2016-02-29T00:00:00Z
Tammy is a great host, send us every detailed instruction we might need. The Bunk house has everything we need, the bed is comfy and it was so much fun playing the swings and other recreational facilities in the big front and back yard. Highly recommend to stay!
启祥
2016-07-16T00:00:00Z
We had a great time at the Bunk House. The place was cozy and welcoming. Everything was clean and ready for us when we arrived. We loved walking around outside and firefly watching. Tammy and Fa Fa were great hosts and mad our stay very comfortable.
Sierra
2016-06-07T00:00:00Z
Tammy was an incredible host! The bunk house was the perfect stop on our way out west. Tammy was not only very accommodating of our late arrival but also gave us tons of ideas for things to see/do in New Mexico (some of which we did end up seeing!). Be sure to sign the guest book and Wall of Fame!
Usnish
2016-07-09T00:00:00Z
I was only there for a few hours, but I had a pleasant experience staying at Tammy's place. Tammy kept in constant communication with me as I was travelling towards her place. Her bunk house is excellent and will get better in the future!
Ian
2016-07-09T00:00:00Z
Tammy was very hospitable and the room was fantastic! Very nice place to stay, I would highly reccomend it to anyone who is passing through.
Noah
2016-11-01T00:00:00Z
Tipo di stanza
Intera casa/apt
---
Tipo di sistemazione
Chalet
---
Può ospitare
7
---
Camere da letto
Jones, Oklahoma, Stati Uniti
Charming guest efficiency apartment - log and stucco structure with wood floors, shower, small bathroom and kitchenette. Approximately 300 sq. ft. Located in a wooded and unique area conveniently in Southeast Edmond near I-35, 235 and the Kilpatrick Turnpike. Rustic setting with water gardens, outdoor sitting areas. Peaceful and lovely!
Historic Home with the guest cottage built around 1934 by a World War 2 General used initially as a military and family retreat.
Property has over 3 acres with large trees and water gardens with a lot of Koi and white catfish, wild life. Rustic and cozy with a lot of flower gardens including a large restored tiered rose garden. Excellent backdrop for photos! Hope you don't mind a couple of pet cats as well.
Tipo di stanza
Intera casa/apt
---
Tipo di sistemazione
Chalet
---
Può ospitare
2
---
Camere da letto
Edmond, Oklahoma, Stati Uniti
Stillwater - Airbnb
:
Media di

4.85

stelle su

5

da

65

recensioni degli ospiti
1

–

4

di

4 Chalet in Affitto
Inserisci le date per visualizzare il prezzo totale. Ci sono dei costi aggiuntivi e potrebbero venire applicate alcune tasse.