Walking distance to shops and restaurants, hilltop parks with hikes and great views, Six Flags at Magic Mountain, 20 minutes from Burbank, and 10 minutes from Lake Castiac! My location is excellent for those looking for great hospitality and convenience whether you are just passing through or relocating to the area. I am on the top floor with a huge balcony so anywhere you would want to go can be seen from my place mountain/canyon views as well as gorgeous sunrises and evening city lights. .
There is a pool, bbq and hot tub are right building our building that does no require a key to get in. Pool area opens at 8 am and closes at 11 pm. There is also a seating area complete with leisure chairs for tanning. The gym is located beside the main office and requires the sports key hanging on the key ring beside our door. This area also has a poll, BBQ area, couches, spa and bonfire seating area. However, you will have to have the same sports key to access this area too. There is a really nice lookout point near the leasing office that also have a couple of trails around it along with a playground for small children. The Volleyball court is set a bit below the leasing office in the direction of SE.
Stevenson Ranch is in Los Angeles County, California. The community is located in the Santa Clarita Valley, 20 minutes north of Hollywood. Stevenson Ranch encompasses about 6.4 square miles. About 1,000 acres are set aside as parks, recreation areas, and open space. Stevenson Ranch is set in the foothills of the Santa Susana Mountains and lies west of Interstate 5. This area backs up to the historic, oil-mining town of Mentryville, founded in 1875. A master-planned community, it was approved by the county in 1987. The population was 17,557 at the time of the 2010 census.The Valencia Marketplace and Stevenson Ranch Shopping Center are popular shopping areas in the community. Stevenson Ranch Elementary, Pico Canyon Elementary, Rancho Pico Junior High, and West Ranch High School are all award-winning schools. Six Flags Magic Mountain, an amusement park, is located about three miles north of the community.The names of many streets located in Stevenson Ranch are those of famous authors (e.g., (URL HIDDEN) is also the filming location of several film and television productions, including the television show Weeds, a Showtime original series, as well as the feature film Pleasantville. Its master-planned nature is at the heart of the suburban commentary of Weeds, such as the "Little Boxes" song and sprawling development portrayed in the opening of the show.
Niki was great ! The room was very clean, the bed was super comfortable, there was plenty of parking. Niki was very nice and welcoming
Erica
2016-10-05T00:00:00Z
The place is centralized with shops and food. It is actually located with the rest of the hotels in the area. It sits in a lovely location with a view and Niki was awesome during my stay. I came in very late and she was still there to welcome me.
Leticia
2017-03-26T00:00:00Z
It was my best experience on Airbnb ever. Perfect room with private bathroom and very kind host Lea. Would like to stay there again if will be in the area. Thanks for hosting us!
Amit
2016-09-30T00:00:00Z
We had a great stay, bed is very comfy, room was lovely - just as pictured. Niki was super friendly and helpful, and her dog is so cute!
Nicole
2016-10-04T00:00:00Z
After a long day at six flags. Niki was very understanding and let us settled down very soon. We enjoyed our night at her place very much. Def will stay at her place when we come back.
Yufei
2016-10-02T00:00:00Z
The room was comfortable and clean. The pool and hot tub was relaxing. Nikki is a gracious hostess.
Dan
2017-03-24T00:00:00Z
Lovely room, clean, quiet, comfortable, and Niki is a wonderful host.
Terri
2017-03-25T00:00:00Z
The room actually looks better in person than the photos! I was really impressed with cleanliness of the room and the hospitality that Nicki shared with me! The location was perfect for a six flags trip! The bed was super comfortable that I don't even remember falling asleep! She does have a sweet cute dog. Was it a problem? Definitely not? Her apartment is located high on a hill so there is a nice little view of the town and sun from the patio! Parking could not be more perfect, since you could park in any open spot, and believe me this is rare in California! I would for sure use this room again if I'm up that way! Thanks Nikki!
Joey
2017-03-19T00:00:00Z
Tipo di stanza
Stanza privata
---
Tipo di sistemazione
Condominio
---
Può ospitare
2
---
Camere da letto
Stevenson Ranch, California, Stati Uniti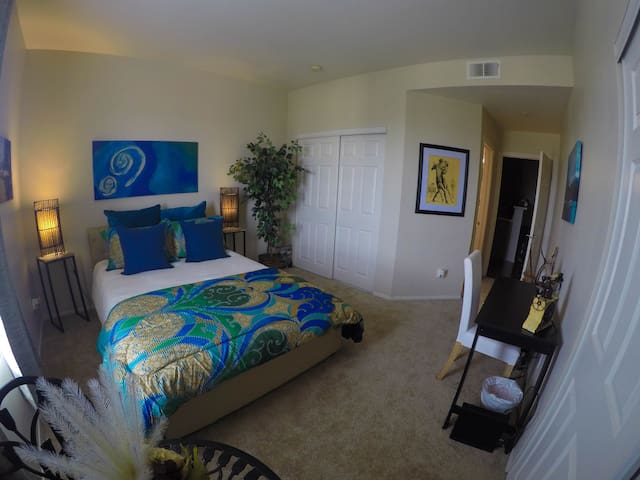 Wir sind neue Hosts, so dass wir unsere Preise für eine begrenzte Zeit reduziert haben. Unsere geräumige offene Wohnung befindet sich im zweiten Stock mit vielen Fenstern und Sonne. Wir sind umgeben von Bäumen. Wir sind direkt neben einem Park mit Wanderwegen in der Nähe. Ein Spaziergang über die Straße zu einem Lebensmittelgeschäft und Starbucks. Ein paar Blöcke mehr und der Outdoor-Mall erwartet eine Vielzahl von Restaurants, Bars und Einkaufsmöglichkeiten.
Wir sind auf der zweiten Ebene, so gibt es Treppen zu steigen und eine Veranda an der Spitze. Wir haben zwei Mountainbikes und viele Radwege (paseos) in der Nähe. Sie sind willkommen, die Küche zu benutzen, wenn Sie reinigen auch schön :)
Ich liebe die Tatsache, dass wir eine Zugfahrt weg von der Hektik in der Hektik der Innenstadt von Los Angeles und und der Leichtigkeit des Gehens zu den Geschäften sind. Unser Mall Außenterrasse hat viele wunderbare Stelle am Feuer zu sitzen. Ich bin ein gebürtiges Los Angeles können Ihnen so hilft, mit wenig bekannten Stellen in unserer örtlichen Gemeinschaft und der größeren LA-Bereich.
Tipo di stanza
Stanza privata
---
Tipo di sistemazione
Condominio
---
Può ospitare
2
---
Camere da letto
Santa Clarita, California, Stati Uniti
Tipo di stanza
Intera casa/apt
---
Tipo di sistemazione
Condominio
---
Può ospitare
7
---
Camere da letto
Santa Clarita, California, Stati Uniti
PURA BELLEZZA! Maggiore Freeway, 30 min a Hollywood, Santa Monica, o spiagge, negozi, alimentari, ristoranti, stazioni di servizio, escursioni, Six Flags, chiese, università, mezzi di trasporto pubblico (autobus di Nizza, treni Metrolink), parchi, arte e cultura, biblioteche, Pesca, Laghi, Camping, molto sicuro e versatile comunità di giovanile ancora orientata verso la famiglia. Facile accesso a numerose parti di Los Angeles County facilmente. Centrato ad andare contro la maggior parte del traffico, i pendolari è fantastico e grande! Abbiamo appena circa tutto per prezzi vantaggiosi!
It was a nice place and the communication was great. The room was very warm, but I cooled it off by opening the windows. I'm not sure if it has AC or not. The parking was very difficult since I got there late in the evening. Probably 1/4 mile walk. I'd stay again..
Adam
2016-08-19T00:00:00Z
We loved staying here! Michiko was very sweet and Michael greeted us once we arrived. He was very helpful and let us use the common areas, even helped us out with putting on a movie one evening in the living room. The room was nice and big! I loved how there were two sinks in the bathroom, one outside of the bathroom and one next to the shower. We were able to bring food to the kitchen, which was really helpful too. The location is gorgeous. We had picnics almost every afternoon and evening on the lawn over looking Santa Clarita. Would definitely stay here again, it was great. Only thing is parking proved to be difficult at times, so for the future a guest parking pass would be nice!
Sarah
2016-08-16T00:00:00Z
Our host Michael was excellent! There was great communication with both Michiko and Michael, items we needed were provided, and having a bedroom with a private bath was just what we were looking for! This worked out great for us because we were in and out and we felt comfortable while we were there. It was a great location, a great stay and we would do it again!
Tracey and Dan
2016-08-07T00:00:00Z
Tipo di stanza
Stanza privata
---
Tipo di sistemazione
Condominio
---
Può ospitare
2
---
Camere da letto
Santa Clarita, California, Stati Uniti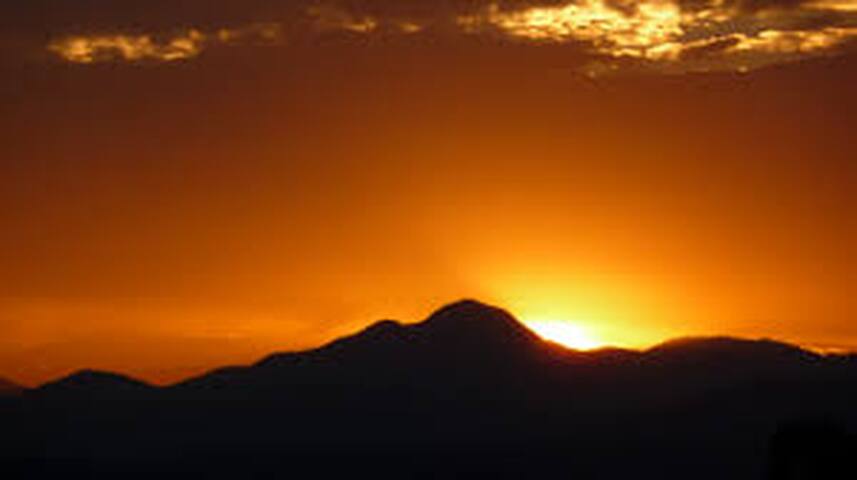 6 miles from Magic Mountain, 20 minutes to Hollywood!!!! This Shared, top floor, Pet friendly Town home includes walking paths, Tennis Courts, 4 Pools with Jacuzzi's. Internet Available! Private TV in Room. We are very quiet and respectful and clean. Plenty of shopping and entertainment nearby. Safe and Beautiful Complex surrounded by trees and plenty of wildlife!!! Garage parking is available. Canyon Country is a beautiful and quiet Area. Safe for travelers to walk or hike anywhere!!!
Room only has 1 Real bed but can hold 3 persons if one is a child. The Private Room is large with a shared bathroom. TV and Internet available. If your arriving late I will provide "free" garage parking but the unit is Street parking only. Garage parking is available for a small extra cost for long term guests staying longer than a week(Tandem). Small pets are okay please potty trained. Kitchen is available for cooking. Anything I can do to make your stay more comfortable please ask in advance. We are easy going and clean and quiet. No valuables on property are kept. Please be respectful and NO Smoking. Please turn off all lights and air conditioner upon leaving and dont forget to leave all keys or remotes!!!!
The Neighborhood is clean and not congested. Lots of wildlife. People are quiet and friendly. Its a huge complex so there are alot of people around but I dont see alot of people around except for the dog walkers or Pool lovers. I really love living in this area. Very safe and quiet. 24 hour security. Its far enough away from the city but close enough to everything. Movies, Shopping and dining all close by.
Carla and her family are very nice. Enjoyed them and the new pup was really cute, too. Everything was so clean, very nice, comfortable bed. Parking is crowded at night. I just parked a couple blocks over and enjoyed the walk.
Dorothy
2016-03-04T00:00:00Z
Carla is an extremely gracious and welcoming host. The condo and room are clean and comfortable, and the neighborhood is all shiny new and safe with every possible amenity within a very short drive. You can also get good cheap Mexican takeout within walking distance. Carla accommodated me and my dog with open arms, offering morning coffee, laundry use, snacks, internet, TV in room, we even went out to lunch one day at a great local diner. Everything about my stay was awesome, without a doubt my best experience ever with Airbnb. I would highly recommend Carla as a host to anyone whole-heartedly. And the drive to Burbank/LA isn't bad at all.
Harold
2016-02-01T00:00:00Z
Carla was an amazing host! I had arrived late, past midnight, and not only was she up until I got there, but she also helped advise the closest places to shop for last minute toiletries that I had forgot to pack. Her room was furnished and true to listing.
Mai
2016-09-24T00:00:00Z
Thanks it was perfect for what I needed and everything was as described on the ad.
Eyasu 'Josh'
2016-09-29T00:00:00Z
This place was good for a one night stop to get in and out of LA north of the traffic. Although there was some miscommunication and some tricky-ness to getting in and out of the place, overall a good space for a one night stay.
Olivia
2017-01-16T00:00:00Z
Carla's place was really wonderful. She was very kind, an excellent communicator, and a great hostess. We LOVED the kitties. They were sweet and curious, and very cute. Thank you for the wonderful stay!
Gwen
2016-12-27T00:00:00Z
Carla was very nice and accommodating, despite the fact I showed up VERY late at night. Nice place, comfortable bed. Would stay again without a doubt.
Nate
2016-10-02T00:00:00Z
Carla was very accommodating to me and had everything that I needed. She is also a very nice person. The area around the condo is also very good
Briana
2017-02-10T00:00:00Z
Tipo di stanza
Stanza privata
---
Tipo di sistemazione
Condominio
---
Può ospitare
3
---
Camere da letto
Santa Clarita, California, Stati Uniti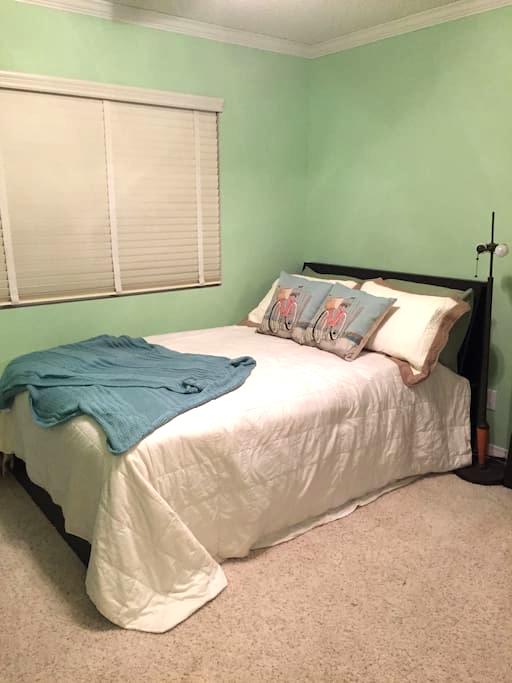 This is a hilltop house with a fantastic view.We have a two bedroom 'condo style unit' located at the rear of our has it's own entrance. Magic Mountain is less than 10 minutes away. Valencia Golf course is less than 15 minutes away
Tipo di stanza
Intera casa/apt
---
Tipo di sistemazione
Condominio
---
Può ospitare
4
---
Camere da letto
Castaic, California, Stati Uniti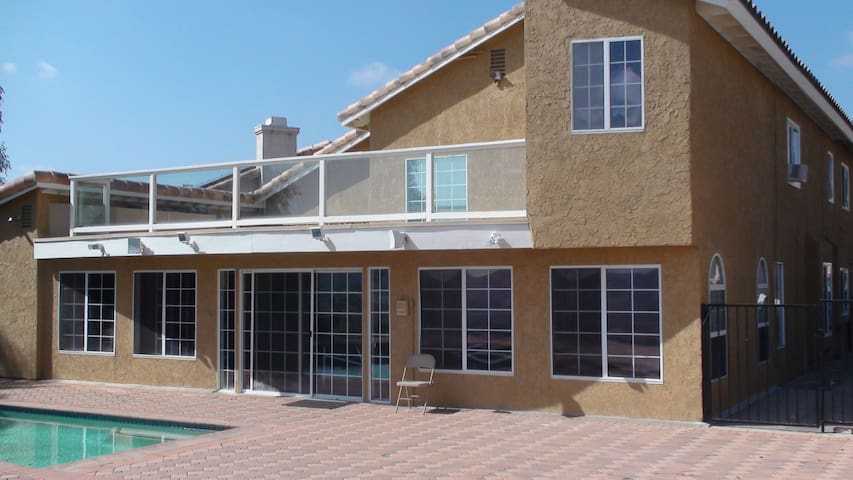 1

–

6

di

6 affitti condominiali
Inserisci le date per visualizzare il prezzo totale. Ci sono dei costi aggiuntivi e potrebbero venire applicate alcune tasse.