Tipo di stanza
Intera casa/apt
---
Tipo di sistemazione
Loft
---
Può ospitare
16
---
Camere da letto
Ferndale, Michigan, Stati Uniti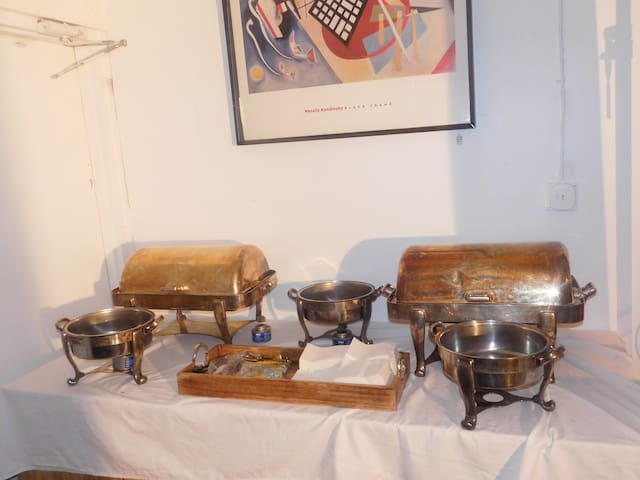 Quiet, spacious loft with exposed brick, tons of light, and breezeway windows above the queen size bed. Also, a big, comfy sectional that will sleep 2 comfortably. You will have the place to yourself, it includes a full kitchen and two full baths.
Large downstairs living area and sizable, open bedroom upstairs. Two full baths, one upstairs and one downstairs.
I love, love, love living here. It's quiet and out of the way, which means minimal hassle with traffic but quick, easy access to downtown. (About a 5 min drive to anywhere)
Amanda was extremely helpful leading up to and during our stay in Detroit! She gave us plenty of tips for our stay and even hooked us up with a replacement air conditioner when the one in the loft broke. She was very timely when picking up and dropping off the keys. The loft is spacious and clean - well represented in the pictures on the Airbnb. I come to Detroit often and plan on staying in Amanda's loft in the future, and recommend it to anyone coming to visit the city.
Logan
2016-06-01T00:00:00Z
Amanda was great to deal with and very accommodating. She even recommended a great breakfast spot for the next morning! Awesome building, beautiful unit and great host. Would recommend!
Zlad
2016-12-11T00:00:00Z
Clean loft. Central location. Amanda was communicative and available when we needed her.
Evan
2016-07-18T00:00:00Z
Super cool place and a wonderful host....cannot go wrong.
David
2016-12-17T00:00:00Z
Amanda was an awesome, genuine host! Loved the property very homey and comfortable. She communicates very well and had everything I could possibly need to enjoy my stay!
Kendall
2016-05-23T00:00:00Z
Amanda was amazing, the best host ever for my first time using this airbnb app. It went so well and she treated us perfectly. Definitely would reccommend to friends and others. Thanks again!
Dylan
2016-08-21T00:00:00Z
This was an absolutely fantastic stay. Amanda was incredibly friendly and welcoming. She stuck around for a few to make sure that we had everything that we could need and was quick to reply when we had any questions. The loft itself was beautiful. The hardwood floors were to die for, not to mention the wonderful lighting, open layout, and eclectic decorations. I would highly recommend this location to anyone looking to spend a weekend in a beautiful Detroit loft.
Eric
2016-09-18T00:00:00Z
Tipo di stanza
Intera casa/apt
---
Tipo di sistemazione
Loft
---
Può ospitare
2
---
Camere da letto
Detroit, Michigan, Stati Uniti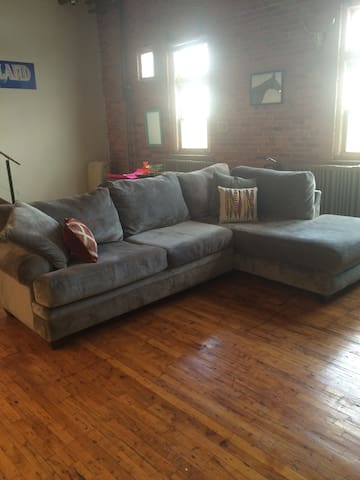 Расположенный в самом сердце Хамтрамк. Этот просторный, современный чердак прохладно и комфортно. Основные моменты включают: 14 футов потолки, приборы из нержавеющей стали, кожаный диван секционные, видеонаблюдение, тропические растения и терраса на крыше с гамаком.
MasterBedrm наверху с PRV. rooftoop палубе. Удивительный вид середины / города. В комнате два рейса наверху, так что вы не будете слышать писк. Она также имеет 40in телевизор, Sealy, матрас перину и одеяло.
Район в основном йеменской и Бангладеш иммигрантов. Там множество средних восточных ресторанов и продуктовых. Исламский призыв к молитве играет 5 раз в день.
Darrin is a great host, he had many helpful recommendations for Detroit and was easy to communicate with! Even though we had to defer our arrival by several hours, he was able to meet us and hand over the keys! Thanks!!!
Barbara
2016-07-09T00:00:00Z
Good location but not up to the standard of most Air bnb homes
Michelle
2017-03-10T00:00:00Z
It was lit, fam
Devin
2016-05-31T00:00:00Z
Darrin is great super knowledgeable of the area and all around pleasant guy.
Julian
2016-06-18T00:00:00Z
Darrin is by far the chilliest down to earth guy I've met and had a privilege to meet/ deal with on Airbnb. This guy makes you feel at home, like it's your house too.. His place is in a great spot uber cab it 8-10$ away from down town, mall 10-12$ to the mall. Greek town ask him he's knows the good restaurants :) he took me around for a drive to check out Detroit and area
Dillan
2016-04-21T00:00:00Z
Darrin is a great host. His loft is just as he described. Thank you.
William
2016-08-05T00:00:00Z
This spot is amazing! Really cozy and nice. Darren is a super host. He was really flexible with our venue (we came at 7am!!!). We felt like at home. He bring use around, show us some greats spots! Hamtramck is a nice neighborhood with something special, not so far from Downtown ( les then 10 $ with uber).
Alex
2016-07-18T00:00:00Z
Darrin is a very good host. He's kind and friendly. It was my first time in Detroit. However, with Darrin's favor, I was able to be familiar with this city.
JinSeok
2016-08-22T00:00:00Z
Tipo di stanza
Stanza privata
---
Tipo di sistemazione
Loft
---
Può ospitare
2
---
Camere da letto
Hamtramck, Michigan, Stati Uniti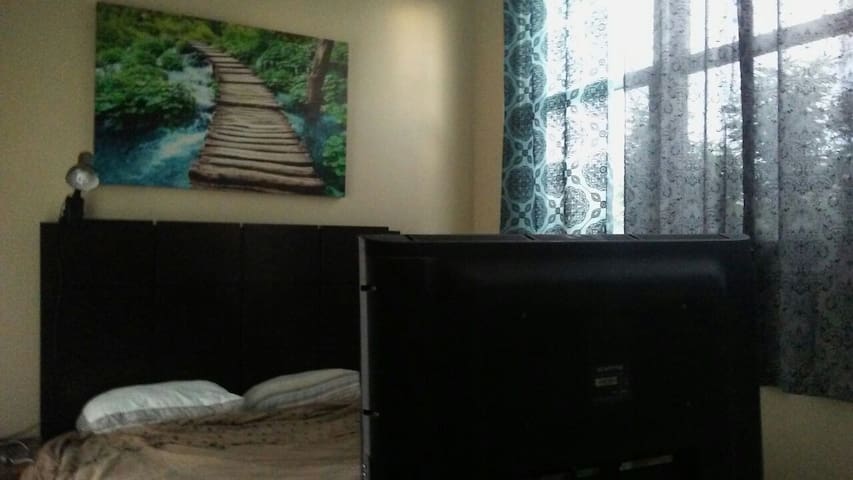 The host canceled this reservation the day before arrival. This is an automated posting.
Kendall
2016-05-20T00:00:00Z
Darrin (Eidolan) could not have been a more amazing and gracious host. He went above and beyond to make my friend and I feel at home and welcome in Detroit. The building is gated; the apartment is really nice and has a cool roof with a view of downtown. We felt very safe in the area, pretty much everything is nearby and the local food was great. He is also a really good DJ! We had a great time hanging out listening to some tunes before heading out. Darrin was very respectful and nice, he didn't have to go out of his way to show us a good time but he did anyway. I will definitely (hopefully) be coming back again soon!
Susan
2015-05-27T00:00:00Z
Tipo di stanza
Intera casa/apt
---
Tipo di sistemazione
Loft
---
Può ospitare
6
---
Camere da letto
Hamtramck, Michigan, Stati Uniti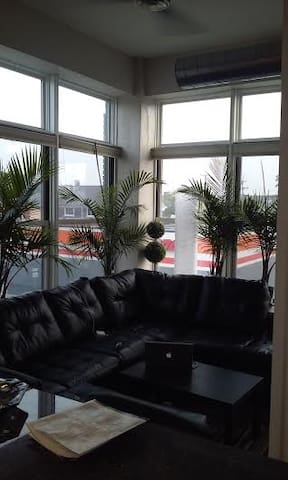 Inserisci le date per visualizzare il prezzo totale. Ci sono dei costi aggiuntivi e potrebbero venire applicate alcune tasse.