Inserisci la data del check-in nel seguente formato dd-mm-aaaa
Inserisci la data del check-out nel seguente formato dd-mm-aaaa
Annunci che puoi prenotare senza aspettare l'approvazione dell'host.
1 Villa in Affitto
· State of Maranhão
1 Villa in Affitto
· State of Maranhão
Inserisci le date per visualizzare il prezzo totale. Ci sono dei costi aggiuntivi e potrebbero venire applicate alcune tasse.
Nei mesi di luglio e agosto puoi provare uno di questi 100 alloggi ad alto rendimento, per ogni fascia di prezzo, e vivere una visione locale di Sonoma. Prova il check-in continuato, la Prenotazione Immediata e vino e spuntini locali per rilassarti e godere al massimo del tuo viaggio.
Four bedroom villa with two swimming pools with Shower downstairs and four showers upstairs and 2 Jacuzzi baths. Lounge, dining room, study and kitchen. BBQ area outside. Gates and Gate man. Concrete Villa set in 10000m2 land bordered by >2.5m walls
Sole use of the villa house which has four bedrooms, living room, dining room, kitchen, office and laundry room, six bathrooms six showers and two baths. All rooms have en-suites and of which two rooms have baths as well. There is also a guest bathroom with shower on the first floor of the main house. The building and all ceilings are concrete. The main house has two floors, both with a balcony around the perimeter. We have hammock hooks in bedroom #2 and at selected points along the balcony. The BBQ area also has hammock hooks. The property has an outer and inner walled area, the inner area can be used to isolate pets and children from watchman dogs. Guests have use the two main pools, the BBQ and BBQ area and grounds. Sole use of the villa, please help yourself to a dozen or so different tropical fruits that grow on the plot - Cupuacu, lemon, cinnamon, Caju (Cashew), Coconut, Pupunha, Jaumbo tree . The house is supplied by pumped underwater well operated normally by the watchman. A further treated separate wooden log cabin is also available on the land for rent or can be blocked at reduced cost. A watchman/handyman/Gate man lives on the property near the front gate. When you arrive at the gate please press the horn loudly so the gate may be opened. The watchman will activate the pumps to fill the 500L Liter water tanks in the morning and evening but also when indicated. Some outside lights are normally left on to help the watchman during the night. A maid(s) can be supplied if necessary at subsidized rate of R$300/month or €70/month.
We have had monkeys, Sloths, butterflies, Toucans, humming birds, caterpillars, frogs and other wildlife. We have many of the typical Amazon fruits including Acai. New Jungle animals are arriving this year due to the expansion of nearby towns. Transport can be arranged to and from the airport or Belem at a small cost usually about R$40 or €10. Help can be given where necessary. We can arrange trips or stay in Belem/Marajor/Deeper Jungle at our other properties. A mototaxi is available quickly, but also normal taxi. a number of 'open house' shops are close by which offer fresh bread, ice cream and drinks. Belem town has severe congestion, so we recommend travelling into Belem in the earlier (and cooler) morning. It is possible to catch Bus to local towns including Belem at the top of the road if you are the adventure type. the airport is 40 minutes away if you travel at favorable times (so avoiding any traffic jams) If you are prone to mosquito bites then this is the ideal place for you but please close the doors and window shutters at dusk, the house is all concrete without any gaps of note. Please do not leave pets, birds, chickens, duck or pigs out at night. The fish ponds are deactivated at the moment. The dog kennel is not in use.
Tipo di stanza
Intera casa/apt
---
Tipo di alloggio
---
Può ospitare
16
---
Camere da letto
4
Benevides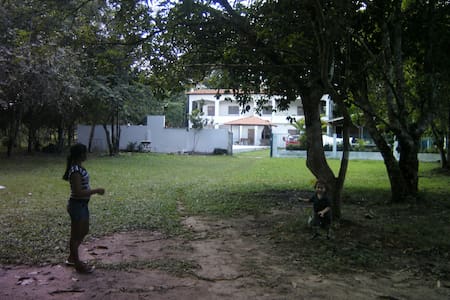 1

–

1

di

1 Villa in Affitto