Two bedroom/Two bath cabin on four country acres with small streams adding to this property's tranquility. Our location makes it easy to plan day trips to New York City, Philadelphia, Amish Country, and the Poconos Pets and smoking not permitted
My Host Mikki was very accommodating. No surprises other than how amazing the cabin was once we settled in. The fireplace was very memorable, not to mention how peaceful and relaxing the experience was for both my girlfriend and I. "We have to do this again," where the words that happily came from my girlfriend.
Heyward
2015-02-17T00:00:00Z
Our stay at cosy creekside cabin was wonderful.  The cabin was very well maintained and stocked.  The property is beautiful and peaceful, we loved the streams and fire pit. Micki is a great host and very thoughtful.  The entire experience was a delight.  We are already talking about another visit when it warms up for all the onsite and nearby summertime activities.
Matt
2015-04-09T00:00:00Z
We had three professional women travel to visit our school for a week in the middle of October. They absolutely LOVED staying at Micki's cozy cabin! The cabin was beautiful and clean and offered all of the amenities necessary for a week's worth of accommodations for three people. The property also has a fire pit outside, a little stream that flows peacefully behind the cabin, and a quaint little bridge that crosses the stream. The area surrounding the cabin was quiet and serene. The cabin was warm and our visitors loved being able to use the gas fireplace in the living room, too. Micki was very gracious in helping us get everything set up for our visitors and she was very clear and helpful in her communications to us. We are already planning to use the cozy cabin again in the spring time when we have more professionals coming to visit our school again. Thank you, Micki, for providing our guests with such a perfect place to stay for the week!
Phil
2014-10-18T00:00:00Z
"The Cabin" was perfect! We truly loved our stay here and will be back next year! Micki was so helpful and kind and gave us perfect instructions. She even gave suggestions for nearby restaurants and local flair. The Cabin was exceptionally clean (which I LOVE!) The fireplace was so great to warm up to after a long day of bike racing in the cold. We can't wait to revisit and make use of the awesome outdoor firepit and creek. The rolling hills in PA are just beautiful. Thank you Micki for an awesome getaway!
Heather Seagraves &
2014-11-17T00:00:00Z
We had an amazing time at The Cozy Cabin. It was spotless, super warm and very quiet. We cooked in the amazing kitchen that had everything you need and more. The bed was comfy and everything in the home worked perfect. We went hiking right down the street and did some local Yoga. We watched movies on the flatscreen and relaxed by the fire. When our time was up we didn't want to leave. My girlfriend and I had a more peaceful mind state and deeper love for each other after our stay at The Cozy Cabin. Micki got right back to us when we first reached out and made sure everything was perfect when we arrived. I highly highly recommend staying at this peaceful place. We will be returning in the future . Much love . Brett & Stephanie
Brett
2015-01-16T00:00:00Z
This property is amazing. I was looking for a private peaceful place to get away and I don't think I could have found a better fit. The check in was effortless and the house was stocked with everything we needed. Micky made sure we were comfortable and then gave is the privacy we needed. I will definitely be returning this summer so I can fully enjoy the creek that runs along side of the house.
Marc
2016-03-05T00:00:00Z
The creekside cottage is just as advertised... cozy, clean and comfortable, well appointed and very thoughtfully supplied. The surrounding area is beautiful and tranquil and the cottage is quiet and secluded. Micki is an amazing hostess, helping at every stage to make sure things go smoothly. Even the fireplace was lit when we arrived. We would definitely recommend.
Shawn
2015-01-11T00:00:00Z
Great experience. The place is set up well and exceptionally clean. Nice little setting with a cute creek around the edge of the property. Gas fireplace is nice, too. Comfortable beds, plenty of TVs, well stocked kitchen. Host was very helpful. Great time. Will definitely try to come back. One note: this is a vacation rental, and you'll be asked to sign an additional contract. Nothing unusual in the contract. Standard vacation rental type thing.
Benjamin
2016-11-26T00:00:00Z
Tipo di stanza
Intera casa/apt
---
Tipo di sistemazione
Chalet
---
Può ospitare
6
---
Camere da letto
New Tripoli, Pennsylvania, Stati Uniti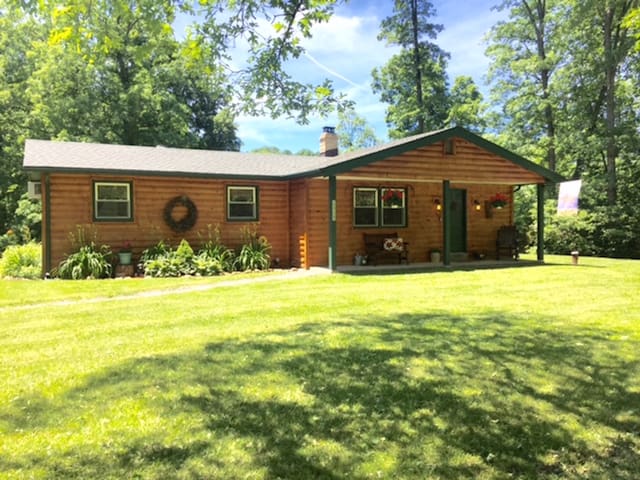 Rustic, shabby chic cabin on flower filled property. Short walk to shops and restaurants in Frenchtown. Note: there is a toilet but no shower or running water. For those looking for an affordable get away that don't mind skipping their morning shower.
Tipo di stanza
Intera casa/apt
---
Tipo di sistemazione
Chalet
---
Può ospitare
2
---
Camere da letto
Frenchtown, New Jersey, Stati Uniti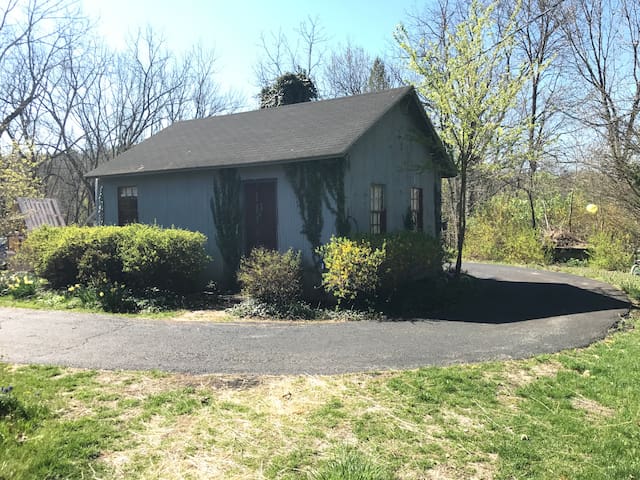 Tipo di stanza
Intera casa/apt
---
Tipo di sistemazione
Chalet
---
Può ospitare
4
---
Camere da letto
Conshohocken, Pennsylvania, Stati Uniti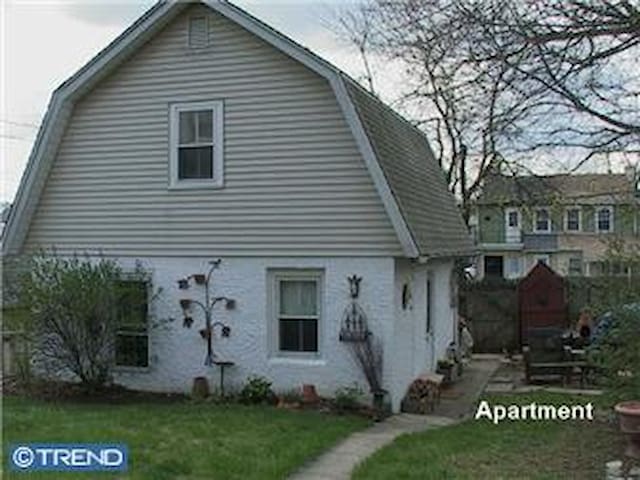 The Cottage on the Hill is a simple 'off the grid' cabin that sits on the highest point of our 50 acres. With 360 degree views of the mountains, you'll love the view - and the stars at night. Solar-powered lights, potable water, camp toilet. SIMPLE, PEACEFUL, BEAUTIFUL. (This cabin has no heat, so keep that in mind when booking this cabin during the colder months.)
The Cottage on the Hill is a simple cottage with no electricity or plumbing. It is true 'off the grid' living! There are solar-powered LED lights, and potable water for hand washing, etc. The is no bathroom, just an outdoor camp toilet and a rain-water shower. If you're looking to completely unplug, but still be comfortable, this is the spot for you. It has a comfy double bed, a leather recliner and a small cafe table with two chairs. Access to the full-bath in the farm house, as well as a full home-cooked breakfast are included.
With at least six wineries/vineyards within 25 minutes drive, Hawk Mountain and the Appalachian Trail just 10 minutes away, and beautiful back country roads for cycling, there are plenty of fun things to do. Not to mention Leaser Lake, Wanamakers Country Store, apple picking, antiquing, and lots more.
We had a nice stay at the cabin. Sadly it was very quick! Mike and Lindy were super nice and helpful when we almost had to cancel last minute. The cabin's location is great on the top of a hill with great views. I was worried the other cabins would be too noisy/close to the road, but now having been there I would have booked the pond cabin because the road is very quiet and electricity would have been nice for us. All the rooms/cabins seem nice and quiet. Breakfast was plentiful and delicious. And the area is lovely to walk/jog around - all quiet country roads with farms everywhere.
Jenny and Alex
2016-08-31T00:00:00Z
Wow, what a place! The Common Ground cottage is on top of a hill with 360 degrees sweeping view. Comfortable, updated space in a perfectly rustic setting; the balance of the farm is just as quaint. Mike was totally helpful in providing directions, and offered breakfast, conversation, and facilities tour. I use Airbnb a lot and this is a must stay if you're in the area!
Kurt
2016-09-03T00:00:00Z
My sister and I had a wonderful stay. Mike and Lindy were above and beyond helpful. The pictures don't do this place justice. Mountains, sheep, ponds, fire pits and many areas to explore near by. Common Ground is a great place to escape to get away from the stresses of life. Breakfast was delicious each morning and nicely shared with the company of many travelers at Common Ground. Would most definitely book again.
Allison
2016-10-24T00:00:00Z
The town this cottage is located in is scenic and fantastic for biking. The cottage had a spectacular view of the area during the day and an incredible view of the stars by night. Everything we needed to stay there was there when we arrived, from extra solar-powered lights to extra warm blankets. It was lovely to use the fire-pit. On the two mornings we had breakfast, Mike and Lindy were friendly and provided a delicious, warm breakfast. It was an added bonus to learn that our stay was helping subsidize veterans' free stays on the weekends. I would recommend this cottage for anyone who wants to get away and slow down for a while. This cottage is the only cottage of Mike and Lindy's that gets cell-phone reception (ironic considering that it is the most removed from the grid). Also should add that it was incredibly windy; bring earplugs if that would make it hard for you to sleep. And we had encounters with a few spiders in the cottage, so be prepared to squash or escort spiders away :)
Julia
2016-10-10T00:00:00Z
Mike and Lindy were great hosts, eager to make us comfortable. The hilltop cottage was clean and simple with a stunning view. Access to the full bathroom in the main house was as promised. We visited nearby Hawk Mountain and went for a hike.
Sarah
2016-05-31T00:00:00Z
Lovely stay away from it all. Nearly 360 degree views of patchwork fields and forest. Comfy setup and lovely hosts. What's not to love ?
Andrew
2016-10-16T00:00:00Z
Mike and Lindy did their best to make us feel at home. Their property is truly a beautiful place in the middle of mountains and gorgeous scenery. Their knowledge of the area and their attentiveness is what gave this place five stars for us. It was also our first time in the area and using Airbnb and I am so glad we picked this place! We will definitely come back.
Emely
2016-09-11T00:00:00Z
Had an amazing time. Mike and Lindy are wonderful people and the place was amazing. Will be staying here again in the future.
Joshua
2016-07-30T00:00:00Z
Tipo di stanza
Intera casa/apt
---
Tipo di sistemazione
Chalet
---
Può ospitare
2
---
Camere da letto
Kempton, Pennsylvania, Stati Uniti
The cozy yet spacious Carriage House has been newly renovated, open floor plan with fireplace, exposed beams, natural lighting, a beautiful one bedroom with pasture views, upstairs has four twin beds. Full bathroom and kitchen stocked with supplies. Perfect venue for a weekend getaway a retreat or even a wedding!
Welcome House Farm is situated on a quiet back road in Bucks County. The main house from the 1700s, as well as the carriage house, a renovated bank barn from the 1830s, are situated on 16 acres of fenced and open pastures as well as woods and is located a hundred feet from the main house. We encourage guests to help themselves to the vegetable garden and fresh eggs from our free range chickens. The pool is accessible to guests and is surrounded by forest on three sides providing a very tranquil backdrop to pool side relaxation. The barn is on the other side of the stream at the back of the property and is home to three horses, chickens, and a few barn cats . we have two dogs as well. The carriage house is huge, about 2,300 square feet, not including the mudroom, and has three floors. The bottom floor is an entry way and mudroom, at the top of the stairs are supplies (broom, dyson vacuum, ironing board etc.) with an entrance at the top of the stairs into the kitchen on the main floor,and the third floor is brand new and has twin bedrooms. The main part of the carriage house has several large windows with wonderful views, great lighting, high ceilings, and an open living and dining room area. There is a pull out couch adjacent to the fire place (with a comfortable pillow topper on the mattress). There are board games, an electric piano, and 2 armoires for extra clothing storage for longer term guests. The carriage house bedroom has a spacious closet, book case with cubby spaces, large windows with views of the pastures and woods. We splurged for the feather bed topper, bamboo sheets, and tempurpedic pillow option which allows for a very enjoyable night's sleep. The closet is fully stocked with several fresh towels, a change of linens, extra blankets, and a wide variety of toiletry supplies in case you might have forgotten anything. The kitchen has several new appliances and all the kitchenware you could want including a kitchenaid mixer, for those who love to bake etc. There is a variety of tea and a nespresso machine for those that are coffee lovers (there are French presses for regular coffee as well). There are 4 twin beds upstairs in the newly furnished top floor for additional guests. Overall, it is a very peaceful place surrounded by nature. We are around the corner from a dairy farm with fresh milk and a wonderful local orchard that has a deli and makes fresh baked goods. Additionally, we are down the road from Lake Galena which offers great trails for walking as well.
The carriage house is really comfortable and super cute. It has everything you need and Bess is super friendly and helpful. It is very roomy and the property is stunning. We had a lovely time and would come back in a heartbeat!
Nicole
2016-08-09T00:00:00Z
My second stay at Bess and Christian's place was even better due to the fact that we already knew each other and what to expect. They are both truly wonderful and I felt as if I had known them forever and was just visiting with old friends. I was saddened to leave. The carriage house just has that feeling of home away from home. There was a connection that I know will my choice of home away from home for as long as they will have me!
Bonnie
2016-10-08T00:00:00Z
There are no words to describe the feeling of home and love that this place offers. Bess and Christian are so very awesome. They are there to assist you and offer whatever you need. If you just want to hang out and chat you are more than welcome to do that. If you want to be left alone, you will be. The Zen here was so overwhelming that I had a hard time sleeping the night before I left. The drive from PHD airport was quick and easy. The one thing I know is that this will be my home away from home whenever I visit the North.
Bonnie
2016-09-29T00:00:00Z
What can I say? I didn't want to leave! Bess and Christian are fantastic people, responsive, generous, and set the standard for hospitality 'best practices'.
Tim
2015-11-16T00:00:00Z
Bess and christian were amazing hosts for my daughter and I. The cottage house was very clean, quaint, and had all the amenities that I could possibly ask for. My daughter loved the chickens, dogs, and horses that were on their property. Bess and Christian were also kind enough to let me use a highchair out of their own home that they had yet to use for their seven week old. This was very kind and generous. All in all a wonderful experience and I will use them again when I go back!
Adam
2016-05-24T00:00:00Z
Bess and Christian were wonderful hosts, and we thoroughly enjoyed our stay. We found the carriage house quite comfortable and can certainly recommend it to any future travelers who would rather spend their time in the countryside rather than the city. And the fresh eggs in the morning were an added treat which we really appreciated. We would love to return one day.
CRAIG
2016-04-27T00:00:00Z
We had a wonderful few days at the Carriage House. Although we were just an hour from home, it felt like we were a million miles away. The house was perfect for my family of 3, allowing us to hang out together in the open plan living/dining room. The property is filled with awesome things to do: swimming in the lovely pool, picking produce from the garden, hanging out with the free-range chickens, and brushing one of the horses that lives on-site. Since we left we have mostly been talking about when we can go back. :) Thanks Bess and Christian!
Sarah
2016-08-15T00:00:00Z
We had a wonderful time staying at the carriage house and would definitely recommend it. Christian and Bess were very welcoming. They left some local baked goods that were all delicious and very welcome after our long drive to PA. We brought our dog, and he loved being able to run around and see the farm animals. The kitchen was fully stocked with lots of necessities and even farm fresh eggs! The carriage house was very comfortable and we enjoyed using the fireplace and the Nespresso machine especially. The location was also great, and we loved the local towns and history, but also made a day trip to Philadelphia. Thanks for a wonderful experience!
Joelle
2016-10-16T00:00:00Z
Tipo di stanza
Intera casa/apt
---
Tipo di sistemazione
Chalet
---
Può ospitare
8
---
Camere da letto
Perkasie, Pennsylvania, Stati Uniti
Impeccable log cabin nestled on 24 acres in Southern, PA. Cabin comes with fire pit, 2 acre pond for fishing & kayaking , jacuzzi tub, satellite TV, BBQ, & few feet from the PA Chrome Barren Nature Trails.
Whether you want to come and relax and just get away from it all or take advantage of what our area has to offer, we promise you will have a great time at the Cabin. We are nestled in the far southern corner of PA. We are 1 mile from the Maryland Line, 7 miles from the Delaware Line, & smack-dab in the middle of Philly and Baltimore (only an hour to both). Surrounded by the beautiful Brandywine Valley, filled with history and Andrew Wyeth art. 35 minutes to West Chester and 35 minutes to Lancaster. We are surrounded by Chester County Wine Country, local vineyards are only a 10 minute drive away. 10 minutes from Fair Hill Nature Trails and we back up to the PA Chrome Barren Nature Trails.
Oxford, PA is a hidden little gem in Southern Chester County. Oxford is an area rich in farmland with an Amish Presence. Downtown Oxford is a quaint little town with many small family-owned businesses, Great restaurants, and more.
This cabin exceeded expectations. Located about 20 minutes from the Newark, DE train station it is a very accessible location that still provides the feeling of being "far from everything." Matt met us upon arrival with fresh baked cookies, provided recommendations for local sights, and had firewood stacked high. We enjoyed the very clean cabin, large family room, and a kitchen that had every pot, pan, and utensil we needed. Would recommend highly!
Jacqueline
2016-12-11T00:00:00Z
Girls Weekend Getaway.... The cabin is exactly what you see online and much (URL HIDDEN) is rustic in character, very spacious, lots of room to enjoy, a huge firepit out back, and access to the pond. We were a party of 13 women from NJ, MD, & FL so the cabin was a perfect match as far as space and location for us all. Matt and Kelly also left us some yummy desserts as well as a list of things to do nearby to visit during our stay. This was a perfect weekend getaway which all 13 of us really enjoyed in your beautiful huge cabin...thank you!!! Upon arrival to the cabin, the owners were very sweet to leave us some yummy desserts and leave us enough wood to burn both inside and out.
Sandra
2015-11-15T00:00:00Z
We have stayed in many places together, our group has traveled out west, to Alaska... I can say for all of us that your place is now one of our favorites. It was perfect, warm and wonderful. Coming in seeing the Christmas tree and all of the personal touches was just perfect. Thank you for your hiking help also. I just have one question; can we book another weekend in the spring?
Beverly
2016-01-03T00:00:00Z
We had a wonderful weekend visiting with friends at the cabin. Matt was extremely easy to deal with and very accommodating. When we realized there was no blender to make salsa, he brought one over. We were visiting with friends from DC and it was a perfect midpoint destination. The cabin was extremely clean and perfect for our few families to relax and enjoy. The fireplace made for a very nice fall night. We'd definitely come back next year.
Salil
2016-11-06T00:00:00Z
Three generations of our family gathered in this amazing cabin, college age thru 92 years young, plus our labradoodle. The cabin is even prettier than the pictures, and much larger than I realized. We used the fireplace each night, and drank our coffee in the morning looking at the pond. Matt and Kelly were friendly and helpful and very responsive. We can't wait to return!
Robin
2017-02-08T00:00:00Z
The cabin was beautiful, roomy and exactly as described. My friends and I thoroughly enjoyed our stay and hope that we will be able to stay again one day in the future!
Christopher
2016-12-18T00:00:00Z
The hosts, Matt and Kelly, made us feel very welcome! There were beautiful floral arrangements to greet us in both the interior and exterior of the house, and an apple pie from a local bakeshop. We could tell they really cared about our feelings & experience when first coming into the house. The house was very clean and tidy, and looked exactly like the photos. The grounds were extensive and lovely, and parking was a breeze. I highly recommend this location if you need a place to stay with a big group, several couples, or large family.
Kristina
2015-09-21T00:00:00Z
What a lovely cabin! Four large and comfortable bedrooms, a loft area, huge windows and fireplace in the living area, and a spacious and well-equipped kitchen! We couldn't have asked for better for our long weekend 8-person friend reunion. It's also easy driving distance from both DC/Baltimore and NYC. Matt was a perfect host who answered questions quickly and left a binder full of helpful information--and a delicious pie!
Catherine
2016-01-18T00:00:00Z
Tipo di stanza
Intera casa/apt
---
Tipo di sistemazione
Chalet
---
Può ospitare
14
---
Camere da letto
Oxford, Pennsylvania, Stati Uniti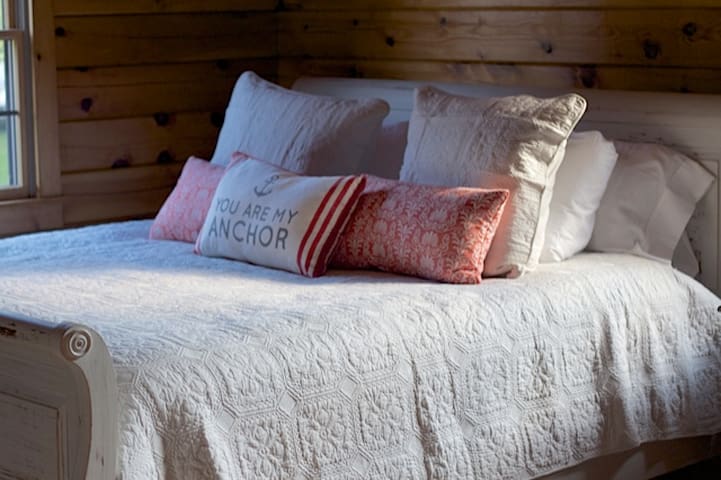 The Lodge at Camp Oak Hill sleeps 28 guests. The two sleeping areas each have 7 bunks (14 beds) and a full bath with 2 showers. The lower level has a fully-stocked kitchen, a full bath, combined dining and gathering areas. Our base price includes 12 guests and free use of WiFi, swimming pool and picnic pavilion. Additional guests pay $30 a night. Children 5 and under stay free. NOTE: Airbnb only calculates up to 16 guests. Groups with more than 16 may pay the balance upon arrival.
The Amish-built Lodge is two floors each with ground level entry. It has two sleeping areas on the upper level.* The 2 sleeping areas are on the upper level and accommodate a total of 28 guests. Each sleeping area includes: • 7 bunks (14 beds) • Bathroom w/two showers, two countertop sinks and two toilets •Baseboard electric heat •Air conditioning (window units) The lower level is a common area and includes: • Full kitchen • Full private bath with tub/shower • Table seating for 28 • Lounge/meeting space • Wood Stove • Electric baseboard heat Free WiFi is available. *BEDDING, TOILETRIES AND TOWELS ARE NOT PROVIDED* We have a few sets of sheets, blankets, and towels if anyone in your party forgets to bring them, but only a very limited number.
Camp Oak Hill is nestled in a quiet valley of beautiful fields and woodland. If you are looking for "a time away," this is the place. Sitting by the stream or outside your lodging under a canopy of stars can still even the busiest mind. The camp sits half a mile down a gravel road shared by a nursery and two horse farms. Camp Oak Hill is both a "quiet getaway" but is also within a scenic 25 minute drive from Lancaster and even closer to many other interesting places to visit. We host many groups that want to stay somewhere away from the busy and high-priced tourist areas but close enough to go there for the day. There is an Amish farm within walking distance that sells fresh produce during spring, summer and early fall. A Wawa, CVS, Wal-mart, grocery store, restaurants and the Herr's Potato Chip Factory as well as both Catholic and Protestant churches are all within 10-15 minutes. These and other nearby attractions and amenities are listed in our guidebook.
Our experience at Camp Oak Hill was beyond amazing. Curt and his wife were really welcoming and hospitable. They provided everything that we needed and were available to answer questions.
Sullybeth
2015-07-26T00:00:00Z
We had a great time at this rustic camp property. Fun times were had playing with pals (young and old) in the pool, fishing in the creek, exploring the grounds, sharing large meals, making s'mores, and sleeping in bunks! We can't wait to go back!
bridget
2014-08-18T00:00:00Z
I came with a group of friends and we had a wonderful stay at Curt and Judy's lodge. It was just what we were looking for - a perfect getaway from the city and we loved having access to a campfire, lots of space to walk around, and great living room and kitchen space. Curt and Judy were very friendly and responsive. We'd definitely go back!
Ashley
2014-10-12T00:00:00Z
Best getaway place for the weekend
Venkateswara Varun
2016-11-06T00:00:00Z
Curt was very helpful with the reservation process and very communicative throughout the camp experience. The camp really transports you back to childhood, and it is perfect for a small group or a large one, like ours.
Justen
2015-05-11T00:00:00Z
Judy and Curt's camp/retreat was perfect for our purposes, and communication was easy and prompt with them. The lodge itself isn't quite brand new, but everything was clean and functional. It was a tad hot and muggy given the time of year and no AC, but luckily there were fans in just about every window so we could keep air circulating. There was a great selection of activities for us while we were there - we played volleyball, swam in the pool, played a little basketball, and grilled out under the pavilion (which was great since it was well lit at night). Kitchen was pretty stocked with equipment as well, so that was easy. All in all, for a no frills weekend that's pretty secluded, but short of actually camping, this was a good fit.
Rick
2014-09-02T00:00:00Z
We had the most wonderful weekend away at beautiful Camp Oak Hill. The space was absolutely perfect for our group of 16, and we had all the amenities to make our weekend spectacular. We enjoyed lounging around the cozy Lodge, taking walks along the gravel road to the neighboring horse farms, walking along the picturesque creek in the cool autumn air, & singing a cappella/making s'mores at night around the spacious fire pit. An idyllic getaway for our DC-based a cappella group; we had the luxury of nearby food stores & reprieve from the noise of the city. The gorgeous property boasts so many opportunities for relaxation-- whether bocce ball on the lawn, card games in the quaint Lodge living room, or just sitting & taking in the peace and serenity of rural Pennsylvania. Our hosts were so responsive to all our questions about where to find great food or places to explore (the Amish Farm Market was one of our favorites). Curt, Judy, & Rebekah ensured that our every need was met promptly and generously. We are so immensely grateful for our experience at Camp Oak Hill, and plans are already being made to return in future seasons, if possible!
Grae
2014-11-10T00:00:00Z
Amazing place! We were 9 person for a house who can have more than 15 I think. There are so many things to do! We were so happy to stay 1 night in this place and you can really stay more time. That's near to Lancaster and to Amish country. Thank you !
Nadège
2015-04-19T00:00:00Z
Tipo di stanza
Intera casa/apt
---
Tipo di sistemazione
Chalet
---
Può ospitare
16
---
Camere da letto
Nottingham, Pennsylvania, Stati Uniti
The beautifully renovated summer kitchen has become the Sunflower Room in the Garden Cottage. Step back in time, while enjoying the comforts of today. Comfy queen bed, a/c and a shared bath. Rate is $125/night - double occupancy.
Common Ground Farm and Retreat is a nonprofit retreat center that serves the needs of all who stay with us. In particular we provide for the needs of our nations veterans through small business opportunities, family support and fresh healthy food. Your recommended minimum donation of $125 per night helps support this important mission. Common Ground is set on a 50-acre farm in the beautiful rolling hills of upper Berks County. You can stay in one of the newly renovated rooms of our guest cottages - giving you a taste of history, while providing the comforts of home. There's plenty to do right on the premises - like hiking our 20 wooded acres, fishing the pond, sitting by the creek or getting your hands dirty in the organic garden. Or you can take in one of the other amazing opportunities nearby. Hike the Appalachian Trail, cycle the back country roads, catch an up-close glimpse of a bald eagle at Hawk Mountain Sanctuary, visit one of the local winery's or artist studios, or experience one of the area folk festivals - all within 20 minutes of the farm. The little village of Kempton is one of the best kept secrets in the area. The fairgrounds are host to everything from auctions to music festivals to an historic train ride - and even the occasional tractor-pull! Did I mention breakfast? Lindy makes some amazing home-made breakfast dishes. They are included with your stay. If you're looking for a beautiful, quiet place to retreat, recuperate, rejuvenate or reconnect, join us at Common Ground Farm and Retreat.
We loved staying at Common Ground. Mike & Lindy were warm and welcoming, it felt like staying with friends. Breakfast was fabulous, shared around a big table with the other guests. The sunflower room was furnished simply and creatively and on the rustic side, just what we like. The bathroom is right outside the door and shared with one other room. We left something behind and Mike was very helpful in getting it back to us.
Rick
2015-10-04T00:00:00Z
Mike & Lindy were outstanding hosts. They accepted my request last minute. I received a very warm welcome and was able to relax right away. It was cozy and a perfect night sleep. Wonderful breakfast with friendly guests and inspiration for experiencing nature in beautiful setting.
The EnChanted
2016-07-09T00:00:00Z
This place was perfect! Mike and Lindy were the absolute sweetest hosts and so accommodating. They greeted up with homemade muffins and coffee and gave us a tour of the grounds. Between the picturesque scenery to the sheep and the dog on their property, their place exceeded our expectations. Our room was cozy and came with rich history. They were able to tell us the story of the 200 year old farm which made our stay even more special. They helped accommodate us in all our activities and in the morning made one of the most delicious breakfasts we've had, consisting of local produce and organic homemade goodies. We are definitely going to be returning to this location for future special events ! Cannot wait to stay with Mike and Lindy again.
Stephanie
2016-02-15T00:00:00Z
Fantastic stay at Lindy and Mike's. The retreat was picturesque, and our hots made sure we had everything we needed. Location is wonderfully situated on a quiet road close to Hawk Mountain and Appalachian Trail. Great breakfast. Can't wait to return!
Brittany
2015-08-02T00:00:00Z
Mike and Lindy were very accomodating and interesting. Our stay was peaceful and relaxing. The tour of the property was fun and filled with history. Great place.
Rene
2016-06-27T00:00:00Z
We had a great time at the Common Ground retreat. Only about an hour and a half from Philly, but a great escape into the countryside. Mike and Lindy were both excellent hosts, friendly but not over-the-top. The communication and responsiveness were great, the room was comfortable (some may find the mattress too soft) and the facilities were clean and orderly. Mike gave great advice on things to do in the area and when my bike popped its chain, he didn't hesitate to lend me one of his. A bonfire at night and a delicious breakfast next morning sealed the deal. Great spot so close to the city, I almost hope it remains under the radar, but Mike and Lindy deserve to have their efforts rewarded.
Roman
2016-09-04T00:00:00Z
A lovely spot for a weekend getaway. Very clean and comfortable quarters (we starred in the Garden Cottage). Several relaxing spots to enjoy on the property. And close to several great hikes in the area. Mike and Lindy were wonderfully attentive and helpful hosts. And breakfast was delicious! Would visit again!
M. J.
2015-05-24T00:00:00Z
My family and I stayed in the Pond Cottage. It was lovely. The bed was very comfortable. Mike and Lindy let the kids set up a tent by the pond. They had a wonderful time exploring the grounds, picking raspberries, and catching fireflies. We also enjoyed playing checkers outside and a game of croquet. Lindy prepared a delicious breakfast, and we enjoyed good conversation before getting on our way. I highly recommend staying at Common Ground. We will surely be back!
Leila
2015-07-04T00:00:00Z
Tipo di stanza
Stanza privata
---
Tipo di sistemazione
Chalet
---
Può ospitare
2
---
Camere da letto
Kempton, Pennsylvania, Stati Uniti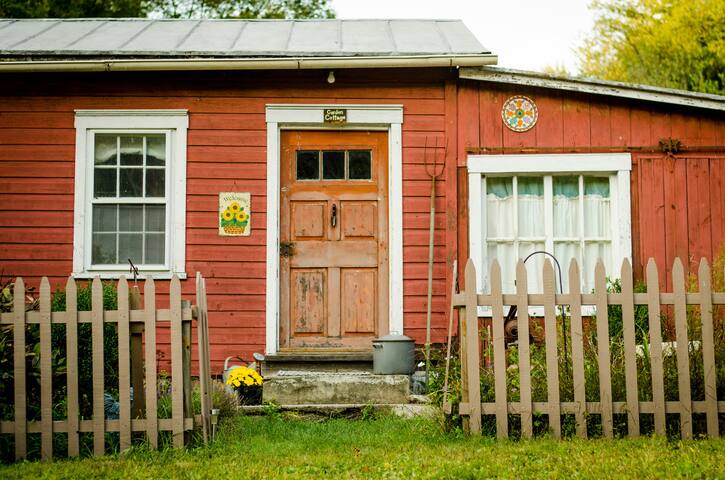 A darling cedar sided cottage with private courtyard, fireplace, kitchen (everything but a stove). The Delaware River is your backyard! Enjoy this one bedroom cottage with spectacular views. New Hope is just a 20 minute drive away....
Stay in an inspected, insured & licensed professional inn. Hospitality is our full time job. Visit bridgetonhouse to see more photos & book online. Rates include a full 3 course, cooked to order, menued breakfast, afternoon tea, cakes, cheeses & sherry. 24/7 access to our stocked butlers pantry
Tipo di stanza
Intera casa/apt
---
Tipo di sistemazione
Chalet
---
Può ospitare
2
---
Camere da letto
Upper Black Eddy, Pennsylvania, Stati Uniti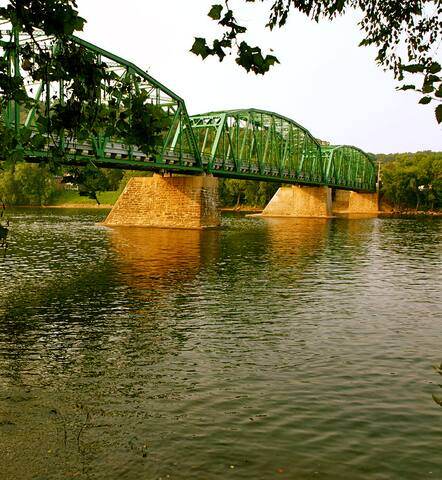 The Pond Cottage at Common Ground is a beautifully restored 100+ year old work shop with exposed posts and beams, comfy queen bed, leather recliner, writing desk and a half bath with composting toilet. Rustically appointed and very homey.
They had everything perfectly laid out: sheets, bathroom, bed, etc. She was also present to provide us with directions to places and stuff.
Shaun
2015-09-06T00:00:00Z
Mike and Lindy exceeded expectations with their property. Their property was on a beautiful piece of land. The hosts are down to earth, and allowed us to bring our English Mastiff along with us for the trip. The only regret is that we wished we had stayed longer! I definitely recommend staying here.
Megan
2016-08-08T00:00:00Z
Awesome place to stay to get away for the weekend. Close to hiking trails and local breweries. Hosts are great and cottages are very comfortable.
Tyler
2017-03-26T00:00:00Z
Staying at the Pond cottage was a lovely get away. Here, you are on a farm surrounded by picturesque forest, hills and pockets of water. The room was comfortable and stayed cozy once the heat kicked in. One of the caretakers even carried over an extra electric heater to make sure we were toasty! The homemade breakfast was kind of incredible and the company great. We took a walk through the land and our dog was in absolute heaven running up and down the mountain and eyeing the sheep. Mike and Lindy were very communicative and said they wouldn't be present but their caretakers were there when we had needs. They even suggested a great farm to table restaurant where we celebrated New Years Eve. We had much more contact with other people on the farm than we first imagined but everyone was incredibly generous and helpful.
Amanda
2017-01-01T00:00:00Z
This place was perfect! Quiet, cozy and beautiful. The hosts were VERY friendly and cooked up a delicious breakfast!
Alejandra
2017-02-12T00:00:00Z
Mike and Lindy are great hosts. We had a very pleasant stay at the pond cottage! Breakfast was great, we felt right at home. They suggested some great activities nearby and we decided to take the hike to pinnacle rock. Beautiful view! Kempton is a great little area and I'm sure we will be back again sometime before the summer ends to check out Leisure Lake.
Amanda
2016-07-05T00:00:00Z
Mike and Lindy have created an amazing space and experience at Common Grounds. Our only regret is not having more time to spend on their beautiful property. Mike greeted us upon our arrival and was flexible as we arrived a couple hours later than planned. Both he and Lindy showed us around the Pond Cottage and the rest of the property, which was breathtakingly beautiful and peaceful had everything we needed. They both offered some great recommendations for dinner as well as apple picking on the way home the following day. Breakfast (prepared by Lindy) was delicious! We loved chatting with the other guess and learning from Mike about the nonprofit aspects of Common Grounds and the ways it is serving the needs of the community. We are so grateful we chose to spend our getaway at Common Grounds and will definitely be back!
jess
2016-10-09T00:00:00Z
The common ground is an incredible place. full of charm and ripe with hospitality, this place is a gem. our cottage was simple and efficient and comfortable and cozy and glorious. the surroundings were filled with peepers at night and red wing blackbirds in the morning. really really beautiful. morning included breakfast complete with homemade granola and wonderful conversation with our host, Mike. all in all, a really lovely experience. thanks!!!
Erica & Leslie
2016-05-15T00:00:00Z
Tipo di stanza
Stanza privata
---
Tipo di sistemazione
Chalet
---
Può ospitare
3
---
Camere da letto
Kempton, Pennsylvania, Stati Uniti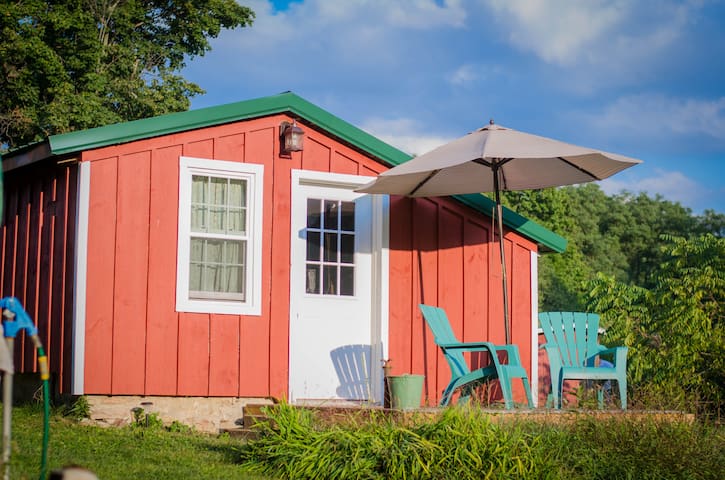 We are a licensed B&B, voted best in the county two years in a row! Lovely English Country inspired cottage within walking distance to downtown Frenchtown. Private patio garden, 80 gallon jacuzzi for 2, seasonal fireplace. Kitchenette with mini fridge, coffee maker, microwave & toaster. Period antiques throughout. Self catering.
Charming English country inspired cottage featuring fine antiques, luxury linens & upscale amenities combined to create a unique, relaxing and private getaway. Children and well behaved dogs may be accommodated. Pet security and pre screening required
Frenchtown is a lovely, small Riverside community along the Delaware. We are a short walk to shopping, dining, bike paths & river sports
We loved our trip to the cottage! Our host was wonderful and was willing to assist us with anything we needed. Would go back again!!!
Tara
2016-10-09T00:00:00Z
Tipo di stanza
Intera casa/apt
---
Tipo di sistemazione
Chalet
---
Può ospitare
2
---
Camere da letto
Frenchtown, New Jersey, Stati Uniti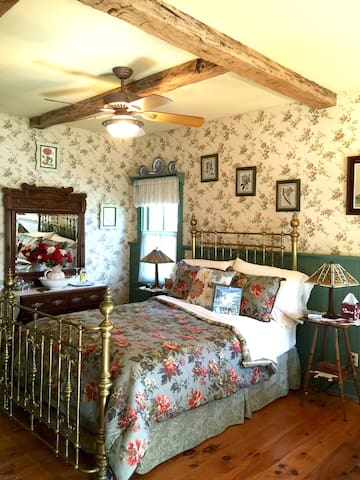 The beautifully renovated outbuilding has become the Rose Room in the Garden Cottage. Step back in time, while enjoying the comforts of today. Comfy queen bed, a/c and a shared bath - and very cool barn door! Rate is $125/night - double occupancy.
I couldn't have picked a better place to get away from the city and spend New Year's Eve than at Common Grounds. We were greeted pleasantly by Mike immediately as we drove onto the farm. That evening, we sat by a bonfire with fascinating company (the hosts and five other guests) and in the morning, we all enjoyed a fresh farmers' breakfast in the main house together. On the grounds, you can visit the sheep, row a boat on a small pond, go for a hike at Hawk Mountain or the nearby section of the Appalachian Trail or just find R&R anywhere in the area. Mike and Lindy are intellectual, caring and philanthropic individuals... you are sure to receive genuine hospitality and interesting conversation from them. I will return in the future.
Anthony
2016-01-01T00:00:00Z
What a wonderful place Mike and Lindy have created here! Room was as advertised, but the whole experience exceeded expectations. Located in a beautiful valley (unless you take the hill top cottage) in a beautiful part of PA. Mike and Lindy are an absolute delight. Hope to be back soon!
Ephraim
2015-09-13T00:00:00Z
We came to Common Grounds for our anniversary weekend and it was ideal. The farm is rustic and located in a beautiful part of Pennsylvania. Spent the afternoons driving around and exploring, hitting up flea markets and eating delicous farm to table meals.
Amy
2016-06-27T00:00:00Z
Great getaway in rural PA with super hosts and a cute cottage. breakfast was wonderful. The nearby town of Hamburg has an annual Hamburger festival that was fun. Nearby Hawk Mountain is a great hike destination. Would recommend this place to anyone
Jayme
2015-09-06T00:00:00Z
Mike and Lindy were very communicative and booking the room was easy. They were very welcoming when we arrived, and as it was on a holiday they had already called around to find out which places nearby were open for dinner. The room was clean and just as described, and I'd recommend it if you need somewhere to stay in the area.
Dan
2016-07-06T00:00:00Z
Everything was lovely. The location was picturesque. We couldn't have asked for a better get away.
Allison
2015-10-11T00:00:00Z
Common ground offers so much! Different types of comfortable rooms, beautiful rural atmosphere with so much to do. We loved exploring Hawk Mountain and Rodale Farms. The breakfast was absolutely delicious. You'll love this place and the sheep.
Jaimie and Mike
2015-11-22T00:00:00Z
Mike and Lindy are absolutely wonderful hosts. Mike came walking out to greet us as we pulled up, tired and very late after being stuck in holiday traffic all afternoon. The room was cozy, clean, and just as pictured. The farm is situated along a beautiful country road but only a few miles from the highway. We enjoyed strolling around the pond for a bit of frog-spotting one evening, and hiking at Hawk Mountain early one morning. Breakfast was fantastic, and the weather was great so it was served out on their beautiful patio. Definitely recommend Common Ground for a peaceful, quiet stay off the beaten path.
Rebecca
2016-05-30T00:00:00Z
Tipo di stanza
Stanza privata
---
Tipo di sistemazione
Chalet
---
Può ospitare
2
---
Camere da letto
Kempton, Pennsylvania, Stati Uniti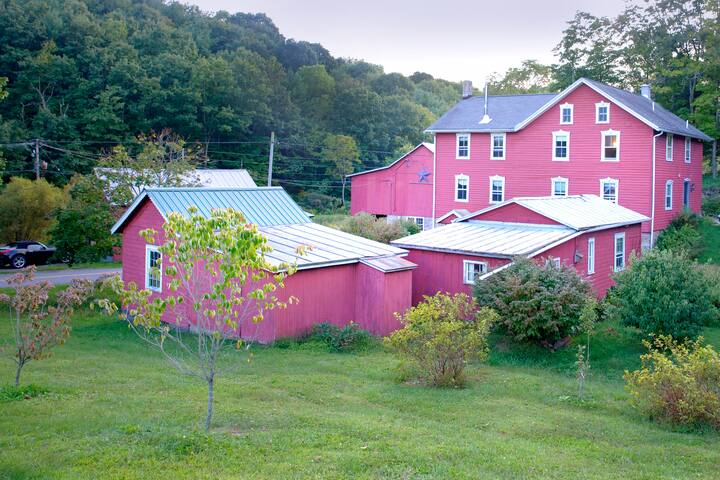 Willow at Camp Oak Hill can accommodate 12 persons in two sleeping areas each with 3 bunks (6 beds) and a bathroom with two showers. Willow also has WiFi, a full kitchen, dining area, lounge and laundry.
Willow is a single-level cabin with heat and window air conditioning. There are two sleeping areas. Each has 6 beds (3 bunks). There is a large open lounge with sofas and chairs and a full kitchen and dining area. The bathroom has two stalls and two showers. **BEDDING IS NOT PROVIDED** We have a few emergency sheets, blankets, and towels if anyone in your party forgets to bring them, but generally we do not provide bedding.
Camp Oak Hill is nestled in a quiet valley on a gravel road lined with horse farms. Sitting by the stream or outside your lodging under a canopy of stars can still even the busiest mind. The camp sits half a mile down a gravel road, which is shared by a few beautiful homes, a nursery, and two horse farms. If you are looking for "a time away," this is the place. You will likely hear nothing except the trickling of the stream and the bull frogs at night. There are Amish close by who sell fresh produce during spring, summer, and early fall. A Wawa, CVS, Wal-mart, grocery store, Nottingham Inn restaurant, and the Herr Potato Chip Factory are all 10-15 minutes away. We are about a 40 minute drive from Lancaster City and all of the most popular tourist attractions including outlet stores. Nearby attractions and amenities are listed in our guidebook.
Great for groups, cabin had everything we needed and more. Would highly recommend to a friend.
Jeffrey
2017-03-12T00:00:00Z
Curt and Judy were nothing but kind and accommodating to our every need. The Willow was clean, spacious, and perfect for our large group. Everything about Camp Oak Hill was serene and peaceful. I would recommend this area to anyone looking to just get away. These hosts go above and beyond to make your stay absolutely amazing. The communication beforehand was quick and timely. Curt helped us to plan the best visit to Philly to see the pope! Without him and his family, it couldn't have happened. We hope to to come back again someday soon.
Catherine
2015-09-29T00:00:00Z
Tipo di stanza
Intera casa/apt
---
Tipo di sistemazione
Chalet
---
Può ospitare
12
---
Camere da letto
Nottingham, Pennsylvania, Stati Uniti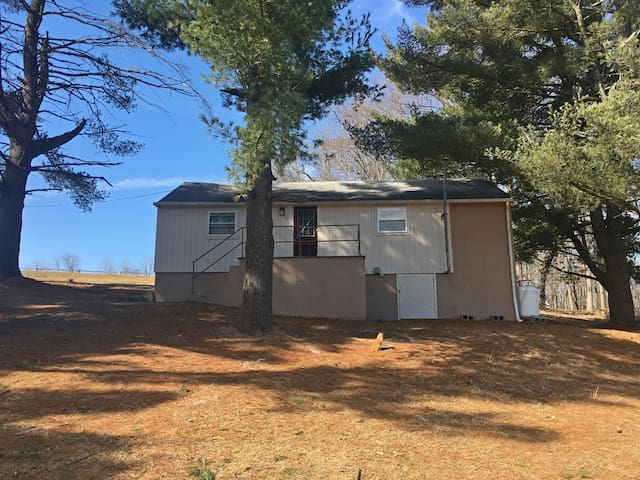 1

–

13

di

13 Chalet in Affitto
Inserisci le date per visualizzare il prezzo totale. Ci sono dei costi aggiuntivi e potrebbero venire applicate alcune tasse.