Inserisci le date per visualizzare il prezzo totale. Ci sono dei costi aggiuntivi e potrebbero venire applicate alcune tasse.
8 Chalet in Affitto
· Southlake
8 Chalet in Affitto
· Southlake
My cabin is a hidden gem in Parkdale/Urbandale, a neighborhood only 10 minutes from downtown and filled with unique architecture, old trees, and multicultural flavor. Made from hand-planed cedar, the cabin has a wonderful smell and unique aesthetic. It feels like a woodcutter's home deep in the woods, but sits safely in my backyard. The DART Rail is nearby (Lawnview Station) and I have bicycles you can use. Covered parking onsite is removed from the road and secure. Come build a bonfire!
As a guest in the cabin, you can build a bonfire in the pit, relax in the big tent, play in the yard, use the kitchen in the house, or join us for dinner. Enjoy! You're welcome to ask me for recommendations or socialize if you'd like. The cabin sits in the yard of a compound known as The Urban Cloud, which is home to both me (the house) and a life-long friend (the loft apartment). You can have all the privacy or social interaction you'd like!
We absolutely loved the cabin and our stay. Still can't believe it is in the middle of the city! Grady was very responsive and hospitable. The cabin was exactly what we were looking for and so much more. We enjoyed the books, tea, and so many little things that made us feel instantly intrigued and comfortable. Will be staying here again when in Dallas.
Lindsey
January 2017
I have stayed in the sweet cabin on the hill numerous times over the past months. Grady is such a gracious host. Check in is a breeze. The cabin is in the kind of neighborhood with winding streets, houses on hills and tall trees that filter the light... close to downtown, deep Elm, the arboretum and fair park. Well stocked with bottled water, a selection of teas for brewing, coffee, a few assorted libations in the fridge. Microwave is available and there is a fire extinguisher close by with safety in mind. Fun "tree themed" decor... (including books) twinkling lights at night on the wood front porch with a soft wind chime and chair perfect for reading (or for me...watching it rain). There is also an outdoor fire pit your use if you choose. Shower only, but I haven't run out of hot water once!! Remote controlled heating/cooling unit. Wifi available, Comfy bed with lots of pillows, soft rug on wood floors, ceiling fan...small but very cozy...perfect for 1 or a couple....I'll be back! Thanks Grady! I love the cabin!
April
February 2017
I've traveled around the country staying at Airbnb's and have run many of my own. Grady's space is a truly special local that you won't find replicated elsewhere. It's just as nice as it looks, and has great access to Dallas. The cabin is well equipped, and the host is a good guy. Great value pick for a private listing. Pick this space!
Cody & Katie
February 2017
Grady's place so cozy and quaint! He had all the amenities we needed for a weekend getaway!
Nikki
February 2017
Grady is very nice and welcoming with a beautiful property with great features - fire pit and tent for lounging. For us, the best thing was the fact that his place is pet friendly and the backyard is perfect for letting your dog run around. Check-in was very easy and convienent for arriving at any time. The cabin is small, but a perfect size for one or two people willing to share a bed. Very unique place. If we ever return to the area, we will for sure be returning to Grady's cabin.
Brooke
January 2017
A great place hidden in Dallas! It's the coziest cabin with all the comforts you need. An easy lyft ride to all the major places. Enjoyed it greatly! And Grady is an amazing host!
Savanah
January 2017
Grady went above and beyond. We loved staying in the cabin. It was very cute and perfect for everything we needed. Oh! And the next morning Grady gave us an entire tour of his amazing house. 12/10 would stay again. And honestly we just want to be best friends with the dude.
Cristian
February 2017
Tipo di stanza
Intera casa/apt
---
Tipo di sistemazione
Chalet
---
Può ospitare
2
---
Camere da letto
1
Southeast Dallas, Dallas
A 3 story getaway with views into Northshore Club, a gated nature preserve adjacent to Murrell Park, with numerous walking trails. Abundant wild birds and wildlife around. Due to local ordinances, bookings are restricted.
Situated in Flower Mound, Texas, with private access to Murrell Park and Lake Grapevine, a one bedroom loft cabin. Without question, one of the greatest kept secrets in the metroplex. Full access to the residence. Limited access to the remainder of the property *(trails and the like). The property has other cabins, which are private. Please do not disturb the owners/tenants. If there are any questions or concerns, please don't hesitate to ask us. We're here to help.
Located just outside Dallas, and near many restaurants and eateries, as well as numerous hiking trails and the lake... not to mention being surrounded by nature. Right off 2499 and Round Grove. Access to the airport within minutes *(roughly 10). Nearby shopping and cute eateries. Expect to see wildlife, including deer, bobcats and wild birds. Please drive slowly and follow all property signs for your safety and the safety of others. You are staying in a nature preserve and we prefer to minimize impact as best as possible. Therefore, NO SMOKING ON THE PROPERTY.
Brad was very accommodating to me and my family. We were in between homes in Flower Mound and we are so lucky to have found the Wooded Southwestern Getaway! The location was just amazing, with great amenities and close to Grapevine lake. We had plenty to do in our recreational time. Brad was always quick to respond when I had questions and made us feel so welcome during our extended stay. We totally recommend this home for a true getaway!
Mary
September 2016
Brads instructions were clear. The house is definitely a gem on the lake. Our stay was short but sweet.
Jitendra
August 2016
This place was amazing! It has everything you need if you want to cook your own meals, from the spices to the utensils. We came during the middle of the summer so the house was a bit warm during the day but cooled down during the evening. There's no WiFi and the cell phone signal isn't great so don't plan on working out here. Brad was very helpful to all of our needs. We plan to come back during the winter when it's much cooler.
Jon
August 2016
It's an amazing house located in a natural area. Brad and Mia are so nice and welcoming! I will definitely choose this house again!
Yizhen
February 2016
Brad's home is exactly what was described in the listing...a great getaway, clean, and very cozy! He was incredibly responsive when I reached out to him!
Courtney
September 2016
This cottage is a unique and peaceful rural experience right near the convenience of town and the DFW airport. Brad was a great communicator and made me feel welcome.
Adam
April 2016
What a beautiful little slice of Heaven! I can't believe this exists in the middle of Flower Mound. The home was secluded and peaceful and Brad was a wonderful host who answered every question almost immediately. Can't wait to visit again!
April
May 2016
Beautiful home! Very clean and feels like home away from home. Had a pleasurable stay and the scenery around the house was very nice. Definitely recommend.
Dinara
April 2016
Tipo di stanza
Intera casa/apt
---
Tipo di sistemazione
Chalet
---
Può ospitare
2
---
Camere da letto
1
Flower Mound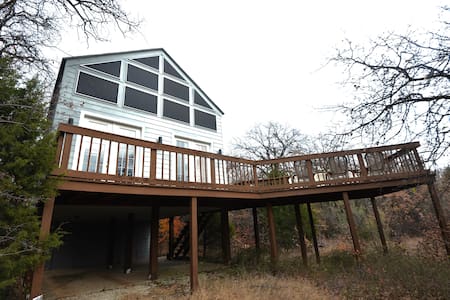 Our guest house is the perfect getaway for you and your family/friends. Located on over 3ac of quiet land, this little house is perfect for a quick weekend, or an extended stay. With a full kitchen and accommodations for 5+ people (including the loft space above), this little house can accommodate your whole family, pets included. This house is surrounded by mature trees, & convenient to anything you could possibly need, while feeling completely removed from the city. A breath of fresh air!
Kitchy, quirky, and comfy. I am happy to accommodate any and every one. If you have a special request ahead of time, just let me know :) The cottage is decorated with USA and dog themed items for the most part. We hope everyone who stays can find a little happy while here. You have access to 3+ac of our property, provided you leave everything as or better than you found it. Across the railroad tracks and small creek behind our property, you can access a nature preserve and miles of lovely trails to explore. A few nights during the week I also teach dog agility training classes on a field on the property, far enough removed from the guest house to not bother you I promise :) The agility field is the only part of our property that is off limits, unless we discuss it ahead of time. If you want to bring a pet, I am happy to provide you with accommodations for your pet(s) while you are away, either by bringing a crate or crates to the guest house or allowing you to use some of mine in the main house. This little cottage is my guest house. My husband and I, and our dogs, live on the same 3ac tract. I am happy to let you use my washer/dryer, as long as I am here, as I am often travelling. I will be happy to let you either just enter and exit the house on your own, or have someone at the door to greet you when you arrive, whatever you prefer. I am happy to interact or not, to whatever degree makes your stay the most enjoyable.
Our property is really not in a neighbourhood at all. The Post Office forgets to deliver our mail for weeks at a time on occasion, the FedEx drivers call all the time, and most people get lost the first time they come here. But we love the anonymity, and the fact that we feel like we're in the country but we are convenient to everything. You'll need a car, or an account with Uber to get around. We are not near public transit that I know of. I have a dog boutique in the main house. If you have a dog or dogs and are interested in natural treats, food, toys, or apparel, I am happy to show you around the shoppe :)
Tipo di stanza
Intera casa/apt
---
Tipo di sistemazione
Chalet
---
Può ospitare
5
---
Camere da letto
2
Plano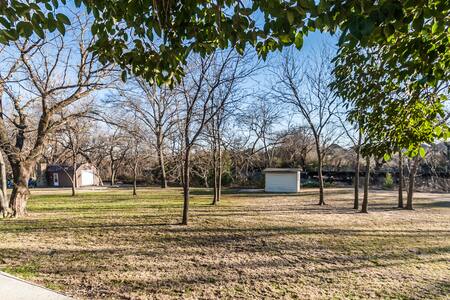 Connected Guest house . Off the beaten path on 5 acres located. 30 minutes from downtown Dallas and Ft. Worth. Warm feeling of a log cabin w/a queen bed. On request we also have a nice queen airbed with sheets for kids or adults for the total of 4
The minute you walk through the door it takes you back into the old log cabin days giving you that retro feel. Comes with its very own outhouse door. LOL With all the modern conveniences of course. Privacy and safety of a gated community. Their is covered parking just steps from your door. We are located on a beautiful 15 acres. Some of it is wooded, great for walks, bike rides on the country roads or just casually sitting around enjoying the gentle Texas breeze. We have a beautiful covered porch located on the rear of the main house, and comfy patio furniture and a barbecue grill if needed. There is a good size pool with hottub & grotto. It's all part of the common areas for our family & guests. We love having new guests. We're very outgoing people persons, and love to meet new people. It gives us great satisfaction to be able to offer this to people that are looking for a secluded comfortable quiet spot. We work from home. We always love interacting with our guest. but we also respect their privacy of our guests as well.
Quiet rural area surrounded by wheat, corn fields , wooded areas. We are 2 miles from Big League of Dreams, Hawaiian falls waterpark. About 10 minutes from Mansfield for dinning, shopping and entertainment. It's just 10 minutes up the road from restaurants, movies and shopping. Quiet rural area surrounded by wheat, corn fields , wooded areas. We are 2 miles from Big League of Dreams, Hawaiian falls waterpark. About 10 minutes from Mansfield for dinning, shopping and entertainment. Grocery stores there's a Kroger on 360 and Broad Street there's a Tom Thomb on 287 & Walnut Creek Walmart is on walnut creek south of 287
Eric & Dawn were friendly and welcoming. The cabin itself was tastefully decorated and clean. I cannot emphasize how clean it was. I'm a freak when it comes to cleanliness. It has the comforts of home; a fridge, microwave, TV, and the bed was most comfortable. If the Discovery channel was included in the cable, I'd have given this an A+++ rating. For that reason, I give this cozy cabin an A+. I highly recommend this place.
Cherie
March 2016
Eric & Dawn and their family made us feel very welcome, they showed us true Texas hospitality, while perfectly respecting our privacy. The cabin is beautifully located and has everything we needed, including a very convenient carport. We were very comfortable and would stay here again. A+!
Jaap
May 2015
We had such a wonderful time staying with Eric and Dawn! Check in was a breeze and they were super accommodating about the timing. The cabin was very well kept and stocked with snacks and toiletries. They also had a closet with extra sheets and a first aid kit- you will have everything you need here! The cabin is far enough from the city that you can escape the noises of traffic but still close enough that shops and the movie theater are ten minutes away. Their dogs were also very friendly and made sure to help guard the place at night too, making us feel very safe. We were also able to check out anytime we wanted to on the day that we were leaving which was so helpful since my flight was late at night. I definitely, highly recommend Eric and Dawn's cabin- they could not have provided a better experience for us! Thank you!
Vivian
February 2016
The cabin was a perfect place for my husband, myself, and our 2 boys. It was modern, perfectly decorated with a twist of humor. Clean, safe, and welcoming. The boys loved that they had snacks for us and they could head outside for some adventure. They had a great time with the puppys and checking out the chickens. Best of all they could get some energy out on the trampoline. The hosts were great, we arrived late and Eric was there to greet us. They were easy going and fun to talk to. This was our 1st time using Airbnb. We will definitely go back and I can only hope that when we use Airbnb elsewhere in the future we will have this great of an experience.
Elaine
March 2016
This is my second stay at Eric and Dawn's extremely cute little ranch cabin. I had to make an emergency trip to Dallas for family reasons and I knew if there was a chance the cabin wasn't already booked, I wanted to stay there. I felt comfortable, safe, and welcome, and knew if I needed something they would help me. They took me last minute, I arrived super late. No problems with them warm and welcoming. Best place and people ever!
Elaine
October 2016
Eric and Dawn were fantastic! Friendly and welcoming. As well as the dogs. We loved the location and the cabin. The cabin was clean and had everything we needed. There were snacks and a Keurig with K cups. Also, the pool is amazing! We had great time while staying with Eric and Dawn even though we had to leave unexpectedly due to an emergency at home. Cant wait to see the upgrades next time we are in town!!!
Myra
September 2016
We absolutely loved our stay at the cabin. Our trip was everything I could imagine and more. Eric and Dawn truly know how to make you feel welcomed. I would highly recommend them. Thanks for making our mini vaca the best ever!!!
ashley
February 2016
Visited private cozy cabin for my birthday weekend. This lovely cabin is just as described and then some. Clean, stocked with everything you need to feel right at home and the best part is how wonderful Eric and Dawn are as hosts. You can tell that they genuinely enjoy meeting and hosting guests. The property and the community is beautiful. Eric aired up the bikes for us and we were able to take these great scenic rides through the community. They rolled the grill out for us to use. There is also a microwave and convection oven in the cabin so we cooked every day. There is a Roku on the television so I was able to binge on my favorite Netflix series. The bed sleeps very well - very comfortable. The sofa is adorable and also comfortable. The whole place is decorated perfectly and not 'overdone'. The covered parking and the flexible check in and check out time are also a plus. This is my first time using Airbnb. I got just what I wanted for my birthday - a quiet, relaxing weekend. The cabin was just perfect and I will definitely stay again. Thank you Eric and Dawn!!
Regina
March 2016
Tipo di stanza
Intera casa/apt
---
Tipo di sistemazione
Chalet
---
Può ospitare
4
---
Camere da letto
0
Venus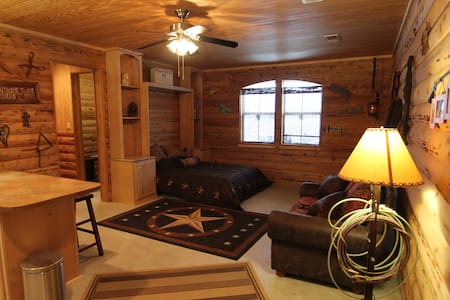 Beautiful Country Setting!
Gorgeous, custom, hand-built cottage tucked in the woods on a private 30 acre horse farm right in the middle of Horse Country USA. The Cottage is most suitable and comfortable for 1 to 4 adults. The Cottage is not suitable for very young children. Older, well behaved children are welcome. BonTerra Farm is listed on the National Register of Historic Places for a pottery kiln (Roark-Griffith kiln) in operation from mid 1800s to 1904. The farm is just 9 miles east of Denton, Tx. and 45 minutes north of downtown Dallas. We raise Irish Sport horses on the farm and have 2 large, friendly dogs. There are 2 beds, one full size bed in a separate room with doors and one queen size bed set off from the living area (no doors). 2 half baths with shower between. QPremium cotton, high thread count linens, a choice of down or alternative pillows, 100% cotton towels and fresh ground dark roast coffee, creamer, chocolates are always available. Delicious cinnamon rolls, oranges and fresh apples are included. Occasionally, farm fresh eggs are available if you let me know in advance. As an option, for a nominal fee, I would be happy to shop for a specific list to stock in the cottage for your arrival. Also available are iron/board, hair dryer and 'I Forgot' baskets with various sundries. The kitchen is nicely equipped with full size fridge, stove top (NO OVEN), microwave, blender, coffee maker, kettle and toaster. Plates, glassware, utensils and pots and pans are included. The living area has a cozy vent-less fireplace and concealed flat screen tv, dvd player, cd player and eclectic collection of music & movies. A lovely screened porch looks out into the woods and nearby creek. The 2 sets of french doors can be opened to expand the living space and enjoy the wonderful sounds of nature. There is a fire pit with plenty of firewood and a charcoal grill (bring charcoal). The farm is very wooded and secluded with a creek that runs through the length of the property. There is an abundance of bird and wildlife to enjoy as well as peace and quiet. Our dogs, Sam and Buckshot, handle our guests with grace and reserve, but in the interest of their comfort and well being as well as the horses', we cannot accept dogs or other pets. Thank you for respecting our policy. Since we are close to the UNT and TWU campuses, the Cottage is perfect for visiting professors or parents who prefer a more personal alternative to hotel accommodations. Romantic retreats, girls' or guys' get-togethers, de-stress escapes (mani/pedis, facials and massages can be arranged close by), base camp for adventures in hiking, biking, treasure hunting, exploring new places, restaurants and just plain getting away are all excellent reasons for booking a stay at The Cottage. This is a private, beautiful, quiet place in the country yet not far from the hip cultural events & eateries in Denton or urban bustle of Dallas, Plano, Frisco & Lewisville. Restaurants very nearby: The Prairie House: BBQ, home cooking, steaks Villa Grande: Mexican Mom's On Main: Home cooking Palio's: Gourmet Pizza & BYOB A Super Walmart & CVS - 1 mile PLEASE let us know if you are looking for more dining options or activities. We want to make your experience with us exceptional! Denton, 9 miles away, offers many choices for entertainment and food. UNT football, graduation and events. The Texas Greenbelt, with miles of hiking trails, riding trails and canoeing on the Trinity river. Several Polo clubs in the area with tailgating and special charity events during fall and early summer. Bruce and I love welcoming our guests to The Cottage and enjoy getting to know each one. We look forward to the chance to visit with you during your stay. However, if your plan is to settle in and enjoy solitude, we are perfectly good with that too.
I have recommended the cottage to everyone since we returned! We stayed here for two nights after our wedding. The pictures don't do this place justice. It is an absolute fairytale. There was no detail spared. Tim and I arrived and enjoyed homemade bread and fresh orange juice Dorian left for us. We enjoyed the cozy fire and every charming detail of the cottage. We watched the horses graze off of the screened in porch, watched cardinals and listened to the birds sing, listened to thunder rolling and woodpeckers. We watched the sun set from the deck of the horse barn. Dorian even set up a fire for us to enjoy on our last evening. Absolute perfect place to get away, rest and unplug for a while. I cannot recommend this place enough to friends and family. I wish Dorian and Bruce the absolute best and cannot wait for our next visit!
Casey
April 2014
My mom, daughter and I stayed in the cottage for a three day, two night girls getaway. Dorian is so welcoming and the cottage is just darling! Such attention to detail! The farm fresh eggs, cinnamon rolls, scones and coffee were perfect. We loved sitting on the screened in porch in the mornings with our coffee watching the birds in the trees. A delightful, well-appointed little getaway....thank you for sharing your beautiful cottage with us! We loved every moment!
Amy
July 2016
We had our wedding at BonTerra Farm, and it was an incredible experience! From having the bridal portraits taken there with the horses, to the bridesmaids getting ready together in the cottage, to the beautiful sunset ceremony - the entire property is magical. Thank you for sharing your farm with us, it was part of many happy memories!
Catherine
October 2016
Dorian and Bruce are gracious hosts that will be hands on or hands off as you would like them to be.
Mary
August 2016
The host was very friendly and provided information on places to eat in the area. The place is as advertised and very nice and quiet. This was all nice. We drove 7 hours home and when I did get home I had received a email from the host accusing me and my family of putting a crack in the shower floor and not reporting it to her and driving on the corner of the muddy landscape with our vehicles. Instead of calling us and asking us about these the host accused me of hiding this from them. First of all, my wife saw the crack in the shower when she took her first shower and there were other vehicles parked where the tracks in the mud were found. We DID not drive in that area at all but we were accused of doing this. I'm not sure what we were supposed to do...video everything when we get there? This was my first time of using Airbnb and my last. No more.
Rodney
August 2016
We felt very welcomed. Our flight got in quite late so once we got to The Cottage it was about 9:30pm. Dorian was very gracious, took her time to show us around and answered all our questions. We were provided with ground coffee, cream, chocolates, apples and delicious cinnamon rolls, we were set! The beds were comfortable, enjoyed the shower, lots of thick, fluffy towels and a screened in porch that kept us very cool at night. The horses came over to check us out every day and the dogs were sweet. The only critters that made it inside were a couple of crickets and they seemed to only show up at night and didn't chirp. Enjoyed the birds in the mornings, especially the cardinals! Highly recommend The Cottage!
DIane
June 2016
The Cottage was fabulous! It was cozy, warm, and perfect for our girls getaway weekend! Dorian and Bruce were great hosts and we had a wonderful time! Such a great spot!
Kelli
January 2015
Welcomed by twinkling lights in a tranquil setting, we were greeted by Dorian and Bruce and their friendly dogs. The contagious and optimistic personalities of our hosts embraced our wonderful stay with genuine warmth and happiness. The uniquely decorated cottage filled with reclaimed wood, historic pottery shards and equestrian accessories spurred our creativity for a bucolic retreat. Our time on the screened in porch offered us the opportunity to absorb the beautiful sights and sounds of nature. The Luna Sisters (four sisters-in-law) highly recommend The Cottage at Bon Terra Farm for any type of relaxing and enjoyable getaway and we hope to return again!
Harry and Jane
May 2015
Tipo di stanza
Intera casa/apt
---
Tipo di sistemazione
Chalet
---
Può ospitare
4
---
Camere da letto
2
Aubrey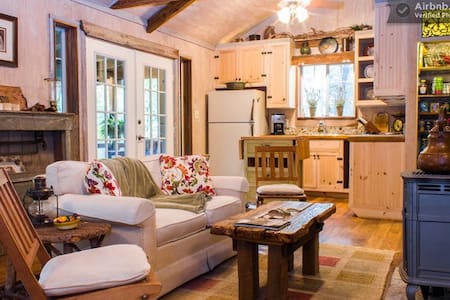 Guests remark "I wish I had a place like this of my own." Well,while you're staying at the Cabin, it is ALL YOUR OWN. Breakfast foods provideSecluded. Perfect for Fishermen (4 security cameras), couple getaways, parties, Wedding Venue, honeymoons, extended stay, overnight guests from Marina (9mi.) and Lake 2mi. away. Everything imaginable provided-no need to pack. Surprise your loved one with a night of romance. Come hungry, a Welcome Platter prepared just for you is awaiting your arrival.
Nestled on a family farm, secure A-Frame Cabin ran by Red Carpet Specialists. Make use of the plush robes, & luxury bedding & fluffy towels. Bright open living room w/fireplace, 2 Adjustable XL Twin Beds, fireplace, pull out sofa & swivel chair to relax watching 42" TV w/premium satellite channels. Beautiful spiral staircase winds up to romantic loft master bedroom w/desk to gather your thoughts that overlooks wooded pasture. Modern fully equipped Kitchen for the gourmet cook w/all cooking essentials, service for 12+, free coffee, snacks, drinks, OJ w/table for two. Large bathroom, tub-shower combo, mineral salts & oils to soak in.Washer-dryer combo for extended stay guests. Sm downstairs XL twin size bedroom. No need to ask do you have...? Yes, we do! The entire cabin is yours with a porch and deck to sit out on listening to the coyotes howling and birds calling. There is a large fenced yard and wooded pasture to roam around day and night. Fire pit to sit around and roast hot dogs or grill steaks, etc. A charcoal BBQ grill or an electric BBQ is available for grilling. All the grilling utensils, charcoal, wood, lighting fluid, EVERYTHING is there for the Guests to use. Guest can come and go as they please at all hours day or night. At Guests' request, the motion detected monitored security cameras will be turned on to watch over Guests' personal property, including their boats and vehicles, so the Guests can have a worry-free night's sleep. Most of the time we know you've arrived when the two miniature donkeys, Wally and Beaver start braying! Just in case they are down in the pasture, we ask our Guests to call us so we can meet them with a Welcome Platter uniquely prepared just for them. The Cabin is set up differently for each guest. Therefore, we like show our Guests around, give them their individual access code to the keyless entry door and then, unless you need something, or anything, you will not know the Homeowner is next door behind the privacy fence, only a phone call away. Most of our Guests rent the Cabin with the desire to be left alone in their new found private, secluded hideaway. Returning Guests, which most of our Guests are, never have to see the Homeowner again. After all, the Cabin has become their home away from home to enjoy by themselves or to invite their friends over for an afternoon or evening together. We're available most of the time should you need errands run.
We are right in the middle of horse country USA surrounded by some of the world's most prestigious horse ranches. 2 mi. from Lake Ray Roberts Isle du Bois State Park known for one of the best bass fishing lakes in Texas, swimming beach, no fishing license needed w/entry to park. 1 mi. to Sharkarosa Wildlife Park to see the animals or eat pizza with the bears at the Bears Den. Pope Heritage Farm and Texas Tulips are located less than 7 mi. away. Historical Downtown Pilot Point is 3 miles north for antique shopping, see the Bank that Bonnie & Clyde robbed during the making of the movie Bonnie and Clyde. Tour & Tasting at Western Son Distillery and then stop by Magnolia Station, Pedro's Tex-Mex, or Nick's Italian Restaurant for a bite to eat right off the square in Pilot Point. Mom's on Main in Aubrey has the best home cooked meals. Denton is only 18 mi. SW. Denton is home to the Denton County Fair, art festivals, and the eclectic night life. Let us hook you up with horseback riding, guided fishing trips, or Jet Ski Rentals. Lake Ray Roberts Marina, RV Park and Elks Lodge is 9 mi. west on FM 455. We are in the Country so you'll need a vehicle unless you like to hike. Less than one mile away is a convenience store, Mexican restaurant, and right between the towns of Pilot Point and Aubrey, TX where there are numerous places to eat, shop, and play. Denton, TX, home of UNT and TWU is less than 18 miles to the southwest. Denton is home to the Denton County Fair, Jazz and Arts Festivals, shopping, water parks, and North Texas Greenbelt. Less than 30 minutes to Texas Speedway and Winstar Casino. Convenient to Dallas and Fort Worth. Executive travelers say "we'll never stay at another hotel/motel again." This place is awesome! No bedbugs and sheets are always washed fresh. Great for family vacations. Perfect for the couple wanting a place to wed that won't break the bank. We'll do what we can to stay within your budget. Kids love to interact with the miniature donkeys and retired racehorse. Kids under the age of 10 stay free so, when making the reservation only reserve it for those over 10 years old. The Cabin sleeps up to seven comfortably. If requested, two raised, pillow top queen and two twin air mattresses are available for additional guests over seven. Some large groups even pitch tents in the secure yard. Homeowner has a two tent. Ask about our discounts when making the reservation. Pets are welcome. Guests are not to wash any of the bed linens or towels. The washer - dryer combo is just for Guests to wash small loads of clothes if needed.We do not charge a cleaning fee so we ask our Guests to leave the Cabin as you found it, including cleaning the grills.
A group of friends and i went to stay here for my 24th birthday weekend. Could not have pick a more beautiful location to spend it. The inside is just as lovely as the out side. The animals were such a great touch. This is hands down the best air bnb host/home I have stayed at.
Lucia
February 2017
We were welcomed upon arrival with a platter full of snacks and a thorough walk through of the cabin. Our family of four were very comfortable and plenty of space to spread out. It was a hot summer day and A/C worked great! Beds were comfortable. Kitchen has anything and everything you need as well as bath needs. Large closet to hold suitcases to get them out of the way. Even had snacks to feed horse and donkeys. Parked our boat right in front to visit a beautiful lake with swimming beach is right down the road. Enjoyed porch sitting and wine in the evening. Our only regret was only booking one night!
Crystal
July 2016
I was attending a dog show and needed a place that accepted well trained and socialized pets. The Slye Ranch Cabin not only accepted dogs but they offered a fenced yard which allowed my boys to run and play to shake the travel kinks out. Everything was wonderful.
Elaine
September 2016
Lynn was an excellent host! She met us upon our arrival and gave us a walkthrough of the cabin. She literally has everything you could need!! She had a beautiful welcome platter of snacks, a bottle of wine, a fully stocked fridge/freezer/pantry, and all the toiletries you could need (we forgot shampoo so it was helpful to have it there!). The beds were very comfy, and the linens were great. The cabin is located close to major roads and just a short drive to a beautiful state park. Sitting on the front porch is a highlight - it's a beautiful property with friendly animals and a relaxing atmosphere. We especially appreciated her list of recommended restaurants and other activities in the area. She was available to us anytime but still gave us privacy during our stay. We will definitely be back!!
Lindsey
September 2016
Our stay at the Slye ranch cabin was perfect. Lynn had a bottle of wine and a cheese board waiting for us when we checked in. Everything you need is in the cabin it very well stocked. The rescue race horse, Rex , along with the two miniature donkeys were very entertaining and we enjoyed feeding them with treats the owner provided. The outdoor sitting area around the fire pit was really nice. We sat out in the early morning and watched the cardinals and hummingbirds. The beds were very comfortable. We have already rebooked.
tommy
April 2016
It was great! It was even a little more spacious on the inside than the photos depicted. We really enjoyed using the bonfire and having smores, and everything was already there for it!
Claire
December 2016
My wife and I had such a great time at the Slye Ranch cabin. Lynn was an excellent host and went out of her way to make sure that we had everything we needed for an enjoyable stay. The cabin was very cozy and well cared for, and I would highly recommend others considering staying there as I know my wife and I would love to stay there again.
Daniel
August 2016
Our stay was amazing. The owners have any and everything you could think of. They are very accommodating and easy to reach. There is a gorgeous friendly horse on the property and a couple of donkeys. After setting up the reservation, we found that there was a misunderstand and our expected nightly rate would be higher. The owners handled this situation quickly and we were able to come to an agreement. I was pleased to know I was dealing with good reasonable people. Also, it's far out in the country, so noise level is not as big of a concern. I could say so much more, but I Honestly feel the best way to understand this amazing experience is for you to experience it on your own. My plans are to return back soon.
Savvy
April 2016
Tipo di stanza
Intera casa/apt
---
Tipo di sistemazione
Chalet
---
Può ospitare
8
---
Camere da letto
2
Pilot Point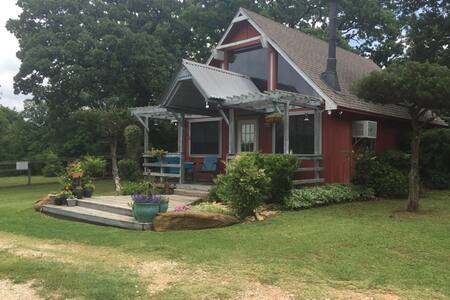 Country living! Animals on property, 52inchTVbalconyNew washer/dryer, stove,stocked Fridge,New Ikea mattress,Bamboo flooring,pedal stool sink, professional bbq Pit, and outside seats forromanticweekend just a stone throw away from down town Celina.
Sits in the corner of 9 acres surrounded by acreage. Recently updated through out including Bamboo flooring and Ikea furniture brings modern amenities to a rural area. Friendly animals on pproperty. Welome to explore any parts of the land and home. Key is in lock box inside fence on right.call for instructions .
Stars all around in rural setting. However, your only quarter mile from downtown Celina(historic meets modern) and a very short hop(5 minutes) to Frisco(check out shops of Legacy for night life) on a new two lane road. Also, there is Dallas pkwy toll that will lead you to Down town Dallas in 20 minutes. You will need a vehicle to get there, But thats all part of the fun! Home is up on a hill and it is closest to Mile 99 and business 289. Please call me for more detailed directions.
What a great time I've had with Danny and his family. Good honest people. Quick to lend a hand and always available to answer questions. Love the views and quiet setting. If your an outdoor and animal lover and want to peaceful getaway, look no further!!
Drew
September 2015
Dany is a great communicator and wonderful host. Responds quickly to requests and always goes above and beyond. Quiet and peaceful is how I describe this simple oasis.
Drew
October 2015
Danny is very kind and helpful. He made me fell at home. Totally recommend the stay.
Juliana
May 2016
Everything was great nice and clean !!
Yaniiz
September 2016
My wife and I had a pleasant time at Danny's place. Danny is a great host and went out of his way to take us to his place to show us around and had the fridge stocked with goodies to snack on. The town (Celina Tx) has a small farmer's maket on Friday night that was really great. Mentioned in the ad, it is a remodeled trailer. It was nice with some rough edges that could use some finish work. He has livestock at his place and we love animals so we thought this was a great touch, but might not be for everyone. We had issues with the wifi on location but had good reception on our 4G. Overall, I'd give this place 3 and a half out of five. Danny did mention this place was a work in progress and I believe if he completes all his ideas, he will have a special place. If you are looking to get away from the big city and get a little rural then this may be your place.
Carpe
September 2015
Tipo di stanza
Intera casa/apt
---
Tipo di sistemazione
Chalet
---
Può ospitare
2
---
Camere da letto
0
Celina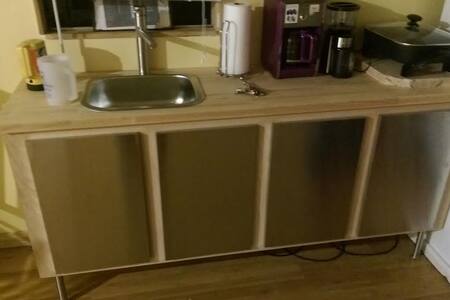 Stone Canyon Cabin is located within Stone Canyon Ranch, a 100 acre horse ranch approximately 15 miles south of Dallas, Texas. The cabin's theme is the US western frontier in the late 1800s. All modern day amenities are represented but significant attempts have been made to hide or disguise them. The cabin and nearby barn are private with no view of civilization. Limestone bed creeks cross the property where abundant fossils can be discovered. You will find no better place for rest and relaxation. The Cabin is located approximately 20 miles from Dallas, Texas one of the world's best shopping cities. The "Grassy Knoll", site of the Kennedy assassination, Memorial and 6th Floor Museum in the School Book Depository are 18 miles away. The Dallas Zoo is 16 miles away. Numerous outdoor activities include, hiking, fossil hunt, guided ATV tours, Horseshoes and horse encounters. Pre-arranged horse back riding is available. If you're looking for rest and relaxation, you have found your spot. You can pretend you're "roughing it'!
Our stay at this beautifully decorated cabin can only be described as too short! Perfect location to feel away from it all, yet a short car away from a nice restaurant or store. We definitely plan on being back, and bringing the pups again as they had such a great time too!
Carlos
September 2014
I bought my parents a night at this beautiful cabin for their 25th wedding anniversary, and they have not stopped talking about it since they got back! From comfy beds to historical touches throughout the cabin, it was definitely a 5 star experience. They especially loved the horse encounters, (as I got plenty of selfies and texts of them with the horses haha) I am grateful they had the opportunity to experience the bustling city of Dallas in a more relaxed, intimate setting. Thank you David for your hospitality!
Maddie
February 2014
Wonderful cabin, wish we could have stayed longer. We booked very last minute and the host was very accommodating and quick to respond to our request.
Catherine
December 2015
Everything about this house was perfect. I felt right at home. It looked ever better in person. I never got to meet David, But Roy showed us around and he was very nice. I will be back here soon.
Jennii
June 2015
What an amazing find! David's cabin has everything you could need for a luxury retreat on a private Texas ranch. He was a very gracious and accommodating host, helping us to the cabin after we got in much later than expected. Highly recommended.
Wes
November 2013
This place is fabulous!! The cabin is will outfitted, remote, quiet, and unique. David is a great host, and Anders made sure we will versed in what the cabin had to offer. The outside shower is my most favorite feature. We enjoyed a wonderful walk around the property, we spent time with the friendly, love-able horses, and were able to host a barbecue with my family. We were truly blessed to find this cabin so close to family and the weekend activities. I only wish I lived closer to make this a monthly getaway. I would recommend that everyone should plan an adventure and stay here--and yet I want to keep it a secret so there are openings when I come back to visit family! David has thought of many exceptional features for this cabin. One is the high metal lights on the front porch. These can be left on at night to provide light to the front porch, but keep the moths and other insects away from the door... what a clever idea. David, thank you for a wonderful weekend.
Renee
September 2012
No issues. Everything was exactly as described and we had a great weekend.
Terry
July 2014
Beautiful place, so private and comfortable. Very hospitable folks and I will definitely come back soon!
Jose
September 2013
Tipo di stanza
Intera casa/apt
---
Tipo di sistemazione
Chalet
---
Può ospitare
4
---
Camere da letto
2
Glenn Heights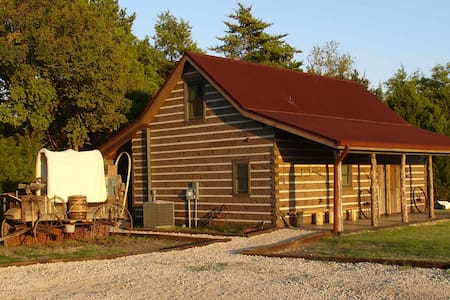 1

–

8

di

8 Chalet in Affitto