Beautiful villa near Amsterdam. Only 5 minutes from Haarlem city centre and only 10 minutes from the beach. Easy parking, bikes available.
Perfect Weekend :-)
Nadine
2015-09-14T00:00:00Z
Simone was an excellent host. She was very communicative and responded to our questions and requests. When we needed bikes to get to the local grocery store, she brought them out for us. The house is lovely in many ways (spacious, well-stocked kitchen, great outdoor eating area, big windows, yard to play in, etc.). The neighborhood is wonderful - near a canal and a windmill and beautiful for walks/bike rides. We had three generations of family with us and the only hesitation we had was that the stairs are narrow and steep to the upstairs. This was a little challenging or the kids and grandparents. But overall, it was a nice house/neighborhood and we enjoyed our stay. Also, if you don't have a car, you may want to consider renting one. It took us 20-30 mins to get into Haarlem by bus and nearly an hour to get Amsterdam on public transportation. We didn't mind but it might be something to consider for future guests.
Amy
2016-07-28T00:00:00Z
It's a amazing house,everything is so cool that we have a nice time in the house.Thanks so much.
泳诗
2016-03-29T00:00:00Z
We spend one weekend with four persons at Simones house. Harlem is a beautiful city and the villa is absolutly awesome! Everything is very luxury and Simone is a nice person. We hope to get there again :)
Jana
2015-12-07T00:00:00Z
We used the house with 2 families and had a great time. Everything was exactly as we expected and Simone was a great host, very responsive in our communication before and during our trip and helpful with anything we needed. We loved Haarlem , the proximity of the location to Amsterdam and several beautiful beaches. Great trip! We hope to be back soon!
Anja
2016-08-09T00:00:00Z
We spent the Night in a beautyful house. plenty of Room. Very very nice location and brilliant parking as closed fence.
Riccardo
2015-09-06T00:00:00Z
Good appartment, great host, no problem :)
Tristan
2016-05-17T00:00:00Z
Prima ontvangst, alles was mogelijk. Fijn huis op een mooie locatie. We konden fietsen gebruiken waardoor we makkelijk naar het centrum konden. Haarlem is een geweldige stad en zeker de moeite waard.
Kim
2015-10-12T00:00:00Z
Tipo di stanza
Intera casa/apt
---
Tipo di sistemazione
Villa
---
Può ospitare
10
---
Camere da letto
Haarlem, Noord-Holland, Paesi Bassi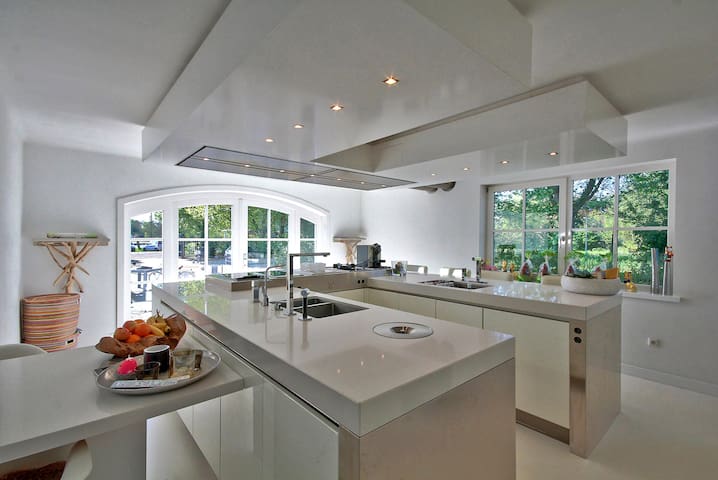 Our house is a beautiful old house at the river Spaarne in Haarlem. It is very tranquil but still close to Amsterdam, Haarlem, the sea and beach in Zandvoort, and the airport Schiphol. There is a bus stop, about 10 minutes walking from the house. If you have heavy luggage we will pick you up from the bus stop. Amsterdam can be reached with public transport in about 30 minutes, also in the evening and at night. If you come by car: you can park in front of the house without any cost.
There is a very nice sleeping room and a communal room with a table and chairs. There is a coffee machine, watercooker and refrigerator in this room. The bathroom is on the same floor and includes a shower, bath and toilet. In the sleeping room there is one double bed and 2 extra mattresses on the floor for a total of 4 guests.
Our house is in the neighborhood called "Zuiderhout". A part of Haarlem with beautiful houses and close to the river Spaarne, a famous city-park called "De Hout" and the city centre.
We had a very pleasant stay in Haarlem. Menso is the perfect host.
Angelika
2016-11-13T00:00:00Z
Het was een mooi verblijf, een ruime warme kamer en prachtig uitzicht. En niet te vergeten: we hebben genoten van het bad en heerlijk douche!
Dorian
2016-12-04T00:00:00Z
We had a great time at Menso's House. He and his family were very welcoming, helpful and attentive. The area is very nice, great view of the canal, and the accomodation too! . Moreover Haarlem is quite a charming city.We felt very comfortable. However, we will admit that it was a bit tricky to get to Amsterdam and that weekend the train was on maintenance. Still, I highly recommend Menso's accomodation
Lucia
2016-10-23T00:00:00Z
The place is very charmful and the family very nice. A little bit far from Amsterdam city center but still ok We had a very good time in Amsterdam and the family very helpful and friendly. They were really taking care of us.
BERTRAND
2016-11-01T00:00:00Z
Lovely house on the canal. Great for relaxing trip away.
Dimitri
2017-03-27T00:00:00Z
His house is beautiful, clean and modern. Mr. Menso and his family are very kind and helpful. In all it's a beautiful house however it's about a 20 minutes walk from the public transportation
Mennatallah
2017-01-02T00:00:00Z
If you are looking for a location in a quiet area around Haarlem or Amsterdam than you should definitely think about a stay at Menso's house. He and his wife are friendly and their house is very clean. The room and the beds were comfortable and we had everything we needed. Thank you for the wonderful time! Tot ziens :)
Kimberly
2017-02-26T00:00:00Z
De verhuurder was gastvrij en zorgzaam. De ruimte boven in het huis was ruim, licht en netjes. We zijn zeer tevreden over ons verblijf.
Jo
2016-10-02T00:00:00Z
Tipo di stanza
Stanza privata
---
Tipo di sistemazione
Villa
---
Può ospitare
5
---
Camere da letto
Haarlem, Noord-Holland, Paesi Bassi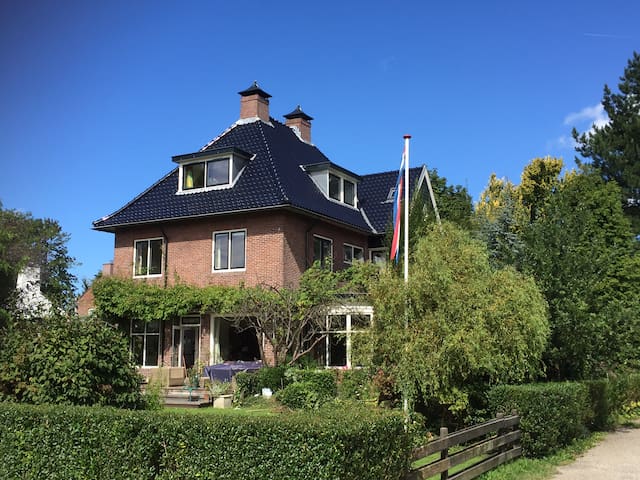 Two bedrooms, own kitchen and bathroom in monumental villa. Only 5 minute walk to the trainstation, Amsterdam or the beach only 15 minutes by train. Appartment on the groundfloor with garden. We can prepare your dinner or breakfast on request. Very childfriendly and approved by the firedepartment. Private parking.
Eigen appartement op de begane grond in een monumentale stads villa. Vlak bij het station en op loopafstand van het centrum. met tuin. Slaapkamer en kamer met slaapbank. Eigen massage douchecabine met radio, eigen keuken met eettafel. Kinderspeelgoed en spelletjes aanwezig. Ook geschikt voor gezin met kinderen. Goedgekeurd door de brandweer. Eigen keuken, wc en badkamer. Slaapkamer en woonkamer. Buiten zit voor en achter het huis. Grote kamer heeft openslaande deuren naar de tuin, met uitzicht over het park en de kloppersingel. Wij wonen zelf ook in deze villa (boven) en zijn makkelijk bereikbaar. De gasten hebben in principe alles zelf tot hun beschikking. Wij kunnen ook leuke plekjes in Haarlem aanraden. Op aanvraag kunnen wij ook voor u koken of ontbijt verzorgen! De monumentale villa ligt in een park (aan het water) en in centrum Haarlem. Alles is op loop afstand, maar het huis ligt als een oase in het midden. Wij zitten op ca 5 minuten lopen van het centraal station van Haarlem. Met de trein ben je in 15 minuten op Amsterdam Centraal. En wij hebben een eigen, gratis parkeerplaats. Wij hebben een eigen parkeerplaats, kinder speelgoed wifi en tv.
De monumentale villa ligt in een park (aan het water) en in centrum Haarlem. Alles is op loop afstand, maar het huis ligt als een oase in het midden.
Het verblijf in de villa van Merel was geweldig! Super service, mooie kamers, top keuken en op loopafstand van het centrum!
Roel
2015-07-26T00:00:00Z
Ontzettend gezellige Air B en B! Merel is hartelijk is gastvrij. Ontbijt en zelfs een flesje wijn is geregeld. Ook een koelkast en eigen keukentje.. en op 10 min lopen v het centrum v Haarlem!
Carina
2016-10-24T00:00:00Z
We hebben een hele fijne tijd gehad in Merel's huis. Het is een prachtige locatie vrijwel in het centrum. Het ontbijt was fijn geregeld. Absoluut een aanrader en zeker een tweede bezoek waard!
New
2015-07-06T00:00:00Z
Merel was a great host! Very friendly, helpful and warm. The beds were great, the kitchen was great and she served breakfast with eggs from the chickens in the garden! I highly recommend staying here! Great location.
Stefanie
2015-08-31T00:00:00Z
Merel has been very kind and friendly to us. We feeled a little like at home! Especially, the small things, like staff for breakfast, some sweets etc., were very nice. The flat is very nice. The outside area is great with atrampoline for the kids and some chickens. The location is perfect for excursions to Amsterdam and to the see.
Martin
2015-05-26T00:00:00Z
Merel was very accommodating and made us feel very welcome. We wished we had more time to enjoy her home and garden!
Dominie
2016-05-09T00:00:00Z
Van tevoren heeft Merel zichzelf al als een gastvrouw bewezen, door mee te denken over de invulling van een weekendje Haarlem. Bij aankomst kregen wij een zeer warm onthaal in de eigen leefruimte van Merel en haar gezin. Als gast voel je je meer dan welkom en heb je naast een slaapvertrek een eigen keuken, douche en wc tot je beschikking. Alles was super geregeld. Ideale uitvalsbasis voor een weekendje Haarlem!
Lisette
2015-03-16T00:00:00Z
Merel was extremely welcoming. She made sure she was home upon arrival and showed us around the space. She stocked the kitchen with muesli, waffles, cheese, bread and other snacks for our stay and brought us watermelon after check in. She even sent us off with a homemade parting gift. The house itself is very close to the train station and is in an ideal location between Amsterdam and the beaches. We loved our stay - thank you!
Catherine
2015-06-29T00:00:00Z
Tipo di stanza
Intera casa/apt
---
Tipo di sistemazione
Villa
---
Può ospitare
4
---
Camere da letto
Haarlem, Olanda Settentrionale, Paesi Bassi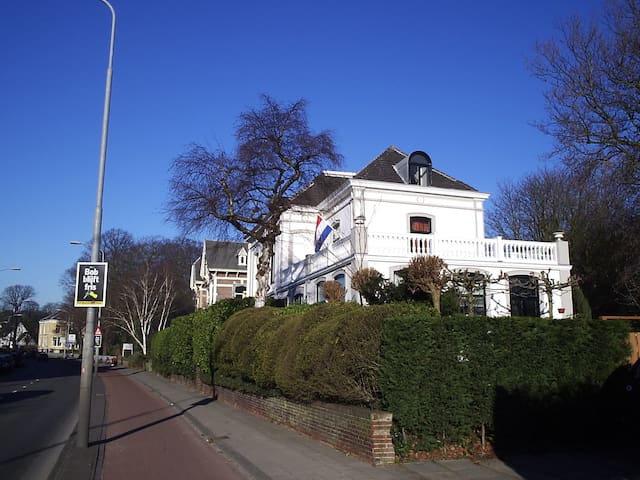 Ons mooie huis ligt in een rustige buurt aan water. De gezellige 2p. Kamer ligt direct achter de voordeur, met veel privacy. Eigen badkamer met wc en pantry om koffie /thee te zetten of maaltijd op te warmen in magnetron. 5 min. lopen naar bushalte, binnen een half uur in Amsterdam en in 15 min. op het strand. Haarlem kan met de bus, fiets of lopend door de Hout. Fietsen te leen. Bij mooi weer is het mogelijk mee te varen door Haarlem. Restaurants en winkels om de hoek. Ik spreek ook Frans.
Gezellige 2 p kamer in rustige buurt, met eigen badkamer en wc. Alles ziet er keurig uit, is nieuw of als nieuw. Veel privacy. Er is van alles aanwezig, zoals koffie en thee. jam en honing. Koelkastje, magnetron. In de badkamer zijn er ritials producten. Het is onze bedoeling dat je lekker kunt genieten van onze airbnb.
De airbnb ligt in een mooie groene buurt, aan het water. Een heerlijke rustige tuin, waar in overleg aan het water ontbeten kan worden. Er is om de hoek een gezellig winkelstraat, met een lekkere bakker, supermarkt. Verschillende restaurants op alle niveau's, kroeg tot sterrenrestaurant. Je kunt s' ochtends lekker vers brood halen. Haarlem, aan de rivier het Spaarne, is een mooie stad met veel leuke winkels en enorm veel goede restaurants. Het oudste museum van Nederland, het Teylers museum , en het mooie Fran Hals museum. Haarlem is ook bekend om zijn vele hofjes. Het is een mooie wandeling door de Hout ( bos/park) naar het centrum. Onze buurt grenst aan de Hout en het Spaarne. Haarlem ligt tussen het strand en Amsterdam in, beiden goed bereikbaar. Ook de bloembollenstreek, Keukenhof, is goed te bereiken, al na een kwartier bevind je je tussen de bloemenvelden.
Very friendly amazing people! Very welcoming with open arms. Would stay here anytime I come to the Netherlands
Curtis
2017-02-11T00:00:00Z
Bianca's house was absolutely perfect. The room is so charming and it felt like home immediately. Bianca was very welcoming and accommodating. We could easily go into the city Haarlem by bus, the bus stop was nearby and public transport very convenient. Haarlem is a great city for shopping, sight seeing, dinner nights, etc. The accommodation was great, very cozy with a spacious shower in the clean and tidy bathroom. The bed was comfy and the little kitchenette very convenient! The room itself is spacious enough to sit and relax in the morning or the evening. I highly recommend this accommodation to everyone, so stop thinking about it and just book! :)
Veerle
2017-02-05T00:00:00Z
Wij , Joop en Gonny, verbleven 2 dagen in Bianca's gezellige woon-slaapkamer die net als de compacte pantry van alle gemakken is voorzien. Bianca en haar echtgenoot zijn een voortreffelijke gastvrouw en gastheer . Iets eerder komen en wat later vertrekken was bijvoorbeeld geen enkel probleem . Ze doen er alles aan om het de gasten naar de zin te maken . Het mooie huis ligt in een rustige wijk , op maar 10 minuten fietsen van het centrum van Haarlem . Wij bevelen deze locatie dan ook van harte aan !
Joop
2017-02-19T00:00:00Z
Tipo di stanza
Stanza privata
---
Tipo di sistemazione
Villa
---
Può ospitare
2
---
Camere da letto
Haarlem, NH, Paesi Bassi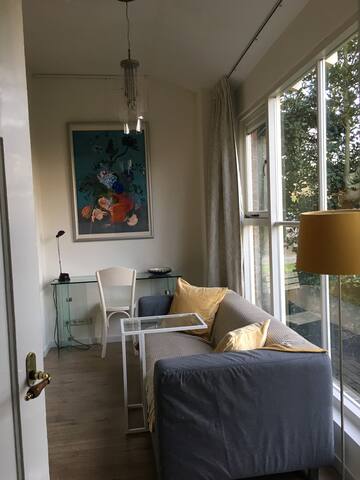 This former Blacksmith has lot's of character! It's build in 1870 and is part of The Ripperda, one time home of the cavalry. Stables, riding school and also this Blacksmith are recently transformed into a awesome place to live.
The Blacksmith is an amazing place to stay. A unique combination of character and comfort. The green garden is filled with sunshine and has a lovely view at a small canal. Take a ride with the available bicycles and explore the dunereserve or the lively beach at Bloemendaal! The Blacksmith is great for one or two couples with or without kids. There is one bedroom with a double bed. Two bedrooms that suits kids and a loft that can easily be converted to a double bedroom.
The Blacksmith makes a perfect base for your holiday. Beautiful nature or vibrant cities whatever you feel like! Ride the bike, explore the amazing dunes, finaly crash at the seaside. Have a bite to eat, dip into the sea and have a truly fantastic day! Or hot and happening Amsterdam? A ten minute walk will bring you to the Haarlem railwaystation. A train will take you to the centre of Amsterdam in just fifteen minutes. The garden is a lovely place to hang out in between. There is grass all around the house that makes it a great place to play, eat and relax.
Wir waren dann doch nur 5 Ladies(geplant waren 8) ,hatten reichlich Platz und leider nur eine Übernachtung in diesem einzigartigem Haus. Es ist wundervoll hier, sehr hell und sauber, alles tip top! Sehr ruhig ,außer die lustigen 4 Hühner, die morgens sehr energisch nach "Freigang" verlangen.Tolles Haus und der perfekte Ort um zu entspannen
Monika
2016-08-08T00:00:00Z
Our group of seven (four adults, two teenagers, and a child) had a wonderful stay here. Lonneke was very communicative and provided clear instructions for everything prior to our arrival so there were no issues letting ourselves in and accessing the parking. The house was set-up for all of us to sleep comfortably and breakfast goodies for the following day were thoughtfully included. Our kids had the best time caring for the chickens and playing outside, while the adults enjoyed relaxing in the beautiful house and garden. We found plenty of markets, restaurants, and shops to walk to in the area and the beach is just a short drive away. For a family stay, we really can't say enough good things about Blacksmith!
Sherene
2016-07-11T00:00:00Z
Nous avons été très bien accueilli : le couple, super sympa, était présent à notre arrivée, nous avons donc eu le droit à un petit tour de la propriété avec des explications claires, simples et complètes et en prime un verre de l'amitié nous a été offert!
olivier
2015-01-04T00:00:00Z
We zijn met drie vriendinnen en dochters (16 maanden, 14 maanden en 3 maanden) een weekend in Haarlem geweest in het super mooie en fijne huis van Lonneke en familie. Zeer charmant en origineel, gezellig en comfortabel! We voelden ons thuis maar toch ook echt op mini vakantie. We mochten gebruik maken van kinderbedjes en speelgoed wat voor veel scheelde in gesjouw. We hebben zelfs even in het zonnetje kunnen zitten. Zeker een aanrader!
Wendela
2014-02-17T00:00:00Z
Hele mooie woning voorzien van alles wat je nodig hebt voor een leuk weekend Haarlem. Een aanrader om gebruik te maken van het huis!
Dieter
2016-10-30T00:00:00Z
Lonneke made us feel very welcome, both through emails and house instructions! The list of house amenities and how to use appliances was helpful. The description on the listing, and all the pictures, were very accurate. When we had a couple of questions, Lonneke got back to us right away. The Blacksmith is in a lovely neighbourhood, with some shopping nearby, and a short walk to the bus and train station.
Jim & Kathy
2014-08-26T00:00:00Z
Very pleasant stay at the Blacksmith! It was our first experience with Airbnb, and I think It's going to be hard to beat this one :-) We really enjoyed the house itself which is exactly what we see on the pictures and we felt very comfortable thanks to Lonneke's attentions, instructions and recommandations. We wish we could have stayed a little bit longer!
sandrine
2015-04-07T00:00:00Z
I have stayed with my familiy and friends for three nights. We've spent a great time in this very unique and stylish home. Everything was perfect! We would definitly go there again: Good choice!
Jean-Marc
2017-01-02T00:00:00Z
Tipo di stanza
Intera casa/apt
---
Tipo di sistemazione
Villa
---
Può ospitare
7
---
Camere da letto
Haarlem, Olanda Settentrionale, Paesi Bassi
De Boshoek si trova vicino alla foresta Bloemendaal ed è il luogo ideale per rilassarsi completamente con una o due famiglie. L'ampio giardino con piscina riscaldata con corrente a getto, gardenhouse con doccia e servizi igienici e un campo da gioco con footballgoal e golf fa De Boshoek anche per i bambini un luogo di soggiorno meraviglioso. Diverse terrazze, sedie a sdraio a bordo piscina e un uovo verde dà conforto per la vita all'aperto. 15 minuti dalla spiaggia in bicicletta e 15 minuti di treno per Amsterdam.
Ping-pong, biciclette e golfgear disponibili. cancello elettrico.
Strada tranquilla vicino alla Forrest e nei pressi di shoppingstreet.
Tipo di stanza
Intera casa/apt
---
Tipo di sistemazione
Villa
---
Può ospitare
8
---
Camere da letto
Bloemendaal, Noord-Holland, Paesi Bassi
Dit unieke huis is in 2009 compleet verbouwd van kerk naar design gezinswoning, van alle gemakken voorzien. Op loopafstand van het station (binnen 30 min in Amsterdam) en de winkelstraat van Beverwijk, fietsend naar het strand. Gratis parkeren.
Een unieke ervaring, wonen in een kerk! Je komt binnen in een grote leefruimte van 100 m2, met de keuken als middelpunt van de kerk. Met een eettafel van 5 meter lang en 14 (kerk)stoelen. De keuken is voorzien van alle gemakken (5-pits gastoestel, afwasmachine, oven, combi-magnetron en stoomoven, allen van Smeg). Aangrenzend een knusse zithoek, met roterende designhaard. Een bar op de plek waar de dominee preekte, met Gaggia espresso-apparaat. Verder staat er een pooltafel, hangt er een dartbord en is er zelfs een klimmuur tot aan de nok (8 meter hoog, op eigen risico ;-). Op de begane grond is verder nog een toilet, openslaande deuren naar de tuin en een ruime kinderkamer (met stapelbed). De master bedroom bevindt zich op de 1e verdieping, tussen prachtige oude balken. Via een loopbrug kom je in de badkamer met dubbele wastafel, toilet en uniek groot bad. Een aparte wasruimte, met wasmachine en droger biedt doorgang naar de derde slaapkamer. Nu in gebruik als kinderkamer met ledikant, maar kan omgebouwd worden tot volwaardige slaapkamer. De tuin rondom de kerk is voorzien van een grote eettafel met 8 stoelen, een buitenkeuken, kippen (verse eitjes!), een waanzinnige boomhut en een trampoline. Verder is er ruimte voor 3 auto's op het terrein.
De kerk bevindt zich in een rustige groene straat met 1-richtingsverkeer in het centrum van Beverwijk. Een grote bioscoop (Cineworld) is op loopafstand, evenals de Bazaar (grootste markt van Europa) en vele leuke restaurantjes en cafes. Met de auto ben je binnen 30 minuten in hartje Amsterdam, met de trein ook (incl lopen naar station). Verder ben je in 5 minuten bij het strand van Wijk aan Zee en in 10 minuten bij het beste (kite)surfstrand van Nederland! Je kan gebruik maken van 2 golfsurfplanken.
I can only recommend Maartje's Old Church. We spent a week there with 2 families and 2 children. The house is very unique and beautifully redesigned- and also perfect for children (they loved the chicken..). Maartje was a fantastic host and super helpful- she even organized a birthday cake and provided us with excellent tips for excursions. To get to the beach it's good to have a car (although there are also buses). Amsterdam can easily reached by train. To sum up: we had a wonderful time!
Isabelle
2015-08-08T00:00:00Z
La experiencia ha sido maravillosa. Desde el primer momento Maartje te hace sentir como si estuvieras en tu casa. Es una casa muy bonita y original y se nota el amor por la naturaleza y los animales de sus dueños. Es un privilegio levantarte y poder ir a recoger huevos frescos para el desayuno del pequeño gallinero que tienen en el jardin. Igualmente es un placer poder comer mirando una pecera gigante llena de peces de colores en el salon. Nos ha encandado Holanda y la amabilidad de los Holandeses. Gracias Maartje.
Cayetana
2016-08-12T00:00:00Z
The old Church is a really fantastic place!You've got many opportunities to spend time in the house ( Billiard, cooking in the big kitchen,watching a film on a big screen..) furthermore the beach is only a 5 minute drive away!We also went to Amsterdam with P&R- very comfortable way! Another plus: fresh eggs from the chickens in the garden =D I definatly recommend this place!! Maartje is a very friendly and helpful host! Thanks a lot, Astrid
Astrid
2016-01-03T00:00:00Z
what a fantastic place to stay!! This house needs to be seen in person to fully appreciate it. We had an amazing week staying in the church and would definitely recommend it! Our hosts went out of their way to ensure we had everything we needed.
Simon
2016-08-20T00:00:00Z
Superbe séjour chez Maartje et Atse !!! L'accueil est des plus chaleureux, tout est fait pour se sentir comme chez soi. La location est sublime et totalement conforme à la description. Confort, modernité et convivialité sont au rendez-vous. Maartje et Atse vous donnent des tuyaux sur les bonnes adresses à visiter et sont entièrement disponibles pour toute question. Même les poules nous ont fait le plaisir de pondre quelques oeufs pendant notre séjour ! Nous garderons un excellent souvenir de notre semaine et recommandons vivement cette très belle location.
rachel
2015-02-21T00:00:00Z
Nous avons passé une très bonne semaine. La maison est fidèle à l'annonce. L'accueil de Maartje est chaleureux et sympathique. La confiance qui nous a été faite d'entrée est très appréciable. La situation dans un quartier calme (et si proche en train d'Amsterdam) est idéal. Nous y avons passé des vacances de Noël que nous ne sommes pas près d'oublier. Nous recommandons vivement cette adresse.
Raphaël
2015-12-28T00:00:00Z
Absolutely great place if you really want to have a HOME and not just a place for rent. An old church redesigned inside with lots of love. Wonderful place to chill and enjoy onselves! We had spent a whole week there and actually didn't want to leave ;) The family is absolutely lovely and very helpful with all you can need. The house is very airy and spacious: we were there as a couple, but this house will for sure be great for a family with kids as well. We enjoyed the evening in front of the wonderful fireplace and also the huge bathtub that we could easly use together despite our heights (185cm & 205cm) The house is equiped with anything you need for daliy life, just because ist's a real home. We will definitely come again - this time probably during summer to enjoy the beaches and the nature around.
Lena
2014-10-18T00:00:00Z
Si vous cherchez un endroit pour passer quelques jours près d'Amsterdam tout en étant au calme, le voici! Notre séjour à Bevervijk aura été parfait. La maison est superbe, extrêmement originale et très agréable. De plus, la maison est parfaitement adaptée aux familles, les enfants ont adoré! Cette église revue avec talent, est un endroit plein de charme et de cachet. Bref, nous espérons retourner chez Martje pour profiter encore de la côte hollandaise et de cette belle ville, et cette fois-ci la rencontrer, ainsi que sa famille! Nos hôtes malgré leur absence ont toujours été présent pour répondre à nos questions. Nous les remercions encore pour tout.
Aurélien
2015-10-21T00:00:00Z
Tipo di stanza
Intera casa/apt
---
Tipo di sistemazione
Villa
---
Può ospitare
6
---
Camere da letto
Beverwijk, Olanda Settentrionale, Paesi Bassi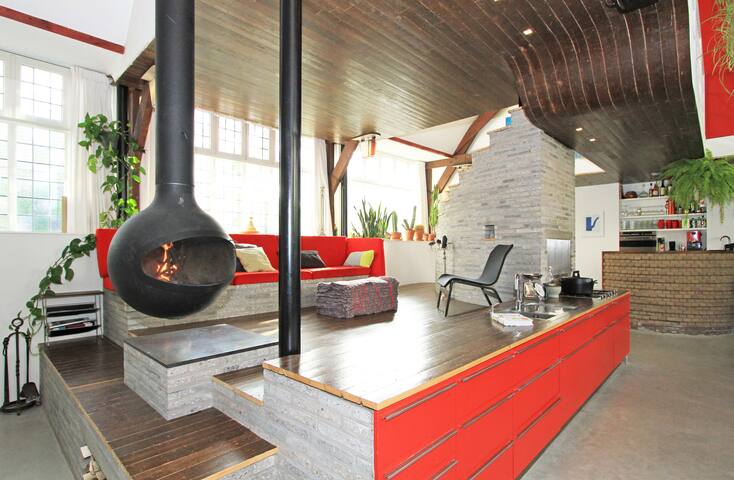 Our house is close to public transportation, the airport, the beach and the village of Bloemendaal. You'll love our place because you have lots of space and great live outside, so walking in the dunes and nobody bothering you. It is the ideal holiday home and is very suitable for families (with children). We rent during the summer holidays!
Fantastische vakantie gehad. Super mooie plek, groot huis, veel privacy en goed verzorgd!
Tetske
2016-07-31T00:00:00Z
The host canceled this reservation 118 days before arrival. This is an automated posting.
gennaro
2016-12-31T00:00:00Z
Nice house with a very big and quite garden into the forest. Close to the best spots around A'dam it's perfect for families. Just an advise for the owners, ask someone to clean the house before the hosts arriving and switch off the alarm. Thanks a lot Fred for all.
Damiano
2016-08-09T00:00:00Z
Wat een fantastische plek en wat een voorrecht hier je vakantie te mogen vieren. Je zou er maar wonen, wauw! Een mooi huis met een verrassende indeling. Van alle gemakken voorzien. Zowel in als om het huis alle ruimte om volop te genieten. Midden in de natuur. De damherten staan bijna in de achtertuin. Vanuit de luie stoel een mooi gevecht tussen twee rivaliserende mannetjes herten kunnen zien. Erg bijzonder! Bij aankomst een hartelijk ontvangst gehad. Een prima toer door de nette en verzorgde woning, alle vrijheid gekregen om te genieten en gebruik te maken van alle voorzieningen. Kortom een plek om jaloers op te zijn. Komen graag nog een keer terug!! Bedankt!
Leonard
2016-08-15T00:00:00Z
Tipo di stanza
Intera casa/apt
---
Tipo di sistemazione
Villa
---
Può ospitare
7
---
Camere da letto
Bloemendaal, Noord-Holland, Paesi Bassi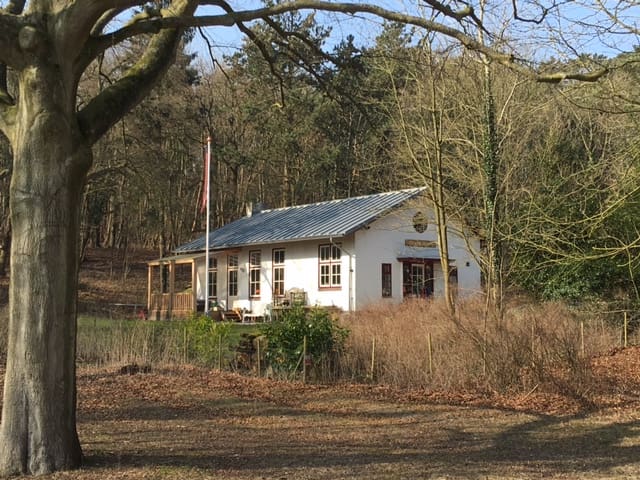 Nice, fully renovated town villa, originally built in 1902 as a pension and now a lovely, spacious family house in a desirable street down town Bloemendaal. Big terras with open fire BBQ and playing field for the kids. Sea,airport and cities nearby.
Schöne, komplett renovierte Stadtvilla, die ursprünglich im Jahre 1902 als Pension gebaut und jetzt eine schöne, geräumige Familienhaus in der wohl besten Straße von Bloemendaal. Big Terras mit offenem Feuer Grill und Spielfeld für die Kinder. Meer und Städte in der Nähe.
Tipo di stanza
Intera casa/apt
---
Tipo di sistemazione
Villa
---
Può ospitare
8
---
Camere da letto
Bloemendaal, Noord-Holland, Paesi Bassi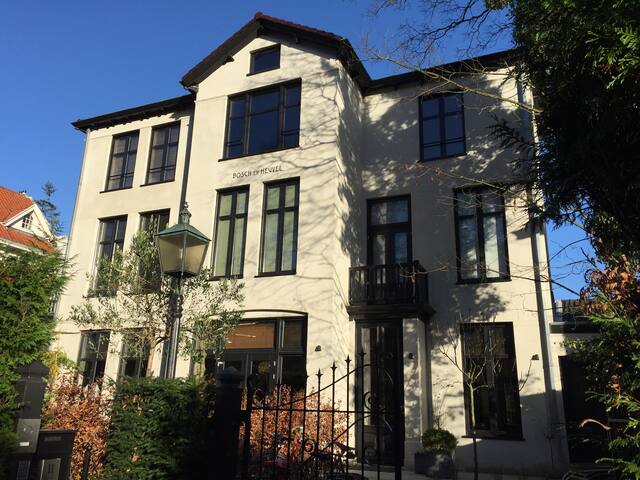 Spacious villa in beautiful area near Amsterdam, beach/sea and city centre.
Tipo di stanza
Intera casa/apt
---
Tipo di sistemazione
Villa
---
Può ospitare
10
---
Camere da letto
Aerdenhout, Noord-Holland, Paesi Bassi
Our spacious villa is located in a family friendy area. And very close to the beach, supermarket, trainstation and the city of Haarlem, Amsterdam and the Hague. Our house has a private garden with jacuzzi. There are 7 bikes available, a trampoline and 1 scooter. The house has 4 bedrooms (all with TV) , 2 bathrooms (1 with bath) and a spacious living room with a large dining table. Table tennis table, high speed WIFI in all rooms.
Tipo di stanza
Intera casa/apt
---
Tipo di sistemazione
Villa
---
Può ospitare
7
---
Camere da letto
Aerdenhout, Noord-Holland, Paesi Bassi
Dear guest, We are Riska and Nick, both entrepreneurs. Riska owns a couple of vintage shops in Amsterdam, Haarlem and Antwerp and Nick is in the online finance business. We have three kids: Nouchine (9), Bobbi (8) and Rover (5). The house We own a really nice spacious house (400m2, built 1901) located in 'Aerdenhout', a beautiful green suburb of 'Haarlem'. We live near the railwaystation (900m), which gives you easy access to Amsterdam. The Aerdenhout - Amsterdam railway service, that runs 4 times/ hour, takes you to the heart of Amsterdam in 20 mins. Other interesting historical cities like Leiden, Delft, Utrecht and Rotterdam can all be reached by train within less than one hour. The house has three floors. On the groundfloor there is a large living room, a large very bright kitchen, a scullery, the hall and a little office. On the first floor we have our bedroom, the bedrooms of the three kids and a bathroom with bath and shower. On the second floor there are two bedrooms, both with a double bed and an (old) bathroom. The beach Another advantage of Aerdenhout is it's location near the seaside. By car the beach is only a 10 mins drive. By bike it takes 20 mins. There are some nice beach clubs that serve great food. For example 'Tijn Akersloot' ((URL HIDDEN) Garden Our 2000m2 garden, with large terrace, is great for kids. There is a trampoline, a swing, sandpit and a little wooden kidshouse. The price for renting our house depends on the period and varies from 300 to 500 euro per night. Please be informed that we can increase the price depending on the number of guests. Furthermore we do not rent the house for one night only. The minimum length of stay is two days and during holidays five/ six days. Unfortunately we do not rent the house to students. Looking forward welcoming you! Riska and Nick
hello nick :) we still spend a great time your home is really very pleasant to live ! thank you for everything
Julia
2016-06-28T00:00:00Z
What can I say? Nick and Riskas place is just incredible. The pictures were already great, seeing the place in reality was even better. We loved every minute of our stay and the kids especially loved the trampoline in the garden. As it is right on the ground, the kids can pretty much stay there by themselves. What made it also special was, that you really feel comfortable. Like living at home. We especially liked the kitchen. We haven't met Riska and Nick, but communication beforehand was quick and pleasant. One thing I have to mention is, that Nick and Riska also count kids as full persons. So if you plan staying there, the 8 people maximum includes kids. We were 6 adults, 2 four-year olds, one two-year old and one baby and we had to negotiate our stay in advance.
Indra
2013-08-14T00:00:00Z
Nick was a pleasant and helpful host. We had an excellent stay as anything was like promissed. The house is huge and beautiful. Our highlight were kitchen and livingroom. Going to Amsterdam centre takes about 30 minutes by train. We can highly recommend Nick!
Maui
2016-01-02T00:00:00Z
It was agreat pleasure staying at the house of Nick and his Family. Great house, fantastic for families with a nice garden and great access to the nearby beaches. We would definitively recommend this to everybody.
Bart
2015-06-07T00:00:00Z
Danke an Nick und seine Familie für den angenehmen Aufenthalt in ihrem schönen Zuhause. Schneller, freundlicher Kontakt mit Nick. Das Haus liegt in einem Ort vor Amsterdam, 20 Minuten Bahnreise nach Amsterdam. Also keine Probleme mit dem Auto. Es handelt sich um eine schöne renovierte Villa mit einem grossen gepflegten Garten. Bis zum Strand sind es 10 Minuten mit dem Wagen. Einfach ideal gelegen. Die Villa ist einfach zu empfehlen.
Isabelle
2013-05-21T00:00:00Z
Nick's home is a wonderful and cosy place to stay with family/ friends and kids. All pieces of the house are big, comfortable and the kitchen is very well equipped. The bed is one of the most comfortable I've ever slept in! Everyone shared the same opinion for other beds. There are lots of toys for the kids, and a beautiful tree house in the garden. Before our arrival, Nick always contacted us very quickly and he was very clear and accurate every time we sent him e-mails for questions. We stayed there for two nights, but we wished to extend our stay because there are lots of beautiful places to visit around there. This house is really well located, 5 minutes by car from the beach (Zandvoort and Bloemendaal), 20 minutes by train to Amsterdam, and Haarlem is also not far away. In the corner you also find lots of restaurants (delicious), pubs, supermarkets... My friends and I would recommand this place to everyone!(URL HIDDEN)
Adriana
2013-05-13T00:00:00Z
Well, what a beautiful place to spend a weekend. Nick made us feel incredibly welcome into their lovely home. I enjoyed looking at all the pictures & art in the house, with the train station within walking distance it was perfect for an evening out in the city. The area itself was very quiet too which added to the relaxing vibe. Thank you very much and we hope to come stay again .
chris
2015-07-12T00:00:00Z
Perfect house to stay in Haarlem, spacious and everything is there, nice host. I will definitely recommend it!
Catherine and Pawel
2015-08-09T00:00:00Z
Tipo di stanza
Intera casa/apt
---
Tipo di sistemazione
Villa
---
Può ospitare
8
---
Camere da letto
Aerdenhout, Olanda Settentrionale, Paesi Bassi
Located in the town of Zandvoort, in front of the beach. Free parking space, free Wi-Fi. Fully furnished rooms with flat-screen TV and seating area. Modern private bathroom with a shower. 7 minutes from train station.
Ausgezeichnete Hause Studio Zandvoort Hotelzimmer bieten einen Blick auf das Meer und den Strand Zentrum 3 bis 4 Personen.
Direkt an der Promenade einzigartigen oktogonalen Einfamilienhaus, 180 Grad ungehinderten Blick auf das Meer und die strand.met 2 sonnige Terrassen im Süden und Westen Küche und einen privaten Parkplatz. Dieses besondere Haus ist auf jeden Fall einen Besuch wert. Beschreibung Diese einzigartige freistehende Villa befindet sich in einer ganz besonderen Lage
The house was in a great location, a close walk to the beach, restaurants and shops. While the house was small, it had almost everything you need for a short stay. Bed was comfortable. Overall we were happy with our stay.
Amber
2016-07-10T00:00:00Z
The host canceled this reservation 10 days before arrival. This is an automated posting.
Markus
2015-06-30T00:00:00Z
Tipo di stanza
Stanza privata
---
Tipo di sistemazione
Villa
---
Può ospitare
4
---
Camere da letto
Zandvoort, Olanda Settentrionale, Paesi Bassi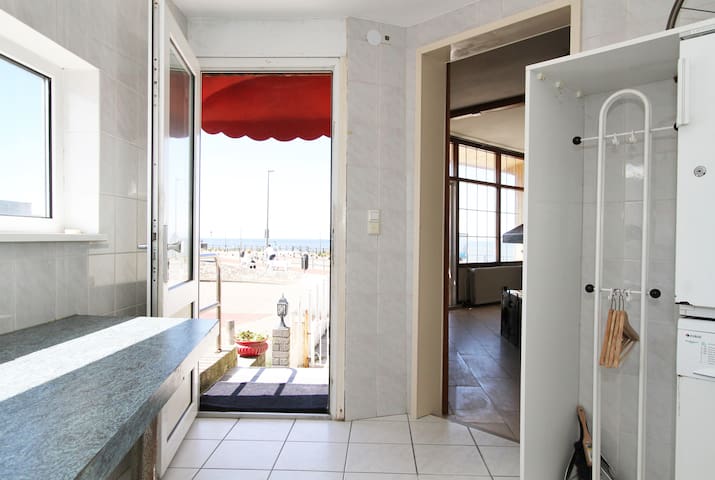 Available only for maximum 3 weeks in summer season 17 July till 7 August 2016! Minimum 7 days, but preferably 2/3 weeks.
We have a great family house with a big garden. As a family with three sons (8, 14 and 16 years old) are house and especially our garden is best suitable for families with sons. There is of course a master bedroom for 2 adults and 3 children rooms. The smallest boys bedroom is equipped with a high sleeper and the 2 other boys bedrooms have regular beds. In our garden there is lots of space to play soccer and field hockey on our artificial green. There is also a little zip line, a tree house and a nice veranda where you can chill and relax in the afternoon sun.
We live in a quiet neighborhood and within walking distance you will find several supermarkets and a cosy shopping street. At cycle distance you will find beaches, forest, dunes, playgrounds and the city of Harlem. By train or by car you can travel within half an hour to the center of Amsterdam
Tipo di stanza
Intera casa/apt
---
Tipo di sistemazione
Villa
---
Può ospitare
5
---
Camere da letto
Heemstede, Noord-Holland, Paesi Bassi
Bella esclusiva villa in stile Deco (costruito nel 1929) con piscina coperta, sauna, camino e giardino. La Villa si trova in una posizione molto centrale: a 10 minuti da Haarlem City, a 10 minuti dalla spiaggia, a 20 minuti da Amsterdam, a 5 minuti dai mezzi pubblici e un parcheggio gratuito per 3 posti auto presso la struttura.
Noi (Joliza, Dinand e due bambini da 3 a 6 anni) proprio una bellissima villa a Heemstede. (Costruito nel (NUMERO DI TELEFONO HIDDEN)) La nostra villa è situata al confine di Haarlem. Haarlem è un sobborgo di Amsterdam (20 minuti) La casa ha tre piani e un corridoio molto impressionante. Al piano terra si trova un ampio soggiorno ( 'ensuite') diviso in un giardino (estate) Camera con vista del nostro giardino e una sala invernale con enorme camino. In combinazione con la sala da pranzo. La cucina è molto grande di una luminosa con un tavolo da pranzo separata. Al primo piano abbiamo la nostra camera da letto, due sale per i nostri bambini e un bagno con vasca calcare e una doccia 'spa' con grande doccia a pioggia, doccia a mano e cascata e due lavandini separati. Sulla seconda camera abbiamo una sala enorme (come un appartamento) con soggiorno, camera da letto (studio) e un bagno separato con wc e doccia La villa dispone di una cantina Nel grande giardino abbiamo un edificio separato con una piscina coperta, (con corrente a getto) un angolo salotto con camino, un bagno di bolle, una sauna e una terrazza separata con set salotto
Beach-e la vita della città Un altro vantaggio della nostra casa a Heemstede è situato vicino al mare. In auto la spiaggia è a soli 15 minuti di auto. In bicicletta ci vogliono 25 minuti. Ci sono alcuni stabilimenti balneari piacevoli che servono ottimo cibo. La spiaggia chiamata 'Zandvoort' e vicino a Zandvoort è Bloemendaal al mare che è anche molto trendy! Se si vuole andare in città la città di Haarlem è anche molto vicino. Si può andare in bicicletta o 20 minuti a piedi Amsterdam si trova nelle vicinanze. Si può andare in treno (la stazione ferroviaria è molto vicino alla nostra casa) o in auto
Tipo di stanza
Intera casa/apt
---
Tipo di sistemazione
Villa
---
Può ospitare
8
---
Camere da letto
Heemstede, Herenweg, Paesi Bassi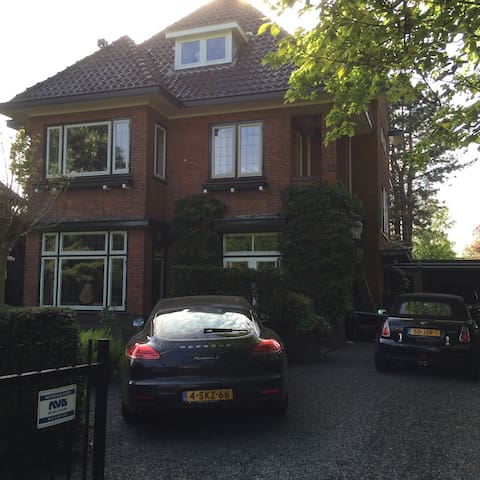 snug & intimate: highly ceiled apartment, fireplace, art deco furniture, mattresses-bed in bedstead-room, kitchen, shower/wc, washing mach, dishwasher & backyard terrace in wide open garden - a green relax for max 2 pax; trained pet allowed...
snug & intimate: highly ceiled small apartment with open fire place, art deco furniture in living, 2 beds/mattresses alongside or separate in bedstead style, veranda kitchen, shower/wc, washing mach, dish washer, and backyard terrace in wide open garden... idyllic relax for max 1-2 pax or couple with infant... neatly trained dogs allowed feel warmly invited: living next door, my hospitality might include scholarly instruction in secular buddhism/mindfulness, guiding you around or pick you up - bring to schiphol airport... from this green oasis in the dunes you can pick & choose what, where, when to enjoy or just shrug off your business day in silence... bentveld, only (21km from amsterdam, is on a stone's throw distance from the culturally rich town of haarlem (new york's harlem is named after it; schiphol-haarlem: 12km) & leiden (22km), next to the affluent villages heemstede, overveen & close to the beaches of zandvoort & bloemendaal... there is quite nearby a golf course, a car racing circuit, a casino... canal cruises in the cities mentioned a 6m walk to the bus stop you could as from the station take the train to those places, to any other place like flowery keukenhof... or you could go bicycling to... like a chic sauna or a health club or you could walk to the neighboring kennemerland national park... if you like wining and dining outdoors, you might want walking to an exquisite indonesian restaurant, a big sushi restaurant, a french/dutch gourmet restaurant... in fact nearby you could go from michelin starred restaurants to convivial pubs for a healthy meal or just a bite... coffee, tea, sugar, oil and cooking utensils will be there... i speak dutch, english, german, french, and indonesian, and can understand what you wish in spanish or italian... looking forward to warmly welcome you with a toast to your stay in a temporary, neat, unique dwelling point: at your service!
it's quiet & amid dutch dune nature (with deer visiting the garden in winter), yet close to city life, highway, train station & airport...
Great cozy place! Nice gentle host. Very quiet area. Everything was geat.
John Hasan
2015-12-04T00:00:00Z
Die Wohnung ist klein und sehr schön eingerichtet. Alles ist vorhanden. Leider war Maurits nicht vor Ort, aber wir wurden sehr nett empfangen, eine Flasche Wein stand auf dem Tisch. Wir haben uns auf Anhieb wohl gefühlt, unser Hund war auch sehr begeistert. Fahrräder sind inklusive, bis nach Zandvoort und nach Haarlem ist es nicht weit. Die Gegend ist traumhaft schön und ruhig.
Nina
2015-05-25T00:00:00Z
The location was very central to the activities we had planned. Picturesque area and very comfortable feeling. The groundskeeper was very friendly and accommodating. Highly recommend!
Linda
2015-04-20T00:00:00Z
Great host! Maurits is always ready to help and assist - thank you! You feel yourself at home from the minute one. The location is perfect for those who are tired of hassle of the city and seeks tranquility and forest environment. Beautiful back yard where you can sit for hours listening birds sing. Well recommended!
Andy
2014-05-05T00:00:00Z
Das Appartement liegt in einer sehr schönen Nachbarschaft, die an einen Wald grenzt. Die Einrichtung ist mit Liebe zum Detail zusammengestellt. Wegen dem angrenzenden Gärten und der ruhigen Lage ideal auch mit Hund! Wir haben uns sehr wohl gefühlt.
Paula
2014-09-28T00:00:00Z
We hebben een goed weekend gehad in deze studio in Bentveld. Het huisje is een goede uitvalsbasis voor het strand en een bezoek aan Haarlem en heeft een heerlijke grote tuin! Het ontbijt is niet volledig verzorgd zoals op de website staat aangegeven, maar met wat eigen boodschappen is het een prima verblijf geweest.
Mirte
2014-07-14T00:00:00Z
The host canceled this reservation 13 days before arrival. This is an automated posting.
Brigitte
2016-07-05T00:00:00Z
It was a real pleasure to stay with Maurits! We decided to visit his place last second and weren't disappointed. The place is quiet, yet close enough to the beach. The garden is so inviting that you want to relax for a little while. Maurits even filled our fridge for us, had a bottle of wine chilled and always a little advice on where to go at night. Real clean, easy, friendly - we are definitely coming back and recommending this place to all our friends! Thank you Maurits for the lovely weekend! Markus, Taty & Lotti
Taty
2014-06-10T00:00:00Z
Tipo di stanza
Intera casa/apt
---
Tipo di sistemazione
Villa
---
Può ospitare
2
---
Camere da letto
Bentveld, Olanda Settentrionale, Paesi Bassi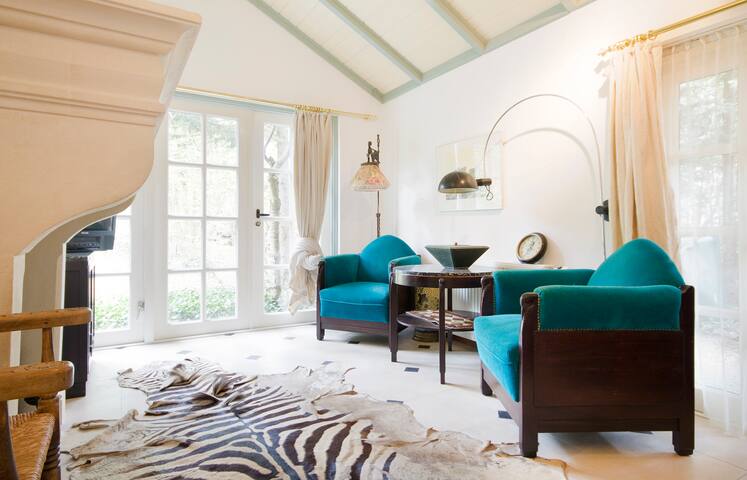 Luminosa e spaziosa villa di famiglia situata in mezzo alla natura e in tutto il parco nazionale. (WATERLEIDING duinen). Esso comprende un grande giardino con il proprio rotatoria e speciale vista sulle dune. Non aver paura quando i cervi si stanno svegliando! Accanto alla casa è anche un soggiorno di vacanza simpatico, quando è disponibile, è possibile anche prenotare questo posto. Basta chiedere per le possibilità.
Il tuo modo di: Tu hai il tuo accesso privato alla villa con gli altri ospiti accanto a voi. Dal corridoio passo in un posto delizioso con accesso a servizi igienici e camera da letto 1. L'ideale per i bambini o lavoro-zona separata. Da qui fate un passo in salotto con le finestre da 3 lati e visualizzare sopra gli alberi e le dune. Attraverso le scale la strada nel: L'ingresso tramite piccolo patio con posti parcheggio privato, sala, stairscase alla casa. Al primo piano si trova la grande padronale, altre 2 camere, bagno. Offre un ampio giardino con tutti i benefici, fitness, posto auto, grande soggiorno, cucina, 3 bedroomss, separati servizi igienici e bagno. Wasmachine e drycleaner si trovano al piano terra come bene. La casa è ben arredata con tutti i benefici per farvi sentire come a casa.
Pancake ristorante dall'altra parte della strada così come l'ingresso al Parco Nazionale chiamati Amsterdamse WATERLEIDING duinen. Richiedi maggiori informazioni. Luogo ideale per iniziare la vostra vacanza, e proprio in mezzo alla natura e abbastanza vicino dal centro della città.
Tipo di stanza
Intera casa/apt
---
Tipo di sistemazione
Villa
---
Può ospitare
6
---
Camere da letto
Zandvoort, Noord-Holland, Paesi Bassi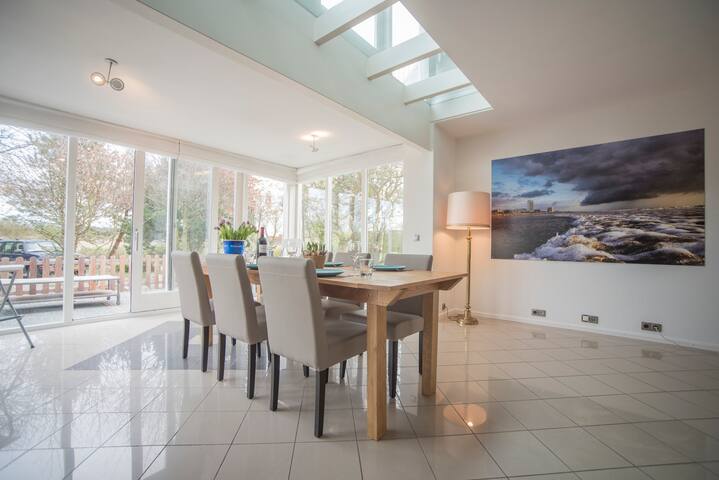 This beautiful and cozy family home (1934) is situated on a beautiful location, in a quiet and tree lined street in the old village of Bloemendaal. Within 10 minutes you will be in Haarlem or the seaside. Amsterdam is only 25 minutes by car or train.
It is a very spacious, cosy and comfortable house with more than 300 square meters living space and a large private garden. A wonderful place to stay - especially for a family with (small) kids, two couples or friends. Have diner in front of the fireplace, relax in the great living room with folding doors to the garden. The kitchen is connected to the dining room with a bar to have breakfast or a drink. Work/study or read in our study room. Next to this there is also a garage, washing room and two toilets. On the first floor we have a large/master bedroom with a double bed. This room is connected to a bathroom with a bath, double sink and separate shower. The second bedroom also has a double bed. The third bedroom has a single bed (which you can make a double one). The fourth bedroom has one single bed. There is a second bathroom including a shower, sink and toilet. We have one more bedroom that is just available for (small) kids - with a little bed. Kids will love to stay in our house with plenty of toys and books and a big "playing/kids room". Hang out in the beautiful garden and enjoy the sun and birds. For children there is a lot of entertainment in the garden, like a trampoline, double swing, a big (football) goal, little house and lots of small bikes etc.
Bloemendaal ist eines der schönsten Dörfer der Niederlande, wo die reichen Amsterdamer Kaufleute ihre Lauben bauen, am Meer, Dünen und in der Nähe von Amsterdam, Haarlem (und heute der Flughafen).
Geweldig kindvriendelijk huis in een prachtige en rustige buurt, dichtbij A'dam, Haarlem, strand en natuur! De eigenaars zijn bijzonder gastvrij én behulpzaam! Een aanrader!
Katrien
2017-01-03T00:00:00Z
Tipo di stanza
Intera casa/apt
---
Tipo di sistemazione
Villa
---
Può ospitare
6
---
Camere da letto
Bloemendaal, Noord-Holland, Paesi Bassi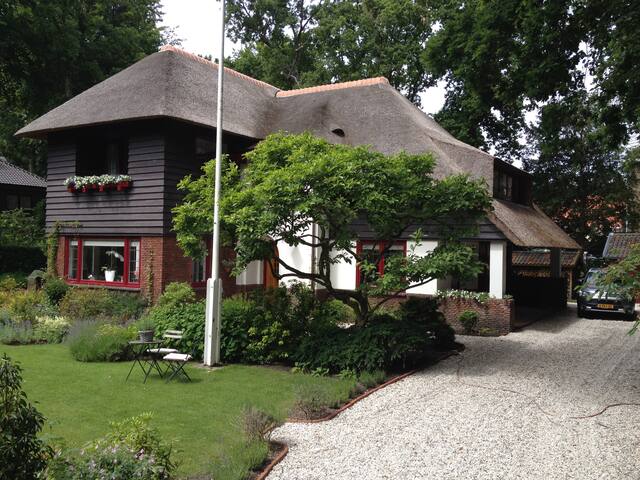 1

–

18

di

21 Ville in Affitto
Inserisci le date per visualizzare il prezzo totale. Ci sono dei costi aggiuntivi e potrebbero venire applicate alcune tasse.