Our LUXURY RENTAL COTTAGES offer the comfort you deserve after a day spent outdoors! They are fully equipped – leaving you free to RELAX and ENJOY YOURSELF!
The host canceled this reservation 5 days before arrival. This is an automated posting.
Mickael
2016-01-01T00:00:00Z
En plein coeur de la foret au bord d'un lac. Tres bel emplacement. chalet bien equipe et hotes aux petits soins. plusieurs possibilites de randonnées en raquette (fournies sur place). petit site de glissade et SPA tres bien equipe. parfait pour se reposer
Brudis
2016-01-29T00:00:00Z
The Esker Nature properties are a small piece of heaven, far away from the lights and buzz of bright city lights. In the remote hamlet of Saint-Paul-de-Montminy, the hosts are both helpful and welcoming – always available to answer questions about various hiking trails and outdoor activities. The hosts have a small chalet/office where you can purchase coffee, firewood and more. The chalet you rent will be yours and yours alone. Each chalet overlooks the beautiful Lac Long. There is great, bright natural light, an indoor fireplace, spacious kitchen (complete with tons of pots and pans for cooking – we made a Thanksgiving feast) and comfortable bedrooms. There is also a TV/DVD player, but we were enjoying our remote retreat so much that we mostly read books, took hikes and played board games. You will also have access to a jacuzzi for a nominal fee per day, and kayaks, canoes and pedalo boats free of charge. There is also a fire pit outdoors, which was great to make s'mores in the evening. Overall, this was a beautiful slice of paradise and a great chance to get away from it all. Though you have limited Wifi access from the host chalet, there is no internet/cell reception once you are in you're cabin. This was a real treat for us, but it's certainly something to be mindful of as you plan your getaway. Book this spot and you won't be disappointed! There is fantastic trails to do hiking and see waterfalls, do outdoor activities on the lake, relax in the hot tub, warm up with the outdoor fire pit or curl up with a good book or movie indoors. The place is immaculate – totally clean and very well-maintained. We loved our stay, and am sure we'll be back before too long!
Christian
2015-10-12T00:00:00Z
Tout à été parfait de l'arrivée au départ!
Victor
2017-03-28T00:00:00Z
Merci Martin pour votre accueil même si le chalet a été difficile à trouver de nuit! Mais dans cet endroit reculé, on profite pleinement du calme et de la beauté du site avec en plus les écureuils au petit déjeuner! A redécouvrir en été (avec le WIFI svp)!
François
2016-04-15T00:00:00Z
Amazing place!! Only got to spend 1 night...wich was very sad...we felt home the minute we walked in the place. The host are sooo nice and Esker Nature is very well equiped for all activities. We will be back
Maxime
2017-04-07T00:00:00Z
The chalet is exactly like the pictures - modern, while maintaining some wooden cabin feel. Very clean, well equipped with everything you could need and great beds! Being as far out of town as it is and without cell reception, it's indeed an escape from reality. We took full advantage of the Jacuzzi and fire pit. Only thing to note (at least for out-of-towners like us) is that the place is farther than one might think! And without cell reception it's tough to find without clear directions ahead of time. But Martin was a great host and so thankfully was accommodating of our very late arrival to the chalet!
Taryn
2015-10-25T00:00:00Z
Such a relaxing and beautiful place to stay. We got the cottage at a great price and we were very lucky with the weather by having the opportunity to snowshoe and relax in the hot tub by being surrounded in a winter wonderland. Arriving to the cottage was a beautiful adventure by itself, where we drove deep into the property and having a view of all the pine trees covered with snow in the beginning of December. Once we arrived to the cottage, Martin and his wife provided a smooth check in and discussed all of our additional options. Martin showed us to the cottage and went through all that was included with great patience. There is wifi included in the cottage as well. His wife was also very accommodating and shown us the trails for the snowshoeing. The cottage had everything included. You name it. All utensils, glasses, cooking ware. It was nicely furnished with a cozy fireplace and tv. Clean and brand new. Nothing else to ask for. The bed was also very comfy. Outside we enjoyed many winter activities, including snowshoeing, trails and hot tub at night. It is shared between the 3 cabins and we were lucky to use it for most of the time. All in all, we were very happy with our stay. We drove from Toronto and it was very nice to stay in this property to explore northern Quebec. This resort truly has it all. You will definitely not miss out. Recommend for a nice romantic getaway and to literally "get away" from all life stress for a bit and spend quality time with your loved ones. Also recommend to text 30 mins prior to the destination as there is no cellular reception, given the signal strength in the location. Thank you again and we hope to come back soon.
Artur
2016-12-04T00:00:00Z
Tipo di stanza
Intera casa/apt
---
Tipo di sistemazione
Chalet
---
Può ospitare
6
---
Camere da letto
Saint-Paul-de-Montminy, Québec, Canada
'' The Kiosk Gardener '', THE SIDE OF THE ROAD 'in confined spaces to maintain its country style. It attracts people seeking privacy in the rustic and quiet at modest prices.
Kiosk Gardener consists of: - A bedroom with a double bed, - Solarium with sofa, kitchenette furnishings: refrigerator, microwave, coffee maker, toaster, dishes on demand, - And a full bathroom with tub.
Are in the country.
Daniel nous a accueillis avec gentillesse et naturel ; le Kiosque du Jardinier offre le confort simple attendu dans un cadre champêtre. Parfait pour un couple en balade qui souhaite faire une halte sur l'île d'Orléans.
Laurence & Xavier
2016-08-05T00:00:00Z
Notre nuit dans le kiosque du jardinier fut un véritable délice. Le séjour fut inattendu mais mémorable. Nous nous y sommes sentis comme dans un petit cocon douillet et avons passé notre temps à nous délecter de chaque petit détail. Daniel absent (mais bien connu par l'office de tourisme !), nous avons été accueillis par des amis à lui très charmants. Un délice on vous dit :).
Christophe
2016-06-02T00:00:00Z
My stay at Daniel's 'Kiosque du jardinier' was delightful. I was welcomed by Daniel when I arrived, and shown a very comfortable place, with great decor! Everything was clean and neat, and the coffee at breakfast was excellent, and much appreciated. I will definitely stay there again next time. And recommend Daniel's 'Kiosque du jardinier' to anyone visiting Ile d'Orleans, especially cyclists. Thanks again for a cozy two nights Daniel!
Donald
2016-10-08T00:00:00Z
Had a lovely time on L'Ile d'Orleans in Daniel's garden cottage. It is rustic but very clean and tidy. It had everything we needed and is conveniently located. As other reviewers mentioned, there is road noise but it was acceptable. And there is no shower but a nice deep tub which was a treat! Daniel very accommodating - a great host.
Kim
2016-08-22T00:00:00Z
Nous avons adorez notre séjour. Le kiosque du jardin de Daniel est un véritable petit cocon rustique dans tous les détails. À l'écart de la résidence principale Intime donc parfait pour les amoureux. Le propriétaire, Daniel est l'hôte parfait, invitant et respectueux de l'intimité. Pas de luxe au kiosque, mais vraiment une expérience de campagne à refaire.
Normand
2016-07-13T00:00:00Z
Daniel was a warm and gracious host. He was very attentive and also offered a free breakfast. The cabin was a good private space; however, it is right off the main road so I heard car driving pass during the day. However, this did not bother me. The layout of the cabin is cozy and very cute. I enjoyed reading in the front sun room and took a nice bath in the bathroom. I think the only challenge was trying to find its location. The numbering system for the houses have changed so most places have 2 house numbers and that was confusing to figure out. But the locals were very kind and tried to help me find the location.
Alice
2016-05-29T00:00:00Z
Loved staying at Daniel's place! Great location and cute cabin.
Katherine
2016-10-22T00:00:00Z
On nous a bien accueilli avec le sourire et le petit mot gentil de nous sentir bien à l'aise. Malheureusement, nous n'avons pas rencontré Daniel. Le kiosque nous a bien plu, rustique, chaleureux et très propre. C'est une belle formule, si vous désirez un peu d'intimité.
Nicole
2015-10-04T00:00:00Z
Tipo di stanza
Intera casa/apt
---
Tipo di sistemazione
Chalet
---
Può ospitare
2
---
Camere da letto
Saint-Pierre, Québec, Canada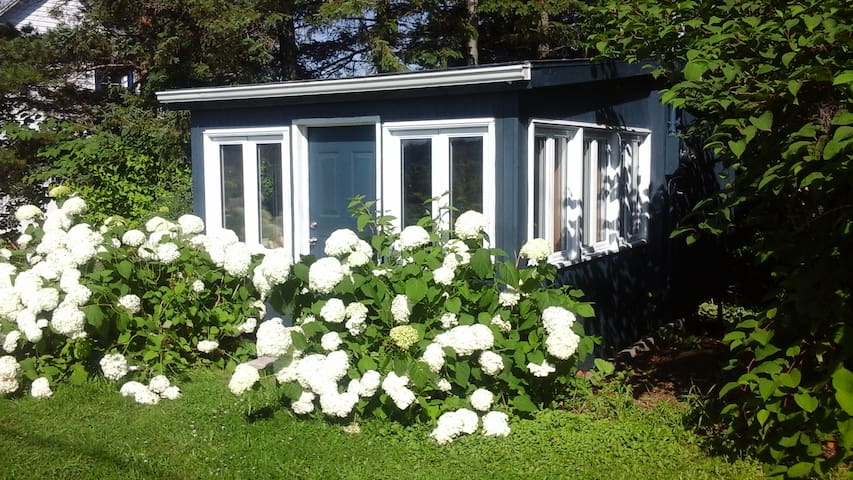 Modern cottage with a breath taking view on the St-Lawrence river and minutes from Le Massif de Charlevoix. Enjoy the roof deck, the fireplace or the private spa.
This space was wonderful! Large spacious common space with tons of windows. The hot tub was a great feature after a day of skiing. The kitchen was well equipped to cook to your hearts content.
Arianne
2016-03-10T00:00:00Z
Notre séjour a été impeccable! D'abord, la maison est magnifique, beau style moderne et d'une luminosité exceptionnelle! Coin très tranquille et intime. Et que dire de la terrasse et de la vue, nous aurions voulu y rester en tout temps! Nous étions 6 personnes et tout le monde était confortable pour dormir. La cuisine est fonctionnelle et il y a beaucoup d'accessoires pour cuisiner, ce qui était parfait. Éric s'est montré très disponible et ouvert à toutes nos questions; il est à l'écoute et veut que le séjour de ses invités se passe le plus parfaitement possible! Je recommande tout de cette location, expérience unique!
Frederique
2016-06-06T00:00:00Z
Le Monrocher is a beautiful property with stunning views and a comfortable modern home. It's proximity to skiing at Le Massif was the reason for our stay. This was our 4th trip to ski in this region and the stay here was our best experience. The hot tub is excellent and house is very comfortable. The unobstructed views of the St. Lawrence are spectacular especially from the bedroom window. Eric was available via phone and text for questions during our stay. We are happy to give great reviews to this property!
John
2016-12-22T00:00:00Z
tres tres agréable
sophie
2017-02-06T00:00:00Z
Magnifique endroit!!! Le design, la vue, les espaces de vie: rien n'a été laissé au hasard. Un pur plaisir dans un hâvre de paix moderne et ultra confortable à 10 minutes du Massif. Nous avons adoré notre séjour de ski là-bas.
Annie
2017-02-12T00:00:00Z
Très belle maison, très moderne, confortable et bon goût. Superbe vue sur le St Laurent. Nous avons eu un séjour très agréable. Au plaisir de revenir..!!!
Alejandro
2016-04-03T00:00:00Z
Superbe chalet moderne avec vue magnifique sur le St-Laurent. Calme et spacieux, le chalet comporte toutes les commodités pour y vivre un séjour sans tracas. Les hôtes sont très courtois et disponibles.
Jose
2017-02-24T00:00:00Z
Nous avons passé une super semaine dans la région de charlevoix. Le chalet fut merveilleux et très bien équipé. Il est parfait pour une grande famille. Éric a été rapide à répondre aux questions. Je recommande ce chalet sans hésiter!
Sara
2016-08-15T00:00:00Z
Tipo di stanza
Intera casa/apt
---
Tipo di sistemazione
Chalet
---
Può ospitare
8
---
Camere da letto
Petite-Rivière-Saint-François, Québec, Canada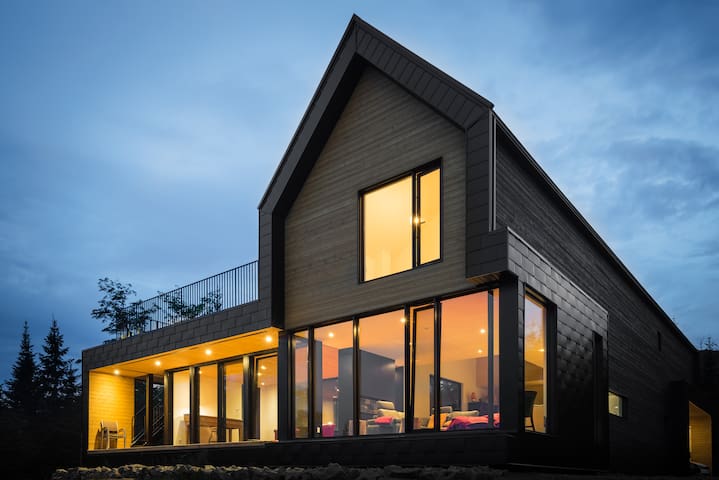 Come relax in this beautiful intimate environment. This cottage has a large sun terrace, patio set and is surrounded by trees which offers great privacy. Enjoy views of the St.Lawrence or take a short stroll down to the water's edge. The cottage is one bedroom/bathroom. A fold-away cot is available if required (it fits in the bedroom). The cottage is fully furnished, including a BBQ - you just need your clothes. WiFi and cable are included. It is located just 20 minutes from Quebec City
Nous avons passé un très agréable séjour dans le chalet de Leslie. Le cadre est paisible et reposant, avec une belle vue sur le fleuve Saint Laurent. Le chalet est propre, très bien équipé et nous avons été très bien accueillis. La ville de Quebec est facilement accessible ainsi que d'autres lieux de visite. Bref, nous aurions volontié prolongé notre séjour si nous avions pu !
Rahila
2016-07-23T00:00:00Z
Great little spot with a view of the St. Lawrence river. Quiet area with big deck to sit and relax in the evenings and watch the sunset. The house was equipped with everything you need for cooking and came with a fire pit and bbq as well. The house was clean and well kept and close to amenities and a short drive to Quebec City The wifi password did not work so we were without internet during our stay. When we inquired they were not able to get us the password. You should be warned you are asked to give $300 cash upon arrival for a security deposit which we were not impressed by. Upon departure it will be returned to you if they determine no damage is done. Be warned that we had to fight for our deposit back because it was said the front door mat was dirty. As well even though we were told we were able to bring our dogs upon leaving he tried to claim the carpet would have to cleaned despite the fact there was not a single spot on it except some loose dirt which could easily be vacuumed. A pet charge was not part of the agreement so it would make no sense upon departure to all of a sudden try to claim the deposit would be kept in order to clean the carpets when no such pet charge was ever mentioned before. Also, while we paid for 3 nights after the 2 night he came by in the morning to ask us why we had not left yet. When we told him we paid for 3 nights and said we could show him the emails stating such. He acted as if we were trying to pull the wool over his eyes and get a free night which we were not impressed by While the property itself is great you should be aware of the cash deposit required and the potential lack of internet as well as the possibility that your deposit will be kept on the basis of ridiculous claims such as a dirty front door mat or something of that nature.
Janette
2016-07-05T00:00:00Z
Leslie's cottage was lovely! It was as advertised and much more. It was comfortable, renovated, equipped with everything we needed day to day. Clean, quiet and offered privacy. The view of the St. Lawrence river from the porch was beautiful. The location was great as it is a short drive to the city and supermarket. We had a nice time walking down the dry part of the river. Jean-Guy was a very good host, he was helpful and friendly. My only regret was that I didn't stay longer.
Maria
2016-07-17T00:00:00Z
Tipo di stanza
Intera casa/apt
---
Tipo di sistemazione
Chalet
---
Può ospitare
2
---
Camere da letto
Saint-Nicolas, Québec, Canada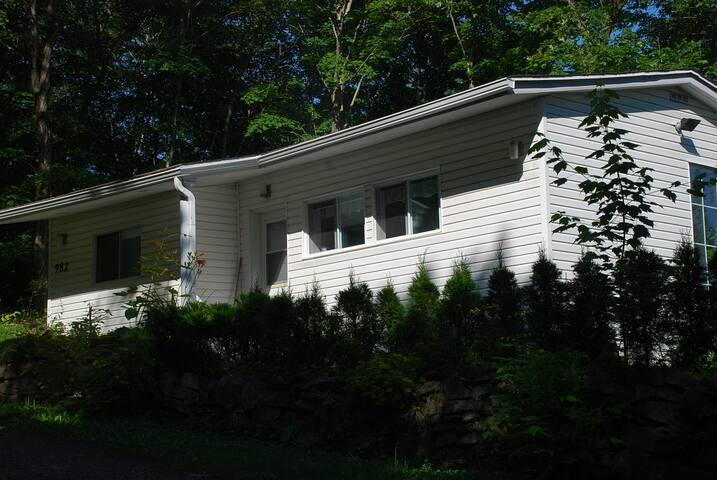 This fully renovated cottage is located on Lac Sept-Iles, 40 minutes outside of Quebec City, in Saint-Raymond. Just a five minute drive from restaurants, grocery/liquor store, and all amenities - this is the perfect summer getaway on the lake!
The "Savary House", located on the shore of Lac Sept-Iles is an exquisite lakefront home situated 40 minutes northwest of beautiful and historic Quebec City. The charming town of Saint-Raymond, a 5 minute drive from the Lac Sept-Iles, is renowned for its fine cheese factory (Alexis du Portneuf), and has many restaurants, shops, groceries and a liquor store. Nestled in a quiet bay of Lac Sept Iles, this cottage sleeps 6 comfortably and is especially suited for a family with children. This 1,100 square foot home, completely renovated in 2016, has a fully equipped kitchen with island, a large dining room, and family room all of which have a magnificent view of the lake. The two bedrooms are equipped with three queen-sized beds with high end "Sealy Posterpedic" mattresses to ensure a comfortable sleep. The full size bathroom has a large soaker tub and a separate shower. Laundry facilities are also available. The home is available all year around; the summer is best for warm days and long evening at the lake, the fall is world renown for it's magnificent foliage and colors, winter for the best snowmobiling in Eastern Canada and spring skiing is on until mid April.
A stay at "Savary House" would not be complete without a visit of Quebec City. Designated a World Heritage treasure by Unesco, Old Quebec is the only walled city north of Mexico. As the cradle of French civilization in North America, it's a living history lesson with a remarkable mix of natural beauty, architecture, heritage, art and culture. Dining in one of Quebec City charming restaurants, some with a view of the majestic Saint-Laurent river, or a simple walk along Old Quebec boutiques, is something all visitors need to experience. The great grandson of Jos Savary, who was one of the first settlers of Lac Sept Iles in the 1800's, welcomes you to the "Savary House".
Tipo di stanza
Intera casa/apt
---
Tipo di sistemazione
Chalet
---
Può ospitare
6
---
Camere da letto
Saint-Raymond, Québec, Canada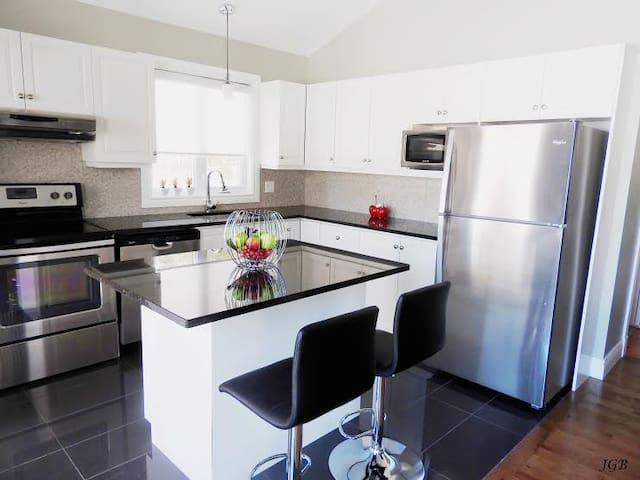 Sainte-Famille - Airbnb
:
Media di

4.56

stelle su

5

da

79

recensioni degli ospiti
1

–

5

di

5 Chalet in Affitto
Inserisci le date per visualizzare il prezzo totale. Ci sono dei costi aggiuntivi e potrebbero venire applicate alcune tasse.