Feels like you are out on a farm, but really you are in town. Ride the bike trail 10 minutes to Downtown and 15 to Univ of Idaho. The "Barn" is an English design from the 1400s with posts joined by with wooden pegs, and furnished with antiques.
Peterson Barn has the character of a mountain hide-away with all the comforts of home. Peterson Barn is the perfect way to get away from it all without ever leaving town. In the tradition of English cruck frames, the Peterson Barn was built by hand in 1997 from curved timbers. We felled and milled the trees, cut the joinery by hand, and did a barn raising with about a hundred of our closest friends. Many of the timbers are rescued urban hardwoods and each has a story. And the barn is gathering its own stories... honeymoons, anniversaries, holiday dinners, and even a home birth. We know you'll enjoy your stay. Cyclists: From the end of our driveway you can go east 14 miles on the Latah Trail's paved railbed to Troy, ID or west 8 miles via Moscow's Paradise Path to the Chipman Trail's paved railbed to Pullman, WA. There is also off-road biking on Moscow Mountain.
We are located only a mile and a half from the University of Idaho, on the Latah Trail / Paradise Path bike trail. Ride or run 14 miles east to Troy Idaho, or west through the UI campus and 8 miles to Pullman WA and WSU.
Everything was great. We would definitely stay there again.
Gina
2016-06-27T00:00:00Z
This was a perfect retreat for us while we attended a teacher training at Logos School. It was comfortable and quiet. Thank you so much.
Jennie
2016-07-16T00:00:00Z
Welcomed us and gave us a tour of the property.
Carrie
2016-10-17T00:00:00Z
Wonderful and charming. Such beautiful handiwork. Nils and Krista have prepared a wonderful place to stay. Enjoyed all the special details of this unique guesthouse. Clean and comfortable. My husband and myself loved this place. If our paths bring us back to the Palouse we will definitely choose this as our place to stay. Thank you so much for building this special place. We had come to town for a football game at Washington State, and the Peterson Barn Guesthouse is not far from Pullman, Washington so we felt lucky to get to stay there! Our trip to Moscow was truly enjoyed, loved the community!
Keri
2015-11-02T00:00:00Z
Nils was there to greet us when we arrived and gave us a tour of the barn. It is very charming and cozy. Even though the property is in a developed neighborhood you would never know it. The property is surrounded with beautiful trees. The property is graced with abundant flowers and various other plants including wild raspberries which were ripe for the picking. The following day we met Krista who was equally friendly and took time from the constant gardening work to speak with us and make us feel welcome. We would definitely stay there again in the future.
Robert
2016-06-23T00:00:00Z
My husband and I stayed four nights in the Peterson Barn. We loved the tranquil country setting within the small city of Moscow. We observed a pair of quail daily and enjoyed picking and eating the fresh berries from their garden served on their handmade pottery. The bike trails around Moscow are spectacular, and my husband and I are avid cyclists. The Peterson Barn is located extremely close to an entrance. We were visiting our youngest son who is a geology graduate student at the University of Idaho. He had just returned from six weeks in the back country of British Columbia conducting research when we arrived. He was happy to settle in at the Barn while we prepared and shared meals and summer adventure stories. The Peterson Barn felt like home. Thank you, Krista and Nils.
Candace
2016-07-07T00:00:00Z
We had a wonderful visit at the Peterson Barn Guesthouse! It was warm, inviting, well-stocked and very clean! We felt well-cared for and right at home. The location was perfect for our visit to Moscow and in a quiet and safe neighborhood.
Laurie
2015-04-09T00:00:00Z
Great place and great hosts! Loved it.
RaeAnn
2016-09-23T00:00:00Z
Tipo di stanza
Intera casa/apt
---
Tipo di sistemazione
Chalet
---
Può ospitare
4
---
Camere da letto
Moscow, Idaho, Stati Uniti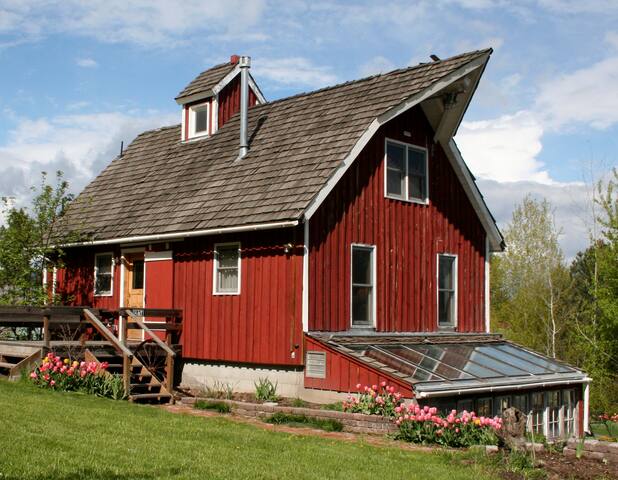 My cabin is less than half mile from downtown Moscow, 5 minutes cycling or driving, 15 from UI campus. It sits on a southwest-facing, sunny hillside on half-acre of grass, trees, flowers, and garden. When it was built in 1940, it was surrounded by residences and open space. Now it is surrounded mostly by businesses, but West Morton is a dead-end dirt road. Nearby is a big grocery store, drug store, and a couple of new breweries and restaurants. Nothing is far.
Typical of a 2-story cabin, the upstairs is bedrooms and downstairs consists of the kitchen, eating area, living room (all connected), the guest bedroom, the bathroom, and a utility room. Heat is from a natural gas heater where the wood stove used to be. The guest bedroom is small but bright with natural light; it was the library and still has some books and family photos. It has a wood floor. Immediately adjacent is the bathroom, which is large. The tub is an iron clawfoot that was enclosed in the '50s. The shower was added above the tub in the '80s. If you have mobility issues, this is not the bathing system for you. The porch is used as another room in the summer. The east yard is shady and used as an eating area on hot days. The west side consists of two large grassy yards with bushes, trees, flowers, a big dog pen, and a shed. Behind everything is a hillside with trees, bushes, and garden areas. The house and property are not level or smooth or modern.
Neighbors include a 5-unit apartment house, a woodworking shop, an electrical contractor, a tractor repair shop, and a storage lot for a phone company. The storage lot is across from the cabin. Highway 95 is close, so during the day if you are outside, you hear traffic. But inside and during the night, it is quiet. There is little traffic on West Morton because it is a dead-end road.
Diana is a wonderful host! She has food ready for you upon arrival as well as coffee, tea, or whatever else you need. Her pets are amazingly well behaved and super friendly. Each morning there is something delicious to eat and fresh coffee from the co-op. Her cookies are amazing as well. Her home is clean and super cozy. I will definitely stay with Diana next time I'm in Moscow. Can't speak highly enough of her hospitality. Best host I've had through Air B&B.
Ryan
2017-02-20T00:00:00Z
Diana has a very nice home. It is more than comfortable! She is very friendly and quite knowledgeable about the area. She knows where to go and what to do in Moscow. She gave me a great deal of information, which I appreciated. She made my stay the most enjoyable that I have had in many, many years!!
Catherine
2017-03-19T00:00:00Z
Diana left a key out for me....very thoughtful. I was warmly welcomed. Diana is a warm and sweet host. Loved being so close to town; Diana knows everything about Moscow and is so willing to share! Diana is a natural host....Her log cabin home has a lovely, warm feeling and is immaculately clean! It's just as she says..."simple and comfortable". It was everything I expected.... A real value for a budget minded traveler. I'll be staying again!
SUSAN
2016-11-15T00:00:00Z
I had a really great stay in Diana's cabin. Diana was very welcoming, friendly, and sociable. She also had a lot of great suggestions on nearby attractions, such as hiking at Spring Valley Reservoir, and she lent me maps of the area. The futon upstairs was comfortable, and the kitchen had everything I needed to cook over a long weekend. There is a grocery store withing walking distance, and her house is a short drive to downtown Moscow and the university. Her pets are pretty social, so if you aren't a big fan or cats or dogs this may not be the place for you. If pet's aren't an issue for you, then I highly recommend Diana's cabin.
Benjamin
2017-04-02T00:00:00Z
Simple comfortable very clean. My second stay at Diana's. My go-to place whenever I'm traveling through Moscow Idaho. A real value; special sweet home. Nothing like coming off a long chilly road trip into a home with a pot of soup on the stove... A real treat.
SUSAN
2017-01-29T00:00:00Z
More important than the low cost was the feeling of retreat and reprieve. I was in Moscow for a sad event and Diana's home was wonderful, such a kindly and interesting place, light years better that the sterility of a Best Western, et al.
Robin
2016-12-05T00:00:00Z
Diana was a fantastic host! Not only was she knowledgable about the town, she went out of her way to make sure I had a fantastic trip! Breakfast, dinner, coffee, she provided it all! Great conversation, a tour of the town, and a super cuddly cat. I would def stay again.
Kate
2016-11-17T00:00:00Z
Diana was the best host I've encountered yet. She was very accommodating during my stay during the Lionel Hampton Jazz Festival and even came to watch my performance. The breakfast in the morning was always organic and delicious. Her animals provided much creature comfort while I was far from home. I would definitely recommend staying at Diana's place and the conversations will be great!
gina
2017-02-26T00:00:00Z
Tipo di stanza
Stanza privata
---
Tipo di sistemazione
Chalet
---
Può ospitare
1
---
Camere da letto
Moscow, Idaho, Stati Uniti
Sharing a lot with the main house, the guesthouse is its own separate cottage. It is a complete house with bathroom, full kitchen, bedroom and living room. It is on a tree-lined street in a friendly neighborhood just a few blocks from downtown Moscow. The house most comfortably accommodates a couple but will work for a group of 4.
Little Green Guesthouse offers complete privacy. There is a queen-sized bed in the bedroom and a full-sized sofa-sleeper in the living room. Downtown you will find a variety of restaurants, or if you'd rather prepare your own meal in the guesthouse's well-equipped kitchen, you can pick up some groceries at the local food co-op only a few blocks away. The guesthouse supplies the following: KITCHEN/COOKING * full-size refrigerator/freezer * 24" oven with cooktop stove * microwave * toaster *12-cup coffeemaker, regular and decaf coffee, half 'n half * variety of teas * dishes, pots, pans, utensils, tupperware, and lots more * cookbooks of 4 or less ingredients * charcoal BBQ grill * some food staples such as cooking oil, sugar, salt and pepper PERSONAL CARE * iron and ironing board * hair dryer * shampoo, conditioner, soap INTERNET, TV and OTHER ELECTRONIC STUFF * password-protected wifi * 32″ HDMI television * smart dvd player with Netflix * basic cable * surge-protected USB device-charger for your smartphones and tablets NON-ELECTRONIC ENTERTAINMENT and RELAXATION * books and games, featuring a custom-made Moscowopoly * bathrobes for your use during your stay * candles * coupon for 1 free visit to North Idaho Athletic Club Little Green Guesthouse offers a green lodging alternative. Shampoo, conditioner, and lotion are supplied in non-disposable packaging, paper products are all 100% pcc, and recycling and composting are offered. The house is equipped with a water filter installed on the kitchen sink, eliminating the need for bottled water, an on-demand hot water heater, and a dual flush toilet.
The home is located in a residential neighborhood consisting of older, small homes. It's a short walk to downtown Moscow and the University of Idaho. Its proximity to the U of I allows you to avoid the hassle of parking on campus mid-week.
This was the ideal location to stay in Moscow. Within walking distance from downtown, yet also quiet and peaceful. The home was immaculate, with lovely furnishings and a comfy bed. Loved the organic coffee and being able to compost the grounds, and recycling was made easy--felt like home! Sharon was very accommodating and warm. Will definitely stay again.
Tasha
2015-06-08T00:00:00Z
This is a comfortable small house in a convenient location walking distance between downtown restaurants and businesses and the university. Communication and entrance were simple. It was great to have a simple kitchen stocked with basics. My only challenge was the bathing water was lukewarm. I spoke with the host about it and she explained that the heater actually goes colder if it is turned higher and that was the best it could do.
Atina
2017-02-23T00:00:00Z
A wonderful well appointed place to stay!
mia
2016-06-18T00:00:00Z
The Little Green Guesthouse was perfect! I stayed 2 nights with my daughter who attends the University of Idaho. The location was close to the school and downtown. The guesthouse was equipped with everything you could possibly need. Sharon was a terrific and accommodating host, with so much knowledge and information about the area and her own experiences. I would highly recommend staying at the Little Green Guesthouse!
Kathleen
2015-04-22T00:00:00Z
Sharon's special space in the middle of a sweet and convenient little neighbourhood was a fantastic way to feel at home in a new town! She made us feel extremely welcome while offering us a private reprieve. We wished we could have spent more time at the Little Green Guesthouse, but will surely return as soon as we can. Thank you Sharon!
Hillary
2016-07-19T00:00:00Z
Sharon was a fantastic host, with perfect communication. Beautiful place :)
Nicole
2017-04-06T00:00:00Z
It was a very cute little place. Perfect size for two people, close to downtown, very clean, fully furnished. Sharon was very accommodating. I would stay at the Little Green Guesthouse again next time I go to Moscow.
Charles
2015-03-09T00:00:00Z
If you're visiting Moscow, ID or Pullman, WA and prefer the tranquility of a quiet neighborhood to the typical hotel room experience, I'd suggest staying at The Little Green Guesthouse in Moscow. It's location is only a few blocks from downtown Moscow and only a 10 minute drive from Pullman. Our Host (Sharon) not only keeps a tidy house, but was more than helpful in answering questions about the area, like recommending a couple excellent restaurants (Maialina Italian Pizzeria and La Casa Lopez Mexican). As there seems to be a dearth of non-hotel lodging options in the area, and Sharon has done such a fine job providing one, we only hope The Little Green Guesthouse remains enough of a "secret" that it's available to us the next time we visit Moscow.
Tim
2015-07-09T00:00:00Z
Tipo di stanza
Intera casa/apt
---
Tipo di sistemazione
Chalet
---
Può ospitare
5
---
Camere da letto
Moscow, Idaho, Stati Uniti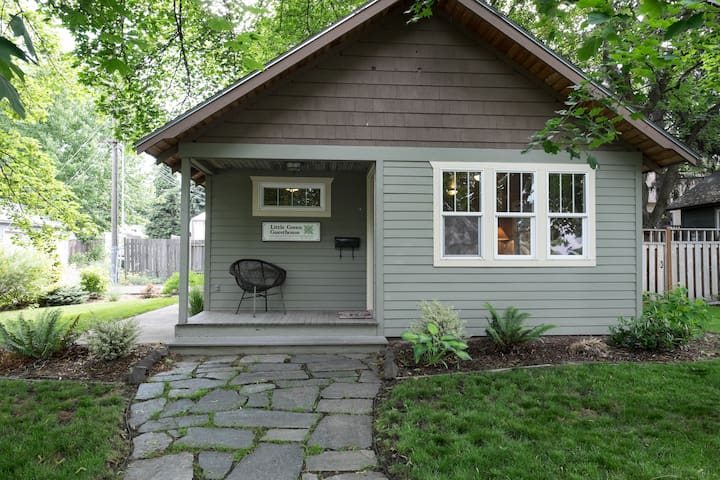 Our private little cabin is right on the Clearwater River with great views in all directions! You can just relax on the patio or spend time fishing and enjoying the property. It is great for couples who want to get away, solo adventurers, families (with kids), and perfect for short or long term fishing trips. From mid August to February the Steelhead fishing in the Clearwater River is excellent, with world class fly fishing for steelhead right out the door. "Hana Pa'a" or Fish on!!!
Or cabin is located right on the Clearwater river. This 400 sq ft cabin has a living room with a large and small couch and a separate bedroom with queen bed. It has all amenities including washer/dryer, shower, full kitchen, AC, outside grill, picnic table, etc. Great for a relaxing getaway or base for a week long fishing adventure on the Clearwater!
Amazing river views with breathtaking sunsets. A quiet dead end road to walk or jog on. Please respect our neighbors privacy as well. Spalding park is located at the end of our road and includes a wonderful historical museum that is part of the Nez Perce Historical Park.
We had a lovely stay, this was our first trip with Airbnb, and the experience was absolutely positive. Ken & Jackie were amazing hosts, they greeted us like family and made our stay & our 1st anniversary very special. The (Hana Pa'a) Cabin's location on the bank of Clearwater River is breathtaking, peaceful and relaxing. The cabin was very well stocked, clean & cozy. We would definitely recommend this place to everyone, especially outdoor enthusiasts, and those who love the outdoors and natures beauty. We plan to return each year for our anniversary and stay longer. We LOVED it!!
Brad Kellie
2016-08-17T00:00:00Z
This cabin is perfect! It's near the main road, making it easy to get anywhere in the area. At the same time, it's so peaceful and beautiful. It's the perfect place to get away! The cabin was clean and comfortable; it had everything we needed. Ken and Jackie were wonderful hosts. So much better than staying at a hotel!
Kirsten
2016-10-04T00:00:00Z
My husband and I absolutely loved the cute cabin! It was very clean and I wasn't able to spot a single spider inside the home. We didn't do any fishing or anything because we were in the area for family wedding, but was able to enjoy a full day at the cabin, just resting and cooking and drinking wine from a local winery. It was perfect!
Sharon
2016-09-21T00:00:00Z
Clean, well stocked little cabin, with a great view of the river and surrounding hills. Private and a nice BBQ area as well. Also, an easy drive to the city of Lewiston if supplies are needed. Water, wine, sparkling cider and chocolates were left for us for Valentine's. An abundance of coffee too. I'm not sure one needs much else. Thank you. Awesome treat. It was quiet, other than the occasional semi truck traffic across the river, and an occasional owl hooting. Perfect for a fisher of steelhead or a weekend getaway.
kelly
2017-02-17T00:00:00Z
We had coffee with Jackie and Ken the morning after we arrived. They were gracious and welcoming and helped answer any questions we had about the surrounding area. They were always available when we had questions and checked in with us to make sure we had what we needed.
Deb
2016-10-13T00:00:00Z
Had a great time at Ken and Jackie's cabin, it was a very nice place.
Eric
2016-11-24T00:00:00Z
great location for our purposes. not too far out of town and a great starting point for exploring the countryside. aweaome displays of nature daily seeing birds of prey catch their fish.
David
2016-09-10T00:00:00Z
AAAmazing!
Craig
2016-08-30T00:00:00Z
Tipo di stanza
Intera casa/apt
---
Tipo di sistemazione
Chalet
---
Può ospitare
4
---
Camere da letto
Juliaetta, Idaho, Stati Uniti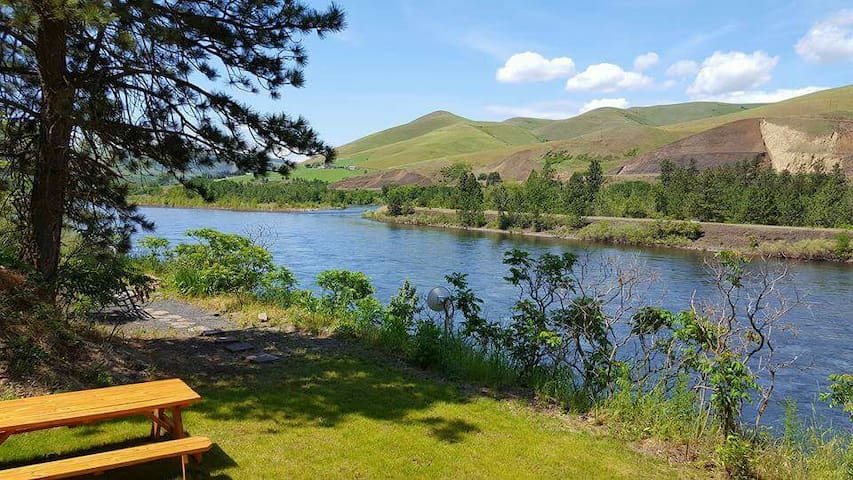 Pullman - Airbnb
:
Media di

5

stelle su

5

da

135

recensioni degli ospiti
1

–

4

di

4 Chalet in Affitto
Inserisci le date per visualizzare il prezzo totale. Ci sono dei costi aggiuntivi e potrebbero venire applicate alcune tasse.