Inserisci la data del check-in nel seguente formato dd-mm-aaaa
Inserisci la data del check-out nel seguente formato dd-mm-aaaa
Annunci che puoi prenotare senza aspettare l'approvazione dell'host.
12 Chalet in Affitto
· Prades
12 Chalet in Affitto
· Prades
Inserisci le date per visualizzare il prezzo totale. Ci sono dei costi aggiuntivi e potrebbero venire applicate alcune tasse.
Nei mesi di luglio e agosto puoi provare uno di questi 100 alloggi ad alto rendimento, per ogni fascia di prezzo, e vivere una visione locale di Sonoma. Prova il check-in continuato, la Prenotazione Immediata e vino e spuntini locali per rilassarti e godere al massimo del tuo viaggio.
The accommodation is ideal for couples or families who want to relax for a few days, pets are welcome. ALL INCLUDED : TOWELS, SHEETS, BLANKETS, WASHING MACHINE. :)
Todo muy bien,disfrutamos tanto la familia, perro incluido. Fuimos con una bebė y nos proporcionaron la cuna y se lo pasó en grande en su primer baño. Para repetir sin duda. Lo único por poner pegas, es que mi padre está acostumbrado a dormir en colchón rígido y le costó un poco. Por otro lado hay altavoces delante de casa que dan el pregón 3 veces al dia a un volumen considerable... Te rompe la tranquilidad entre semana, sobretodo a la bebé recién dormida. Pero bueno lo recomiendo 100%, tanto el sitio como la atención de los anfitriones !!! Gracias
Franc
September 2016
Hemos estado muy bien en la casa de Marc, no nos ha faltado de nada, todo estaba muy limpio y nos hemos sentido como en nuestra propia casa. Aunque no dispone de wifi propio, es lo único que haría falta. La zona de la piscina es genial para disfrutarla en verano mietras se hace una barbacoa. Totalmemte recomendable y nos quedamos con ganas de repetir!
Ana
June 2016
Estuvimos muy bien en la casa, una cabaña canadiense con algunos años pero bien cuidada, tanto Marc como su tía Fina y María nos facilitaron la llegada y la estancia allí, estuvimos poco tiempo pero lo disfrutamos, repetiremos sin duda y la recomendamos.
Eva
August 2016
Execente la casa y el anfitrión.
Gabriel
September 2016
La casa está ubicada en la localidad de l'Espluga de Francolí, lugar tranquilo e idóneo para pasar unos días y visitar la ruta del Cister. También tiene atractivos turísticos como la cueva de la Espluga o varios museos en el municipio. En lo que respecta a la casa, está ubicada dentro del pueblo, lo que es una ventaja al no tener que usar el coche para cualquier cosa. La casa tiene una piscina que se agradece en verano y bastante terreno, es ideal si se tiene perro y/o niños pequeños, pueden ir con bicicleta sin problemas por dentro del recinto de la casa. De noche ver las estrellas en silencio sentado desde el balancín es una gozada. El único pero, es tener en cuenta el calor que hace en la casa al no disponer de ventiladores ni aire acondicionado. En lo referente a Marc, no lo conocí por estar fuera en esas fechas, pero nos atendió un familiar suyo, muy agradable y con buena disposición para aclarar dudas o solucionar cualquier incidencia. En resumen casa muy recomendable; eso sí ojo con el calor.
Jordi
July 2016
Todo genial. Volveremos el año que viene.
Kimberling
August 2016
Una preciosa casa de madera para pasar unos días relajados. Todo funcionaba correctamente y esta muy limpio. Nos atendieron unos familiares de Marc y fueron muy amables y atentos, incluso nos solucionaron una urgencia personal que surgió días antes. Todo fue perfecto
David
July 2016
Perfecto alojamiento, una casa muy grande, con muchísima tranquilidad, y la atención que tuvo la familia de Marc fue increíble, sin duda queremos repetir
Judith
July 2016
Tipo di stanza
Intera casa/apt
---
Tipo di alloggio
---
Può ospitare
4
---
Camere da letto
3
L'Espluga de Francolí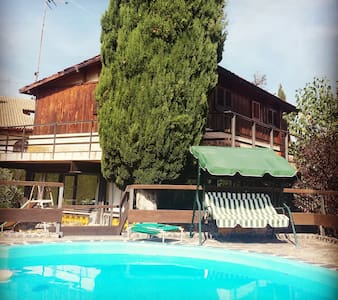 Todo perfecto. La cabaña muy hermosa y acogedora. Nos sentimos muy bien y comenzamos nuestro viaje con mucha paz. Lo mejor de todo fue el desayuno al amanecer viendo el mar en compañía de la familia perruna de la casa.
Fe
October 2016
Hôtes très sympathiques et accueillants. On recommande.
Candice
October 2016
Diego and Eric are wonderful hosts. We arrived at their place on short notice and they were very kind to us. Diego helped us showing the place and told us about the beach and then left us to be in a very friendly manner. They spoke a bit of English too and it was great. One of my best experiences through Airbnb and I would like to visit this beautiful cabin and say hi to Diego and Eric again.
Bharath
November 2016
Lieu tranquille avec vue mer.
Camille
November 2016
Todo perfecto, sin ruidos, acogedora y muy limpio todo, diego es muy atento
Juan
October 2016
Diego et Eric sont vraiment sympathiques et accueillant , nous avons d'ailleurs rallongé notre séjour chez eux. Merci à vous !!
souhila
October 2016
Un lugar acogedor con gente muy educada y detallista.
Alberto
November 2016
Nous a accueilli très gentillement à 23h après notre longue route. Cabane simple et propre.
Leo
October 2016
Tipo di stanza
Stanza privata
---
Tipo di alloggio
---
Può ospitare
2
---
Camere da letto
1
Salou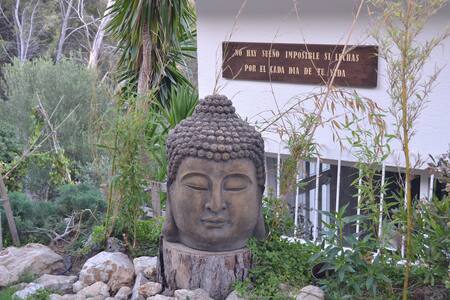 Un alojamiento diferente. Toda una experiencia.
Ana
August 2016
Buscábamos algo muy tranquilo para desconectar de la ciudad y que nuestros animales pudieran estar a su aire y eso es lo que encontramos en el espacio de Mar y Xavier. Además ellos fueron muy acogedores y atentos en todo momento y es muy interesante su proyecto de sostenibilidad. Como dice el título, el lugar es ideal para familias con niños.
Ana
August 2016
xavi et Mar sont très accueillant et toujours prêt a vous donner de bon conseil pour passer un bon séjour ! on est dans une ferme ecolo tres loin des supermarchés et de la vie stressante du monde moderne , eau de pluie recyclé , jardin bio , animaux ( chevres , poulain , paon , poules, canard, cochon,chat , chien ), diverses activités pour les enfants ( piscine, mur d'escalade, balancoire , velo etc..). Je reviendrais certainement mais pour un sejour plus long ! A bientot !
lilian
August 2016
it was a a very cool place to be! good expirience, special and very nice! thanks!
Sophie
July 2016
Très agréable séjour chez Mar Serrano, bon accueil rien a dire, je vous recommande cette hôte.
Pedro
July 2016
Le camping à la ferme en Espagne, c'est rare... Chez Mar et Xavi c'est encore plus précieux que cela : leur maison autonome en eau et en électricité (solaire et éolien) se veut un lieu d'accueil pédagogique avec un jardin bio et quelques animaux. Tout y est réutilisé plusieurs fois, recyclé, composté, donné à manger aux animaux, et l'eau est récupérée, filtrée, phyto épurée, de même que la piscine fonctionne sans chlore ni aucun autre produit nocif, elle peut aussi servir à arroser le verger !... Les hébergements mis à disposition sont une yourte fraichement installée, une caravane de 3 couchages, et un petit logement en cours d'auto construction en matériaux écologiques. Ce mode de vie respectueux de l'environnement se veut aussi respectueux de l'humain, avec une ouverture d'esprit qui laisse à chacun son libre-arbitre (choix d'utiliser les toilettes sèches ou avec chasse d'eau par exemple). Nous avons été reçus à bras ouverts, avec une grande disponibilité, et des explications et informations sur les activités touristiques, culturelles et sportives des alentours, le tout en français s'il vous plaît ! J'espère que Xavi a autant apprécié de réviser sa grammaire et son vocabulaire français avec nous que nous avons pris plaisir à échanger avec lui et Mar, toujours souriants et bienveillants. Perdu au milieu des champs d'oliviers multi centenaires, au carrefour de plusieurs sentiers de randonnées, ce lieu calme et reposant a été vraiment ressourçant pour nous et nous en gardons un merveilleux souvenir. Avec nos plus chaleureux remerciements à Mar et Xavi pour cette fabuleuse semaine.
Maëlle
August 2016
Les esplanes es un lugar maravilloso!!! 100% recomendado!! muy tranquilo, agradable y donde hay un proyecto de vida ecológica y sostenible digno de admirar. Nos hemos sentido muy agusto en casa de Xavi y Mar. Me ha encantado conoceros y passar per casa vostra. Me hubiese gustado haber compartido un poco más con vosotros ya que nuestro paso por allí ha sido algo fugaz, pero lo dejaremos para otra ocasión que vayamos con más calma. Molta sort i fins prompte familia!
LAURA
July 2016
Tipo di stanza
Stanza privata
---
Tipo di alloggio
---
Può ospitare
3
---
Camere da letto
1
Nulles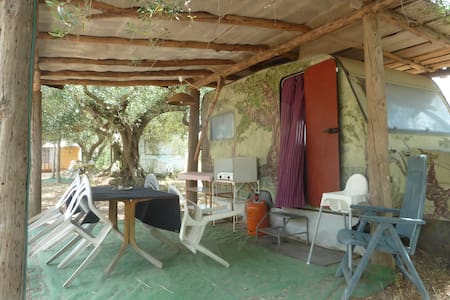 Chalet en bois de 45m2 pour jusqu'à 5 personnes sur éco-camping sur la Costa Dorada, dans un cadre calme et naturel. Vinyols Camp est situé sur une ferme organique de 4 hectares, avec une zone de culture de fruitiers et oliviers, potager et ferme.
Maison de bois certifié de 45m2 pour un maximum de 5 personnes. Une chambre avec lit double; une chambre avec deux lits; cuisine équipée et salon avec un lit d'appoint; salle de bains avec douche et eau chaude; terrasse. Activités ludiques, dans le potager et ferme, pour enfants en famille. Restaurant et cafétéria avec coin des jeux pour les petits. Piscine, aire de jeux extérieure, ping-pong, terrain de foot. Ferme aux animaux; écurie avec cheval, poney et âne. Potager et zone de culture agricole. Activités chaque jour pour les petits et en famille, inclus dans le prix. Logement en chalet en bois et emplacements camping pour tentes et caravanes. L'horaire de service à la clientèle est de 9h à 24h pendant les vacances, les jours fériés et les week-ends. Demandez-nous des renseignements, cartes et toutes les informations sur les lieux et activités à proximité.
Vinyols i els Arcs est un petit village tranquille à l'intérieur de la Costa Dorada, à 5 km des plages de Cambrils et de Mont-Roig. C'est un village de tradition agricole, entourée de champs de fruitiers, oliviers, amandiers et noisettiers, et légumes. Vinyols est à 4km de Cambrils, ses plages et son port à pêcheurs; à 6km de Reus, son aéroport et son centreville moderniste et commercial; à 15 km de Port Aventura; à 20km de Tarragone et de son passé et runes Romaines. En voiture, autoroute A7 / AP7 sortie Cambrils; prendre direction Montbrió/Mont-roig pendant 2km; au rond point prendre à droite direction Vinyols pendant 2km. Au rond point de Vinyols prendre à droite au Camí de Barenys et continuer pendant 300m. L'entrée se trouve sur votre gauche. En transport publique, arriver en train o bus jusqu'à Reus ou Cambrils. Prendre le bus Reus-Cambrils-Reus par Vinyols. En avion, depuis l'aéroport de Reus ou Barcelona, prendre le bus jusqu'à Reus. Et prendre le bus Reus-Cambrils-Reus par Vinyols. Les mascottes sont les bienvenues (avec un supplément)
Nous étions perplexe voire inquiets car, 100 % citadins, nous ne sommes adeptes ni des campings ni du bio... Au final ce fut une semaine très agréable. Les lieux sont très jolis, le bungalow fonctionnel et confortables. Les enfants sont ravis de côtoyer les animaux et la nature. Ils se font plein d'amis, et les parents aussi! Nous reviendrons et conseillerons cet endroit authentique et décalé à nos amis. Merci.
François-xavier
July 2016
Tipo di stanza
Intera casa/apt
---
Tipo di alloggio
---
Può ospitare
5
---
Camere da letto
2
Vinyols i els Arcs
Es una Yurta Mongol adaptada para poder dormir. Cocinar y baños en la casa nuestra que esta a unos 200 metros de la Yurta. La Yurta esta sola en medio de la montaña. Un espacio tranquilo para pasar unos días.
No tiene baño de momento así que disponemos de baño en la casa. Tampoco tiene cocina pero como en lo anterior en la casa tenemos cocina. Hay muchas opciones tenemos cuevas para visitar y un par de fuentes. Un monolito de 20 metros en un antiguo cementerio ibero. Nosotros podemos hacer comida para los huespedes o dejar les una cocina para que puedan cocinar.
Esta alejada de la carretera 4 km de pista forestal cerca del barrio de l'avellà en Font-Rubí Hay que venir en coche o en bus hasta el barrio de l'avellà. mirar en www.igualadina.com
Tipo di stanza
Intera casa/apt
---
Tipo di alloggio
---
Può ospitare
8
---
Camere da letto
0
Font-rubí
Ha sido un lugar muy agradable y sobre todo acogedor, GRacias por recibirnos
Alejandro
November 2016
Tipo di stanza
Intera casa/apt
---
Tipo di alloggio
---
Può ospitare
5
---
Camere da letto
2
El Perelló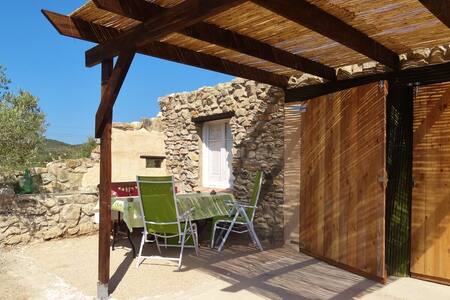 El proceso para alquilar fue muy fácil y todo funcionó muy bien.
Roberto
April 2014
Hola La estancia en la casa de Albert fue muy agradable. La recepción excelente y pasamos unos días de descanso en un pequeño paraíso. Si volvemos por las tierras del Ebro, no dudaremos en ir a la casa de Albert.
Àngels
May 2014
Fijn huis van alle gemakken voorzien. We voelden ons meteen thuis. Het huis voelde als een warm bad. De plek is ronduit adembenemend echt midden in de natuur. Veel gevist karpers, meervallen en hybriden gevangen. Geen hele grote, maar de actie vanuit het bootje was een leuke ervaring. Prima plek om tot rust te komen en veel mogelijkheden voor uitstapjes. De enige spelbrekers waren de in grote getale aanwezige vliegende, kruipende, stekende beestjes.
Gerard
August 2015
We had a great time, the house is located in beautiful nature surroundings just by the river. The description to get there and "house manual" was easy to follow and respect. There is plenty to see and do in the area, supermarket is close by, also good restaurants, and the garden offers a great place for an outdoors siesta. Albert, the hosts, are friendly and attentive. We did not meet in person but communicated via chat & (SENSITIVE CONTENTS HIDDEN) which went very easy and fluid. We will sure repeat our stay if we get the chance. Thanks for all Albert. Hemos tenido una experiencia, la casa está situada en un sitio precioso justo al lado del río. La descripción para llegar hasta allí así como las normas de la casa son muy fáciles de seguir. Hay muchas cosas para ver alrededor, supermercados cerca y también buenos restaurantes. y el enorme jardín es ideal para echarse una buena siesta. Albert ha sido muy amable y atento y aunque no pudimos conocernos en persona la comunicación con el ha sido fluida y rápida. Seguro que repetiremos en otra ocasión. Gracias por todo Albert.
Paco
April 2016
We had a lovely time at Albert's house in Garcia. I see it is fast getting booked up over the summer but I will try and fit in a longer stay later in the year. Two weeks would give me the chance to really unwind, see a bit of the lovely mountains and the sea which is a lot closer than I'd thought, and make myself at home in the comfortable house. Not to mention get a bit of fishing done!
Ian
May 2014
Tipo di stanza
Intera casa/apt
---
Tipo di alloggio
---
Può ospitare
5
---
Camere da letto
2
Garcia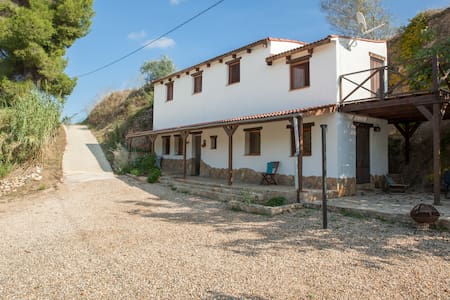 We are a small working Permaculture farm, of olive and carob trees, with wonderful views of Els Ports.
Come and stay in our off-gird, self-contained cabin powered by solar energy and supplied with spring water on tap. The cabin has all the amenities you will need, from a very comfortable pull-out sofa-bed with fresh bedding, to a fully fitted kitchen equipped with the basics like tea, coffee, sugar, rice and pasta. There's also fresh Olive oil from the farm and any of the other basics you might need to feel at home. You have the privacy of your own en-suit shower room with a full set of towels and toilet roll included.. There are a couple of bikes for you to use during your stay so that you can go and explore the surrounding area. We can, with prior notice, provide a full breakfast for you to cook yourselves, can be provided, for the extra cost of 6E for 2 people per day, by prior arrangement. This includes: milk, orange juice, bread, bacon and eggs. Enjoy the beautiful views and sunsets from the balcony, listening to the birds sing in tranquillity. Wonder around the garden, designed using the principles of permaculture and ecology. As we are a permaculture project we use all our waste. The grey-water from the cabin goes though an irrigation system which in turn feeds the citrus garden below and the flowers surrounding the cabin. We also have a compost toilet which is producing good fertilizer for all our fruit and olive trees Parking and internet access is available. Pets are also welcome by prior arrangement, as I have animals on the land. We have a few chickens which provide us with fresh eggs everyday, that you can buy for your morning breakfast. You are also invited to visit the organic vegetable garden and if the season is permitting, purchase your own veg box of seasonal vegetables. Just 2.5 km away is our nearest village, the beautiful XIV century Iberic pueblo of Tivenys, which with it's many bars, shops, pharmacy, bakery, butchers, tobacconist and much more, can supply you with all your basic needs. Due to being off the map a street view is not available. I am very happy to show you around the farm and explain any part of the integrated and sustainable system I am creating here. Please feel free to feed your vegetable scraps to the chickens, they are very friendly and enjoy the odd bread crust. If you are interested in coming to help on the farm in any-way I would be happy to accommodate you. Contact me for more information.
There is a regular train (Renfe) and bus (Hife) service to Tortosa from Barcelona or Valencia, from there you can catch a bus to Tivenys . Although this is regular during the week there is no weekend service. (Hife) origen -TORTOSA / destino - TIVENYS I am happy to collect and drop off guests at either the train or bus station if you are happy to pay the fuel costs, with prior arrangement. During the off peak time I am flexible on check in and out times, Please check with me before hand.
Pasamos un finde muy agradable y tranquilo en la hermosa casita de Peach, fuimos con nuestra hija de 1 año y su entorno privilegiado y silencioso nos encantó. Tuvimos un probemilla antes de llegar con el coche y Peach muy amablemente se preocupó todo el rato de nuestra situación y siempre estuvo muy atenta con nosotros. La verdad es que es una anfitriona genial y el sitio increíble para descansar y escapar de la city.
GERARD
March 2014
We arrived at about 5 pm, Peach friendly came to look for us because we had no indications to join the off-grid cabin. She is a host charming, very welcoming and available. I am allergic to feathers and there was no problem to exchange our covers. The cabin is very attractive and comfortable on the condition of covering itself well at night! There is all the simple necessaire in the kitchen and bathroom. Thank you very much Peach, we shall return with pleasure if we have the opportunity.
Aude
April 2013
We loved it, a really clean, modern spacious cabin perfect for two. Lovely location, probably need a car but if you do its truly a beautiful spot and worth staying for a few nights, Peach is amazing and provided us with some amazingly fresh food to cook with.
Bradley
June 2013
Had a great stay with Peach! She is a lovely host with a spectacular piece of land. Thank you and all the best!!
Pablo
July 2014
Una casa increíblemente acogedora, así como su anfitriona y su familia, que te hacen sentir como en casa. La zona es muy tranquila, con unas vistas espectaculares. La piscina es increíble, así como la finca en sí. Cerca del río y de zonas perfectas para disfrutar del día. El anuncio es totalmente transparente y honesto. Es el sitio perfecto para pasar unos días de relax desconectando del mundo (pero con internet!). 100% recomendable. Es muy bonito ver como Peach puede llevar a cabo un proyecto como este.
Nando
August 2016
Lovely cabin in the beautiful Catalunyian mountains,enjoyed our short stay,Peach was friendly and helpful and the cabin clean and comfortable . Peak temperatures mid August made it slightly uncomfortabe but would love to stay longer in more clement weather
Noel
August 2013
What a great weekend we had staying at that wonderful cabin! The place is fantastic and Peach and her lovely kids spread the good vibes all around! Thanks a lot, Peach! Hope we'll come again soon!
Eva
December 2013
Le logement est charmant , il n'y manque rien, dans un cadre enchanteur ; La localisation entre les Ports et le delta , pratique pour qui veut visiter les deux. L 'accueil et le contact avec Peach furent très agréable. A recommencer aux amoureux de la nature.
Eliane
October 2014
Tipo di stanza
Stanza privata
---
Tipo di alloggio
---
Può ospitare
2
---
Camere da letto
1
Tivenys
La casita está bien. Pone q tiene televisor, y lo tiene,pero sin (URL HIDDEN) cama de matrimonio está en lo q es comedor. No es una casa para pasar mucho tiempo en ella,pero nosotros estuvimos muy bien.
soraya
November 2016
Estadia exelente en medio de la naturaleza. Fuimos con los niños. Exelente. Simple pero con todo lo necesario para desconectar
Selene
December 2016
Anfitrión encantador. La casa perfecta. El lugar de ensueño, para desconectar! Un placer
Ester
November 2016
Tipo di stanza
Intera casa/apt
---
Tipo di alloggio
---
Può ospitare
4
---
Camere da letto
2
El Perelló
Bungalow de 2 habitaciones y un baño en un resort de 1ª categoría en la playa más espectacular de la Costa Dorda, en Tarragona. Equipado con cocina y baño completo, TV, sofá cama y ubicado alrededor de plazas y jardines muy bien cuidados.
Camping de primera categoría junto al Mar. En la playa de Tamarit, junto al Castillo de Tamarit.
The host canceled this reservation 266 days before arrival. This is an automated posting.
lesley
The reservation was canceled 36 days before arrival. This is an automated posting.
Geraldine
Tipo di stanza
Intera casa/apt
---
Tipo di alloggio
---
Può ospitare
6
---
Camere da letto
2
Tarragona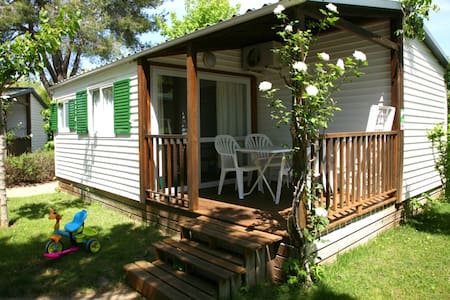 Viva La Vida is a 6 to 7 seater fully furnished house with three bedrooms, two rooms with two double beds and a room with a bunk bed with extendable possibility for third person. From the balcony you have a beautiful view of the sea and on the other
vergunningsnummer verhuur 14599
Tipo di stanza
Intera casa/apt
---
Tipo di alloggio
---
Può ospitare
7
---
Camere da letto
3
L'Ampolla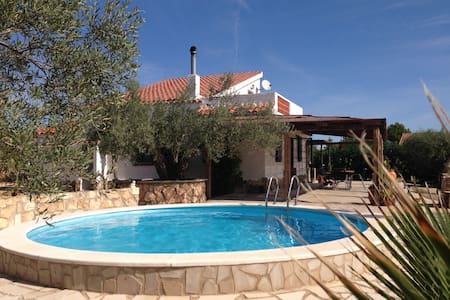 Extra large, 55m2 (32 x 16 feet) and luxury mobile home at 5 star campsite in Vilanova, Spain. Excellent holiday for both kids and adults! Lovely 3 swimmingpools paradises with seaviews. This place provides you all for a great holiday to remember! Note: at low season ( 20sept - 15 june) this mobile home will be occupied, a copy of this mobile home will be offered, but will not have the wash machine, big bed and big parking. You will specifically be formed.
Next to "Spanish Monaco" Sitges you'll find the well situated 5 star parksite Vilanova Park, with its lovely 3 swimmingpools paradises. Great park, with a lot of shade, flowers and countless things to do. Outside the campsite there is at 1 km horse riding, golf or the great and extensive beach at only a 10 min drive. You can see the great Sagrada Familia, or get impressed by the Gaudi park in Barcelona, which is at 40 min by bus or train. After coming home at the campsite you can choose to be entertained by campsites shows* like Salsa, live bands, dancing under the moonlight, or just decide to have a quiet evening in your mobile. Airconditioned, more info also on www.spaanshuisje.nl * depending the season Bar, restaurant, swimmingpools. Indoorpool with sauna and jacuzzi and gym details can be obtained from reception. (swimmingcaps required in indoorpool). Boutique, gamesroom, internetroom, playground, supermarket, live shows, entertainment, jumpingpillow, miniature golf, tenniscourts (details available at reception) Check in- and out will be done by campsite reception.
Fun environment, Sitges, Barcelona, Vilanova beach at a 10 minute drive only. Port Aventura themepark at 40 km, hiking and biking opportunities, entertainment, see and be seen in Sitges. golf, watersports. Bus stop L2 from campsite to beach, Vilanova or Barcelona. Airports; Reus, Barcelona and Girona. Mon bus direct from airport to camping? Check www.monbus.cat Unique selling points; No self-cleaning on departure, it is professionally cleaned. Incoming clients: Bed linen is provided. 602 sq. feet decking and including secure gate. Gas BBQ (optional), extra large bed with topping (June-Sept), mobile home is considerably younger, cable TV, air conditioning. See the reviews at www.spaanshuisje.nl
Excellent European Experience! Our family really enjoyed Vilanova Park. The mobile home was comfortable and exactly as advertised. Jeroen was helpful, kind, punctual and honest. Additionally, he provided us with a lot of helpful travel information and tips. The park is a wonderful, economical way to enjoy time together as a family in a beautiful place with potential friends from all over Europe.
Megan
June 2014
Our stay in Jeroen's Mobile home was great. We found it nice and clean, with all the necessary items for our weekend. Jeroen is very communicative and he cares about his guests. The place, Vilanova Park, is also great. You can enjoy a lot of activities there, and its not afar from the beach. If you want to have a good time, this is a good option for sure!!
Trombon
August 2014
We stayed 2 months at this place and liked it a lot. The host Jeroen was very helpful and kind to make our stay a comfortable as possible. The place was exactly as descibed and the facilities in the holiday park were all very entertaining and nice. Highly recommended!
Jens
March 2015
El lugar perfecto para pasar unas vacaciones con niños. Mobile-home impecable, bien equipada y con extras como mesa pícnic, barbacoa de gas, bicicletas y una amplia parcela donde caben perfectamente dos coches. La comunicación y el trato con Jeroen fueron excelentes. Y el camping muy bien equipado, con actividades durante todo el día para mayores y pequeños. Muy buenas instalaciones y el personal muy amable y atento. Con ganas de repetir y poder pasar más días, pues la estancia se nos hizo muy corta.
Dolors
June 2016
We had a great time.Not only we had all the comfort of a warm house but also the great hospitality of the camping stuff.
Didem
April 2014
La mobile home es ideal para pasar unos días de vacaciones, esta equipada con todo lo necesario y es muy cómoda. Se encuentra en un camping bonito, muy profesional y con buenas instalaciones. ¡Muchas gracias por todo Jeroen!
Nina
July 2016
We had a great stay at Jeroen's place. It's a lovely campground for families and in a really nice area. We only booked for a few days and wish we had stayed longer! Communication was easy and pleasant.
Julie
July 2016
Una buena experiencia en un camping ideal para familias.
Monica
September 2014
Tipo di stanza
Intera casa/apt
---
Tipo di alloggio
---
Può ospitare
6
---
Camere da letto
2
Vilanova i la Geltrú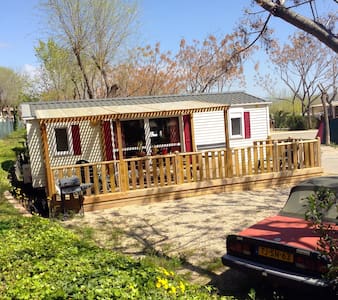 1

–

12

di

12 Chalet in Affitto