Newly renovated, light and stylish self-contained studio, perfect for that out-of-town break. Just 1-2 minutes walk to pristine beaches, close to Royal National Park bush walks. (Please note: location on Airbnb map is not accurate - we are on Neil St, very close to Gunyah beach - see photo for accurate indication) Spacious and comfortable bed-living room (4x6m), kitchen and bathroom, shady deck with lush garden outlook. Around one hour drive from Sydney, can also take ferry from Cronulla.
Private and completely self-contained space, with queen bed, kitchen and shower room, ideal for a self-catering couple. Sorry - because of unfenced areas and wildlife it is not suitable for children or pets. Please note that there is a 2 night minimum stay, 3 night minimum on long weekends. Check costs by entering your intended dates, as seasonal rates apply.
Bundeena is a unique village completely enclosed by national park and four beautiful beaches, yet still within the Sydney metropolitan area and only an hour away from city restaurants, galleries and concerts. In Bundeena you will find: - Unspoilt beaches, with the opportunity to swim, kayak, snorkel or go fishing. - Walking access to the famous Coast Walk (Wedding Cake Rock, Marley Beach, Wattamolla) and short drive to other Royal National Park bushwalks. - Cafes, restaurants and regular live music at the local Bowling and RSL clubs (Note - RSL club currently closed for redevelopment) - Talented artists who open their studios to visitors for the Art Trail held on the first Sunday of every month, along with the Monthly market day. - Tennis courts, footy oval and dozens of bushwalk routes, with seasonal opportunity for whale-watching. - The local ferry goes to Cronulla where there are cafes, restaurants, night clubs and surf beaches. Search 'visiting bundeena' for more information.
A perfect location! Two beaches are a mere couple of minutes walk away. We also did a great walk in the National Park which started just down the road from Belinda's. The studio is extremely clean and the kitchen is excellently stocked with everything you're likely to want and need. There is a great BBQ as well. The studio is separated from the main house by a lovely garden, and feels private and very tranquil. Belinda was a fantastic host - very welcoming and friendly. I would highly recommend Bundeena Garden studio to all.
Emily
2015-01-05T00:00:00Z
From the moment we put down our luggage we felt at home and relaxed. The garden flat has everything you need and a lovely deck on which to sip a wine at the end of a day at the beach. The location is perfect, just a stone's throw from a number of beaches and an easy walk to the ferry. We didn't use our car at all. Belinda provided all the information and communication required in a friendly and discrete manner. We will be back!! Thank you!
Kathryn
2015-01-26T00:00:00Z
We were so pleased with the clean, up to date furnishings and equipment. More spacious than the photos looked. Everything was well thought out, including cooking utensils and basics like milk, oil, coffee etc. Lovely location near multiple beaches and short walk to town. We enjoyed the DVD collection and sound system when the weather turned against us. Belinda gave us a very warm, informative welcome then left us to our privacy. Enjoyed the many birds and possums and feeling like we were in the bush but in the comfort of a lovely home.
Sally
2016-09-19T00:00:00Z
I looooved staying at this studio. It was so peaceful, in a perfect location and well appointed with everything you need. This is now my preferred 'escape hatch' from the city. I can't wait to go back.
Jo
2017-01-04T00:00:00Z
I really enjoyed my few days stay here, recovering from jet lag so I could start work refreshed and ready to go. I was made very welcome and had everything I needed in the studio. The bit I enjoyed most was sitting out on the deck at night on the warm evenings listening to the 'strange' wildlife. The beaches are a couple of minutes in either direction and local amenities a 5 minute walk. Hard to believe I was only an hour away from Sydney airport, it seemed a million miles away.
Peter
2016-11-13T00:00:00Z
Belinda was a perfect host, she was welcoming and gave us a run down of the place as soon as we arrived, we were half hr earlier than expected and she still accommodated for us which was great. Neighborhood is relaxing, quiet. It was raining pretty much the whole time we were there but there was plenty to offer to pass time - good reads, music, games. The studio had everything we needed, the quality of linen and towels was 5 star. Thanks for a great stay! Highly recommended!
Som
2015-11-06T00:00:00Z
I spent a lovely weekend in this cute little fully self contained apartment. Belinda has though of all the little things that make your stay amazing. It close to the shops and the beach. There are some amazing nature walks and mountain bike trails in the area. Really good value and i would recommend this little gem to anyone...
Andrew
2015-07-20T00:00:00Z
Great stay- beautiful, clean, modern apartment. It's a very peaceful location and it is a short walk to three beaches- two of which are literally on your doorstep. Belinda was super helpful and friendly- would definitely recommend / stay again. It was exactly what we wanted- a chilled out stay in / just next to the Royal National Park.
Rhiannon
2014-02-10T00:00:00Z
Tipo di stanza
Intera casa/apt
---
Tipo di sistemazione
Chalet
---
Può ospitare
2
---
Camere da letto
Bundeena, Nuovo Galles del Sud, Australia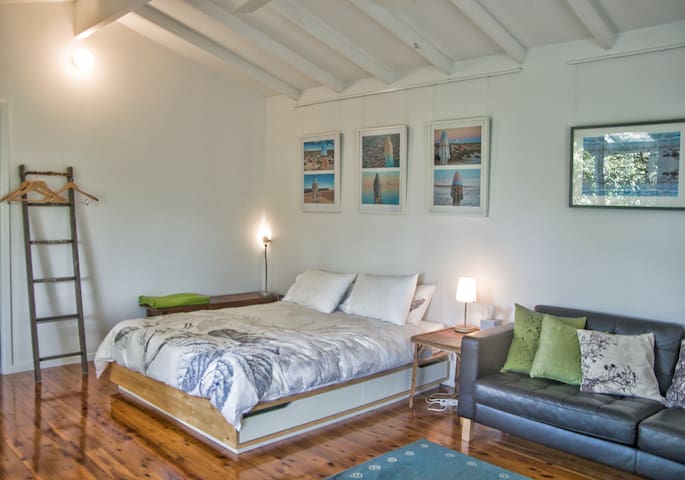 Bonnie Vale Studio è una cabina autosufficiente rustico in Bundeena con una straordinaria vista sulla aree da picnic Bonnie Vale e spiaggia. Situato in alto sopra la spiaggia, lo studio è 1 camera con 2 letti e una cucina. Un minuscolo bagno / doccia è collegato C'è uno spazio esterno coperto con tavolo, sedie, un barbecue a gas e un bagno esterno. Bundeena è un piccolo villaggio costiero con 4 spiagge circondate dal Parco Nazionale.
Lo studio è un 1950 cabina fibro. Al suo interno è arioso, pulito e confortevole. Fuori è più 'baracca e la giungla' di 'casa e il giardino'. Questo è un posto per la footed sicuro che con sentieri rocciosi e un bagno esterno. E 'visitato ogni giorno da cacatua e opossum. A pochi minuti a piedi anche se la pista cespuglio dall'altra parte della strada vi porterà alla spiaggia, dove sono disponibili per il noleggio kayak e paddle board.
Bundeena è un villaggio costiero circondato dal Parco Nazionale Reale. Troverai - 4 belle spiagge. - L'accesso alla famosa Passeggiata Costa dei Parchi Nazionali ' - Caffè e musica dal vivo presso il Bowling Club locale - Il traghetto va a Cronulla ogni ora.
Cute cottage, with stunning views, so close to the oldest national park in Australia, Royal National Park. Reason why I choose this cottage was that I was travelling with a friend, and it was the only small property I came across that had two separate very comfy beds in the one room. A fair amount of privacy, as the main house was a fair distance from the cottage. Fully equipped kitchen and shower had great water pressure. Never got to use the wonderfully big outside bath, and would have no issues with doing so as in 3 days we only saw the one person on the street down below. Highly recommend this beautiful little cottage in Bundeena.
Kerry
2017-03-08T00:00:00Z
Our stay here at Madeleine's was just wonderful, it was a little slice of heaven that felt so nourishing. The cottage was clean and tidy when we walked in and we felt so at home immediately. In fact we loved it so much we didn't go anywhere else for three days. The little bathroom was so cute and the outdoor bath was celestial. We will definitely be back here to spend more lovely time at this most gorgeous cottage.
Jane
2017-03-15T00:00:00Z
Lovely place. We will return again I'm sure of it!
Steve
2017-03-11T00:00:00Z
Lovely, peaceful and well equipped. Definitely one for nature lovers. Came to do a detox diet and soul searching and was the perfect setting. My hubby and kids also loved the garden when they came to visit on my mini retreat. Ive been to expensive retreats and found this to be better alternative. IGA close by for all cooking essentials and perfect garden setting for yiga and meditation. Thank you Madeleine for making your special place available.
Diana
2017-04-03T00:00:00Z
What a perfect break. Beautiful location and close to everything. So quiet too.
Penny
2017-03-05T00:00:00Z
Great place to stay - very private, lovely little garden, house perfect with everything we needed, great view, wonderful outdoors bath and shower. Minutes away from the beach and kayaking.
Fiona
2017-02-25T00:00:00Z
Tipo di stanza
Intera casa/apt
---
Tipo di sistemazione
Chalet
---
Può ospitare
3
---
Camere da letto
Bundeena, Nuovo Galles del Sud, Australia
My place is close to family-friendly activities, southern Sydney beaches, the internationally acclaimed "Camelia Gardens", The Royal Nation Park and public transport. You'll love my place because of the unique location of this Boat House - you are literally "ON" the beautiful waters of Port Hacking's Yowie Bay! My place is perfect for couples, solo adventurers and business travellers. No doubt you will enjoy the peace, tranquillity and privacy of this rare setting.
Niko's Boathouse is a great place to get off the beaten track and relax. It's rustic but clean, neat and tidy. The bathroom is outside in a separate building, centrally located - but there is an inside toilet adjacent to the bedroom. I loved it!
Zac
2016-12-20T00:00:00Z
This is a nice basic property with a fantastic location with great views all around you. It is a very peaceful place to stay listening to the water lapping under your feet and watching the ducks swim by. It also has bush outlook across the bay which makes it very private and a great place to stay.
Jon
2017-02-27T00:00:00Z
A great place to relax
Rob
2017-02-12T00:00:00Z
Tipo di stanza
Intera casa/apt
---
Tipo di sistemazione
Chalet
---
Può ospitare
2
---
Camere da letto
Miranda, Nuovo Galles del Sud, Australia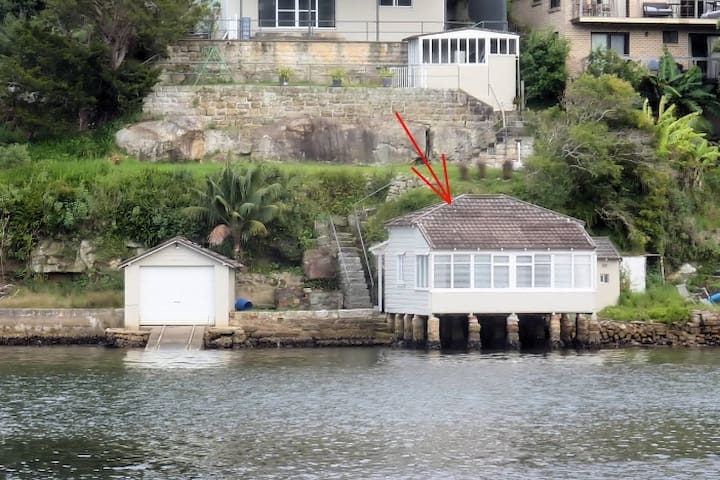 This studio is available to rent in conjunction with the main house if you need extra space. It is only rented as an addition to the house and not on its own. It is simple accommodation which sits at the back of the block and looks onto lush gardens.
Queen bed, single bed and simple kitchenette. Ceiling fan. Light & bright. Basic but comfortable. The bathroom is clean and has a good shower but access is from outdoors (separate to the studio itself).
The location is so quiet yet so close to everything. The Bundeena shops are 5 minutes walk where there is an IGA, bakery and several cafes. There are 3 great beaches within easy walking distance.
This studio/ "casita" is a great place to watch a massive storm blow through. Although basic in it's amenities, it features large windows throughout and sits perched just above a secluded cove. The sturdiness and weatherproofing was surely tested during our stay as wind, rain, thunder and lightning bombarded us for hours. Our off site hosts were very accessible and communicative. They helped sort out our arrival/ transportation details and assisted with any needs that arose during our visit. From this location it is a very short and beautiful walk to the limited number of shops and restaurants in Bundeena. Also within walking distance are numerous trails to explore and a couple of great beaches for swimming, relaxing and admiring the views. If you have never heard of Bundeena you are not alone. Most Sydney residents we spoke with about our visit to this awesome coastal getaway, had never been there and many had no idea where it even was. We dream of returning with family and friends to share wonderful Bundeena. Renting the main house in conjunction with the studio would provide a private slice of paradise large enough for a large group to enjoy. The setting created by the lovely gardens and landscaping, combined with the fact that you are practically dangling over the beach and water, takes the work out of enjoying yourself. Don't miss the opportunity to visit this gem.
Ruben
2014-10-18T00:00:00Z
Claire and Robbies place in Bundeena is just beautiful. It was perfect for an extended family celebration. Thanks for a wonderful stay!
Kim
2016-08-29T00:00:00Z
Very nice home in a beautiful location. Loved the view, the beach and the serenity. Hope to stay here again soon.
Norma
2016-10-02T00:00:00Z
Studio was a great addition to the house! Lovely for large groups. Highly recommend!!
Jacob
2016-04-12T00:00:00Z
Lovely house in such a great locations! The ocean is at your door step, no need to even leave the property!
Kim
2017-01-02T00:00:00Z
Claire and Robbie were extremely helpful in helping me to decide if the property was suitable for my elderly father to come with our family for my birthday celebration. He really enjoyed the stay even though he chose to sleep in the main house in the single bed at the entrance and laundry rather than the studio due to the ease of toilet access at night. My daughter enjoyed the quiet and space of the studio and the boys could watch the footy downstairs and sleep there. The cooking facilities were very good and we were able to eat on the deck even as we watched a storm - very beautiful. All of us managed a swim at the tiny beach below and I loved the paddleboard hire at Bonnie vale.
michelle
2015-04-27T00:00:00Z
Lovely studio - we hired this in addition to the main house and it was great to have an extra bathroom, toilet and fridge which the studio provided. Great outlook.
Jodie
2015-11-02T00:00:00Z
Bundeena is just so amazing! It really is a slice of paradise which makes you feel like you are a million miles from Sydney. The location of this house was fabulous and the home was very big and clean. The secluded, family friendly beach is literally at your front door, down the steep stairway, as is common in Bundeena. We were 3 families and we all slept very comfortably in this house with mattresses on the floor for the kids. Bundeena is paradise and this home is a great place to enjoy with family or friends. We would have loved to stay for another week! If you're staying with young children there is a steep staircase internally and the rail on the gorgeous balcony overlooking the ocean is quite low. Our kids were fine but it's something to watch
Andreas
2016-11-13T00:00:00Z
Tipo di stanza
Intera casa/apt
---
Tipo di sistemazione
Chalet
---
Può ospitare
2
---
Camere da letto
Bundeena, Nuovo Galles del Sud, Australia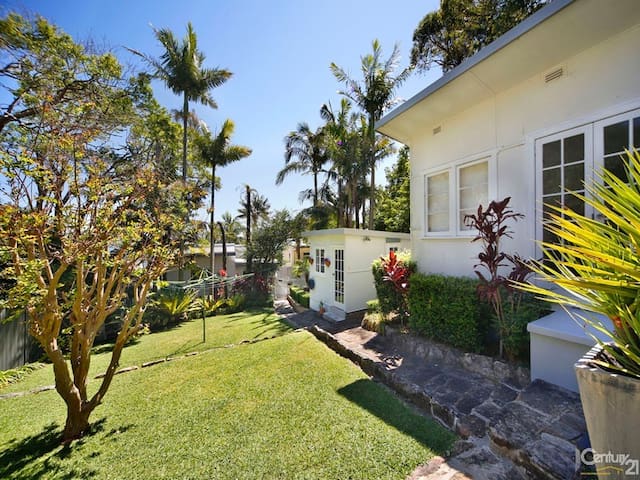 The Bundeena Boatshed is a unique absolute beachfront accommodation on Gunyah Beach in Bundeena. Step out of the door onto the sand and crystal clear waters of a little known piece of paradise. The very private and self-contained Bundeena Boatshed is the ideal location for a couple or singles to 'getaway from it all'. The Bundeena Boatshed accommodates a maximum of two guests.
The Bundeena Boatshed is a reminder and a link to the early days of the Bundeena settlement as a fishing village. With it's life as a fishing boat house at an end, the boatshed has been carefully adapted to provide a unique style of accommodation.
Garry and Anh Thu welcomed us upon our arrival and were gracious hosts. The boatshed is a lovely, clean space well-equipped with everything you'll need for your time there. A supermarket is within walking distance (we walked the beach to it but you can take the road which is a bit more hilly) for any food/drinks you may want. Our stay was only a weekend but we both agreed we could have spent a week easily on that patio! The lounge chairs are perfect for catching the afternoon sun and taking a dip in the clear water only steps from your door. The boatshed is perfect for a relaxing getaway!
Kristen
2017-01-15T00:00:00Z
This is a private and unique spot with a very convenient beach walk to shops.
Trudi
2017-02-25T00:00:00Z
Tipo di stanza
Intera casa/apt
---
Tipo di sistemazione
Chalet
---
Può ospitare
2
---
Camere da letto
Bundeena, Nuovo Galles del Sud, Australia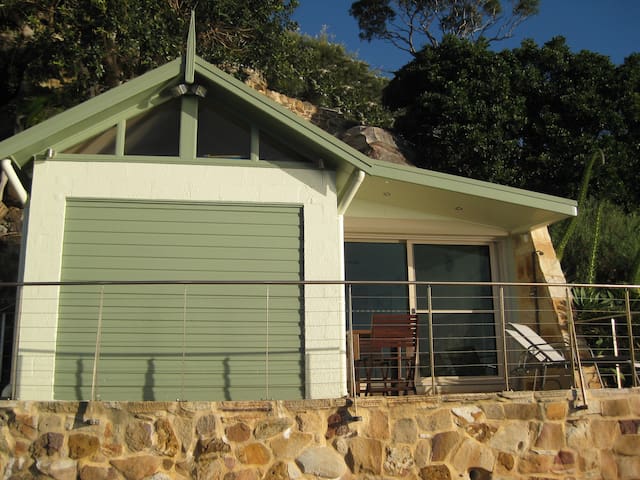 It has an open plan lounge/dining/kitchenette area, bedroom with en suite bathroom(double shower) The large deck is 5 meters from the beach has 2 sun loungers, table & 2 chairs & BBQ
The host Bernard made us feel very welcome.The location was better than expected and the Beach Hut was just perfect and presented beautifully - we couldn't have asked for more - we will definitely be going back as Bendeena is a beautiful little township.
Neil
2016-08-01T00:00:00Z
Such a lovely spot. Really value for money. The view is stunning and includes such great amenities such as bread, juice, yoghurt, etc etc. Interior was spotless and very clean. Highly recommended. Most certainly will come back!
Vanessa
2017-02-16T00:00:00Z
The beach hut is absolutely BEAUTIFUL!! Bernard was so very friendly and helpful telling me about the important things about the place and the area. The hut sits detached from the hosts house, several steps down, close to the water. It is a private little flat and is the perfect size for a couple (although I came on my own to be a bum :)). I was overwhelmed by how lovely the accommodation was, and the kindness of the host! He even brought down a lovely salad to me his wife had made in the evening. The glass balcony overlooking the beach is the perfect spot to sun in the day or have a wine overlooking the water in the evening! It's about 15 steps down to the beach from the hut, and a 5 minute walk from the iga. It's a short walk to the jibbon head coastal walk, which has beautiful bush, cliffs, and beaches along the way. I highly recommend staying in this lovely little retreat - I definitely will be again. :)
Amy
2016-01-30T00:00:00Z
What a wonderful piece of paradise! The beach hut is a brilliant place to wind down after a busy week in the city. So thoughtfully hosted by Bernard and Ines, the beach hut has everything you could possibly need to either get out and about in gorgeous Bundeena or simply sit and relax listening to crashing of the waves. We really impressed at how well fitted out the hut was and although it sits on the same property of the host, it remains very exclusive and private. Thanks again Bernard and Ines for your generous hospitality, the kind touches of milk, bread, condiments, tea and coffee were greatly appreciated. Highly recommended for anyone looking for a beach getaway where you can take a break from a busy lifestyle! We look forward to a return visit soon.
Megan
2016-07-25T00:00:00Z
Tipo di stanza
Intera casa/apt
---
Tipo di sistemazione
Chalet
---
Può ospitare
2
---
Camere da letto
Bundeena, Nuovo Galles del Sud, Australia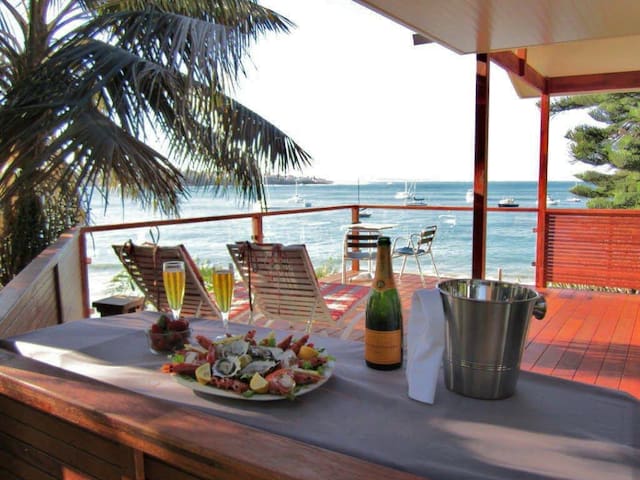 Port Hacking - Airbnb
:
Media di

4.94

stelle su

5

da

181

recensioni degli ospiti
1

–

6

di

6 Chalet in Affitto
Inserisci le date per visualizzare il prezzo totale. Ci sono dei costi aggiuntivi e potrebbero venire applicate alcune tasse.