Inserisci la data del check-in nel seguente formato dd-mm-aaaa
Inserisci la data del check-out nel seguente formato dd-mm-aaaa
Annunci che puoi prenotare senza aspettare l'approvazione dell'host.
Inserisci le date per visualizzare il prezzo totale. Ci sono dei costi aggiuntivi e potrebbero venire applicate alcune tasse.
Nei mesi di luglio e agosto puoi provare uno di questi 100 alloggi ad alto rendimento, per ogni fascia di prezzo, e vivere una visione locale di Sonoma. Prova il check-in continuato, la Prenotazione Immediata e vino e spuntini locali per rilassarti e godere al massimo del tuo viaggio.
This large room has a sleeping area where you lay in bed and stare out at the stars. The sitting area is a comfortable space to relax and unwind. Please make yourself comfortable and enjoy your stay. Pine Bluff is 45 minutes from Little Rock airport.
It's more than just a room. The one bedroom suite is spacious with a comfortable seating area. There's even an exercise corner with lite equipment if you need to unwind. Coffee is available. Guests are welcome to relax on the first floor , including the screened in porch. I do very much love sharing travel stories with guest when time allows. And you as my guest are welcome to cuddle up and spend the evening with yourself.
Pine Bluff is a modest city of 46,000 people. My house is one of the oldest in the neighborhood, built in 1927. If you are from a big city such as myself, you will notice how quite it is. There is little traffic, the street lights are low and the stars are bright. Getting around will require a car. The University of Arkansas at Pine Bluff and SEARK junior college are both less than 3 miles away. Jefferson County Medical Center is nearby! Including the JRMC Wellness center where you can buy a $10 day pass. If the weather is nice you can even take the short walk to the center. I am sincere about hosting you. And I hope you Enjoy your stay. But, excessive intoxication is unacceptable behavior and is grounds for immediate checkout.
Tipo di stanza
Stanza privata
---
Tipo di alloggio
---
Può ospitare
2
---
Camere da letto
1
Pine Bluff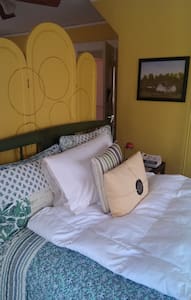 Located on Old River Lake, 17 mi from LR Airport. It is a nice spot for dock fishing, bird watching, and relaxing in the country with access to the city.
Peaceful and quiet, and the country air will make you sleep well! The dock and the barn for storage. I will be available for orientation, otherwise, little to none. During long stays, I might be out there for lake or barn access, but I won't hang around.
1. No TV! Actually, there is a TV for movies and a few air-TV channels come through. Don't plan to see your favorite shows. You'll have to bring them pre-recorded. 2. The hot water tank is small and okay for the summer. Winter showers must be quick. 3. Cellphone service is weak out there, but generally works just fine outside the building. Inside, it is a little sporadic.
Mark was a great host - he helped me navigate my way to the site, even staying on the phone with me when (SENSITIVE CONTENTS HIDDEN) maps did not work! Mark was flexible with our check in time so we could explore Little Rock before heading to his land. The space itself is gorgeous - so much open-ness in the cabin and lots of nice touches to make it feel cozy (games, movies, candles, fireplace). I would HIGHLY recommend this location!
Candace
March 2016
After making last minute reservations, literally the day we needed to check in, we were welcomed with smiling faces by Mark and Katherine at their beautiful country retreat, "The Barn" as Eric referred to it. We were not sure what to expect since this was our first experience with Airbnb. Picking a place only seeing pictures and the knowledge of it being a barn, but we were more than pleased with the serene beauty and instant feeling of tranquility after stepping into this home away from home. Mark and Katherine made us feel like old friends from the start and checked in with us on a regular basis just to make sure we had everything we needed and were still happy with the place. "The Barn" felt like no barn I have ever been in, it was simply breathtaking. Its rustic yet elegant interior decor and picturesque landscape only accented the architectural design and layout of this home, it would be impossible to not feel like you were safe, secure and right at home once you step foot inside. Each and every day we spent there came with new adventures and wonderful surprises. The neighbors were very friendly, lending a helping if needed as well as letting their beautiful dogs run and play with Brutus (our side kick) daily. I was ready for some quiet time so the fact that this place has no distractions like TV, internet or phone was a plus for me. Who needs distractions when you are surrounded with this. The lake was so inviting and we spent hours just sitting on the private dock listening to the water. They even provide the poles to fish if you like, just run down to the store and get you some bait and throw your line in....maybe you get a really fresh, delicious and inexpensive meal. What more can you ask for? If you are ever in this area and need to take a break from the hustle and bustle of the plugged in life, you owe it to yourself to take your shoes off and stay awhile here. You may realize how nice it is to not be plugged into the world. Thank you Mark and Katherine for this much needed retreat.
Eric and Patti
October 2016
The barn was great!:) my brother and my husband got to fish and had a blast! We were in town for a wedding, was so much more relaxing than staying at a hotel! Wifi would have been the only thing that would have made this stay completely perfect! There was terrible cell service out there so having wifi would have been nice!:)
Megan
September 2016
This little "barn" in the field is actually everything you could need with none of the unwanted distractions of the busy life we all seem to lead. Who couldn't benefit from a break from technology and some fresh air. This is the perfect place. Wonderful Hosts, very clean and beautiful accommodations. Mark and Katherine were always just a text or call away if needed. Their recipe or secret for their making of their delicious wine is one that could never be mastered by no one else. If given the opportunity do not pass up an opportunity to try some of their stock.
Eric and Patti
November 2016
WOW!! What a wonderful home to totally relax and take in the peacefulness and serenity of the area! We were graciously welcomed by Mark and Catherine and they immediately made us feel like their home was ours! We loved the refreshing private lake and the accomodating boat dock! We sincerely hope to return as soon as we can!
Cathy
June 2015
I stayed at Mark's cabin for a month while I started a new job. The cabin is very comfortable to stay in and Mark was very accommodating and hospitable. The location is relaxing and I enjoyed having the lake close by to go fishing in. Will definitely stay here in the future.
Jeffrey
November 2015
The cabin was a great choice! Much better than a hotel! Mark was a great host and very hospitable! I would recommend this place for anyone! The boat dock offered peace and relaxation after a day of work! (The cold beer helped too, of coarse!)
Seth
June 2016
We rented Mark's cabin for a quick weekend getaway. Our goal was to relax surrounded by the peace and quiet of nature. I honestly went into this expecting a "cabin" experience and was blown away by "the barn" as Mark calls it. The pictures do not do justice to how nice a place this is to stay. The furnishings had an upscale but cozy feel to them and the decor was eclectic to say the least! Our favorite part was the fireplace. Mark had a fire already built for us before we got there and we kept it going the entire stay. The lack of Wi-fi and cell service can either be considered a blessing or a curse depending on your point of view. For us, it was nice to unplug for a few days and cell service was working for me once I stepped outside of the barn. We would definitely stay here again and recommend that you check it out. It is a tremendous value for the price that Mark charges.
Jody
January 2017
Tipo di stanza
Stanza privata
---
Tipo di alloggio
---
Può ospitare
3
---
Camere da letto
1
Scott