Charming independant two-rooms cottage on the Mont-Saint-Michel road, welcoming and relaxing. In the middle of the Sée valley, you'll enjoy practise fishing, hiking, horse riding or cycling.
You would be welcome in our independant cottage on the road to the Mont-Saint-Michel. It provides a full kitchen (washing machine, laundry machine, oven, microwave), a living room with TV, DVD player, Hi-Fi stereo, Internet, and two rooms (one queen-size bed, two single bed and a baby crib). You can enjoy direct access to the private garden and its BBQ and the private parking. Discover this unique and relaxing place shared with several animals like horses, donkeys, sheeps, hens, dogs and cats. Located in the heart of Normandy, many historical sites are nearby: Le Mont-Saint-Michel Cathédrale Notre-Dame de Coutances Cathédrale Saint-André d'Avranches Château de Flers Abbaye Blanche de Mortain Château médiéval de Domfront Château de Car Museums, amusement parcs: Zoo de Jurques Zoo de Champrépus Enchanted village of Bellefontaine Museums dedicated to Normandy Debarkation's memory, Debarkation beaches, historical site of the Normandy Battle (Sainte-Mère-Église, Contre-attaque de Mortain, Bluecoat operation, ...)
Absolutely incredible. Breathtaking countryside, beautifully decorated home, welcoming host, and a perfect place to spend your holiday. Full 100% endorsement.
Dan
2013-05-19T00:00:00Z
Location conforme a la description. Largement assez pour 4 personnes, bien equipé avec tout necessaire. Lits très confortables a l'étage. Passage des clés sans problèmes, vu que la proprietaire habite vis-à-vis. On a utilisé le gîte seulement comme base pour une visite a Mont-Saint-Michel (qui se trouve a une heure de route) mais on pense que il peut être interessant de passer plus de temps autour de la ferme (ou il y as des vaches, des chevaux, des lapins, des oies, etc.). La petite cour en face de la gîte est bien confortable et equipé pour passez des après-midis tranquilles. Un joli coin paisible dans Normandie.
Radu
2015-10-24T00:00:00Z
Merci à Valérie pour son accueil durant notre week-end pascal. Tout était parfait, le gîte impeccable, le jardin très bien entretenu avec tous les animaux qui ont ravi la curiosité de nos enfants. "Le sourd" a eu du succès auprès de mon fils. Quelle bien jolie région où l'on décompresse sans problème. Bonne continuation à Valérie qui exerce de tout son cœur.
Chrystel
2016-03-31T00:00:00Z
Our host promptly arrived as soon as we showed up and efficiently showed us how things worked in the house. The cottage was very clean and well maintained. Everything was as accurate as the photos. The neighborhood is as described, in the countryside, which is lovely. Beautifully kept fields with different colored cows, horses, some donkeys. It is quiet and a place to relax. Our cottage is close to the owner's property which is a pet farm, she has chickens, geese, peacocks, birds, rabbits, a couple of exotic pigs, sheep, goat, 2 horses and a donkey. Our 2nd morning we heard the male peacock's noise, apparently it is the season when the female lays her egg and he is around protecting her. My son and I usually get up earlier than my husband and daughter so we heard the noise but it did not bother us much.
Cheryll
2015-05-04T00:00:00Z
Tipo di stanza
Intera casa/apt
---
Tipo di sistemazione
Casa
---
Può ospitare
4
---
Camere da letto
Perriers-en-Beauficel, Bassa Normandia, Francia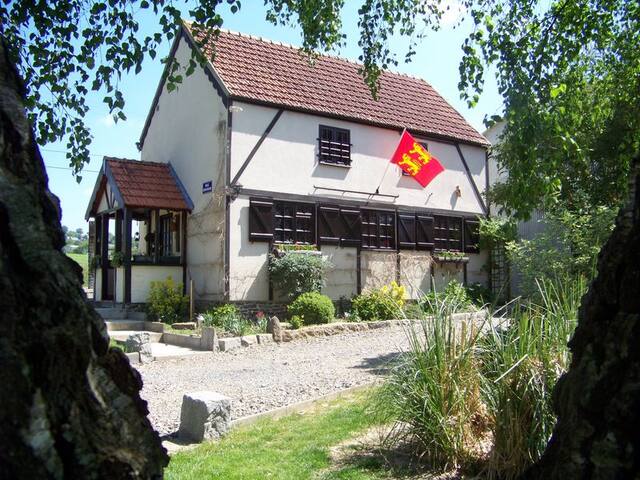 Tucked behind a quaint French village with beautiful garden views, our guesthouse features traditional style with modern kitchen. Enjoy a romantic or family break and immerse yourself in Normandie's unique history and stunning landscape. We welcome visitors from across Europe and the globe, for short or long stays, arriving weekdays or weekends. Mont St Michel Bayeux, historic site scenic walks, fine dining, markets, onsite relaxation treatments for a holiday with lasting benefits.
We can accommodate guests with different interests, languages and age groups. Our first language is English, but Karen can also speak French and a little German and Spanish. We are pleased to receive up to three guests for a minimum of two days, up to as long as a month. To help you enjoy a relaxed, stress-free stay with us, relaxation massage and reiki treatments are available on site.
Nestled behind a small village with a well-equipped shop and quaint bar, guests can choose tranquility, stay onsite with a good book, enjoy a drink just a few steps from home, or adventure also nearby, with easy access to beaches, historic sites, Mont St Michel, Villedieu, DDay WWII Landing Beaches, markets, festivals, sporting events, hiking the Grand Randonnee, absailing, Michelin star restaurants, casinos, shopping, endless options.
Nous avons passé un agréable séjour dans un cadre champêtre et soigné, accueil très chaleureux de la part de Karen et Robert. Expérience à renouveler avec grand plaisir ! Nous recomandons vivement.
Brenda
2016-10-14T00:00:00Z
Karen et Rob sont les meilleures hotes qu'on puisse avoir. Bien accueillant, poli et respectueux. Que est ce que on peux dire de la maison et du lieux... Tout est juste parfait! Une bouteille de cydre local vous donne le bienvenue dans la charmante maison. Rob l'a completement restauré tout seul, et il a fait un travail incroyable!!Tout est propre et pret a vous faire passer un moment relaxant, immergé dans le vert et le calme de la campaigne. Karen a un vrai "pouce vert". On peux passer les jours entiers a se promener dans le jardin et admirer sa beautè. Le lac, les poissons, les fleurs, les plantes. Magnifique!!
Matteo
2015-05-12T00:00:00Z
La petite maison que Rob et Karen louent est magnifique et eux sont des hôtes adorables. L'accueil a été très sympathique et ils se sont très bien occupés de nous tout au long du séjour. On a vraiment hâte d'y retourner!
Anda
2015-09-21T00:00:00Z
Karen nous a offert un accueil très chaleureux et cordial. La bouteille de cidre de la la région normande etait une attention particulière et bien appréciée. Le jardin est magnifique, et le site très calme. Nous avons beaucoup apprécié notre séjour, et avons adoré rencontrer Karen et Robert.
Patrick
2015-06-11T00:00:00Z
Karen & Rob were there to greet us as we drove in, they made us feel very welcome showing us around the home explaining the necessary details. The home is as the photographs had shown, in a small peaceful village, very clean, tidy, well equipped kitchen, tourist leaflets and a bonus for us, English speaking with UK TV. The home is within an easy drive to D Day Landing beaches, WW2 museums, the beautiful Le Mont St Michel and Bayeux tapestry as well as local historical sights and pretty cascades in surrounding villages. Karen and Rob are delightful, warm and generous people willing to help in any way. Thank you for making our trip around France so much better.
David
2016-09-22T00:00:00Z
accueil des notre arrivée (encore dans la voiture) sourire et offre d'une spécialité locale
Leroy
2016-10-29T00:00:00Z
Nous avons eu un accueil très chaleureux de la part de Karen et Robert. Une bouteille de Muscadet nous attendait, une délicate attention. Le gite est encore plus joli que sur les photos, il a beaucoup de charme avec ses pierres et ses poutres apparentes, et son séjour "cathédrale". Même si nous n'avons pas pu occuper la terrasse en bois derrière la maison à cause du temps, elle est vraiment parfaite pour un petit déjeuner ou l'apéro. Grâce aux conseils de Karen, nous avons pu faire des balades très sympas dans les environs. Ne ratez pas la visite guidée de la propriété par Robert, architecte et ouvrier des lieux qui vous fera partager un moment d'histoire. Robert et Karen ont le sens de l'accueil et ont partagé avec nous leur amour de la Normandie.
Eléonore
2015-05-07T00:00:00Z
Super accueil de Karen et Rob. Leur gîte et son environnement sont superbes et conformes aux photos. Je recommande vivement cette location. A savoir : il y a deux entrées pour arriver chez eux ; bien demander les explications à Karen au préalable
Clémence
2015-05-26T00:00:00Z
Tipo di stanza
Intera casa/apt
---
Tipo di sistemazione
Casa
---
Può ospitare
3
---
Camere da letto
Saint-Michel-de-Montjoie, Basse-Normandie, Francia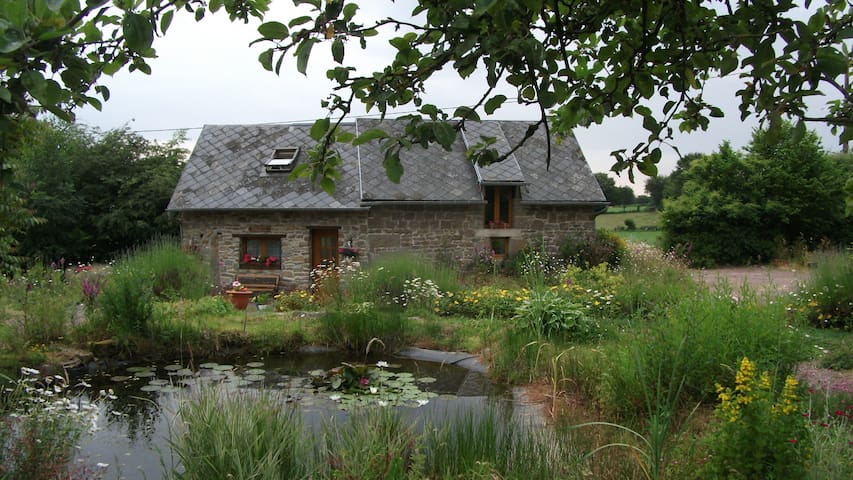 Set in rural Normandy, we have three Gites and a Heated Pool. (Pool open from End of May to September), Our place is good for couples, solo adventurers, and families (with kids). Gîtes are fully equipped with, fridge, washing machine, dishwasher, microwave, TV, DVD, free WiFi. Beds are made up ready for your arrival, please note we do NOT supply towels.
Le Gite is a beautiful cottage set in 2 acres of garden, it has its own private garden area for you to have BBQ's which we provide for you.
We have 3 detached gites and a very pretty heated swimming pool (pool open from May to September) all set in a beautiful 2 acre property, the the most beautiful part of Normandy. Only half an hour from beautiful sandy beaches at Granville. Roads with very little traffic, perfect for cycling and motor biking.
We had a lovely stay. The gite is right next to the pool, in the middle of a little Alice of paradise. Christine and Neil were charming hosts and incredibly helpful. When we got lost Neil even drove to the center of town to guide us. I highly recommend this gite, and it's hosts.
Chris
2016-07-18T00:00:00Z
Tipo di stanza
Intera casa/apt
---
Tipo di sistemazione
Casa
---
Può ospitare
4
---
Camere da letto
Le Mesnil-Gilbert, Normandie, Francia
1 grand salon-séjour 1 cuisine équipée 3 chambres, au rez-de-chaussée 1 chambre "famille" avec lit bébé, à l'étage 2 salles de bain : une à chaque étage + toilettes. 1 WC séparé 1 piscine, 1 barbecue, 1 salle de jeux
Très jolie maison super bien équipé et tres moderne. Week-end parfait pour profiter de la campagne! Un grand merci pour l'accueil
Charles
2017-01-01T00:00:00Z
Alain nous a très bien accueillie
Julio
2016-12-26T00:00:00Z
Alan & Sophie sont de merveilleux hôtes, le gîte est magnifique et très proche du Mont Saint-Michel. Je recommande vivement cet AirBnB, encore un grand merci !
Nathalie
2016-11-27T00:00:00Z
Tipo di stanza
Intera casa/apt
---
Tipo di sistemazione
Casa
---
Può ospitare
8
---
Camere da letto
Lingeard, Bassa Normandia, Francia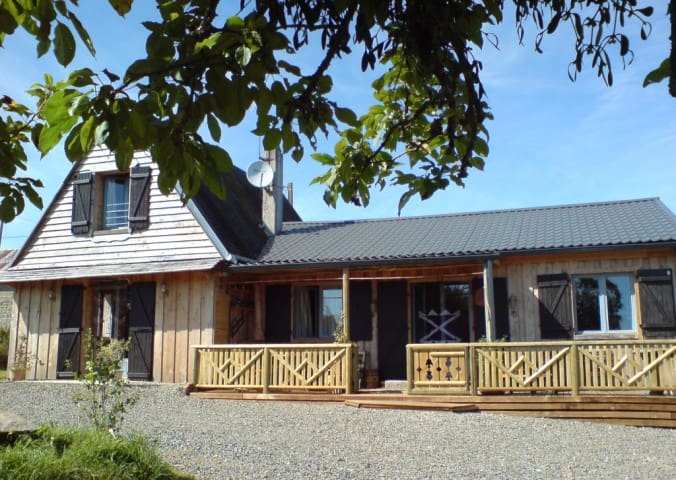 Pour une nuit, un week-end, une semaine ou plus, notre gite vous accueille. Au milieu des sites touristiques de la Normandie, cette propriété se met à votre disposition, que vous vouliez aller au Mont St Michel (50kms environ), aux plages du débarquement (90 kms environs), à la cité du cuivre à Villedieu les poêles (20 kms environ), à St Malo, à Granville (îles Anglos normandes) ... etc. a votre arrivée, la taxe de séjour vous sera demandée, elle est de 0.50cts par pers majeure et par nuit.
Agréable gîte dans la campagne de Saint-Pois, nous y avons passé un bon séjour. Merci à Ludivine pour le feu de cheminée ! La Famille Le Foll
Lisa
2016-11-27T00:00:00Z
cette location est plutot sympa! mais un peu humide ! manque quelques accésoires de cuisine ! mais pour un cour séjour cela peut aller!
anita
2017-03-19T00:00:00Z
Tipo di stanza
Intera casa/apt
---
Tipo di sistemazione
Casa
---
Può ospitare
6
---
Camere da letto
Saint-Pois, Normandie, Francia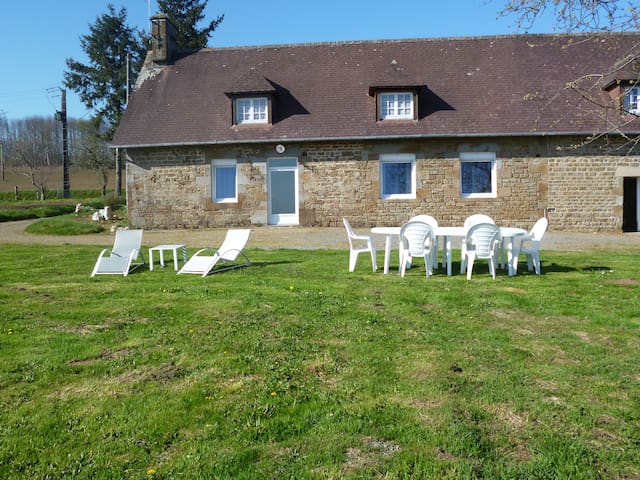 Spacious bedroom in our 18th century french farmhouse. Centraly located to visit Normandy's tourist attractions. 1 hour from Caen ferry port and 90 minutes from Rennes airport. Situated 10 meters from the bridletracks and cycleways conecting the Tour de Manche cycle route
Spacious bedroom with en suite bathroom facilities. Located in the french countryside with abundent wild life and dark skies, Maison du Murphy is a great place to relax. A telescope and planisphere is available for adult guests to use and 2 mountain bikes are available to use for guest staying for more than 3 nights
30 minutes from the superb beach town of Granville Centrally located to visit Normandy's Tourest attrations including the world heritagesite of Mont Saint Michel, Monets Garden, Camembert, etc. A great stop off point if you are traveling from the UK to Pays de la Loire.
Tipo di stanza
Stanza privata
---
Tipo di sistemazione
Casa
---
Può ospitare
3
---
Camere da letto
Sourdeval, Normandie, Francia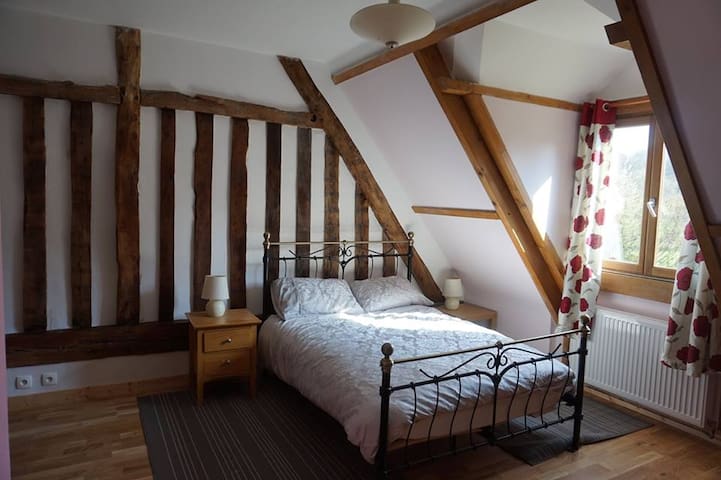 Our place is close to Beaches, St Mont Michel, zoos, parcs. Our place is good for couples, solo adventurers, and families (with kids) All Gîtes are fully equipped with fridge, washing machine, dishwasher, TV, DVD, free wifi Beds are made ready for your arrival, please note we do NOT supply towels We have a heated swimming pool Open May to September please look at our website (URL HIDDEN) Please note this calendar is for Stone House only we have two other Gîtes available, please see below.......
We have 3 Gîtes at La Hallotiere all with their own unique character, we have Stone House, which sleeps 5, Colombage sleeps 5 and Le Gîte sleeps 4. La Hallotiere is ideal for families wishing to holiday together but have their own privacy of their own cottage to stay in. Our heated pool from May to September is a great bonus for our families.
We hope you like the look of our site, we fell in love with the wonderful views and the peace and quiet, and of course we enjoy sampling the french cheeses with a glass of wine on the balmy summer evenings.
Tipo di stanza
Intera casa/apt
---
Tipo di sistemazione
Casa
---
Può ospitare
5
---
Camere da letto
Le Mesnil-Gilbert, Normandie, Francia
Le Crèpon is a one up / one down very old French granite cottage, set in undulating beautiful countryside. The bedroom has a double bed and storage. The downstairs has a kitchen, dining and sitting area. There is a shower and toilet off the downstairs room. there is a sofa bed if you prefer to sleep downstairs. It is fully equipped with everything needed. Everything is included except the cost of wood if you wish to use the wood burner.
There are many places to visit. We are in the middle of The countryside between Vire, Villedieu les Poëlles, Avranches, St Hilaire du Harcouet etc.
Tipo di stanza
Intera casa/apt
---
Tipo di sistemazione
Casa
---
Può ospitare
2
---
Camere da letto
Le Mesnil-Gilbert, Normandia, Francia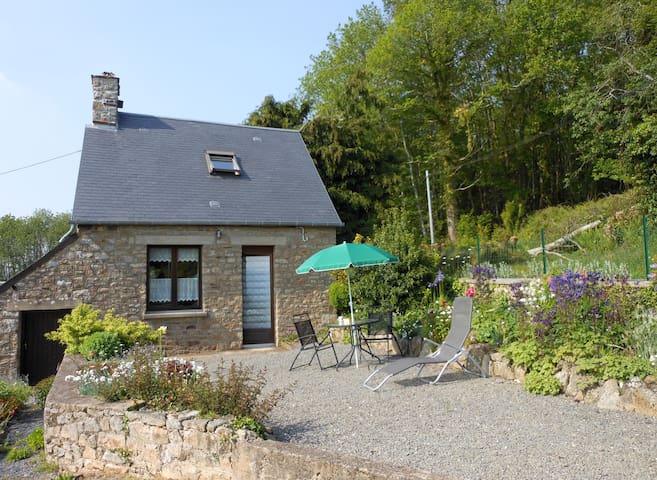 Our traditional stone farm house is set in a wooded area in the village of Lingeard near the town of Vire in Normandy. The country garden is set in three quarters of an acre bordered with a panorama of stunning views over the valley. WiFi available
The surrounding access of woodland make an ideal spot for walking and cycling, for the less energetic, there is a large traditional slate patio, a perfect place to sit with a glass of wine. If you want a slice of tranquility, look no further. The house is within easy reach of ferries, airports and trains with an 18 hole golf course on the door step. Places of interest: Villedieu les Poêles, Sourdeval, Granville, Bayeux, Falaise, St Lo, Avranches, Vire, Rennes, Mont St Michel, The Normandy Landings, Caen, Cottage, Farm House, 4 Bedroom, Sleeps 8, 2 Bathroom, Fully equipped Kitchen, Central Heating, Fire Place, Clean, Relaxing, Tranquil, Quite, Rural, Private, Modern, Nature, Birds, Wild Life, Forest, Lake. Golf, Cycling, Theme Park, Zoo, Picnic, Fete, Church, Wine, Cider, Cheese, Walks, Walking, D Day Beaches, Mont St Michel, Beaches, Garden, Flowers, Towns, Bars, Cafe, Markets, Friendly, Supermarkets, Restaurants, Gourmet, Specialities, Bight, Breezy, Spring, Autumn, Summer, Winter, Cheap Accommodation, Camping, Star Gazing, Fitness
Beautiful water mill restaurant AUBERGE DU MOULIN 4, le Moulin de Brouains 50150 Brouains TEL: (PHONE NUMBER HIDDEN)
Tipo di stanza
Intera casa/apt
---
Tipo di sistemazione
Casa
---
Può ospitare
8
---
Camere da letto
Lingeard, Bassa Normandia, Francia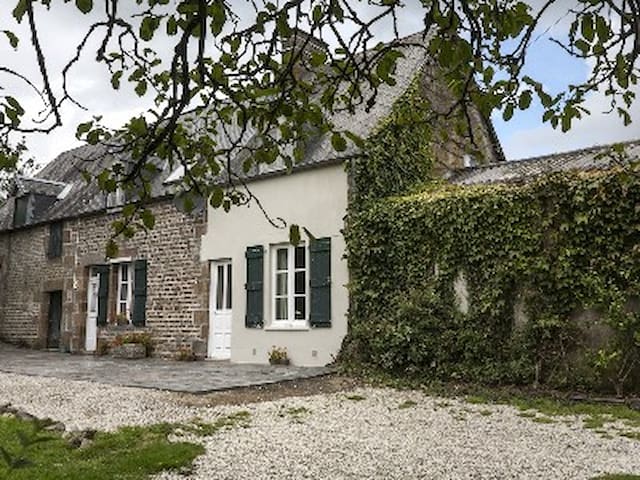 We have 3 detached cottages, all unique, Colombage, Sleeps 5, Stone House Sleeps 5 and Le Gite, Sleeps 4. We also have a swimming pool heated from May- Sept. All Gites are fully equipped with own, fridge, washing machine, dishwasher, TV, DVD, BBQ's so you can enjoy outside dining. Colombage has its own private garden. All beds are made up for you, Please note we do NOT supply towels. Fishing, Golf, all local World War 2 beaches are a must and of courst Mont St. Michel is around 40 mins from us.
This is a brilliant base from which to visit the many and varied attractions of Normany, WW2 sites, the Bayeux Tapestry, Mont St. Michel, the heated pool (open end of May to September) is very popular with our guests, especially after a day out visiting one of the sites. You have your own private space and a private garden to yourself.
Our Gites are set in gardens surrounded by open countryside, with stunning views. It is ideal for exploring Lower Normandy and North Eastern Brittany and for activities such as Golf, horse riding, swimming, cycling and walking.
Tipo di stanza
Intera casa/apt
---
Tipo di sistemazione
Casa
---
Può ospitare
5
---
Camere da letto
Le Mesnil-Gilbert, Normandie, Francia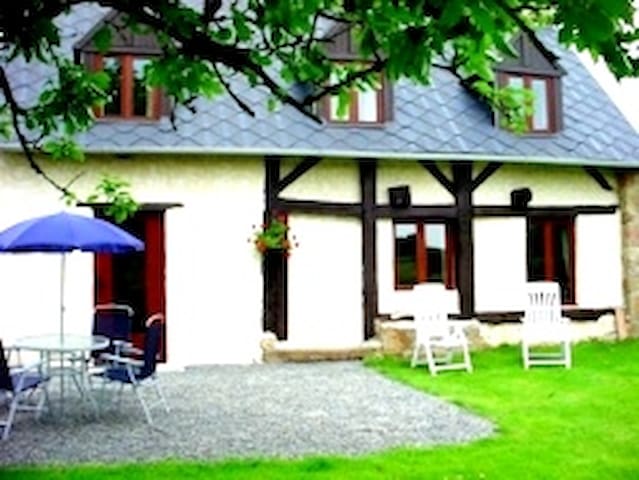 Relaxen im großen Garten, Ruhe auf dem Land, viele Ausflugsmöglichkeiten in naher Umgebung, 30 min. zum Strand, 1 Std. zur Fähre nach Guernsey/Jersey, Idealer Standpunkt für Tagesausflüge in die Bretagne, Granville, St. Malo, Mont St. Michel
Le Mesnil Tove ist eine kleine Ortschaft und das Cottage liegt auf einem Hügel ca. 500m außerhalb des (URL HIDDEN) war einmal ein völlig autonomes Anwesen, mit Wohnhaus, Scheune,Brunnen und einer Boulangerie. Im Garten des Hauses kann man sich den ganzen Tag aufhalten, immer wieder ändert sich das Licht, die Bäume rauschen und auf der Terrasse hinter dem Haus kann man stundenlang liegen und einfach den Kühen zuschauen.Der Standort bietet eine gute Möglichkeit für Ausflüge und Besuch von Märkten aller Art , auch einer Calvadosdestille, einem Golfplatz, einem wunderschönen Angelteich, zum Strand sind es 30 Kilometer. Le Mont St Michel ist 50 km entfernt und ein weltbekanntes Ausflugziel. In einer Stunde Autofahrt ist man an der Felsenküste der Bretagne und kann in Cancale Meeresfrüchte essen gehen. Juillouville und Granville laden mit ihren kilometerlangen Stränden zu einem Beachtag ein. Golf: Golf de Vire am Lac Datheé ist ein sehr schöner 18 Loch Golfplatz an einem großen See gelegen. Es wirkt sehr englisch und sehr gepflegt . Der See hat einen Umfang von sieben Kilometern, man kann ihn umlaufen oder wie viele umjoggen. Der Golfplatz ist ganzjährig geöffnet und das Clubhaus steht jeden Tag zur Verfügung. Die Greenfees bewegen sich in Neben- und Hauptsaison zwischen 33.- € und 44.- €. Für fünf Tage zahlen Sie 90.-€. Die Telefonnummer für einen Kontakt ist folgende: Golf de Vire (PHONE NUMBER HIDDEN) Das Hinterland von Avranches ist wunderschön.Blaugrüne Hügel, wie im Hobbitland überall. Es ist für Urlauber, die gerne weit schauen und es lieben Lichtwechsel zu beobachten. Dieses reizende Haus bietet aus jedem Fenster einen weiten Blick, wie vom einem Impressionisten gemalt. Der 1000 qm Garten, mit Apfel-, Birnen und Haselnussbäumen ist eine friedvolle, erholsame Oase. Gegenüber grasen die Kühe, der Lavendel duftet und die Sonnenliegen kann man mit der Sonne wandern lassen, wohin es einen zieht. Eine leichte Brise weht den ganzen Tag und die Blätter des Bambusstrauchs rascheln sanft. Im Erdgeschoss sind Küche und Wohnbereich, im ausgebauten Dachgeschoss befinden sich Bad und Schlafmöglichkeiten für 2 - 3 Personen. Eine Außentreppe führt von hier aus direkt in den Garten. Die Nachbarn, Gärtner und Hausmeister sprechen englisch. In den letzten Jahren waren die Monate Mai und September wunderschön. Im Mai hat man die Apfelblüte und es sind viele Apfelbäume im Garten und alle feiern Hochzeit. Und im September ist es häufig trocken und warm und die Bäume tragen schwer ihre Frucht. Am Abend kann man im Ofen Feuer machen und hat es gemütlich. Ich habe einen DVD-Player in einer alten Holztruhe und dann schaut man alte Filme. Ich vermiete auch gerne für eine längere Zeit, am besten in der Vor- oder Nachsaison…
Unsere nächsten Nachbarn sind die Milchkühe der Bäuerin- im Nachbarort Cherence le Roussel gibts einen Bäcker und eine Pizzeria. Wir mögen die Floh- und Wochenmärkte in der Umgebung und Tagesausflüge in die Bretagne, z.B. St. Malo (100km)
Nous avons passé une super semaine. Excellent si on veut déconnecter. Maison chaleureuse et accueillante, les vaches toutes proches. Nous qui habitons Paris, nous avons vraiment pu décompresser et nous évader. Merci
Sophie
2016-05-23T00:00:00Z
Wir hatten unser Feriendomizil auf Grund der netten Fotoansichten und Bericht im Internet gewählt und unsere Erwartung wurde voll erfüllt. In dem normannischen romantischen Häuschen wurden wir mit einer Flasche Cidre nett begrüßt und haben uns gleich wohl gefühlt. Kühlere Temperaturen konnten uns nichts anhaben, denn der Kaminofen gab uns wohlige Wärme und verlieh Gemütlichkeit pur beim Zuschauen des brennenden Holzes. Wie schön war es, nach eindrucksvollen Ausflügen (umfangreiches Informationsmaterial mit zahlreichen Tips ist im Haus vorhanden )zurück in unser Ferienhaus zu kommen und den Tag im gemütlichen Wohnraum oder auf der schönen Terrasse bei leckerem einem guten Wein ausklingen zu lassen. Auf jeden Fall empfehlenswert
Susanne
2015-06-07T00:00:00Z
Tipo di stanza
Intera casa/apt
---
Tipo di sistemazione
Casa
---
Può ospitare
3
---
Camere da letto
Le Mesnil-Tôve, Basse-Normandie, Francia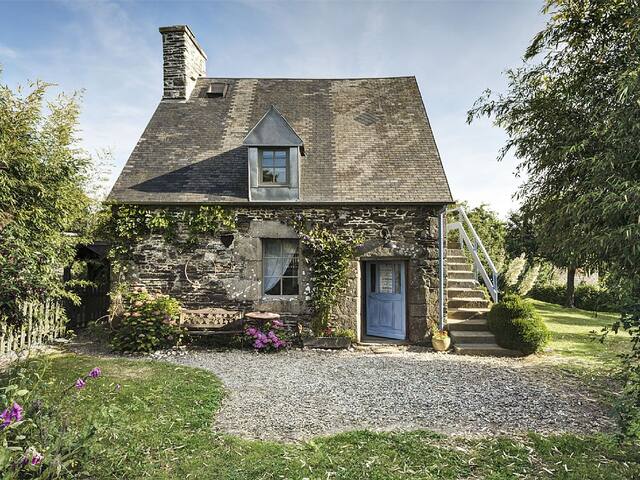 Independent house on the way to mont Saint Michel with 1 bedroom, open kitchen and a bathroom with WC. Very quiet and nice countryside
Very calm independant home (80 sqare meters ) built in 1850 a large livingroom with an open kitchen, 1 bedroom (bed for baby available on request), a bathroom with bathtub and toilets.
The house is located 1 mile away from a quiet village where 300 people live.there is a small super market where you will find the first, in the countryside no trafic it is a dead end The house
Super sejour a Saint Michel de Montjoie! La maison est calme, dans un cadre verdoyant et reposant. Malgré les quelques gouttes de pluie nous avons pu profiter du jardin et le feu de cheminée etait le bienvenu. Sejour très chalereux. A quelques kilomètres on trouve des villages/villes sympathiques a decouvrir avec des restaurants et des choses a voir. Et le mont saint michel n'est pas loin! Superbe paysage! Je reviendrais volontiers malgré que nous n'ayons pu rencontrer directement Gilles! Mais nous avons été bien accueilli et les informations ont bien été transmises. Merci encore !
Manon
2016-07-02T00:00:00Z
Très bon accueil de Gilles, campagne magnifique, merci.
yànn
2015-07-30T00:00:00Z
In this house we enjoyed the beautiful environment of Normandy, together with a very pleasant, enthusiastic and friendly host. Gilles has made himself a small paradise in the French countryside, with a vegetable garden, a water pump, bee hives and solar panels, about which he can tell you everything if you are interested. The apartment is spacious and very comfortable, cool during summer. Great for hikers and cyclists, or to enjoy the hills, forests and coast of Normandy.
Benjo
2015-08-03T00:00:00Z
TOP TOP TOP! Le séjour chez Gilles s'est extrêmement bien passé. On se sentait plus comme des "invités" plutôt que des hôtes AirBnB. Gilles est venu nous chercher à quelques kms de la maison pour nous guider, et tout le weekend, sa femme et lui ont été pleins d'attentions: guider vers les meilleurs restos de la régions, bouteille de cidre locale + jus d'orange dans le frigo, fleurs du jardins sur la table, feu de cheminée à l'arrivée, etc. Nous avons passé un excellent weekend du coup. Merci à Gilles et Brigitte pour leur accueil!
Steph
2015-05-17T00:00:00Z
Le gite parfait pour qui veut se reposer : au cœur de la campagne du sud manche, aucun voisin à l'horizon. Le gite a été bien rénové et il est charmant. L'accueil a été excellent : un bouquet de fleurs du jardin et une bouteille de cidre m'attendait. Il a également été très agréable et facile de préparer mon arrivée avec Gilles.
aurelie
2014-06-23T00:00:00Z
Jolie maison au coeur de la campagne, fidèle aux photos, exactement ce que nous recherchions, mélange d'authenticité et de moderne. Gilles et sa femme nous ont très bien accueillis et ont su nous donner des conseils sur les restaurants et les points d'intérêt aux alentours. Une bouteille de cidre artisanal, de la confiture maison, des framboises du jardin, du lait fermier, nous avons été chouchoutés :-)
Aurélie
2016-11-01T00:00:00Z
Beautiful gite in the Norman Bocage with all required amenities. Gilles was very welcoming and friendly, and readily shared the produce of his vegetable garden with us. Ideal location to explore both the bocage and coastline scenery.
Paul
2015-07-10T00:00:00Z
Nous avons passé un excellent séjour dans la maison de Gilles. Très jolie maison situé dans le bocage Normand, avec un magnifique jardin. Idéal pour se reposer et découvrir une superbe région. Gilles est un hôte parfait, très attentionné il nous a laissé une bouteille de cidre dans le frigo ainsi que des produits de première nécessité. Merci Gilles.
ANNIE
2015-08-23T00:00:00Z
Tipo di stanza
Intera casa/apt
---
Tipo di sistemazione
Casa
---
Può ospitare
3
---
Camere da letto
Saint-Michel-de-Montjoie, Basse-Normandie, Francia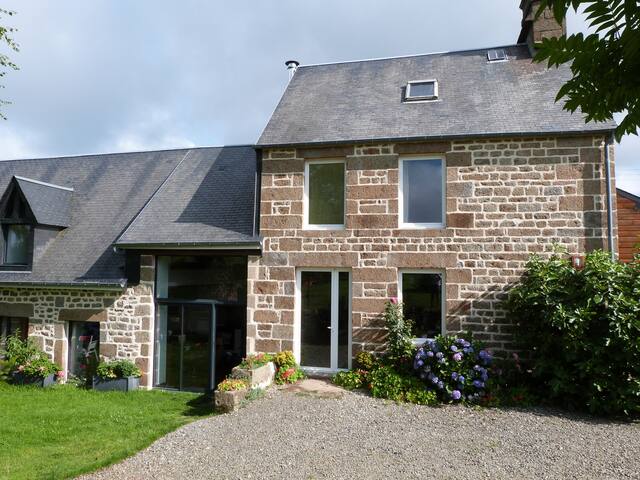 Delightful, fully renovated & modernised, idyllic, thatched cottage near golf and Lake Dathee. Quiet peaceful location. Superbly furnished and modernised, Near Bayeux , landing beaches, Mont St Michel. FREE WiFi. Near Vire with all facilities.
A fully renovated and modernised spacious cottage with all the features of a 300 year old building.
Set in a quiet , tranquil location on a bridle path. Passing traffic is non existent. Yet is located in easy reach of all amenities
Nous avons loué cette maison pendant les fêtes pour passer le nouvel an (et quelques jours) entre amis. Et malgré le temps, la maison était parfaite pour se retrouver, cosy et en même temps suffisamment grande pour ne pas se marcher dessus, avec tous les équipements nécessaires (lave-vaisselle apprécié!). En plus, la communication avec Stephen a été très facile avec possibilité de récupérer les clefs sans contrainte d'horaires. Je vous la recommande vivement. Emmanuelle
Ma
2016-01-05T00:00:00Z
Tipo di stanza
Intera casa/apt
---
Tipo di sistemazione
Casa
---
Può ospitare
8
---
Camere da letto
Champ-du-Boult, Basse-Normandie, Francia
My place is close to family-friendly activities, great views, and art and culture. You'll love my place because of the location, the views, and the coziness. My place is good for couples, solo adventurers, and furry friends (pets).
Tick Tock Cottage was a wonderful home away from home. It is very well laid out with lots of storage in the bedroom and plenty of towels and bedding provided free of charge. There was a basket of logs which enabled us to have a cosy fire twice during our wet week in Normandy, but it does not provide a lot of heat. This is not an issue as the heating is very good and turns on quickly to warm the whole house. The kitchen is well supplied with the things you need and Alexandra had kindly offered us the option of a 'plat du Jour' for our arrival night which meant there was a welcome basket of basics we needed and all the ingredients for a partly prepared full 3 course meal. Delicious! We had brought our dog on his first trip abroad too and the cottage was great for him as well, with an enclosed garden at that back. (But be careful when you first come out the front door as it's only a few step from the main road and not far from the main crossroads of the village). We were even able to take the dog into the local bar when they weren't serving food. The bar tabac also has a small shop for basic provisions and the French land lady, Natalie, is a great character - welcoming, friendly and helpful. Apparently Champ-du-Bolt is an expats area but we did not overly experience that ourselves but it was out of season. We managed to drive to lots of Normandy tourist attractions during our week and covered a lot of miles but also checked out the local lakes and local town of Vire. In better weather you should also be able to make use of the outdoor facilities that Alexandra has provided such as the outdoor seating, gazebo, small swimming/plunge pool, and there were even some bikes sitting there too! I highly recommend Tick Tock cottage to take time out!
Kat
2017-03-11T00:00:00Z
Peut mieux faire... Nous sommes un peu mitigés sur notre expérience au Tick Tock Cottage. Les "pour" : la maison est charmante et fidèle aux photos, la décoration mignonne, en particulier la chambre. Nous n'avons pas eu le plaisir de rencontrer Alexandra mais le contact a été plutôt agréable. Les "moins" : nous nous sommes gelés ! L'hôte n'avait pas laissé le chauffage et, résultat, il faisait plus froid dedans que dehors. Aux alentours de 10degrés. Au mois de décembre et avec un bébé de deux mois, ça n'était pas l'idéal ! Surtout que le chauffage d'en bas est défaillant. Bref nous avons passé la première soirée dans une pièce à 13degrés. la propreté laissait à désirer... c'est le moins que l'on puisse dire. Quelqu'un semblait être passé juste avant nous dans les toilettes... des toiles d'araignées à foison.
Marie
2016-12-16T00:00:00Z
The host canceled this reservation 2 days before arrival. This is an automated posting.
Ronny
2017-04-09T00:00:00Z
Tipo di stanza
Intera casa/apt
---
Tipo di sistemazione
Casa
---
Può ospitare
2
---
Camere da letto
Le Gast, Normandie, Francia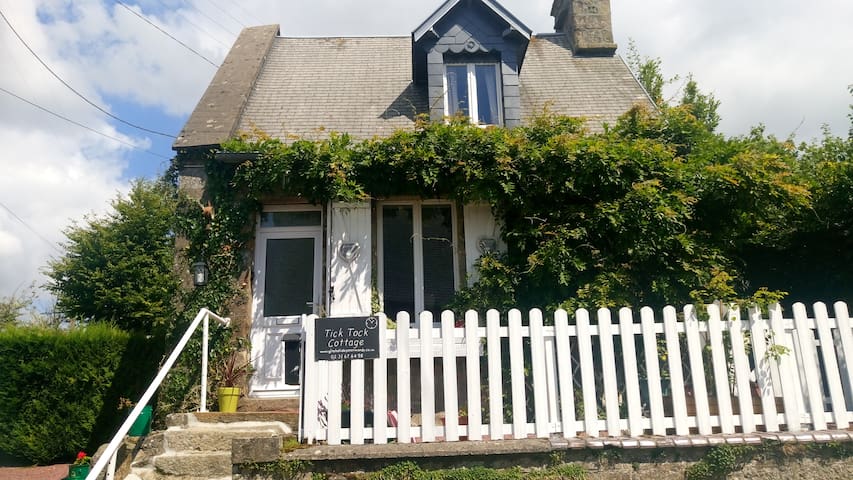 Luxury accommodation, very well appointed home in a peaceful and relaxing location. Ideally suited to couples, or those wanting a quiet holiday retreat. Close to town and many tourist attractions within an easy drive.
Tipo di stanza
Intera casa/apt
---
Tipo di sistemazione
Casa
---
Può ospitare
4
---
Camere da letto
Saint-Clément-Rancoudray, Basse-Normandie, Francia
Bienvenue au Manoir de Clerisson ! En Normandie, à Sourdeval près de Mortain et à 1h du mont-St-Michel et de Granville , nous sommes idéalement situés pour découvrir le mortainais et le PAYS DE LA BAIE DU MONT SAINT MICHEL . Une chambre d'hôtes et un loft de charme 4 épis dans la Manche(50) vous attendent dans notre authentique manoir du XVe siècle au toit de chaume. un petit déjeuner bio et copieux vous sera servi dans une salle à manger.
Loft de charme 4 épis . Label charmance Capacité d'accueil= 3 personnes (lit de 160x200 et lit 1 personne) Vous bénéficierez d'un loft avec une entrée indépendante, d'un jardinet aménagé. Au rez-de-chaussée un coin salon et lecture (ainsi qu'un coin couchage pour une personne) et un coin repas + cuisine équipée d'un lave-vaisselle. A l'étage s'offrent ,de part et d'autre de l'escalier, votre chambre et votre salle d'eau avec douche à jets. Read more at (URL HIDDEN)
Tipo di stanza
Stanza privata
---
Tipo di sistemazione
Casa
---
Può ospitare
3
---
Camere da letto
Sourdeval, Normandie, Francia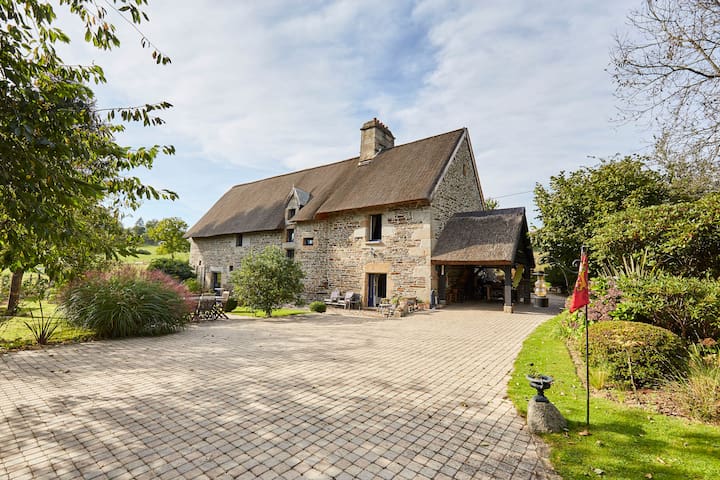 This beautifully renovated old village Boulangerie is set in grounds which back on to the village but also has far reaching views of the Normandy countryside. There is an orchard for shade or a south facing patio with views. The gite and the main farmhouse are set in 13 acres of pasture and apple tree orchards. The gite has one large mezzanine bedroom accessed by a (fairly steep) staircase from the living room. There is an option of twin beds or a super king. The shower room is downstairs.
It is rural and peaceful yet also in a village! The village shop opens at 8 am and fresh croissants/bread arrive at 8.15 am. The shop also serves as a bar and (limited) restaurant. There are plenty of walks from the property and the forest of St Sever is only 1 mile away. Lac De La Dathee is 3 miles from the house and has a beautiful and level walk around the perimeter. This is approx. 6km round. The Voie Verte from the Champ Du Boult/Vire road takes you through Sourdeval and other lovely villages all the way to Le Mont St Michel which makes a pleasant cycle ride. Fishing can be enjoyed on Lac De La Dathee as well as Le Lac De St Sever. There is an 18 hole championship golf course bordering Le Lac de La Dathee. Granville with it's fashionable boutiques and delicious fish restaurants is the closest beach (approx. 40 mins). From here you can catch a boat to Iles Chausey where you can enjoy the peace, flora, forna, and tranquil bays. The D day landing beaches are nearby and a trip to Deauville and Trouville (approx. 95 minutes) is well worth it.
It is very quiet but the inhabitants of Champ Du Boult are very welcoming and friendly
Tipo di stanza
Intera casa/apt
---
Tipo di sistemazione
Casa
---
Può ospitare
2
---
Camere da letto
Champ-du-Boult, Normandie, Francia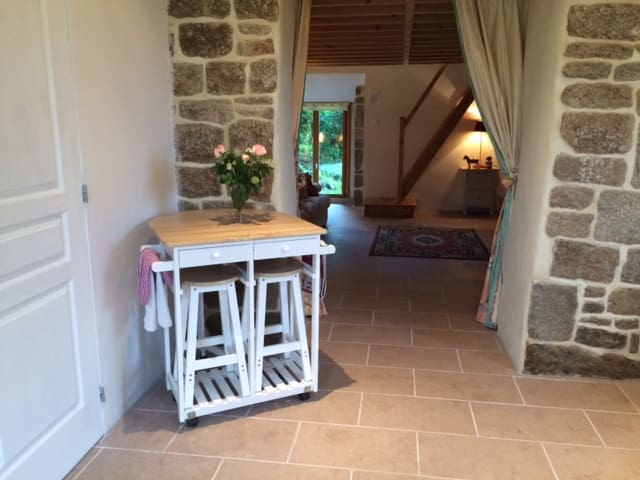 Our home is a traditional farmhouse with exposed beams, stone walls, log burner and Antique spiral staircase with lots of outside space including a spacious deck and barbeque area that overlooks the green fields and hills of the normandy countryside
The house comprises of a large Kitchen/dining area and also a large atmospheric stone walled lounge with log burner with direct access onto the deck and garden. There is also a downstairs shower/toilet/laundry room. Upstairs via the spiral staircase are 2 bedrooms and a further bath/shower room. Both bedrooms are extremely roomy but cosy with exposed oak beams. Bedroom 1 has a kingsize bed whilst Bedroom 2 has a double and a single bed for 2-3 people or to use as twin room if needed. There is plenty of room for parking . The garden is very spacious and there are lots of sunny or shady spots depending on your preference where you can just sit and watch the birds in the peace and quiet. From the end of our garden you are able to start your green lane meanders around the beautiful open countryside and nearby you can join miles of converted old railway tracks for cycling. For those of you who like to be a bit more daring there is the world famous A.J.Hackett Bungee Jumping viaduct at Soulevre or an Ariel assault course in St. Sever forest. Lake Dathee, only 3 km away, can offer you fishing and canoeing or a lovely 18 hole golf course. There are zoos, animal parks and castles all within an hours drive from us, just far enough to go in a day and have lunch and home for dinner....... The very french town of Vire is only 6 km away where you can eat out, go Bowling and shop or nearer to home is the pretty village of Sourdeval for everyday shopping, nice cafes and bars as well as a weekly market. Within easy driving distance you will also find Mont St. Michel, Bayeux , Fougeres and the D-day landing beaches are a 45 minute drive.
Tipo di stanza
Intera casa/apt
---
Tipo di sistemazione
Casa
---
Può ospitare
5
---
Camere da letto
Vengeons, Bassa Normandia, Francia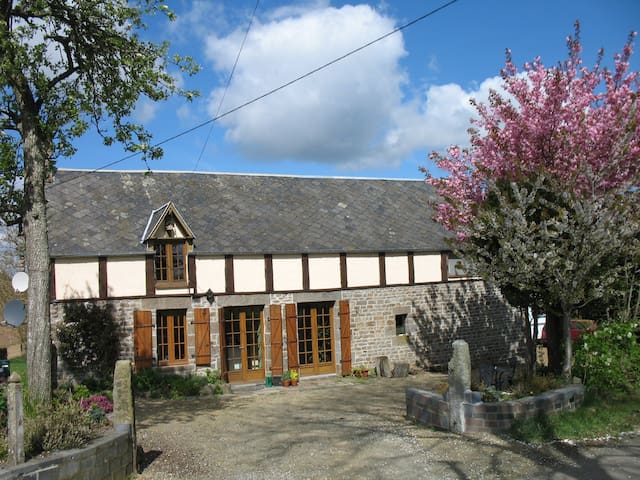 1

–

18

di

36 Case in Affitto
Inserisci le date per visualizzare il prezzo totale. Ci sono dei costi aggiuntivi e potrebbero venire applicate alcune tasse.