Inserisci la data del check-in nel seguente formato dd-mm-aaaa
Inserisci la data del check-out nel seguente formato dd-mm-aaaa
Annunci che puoi prenotare senza aspettare l'approvazione dell'host.
3 Chalet in Affitto
· Peachtree City
3 Chalet in Affitto
· Peachtree City
Inserisci le date per visualizzare il prezzo totale. Ci sono dei costi aggiuntivi e potrebbero venire applicate alcune tasse.
Nei mesi di luglio e agosto puoi provare uno di questi 100 alloggi ad alto rendimento, per ogni fascia di prezzo, e vivere una visione locale di Sonoma. Prova il check-in continuato, la Prenotazione Immediata e vino e spuntini locali per rilassarti e godere al massimo del tuo viaggio.
Our cabin is located on 88 beautiful acres of farmland in rural Newnan, GA. It is perfect for a weekend getaway or longer! This quaint cabin was built from hearty pine shipped here all the way from Maine. It has an amazing view of the countryside and is situated beside a fully stocked pond filled with catfish, brim, and bass. Come spend a few days with us to just relax or get away for the stresses of everyday living. Life is better at the cabin!
This country cabin has so much to offer its guests. Whether you live in the city and just need a country get-away, or you want to treat your family to a log cabin experience, or you just need to unwind all by yourself, this is the perfect place for you! You will find yourself waking up to the sound of cows and roosters in the background. Maybe make a cup of coffee and head with your fishing pole to the well-stocked pond! Or settle down with a great book to read on one of the rustic wooden rocking chairs on the front porch! This is a cozy one-of-a-kind country cabin, just 15 minutes from Ashley Park, Newnan's local shopping mecca! Chattahoochee Bend State Park is just down the road. You will drive up to a security gate and then continue driving down a long, winding driveway to reach the cozy log cabin at the end of the road. The family owns 88 acres of beautiful farmland where they are creating a special events venue opening in the spring. Take a walk or ride a bike to one of 2 ponds on the property! The owners, Hank and Kara, live on the property and enjoy meeting and talking to their guests. They are available to answer any questions/concerns that you might have.
This 88 acre rural farm property is located on a quiet country road that has very little traffic. The noises come from neighboring cows, horses, and roosters. Guests may view deer in the fields and if you are lucky, you may spot a bald eagle that lives nearby. Our property is located about 1 hour from Atlanta, GA and 45 min. from the Atlanta-Hartsfield International Airport. It is 15 minutes to Ansley Park where you will find a great variety of shopping, restaurants, and a movie theater. It is the perfect distance away to find serenity in countryside living!
Such an amazing place! My coworker had an unexpected family emergency in Newnan, and this place was the only option. The property is beautiful and the hosts were fantastic. My coworker wouldn't stop talking about how great the place was. I've set him up in many places before around the world and this one was his favorite. Definitely recommend this place.
Robert
September 2016
Kara and Hank were so inviting and hospitable. The house and property was beautiful! Definitely a place I would go again if I was in the area. It was so peaceful and the weather was perfect.
Hannah
October 2016
Beautiful! Right out of a hallmark card! Acres to roam and for the kids to run and play. From wiffelball to family dodgeball played in the field to catching fish off the dock great memories were made! Hosts are so sweet and thoughtful. Downtown Newnan is super cute as well! Don't hesitate to book!
Krissy
November 2016
Just wonderful ! The cabin had everything we needed and the whole family enjoyed it ! Hank and Kara are wonderful hosts and I won't hesitate to recommend this place for family reunions! Thank you for all the memories made !
Anabelle
January 2017
The pictures don't begin to show how beautiful this cabin and the country setting are. We had a wonderful time and couldn't be happier with our choice to stay in the cabin, a hotel stay would have made our trip dreadful. Don't think twice before booking, it's a great place!
Barbara
October 2016
Tipo di stanza
Intera casa/apt
---
Tipo di alloggio
---
Può ospitare
14
---
Camere da letto
3
Newnan
Quercus Farm's Cabin has three bedrooms and two and a half baths, sleeping eight guests. A working, stone fireplace is the focal point of cozy seating area that is open to a full kitchen and dining room.
Quercus Farm's Cabin has three bedrooms and two and a half baths, and a sleeper sofa, sleeping a total of eight guests. A working, stone fireplace is the focal point of cozy seating area that is open to a full kitchen and dining room. You can also enjoy the peaceful surroundings from the full wrap around porch. Guests have access to satellite television and internet. There is also a private pool on the property approximately 5 minutes away for guest use. Host is reachable by phone/text at all times, should the need arise.
Consider staying at QC Cabin at Quercus Farms the next time you are in the area. Quercus Farm is nestled in the quiet town of Gay, GA, located just minutes from the Cotton Pickin' Fair, Big Red Oak Plantation, and a short drive from Senoia, GA, The home of television show The Walking Dead. We are also, only a 25 minute drive from Pine Mountain, Georgia and beautiful Callaway Gardens. We are only 1 hour from the Atlanta airport. Privacy abounds in this wooded setting.
Un po' difficile trovarlo ma dopo tutto perfetto
CARLO
July 2016
Great place would come back again.
Harold
April 2016
It Was a great experience and beautiful cabin. It could not have been better
Jose
March 2016
Our host Melanie was great. The cabin was rustic and in a beautiful setting.
Dan
April 2016
Very quiet setting with excellent amenities. A very clean cabin. Had a very relaxing stay and will definitely be returning very soon!
Michael
August 2015
We just return home from a fantastic trip, it was perfect.I took my family and friends to celebrate my daughters' birthday in the cabin, we loved stay there. Melanie is a wonderful host, she brought a cooler with ice for us in the pool. The cabin is big , clean and beautiful . All my guest was impressed and loved there. We already thinking in come back. Thank you Melanie for everything
Michelly
June 2016
The cabin was perfect and more then expected. Melanie answered tons of questions leading up to our rental and was very accommodating around kitchen utensils and check-in times. The house was so beautiful and we took a nice 1.5 mile walk on the beautiful property.
Cara
April 2016
Could not ask for a better setting and welcoming place to stay. We were six senior girlfriends getting away for a few days. Every room was inviting as was the lovely wraparound porch, which we enjoyed immensely. Wish our stay was longer. Definitely my kind of place. Melanie was so welcoming and so easy to work with. The best host anyone could ask for. Would love to go back someday. Thanks for a delightful visit.
Ellen
May 2016
Tipo di stanza
Intera casa/apt
---
Tipo di alloggio
---
Può ospitare
8
---
Camere da letto
3
Gay
This classy comfortable corporate open one bedroom lakefront cottage is nestled in a very quiet safe environment just ten minutes from the Atlanta airport and eighteen minutes from downtown Atlanta.
Tipo di stanza
Intera casa/apt
---
Tipo di alloggio
---
Può ospitare
2
---
Camere da letto
1
Morrow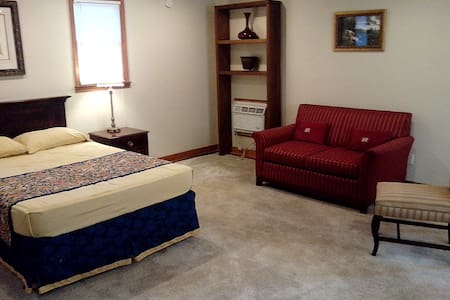 1

–

3

di

3 Chalet in Affitto