A cottage in the Centre of Rome. A piece of paradise in the green hill l'Aventino, with all the comforts that a house has. At walking distance from all tourist attractions and also close to nightlife.
A wanderfull cottage situated in the peacefull and famous "colle aventino" a small hill in the heart of Roma, a unique position from where you can walk easily to all the attractions of the city, 5 minutes to the "colosseo" and the main monuments, or to Testaccio and Trastevere, the ancient part of the city where you can find lovely restaurants and bars. The house is perfect for a couple, with a queen size bed with a orthopedic mattress, but is also confortable for a third person because there is livingroom with a futon-chair . A fully equipped kitchen with dining table, a bathroom with bath tub and shower, a dining table in the little garden outside for luch and dinner in the quite atmosphere of the house.
Say it's the most beautiful area of Rome is not an exaggeration: silent and full of green areas, situated on a hill, l'Aventino; one of the famous seven hills of Rome. Within walking distance of all of Rome's busiest districts. Just a piece of heaven.
il soggiorno è stato perfetto, il cottage era provvisto di tutto il necessario e Diletta è una ragazza assai gentile! al nostro arrivo ci ha accolti con tanta allegria ed è stata disponibile per qualsiasi cosa durante tutto il nostro soggiorno. Il cottage è la perfetta soluzione per coloro che vogliono visitare la città: molto vicino ai principali monumenti (5 min Circo Massimo, 7 min Colosseo) pur essendo in una zona tranquilla. Assolutamente consigliato!
Elena
2013-07-30T00:00:00Z
Our flight was delayed but Diletta was still at the property to warmly greet us and give us a good restaurant recommendation for dinner. The property was even better than we expected - the photos don't do it justice! It was a cosy, clean, comfortable apartment away from the main tourist areas in a quiet, attractive, residential neighbourhood. However, all the main sights in Rome were within easy walking distance - we only caught one bus/metro train all week. The restaurants in nearby Testaccio were excellent and full of locals. We enjoyed our stay and would return to this property. We'd definitely recommend it!
Sarah
2015-05-29T00:00:00Z
Das Haus in dem wir waren war sehr angenehm und beinhaltete alles was wir für unseren Aufenthalt benötigten. Es war sauber und gemütlich. Während des Tages erhitzt sich das Cottage sehr, was sich jedoch abends durch Lüften und den Ventilator ausgeglichen werden kann. Die Ankunft lief reibungslos, trotzdessen dass wir wegen eines verspäteten Fluges erst um Mitternacht ankamen. Diletta war leider nicht anwesend, jedoch ist Muriella (ihre Mutter) eine äusserst liebevolle und hilfsbereite Person. Die Lage ist nicht zentral, aber das Zentrum ist innerhalb kurzer Zeit zu Fuss erreichbar. Das einzige was uns störte war eine Baustelle auf dem Nebengrundstück, sodass ab 7:30 Uhr morgens Baulärm zu hören war. Jedoch sollte dies auch bald ein Ende haben. Wir als Pärchen empfehlen das Cottage auf jeden Fall weiter und habe hier eine super Zeit verbracht. In few words: We (a couple) recommend the cottage for a stay in Rome. We spent a beautiful time here.
Michael
2016-07-24T00:00:00Z
A Diletta foi ótima anfitriã apesar de não termos nos encontrado e da faxineira não aparecer para o check-out. O endereço é muito calmo e com parking público na rua do imóvel. No verão faz falta o ar condicionado pois não se pode deixar as janelas abertas devido aos pernelongos.
AFRANIO
2014-08-20T00:00:00Z
We love Diletta. Her special space was just as she described it. She was a wonderful hostess... sharing not only her private space but also her knowledge of the Rome she loves so much. She made every effort to ensure that our stay was comfortable and happy. We felt completely at home with her and now consider her part of our family.
Arlene
2013-10-29T00:00:00Z
Diletta was very friendly and welcoming, and always replied quickly to our queries. We loved staying at her little cottage, where we also got ready for our wedding in Rome! It has every thing you need, and it is located in a quiet neighbourhood, with plenty of shops nearby. A small terrace outside was great for eating breakfast in the sun, and for relaxing in the evenings. We would definitely stay here if we are in Rome again!
Patrycja
2015-05-20T00:00:00Z
Diletta was helpful and very nice. Beautiful cottage, very close to everything. Bed was very comfortable, cottage is clean, nice and secure place to stay. Definitely recommend staying at Diletta's cottage.
Vanessa
2016-09-10T00:00:00Z
O lugar é muito bem localizado ! Dá para ir a pé, tranquilamente, para o Fórum Romano /Coliseu, bairro judeu ... Há muitos restaurantes , farmácias e mercados nas proximidades. Nossa anfitriã não estava lá quando chegamos, mas informou com antecedência e nos deu o contato da amiga ( Flaminia ) que iria nos receber no apartamento. Flaminia entrou em contato conosco antes de nossa chegada para confirmar o horário do check in, deu instruções para chegar lá a partir do aeroporto e respondeu a todas as nossas perguntas rapidamente. Chegamos atrasados (o vôo atrasou um pouco, perdemos o primeiro trem entre o aeroporto e a cidade , etc) , mas ela ainda estava lá esperando por nós! A casa estava bem limpa e tinha tudo o que era necessário, incluindo alguns lanches, água, macarrão/molho (!) porque chegamos no dia 31/12 e ela não queria que a gente morresse de fome caso não conseguíssemos encontrar um mercado aberto ( nós encontramos um, a propósito!). No check-out Flamínia foi bem flexível e permitiu que deixássemos as malas lá até a chegada do próximo casal de hóspedes. Isso nos permitiu aproveitar um pouco mais da cidade antes da nossa partida!
Fernanda
2015-01-07T00:00:00Z
Tipo di stanza
Intera casa/apt
---
Tipo di sistemazione
Chalet
---
Può ospitare
2
---
Camere da letto
Roma, Lazio, Italia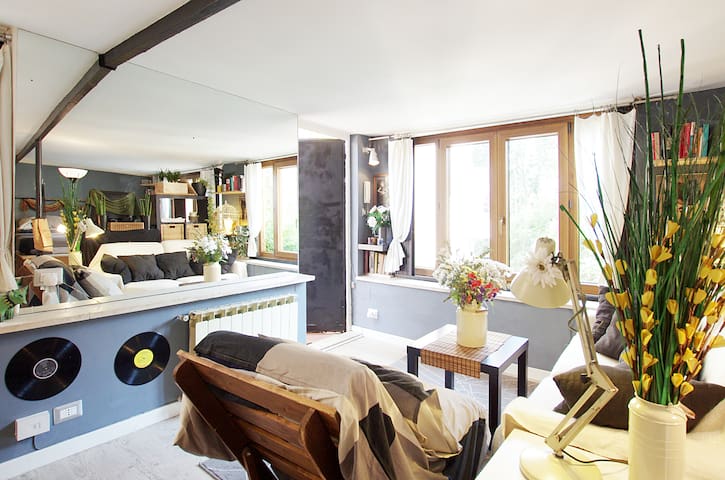 Our cozy Cottage in the Garden with independent entrance on a small path that climbs the hill, has the flavor of a Tiny house in the center of Rome. The district Ripa Aventino is saturated with points of interest historical and artistic and is walking distance from the Colosseum. Air Conditioning and excellent ice cream biological shop, certainly improve your Roman Summer.
A complete small nice house in a garden, at the center of Rome , in Aventino neighborhood , independent entry , perfect for a couple , very near ( 5 minutes walking) to Colosseum, Circo Maximus, and Palatino's hill. on the same small street were the more ancient's Romans walls (Servian walls) are . The house is fresh in the summer because it's on North side and under green shadow during the morning time, but also luminous and sunny in the afternoon, equipped with air condicioner almost never necessary. Near the traditional commercial center of Testaccio with fruit and vegetable market during the day and beautiful wine bar and restaurants during the night. Five minute by feet to the FAO. Mexican, chines and Italian very good restaurant near. A small but complete kitchen is in the house. and a nice private garden, for eat outside during the spring and summer time. It 's also near to the underground station and many other bus, you'll have internet wireless without limits and digital TV , wash machine Every time you can find a public place for your car near the house and car sharing . From airport Leonardo da Vinci to the house you can take the train and go down in railways station: Ostiense . It' eight minute by feet or five minute by taxi. here we speak English, Italian, Spanish and Portuguese.
I love the quiet of my neighborhood, the fact that it is centrally located and at the same time so green and so romantic, for all this things the Aventino's hill is the most elegant district of Rome. is not unusual meet during the morning breakfast, Roberto Benigni or Christian De Sica. We have also the old train station that leads to the beach of Rome and close, so you can choose to reach the sea or visit the ancient city of Ostia antica in 25 minutes and spend a whole afternoon, in Rome without tiring and the morning swim in a clean sea, or on a deck chair in the sunshine.
Muriella è stata molto gentile fin da subito, sempre disponibile. La posizione centrale permette spostamenti a piedi fino in centro e garantisce la possibilità di esplorare Roma. Consigliato per chi volesse esplorare la città in tutta tranquilità.
Ettore
2016-03-03T00:00:00Z
La casa è vicinissima al centro (10 min dal Colosseo, circo Massimo e terme di Caracalla). Rispetto all'annuncio iniziale, ora è presente un condizionatore, perfetto per resistere alle notti estive romane
Gabriele
2016-09-04T00:00:00Z
Our holiday in Rome was wonderful. Muriella is very attentive and caring .The appartment have a very good location. It's 10-15 minutes by walk to the city center and the Coliseum. Nearly is a supermarket and a great cafe with inexpensive and very tasty dishes.
Anna
2014-04-15T00:00:00Z
The apartment is in a very nice neighborhood - more residential with beautiful mansions, very safe and close to sightseeing attractions such as Circo Massimo, Colosseum, Trastevere etc. We were provided with everything we needed and even had some free breakfast goodies and cold drinks waiting for us. The place is nothing fancy but it was clean and it has a nice little back yard and is perfect if you want to explore Rome. Muriella was a fantastic host! Very friendly, attentive and always available (either in person or via text/email).
Lisa
2016-06-27T00:00:00Z
Listing was accurate and host was very welcoming (even let me check in early). Location is close to restaurants, metro and UN FAO.
Ruco
2014-12-13T00:00:00Z
Hébergement très bien situé dans Rome, pratiquement tous les sites sont accessibles à pieds ! La terrasse extérieure est un plus, ombragée et agréable lors des fortes chaleurs. Je recommande.
Mélodie
2016-08-26T00:00:00Z
In short: awesome apartment! Situated in a perfect place for exploration of Rome near 1 of 7 hills of Rome. Also easy to reach from airport. We arrived quite late and were warmly welcomed by Muriella and her husband. She even bought us some sweets and showed good place to eat at late hour. The place itself is not too big but very cozy and had everything we needed. Basically looks just like in the pictures. We also appreciated table situated outside for breakfast in Italian sun.
Martynas
2015-04-28T00:00:00Z
Le quartier est très bien. L'hôte a fait tout pour être sur place à mon arrivée et avait donné toutes les informations utiles pour trouver l'appartement et m'orienter. De plus, Muriella est devenu grand-mère pendant mon séjour mais restais disponible. Je lui ai écrit un message de félicitation, qui est resté malheureusement dans l'état de brouillon sans que je le remarque. Je voudrais la féliciter maintenant de tout coeur.
Julia
2016-10-03T00:00:00Z
Tipo di stanza
Intera casa/apt
---
Tipo di sistemazione
Chalet
---
Può ospitare
2
---
Camere da letto
Roma, Lazio, Italia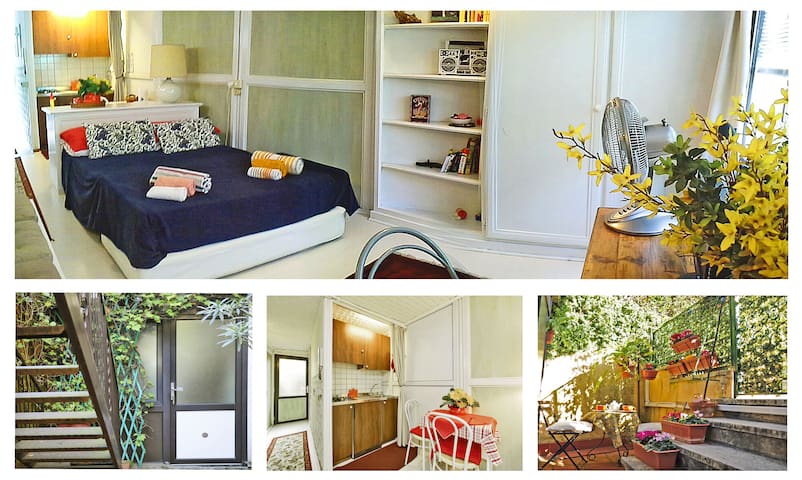 Detached private 27 sqm room , as an original Alpine Chalet warm or cool and sunny. All hand made: wood and thermal insulation for the winter and summer. Air conditioning with inverter system. Located on the big and sunny terrace (120 sqm). A Chalet in the center of Rome! The feeling is to be outdoor while you're indoor!!! it is a great experience... read the reviews!
Sleep in an detached alpine Chalet in the center of Rome is an experience! There is a single normal bed and a high quality french size (120cm) sofa bed. 3 minutes walk from Metro Orange line station Furio Camillo, reach Spanish steps, Colosseum and Termini station in 10-15 min. The Chalet is a really cool place, I love it and aim that you'll love it too. A real continental breakfast is included as British stile Bed&Breakfast. If you land at FIUMICINO AIRPORT: you can take the Leonardo Express (very expensive) or bus (cheaper but slower) to Temini station; then metro A orange line towards Anagnina, Furio Camillo stop. From Termini if you want to catch a taxi you should not pay more than 13-15 euro, ask the driver before you get into the taxi! FASTER AND CHEAPER with train to Fara Sabina get off at Tuscolana, from there you can walk, or catch a cab for about 5-8 euro (quick and easy way). From CIAMPINO take the bus to Termini station, then metro A orange line Anagnina direction, Furio Camillo stop. Or Cotral public bus just outside airport to Anagnina metro station, then metro A Orange line to Furio Camillo (cheaper and quicker solution). The real host of the house is Nuvola, toy size poodle , she's like a small baby in the house. No pets are allowed ! I am a musician (trombone player) so you might hear some playing . You will find a great choice of dvd that you can watch, I love cinema! On the great sunny days in Roma you can enjoy our 120sqm terrace. The area is very quiet and close to two major parks: Villa Lazzaroni and Parco della Caffarella, lots of green. The are lots of traditional and Biological restaurants just down the road!
The parks and shopping. Great restaurant and ice cream bar or pubs! Happyo Shopping Mall. The two Parks: Villa Lazzaroni city park and La Cafferella huge park that reaches Appia Antica Road.
L'accoglienza è stata fantastica, la stanza è davvero incantevole. Shelly è stata davvero disponibile in tutto e la colazione "all'americana" è buonissima! :)
Alessandro
2015-11-22T00:00:00Z
una bella esperienza in questo grazioso e confortevole Chalet al quale non manca veramente nulla per godersi al meglio la permanenza. Io e Maria siamo stati fortunati e non potevamo aspettarci di meglio in special modo del calore e disponibilità di Shelly che con molta discrezione non ci ha fatto mancare niente, soprattutto con le abbondanti colazioni, ottima quella all'americana :) ... il cane Nuvola dolcissima come i suoi padroni, sicuramente all'evenienza consiglierò a tutti questo alloggio. ciao Shelly e grazie ancora
Alessio
2014-04-28T00:00:00Z
Se cercate un hotel a 5 stelle con vista sul mare, non andate da Shelly! Se invece per voi - come per me - è più importante fare un'esperienza insolita (una baita su una terrazza di Roma!) allora siete capitati all'indirizzo giusto. Munitevi di spirito di amicizia e di capacità di adattamento e partite a colpo sicuro!
Carlo
2012-09-14T00:00:00Z
Shelly was the perfect host, she and her daughter made us feel so welcome from the moment we arrived until we left. The chalet is beautiful, clean and cool with the benefit of being very private and was an ideal size for two of us to stay in. Highly recommended!
Gemma
2014-07-18T00:00:00Z
Easter in Rome... for the second time. This time I went together with my son Storr, to celebrate his 15th birthday. We had a fantastic time at Chelly and Alessia's little chalet. Good Italian coffee, special sweet pastries for Easter and good talks. Everything we needed was there and more. Every now and then it was raining cats and dogs, but that didn't matter. Rome was beautiful and I'm sure the Trevi-trick will work again. Thank you very much, Chelly. We'll be back!
Myra
2015-04-06T00:00:00Z
Shelly is a fantastic host. She helped with anything I needed and was so responsive. She took great interest and making sure everything is okay. The chalet is a great little private spot for anyone wanting quiet and a place to re-energize. I really really enjoyed my stay there and am glad I got to meet Shelly. The location was central for metro(there are two main lines). A relatively short walk off the metro stop. I felt like a local staying there, which was my goal and I loved it. Everything was very clean and enjoyable. I was surprised how much I enjoyed the large bathroom and Shelly's offer for breakfast every morning. I had a very nice stay.
Alex
2017-03-28T00:00:00Z
Amazing very close to the metro which is super easy to use and does not need pre paid tickets.
Callie
2016-07-10T00:00:00Z
We arrived in Rome on a rainy day. Shelly's gave us a cozy place to take a break after a long trip from Paris. She was very welcomed and tried hard to make sure we had a super dinner at a wonderful and affordable restaurant nearby. Shelly even turned herself into an experienced tour guide and mapped a whole day for us in the centre of Rome. She was the brightest spot of our short stay in Rome. However, at the end of our stay in Rome. We had a taste of the nasty side of Italy. And this is a head-ups for future travelers planning to go to the country. After Rome, we headed to Barcelona. As advised by Shelly, we caught a train at the Rome Tuscolana to get to the Fiumicino Airport as the cheapest and also quickest way. At first, everything went well. It took us only 15 minutes of walking. The distance was nothing and the weather was perfect. We arrived at the Rome Tuscolana sharply on time for the train leaving at 14:52. We bought the tickets for 8 euros each at a newspaper stand on platform 1. We had no trouble getting on train. Things suddendly turned sour when we were only three stops away from the airport. An uniformed officer on the train approached us and other two foreigners. He checked the tickets and he said we, including those two foreign passengers, must pay a fine of 50 euros per person for doing something wrong. We didn't understand what happened and why we had to pay the huge fine. The officer barely spoke English so it gave us hard time to understand him. He said something about the tickets were only valid 90 minutes and that we may have NOT had our tickets punched at the departure station. Only a British guy refused to pay the fine, he said he had no money on him and his credit cards had already been maxed out. The officer asked for his passport and noted down his passport number and his address in London. In the end, the British guy were given a bill with the fine doubled. That means, according to the officer, he would have to pay 100 euros as soon as he got off the train at the entrance either by cash or by card. We watched the whole thing going and got our feet cold. We decided to pay 50 each on the train. Because we were so confused, we immediately texted Shelly upon arrival at the airport. And to our surprise, she said we had got scammed. We actually shouldn't have paid the fine. "You didn't have to pay!!! I can see know that the ticket is electronic so is required to punch it before getting on the train, but he has been nasty because it was cleared that you just bought it and usually they mark it when is not punched and that is all I am very sorry...
Hanh
2017-04-04T00:00:00Z
Tipo di stanza
Stanza privata
---
Tipo di sistemazione
Chalet
---
Può ospitare
3
---
Camere da letto
Roma, Lazio, Italia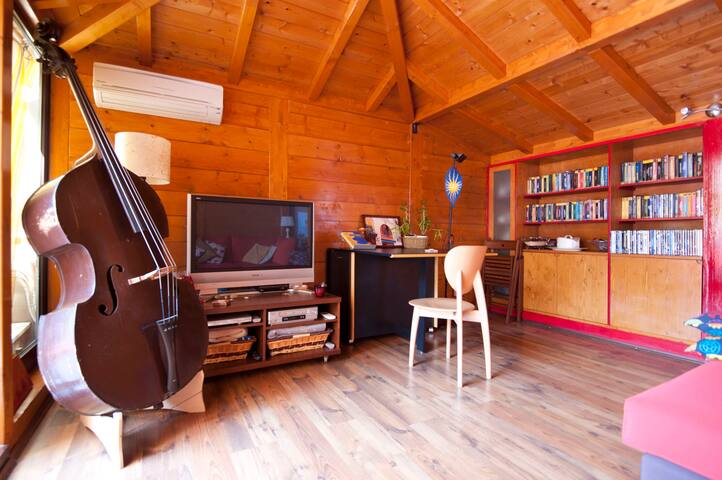 Charming terrace apartment located in a 1500 palazzetto romano . private terrace overlooking a family owned park climbing over Gianicolo hill. Some giant bouganvilla surround the apartment . Walking distance from San Pietro sq. , Piazza Navona . Via Giulia , 20 min walk to Spanish steps Major Buses lines at 5 min walk
You are located in a very populated and central medioeval Rome but in total privacy and silence of a secular Park
Trastevere on the right side 5 min walk with restaurants and night life , Monuments and museums on the other side of river Tevere 10 min away . Prestigious Accademia dei Lincei 5 min distance
This place is like a paradise. Bird's sounds the morning, very quiet place, good situation in trastevere. Guya is a fantastic hostess, and she does everything she can for your comfort. If we come back in Roma, we ll go in this place. Thanks to gave us a nice week in Roma.
Stef
2013-05-27T00:00:00Z
The apartment is great. We particularly liked having an outdoor space in Rome. This is the second time we stayed here - and it was wonderful to be able to return to a familiar and beautiful space.
Lucy
2015-10-15T00:00:00Z
This spot is more than it seems! Beautifully hidden in the most exciting area of the city. Calm, special and absolutely worth a visit. Hand over and coordination was also smooth. I can highly recommend this place.
Robin
2015-09-14T00:00:00Z
Villa Sospisio's location is absolutely dreamy. The surrounding gardens, a balcony bathed in light, large windows, the song of birds transport you out of the loud moped buzzed hype of Rome. Unfortunately, the comforts of this Villa stop there. The refrigerator was broken. Internet never worked. The miniscule kitchen is completely non functional (it takes more than a few bowls, one pan, a couple of glasses and two espresso cups to make a kitchen). The beds are rock hard, there is no coffee machine, no clothes drying rack and no chance to get a response from the hosts. The shower has scalding hot water, or cold, but doesn't mix the two. The floors and bathroom were not washed. The 'private' balcony is a misrepresentation: it's actually a shared balcony with a plant divider where the neighbor's gardener works each morning at 8:30 am. Our text messages were never answered when we asked for solutions. We never met Guya and we never heard again from the housekeeper who greeted us upon arrival (besides four empty text messages days after we left). Each step in the process of renting Sospisio has been riddled with bad communication. I imagine that if Guya could sleep a few nights in her own Villa, she would see that it's abusive to ask such a high price for an uncared for space. Renting an apartment takes a certain commitment (especially via internet).
Justin
2013-07-06T00:00:00Z
Our stay at villa sospisio was fantastic. The location is just perfect because it's in a quiet and beautiful street close to all the attractions and the river. We particularly loved the outdoor terrace, and the large number of windows.
Lucy
2015-09-06T00:00:00Z
Tipo di stanza
Intera casa/apt
---
Tipo di sistemazione
Chalet
---
Può ospitare
3
---
Camere da letto
Roma, Lazio, Italia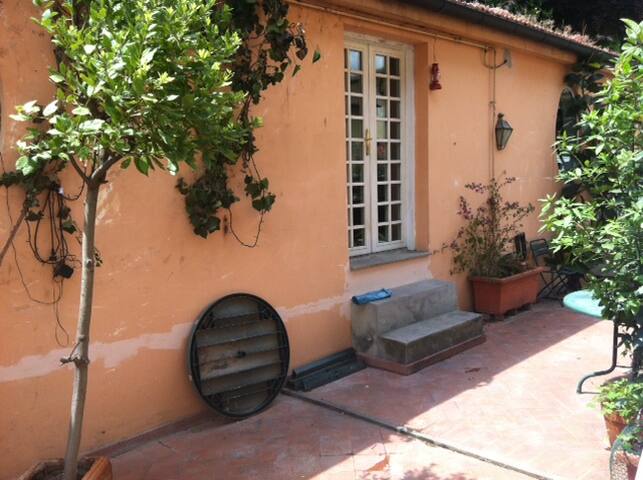 Zona tranquilla e sicura, sopra Trastevere e vicinissima ai principali punti di interesse. Monolocale con angolo cucina e ampio giardino di fronte ai più bei parchi della città. Negozi nel giro di pochi metri. Mezzi pubblici ha facilità di parcheggio
La struttura è composta da un monolocale con bagno e angolo cucina e si trova nello stesso villino in cui abita la nostra famiglia. L'ampio giardino è attrezzato con tavoli, BBQ e sdraie prendisole. Di fronte a casa si può passeggiare nello splendido parco pubblico di Villa Sciarra e raggiungere in 5 minuti Villa Pamphili, oppure seguire uno dei tanti percorsi che vi potremo consigliare tra i luoghi storici o più "segreti" della città. Il famoso mercato di Porta Portese è a pochi passi e la basilica di San Pietro si può raggiungere con una suggestiva passeggiata attraverso il Gianicolo.
Il quartiere residenziale di Monteverde Vecchio è nato a inizio '900 su una collina posta tra Trastevere e il Gianicolo, a poca distanza dal centro storico e dello shopping circondato da magnifici parchi.
L'appartamento è molto carino, come nelle foto, dotato di tutti i comfort necessari, dal phon al tostapane, dal frigo al collegamento wifi, la zona è tranquillissima a due passi (e 283 scale) da Trastevere e dal Gianicolo. Franco è stato molto gentile e premuroso nell'accogliermi e mettermi a mio agio, mi ha gentilmente offerto frutta e una deliziosa crostata! Lo consiglio a chi vuole visitare Roma, in una zona caratteristica come Trastevere, ma vuole anche un po' di tranquillità!
Roberto
2014-08-04T00:00:00Z
I booked place for my mother and her partner. Here is my mums review "we had wonderful time at karla & francos place they are very friendly and helpful. Franco collected us from the bus stop. Very beautiful gardens, very well looked after and it is very pleasant to sit outside. The property itself is very comfy and great bed for good night sleep. Everything is very clean and well designed. Property has everything you need. Very good area to travel around Rome. Close to everything. Indian (the golden retriever) is very calm and friendly. Lovely to have him around. If we decide to visit Rome again we will stay here. Highly recommended."
Teona
2016-09-12T00:00:00Z
Our stay with Franco and Carla was one of the best airbnb experiences we've ever had! These are two of the kindest, most compassionate, and helpful hosts we've had the pleasure of meeting, and they gave us endless help and courtesies throughout our stay on their charming property. The space was exactly as described - small but private and perfect for a getaway for two. The apartment is actually a small structure detached unto itself in a safe, beautiful garden sheltered by blooming fruit trees, with cute seating and the occasional company of two very friendly dogs. Inside, we found everything we needed and more, from snacks and complementary beverages to appliances and customized guide materials. We were greeted upon arrival by our hosts' smiling faces and were given a welcome run down of the vibrant neighbourhood and their take on the city. If you're looking to explore on your feet, this is your spot. It is located right atop what is considered Rome's eighth hill, just a fifteen minute walk from the heart of the city's lively Trastevere district - an incredible location for food, wine, and the most vibrant side of life in Rome. Want to see the Vatican? A short, scenic walk in another direction will get you there in no time. There are lovely parks nearby and a million other great offerings that Franco will be delighted to tell you about. Getting to know Rome from Franco's apartment was a joy and getting to know our hosts was even greater still. We would stay in any space that Franco and Carla had to offer, and this apartment was one of our happiest finds on a very happy journey through Italy!
Julie
2014-10-19T00:00:00Z
Franco and Carla were some of the most welcoming and gracious hosts. We had a great stay in Rome at their chalet. We had great communication with Franco leading up to the arrival, and he gave us very detailed directions. We had a very warm welcome with tips, homemade limoncello, tarts, and snacks. The chalet is small but very cozy, and was perfect for us to rest in after a long day in the city. Franco gave great recommendations on sightseeing and restaurants, and we loved trying the street food. Both of the dogs were so great to have, and a nice reminder of home. Franco was so helpful and allowed us to do laundry and arranged airport transportation. Highly recommend staying here.
Andrea
2015-11-05T00:00:00Z
We had a very good time in Rome. The location was near the Vatican and other famous venues. Franco & Carla where very gracious hosts. They arranged transportstion from the airport. Upon our arrival they greeted us with snacks and wine. They provided information on touring Rome which was very helpful. They also provided transportation to our early morning tours. On our last day they provided transportation to the Train station. Definetly a five star rating.
Gary
2016-06-18T00:00:00Z
Franco and Carla were exceptional hosts. They have a beautiful studio apartment in their garden at the top of a hill in Trastevere. It was very peaceful there, and Franco was full of information to help us get around and experience Rome. Their dogs were extremely well behaved, beautiful dogs. The hike to their house does involve climbing almost 300 stairs, but there is a bus that stops a couple of blocks away at the top of the hill for when you are tired. It was easy to access all the major sights in Rome via public transportation from their home. We strongly recommend staying with these lovely people!
Bryan
2014-07-04T00:00:00Z
Franco and Carla are by far the best hosts I have had on airbnb. They are so kind, accommodating, sweet and very attentive to the needs of their guests. The apartment itself is so wonderfully kept- perfect for two people. It is clean, comfortable and set up for absolutely anything that you need. Incredibly beautiful neighborhood , the garden is immaculate, and the dogs India and Tosca are an added treat! The next time I am in Rome I will definitely stay with Franco and Carla and I definitely recommend it to anyone!
Jackie
2015-10-11T00:00:00Z
Franco and Carla were very welcoming and helpful hosts. We had useful communication with Franco leading up to the arrival, and he arranged airport transportation. We had a very warm welcome with homemade limoncello, chocolate and snacks – and marmalade, milk, coffee etc. for the breakfast the first day, as we arrived late in the evening. Franco gave great recommendations on sightseeing and restaurants. The chalet is small but very cozy and clean and was perfect for us to rest in after a long day in the city. The garden is beautiful. Highly recommend for a summer stay in Rome.
Peter
2016-10-26T00:00:00Z
Tipo di stanza
Intera casa/apt
---
Tipo di sistemazione
Chalet
---
Può ospitare
2
---
Camere da letto
Roma, Lazio, Italia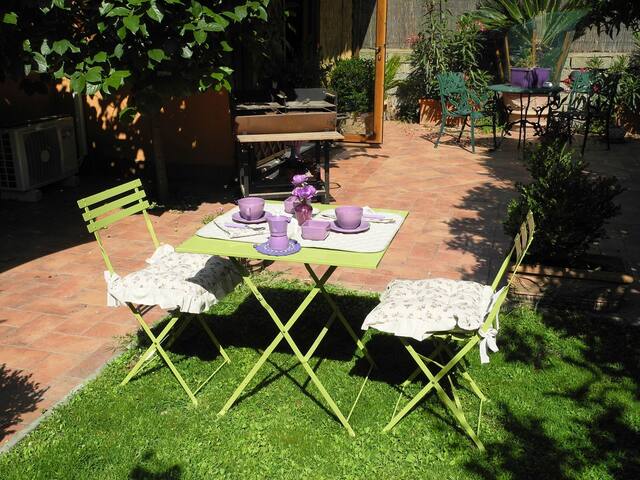 Roma - Airbnb
:
Media di

4.68

stelle su

5

da

385

recensioni degli ospiti