Inserisci la data del check-in nel seguente formato dd-mm-aaaa
Inserisci la data del check-out nel seguente formato dd-mm-aaaa
Annunci che puoi prenotare senza aspettare l'approvazione dell'host.
Inserisci le date per visualizzare il prezzo totale. Ci sono dei costi aggiuntivi e potrebbero venire applicate alcune tasse.
Nei mesi di luglio e agosto puoi provare uno di questi 100 alloggi ad alto rendimento, per ogni fascia di prezzo, e vivere una visione locale di Sonoma. Prova il check-in continuato, la Prenotazione Immediata e vino e spuntini locali per rilassarti e godere al massimo del tuo viaggio.
The studio(35sq. m) is located in a quiet area 50m from the sea It is very sunny ,on the top floor and has a spacious veranda with a panoramic view.
The studio has one bedroom with double bed (190cm length x 130cm width), a fully equipped kitchen ,a living room and a small bathroom with shower. WF is available.
Amazing place, the flat is brand new and has everything you might need. Mina was very friendly, flexible on check in and check out times and had everything ready for us when we got there. We definitely recommend to everyone.
David
October 2015
Very friendly host. The Appartement is small but in a new building quite close to the sea. Residential area; need a car to get around, to reach shops and restaurants.
Heinz
October 2015
Úžasné místo! Cítila jsem se tam nádherně. Byt je moc krásný. Majitelka neuvěřitelně milá a vždy ochotná vám pomoci. Zároveň máte své soukromí. Můžu vřele doporučit :)!!!
Tereza
October 2015
Tipo di stanza
Intera casa/apt
---
Tipo di alloggio
---
Può ospitare
2
---
Camere da letto
1
Artemis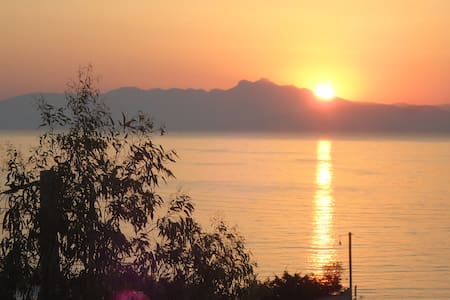 House in Evia, Marmari ,1,5 hour from Athens,and Venizelos airport ,with splendid view to the sea and Petali islands, near to dreamy beaches, traditional villages, places worth to see.House for relaxing as well as for adventure and new experiances.
The 2nd level loft is 60 m2 and has: The living room with 2 bed sofas, open space kitchen, incorporated dinning table, a stofa and a staircase to the attic. A balcony with magnificent view to the sea, the complex of 9 islands "Petali" and to an idyllic sunset. An attic,open seeing to the living room with 1 double and 1 single bed A master bedroom with 1 double bed,WC,shower, zacuzi, a mountain view balcony. All fully equipped with washing machine,instant hot water,satellite TV, Wi/Fi, A/C for every room, linen, and fully equipped kitchen. Garden with a pool, an open air sitting space under a pergola with a bar, BBQ and tennis table (Guests can stay in the garden from 10:00am -14:00pm and from 18:00-11:30 Children under their parents' responsibility. Pets are not allowed in the garden.) If the wind is appropriate and guests are up to 6 persons there is possibility of daily excursions, swimming and pick nick to Petali islands as well as water sports (ski,tubes,wake board,surfing,sailing)by the owner's boat (under a special agreement). All members of the family (Dimitris,his wife Sofia ,Anastasia 20, Michle 16,will be there for providing you with unforgetable holidays. We can give you advice and info for organizing activities, excursions, shopping (supermarket) having dinner out, renting a cheap car. We also we organize twice a week in the garden by the pool greek evening with traditional greek food (mussaka, pastichio, vegitable pies) giving you the opportunity to see how they are made. The house is situated in South Evia the 2nd island of Greece next to Athens. Evia has places of pure beauty ,small traditional villages, beaches with clear blue water with sand. Marmari is a fishing village with port, easy to reach from Athens (20 min from Athens airpotr "Venizelos",to the port of Rafina and 1 hour by ferry to Marmari)The house is 900 meters from Marmari in an idyllic quiet place with villas and trees. The beach in front of the house(5 min on foot) is 2km long with clear crystal blue waters and sand.There you can stay under the sun as well as under the shadow of the trees, sit in the beach bar having drinks, shower and music don't worry about children,the waters are not very deep. Figias is the next beach, uncrowded,with restaurant,bar,caffes,a tavern in front of the sea, under fantastic platanos trees) 15 min on foot, 5 min by bicycle. (Dimitris will provide you with 2 bicycles) The village and port of Marmari (15 min on foot,5 min by bicycle) has taverns , bars, super market , bakery, pharmacy,doctor. Karystos is a small town 10km,10min by car or by bus with shops, taverns, bars, caffes, banks, hospital, pharmacies,post office, and travel agency for organizing excursions like to Dimossaris gorge for hiking .It has sihtseeings (2 Roman-Medieval Castles) museums,festivals. Both Marmari and Karystos have pictoresque ports with many yaths and fishing boats,street by the sea for pedestrians, ideal for adults to stroll or sit, and for children to play. In Marmari there is a taxi station (if arranged a taxi can pick you up from the house) If you have more than a week ,you can rent a car making excursions to fabulous uncrowded beaches( Aetos, Buros Ag Dimitrios )or to prehistoric " Dracospita". Also you can make a tour going to Styra (a more cosmopolitan place), to Eretria (ancient city with museum) take a ferry from these two places ,back to Athens, or go to Chalkida (capital of Evia), passing the bridge and go to Athens by car. We can also pick you up from the airport (under a special agreement) to Marmari and vise versa. If you want to visit Athens for some days you can stay to our house in Varkiza (80 m2,open space with 1 bedroom sleeps 4-5) 50 meters from the sea with an also splendid beach,under the same conditions(depending on availability, and for an early ,at least week booking).Varkiza is a cosmopolitan suburb of Athens with organized beaches, restaurants, bars, places to walk next to the sea.The house in Varkiza is For further information you can ask us. min from the airport,40 min from the center of Athens( to Acropolis, by bus and metro) 45 min from Pereus port and 1 hour from the port of Rafina (for Marmari) The building in Evia has also another duplex of the same size, two 50 m2 appartments ,and a 120m2 loft. SPECIAL OFFER Take advantage of the late Greek summer! For at least two weeks in october- november only 590 euros Special prices for boat excurtions and transportation to and from the airport English French spoken
our holiday at the house of sofia and dimitros was an amazing experience.they were weating for us at the harbour,a warm welcoming at evia!the house is very nice, an amazing vieuw, close to the sea and beach, ans so quit, just what we needed so much.our hosts were ready every day for helping us: were is a good restaurant, a beautiful walk, an amazing beach, thank you so much sofia and dimitros for all of this!the trip with the boat, the barbeques and the friendly talks togheter, we sure will come back to you,it was a litlle paradise for us to stay with you thee 12 days!!!ria,geert and annemie
ria
October 2016
I stayed in this very nice apartment with my son for 8 days. The view is amazing and the local beach very relaxing and child friendly. Dimitris and Sofia and their children Michaelis and Anastasia helped make our stay very homy and comfortable. Also they assisted with renting a car and suggesting beautiful places to go on the island. The last two days we were given the opportunity to stay at Dimitris and Sofias house in Athens. All in all we had a lovely time and felt very much at home. Thank you!!
Tina
July 2015
Accueil très chaleureux, les hôtes sont très présents pour nous. De nombreuses activités sont possible, la maison possède une magnifique vue et se situe dans un très beau petit village qui se trouve pas loin des plages.
Déborah
August 2016
In an amazing part of the Greece Island Evia we have found the lovely house of Dimitris and Sofia. The location, the atmosphere and most of all the view made it one of the best holidays we had in Europe! Our children of 4 and 6 loved playing and swimming in the pool, the table football and the beaches in the nearby surrounding. The colors of the sea are really amazing. For shopping we used the bicycles or went by foot and we enjoyed the Greek village of Marmari, the friendly people and the views. On our way back we enjoyed the sea and found the most beautiful stones on the beach. In the night we went to the other beaches to see the sun go down, to enjoy the quiet bays for swimming (and internet) or went to a restaurant to enjoy the Greek seafood. Dimitris and Sofia and their grown up children were always there to support us with anything we needed. We really felt at home; had BBQs together and we even went on a boat trip to one of the lovely inhabited islands around. To conclude we would recommend this place to anyone who loves being surrounded by nature, and good company.
Shay
August 2016
I and my family had a wonderful holiday in October at Dimitris' place. The apartments are in very good location for people like us whom like nature and non-touristic places. It was tranquil and silent location - we could hear sounds of nature and see lot's of stars in evenings. The nearest beach is really good with kids coz it has sand bottom and it's shallow. The water is crystal clear. We also explored other beaches and places with a rented car. Dimitris and his wife helped us in everything - including rent a car so that the car was brought right to the door. Also they picked us from the port of Marmari and even helped in the supermarket to translate informative labels of the products from Greek to English coz we have special diets. What ever tools we needed for kitchen we could always ask and got them. We also got good advises for places to visit. In general they both did all the best that we have great holiday - and so we had. They even offered us extra space to sleep which was really nice - even if the apartment itself already was spacious and had sleeping places for at least 6 people. The view from the apartments is amazing! I highly recommend this place for everyone who doesn't want to share holiday with thousands of tourists. Even if Marmari is nature closed and quiet place, it's not far from the airport of Athens. We took a bus 30 min and then a ferry for one hour. That's it. But notice that ferry doesn't go many times in a day - check the schedules.
Mia
October 2015
Dimitri et Sofia et leurs deux enfants, sont quatre adorables ambassadeurs de la belle vie à la grecque et francophiles assurés : tranquille, insouciante et ensoleillée. Ils vivaient à proximité et nous ont bichonné et nous ont permis de passer d'excellentes vacances. Il faisait très chaud (25/7 au 8/8) mais chaque pièce a sa propre clim. Notre logement était conforme au descriptif voire mieux : avec les produits de base nécessaire pour le bain, le petit-déjeuner, linge de lit et de toilette. Les plages à proximité se comptent par dizaine, il y en a pour tous les goûts : sable fin, petits graviers doux, galets... Peuplées et moins peuplées voire désertes. Marmari est un village très peu touristique qui a gardé son authenticité et le charme du sauvage, du naturel, solidarité, sourires au rendez-vous. Armez-vous d'un petit guide de conversation car on y parle peu l'anglais mais on se régalera toujours et Dimitri se fera un plaisir de vous aider en écrivant le nom des plats ou par téléphone. Dimitri est également capitaine de bateau et vous propose de vous emmener visiter des îles alentours vierges de tout sauf verdure, plages, criques secrètes et soleil... Ou alors de vous initier aux sports nautiques tels que ski nautique, wake-board, luge... Leur maison d'Athènes est délicieusement bohême, de quoi voyager aussi à une autre époque....
Philippe
August 2015
Tipo di stanza
Intera casa/apt
---
Tipo di alloggio
---
Può ospitare
6
---
Camere da letto
1
Kokkinis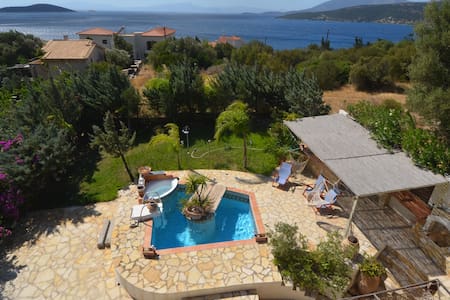 Beautiful place very close to sea! Only 10 min from the airport of Athens and 5 min from the port of Rafina
Tipo di stanza
Intera casa/apt
---
Tipo di alloggio
---
Può ospitare
4
---
Camere da letto
1
Artemis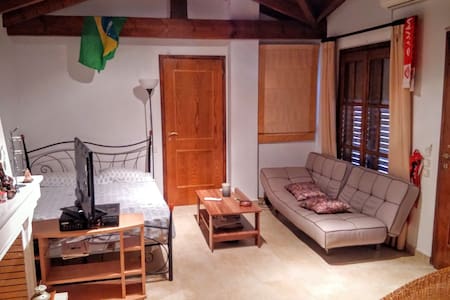 Private sunny roof garden (5th floor) appt. with verandah, sun tents, summer furniture and beautiful view of Athens Southern Coastal line (Voula & Vouliagmeni). Panoramic sea sunset view. 10' mins drive from major shipping Cos, 10' Glyfada, 20' Airport, 30' Acropolis.
17 sq. meters roof appt (DOMA on 5th floor) on terrace with equipped kitchenette, twin bed and fridge. Private entrance, Sun protecting tents and summer relaxing furniture, beautiful view of Southern Coastal line (Voula and Vouliagmeni). Sea sunset view in front and mountain view at the back of the building. 10' mins drive from major shipping offices and from the suburb of Glyfada, (a shopping, entertainment and business center) as well as 10' mins from local beaches. Ideal both for business executives but also for those wishing a quick access to nearby beaches. Shared pool and big garden. Baby cot available during summer months. Guests will have the key in hand to access a private roof terrace DOMA (small appt) which in the summer extends to a huge verandah outside. For reservations exceeding one week the access to our shared pool will be permitted. The terrace is accessed by elevator to 4th floor and then 16 stairs up. Assistance to guests, guidance and friendly approach. Please do not hesitate to ask on anything you deem necessary. Discreet presence, Complimentary 1.5 hour lesson on the basics of the Greek language for those staying for more than 3 nights and are interested in.
Peaceful neighborhood ideal for the summer. It combines the unique privilege of a central area with aspects of a Greek village. e.g. Goat herders passing by with their goats, traditional tavernas at 5 min walk from residence, as well as possibility for hill trekking on the hill adjacent to the building, while in the same time, the residence is directly connected to the main areas of Voula, Varkiza and Glyfada. Recommended nearby sights: Vouliagmeni Lake, Kavouri and Varkiza beach. Recommended Coffee shops/ Restaurants: Vive Mar, En Plo, Yabanaki,Aperanto Galazio all adjacent to the sea. 15 Mins to Glyfada by bus. 10 mins to major Attica beaches (awarded with a blue flag, e.g. Varkiza, Vouliagmeni, Voula). Bus service at 7 mins walk. Parking spaces available. Closest underground station "Elliniko", accessible by bus. - A local dry cleaner nearby can pick up clothes on customers' expense. - Hair dryer and iron provided. Beach towels and portable sun beds available in case you want to visit a non amenity beach. -For long stays laundry is feasible at our waching machine downstairs. - The space has in store the essentials for a basic Continental Breakfast and the infrastructure for preparing same at no cost. Upon request, an enriched american breakfast is possible at an extra cost. Vegan breakfast possible. - Airport greeting and driving to the space or vice versa is possible upon request (cost: 13 euros/itinerary, i.e. half a taxi rate). - Parking available at the back of the building. Although a first come, first served rule applies, the parking is wide and has always available spots. (photo). - Space premises are cleaned and sterilized before a guest arrival. - Although bathroom rather small it offers a shower ability. - The facility of the verandah with its summer relaxing furniture cannot be taken as an asset during a cold winter period where the whether prohibits you sitting outside.
Christina was a great host, always willing to help and provide what we needed. The room was small, clean and cosy and had everything we needed. Comfortable bed, small kitchen, TV, and wifi. We enjoyed early morning swims in the condominium swimming pool and breakfast and calmed evenings in the big and sun protected terrace with views.
Oriol
August 2016
Christina was great at communicating with me prior to my arrival and made sure I was able to locate her home. Christina is a wonderful host, immensely hospitable and very generous. She really went above and beyond all expectations. A Greek gem. The accommodations were perfect, wish I had more time! Will most certainly be back.
Chris
September 2016
Christina's place is just perfect to stay over night on your way from the airport to Athens or Piräus (the night bus stop is just a few minutes away from her home). Christina is a very warmhearted and kind person, we felt welcomed right away. The little flat which we had all by ourselves is cosy and well equipped. Our highlight was the roof terrace from which we had a very nice view on the sea. Thank you, Christina!
Jasmin
October 2016
Το δωμάτιο ειναι οπως παρουσιάζεται.Ειναι εξοπλισμένο με οτι χρειάζεται για μικρής διαρκείας διαμονή και βρίσκεται σε καλη θέση ,κοντά σε οτι μπορείς να χρειαστείς. Η κ. Χριστίνα ειναι εξαιρετική οικοδέσποινα και κανει παραπανω απ´ οτι χρειαζεται για να σου εξασφαλίσει μια καλη διαμονή.
Παναγιωτης
September 2016
Christina picked us up from the airport at 12:30 am,then made us midnight snack.Shes so accommodating and helpful that we are confident to recommend her place to our friends and families.Her place is conveniently located,its near 2 beaches,near the bus stop,tavernas, mini market,not very far from Athens.The air-conditioning is (URL HIDDEN) is very clean and well organized.We love the outdoor space,its ours privately with the nice view of the sea.The view of the sunset from the rooftop area is perfect.We will come back again! Thanks Christina for looking after us and because of your kind soul,I want to come back to Greece again and again!!!
Cristina
September 2016
Christina is very nice and place is fantastic. The place I stay is clean with everything I need. the balcony is so so so good. inside the room is cosy. I also have a Greek class from Christina. She is a warm and elegant and pleasant lady.
悦娥
October 2016
I had a wonderful time in this compact, impeccable and beautiful roof top terraced studio. The studio is compact, clean and has everything one needs to get proper breakfast. The highlight of the flat is its stunning roof top terrace from where you can have a great view at the city below, the sea and sunsets. There is a bus stop 5' walk from the flat and you can get a bus from Athens airport that runs a 24h service (at least in summer time) and it takes about 25' to reach the airport which is quite convenient. Christina was the best host ever and gave me a wonderful welcome! She gave me valuable information about the buses, the shops and the culture. I highly recommend the flat and her person to anyone! She certainly made me want to come back to Greece!
Angelina
September 2016
Christina's roof terrace is a great place to stay in Vari. It is situated in a quiet residential area and in walking distance of decent restaurants and super markets, and with plenty of parking space surrounding the building. The room itself is small, but that doesn't really matter, considering you have a (really big) roof terrace where you can sit on most through your stay. It is very clean and well kept, with pretty much every amenity you'll need. Christina is a very friendly, social and helpful host - helping us find our way around and making sure we were completely happy. All in all, Christina's place is well worth the drive from Athens, and allows you to explore the coastline around Athens and wind down from city life. We will definitely return to Christina's when in Greece again.
Erik-Bart
September 2016
Tipo di stanza
Stanza privata
---
Tipo di alloggio
---
Può ospitare
2
---
Camere da letto
1
Vari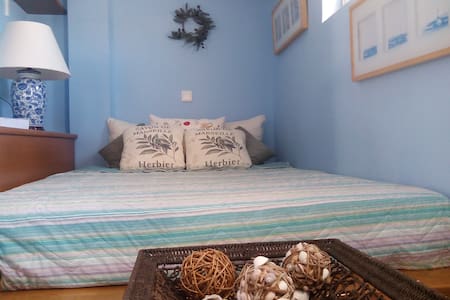 With a lovely private balcony, it offers a unique sense of privacy though it is near to all trendy restaurants, bars and shops of an awesome suburb. 5' for the tram, 10' for the beach, countless opportunities of entertainment, friendly owners.
Climbing up the stairs you are instantly on the private balcony where you find the entrance of my cozy little loft. You can enjoy breakfast, lunch or dinner and participate to the vivid life style of our street from a distance. Overlooking from the balcony you can enjoy the sight of the cool, green garden. The loft is really cozy inside and has all necessary equipment for a pleasant stay. Even the tiny bathroom has a certain character with a unique view through its small window to the back of the garden. The kitchen is more than enough for holiday cooking while the large bedroom and the comfortable living room makes you feel at home on the spot :) The loft is ideal for couples and a family with children of a certain age. The couches that you see on the pics are small and only 1,50 m long. So they can be comfortable only for children under 11 years old. Near the loft there are many restaurants and bars with a vivid nightlife. By a walking distance of 3 minutes you can find the tram and in 10 minutes you are at the beach! As our guests feel free to ask us any information you need to have a wonderful stay at my loft. Don't miss a visit to the Acropolis and the Acropolis museum. Enjoy nice Greek delicacies: Tsatsiki, souvlaki, greek salad and ouzaki. Try also the very famous cold frappe coffee. Should you need any help during your stay I am glad to be of your assistance.
Our neighborhood is really cool and lively, with some of the nicest places to have lunch or dinner. Weekend nightlife is at it's pick and you feel like being in a party. Parking is rather challenging here but there is a private parking place right across the garden and a free parking space outside our door (but we need to confirm it first). To reach the metro station it takes a 10 minutes drive and in walking distance of 5 minutes there is a taxi station. Bakery, mini market, pastry shops, pharmacists, a children playground, a municipal swimming pool, a municipal tennis court, nice spots for long walks along the beach, awesome shops are creating a unique atmosphere.
Io e mia moglie siamo stati da Sila nella settimana del nostro matrimonio perchè la nostra casetta a Glifada era occupata dai miei suoceri... Fin da subito siamo stati accolti con il calore e la simpatia che troviamo nei nostri amici greci ogni volta che andiamo. Sila ha un gusto per l'arredamento grandioso e il suo loft è molto bello e curato nei dettagli. Posizione ottima: a due passi dalla via principale della città, a meno di 10min a piedi dal mare e con di fianco uno dei migliori locali che conosco a Glifada sia per gli ottimi drink che per ballare... Si entra dal giardino che fa invidia a una serra da come è curato, salendo verso il loft si accede al balconcino privato anche questo pieno di piante e fiori, la camera da letto molto spaziosa, la cucina attrezzata di tutto, salottino accogliente e il bagno anche se piccolo ha tutto il necessario... Sicuramente tra i bei ricordi del matrimonio rimarrà anche il loft della nostra nuova amica Sila ;) ευχαριστώ παρά πολύ
Diego Javier
July 2016
Our stay was wonderful. The flat is very well equipped and the kitchen is quite large. The location is unbelievable if you are looking for comfort. If you want to visit the old section of town there is a tram nearby that goes there. i would recommend staying there.
Keith & Connie
November 2016
Sila was extremely nice and helpful. She's a perfect host! The apt was very cute and the in the center of glyfada. Wish we could have stayed longer.
Leah
September 2016
Perfect!
Alexis
October 2016
Nuestra anfitriona Sila fue muy amable y simpática desde que tuvimos el primer contacto, siempre respondió nuestras dudas y al llegar al apartamento fuimos muy bien recibidos y nos sentimos como en casa. El apartamento tiene mucho encanto, nos enamoramos de sus particulariedades y detalles de diseño. La terraza era estupenda y la habitación grande y comoda. Estaba todo limpio y contaba con todas las cosas necesarias para pasar una agradable estancia, tal como pone en el anuncio. El barrio, según dicen, es uno de los mejores de Atenas. Tiene muchísimos sitios a donde ir de copas y comer, también tiene las playas muy cerca. El centro histórico de Atenas está a unos 40 minutos, pero la comunicación es buena, ya que el piso está muy cerca de la parada del tranvía y el paseo en el tranvía se hace muy ameno, sobre todo al atardecer ya que va bordeando la costa. En fin una experiencia muy bonita y totalmente recomendable!!!
Jinnet
June 2016
Visiting Sila's little cozy loft is like having a holiday home in Athens! Sila is a wonderful host and a lovely person! The loft is close to a lot of restaurants, shops, bars and the sea in Voula never got bored. Although it is located on the road it is really quite and the balcony is ideal for having your dinner in the evening and enjoying the privacy. Would definitely recommend! Thank you Sila for the wonderful stay :)
Theo
June 2016
Sila is very nice person and from the very first moment it was like our home. We were with a baby and there was no problem or insecurity. Neighborhood/location is excellent, beautiful garden. I would like to go back.
Andjelka
October 2016
Sila is wonderful and her artistic little place perfect for a break. It is located perfectly, in a vibrant area, for walks, shopping, dining, if you want to explore the city, and great library, cozy couches, extensive cd collection, lovely electric blankets if you want to stay in and enjoy yourself!!!
Vassiliki
November 2016
Tipo di stanza
Intera casa/apt
---
Tipo di alloggio
---
Può ospitare
4
---
Camere da letto
1
Glifada
Modern top floor Loft in Artemida, Athens, Greece 10 minutes away from Athens International Airport EL. Venizelos. Amazing sea and mountain view, 100m from the beach (sandy), a/c in all rooms, tv, wifi, roof terrace, sunbeds, outside dining and huge balconies! Located in the center of Artemida very close to grocery shops, restaurants & cafe/bars. Also the loft is 10 min drive from Rafina port(ships to Cyclades i.e Andros, Tinos, Mykonos etc) and 35min from Athens city center.
Amazing sea and mountain view. Very close to Athens International Airport(4km) and rafina port(5km) make your trip easy, relaxing and gives you the opportunity to visit different places in Greece (Cyclades islands, Acropolis, Marathon temple, Artemida temple, Athens city center) easily and fast without hassle.
Artemida consists of 18km beach, most of it sandy, with crystal waters and a lot of different things to do. Waters sports and surf clubs are nearby, you will also find a lot of organised beaches, beach bars, restaurants and tavernas by the sea which will make your holiday idyllic & unique. There is public transportation to the airport, to Athens city center and rafina port as well, all day. We are also in the position to encourage you to join any kind of extra service that we provide and you may need it to make your visit more interesting and enjoyable. Extra Services Upon Charge 1) Any kind of transfer(e.g van,mini van,mini bus,bus,rent a car,taxi,limo with personal driver) 2) Guided tours in Acropolis, temple of Poseidon in Sounion, Culture Centers around Athens, Gastronomy tour,Wine tasting tour,Beer tasting tour,Street art tour, Modern politics tour, Shopping tour & hidden Attica 3) Acropolis for Kids program. It is a tour in Acropolis specifically for kids from specialized tour guide personnel. 4) All day tour in Delphi oracle where it is also believed that there is the center of the mother earth(Gaia). 5) All day tour in Ancient Oympia where the Olympic games invented. 6) All day tour in Meteora which literally means "middle of the sky",where you can visit one of the largest and most important complexes of Eastern Orthodox monasteries in Greece. 7) All day tour in Nafplio. 8) Restaurant reservations 9) Private Chef 10) Babysitting
Tipo di stanza
Intera casa/apt
---
Tipo di alloggio
---
Può ospitare
4
---
Camere da letto
1
Artemis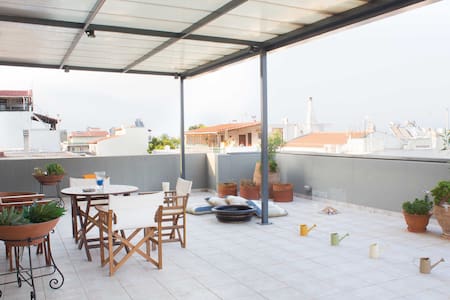 Ideally located, a unique loft apartment in a very peaceful neighborhood in Voula which is located next to the popular Glyfada, with an amazing sea view over Saronic Gulf. It was built in 2008, modern decorated with very expensive materials. It is furnished and fully equipped. It is located on the third and fourth floor. There are two bedrooms, 2 bathrooms. The kitchen is fully equiped with oven,microwave, dishwasher, fridge with freezer and automatic ice maker, cuttlery, dishes and pans, kettle, espresso coffee maker, toaster. There is jacuzzi in the main bathroom. There is also a vacuum cleaner and a laundry machine. Numerous of big closets will make your stay more comfortable. Bed linen, towels, the bath amenities and all electric devices are provided. The heating is autonomous and there is also a fireplace. The apartment is fully airconditioned. There are balconies of 30 sq from where you can admire the magnificent view over the Saronic Gulf. Wi-Fi internet with unlimited usage is one of the apartment's facilities. There is boiler which provides 24 hours hot water. Finally there is a private car parking inside the building at no extra cost. The apartment is ideal for families or couples who want to spend their summer holidays in a beach side apartment. The nearest beach is only 900 m away, but also there are plenty of organized beaches in Glyfada and Vouliagmeni area. During summer time the coast line of Glyfada, Voula & Vouliagmeni areas are very popular choice for swimming , walking and dinning. Located close to the sea we are enjoying the fresh sea breeze in the summer time compared to the more warm center but most important away from any traffic jams and all the demonstrations that take place in the center of Athens. The apartment is very close to a pharmacy, banks and public transport 700 m away from the apartment , there is a bus station from where you can take a bus to the city centre. 500 m away from the apartment there is a super market, a bakery and a pharmacy. In less than 800 m away you can find a church and a playground for children. Airport or any other transport is available upon demand at an additional but very reasonable cost. Voula is a southern suburb of Athens. It is located approximately, 20 km South of Athens center, SW of the Eleftherios Venizelos International Airport, NW of Cape Sounio and South of the Hymettus mountain. Poseidonos Avenue (GR-91) links Voula with the center of Athens. The Northern part is linked with Athens by the Terminal station of Athens Tram. An organized beach lies to the West and one of the largest Athens hospitals, "Asklipieio", lies to the North. Voula, where the apartment is located, is considered to be a wealthy, chic and upmarket district. Voula lies next to Glyfada which is a fashionable meeting area and as one of the capital's leading shopping areas, it includes a number of high-end boutiques from young adult to casual fashion to prestigious haute couture from Greek and international designers. Airport or any other transport is available upon demand at an additional but very reasonable cost.
We had an amazing time staying at the beautiful loft apartment in Voula. The apartment is elegantly decorated and has all the mod cons for a comfy stay. It is very well located on a quiet street, only a few minutes walk to cafes, restaurants and shops in Voula and easy access to central Athens. Our host was very friendly and helpful and we would happily recommend staying at his place.
Dave
January 2015
George is an amazing host. From the moment I reserved the apartment till I left, George was there, even at late hours of the night. Renters will not be disappointed reserving through George. He greeted us at the door and showed us around thus making our stay wonderful and comfortable. I would add that George manages many properties around Athens and the Greek islands. Check his full listings. Thank you George for your assistance and kindness.
Nabeel
July 2014
Excellent apartment. Great Location. Would highly recommend and would definitely stay there again. Top marks all round.
Dimitry
June 2014
George is a great property agent and is very quick to respond to your questions. Sadly the executive loft apartment that we had booked had to have some last minute maintenance. We have stayed there before though and it is a great property in a great location. George did help by moving our booking to a Villa with a pool which was a perfect place to unwind and relax. Thank you to George and Konstantinos for making our holiday a good one.
Dave
September 2015
Tipo di stanza
Intera casa/apt
---
Tipo di alloggio
---
Può ospitare
5
---
Camere da letto
2
Voula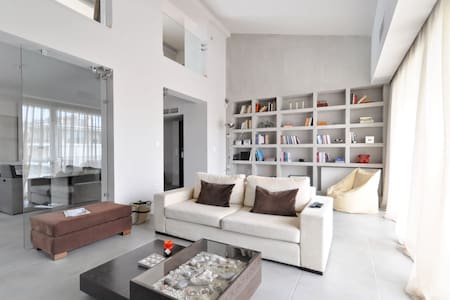 This Stunning Luxurious 2 Bedroom Loft Style in Glyfada area is the best choice for anyone looking a modern choice with all amenitie. It is 2 km from Metro Stop Helliniko and 5 minutes by car from Glyfada main shopping road & 7 km from the beach.
THE APARTMENT: This Luxurious brand new (200 sq m2) 2 Bedroom Loft, is located on the 3rd floor of a new building with elevator, overlooking nice views to the sea & sunsets. The apartment is at your exclusive use. A fully renovated and newly built, comfortable, stylish and luxurious, private entire floor Loft. It has full cooking facilities, fridge, air conditioning in every room, Internet WI-Fi, Satellite TV and a superb Verandas with seaview and BBQ Grill with dinning outdoor table. Fresh Sheets and towels are some of the amenities that the house offers. Additional Cleaning Service can be arranged upon request. The main advantage is the huge front Balcony (57sqm2) with sea view. There can enjoy your breakfast or dinner. In more detail the house has: - 2 Double bedrooms with double beds - One big sofa in the living room - We can also offer an iflatable bed that sleeps two extra people very comfortably. - Sleeps 5 comfortably. - The extra 2 people can sleep in the inflatable matress if requested. - 3 bathrooms (2 bathroom & 1 WC) - A large living & dining room with a big fireplace. - Fridge, Hob, Oven, Microwave, Coffee Maker, Kettle, Toaster, Dish washer - Washing Machine, Iron, TV & Satellite TV, DVD - Full heating and air-conditioning in all rooms. - Washing & Drying machine, are available. - Can accommodate up to 5 people LOCATION: The house is ideally situated in the Glyfada area near Athens south Beaches. The apartment is located in beautiful Glyfada, a nice, quiet, green, demonstration free and safe area next to the beach and still less than 20 min by car from Athens city center. Within 3 minutes walking distance you will find 24 hour Supermarkets, Bakery, Souvlaki tavernas, bus-stops, Banks, Pharmacy, etc. PARKING: The neighborhood is quiet and absolutely safe with free parking in Private Underground Garage or in free Parking in the street in case you rent a car. The apartment is accessed by elevator and there is a wheelchair ramp as well! THE AREA: Glyfada , probably one of the nicest areas in Athens having the best advantage of all areas: It has a great center full where you can choose among, cinema, coffee shops, bars and restaurants and all that just a breath away from the beach. This ways you will get the chance to discover the real city of Athens and not just the typical touristic areas. During summer time the coast line of Glyfada, Voula & Vouliagmeni areas are very popular choice for swimming, walking and dinning. Located close to the sea we are enjoying the fresh sea breeze in the summer time compared to the more warm center but most important away from any traffic jams and all the demonstrations that take place in the center of Athens. ADVANTAGES: - 1 km from new Metro Stop Helliniko - Easy access from/to Athens center (20 minutes by bus), Piraeus port & Airport. - It is very close to Athens nicest beaches, located in Glyfada, Voula & Vouliagmeni. - You can get there in 10 minutes by car or bus. - Enjoy the beach & explore Athens & Acropolis in one day! Discover the real Athens. - 100% feedback rate & satisfied guests. I am a very experienced host and guest, as i have been traveling and renting houses myself or exchanging homes in the past 7 years. There is always experiences to gain thought and that makes it so interesting for me! - Transfer services upon your request. We can pick you up from the airport at very reasonable fares. DISTANCES -PUBLIC TRANSPORT ---------------------------------------------- AIRPORT Easy access from/to airport with express bus X96, or metro and tram. Getting from/to Glyfada from Athens International Airport "Eleftherios Venizelos" Athens International Airport is 35 km or 40 minutes away by car or taxi. Taxi fare is approx 40 euros during day hours and doubles from midnight to 6:00 am. Public transportation to and from the airport is available by express airport bus connections on a 24 hour basis and ticket costs 5 euro. Bus Line X96 Piraeus - Airport Express starts from the center of Piraeus (Karaiskaki Square) and via Possidonos Avenue, Varis-Varkizas, and Varis-Koropiou roads, terminates at the airport. The bus stop for the House is Flisvos Bus Stop. The ticket for Express Line X96 costs € 5 and is valid for 24 hours on all public transport means (buses, trolley-buses and metro). Express Line X96 (24hour operation): Piraeus - Airport GETTING TO ATHENS CENTER There is a Bus stop around the corner at Gounari Street from there it takes 15-20 minutes by bus to Acropolis, Plaka or the center of Athens. You can also use the tram, which is in Glyfada to go to Athens center or Piraeus Port, more easy and frequent but rather slow, it takes 30-40 minutes to reach the same places. Nonetheless the advantage is that during the weekends it operates 24 hours. Taxi for center takes 10-20 minutes depending on traffic and costs around 12 euros. PIRAEUS PORT You can reach Piraeus by Taxi or Tram from Glyfa...
The neighbourhood of Glyfada is probably one of the nicest areas in all Athens. This is because of the close proximity to the Beaches and Safety. It also has a great center -Glyfada main shopping road-where you can choose among, cinema, coffee shops, bars and restaurants and all that just a breath away from the beach, 1 block. This way you will get the chance to discover the real city of Athens and not just the typical touristic areas. During summer time the coast line of Glyfada, Voula & Vouliagmeni areas are very popular choice for swimming , walking and dinning. Located close to the sea we are enjoying the fresh sea breeze in the summer time compared to the more warm center but most important away from any traffic jams and all the demonstrations that take place in the center of Athens. Also just around the cornet there is a 24 hour Market place and a fresh vegetable & fruit market store, pharmacy & Bakery. Within 2 blocks are 3 major banks with ATM's and a bigger supermarket named AB, where you can find everything. There is a Bus stop in the corner of the street and the bus takes you in a few stops directly to Glyfada main shopping road or to the brand new metro station : Elliniko Within 2 blocks are 3 major banks with ATM's and a bigger supermarket named AB, where you can find everything.
Although i am Greek, i live in London and wanted to spend the weekend with 2 friends in Greece. Initially, i was drawn by Polina as a host and her house because i saw a very friendly host, communicative and willing to help us in anyway she could in order to make our stay better. We could not have made a better choice that Polina's house. The house was very nice furnished and decorated, very clean and above all with all the amenities. She has an really nice English speaking cleaning lady that arranged to come on one day and cooked us a really lovely BBQ! We could not find a car to rent and she was kind enough to rent us her Grand Vitara for the weekend in an amazing price! We also loved the amazing fireplace and cable TV. We will definitely come back to Polina's house again and next time it will be the Aegean Villa @ Kea island! Thanks for everything!
Chris
March 2013
Very nice apartment. Perfectly located to visit the center of Athens and the beaches of the Attic region. Polina is the perfect host.
Marie-Christine
December 2011
We were very happy with the apartment. The rooms were clean and well prepared and the terrace is amazing.
Jonas
August 2014
The reservation was canceled 2 days before arrival. This is an automated posting.
David
We had very good time in Polinas house. Living room is spacious and the veranda beautiful , we spent most of the nights there. Kitchen is full equipment and clean. Bedroom nice with big tv. Thank you Polina
Des
July 2014
Firstly Polina and her friend Xristo are the most wonderful hosts you can ever wish for when arriving at your holiday destination. Nothing was ever a problem and all effort was made to accommodate our every request. The unit is a spacious clean apartment in one of the best areas of Greece. It is extremely convenient having food outlets and a mini market literally 2 minutes from your doorstep. The unit had all the comforts like air conditioning , free wifi, which is extremely helpful on holidays, comfortable beds, great kitchen and an enormous balcony with views of water and mountains. A highly recommended stay.
Nick
July 2013
Polina is a wonderful host, super available and happy to answer even the most basic enquiry (the best local bakery? etc). Her apartment is exactly as advertised, spacious, stylish, spotless. Everything worked. My wife and I felt at home. Tell only your best friends about this one! We'll be back next year.
George
June 2012
The reservation was canceled 8 days before arrival. This is an automated posting.
Nabeel
Tipo di stanza
Intera casa/apt
---
Tipo di alloggio
---
Può ospitare
5
---
Camere da letto
2
Glyfada