La camera è una camera singola con un letto singolo, armadio, mensole, cassetti, piccolo tavolo e una panca. In casa ci sono una grande cucina con tutti i comfort necessari per cucinare / preparare la colazione / pasto, anche di lavanderia. Super veloce fibra ottica inc. Biancheria da letto / asciugamani forniti Condivisione grande cucina con tutti i comfort: frigo, congelatore, lavastoviglie, w. macchina prima colazione fai da te fornito: Tè biscotto caffè
Spaziosa, la quota casa armonica a 5 minuti dal centro di Milton Keynes, ideale per lo shopping e pendolari. prima colazione fai da te è fornito, se siete a corto di nulla si prega di fare lasciate Patrick sa e lui ordinerà qualcosa per te! Alcuni ospiti sulla loro feedback hanno notato che le assi del pavimento fanno un certo rumore, essere consapevoli del fatto cercheremo di correggere questo da subito, e scusate se c'è qualche rumore !.
Room was just as described. Clean and comfortable and easy access to MK shopping.
Jack
2016-07-31T00:00:00Z
Nise place and good service
Mark
2016-08-06T00:00:00Z
Fit for purpose; tidy. Would stay there again.
Stephen
2016-12-07T00:00:00Z
Extremelly fast aproval Landlord/landlady was not there but received directions on how to access my room. Room was very clean, had towels, shampoos, and generally everything that you expect from a room double the price in the market (hotel,bnb etc) House was big/clean and other tenants (yes there are other tenants) were very helpful in the absense of the landlord/landlord. for the quality/price recomended 10000% and probably will re-stay there again in the future :):):) the only minor issue that i found is that the location is indeed close to the city center BUT its no way walking distance.
Avraam
2016-09-12T00:00:00Z
Cosy and ideal central location. Perfect for my needs.
Raymond
2016-12-16T00:00:00Z
Very happy,many thanks
Dymitr Stukalin
2016-05-02T00:00:00Z
Place is comfortable. Photos was accurate. Neighbors was really friendly. MK shopping center was 6 minutes walking. Revolution of Cuba cocktail bar was 10 minutes walking. Wonderland nightclub was 15 minutes walking. Highly advisable to book Betty's accommodation. Will definitely come again for shopping later.
Sergej
2016-09-11T00:00:00Z
It was great. The room was clean as expected. The location is awesome, really close to the shopping mall. I would stay there again.
Isaac
2016-09-24T00:00:00Z
Tipo di stanza
Stanza privata
---
Tipo di sistemazione
Bed & Breakfast
---
Può ospitare
1
---
Camere da letto
Milton Keynes, Buckinghamshire, Regno Unito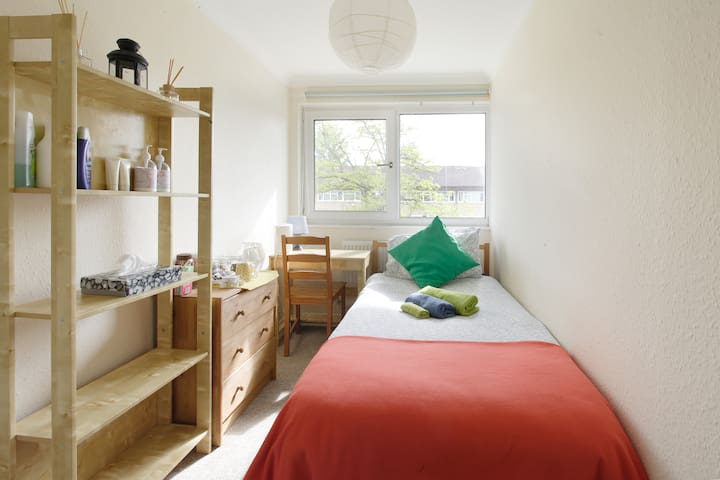 camera matrimoniale con bagno al piano terra di fronte a privato, tutte recentemente ristrutturato. Grande casa indipendente con piacevoli giardini, giardino d'inverno e patio. Tranquillo e lusso, vicino ai Campbell Park, il canale Grand Union, e Willen Lake. Ci rivolgiamo a tutti, e hanno preso cura di tutte le cose che si potrebbe avere dimenticato, così ci si può rilassare.
Siamo un ambiente eco-friendly, con 6 kW di capacità di generazione fotovoltaica. Noi usiamo una macchina elettrica e una bici elettrica. Siete invitati a caricare il BEV dal nostro punto di ricarica a casa, e usare la nostra ebike per escursioni intorno alla zona. Si tratta di uno spazio molto speciale di alto livello dove abbiamo cercato di pensare a tutto.
Molto tranquillo quartiere maturo. Panorami incantevoli, belle passeggiate, un sacco da fare e vedere.
The experience was pure joy. Simon and Alex made us feel like long time friends from the first minute. They were perfect hosts with lovely children (so polite) and fabulous dogs (I may now have to buy a wire haired daschund for Christmas!!). Five stars all round guys. Thank you, Mark & Jan
Mark
2016-08-08T00:00:00Z
Wonderful experience. Wow.
asher
2016-09-15T00:00:00Z
Simon and Ally are just the best hosts you could ask for. They couldn't do enough for me. It was my first experience staying in a family home but I was immediately welcomed and even had dinner with them. The room was beautiful and comfortable, and I had everything I needed. I even had a cup of tea in bed in the morning! I would definitely stay with them again :)
Sharon
2016-10-27T00:00:00Z
Stunning place to stay.
Hessam
2016-10-18T00:00:00Z
Lovely, new room in great household. Super helpful hosts in a nice area near the lake with lots of running tracks/picnic areas. Perfect for business travellers. Will stay again.
Aleks
2016-05-28T00:00:00Z
My second stay and just as good as the first! Great location and lovely room, and the bathroom and shower are as good as the best hotel. For anyone who wants to feel at home whilst they are away, this is the place.
nick
2016-07-08T00:00:00Z
Simon es un encanto, hizo todo lo posible por hacerse entender en castellano ya que nosotros apenas hablamos inglés. Estuvo pendiente en todo momento de que estuviéramos a gusto y lo consiguió. No le falta ni un solo detalle ni a la habitación ni al baño. El desayuno muy variado y abundante. Muy recomendable
Julia
2016-10-12T00:00:00Z
Simon and his lovely family could not have made me feel more welcome. The room was lovely and I had a bathroom all to myself. I couldn't have asked for better accommodation and I know that if there was anything else I needed I only had to ask. The house is beautifully kept and very clean and my hosts were so friendly and hospitable. I would highly recommend this airbnb. :-)
Jackie
2016-08-06T00:00:00Z
Tipo di stanza
Stanza privata
---
Tipo di sistemazione
Bed & Breakfast
---
Può ospitare
2
---
Camere da letto
Milton Keynes, Buckinghamshire, Regno Unito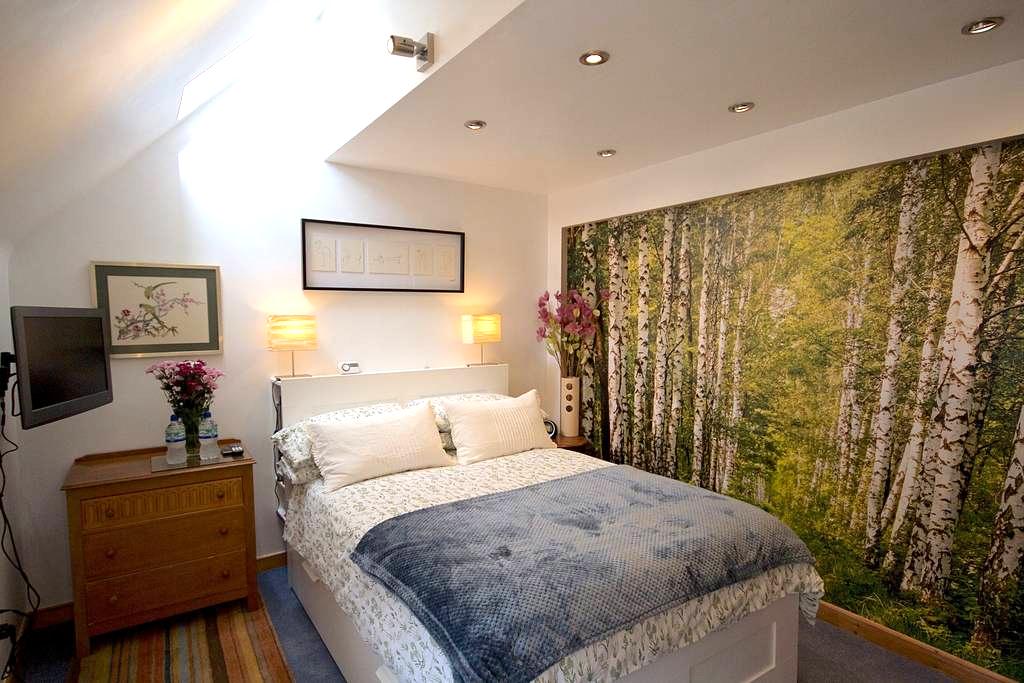 The room is a spacious double room with double bed, wardrobe, big chest of drawers, desk and chair Bedding/towel provided Sharing big kitchen with all the amenities:fridge, freezer, dish washer, w. machine DIY breakfast provided:Tea Biscuit Coffee
Spacious, harmonic house share 5 minutes to the Centre Milton Keynes, ideal for shopping and commute. DIY breakfast is provided, if you are short of anything please do let Patrick know and he will sort something for you! Some guests on their feedback have noted that the floorboards make some noise, be aware we will try to correct this asap, and sorry if there is some noise!.
The room was as advertised, neat and comfortable.
Julandi
2017-02-12T00:00:00Z
Always looking forward to staying at Betty's place..not far from central MK.
Zac
2017-02-10T00:00:00Z
It looked as listed in picture , room and house were cleaned on a regular basis , close to MK Centre . Betty was always approachable over phone . Room has portable heater instead of centralized one and in common areas of House ( Kitchen , Staircase and Bathroom its little cold ) , it can be kept little warmer .
Kailash
2017-01-23T00:00:00Z
Actually it took us 10 mins driving to the railway station in a very early morning around 6. When we checked in at 8pm in the night, the room was really smelly. We were told the room was not ready and all the bedding were dirty. It seems there are some people living or renting the rooms for long term. Also we didn't see Betty through the 3 days and we didn't feel welcomed. Please keep in mind you need share the bathroom with at least 3 groups of people leaving in the house.
Jeremy
2016-09-29T00:00:00Z
Everything that is stated is true The location is central to everything I would recommend it lovely friendly host your room had its own lock so you have no fears on things going missing Betty provides everything you need in the washroom I will be staying here again
Kevin
2016-11-15T00:00:00Z
Listing description was accurate. Neighbourhood was a bit noisy at night.
Bastien
2016-06-09T00:00:00Z
Thanks for understanding
boycegas1
2016-05-07T00:00:00Z
Perfect stay at Betty's place. Room very clean and very great location with easy link to the bus station.
Dorothee
2016-10-12T00:00:00Z
Tipo di stanza
Stanza privata
---
Tipo di sistemazione
Bed & Breakfast
---
Può ospitare
2
---
Camere da letto
Conniburrow, Regno Unito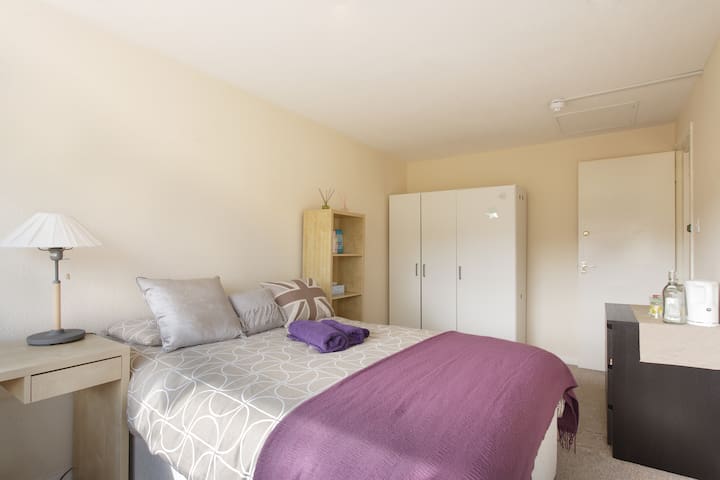 Tengo una bonita habitación individual grande, no fumadores disponibles para dejar salir en mi propiedad 2 dormitorios, estacionamiento libre disponible en la calzada. cocina compartida, sala de estar y cuarto de baño, de banda ancha Wi-Fi, TV vía satélite, fácil acceso al centro, parada de autobús a 3 minutos de distancia.
Habitación individual grande disponible para que lo deje salir en mi propiedad 2 dormitorios en Milton Keynes. Va a encontrar una cama muy cómodas habitaciones individuales, mesita de noche, un amplio escritorio y un armario en la habitación. También están invitados a relajarse en el salón y poner el televisor
callejón sin salida zona tranquila
I had to make arrangements for staying in Milton Keynes at very short notice and Kam's response to my booking request was very prompt! She even picked me up from the station which made my arrival a lot easier. Kam is a very helpful and welcoming host and the place is beautiful and immaculate. I enjoyed a restful night in a very comfortable bed, which was needed with a busy day ahead. Highly recommended!
Arie
2015-05-23T00:00:00Z
Another very pleasant stay at Kam's airbnb. Great location and great space, see my earlier review (Oct 15). Highly recommended.
Mike
2016-01-25T00:00:00Z
Kam is a lovely host; great company, and very welcoming. She has decorated and furnished her flat beautifully, and keeps it in immaculate condition. An excellent choice for a stopover in Milton Keynes, and I look forward to staying again. Thank you Kam!
Tony
2017-03-08T00:00:00Z
Kam's communications were superb! The room was lovely, clean, warm and had everything I could've needed. I would recommend Kam's place to fellow travellers and hope to stay there again myself some time.
Nick
2014-12-13T00:00:00Z
Kam was warm and welcoming, and made me feel comfortable in her home. I enjoyed my stay with her as she was such a good host. Shame she's booked for most of the days as I quickly decided I'd love to return within the first ten minutes of meeting her. Thanks again Kam for a lovely stay.
Nokuthula
2015-01-31T00:00:00Z
Had a great 4 night stay with Kam . Very laid back host . The apartment was very clean and comfortable. No problem parking even when coming back late . Recommended !
Nathan
2016-11-05T00:00:00Z
Kam was a fantastic host. Her apartment was very clean, beautifully decorated and close to everything. Kam went above and beyond to make sure everything was OK even picking me up, so I could drop off my bag, and taking me to my next meeting. I would certainly stay here again if I am ever back in MK for work.
Caroline
2016-03-25T00:00:00Z
I really enjoyed my stay. It was very relaxed and fully matched the description.
Colin
2014-12-12T00:00:00Z
Tipo di stanza
Stanza privata
---
Tipo di sistemazione
Bed & Breakfast
---
Può ospitare
1
---
Camere da letto
Milton Keynes, Regno Unito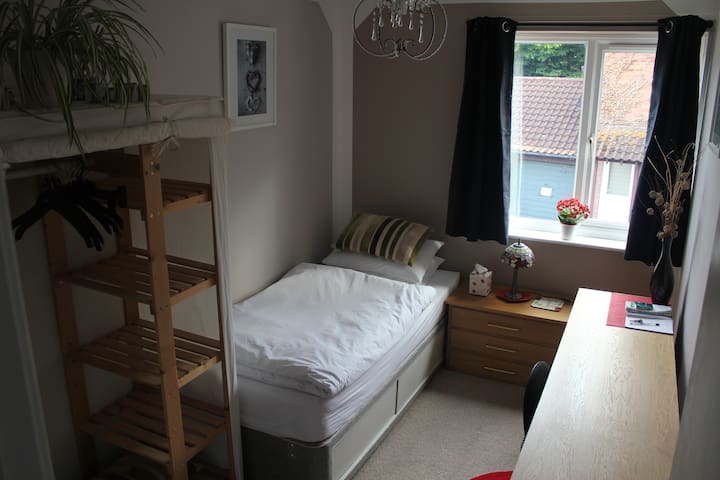 MK, 산탄데르 본사, 네트워크 레일과 허브 : 가든 룸 MK 미만 15 분 센터까지 도보입니다. 기차역은 편안한 25 분 거리입니다. 초고속 인터넷 (약 45Mbps의 다운로드 /에 15Mbps 업로드), 네스프레소 커피 머신 및 객실 내 차의 다양한 좋은 책상에 일을, 텐 매트리스와 편안한 더블 침대와 사원 스파 세면 도구를 갖춘 넓은 젖은 룸의 일부입니다 기능은 당신이 즐길 수 있습니다.
A, 조용하고 평화 롭고 생산적인 공간. 그냥 내 말을 오해하지 마세요 - 와서 자신을 위해 그것을 경험! (집 & 정원 내) 속성은 애완 동물 및 금연이 방법은 우리 집 규칙의 일부를 유지합니다.
Bradwell 공통 중앙 밀턴 케인즈로 알려진 중앙 비즈니스 지역 국경 안전하고 편리한 주거 지역이다. 여기에서 당신은 시내 중심에 가까운 도보 거리에 있습니다하지만 당신은 숲에서 실행 산책 / 가입 인 경우, 린포드 우즈 10 분 거리에 있습니다.
Tipo di stanza
Stanza privata
---
Tipo di sistemazione
Bed & Breakfast
---
Può ospitare
1
---
Camere da letto
Bradwell Common, Inghilterra, Regno Unito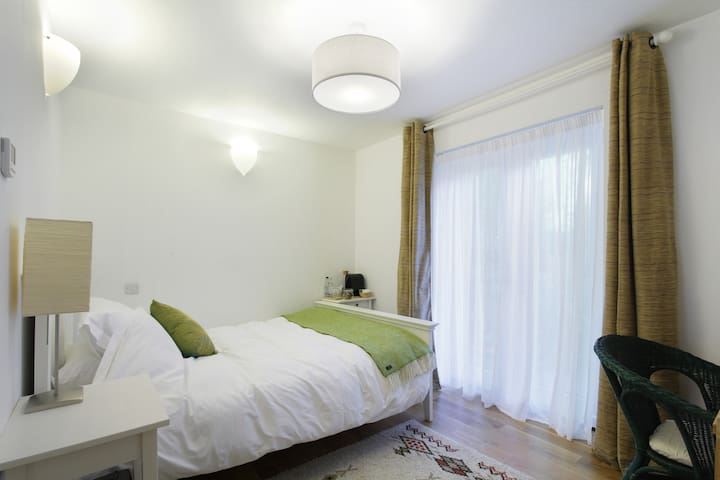 1

–

5

di

5 bed & breakfast
Inserisci le date per visualizzare il prezzo totale. Ci sono dei costi aggiuntivi e potrebbero venire applicate alcune tasse.