Stunning upstairs loft features exposed brick walls, local art, and a cozy modern feel in downtown Benton Harbor. 1 br, 1.5 baths, features beautiful KitchenAid appliances, dual-head shower with river rock, and skylights throughout the unit.
This is a unique urban loft in the arts District of Benton Harbor. The building is an old candymaking factory that is about 100 years old and my unit even has an elevator in it that used to be used to bring flour and sugar up-and-down to make candy. CAT: My partner's cat Nomi is here most of the time as well. She is very mellow and we leave pre portioned food to set out. She does not go in the bedroom.
Benton Harbor has been through a revitalization over the years so this is a new emerging feel in the community. There are certainly abandoned buildings and some challenging areas a few blocks away but the downtown area is art galleries, coffee shops, an LGBT resource center, thrift stores, and unique restaurants.
Beautiful, tastefully decorated loft space. Superb location; in the heart of the trendy Benton Harbor arts district. Great local eateries and brew pubs in walking distance. Hiking, beaches and kayaking a short car ride away. Perfect place to retire to after an day of exploring and indulging in the best SW Michigan has to offer.
Max
2015-09-07T00:00:00Z
Fabulous spot! Brad was a very flexible and accommodating host!
hutch
2015-01-18T00:00:00Z
Brad was an excellent host. He communicated well, was thoughtful about our arrival, departure, and needs while there. He even added an iron to his amenities when we mentioned we were going to a wedding. Nami was gracious and discrete. The place was an amazing mix of old and new. It felt very much like home - but cooler. If there is a cooler place to stay in Benton Harbor, I'd be surprised. We would definitely stay again.
Doug
2016-07-18T00:00:00Z
Brad's Loft was the perfect place for our stay in the St. Joe/Benton Harbor trip! It was our daughter's wedding weekend and it was in a quiet location and close to the numerous weekend venues. The open living areas, two bathrooms (one full) and private bedroom were ideal. The loft was clean and crisp!
Fred
2015-09-27T00:00:00Z
Great upscale modern loft. Wonderful retreat weekend with my wife. Several interesting bars and restaurants within walking distance. Brad was very accommodating and easy to work with.
Mike
2015-02-16T00:00:00Z
Brad's place was a great and unique place to stay. As soon as we entered the loft, Brad left us detailed instructions to his Wifi as well as instructions on how to access HBOGO, Netflix, and Hulu accounts. This once candy factory converted to loft is in a great location in the arts district. It is in walking distance to great food places as well as bars. This location is also a quick couple of miles to the beach. There was no problem parking on the street. Brad was also quick to respond to anything questions. We would definitely go back to Brad's place if we were to head to Benton Harbor again.
Lenny
2015-07-05T00:00:00Z
Brad did a great job of helping us out with restaurant recommendations, area attractions, etc. to keep us busy during our stay, and it was easy to communicate with him throughout. The loft is a renovated candy factory, so has a lot of character. Overall, a great place to stay.
Lauren
2016-09-18T00:00:00Z
Limited dealings with Brad. His place was terrific, beautiful, and probably more than we imagined. Rough exterior because it is a 100 year old former candy factory in a city that is rebounding. Initially a bit concerned for safety but those concerns were totally unfounded. No issues whatsoever. His shower was one of the coolest I've had the pleasure of using.
Nick
2016-09-26T00:00:00Z
Tipo di stanza
Intera casa/apt
---
Tipo di sistemazione
Loft
---
Può ospitare
2
---
Camere da letto
Benton Harbor, Michigan, Stati Uniti
WANDERLUST LOFT is located in the Michigan City Arts District, within walking distance to beautiful Lake Michigan and Washington Park. On the way is the Washington Park Marina, the Lubeznik Center for the Arts. You'll love the location, the colorful interiors, and the open living space of the WANDERLUST LOFT. It's a great place to explore your inner wanderer and to discover the good life. Perfect for couples, solo adventurers, business travelers, and furry friends (pets).
1200 Sq Ft Loft with open living, dining and kitchen area. Separate bedroom with king bed. Bathroom has plenty of storage and an oversized shower. The living room has comfortable seating for entertaining 6-8 and a king-size murphy bed. The dining room seats 6-8.
We very much enjoyed our stay at the Wanderlust Loft! The size of the Loft is great and the decor is amazing. Enjoyed being so close to the shopping outlets and a couple cute local restaurants. However, Michigan City is very run down. If you're looking for a great city to visit, this would not be the place. You also hear a lot of street noise during the night. Besides those 2 things, owners have done an excellent job and have made the Loft very accommodating.
Ryan and Lori
2017-03-22T00:00:00Z
We have traveled many states and have stayed in a lot of B&Bs over the years...This air B&B was by far the most spacious, comfortable, & well equipped we've ever stayed in!! Lisa's eclectic decorating style and her collection of art work was so refreshing. Even on day 5 I continued to find something new that I had not noticed the day before!! We really did appreciate that the loft was decorated for Christmas as this was our home away from home for 5 days. We WILL be back! Thank you Lisa and John you truly BLESSED us this's Christmas! Bill and Carole
Carole
2016-12-25T00:00:00Z
My husband and I spent four nights at Wunderlust Loft on Lake Michigan and we can't wait to go back ! Great location - within easy walking distance of a variety of good restaurants, unique shops, art galleries, and, of course, Lake Michigan. The hosts have decorated the loft with artistic flair and it was stocked with everything we needed. Five stars!!!!
Evie
2016-11-17T00:00:00Z
Tipo di stanza
Intera casa/apt
---
Tipo di sistemazione
Loft
---
Può ospitare
4
---
Camere da letto
Michigan City, Indiana, Stati Uniti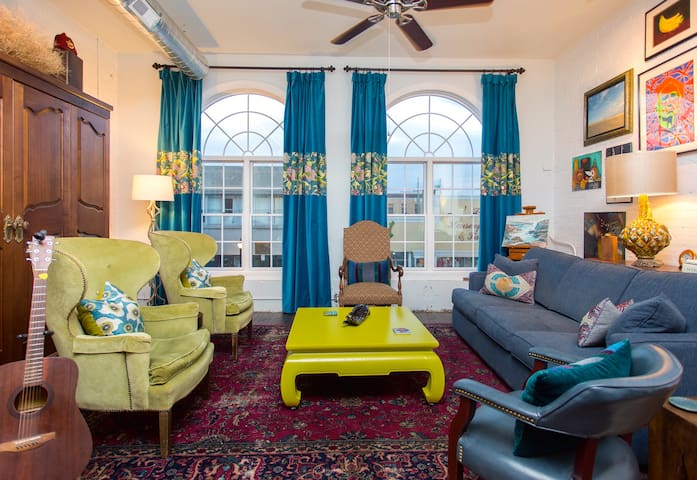 Rustic Beach House Decor with Family Oriented Design. Private pool, walking distance to public beach, restaurants, Downtown Michigan City, Michigan City Zoo, Splash pad and Outlet Mall. Directly on the River with Views of Lake Michigan. 10 minute drive to New Buffalo, Michigan.
Tipo di stanza
Intera casa/apt
---
Tipo di sistemazione
Loft
---
Può ospitare
10
---
Camere da letto
Michigan City, Indiana, Stati Uniti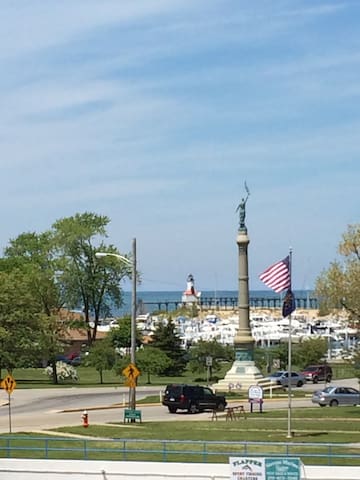 Centrally located to what all of Southwest Michigan has to offer. Located in the beer, wine and agri tourism epicenter Village of Baroda. Only minutes from the best beaches and State parks in Michigan!
Located 90 miles from Chicago, Skyway provides a unique vacation experience. Mid-Century Industrial Farm Chic style, located in a turn of the century tin ceiling clad bakery, turned candy store, turned creative live / work space with a recording studio - Skyway offers a stay like no other. Bicycling, Beaches, Wineries, Breweries, Distilleries and fantastic restaurants all within close proximity - or stay in for the night, and prepare your own meal from one of the many roadside produce stands or grass fed farms in the area. Skyway isn't for everyone. You either want a traditional vacation home in Harbor Country, or you're looking for something a little out of the ordinary and off the beaten path. Located on a dead end main street, cars drive by on the vintage brick pavers. Residents and visitors walk by on evening strolls. Curious passersby stare down the modern facade with inquisitive looks. Secluded on acres of land it is not, but hey - we love it, and think you will too. Did we mention it's only 30 miles to the Notre Dame Campus? You'll find inspiration amongst Skyway's large open floor plan living space with original maple flooring. The sunlight obtained from floor to ceiling windows truly inspires, while the acid etched glass provides complete privacy. Bring your creative projects that never seem to get done. Do something for yourself - something you love. Also available at Skyway is the recording studio space (Extra charges apply). Bring your own digital audio workstation, and rent a few microphones, or have an experienced engineer take care of duties on our Pro Tools HD system. The choice is yours. Finish that record you never started. Skyway has been home to many diverse businesses over the years. At the turn of the century, after a devastating fire to the Village of Baroda, Ray Stover built the existing building, which was the general store of the era - farm implements were sold out of the back room. After Stover's demise, Ess Swope ran Ziegert's Bakery in the space through the 20's. The building then changed hands many times - Gus Nelson had the store for a short period. It's rumored the pot belly stove was the unofficial village hall - where men discussed politics and more than likely dreamed up the secession from Lake Township. The last great business was Emil Tollas's Red and White store - aka Tollas Brothers Grocery. Movies were played on the side of the building for the village's citizens until an addition to the store was erected out of bricks salvaged from the school explosion of 1946. After the economic collapse of Southwest Michigan, the space was occupied by an antique collector, until the current owner's purchase in 2004. 8 years of blood, sweat, tears and elbow grease has turned this vintage building into what it is today. Skyway is ideal for a couple, but can accommodate up to four people. Six can comfortably dine in the living space. The main bedroom, which is located inside the drum recording room of the studio, contains a queen size murphy bed (don't worry, it's a real mattress / bed) with high quality linens and pillows. Being that it's a recording studio space, it's quiet. Very quiet. The kitchen contains a medium size refrigerator and freezer for your convenience, along with ample counter space and an apartment-size electric range.
So much to love... The brick street, breweries, wineries, classic country farm supply store, classic old school bar and the deli!
Okay - this place is so cool... I literally can't even. The pictures are beautiful, but they don't even do it justice. Every nook and every cranny are thoughtfully decorated and situated. Every light fixture is amazing. The wood floors are warm and beautiful. The kitchen is overflowing with any implement you could want. The reclaimed wood wall in the bedroom is SO beautiful. The bed is insanely cozy! I could go on and on. The area, in my opinion, is amazing as well. Definitely rural, but also close a million amazing things, which for me is the best of both worlds when planning a getaway. I had a great time driving around all the local farms, exploring vineyards, cornfields and wildflowers, and just soaking in all the beauty. But, also, picking up Oreos and Diet Coke at Target. I crave the magic of rural countryside, but I'm a city girl to the core so it's amazing to have access to all of the above. This little corner of MI is just so special - it's one of my favorite places on earth. There is so much to see and do, it's crazy. So many eclectic shops, garden centers, eateries, grocers, fruit stands, and on and on. Not to mention easy access to many beautiful beaches. Brian and Melissa were super responsive, very gracious and warmly welcoming. They have left so much information at Skyway that you are completely prepared for a wonderful stay. I will definitely be back! In fact, I already can't wait to plan my next visit.
Bethany
2015-07-20T00:00:00Z
Brian and Melissa were wonderful hosts. Their communication leading up to our stay couldn't have been better and the apartment was clean and inviting. Their thoughtfulness is especially evident in the little handbook and information they have put together to help you get acquainted with the apartment and the surrounding area. Our stay was just what our little family needed and we knew if a need arose we could easily be in touch with them. Truly a phenomenal first experience with an Air BnB. We certainly hope to return!
Philip
2015-09-27T00:00:00Z
Such a great place to stay for a getaway. We went nuts over the decor! Communication with the hosts was easy. Had a minor glitch getting in with phone/Internet which was quickly resolved. Great location, just minutes from Lake michigan. We've already been talking about when we can go back!!!
Christina
2016-08-02T00:00:00Z
Authentic beautiful place! Felt we were in a museum full of hand selected "everything" (furtniture, accessories, etc.). Perfect to unplug.
Elkin
2014-08-11T00:00:00Z
Brian and Melissa were very attentive. Their instructions were thorough and detailed. We loved the space, and the location was perfect for everything on our list of things to do. We had an amazing first visit to Michigan!
Christine
2016-07-08T00:00:00Z
I wish I could keep this place a secret! Brian and Melissa have created a unique, elegant, but cozy and comfortable space for working and relaxing. My husband and I both worked remotely one day during our stay and with 2 laptops, wireless calling, VOIP and Netflix running (for background noise) the connection was seamless. We had no issues. The location is great. It's only minutes away from every great attraction and steps from great local restaurants. We are already planning to come back!
Suzanne
2017-02-20T00:00:00Z
The Skyway was top notch. It was a perfect place for getting away for the 4th of July. Not only were we able to see the Baroda fireworks just 2 blocks down from the apartment, we were able to watch the St. Joseph fireworks at Silver Beach the following night which was just a short drive away. The beaches and wineries were just a short drive away, and it was awesome to come back to what felt like home after exploring during the day. All in all, it was a great experience and would recommend this place to anyone.
kevin
2015-07-06T00:00:00Z
Skyway was a beautiful and modern getaway. This place was the perfect location to experience both Michigan beaches and wine country. The space was a truly unique experience.
Eric
2015-08-17T00:00:00Z
Tipo di stanza
Intera casa/apt
---
Tipo di sistemazione
Loft
---
Può ospitare
2
---
Camere da letto
Baroda, Michigan, Stati Uniti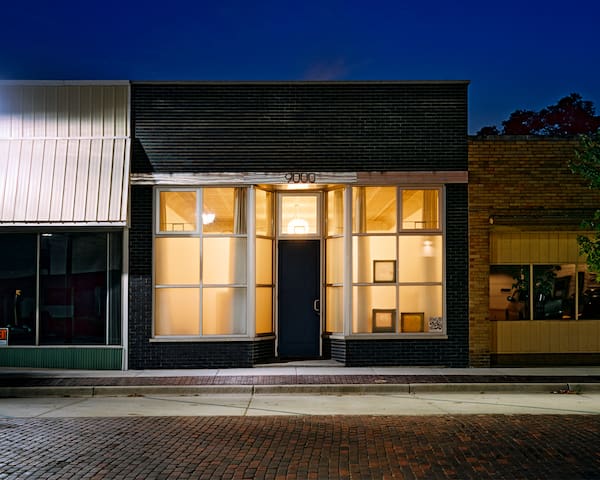 Stay at a unique property! Artistically furnished with original art large studio loft located in the heart of Harbor Country, walk to Lake MI. Close to restaurants, galleries, wineries, breweries, fruit markets, beaches, kayaking, hiking & biking.
The "Artful Retreat" is a large 800 sq. ft. studio loft furnished with paintings & handcrafted reclaimed wood tables and lamps designed by the owner/artist. This unique space sleeps two and is open, airy & comfortable. A great alternative to a luxury hotel, it offers space, privacy & convenience. It is located on Red Arrow Hwy, the main road to access all Harbor Country has to offer, in a retro landmark building.
Conveniently located in Harbor Country close to everything Harbor Country has to offer, this unique loft style apartment is tucked away at the end of the building with private entrance. it provides comfortable, attractive amenities in a gallery like environment. Enjoy our beautiful township beaches as well as public beaches in Bridgman & New Buffalo and Warren Dunes State Park in Sawyer. Rent kayaks or canoes on the Galien River 4 miles south on Red Arrow Hwy just past Union Pier. Just down Red Arrow from there is Galien River District Walk, a beautiful walkway high over the river & wetlands. Biking is popular all over with our many wooded lanes & the "Apple Cider" ride in September from Three Oaks. (Check this out at Bicycle Museum in Three Oaks). Tour the many shops, galleries & antique malls dotted along Red Arrow Hwy all the way to New Buffalo. The Four Winds Casino is located is just 15 minutes away outside New Buffalo.
Jan, herself, was very nice particularly when we failed to realize the checkout time was 11:00 and not noon! I was surprised to realize that this was more of a hotel room with a sitting area and not really an apartment. It is a strip mall converted into different accommodations. It was beautifully appointed and nicely located close to a great breakfast place and a nice walk to public access to the beach. However, our visit was overshadowed by the terrible bed. It was like sleeping on a table and the scratchy sheets did not fit well and fell off constantly throughout the night. It was shockingly bad in contrast to the beautiful furniture pictured in the profile. The shower had a fine temperature and pressure but it was a cheap shower stall. Neither of these negative aspects fit our idea of what we'd be receiving for our $200. This area is expensive, but it was still so disappointing. When you are staying from 4:00pm to 11:00am, the bed and bathroom matter the most.
Mary Beth
2015-08-03T00:00:00Z
My girlfriend and I had a great time in the Harbert area for Memorial Day weekend. The location is perfectly located near the Warren Dunes State Park, distilleries, wineries, beaches, and fine places to eat. The room we rented was accurate according to the description and we were pleased. Bob greeted us when we arrived and showed us the room. He even said to give him a call if we had any questions or needed something. That made us feel very comfortable. At the end of out trip, we bumped into Jan and Bob at a local breakfast spot and Bob offered to give us a tour of his art gallery. Truly great people! I give this space a thumbs up for sure!
Gabriel
2015-05-24T00:00:00Z
Jan was a wonderfully accommodating host! She accepted our reservation only a day before our arrival and allowed us to check in early and check out late! The Artful Retreat was very clean and cozy, and we had everything we needed for a relaxing, celebratory evening (corkscrew and wine glasses included)! The location was very convenient for getting to antique stores, wineries, and visiting the other quaint towns in the area. There is some road noise due to being on a busier street, but it was quiet at night and didn't bother us. Jan made great suggestions for restaurants and attractions. We especially loved Luisa's Cafe, which is just down the street!
Keely
2016-05-16T00:00:00Z
Sent to owner, never heard back: I wanted to reach out to you regarding my recent stay at your rental this past weekend. Thank you for your attentiveness to my queries. My wife and I also enjoyed the artistic furnishing decorating the space. Despite those two positives, in a word, I would describe the night as disappointing. The listing for the rental publicizes words like "quiet" and "luxury" to describe a guest's stay, but we found that was opposite of the case. To begin, the transition from this space from its former life as an office was clearly done by someone without professional experience. The use of cheap materials and low-quality work is clear from the windows to the bathroom. The tiny shower produced highly fluctuating water temperatures and poor water pressure – I've had a better shower at a campsite. The window nearest to the bed doesn't even have blinds or a window covering, exposing it directly to the neighbors across the yard. Even the cleaning seemed to be amateur; there were cobwebs in the doorways and on the ceiling rafters and sticky spots on the floor. The materials used to furnish the unit are also of the lowest possible quality. The sheets of the bed were so thin, they were nearly see-through. The pillows might as well have been non-existent as they were so thin. When a rental advertises that it's a great alternative to a luxury hotel, I expect the bed to at least be comfortable. We hardly slept on this cheap, poorly appointed bed. That isn't even to mention that the rental is 10 feet from a loud, busy highway. The sound of traffic throughout the night was another major downfall. In addition, I was shocked that the unit had none of the typical amenities available at most rentals. There is nothing to make the stay comfortable and convenient for the guest: no ironing board, hair dryer, or anything else. Finally, I was distraught that the unit was connected to another unit with no security between the two spaces. Next to the bathroom there was a doorway that locked from the opposite side. We saw the lights go on and off underneath this door, so clearly an occupant was in that space. However, we had no way to lock our side of the door and be confident that another person wasn't going to unexpectedly enter the room. We didn't know if the doorway lead to the rental next door or another space. Without knowing, it's a major security concern. I'm a believer that you get what you pay for. To celebrate our wedding anniversary, I sprung for a rental I expected to be nicer than some of the less expensive alternatives in the area. However, I did not feel that I got my monies worth on this purchase. I do not feel it's unreasonable to ask that part of our rental fee be refunded as the quality of the rental was far below what was expected(URL HIDDEN)
Trey
2015-06-21T00:00:00Z
I experienced an extended stay in the spacious Artful Retreat in January. The accommodations were satisfying and met my needs with comfortable furnishings and bed. The hosts were attentive, and the location is central to the SW Michigan Harbor Country region, while Luisa's Cafe just up the road is perfect for breakfast or lunch. Guests should be aware the unit sits along the Red Arrow Highway, making it less than tranquil at certain hours of the day.
Craig
2015-01-16T00:00:00Z
This is a wonderful place to stay! It is beautifully decorated and it makes you feel as if you're staying in a peaceful, modern art gallery. It is in a quiet location less than a mile away from Lake Michigan and other cute towns like New Buffalo and Three Oaks, MI. Jan was extremely accommodating for a last minute request I made. I definitely recommend it to anyone looking for a relaxing (and romantic) place!
Sarah
2014-12-30T00:00:00Z
Everything was great at Harbor Country Artful Retreat! The hosts were very kind and welcoming and showed us around when we arrived. The room was spacious, comfortable and very close to the Michigan wineries and downtown locations.
Stephen
2016-05-31T00:00:00Z
We had a great time in Michigan. The room was clean, quiet and comfortable. Jan was easy to work with and the suggestion for Luisa's cafe was great! We would definitely return.
Alison
2015-08-23T00:00:00Z
Tipo di stanza
Intera casa/apt
---
Tipo di sistemazione
Loft
---
Può ospitare
2
---
Camere da letto
Harbor Country, Harbert, Michigan, Stati Uniti
Inserisci le date per visualizzare il prezzo totale. Ci sono dei costi aggiuntivi e potrebbero venire applicate alcune tasse.