Très bon séjour dans ce studio parfaitement fonctionnel avec surtout une belle terrasse. L'ambiance dans l'ensemble de pavillons est très familiale et relax
Olivier
2016-01-01T00:00:00Z
Great loft. Really private and comfortable. I would recommend it to anyone.
Rob
2014-09-23T00:00:00Z
Wonderful relaxing and restful time - the perfect get away from Cape Town. Could not have been more peaceful and restorative - just what I needed.
Richard
2016-04-26T00:00:00Z
What a wonderful experience. Beautiful town, with beautiful surroundings. Accommodation was extremely neat and clean, perfectly designed to fit into its natural environment. The hostess is a lovely lady, that opened her home to us to have a perfect honeymoon. We feel that every need we had was catered for, and we would love to revisit them again in the near future.
Arrie
2014-11-11T00:00:00Z
Elmarie is a lovely host. We had a great time at her place, getting fresh lobster at the beach and braai it on the rooftop terrace. Would definitely recommend it.
Catrin
2017-02-17T00:00:00Z
Fantastic location and stay, Elmarie and the people of Paternoster were well worth revisiting.
Bryan
2017-03-21T00:00:00Z
Great loft with all you need, super cosy!
Deidre
2017-03-26T00:00:00Z
Elmarie greeted us and we loved the loft. The beaches wide and beautiful.Pater Noster is a lovely and peaceful seaside town and the loft is a great place to stay. It is roomy, fully stocked and Elmarie is responsive to questions and requests. Recommend highly.
Renee
2015-12-11T00:00:00Z
Tipo di stanza
Intera casa/apt
---
Tipo di sistemazione
Loft
---
Può ospitare
2
---
Camere da letto
Paternoster, Western Cape, Sudafrica
La Mer bietet seinen Gästen die Möglichkeit, direkt am Strand zu bleiben, in der Nähe von Restaurants. Dieses ideal gelegene Unterkunft zur Selbstverpflegung bietet die beste Aussicht auf atemberaubende Sonnenuntergänge und endlosen Stränden. Ganz zu schweigen von den Ton und Geruch des Meeres vor der Haustür. Mein Platz ist gut für Paare, Solo-Abenteurer und Geschäftsreisende.
Bathroom small and stairs daunting
WILL
2017-03-17T00:00:00Z
Arita was a perfect hostess that kindly welcomed us with good suggestions about restaurants and Paternoster surroundings. The house is lovely, perfect to enjoy the wonderful view of the bay and relax on the terrace with beautiful birds on her garden on the beach.
Patrick
2017-01-05T00:00:00Z
Arita's place is simply stunning. It's located centrally and right on the beach. The views couldn't be any better. The place has everything you need and Arita is a great host - we were sad that we had to leave after one night already.
Denise
2017-01-12T00:00:00Z
The best view and situation in Paternoster- a safe haven with lovely restaurants close by!
Janet
2017-03-28T00:00:00Z
Lovely loft apartment with spectacular sea view, space is compact but comfortable, very cosy for a couple. Shops and restaurants within walking distance. Would definitely return!
Bruce
2017-04-06T00:00:00Z
Arita is a wonderful hostess. Her communication before check in was fantastic, with her advice on booking restaurants before arrival invaluable. We had a truly memorable evening in the gourmet kitchen of wolfgat! The pics can't do the sound of the ocean on your doorstep justice. A perfectly serene and memorable break.
Michael
2017-02-25T00:00:00Z
The apartment is even better than what it looks in the photographs. A perfect love-nest, right on the beach in the best part of the town. The balcony has the best view of the waves, the bed is comfortable, the apartment is very secure with trellidoors in case you are concerned, the kitchen is equipped with everything you need to make dinner if you feel like it. Arita is a lovely host with quick responses to communication. She is on site so is available for any questions. Truly excellent value for money! Thank you Arita!
Shahra
2017-02-14T00:00:00Z
Great place to stay with a great host. Perfect for quality quiet time.
Rui
2017-02-18T00:00:00Z
Tipo di stanza
Intera casa/apt
---
Tipo di sistemazione
Loft
---
Può ospitare
2
---
Camere da letto
Paternoster, Western Cape, Sudafrica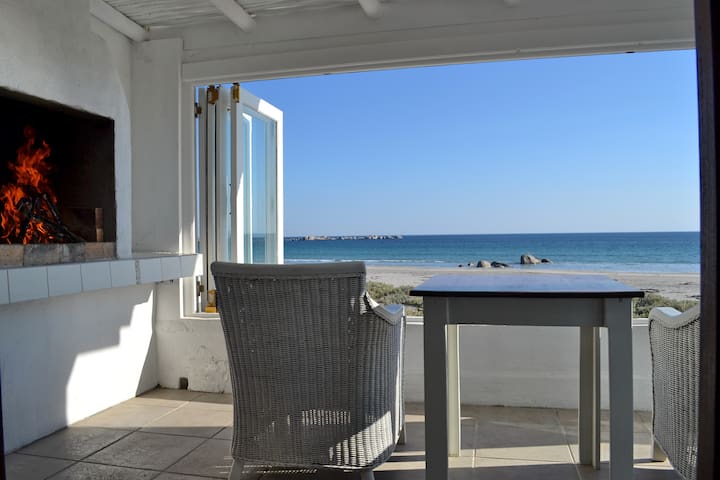 thanks for a great stay at this beautiful place. so stylish and modern in interior and a great view from the balcony. take the two hugh soft blankets and have a wonderful view to the stars from the roof. A showerhead would be great but the whole apartment is perfectly equipped. A perfect place for that beautiful village.
Ulli
2016-02-06T00:00:00Z
Wir hatten einen schönen Empfang von Kevins Haushälterin, die uns das ausgefallene Appartment mit Balkon in Paternoster erklärte. Es ist wunderschön eingerichtet, weiss gepflegt, einladend zur Entspannung mit Blick auf das Meer. Immer zu empfehlen.
klaus
2016-02-10T00:00:00Z
The host canceled this reservation 13 days before arrival. This is an automated posting.
alyson
2015-07-31T00:00:00Z
Very easy to find, I was promptly met and handed over the keys. The apartment is nicely laid out and decorated. There is a window that looks out onto the sea and a roof terrace with an amazing view of the bay. The bed is huge and the percale sheets are totally luxurious. The only setback for me was that there is no shower and for a guy to have to bath every time, is a bit of a hassle. Secondly as its a beach location, one often just wants to rinse post swim and having a bath uses alot of water. All in all, I would definitely be back. The proximity to the beach and the shops is great. There is also a lovely little cafe downstairs that sells a good, resonably priced breakfast.
Julian
2016-04-16T00:00:00Z
Check-in staff was very friendly and accommodating. Room is beautifully decorated and modern. No television, shower or air conditioning unfortunately. Perfect spot to sleep for one night if you are out and about all day or attending a function / wedding.
Lezanne
2017-03-12T00:00:00Z
Loft Apartment with sea view. Lovely terrace and nicely decorated. But be aware that is is all open-plan, also the toilet! No privacy at all so it you are not traveling alone please chose your roommate well
Anika
2016-11-24T00:00:00Z
Airbnb sells itself as a community platform that connects travelers with local people by way of 'homestays'. This review relates to a listing that should either be taken off Airbnb or it should be made very clear that a holiday rental agency advertises houses/apartments on behalf of absentee owners on Airbnb. We were unclear about this until we received a separate booking confirmation via email from said agency. The agents Kevin and Marie tried to assist as best as they could - and we were admittedly difficult to please. We never met Kevin. I attempted to get hold of Kevin on the day of the booking to confirm our ETA - the number provided on the airbnb differs from the numbers sent in an email outside the airbnb thread. Upon arrival at the listing, we realized that the 'sea castle' formed part of a small shopping complex - not the authentic experience we had hoped for when heading to a fisher's village known for its rustic beauty. While the loft is nicely decorated, we were unhappy with what we found and asked the agents to cancel the booking. They then showed us a few other listings - in the end we decided to stay and enjoy a couple of days in beautiful Paternoster at the original booking. A few comments: The listing has no table to eat or work from (yes, we brought computers) - apparently guests either don't eat there or are happy to sit at an elevated kitchen area facing a wall. Marie ended up dropping off a table (thanks!). The kitchen has beautiful new appliances but no basic things such as salt, sugar or tea are provided (usually airbnb hosts provide a few basics to get guests started). Also there were no facilities to make coffee - a coffee shop is opening in the shopping center below so guests can pop down to fetch a cuppa downstairs in the near future. The listing consists basically of one big room - tall people should watch out. We both nearly knocked ourselves out after hitting our heads on the low ceiling above the bed. There is a cool outside braai (barbecue), balcony and lookout area with great views of the sea. For what the place offers, it was too expensive. We were told to rather book with the agents directly - as an additional booking fee is raised for booking on airbnb. In essence, the owner, agent and airbnb take a cut. While the agents were eager to please and did their best, the listing lacks the personal touch of an Airbnb host and a typical airbnb homestay.
Mark & Annette
2015-09-25T00:00:00Z
Sea Castle loft has awesome views over the bay from the outdoor space. The indoor space is crisp, clean and aesthetically pleasing. Some design features have been chosen for their aesthetics rather than function - the most frustrating of which is not having a running tap or shower anywhere on the property to rinse off sand from the beach. The ongoing construction of another apartment, by the owners, off the lofts outdoor patio space came as quite a surprise. The construction guys reside in the unfinished apartment - thus lack of privacy at all times is an issue. I'd suggest enquiring after the construction progress before booking. Apart from the construction issues the loft and huge outdoor patio are awesome.
Kevin
2016-11-05T00:00:00Z
Tipo di stanza
Intera casa/apt
---
Tipo di sistemazione
Loft
---
Può ospitare
2
---
Camere da letto
Paternoster, WC, Sudafrica
Entworfen mit allen Anforderungen im Auge behalten
Kevin's representative met us, explained everything and handed over the keys. This loft is stunning!! Beautiful interior decorating! (And some nifty ideas.) The place is neat & clean. Even sherry, bacon, eggs, muesli, fresh fruit and yoghurt provided! Lovely little nespresso machine! Walking distance to beach, but right on edge of town, looking out over cows grazing and the faraway hills. Lovely!
Kobus
2016-09-04T00:00:00Z
Kevin was a really nice host! He booked the restaurant for us and because we were in his place to celebrate proposal they welcome us with a glass of champagne. Kevin also let us a bottle is the fridge (with the breakfast also). Marie welcome us and she was really helpful and nice. It is a really nice place to recommend !!
Sandie & Stig
2015-11-13T00:00:00Z
What a fantastic place to stay. The flat was equipped with everything you would need, bicycles to a complimentary sherry. Very clean and also included provisions for breakfast. The perfect place to visit paternoster.
Robert
2016-03-18T00:00:00Z
We enjoyed our stay here very much. The unit is well equipped and has pretty much everything you need. Good location, walking distance to the beach. Everything as advertised and friendly reception by the host. We'd stay here again anytime.
Herman
2016-04-26T00:00:00Z
Stunning
Ruth
2016-10-11T00:00:00Z
Kevin was great.. very quick and efficient. Thank you for a great stay. Everything was there to make us feel welcome. Full dstv bouquet great WIFi connection - yummy coffee.
Chrismari
2015-12-17T00:00:00Z
Such great value for money. The loft was so well equipped - even with a Nespresso machine! We loved Paternoster!
Jenna
2017-01-07T00:00:00Z
We were made very welcome. The listing description was 100% accurate and we were surprised how spacious this small loft felt even though it was crammed full with very quaint decor. Mountain bikes were available as well as a beach tennis set that definitely came in handy. The Bacon, eggs and yogurt left in the fridge was an awesome surprise. We felt very safe and secure both during the day and late at night. There is no problem wandering around at night provided you don't wander into the township next door. The panty bar was good fun as well as the amazing food and the Gaaitjie. Definitely worth a visit. Thanks for an amazing stay.
Brandon
2016-03-25T00:00:00Z
Tipo di stanza
Stanza privata
---
Tipo di sistemazione
Loft
---
Può ospitare
2
---
Camere da letto
Paternoster, WC, Sudafrica
The loft was as per photo's. Very cute and charming and we really loved the decor. The host was very easy to get in touch with and we were able to check in as soon as we arrived in Paternoster.
Mariska
2016-09-26T00:00:00Z
A nice cottage. Clean. Comfy bed and well decorated. However I don't think value for money. There was no hot water, no tea/coffee, limited kitchen utensils to cook with, we had to ask for toilet paper. Perhaps they weren't prepped for us coming?
Timothy
2017-02-12T00:00:00Z
We rented to loft along with the main house for a weekend away. The neighbourhood is lovely and quiet, and conveniently within walking distance of the beach and restaurants. Lovely to be able to park the car in the garage for the weekend! Lovely loft windows for air flow. Shower flooded but they were very happy for the feedback and will attend to it asap. All equipment and facilities as needed, and lovely touch of leaving milk in the fridge. Thank you!
Rosie & Don
2016-10-09T00:00:00Z
What a pleasant surprise finding this hidden gem on airbnb. Such a lovely place, with all the essentials to make our weekend away one of the best we've experienced this year. Unique, cosy with all the comforts of home at our finger tips. The loft, beautifully decorated, impeccably cleaned simply made our stay one that we will remember for some time to come. And the view from the patio simply made for an unforgettable experience. Thank you to Kevin and his team for having us. One I will remember for years to come.
Ruth
2016-11-06T00:00:00Z
Awesome little loft, very clean and fully equipped! Will definitely be back!
Sheena
2016-12-31T00:00:00Z
Pretty loft room with shower and kitchenette, located within picturesque Paternoster. Well located within easy walking distance to beach. Very clean and well kept. Kitchenette is relatively basic (small bar fridge, tiny stove, limited cutlery and crockery), which may prove a challenge for longer-term renters who are looking to cook. Overall can recommend.
Wesley
2017-02-04T00:00:00Z
Kelvin a été très réactif : demande acceptée en moins d'une heure le jour de notre arrivée. Le logement est petit mais super bien pensé et décoré avec goût. Je le recommande sans hésitation pour un week-end à deux.
laetitia
2016-09-18T00:00:00Z
We enjoyed our stay. Lovely loft apartment within walking distance of the beach, shops and restaurants. Nice quiet location. Good for short stays but longer than a weekend might be a bit of a problem as the fridge is a tiny little thing. We lost a bottle of wine, it just fell straight out so don't even try putting something in the door. And then we couldn't find anything to clean up with except the dish towels so sorry for that. We also missed a drying rack for the dishes and a little table outside on the patio would have been nice. Other than that it was all good and I especially liked the sky lights to watch the stars at night. Thanks for hosting us.
Sonita
2016-11-20T00:00:00Z
Tipo di stanza
Stanza privata
---
Tipo di sistemazione
Loft
---
Può ospitare
2
---
Camere da letto
Paternoster, Western Cape, Sudafrica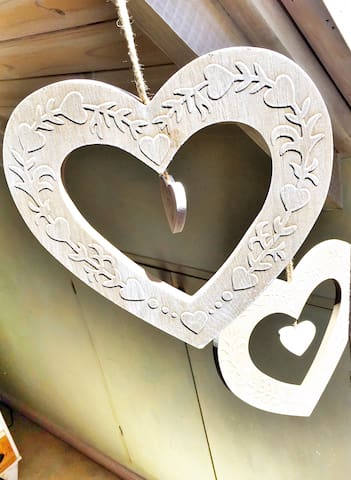 Inserisci le date per visualizzare il prezzo totale. Ci sono dei costi aggiuntivi e potrebbero venire applicate alcune tasse.