3/4 of a mile from the heart of Downtown a Fort Lauderdale and the shops of Las Olas Blvd, this 1/1 loft offers 975 square feet of livable space, perfect for 2 guests. Building has a pool and gym.
The loft was in a great neighborhood, very cool decorations, homey feel and had all the accommodations that one could need in a kitchen. We had a lovely time spent there.
Sarah
2015-04-12T00:00:00Z
Tipo di stanza
Intera casa/apt
---
Tipo di sistemazione
Loft
---
Può ospitare
2
---
Camere da letto
Fort Lauderdale, Florida, Stati Uniti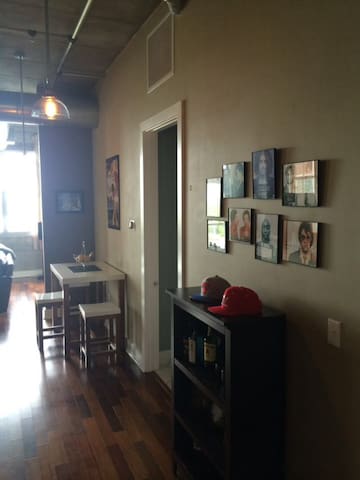 My place is close to Las Olas Blvd, Downtown Fort Lauderdale, Beaches, Galleria Mall, F.A.T. Village Arts District, Rhythm & Vines, The Fresh Market. You'll love my place because of the ambiance, the comfy bed, open layout, pool table, ping pong table, rooftop pool. My place is good for couples, solo adventurers, and business travelers.
Tipo di stanza
Intera casa/apt
---
Tipo di sistemazione
Loft
---
Può ospitare
4
---
Camere da letto
Fort Lauderdale, Florida, Stati Uniti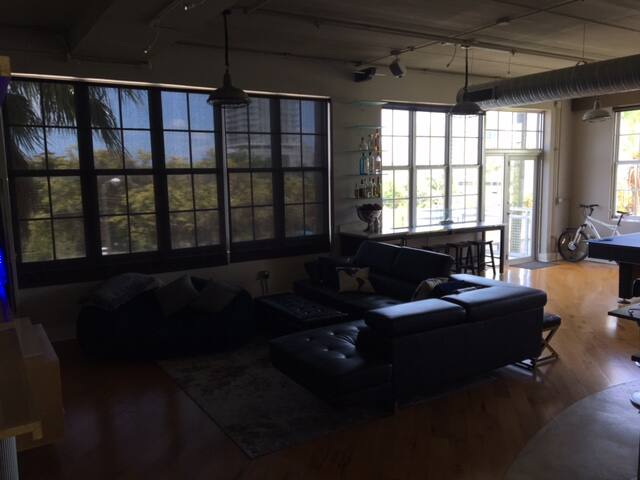 This 600 sq-ft Guest House is ideally located downtown Fort Lauderdale - with short walks to Historical FTL, the Riverfront and Las Olas Blvd. Situated above the detached garage of a 1934 old-Florida style cottage, it's a cozy, clean urban getaway.
MINIMUM BOOKING: I have a 5 night minimum booking but from time to time when there is last minute availability or gaps between bookings, I offer 3 night stays. Please inquire. Looking to spend your Fort Lauderdale vacation downtown, strolling Las Olas' shops and cafes? Yacht crew on a stop over? In town for a restful weekend or visiting Fort Lauderdale for downtown business? This recently redesigned above-garage studio loft is ideally located downtown Fort Lauderdale - just a 3 min walk to downtown destinations, 5 minute walk to Historical Fort Lauderdale, and 7 minute walk to Riverfront and Las Olas Blvd. The 600 sq ft fully equipped studio is situated above a detached 2-car garage behind a 1934 old-Florida style home where the homeowner resides full time. The property is ideal for singles or couples, though there is space for a third person or crib upon request. This fresh, airy studio will set the tone for your vacation. Crisp and cool- we've designed the space to feel casual, clean and cozy. A central staircase entrance separates the living area from the bedroom. The living area is perfect for relaxing, watching movies on the LCD television, or finishing off any last minute work (wi-fi available). The island kitchen has all the basics you need to prepare simple meals at home. Full size refrigerator, stove/oven, and microwave, as well as a French press coffee maker, toaster, and plenty of handy kitchen gadgets. The bedroom offers a queen sized bed with duvet and crisp linens. Inside the walk-in closet you'll find everything you need to make your stay comfortable- including a luggage rack, iron and ironing board, beach towels and extra linens. The contemporary tiled bathroom was renovated in May 2015 and offers a spacious bathtub and shower, as well as towels, hair dryer, and extra toiletries should you forget anything at home. GARDEN AND PETS: The back garden is shared with the homeowner, though guests enjoy a private, rear garden entrance and small sitting area. The yard is fully enclosed by a 6ft privacy fence. The homeowner has a well-trained, indoor dog that uses the yard only when supervised. Well-behaved, small, house trained pets are sometimes permitted with prior discussion and approval. OTHER AMENITIES: - 42 inch LCD TV with Netflix, Hulu, local channels, etc - WiFi - Washer and dryer (located in downstairs garage) - Bicycle, helmet, and lock available for guest use - Tennis rackets, fishing poles and various sports equipment (3 min walk to public courts) - Board games - Books and local magazines - Reserved parking
One of the last residential neighborhoods in the downtown area, this charming up-and-coming community has a distinct old-Florida/Key West vibe- complete with wild roaming roosters, eclectic homes and the bustling sounds of downtown. Two blocks away, Hardy Park offers a beautiful large playground and sports courts and fields. Ideally located downtown Fort Lauderdale - just a 3-5 min walk to downtown destinations, 7 minute walk to Historical Fort Lauderdale and popular New River waterfront, including Broward Performing Arts Center. A short 10 minute walk to Las Olas Blvd where guests can explore art galleries, shops, restaurants, cafes and enjoy the Himmarshee Village / Riverfront nightlife. Seven minute drive to Fort Lauderdale-Hollywood International Airport, 25 miles to Miami International Airport, and 10 minute drive to Port Everglades. Please keep in mind Downtown Guest House is in a downtown urban community- meaning we share our neighborhood with a diverse mix of people and properties. I think diversity is great and an added perk of this location is you'll be close to everything. As my guest you'll likely come in contact with all types of people. If that type of diversity and setting doesn't suit your needs, I discourage you from booking Downtown Guest House. If it does, I look forward to sharing my community with you!
Nichole's place was wonderful to stay at. I was working at the Broward Center which was only a short walk away from this location. The place is exactly as described. I would stay here again in a heartbeat. Nichole is on site in the house in front and is very cool to hang out with if you get the opportunity to. I highly recommend this place.
Matt
2017-04-03T00:00:00Z
A perfect studio apartment for a winter escape get-away! Bright and clean, with a well equipped kitchen - plus, it comes with a bike! Nichole was a perfect host, quick to answer questions and solve problems - overall, a great find!
Bryan
2017-02-26T00:00:00Z
Nichole's guest house was a gorgeous haven in amongst Fort Lauderdale; nicely located, she has included so many little details to make the stay awesome including use of two bikes which is a great way to get around Ft. L. The only thing to be aware of is the train horns at night, which Nichole disclosed up front and helpfully provided ear plugs for light sleepers. We'll be back!
Phil
2016-12-04T00:00:00Z
Great place and a great host! We would definitely come back and stay again!
Lindsey
2017-03-20T00:00:00Z
The Downtown Guesthouse is unlike any other Airbnb that I have stayed at. From the moment I stepped into the place I felt so relaxed and right at home. Nichole had fresh flowers and a candle burning upon my arrival and the house was absolutely pristine. She has taken it upon herself to leave no stone unturned and makes herself available to answer any questions that you might have throughout your stay. I highly recommend this Airbnb to anyone wanting to come checkout Fort Lauderdale and live like a local whether for a few days or a few weeks. Great location, great property and most importantly great host!!!
Jenny
2016-11-17T00:00:00Z
We had a great stay at this wonderfully located, clean, beautiful and well appointed loft. Nichole was warm, friendly and attentive when we needed anything. Could not ask for a better host. She also provided recommendations for local restaurants when asked. The loft had many amenities such as free use of 2 bicycles, boogie boards, two types of coffee makers, beach towels, some kitchen supplies we didn't think we would have made available (a few spices, cling wrap, baggies, cooking spray, etc.), a few games and local information. The loft was immaculately clean. The towels and sheets were super comfortable and of high quality. It was the perfect amount of space for us to relax in comfortably. Had a nice area to sit in outside as well. Had coffee out there everyday! The location to the Riverwalk, Los Olas, restaurants and downtown was fantastic! No need to drive there...just a few blocks away. Rode the bikes around the city and to the ocean...only three miles away. We also loved the local events-- the Sunday Jazz Concert and Italian Festival just a few minutes away. The loft is within walking distance (around the corner) to Publix and literally steps away from a locally owned coffeehouse with (indoor and outdoor seating) that also had some live music in the evening. It was close enough to the city while still having a quiet neighborhood vibe. Would highly recommend this loft for business or pleasure while in Fort Lauderdale. Great find!!!
Brenda
2017-03-07T00:00:00Z
There is something so wonderful about this little place. I loved having a bike to get to work and to the beach. The grocery store is near, and i was able to cook full meals every day. It's very clean and has everything you could need.
Alison
2017-01-09T00:00:00Z
Place is really nice and comfortable, I cooked frequently, supermarket is at walking distance. Nice restaurants and stores are at Las Olas Blvd, five minutes driving.
Mary
2017-02-06T00:00:00Z
Tipo di stanza
Intera casa/apt
---
Tipo di sistemazione
Loft
---
Può ospitare
3
---
Camere da letto
Fort Lauderdale, Florida, Stati Uniti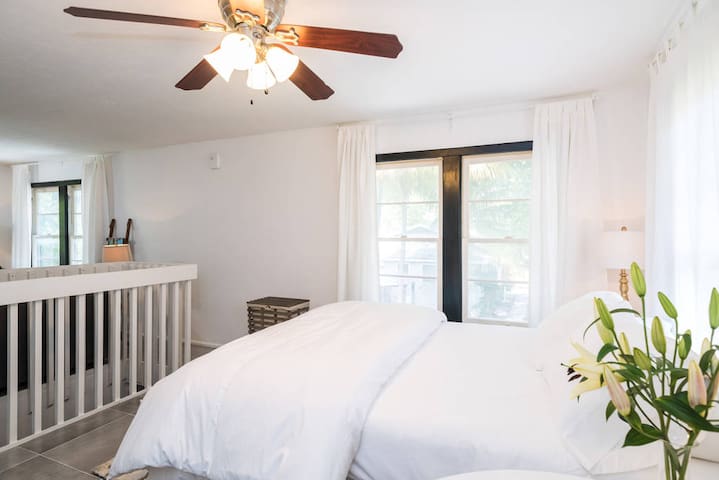 LOCATION! LOCATION! LOCATION! Amazing artist/ photography loft apartment located in the heart of East Fort Lauderdale off Sunrise Boulevard. If you are looking to be close to everything with a hip atmosphere within walking distance to best beaches and restaurants, search no further! Please see description for full details.
LOCATION! LOCATION! LOCATION! If you want to be close to beautiful Fort Lauderdale Beach, close to great bars, restaurants and shops, close to the Fort Lauderdale Airport, close to Port Everglades (where cruise ships come and go daily), this loft apartment, located directly off Sunrise Boulevard, is exactly what you have been looking for! It is located less than 1 miles away from world-famous Fort Lauderdale Beach. On the way to the beach, you will cross over the Intracoastal Waterway, less than a mile away. From the bridge there, the view is incredible: you will see the ocean and be mesmerized as you scan the area's mega-mansions and watch the mega-yachts from all over the world cruising back and forth. For getting around this beach area, there are many options if you don't want to drive a car or take a cab: bike, Water Taxi, Sun-Trolley, Duck Tours -- even the golf-cart shuttles. However, many amazing stores, bars and restaurants are all within walking distance. If you just want to stay put and relax, though, you can sun bathe, This bright sunny loft apartment can accommodate 2-4. It has a brand new king size bed (Sleep Number), as well as a large, leather couch. If you have ever visited Fort Lauderdale you know that this is one great location.
Best/ Safest area in all Fort Lauderdale. Please see guest book for more information on area. The water taxi stops at the end of the street. The Sun Trolly runs by right outside providing access to anywhere in Fort Lauderdale in just minutes.
Tipo di stanza
Intera casa/apt
---
Tipo di sistemazione
Loft
---
Può ospitare
4
---
Camere da letto
Fort Lauderdale, Florida, Stati Uniti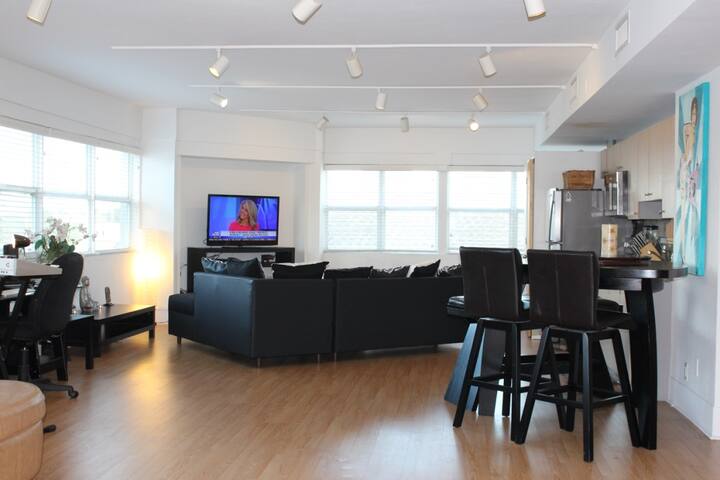 Great location with the ability to walk to the beach or all the Las Olas bars & restaurants. This unique apartment is very charming with floor to ceiling windows, Spanish style tile, and a great location! Close to beach and schools!
It's a great place, perfect for two people, has everything, all new, clean, right off Las Olas, so makes it very close to the strip, bars, restaurants, and even the beach. It's the only residence in a business location, there's not much traffic during the day, and none at night. You would think that it's noisy but surprisingly it's not, sometimes late a night when bars are closing but there's a door leading up to the bedroom that you close. Food delivery trucks & garbage trucks are the only ones noisy in the morning but I'm always up anyway. I'm a yacht captain so I always maintain and clean it impeccably. There's a 55" Smart TV in the living room, 42" in the bedroom. SONOS Wi-Fi music system throughout, internet, very tall ceiling, two tone window blinds for light/privacy, and lots a plants! I hope you like plants? There's a portable grill outside the front door. Very cosy place with lots of sunshine!
It's in a very safe area, lots of police roaming around.
We valued our stay. The space was clean, well-decorated and comfortable. We had all the amentities necessary to immediately call this place home for the holiday weekend. We were pleasantly suprised how close we were to shopping, beach and attractions. I would definitely return next time I'm in the area.
Kristopher
2017-01-02T00:00:00Z
Tipo di stanza
Intera casa/apt
---
Tipo di sistemazione
Loft
---
Può ospitare
2
---
Camere da letto
Fort Lauderdale, Florida, Stati Uniti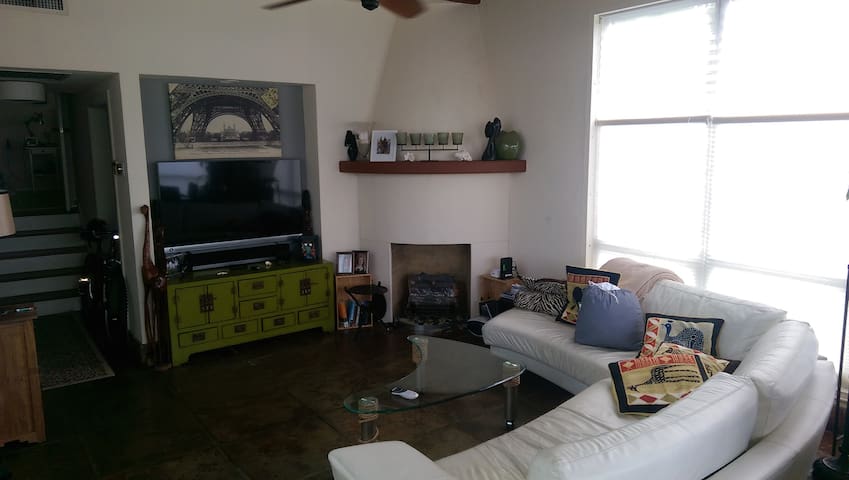 This is a guest house behind my original is also up for if you rather have guests house in the the back of the original please notify me which one you want
Tipo di stanza
Intera casa/apt
---
Tipo di sistemazione
Loft
---
Può ospitare
3
---
Camere da letto
Fort Lauderdale, Florida, Stati Uniti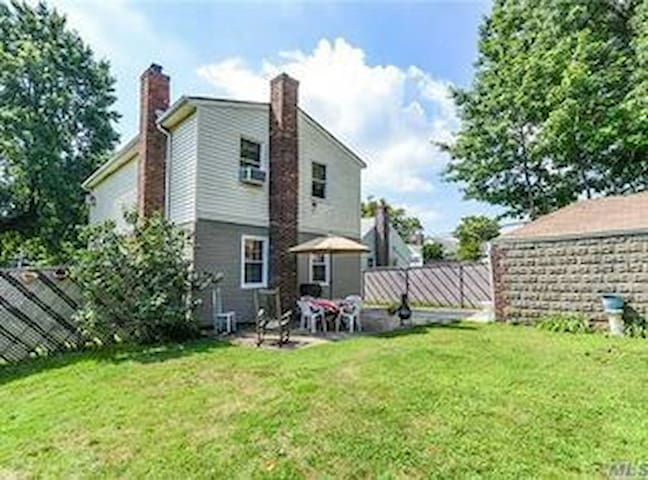 Inserisci le date per visualizzare il prezzo totale. Ci sono dei costi aggiuntivi e potrebbero venire applicate alcune tasse.