De kamer op de derde verdieping met uitzicht op de Vestfjord en de haven. Het is een comfortabel tweepersoonsbed en een zittende groep in de kamer. Beneden, op de begane grond, is de gedeelde douche en toilet, woonkamer en keuken. Let op: Sommige van onze gasten misschien het gevoel dat de trappen zijn steil! Vraag ons voordat u tickets / auto te bestellen. PS: Rechtstreekse vlucht met Widerøe van Oslo Gardermoen naar Leknes / Lofoten.
In inverno si può vedere la luce del nord dalle nostre finestre.
Vicino a un negozio di alimentari, ristoranti e pub. Ci sono anche gallerie e theathres nel quartiere.
Kenneth and Angela were perfect hosts! They arranged our arrival and helped a lot for our departure and during our stay. And their house is very comfortable. Highly recommended!
Basil
2017-03-26T00:00:00Z
Vi må skryte av vertskapet. Kenneth møtte oss på kaia og Angela tok oss i mot ved huset der hun hadde satt frem varm te på rommet. Vi fikk et superkoselig og stort rom på toppen og at badet var et par etasjer ned var ikke noe stort problem. Alt var utrolig rent og pent. Vi ble positivt overrasket over at det var kjøkken der, og eneste utfordringen var gjennomgangen via badet som kunne være opptatt. Stamsund har god beliggenhet omtrent midt i Lofoten og det egner seg godt for utflukter sørover, f.eks. til Reine og nordover, f.eks. til Henningsvær. Dessuten er det flere teatre og gallerier i Stamsund. Og vannhullet Mannfallet som var et fint sted å få noe godt i glasset etter en lang og aktiv dag. Siste kveld fikk vi kinesiske dumplings som Angela hadde laget. Nam! Fikk også mye nytte av leiebilen som vi fikk god pris på via Kenneth.
Georg Barlindhaug
2015-07-17T00:00:00Z
The accommodations are very good and comfortable. Small but well equipped kitchen. Hosts left us comfortable and were always available when needed. Angela welcomed us with tea and fruit harvested on the mountain behind the house. Just note that there is a very steep staircase and the bathroom is on the first floor.
Felipe Augusto
2015-08-05T00:00:00Z
The hosts were very accommodating and quick to respond to any questions or give suggestions. It is also in a fantastic location with respect to everything in Lofoten. There are a few things worth noting for others to consider. The house was very charming, although I think it is good to know their is only a restroom on the 1st floor, in case they stayed on the 3rd floor. Since this is a very old house, it has steeps stairs. At the time we stayed, there were 2 separate individuals also living in the house, on the same floor. This is not necessarily a negative thing, but more of something we were not aware of. The wifi did not work on the 3rd floor.
Stephen
2015-08-17T00:00:00Z
Kenneth et Angela sont d'excellents hôtes accueillants et disponibles . Leur maison, superbe maison de pêcheur tout en bois, abrite plusieurs chambres. La salle de bain, les wc, le salon et la cuisine sont partagés mais nous n'avons jamais eu besoin d'attendre pour y accéder. Le wifi est accessible à tous les étages. Les chambres sont très agréables et spacieuses. Nos hôtes ont répondu à toutes nos questions et Angela nous a même offert quelques Myrtilles qu'elle venait de ramasser. Un délice.
Christophe
2015-08-19T00:00:00Z
à l'arrivée, nous avons été un peu surpris qu'il y ai d'autres chambres, le site n'en indiquait qu'une et ça a été la raison principale de notre choix. Partager une seule salle de bain et toilettes pour 4 chambres était un peu compliqué, mais la qualité de l'accueil de nos hôtes, ainsi que la qualité de la chambre, du séjour, et de la cuisine accessible nous ont rapidement fait oublier la salle de bains. Un diner pris avec nos hôtes nous a permis d'apprécier un bon repas et de nous connaitre un peu mieux . Juste avant notre départ, j'ai même eu droit à un bon massage d'Angela.
Jacques
2015-07-07T00:00:00Z
Vi hadde et strålende opphold hos Angela og Kenneth. Villaen er nydelig, utsikten upåklagelig og sengen veldig godt å sove i. På fellesrommet og kjøkkenet finnes det alt en måtte ha behov for. Flotte vertsfolk, mye overnatting for pengene og perfekt beliggenhet i Stamsund, anbefales!
Ole
2015-08-09T00:00:00Z
The best Host we ve evere been on airbnb! Angela is fantastic!
Paola
2016-08-17T00:00:00Z
Tipo di stanza
Stanza privata
---
Tipo di sistemazione
Villa
---
Può ospitare
2
---
Camere da letto
Stamsund, Nordland, Norvegia
Hybel i kjeller på Mjølan ved Mo i Rana, ca 2,5 km fra sentrum. Egen inngang, kjøkken, bad og soverom. Internett. Kjøkkenet har kjøleskap, kokeplater/hybelkomfyr og sitteplass til 2-3 personer. Utstyrt med tallerkener, bestikk og kasseroller m.m. Toalett og dusj på badet. Soverom kan være utstyrt med 1 eller 2 enkeltsenger etter behov. Mulighet for klesvask ved langtidsleie. Bussforbindelse med sentrum ca 5 ggr pr dag. 10 minutter med buss og ca 40 minutter å gå til sentrum.
Tipo di stanza
Intera casa/apt
---
Tipo di sistemazione
Villa
---
Può ospitare
2
---
Camere da letto
Mo i Rana, Nordland, Norvegia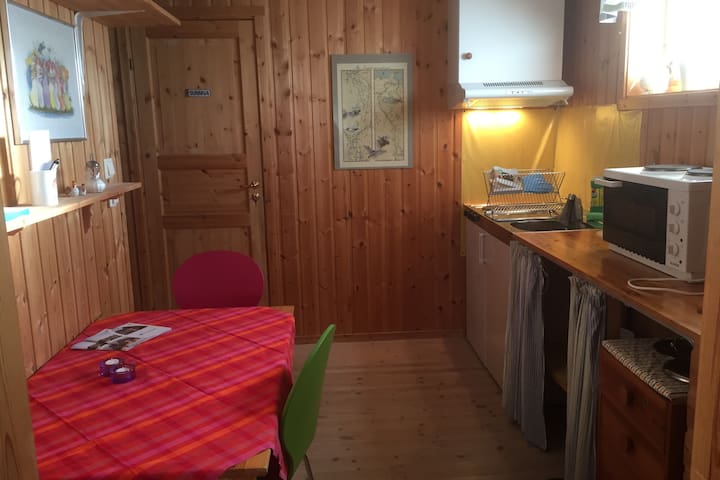 Includes breakfast in Paradise at Helgeland. Local food. Family of travelers. A peacefull place. We are helping you in summer to go fishing, hiking, exploring caves, swimming, biking, kanoing, golfing and get around. Wintertime you might see Aurora polaris and to have the experience of polar wildlife, moose, fox, lynx and reindeer. We will help you to get close to nature and your self.
This is in the middle of Norway, feels like in the middle of nowhere but is still in a short distance to everyting. The house is nearly 100 years old, renovated but still have some of the old funitures left. The names around here are from vikings, and sami. You can meet reindeer, they are shy.
The freedom of beeing close to nature, still only 20km from Mosjøen and in center of the region Helgeland.
É stata una esperienza molto bella. Casa molto carina e accogliente. Famiglia super! Ci hanno trattato come se fossimo amici di vecchia data. Super cuochi : colazioni ottimi !! Molto raccomandato Ha sido una experiencia muy buena. La casa muy agradable. La familia es muy preciosa y han hecho que nos sentimo en nuestra casa. El desayuno estaba muy rico, si tu eres cerca Mosjoen no puede no ir a dormir in su casa!
Federica
2016-01-24T00:00:00Z
A wonderful area and a cozy new room! Magnar was super friendly and helpful.
Neil
2016-06-06T00:00:00Z
Had a great stay with Magnar and Elin, very warm and welcoming hosts with good advice and recommended a lovely hike in the area. Would definitely recommend
Rebecca
2016-06-14T00:00:00Z
Our stay at the place of Magnar & Elin was just perfect. It was easy to find and had all what we needed. We could enjoy the nordlight directly from the window of our room! The hosts are super friendly and helpful. We enjoyed to chat with them.
Georg
2017-03-31T00:00:00Z
Vi følte oss umiddelbart velkommen hos Magnar og familien. Vi sov godt i rolige omgivelser, og spiste en nydelig frokost mens vi nøt den sjarmerende utsikten fra kjøkkenet før avreise. Vi benytter oss gjerne av muligheten til å overnatte hos Magnar på vei nordover/ sørover igjen. Highly recommended!
Astrid
2015-04-04T00:00:00Z
Very nice place, I recommend it very much. The family was very nice and we had great talks. The house was very nice and we slept very well. I can't wait to come back soon!
Lech
2016-06-25T00:00:00Z
We stayed here for one night. Even though we arrived very late at night, Magnar was very understanding and friendly. We had a nice and cozy room. The breakfast was delicious. One little thing is that our room was just beneath the kitchen and we could hear the foot steps in the morning.
Merve
2017-03-22T00:00:00Z
It was so nice to stay at magnar and elins home. The have been so freindly and very very helpull. We enjoyed it at lot to stay there :-) We would come anytime again.
Marina
2016-09-29T00:00:00Z
Tipo di stanza
Stanza privata
---
Tipo di sistemazione
Villa
---
Può ospitare
3
---
Camere da letto
Smedsengfjellet, Nordland, Norvegia
Charming get-away 9 mil south of Bodø. Great house with two living rooms, three bedrooms and 7 beds, a total of 140 m2 disposable. Large garden on five goals. Beautiful scenery with mountains, fjords and beaches. Shops and restaurant. Perfect for couples and families.
Classic beautiful villa with park-like garden.
Quiet and charming village, with sea and mountain in the immediate vicinity. Shops and restaurant.
Tipo di stanza
Intera casa/apt
---
Tipo di sistemazione
Villa
---
Può ospitare
7
---
Camere da letto
Inndyr, Nordland, Norvegia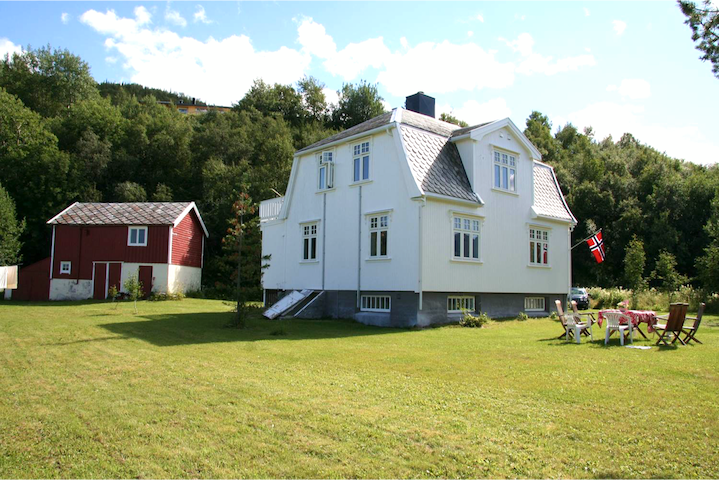 Altes, charmantes Haus in Seljestad, in einer zentralen ruhigen Wohngegend, nur 15-20 min. zu Fuß vom Zentrum der Stadt oder 5 min. mit dem Fahrrad. Wir haben zwei Fahrräder zur Verfügung für unsere Gäste. Das Haus ist auch in der Nähe zu Fuß zur Natur. Mit vielen possabilieys für schönen Spaziergang in den Wäldern, von Seen und in den Bergen das ganze Jahr hindurch. Wenn Sie Langlauf mag, sind die Pisten Skifahren auf dem Hügel zur Verfügung stehen. Die nächste Bushaltestelle i 3 min entfernt. Zimmer mit einem kleinen doblebed (120 cm). Parken.
Så fint et sted, som får mine varmeste anbefalinger. Meget personlig og varm stemning, utroligt gæstfrie værter og fint værelse i et superhyggeligt hus. Jeg havde sådan et dejligt ophold hos Annelise.
Katrine
2017-02-20T00:00:00Z
We didn't meet Annelise, but she was very helpful and gave us all the informations we needed!
Giovanna
2017-03-18T00:00:00Z
Jeg hadde et flott opphold hos Annelise! Huset var flott, med kort avstand til byen, men fortsatt avskjermet nok til at man fikk slappet av etter en hektisk dag. Soverommet var utrolig koselig, og det var kjempe behagelig å overnatte her. Annelise gjorde oppholdet veldig hjemmekoselig med fine samtaler på ettermiddagene. Anbefaler alle å booke rom her :)
Renate
2016-10-20T00:00:00Z
Annelise is the most welcoming host I have ever encountered! I don't stay in shared spaces often and I was so happy to be around Annelise because she made me feel so at ease. She is extremely helpful and great to have a conversation with. I felt like I was staying at my best friend's family house in a way because the entire time was just so easygoing and pleasant. Thank you Annelise!!
Spencer
2016-08-06T00:00:00Z
Annelise is the ambassador of hospitality. Her warm welcome and charismatic personality made my stay probably one of the memorable stays! She even took us skiing and boy it was fun! Shes a fun crowd who treats her guests with respect and is always around to give some trip advice (even words of wisdom) I can't wait to share my experience with family and friends. Hope to see you real soon, Annelise!
Shariq
2017-04-11T00:00:00Z
Anbefaler alle å bo her. Veldig hyggelig vertskap og kjempefint hus. Fikk et flott opphold, med topp service og supert rom. Sov som en baby, og spiste deilig frokost. De hentet meg og kjørte meg - for en service! Skal du til Harstad, er dette stedet å være. Hilsen Siri
Siri
2017-03-07T00:00:00Z
Anne Lise et son mari ont été adorables. La maison est très agréable avec de bonne prestation. Très bien!!
Aurélien
2017-03-29T00:00:00Z
Amazing hospitality, beautiful 100 year old house! easy walk to downtown. Felt just at home!
Shariq
2017-04-07T00:00:00Z
Tipo di stanza
Stanza privata
---
Tipo di sistemazione
Villa
---
Può ospitare
2
---
Camere da letto
Harstad, Troms, Norvegia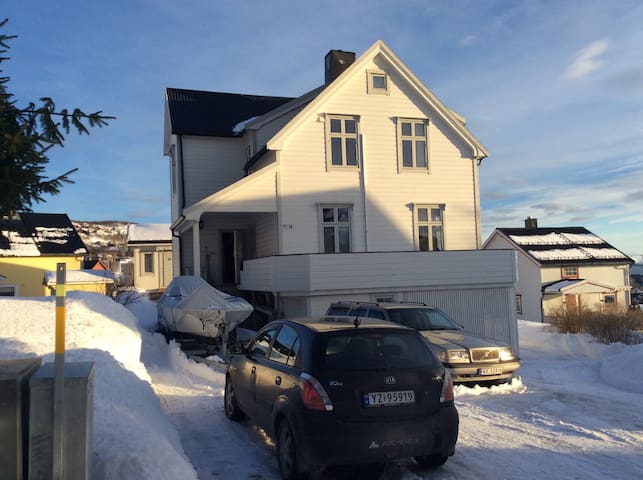 I offer accommodation in private double or triple room with free WIFI. Living room with a fireplace, dinning room and fully equipped kitchen is available to all guests. The relaxing atmosphere can be best enjoyed on the terrace with the fantastic view of Vestfjord, the mountains and the lovely fishing village. You have an access to shared bathroom facilities. A sauna is also at the guest's disposal. Welcome :-)
It was a pleasure to stay at Ada's place. We really enjoyed and we only can recommend it. Don't forget to keep an afternoon to experience scuba diving or snorkeling above Arctic circle, it's amazing !! (The center is next to the house) Thank you very much
Marion
2017-04-12T00:00:00Z
Very easy to use and great kitchen facilities
Charlotte
2016-07-16T00:00:00Z
Et flott sted å bo, nydelig beliggenhet ved havet, rent og med alle fasiliteter man trenger. Vi følte oss veldig velkommen! Godt skiltet frem til huset, lett å finne frem.
Karoline
2016-07-25T00:00:00Z
Place is quiet and the porch view is really stunning! Mornings are indeed beautiful. Would definitely recommend more so if it is a relaxed travel.
Justin
2016-10-22T00:00:00Z
Gorgeous outlook, beautiful house. We had a lovely stay :)
Rasa
2016-07-28T00:00:00Z
Flott, velholdt og rent! Utrolig vakker utsikt og fint uteområde.
Siv
2016-07-24T00:00:00Z
Tipo di stanza
Stanza privata
---
Tipo di sistemazione
Villa
---
Può ospitare
3
---
Camere da letto
Ballstad, Nordland, Norvegia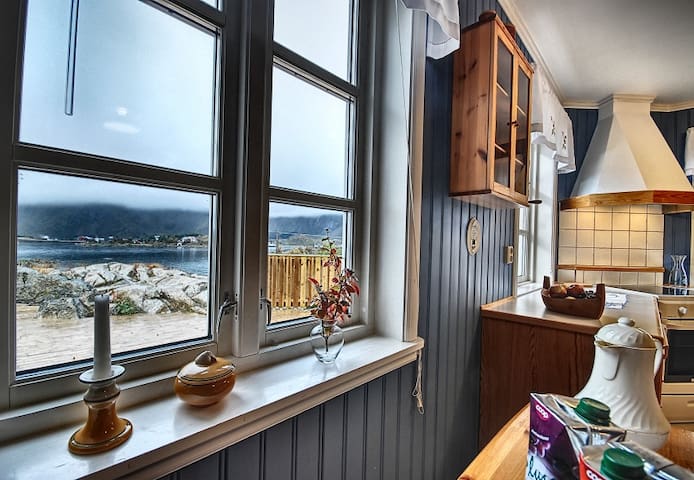 Ein großes Haus / Villa mit viel Platz, 10 km von Bodø Zentrum mit guter Busverbindung. 3 Minuten zu Fuß zur Bushaltestelle, und 3 Minuten zu Fuß zur Universität. Ruhige Lage mit einer tollen Aussicht. Das Haus ist ein gemütliches und funktionelle familiyhome in zwei Etagen. Parkplatz, eine Halle, laundryroom / Badezimmer mit Badewanne, Badezimmer mit Dusche, zwei Toiletten, 3 Schlafzimmer, Wohnzimmer und voll ausgestattete Küche mit Panoramablick, einen Balkon und einen Garten vor den Toren. Sie können auch auf der Couch schlafen.
Die Gegend ist ruhig mit guten Möglichkeiten für im schönen Nord Natur wandern, und noch in der Nähe der Stadt leben (nur 20 Minuten mit dem Bus).
I was immediately struck by the incredible views of the mountains and the water when we arrived! And the proximity to airport was convenient and close yet situated in a peaceful beautiful neighborhood. The home is delightful. It appears to me to be wonderfully Nordic in design. The hosts were responsive and offered great suggestions for things to do in the area. This was a wonderful "jumping off" point for our trip to and from the Lofoten islands. The ferry was quite close. I highly recommend Maria's villa! (and I slept very well in the comfortable bed!) If you want gorgeous views, convenient location, and clean, classic Norwegian - this is the place.
Julie
2016-08-16T00:00:00Z
We stayed here twice as a "jumping off point" to travel via ferry to the Lofoten Islands. Maria was so very helpful and communicative. The house is just beautiful and located quite close to the airport and ferry yet in a lovely secluded neighborhood. The beds are very comfortable and the house is pristine. The views from the large windows as we sat with our coffee at the large wooden table were stunning! I would highly recommend Maria's villa!
Julie
2016-08-12T00:00:00Z
Tipo di stanza
Intera casa/apt
---
Tipo di sistemazione
Villa
---
Può ospitare
6
---
Camere da letto
Bodo, Nordland, Norvegia
We offer accommodation in private double or triple rooms. The whole building offers FREE WIFI. A common living room with a fireplace, dining room and fully equipped kitchen is available to all guests at Villa Ballstad. The relaxing atmosphere can be best enjoyed on the terrace with the fantastic view of Vestfjord, the mountains and the lovely fishing village. All rooms have access to shared bathroom facilities. A sauna is also at the guest's disposal. Welcome in Villa Ballstad :-)
Beautiful and clean villa with a stunning view. We enjoyed staying there for one night and even if Ada wasnt home everything was planned for our arrival and so we would feel like at home. I recommend it.
adrien
2016-07-22T00:00:00Z
The room is small and clean. Not easy to lock the room door with the key. Always create noise when open/close the door. I did not meet Ada in person. There is a helper who maintains and lives in the villa. However, I think she did not maintain the facility well. For example, the washing machine is not clean... and with dirty clothes inside when I try to do the laundry. So I didn't do the laundry eventually. The room is ok for short stay in overall.
Chiu
2017-04-03T00:00:00Z
Ada's house was beautiful and the view was amazing!! The location was also perfect, especially if you are looking for a midway point on Lofoten. Downtown Leknes is nearby with access to a few restaurants and grocery store to serve any need you may have. I'm so glad I was able to secure a spot for my unforgettable trip to Lofoten. I definitely recommend Ada's home and am even interested in visiting again in the future.
Daniel
2016-09-26T00:00:00Z
The host canceled this reservation 46 days before arrival. This is an automated posting.
Hunter
2017-01-01T00:00:00Z
Beautiful villa, wonderful position. We stayed in a bedroom with a cosy terrace with a really super view! Wonderful view also from the kitchen (full equipped) from the dining room and the terrace outside. 5 room and 2 shared bathroom, all very clean. Nice staying!!!
Francesca
2016-08-21T00:00:00Z
Highly recommend this location and this accommodation. Great staff (they work at the dive shop also near the property) who provide great recommendations for hikes and activities. Central location is fantastic, the view is amazing, and the house is beautiful.
Tracy
2016-08-24T00:00:00Z
Amazing location, fairly near to the airport by car. Ada was also a very friendly and helpful host! Will definitely return to stay in the future!
Wei Ling
2016-10-27T00:00:00Z
Nice house Clean and beautiful
Nana
2016-10-09T00:00:00Z
Tipo di stanza
Stanza privata
---
Tipo di sistemazione
Villa
---
Può ospitare
2
---
Camere da letto
Ballstad, Nordland, Norvegia
Villa in the area just outside Sjunkhatten National park. Perfect place for hiking, trekking, fishing, outdoor activities, midnight sun and Northern lights. Cano available. Nice people, homebrewed beer, slow food, huskies, cat, quails and chickens.
Located in a popular hiking/nature area 30 min outside Bodø. Its a big two-flat house from 1920, with charm and good standard. Instant access to National park, beaches, wildlife and fishing. 20 mins from Saltstraumen. Many spectacular mountain tops around, some with walking start from the house. We provide you with hiking maps, tips, and guiding when we can. From time to time we can offer one or two extra rooms with three and two extra beds.
Different kinds of nature around the house, Inside and outside the National Park. Spectacular mountain peaks, forest terrain, lakes, rivers. Forest roads and mountain suited for MTB and downhill biking. 15-20 min drive to Saltstraumen, world famous for maelstroms and fishing.
I had a great time staying at Torgny's! The location is quite remote so be certain to figure out the hows of getting to and from there (unless you have a car). I didn't, but Torgny was extremely gracious in getting me to and from the airport. Torgny and his neighbors are great to hang out with and speak to while you're staying. There's also tons of "nature stuff" to do. The place is simple, lovely, and clean. I was able to cook, read, hang out, go rowing, and just spend time alone. I would definitely recommend staying here if you're in the area or want to make a specific trip out there.
Milana
2014-09-01T00:00:00Z
We had a truly lovely stay at Torgny's wonderful house. Torgny has been a very good host to us. From the house, it's quick to get to some great hiking paths. Thank you Torgny for making our stay so pleasant and easy!
Nathalie
2014-06-17T00:00:00Z
We had a wonderful stay in Torgny's and Anja's house! Their children, animals, neighbours and Torgny's parents were great. We had an opportunity to use rantasauna and swim in a lake. The national park is really beautiful and it was easy to walk to the nearby mountains and hike all day. The room was nice, clean and spacious for our use. We got to use kitchen and washing machine when ever needed. Torgny and Anja gave us good information about local mountains, sightseeings and other stuff. They are also really kind, cool people and good company! We recommend highly! -Antti & Tuula from Finland.
Antti
2015-07-07T00:00:00Z
Great location in a beautiful national park. Torgny & Anja were welcoming and helpful hosts. Lovely to be in a place with huskies, chickens and quails.
Nick
2016-07-06T00:00:00Z
Torgny and Anja are great people, who live at a really wonderful place. They made sure that we felt like home. They could not be at home when we arrived. But it was no problem, they prepared everything for us and the neighbors gave us a very friendly welcome and showed us everything. Thank you for the beautiful time.
Antonia
2015-06-23T00:00:00Z
If I had to rate my experience on a skale from one to ten I would give eleven or even more points. Unfortunatly Torgny wasn't at home, but we met their great neighbours and his girlfriend who picked us up at the airport and helped us with everything concerning the beautiful surrounding and stay at the house. They told us a lot about the way of living up there, too. Thats something you won't find in a hotel. The house is great, we got our own room with a view to some northern lights at night! ( If you walk up that hill behind theire house you may find a perfectly dark sky with best chances to see the aurora) And it is located right in the nature which makes it perfect for hikers etc. I can only hope to be able to go back there as soon as possible!
Jonathan
2015-02-19T00:00:00Z
Thanx for stayiing at your beatiful place at te boarder of the national Park. We didnt really meet but had a good stay and wish we had more time. Thanx for the info about the park and letter, greetings Loek and Rudy
Rudy
2015-07-20T00:00:00Z
Although Torgny wasn't at home, his neighbor picked us up from the airport and made sure we got settled in. Other locals we met were very friendly and welcoming. Nature in this area is also extremely beatiful and we enjoyed it as much as possible though it was raining. I want to go back when the weather is nicer for some more extreme exploration! A great place and great people!
Haley
2015-01-02T00:00:00Z
Tipo di stanza
Stanza privata
---
Tipo di sistemazione
Villa
---
Può ospitare
2
---
Camere da letto
Tverlandet, Nordland, Norvegia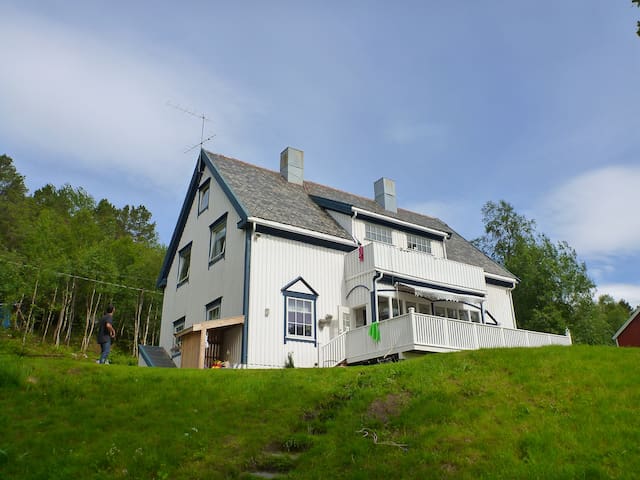 I offer accommodation in private double or triple room with free WIFI. Living room with a fireplace, dinning room and fully equipped kitchen is available to all guests. The relaxing atmosphere can be best enjoyed on the terrace with the fantastic view of Vestfjord, the mountains and the lovely fishing village. You have an access to shared bathroom facilities. A sauna is also at the guest's disposal. Welcome :-)
很漂亮的别墅,设备很新很全。周围风景也很漂亮。就是床太小,其他都还好。
An
2017-03-31T00:00:00Z
Very nice villa, located nicely on the island of ballstad. Activities like diving, fishing and hiking are within walk. People are nice and very helpful. Pictures of the rooms are processed to make them look nicer, though the actual rooms are not unpleasant to live in. What future guests should be aware of is that this is more like a hostel than a private house. You live in one of the five guest rooms they have and share one shower and kitchen with the rest of guests - which can work out fine but should be noted.
Eva Jieyu
2016-08-02T00:00:00Z
Ada's home was very comfy and super easy to access. I loved the fact that she sent us a code to type in right before arrival. It made checking in super easy. In fact there was no check in time- awesome experience- awesome place. Would recommend her place to anyone.
Ivan
2016-07-21T00:00:00Z
So many greats- value, view, location, cleanliness, and proximity to airport, bars, and restaurants in Leknes. This is more like a boutique hostel with multiple rooms for rent on the second floor. Our double room came with a balcony! Beds are singles, but they can't be connected (for couples) because of their frames. Also, it's worth noting guests need to provide their own sheets and towels (or rent from host). We had great communication with Ada, she was accommodating with our checkin, helped us retrieve our delayed luggage from the airport, and so much more. The kitchen and living room were also very cozy. Great stay to explore Lofoten.
michael
2017-03-10T00:00:00Z
Great guesthouse we stayed in on a stopover through Lofoten. The views from the house are really lovely. The house was clean and comfortable, other guests were respectful and friendly. Note the owner does not live on the property, but it was easy to communicate with Ada remotely.
Ulrike
2016-08-09T00:00:00Z
Tipo di stanza
Stanza privata
---
Tipo di sistemazione
Villa
---
Può ospitare
2
---
Camere da letto
Ballstad, Nordland, Norvegia
Villa house, stunning location, good standard. Terrace, sea and mountain view. Great spot for Midnightsun and aurora borealis. Private parking. Walking 15 min downtown Henningsvær. 20 min car two Svolvaer. Activities, restaurants, other experiences. Great play area. --- A main house, stunning location good standard. Large terrace, stunning sea and mountain views, great place for midnight sun and northern lights. Parking. Activities, restaurants, other experiences. Great outdoor area.
Tipo di stanza
Intera casa/apt
---
Tipo di sistemazione
Villa
---
Può ospitare
15
---
Camere da letto
Svolvær, Nordland, Norvegia
The place is in family friendly area, you can walk right out in the woods or in the mountains. Walk to Kabelvåg and harbor there, or to Storvågan and it contained therein. Both the center and Storvågan is 1 km away. You'll love my place because it is located by the forest, close to the sea and at the same time central. It's a nice, quiet place,without traffic, where you can enjoy life. My place is good for couples, solo travelers, business travelers, families (with children) and large groups.
Unique space receive both families and those who want to enjoy Lofoten. Hiking trails start at the house and paved trail to the shelter begins 100 m away. Lighted track runs 50 m from the house, so on the winter its just to strap on skis and go straight in great groomed trails, or mountain hike if you want it. On summer you can enjoy the sun on one of the two terraces, and in winter you can sit and watch the northern lights. No through traffic and playground right off the house. There are also boat rentals in Kabelvåg for those who want it. In Kabelvåg there are both grocery store, convenience store, bakery and various other stores. Here are also two restaurants where you can eat and have a glass of wine or beer. From here you can also explore the rest of the Lofoten Islands, take a trip to Svolvær (5km away)who is the nearest town, or explore Vestvågøy and everything contained therein.
Quiet and peaceful neighborhood that is perfect for both children families and all others who want to enjoy life without the noise and racket.
Tipo di stanza
Intera casa/apt
---
Tipo di sistemazione
Villa
---
Può ospitare
9
---
Camere da letto
Kabelvåg, Nordland, Norvegia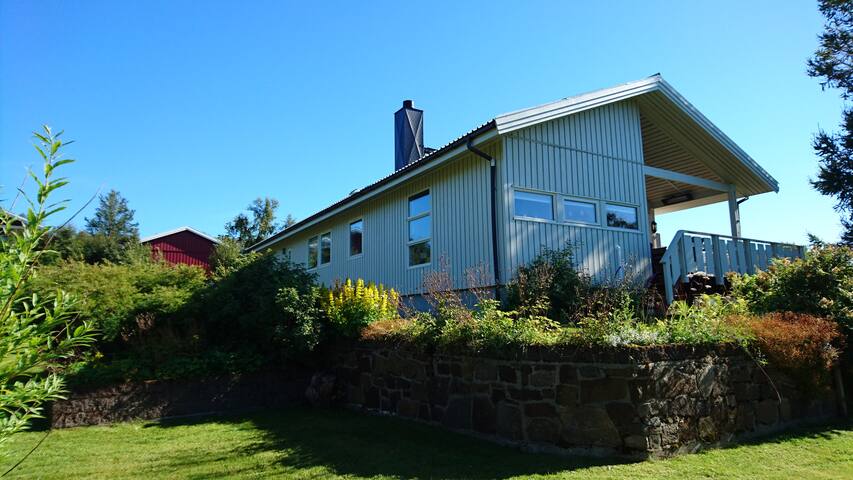 Un silencio, lugar tranquilo, dándole tiempo para meditar. Usted ve migth lince y el relámpago y el norte de alces. 15 km de Halsøy, a 20 km de Mosjøen, a 70 kilómetros de Mo i Rana y 1,5 km de E6. La parada perfecta si viene en coche desde Trondheim -Lofoten
Naturaleza cerca de usted en una casa tradicional moderno.
La libertad de beeing cerca de la naturaleza, siendo sólo 15 km de Mosjøen.
We had a very rich breakfast with the best homemade strawberry jam ever! We stayed just one night but it was very comfortable. Even though we announced our arrival short-termed, Magnar was spontaneously ready to house us. Thank you for the nice stay!
Jupiter
2016-01-06T00:00:00Z
I have stayed in more than 30 airbnb homes and this was the family that I fell in love with the most. Everyone was so warm and welcoming. They even took me out on an off the beaten track trip up a mountain where we had a small adventure and made food and shared stories around the campfire. I would highly recommend staying with this wonderful family. Very inexpensive accommodation compared to any hotel. Highly recommended
Will
2015-05-16T00:00:00Z
Et varmt og veldig hyggelig hjem. Jeg gjentar gjerne, kan absolutt anbefales.
Heidi
2016-06-19T00:00:00Z
Magnar Elin und ihre Familie sind sehr nett und hilfsbereit. Ihr Haus liegt draussen in der Natur, bis zur nächsten Stadt sind es 20 Km und der Bus fährt unregelmässig. Ich war sehr froh über ihr Taxiservice-Angebot. Da der Nächste Lebensmittelladen zu Fuss nicht schnell erreichbar ist (15 Km), vergesst nicht zuerst noch was zu essen Kaufen, das Morgenbuffet ist zwar hervorragend und reich an alles was man sich wünschen kann, doch abends ist man schon froh was zu knabbern dabei zu haben. Das schöne alte Haus ist lebhaft, sauber und geräumig. Ein Ort wo man sich richtig wohlfühlen kann.
Saada
2016-03-25T00:00:00Z
Magnar och Elins hus var beläget på en enormt vacker sluttning med utsikt över bergen . Uppskattade deras gästvänlighet . Fick ha mycket fina stunder tillsammans med hela familjen och fick många idéer till naturupplevelser .Kommer gärna åter.
Annika
2016-08-04T00:00:00Z
La descripcion era correcta, la casa está lejos del centro, pero muy en contacto con la naturaleza. Los anfitriones son muy amables y fue muy agradable charlar con ellos. La casa estaba llena, y la habitación que me correspondía quizá no era la más cómoda. La cama era pequeña (muy antigua, y con encanto, eso si) e incómoda, pero la amabilidad y hospitalidad de los anfitriones es verdaderamente apreciable,
Caro
2016-03-28T00:00:00Z
Great place and magnar was very hospitable! He made sure i felt at home and it was a nice place to stay. There is also a fire stove which was nice and warm and i also had a lovely breakfast before i left. Overall a highly recommended place to stay, although the place can be hard to find especially when arriving at night, but magnar provided me the directions to his place when i called him.
Kenny
2015-10-01T00:00:00Z
Tipo di stanza
Stanza privata
---
Tipo di sistemazione
Villa
---
Può ospitare
4
---
Camere da letto
Mosjøen, Nordland, Norvegia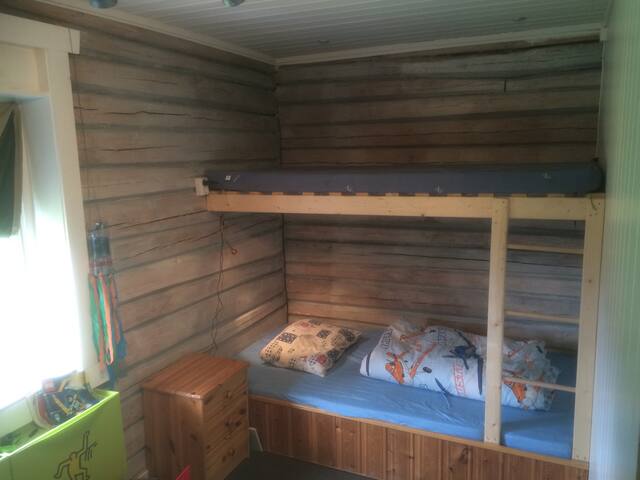 Du vil elske stedet mitt på grunn av naturen her. Det går en merket tursti opp mot fjellet der du får utsikt langt ut over Lofoten og den berømte naturparken Svellingen og den like berømte naturparken Møysalen.. Stedet mitt er bra for par, dem som reiser alene, bedriftsreisende, samt familier (med barn) og pelskledde venner (kjæledyr).
Tipo di stanza
Intera casa/apt
---
Tipo di sistemazione
Villa
---
Può ospitare
7
---
Camere da letto
Lødingen, Nordland, Norvegia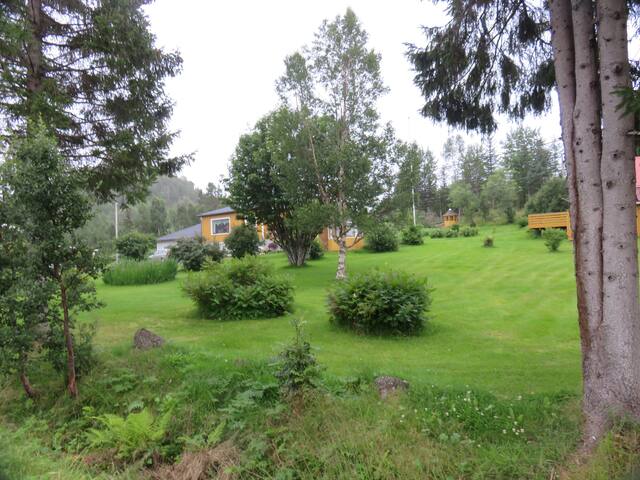 Stedet mitt er et særpreget hus i ei rolig gate ca 1 km fra Brønnøysund sentrum. Stor hage og lett adkomst til sjøen på den andre sida av gata. Vestvendt, utsikt over havet med Vega i horisonten, fantastisk nattehimmel i lyse sommernetter. Har 2 gjesterom, et dobbeltrom og 1 enkelt. Gjesterommene ligger i 1. etasje. Gode senger. Eget bad for gjestene. Stort kjøkken som deles av vertskap og gjester. Private soverom er i etasjen over. Denne annonsen gjelder enkeltrommet.
Særpreget hus som ligger like ved et naustområde. Utsikt mot verdensarvøya Vega i vest.
Rolig nabolag. 500-600 m til de nærmeste dagligvarebutikkene. Det er 1 km til Brønnøysund sentrum. Mulig å låne sykkel
Lisbeth er en flott vert, som disket opp både til kveldsmat og frokost første dag. Huset ligger i en stille gate like ved vannet som gir en fantastisk utsikt både dag, kveld og natt. Enkelt å komme seg til sentrum da det kun er noen minutters gange fra huset. Lisbeth gir gjerne råd og tips til hva du kan gjøre og hvor du kan dra! Jeg hadde et kjempeflott opphold hos henne.
Frida
2016-07-03T00:00:00Z
Lisbeth is very kind and curious about our country. We have talked about Norway in a very interesting way. She is funny and avaible to help us to spend our time in Bronneysund in the best way.
Martina & Riccardo
2016-08-18T00:00:00Z
Allt var väldigt bra, lugnt och stilla, fin natur.
Fredrik
2016-09-24T00:00:00Z
Beautiful, unique and charming place with a wonderful atmosphere and sea view! Lisbeth is a very welcoming host and gave us many helpful tips for our trip. Communication was super nice and easy and we very super happy. If you have the chance, you should visit Brønnøysund!
Lena
2016-07-10T00:00:00Z
Lisbeth was extremely responsive and helpful to me before my stay at her home. Unfortunately, I didn't get to meet her because she was traveling, but her son and daughter-in-law were great during my stay and made sure I had everything I needed. The bed in the room is very comfortable, the location is great, and everything is very clean. I would definitely stay here again!
Katherine
2016-11-25T00:00:00Z
We did not know Lisbeth but her daughter-in-law, Jenny and her grand-child, Sanna. We felt at home, everything was perfect, we cooked and ate with them. The house is in a wonderful position, we could see a beautiful sunset. All perfect. Thanks for everything.
Danilo
2016-08-22T00:00:00Z
LOCATION - residential, a bit off the sentrum, but with a great view to the water and mountain. PLACED - great space, access to well equipped living room and kitchen. HOST - Lisbeth was very friendly, she make sure arrival is smooth, room is warm. We had real good chat about traveling.
Suryadi
2016-11-02T00:00:00Z
Til alle dere der ute som vurderer å bo hos Lisbeth...kjør på her vil dere ikke angre. Lisbeth er en fantastisk flott person som får dere til å føle dere hjemme. Dette er et sted jeg anbefaler på det varmeste. Lisbeth og familien fikk meg til å føle meg som hjemme. De tok meg godt i mot og gav meg en fin opplevelse. Stedet ligger i tillegg sentral slik at det er lett å komme seg rundt. To tomler opp:)
Mirjam
2017-03-17T00:00:00Z
Tipo di stanza
Stanza privata
---
Tipo di sistemazione
Villa
---
Può ospitare
1
---
Camere da letto
Brønnøysund, Nordland, Norvegia
Vi har 3 rom til utleie. 3+3+2 senger Huset har mye historie og særpreg og er en av Europas 2 første trådløse telegrafstasjoner. Lokaliseringen er på stedet Glea ca. 2 km fra fergekai og 5 km fra flyplass. Avstand til dagligvarebutikk er kun 150 meter.
Tipo di stanza
Stanza privata
---
Tipo di sistemazione
Villa
---
Può ospitare
8
---
Camere da letto
Røst, Nordland, Norvegia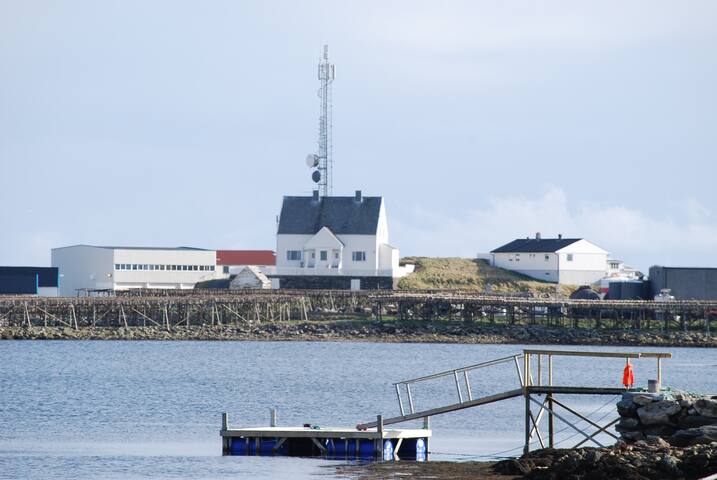 Stedet mitt er nærme utelivet, sentrum, offentlig transport, flyplassen og parker. Du vil elske stedet mitt på grunn av lyset, det er så koselig og det høye taket. Stedet mitt er bra på par, reiser alene, bedriftsreisende, familier (med barn) og store grupper.
The host canceled this reservation the day before arrival. This is an automated posting.
Rut
2016-07-14T00:00:00Z
Nice place in a beautiful stunning location. Tom helped us and was on the phone when we wanted some info. The house was beautiful and i would recommend it especially for families.
Minna
2016-08-06T00:00:00Z
Wonderful place, large house with many bedrooms, cozy livingroom with well equipped kitchen 2 bath, perfect for family with children. Nice garden outside! Tom is a kind Host
Francesca
2016-08-19T00:00:00Z
Tipo di stanza
Intera casa/apt
---
Tipo di sistemazione
Villa
---
Può ospitare
6
---
Camere da letto
Vågan, Nordland, Norvegia
We found what we have been looking for: a wonderful country house in a fascinating winter landscape. Having chosen January for the Lofotes may not be everybody's choice, but we are glad to have done it this way. Of course we can imagine that it also would be great in summer ... By the way: "we" means a middle aged couple accompanied by their adult son - everybody fond of photographing (and proud of having catched aurora borealis). Our landlords Inger Lise and Fredrik had done everything to make us feel welcome from the start. The communication before and after booking and while we were in the house was simply perfect. We could not meet personally because they had to do their jobs in the town across the fjord. But they had taken care for everything (unnecessary to say that it was clean from cellar to roof :-). The kitchen was well equipped in every respect. The beds were very comfortable for a good sleep. And the dining and living room with sight directly on the fjord were just wonderful. Thank you so much for everything, Inger Lise and Fredrik - including your suggestions for interesting winter walks. We can recommend this wonderful country house from all our heart. Regine and Jochen Reimers Darmstadt, Germany
Jochen
2015-01-14T00:00:00Z
Eine wirklich wundervolle Villa mit einer tollen Aussicht auf das Meer. Das Haus ist sehr persönlich eingerichtet, aber nicht aufdringlich. Wir haben uns sofort wohl gefühlt und alles auf Anhieb gefunden. Fredrik ist ein sehr netter, aufmerksamer und kommunikativer Gastgeber. Er hat uns über alle Gegebenheiten rund um das Haus und der nahen Umgebung bestens informiert und hilfreiche Tipps gegeben. Wir haben einen wirklich tollen Urlaub verbracht und sehr viel unternommen. Es war wirklich alles bestens und es gibt überhaupt nichts zu beanstanden. Unser volles Lob an die Unterkunft und die Gastgeber!
Joerg
2016-08-04T00:00:00Z
The host canceled this reservation 100 days before arrival. This is an automated posting.
Ori
2016-08-24T00:00:00Z
Fredrik's wife waited late for us as we had some issues at the airport to meet us and show us around the house. They left food for us as our late arrival made it difficult to secure food. The home was amazing and felt like "home" immediately. The location is great - breathtaking views as you enjoy a cup of coffee in the morning or a glass of wine in the evening. The home is quite spacious - and the main bathroom was really special with a large tub and warmed floors. This home was a stand out for our family in our trip to Norway.
Justin
2015-07-01T00:00:00Z
This beautiful home is out in the country, north of the Arctic Circle. Fredrik was working and unable to meet us when we arrived. It was simple to get into the house and he was able to answer our initial questions by email. He also drove several hours to come say hello several days later and answer remaining questions. The house itself was absolutely perfect for an outdoors vacation. We were there a month and did not begin to explore all the opportunities. We hiked, combed many beaches, fished (successfully), did our mandatory birdwatching (over 30 different species), and enjoyed visiting reindeer and fox. As there are no real restaurant options anywhere near by, we prepared all of our meals at the house in the fully equipped kitchen (and BBQ). Every high quality pot, pan and utensil we needed was there at hand. As we were there for the month of June (carefully planned ahead of time), the sun never set and the house was always light. But the bedrooms had dark curtains and sleeping on the comfortable beds was never a problem. On chilly days, we were kept warm by the heaters (and the heated bathroom floor!) and on warmer days you could create a perfect breeze opening the front and back doors. You have your choice of eating out on the deck, up in an enclosed gazebo, or at the dining room table looking out to the snow-capped mountains and fjord. It all came together as a little bit of heaven in a stunningly beautiful region.
Jonathan
2016-07-01T00:00:00Z
We spent 7 days in Fredrik's beautiful country house in Kjerstad, Tjeldoya. The location is very quiet and near the sea. The house is very well equipped and furnished with taste, with a convenient and modern kitchen, a large dining table, a terrace with a beautiful view of the sea, cosy fauteuils to relax, a spacious bathroom and a garage with bicycles that can be used. There is even a sauna in the basement – which we didn't use, however. The garden is nicely structured and full of little surprises. It is obvious that this is a house destined to be lived in by its owner, not be rent to an anonymous public in search of quick gain. The owner has been extremely generous and trustful right from the start and made us feel very welcome. Although we didn't meet in person, communication via the internet was smooth so questions could be quickly answered. We thank you, Fredrik, for your generosity – your spirit of hospitality does not go without saying. The house is a bit out of the way if you want to visit the Lofoten islands but they can be reached by car in reasonable time; the same applies to Narvik which is even closer. It is a good starting point and probably a bit cheaper to rent than houses in more touristic places on the Lofoten islands. Norway is a wonderful country worth visiting and Fredrik´s house is a house worth renting! We are already missing it. Thank you for everything.
Roman
2016-08-25T00:00:00Z
Fredrick was a wonderful, welcoming, generous and helpful host. The house is luxurious and has everything you could think of. Island is quiet and remote and very beautiful. There are nice hills for hiking behind the house and there is a beautiful view of the fjord from the house.
Jesper Stig
2015-07-17T00:00:00Z
Très belle maison bien équipée, située sur une île (reliée par un pont) très préservée et calme. Idéal pour faire des randonnées et se reposer en profitant de la vue. Frederik est charmant et tout se gère à distance avec facilité. À recommander.
Damien
2016-08-15T00:00:00Z
Tipo di stanza
Intera casa/apt
---
Tipo di sistemazione
Villa
---
Può ospitare
6
---
Camere da letto
Kjerstad, Nordland, Norvegia