My place is close to Yosemite National Park (2hr drive), San Fransisco (1.5hr drive), Sacramento (1.5hr drive), and the Napa Valley (2hr drive).. You'll love my place because of The quiet and peaceful nature of the villa and surrounding neighborhood. Very relaxing and private.. My place is good for couples, solo adventurers, business travelers, families (with kids), and big groups.
Iris was very welcoming and accommodating. She made us feel comfortable like it was a home away from home.
Alexandra
2016-10-23T00:00:00Z
Stayed here for a weekend class in Modesto. This place would of been Awesome for a weekend with family on way to or back from Yosemite say or visiting friends in Modesto. The back yard and pool reminds you of 1920's Hollywood. Think Hearst family type setting. Kids have area to play and parents have area to lounge!!! Bummed I was here doing serious studying but couldn't have been more relaxing. Some noise from nearby traffic but small tradeoff and quiet at night. Great Patio Great Setting
james
2017-03-26T00:00:00Z
Tipo di stanza
Stanza privata
---
Tipo di sistemazione
Villa
---
Può ospitare
8
---
Camere da letto
Modesto, California, Stati Uniti
Charming detached studio on a one-acre fully landscaped property. Separate kitchenette with microwave, toaster oven with bake & broil options & fits a 9" pizza or 4 toasts, (no stove with burners), full-size refrigerator with ice & water dispenser. Full bath with walk-in shower (no tub), a sitting area with TV & desk. Wi-fi. Garden view & garden access. Very clean. We use allergen protectors on mattress and pillows. Also, if we don't have a guest the day before, we are flexible on check-in time
The detached studio includes a separate kitchenette, and your own bathroom with walk-in shower. A queen size bed. A full size closet and chest of drawers. Inside the closet, you'll find a hamper for dirty linens, an iron and ironing board. The sitting area includes a very comfortable love seat, side chair, desk and chair with wi-fi information, coffee table, and flat screen TV. Coffee maker and complimentary coffee & teas. We have included wine & water glasses, dishes, cups, and utensils. Very private and quiet with view of the garden from the sliding glass door. Speakers to listen to music from your wireless device are also included.
Situated on the "Wine Trail" the studio is close to wineries, and is approximately a 5-mile drive to CordeVele Golf Resort and Coyote Creek golf club. Although we are in the City, we border the County. Our neighborhood is comprised of homes with a minimum of 1-acre properties. You'll see horses, cows, and other farm animals while driving around.
This is a marvelous, peaceful place. The studio has the perfect amount of space for two, and it feels bigger than the pictures might suggest. My mom and I were several hours late for check in, yet Virginia still greeted us warmly and showed us around the studio and gardens. The gardens! The yard! The view from the studio is beautiful, and the size of the yard provides both privacy and quiet. Morgan Hill downtown is a few minutes away, and Gilroy is just a short highway jaunt away. Virginia and her husband have created a wonderful oasis, a perfect way to unwind, and we will most definitely return!
Aimee
2016-06-13T00:00:00Z
If anyone wants to get away from the hecticness of work and life please consider staying at Virginia's lovely place. From the moment we checked in till the moment we checked out Virginia was very hospitable and a pleasure to chat with. For anyone that are planning a stay here, bring a camera, so you can capture some beautiful moments in their garden as we did. Safe travels everyone! -Bao Nguyen & Min Min Khine
Bao
2017-04-04T00:00:00Z
This is a quiet and relaxing place with an added bonus of beautiful plants and flowers right outside your door. The owners will make your stay very comfortable and even have teas, coffee and oatmeal available.
Cynthia
2017-03-11T00:00:00Z
This is an amazing place to stay. The bed was very comfortable, very clean room, the grounds were beautiful. It was a warm week end and the cooling system is top notch. We were extremely comfortable and would love to come back. The privacy is great.
gary
2016-08-01T00:00:00Z
A home away from home for me these days. Always clean and comfortable for my business travels
Aaron
2016-08-25T00:00:00Z
Amazing place for business travelers that are tired of the hotel scene. Great hosts with an amazing clean place
Aaron
2016-07-02T00:00:00Z
I received a couple of emails before I arrived and an invitation to attend the local fireworks with Virginia and her husband. Once I arrived, Virginia showed me around to make me feel comfortable and told me where the grocery store was. There were beverages available, some complimentary and some for just a nominal charge. The studio was just as charming and comfy as the photos. There were lovely gardens and sitting area just outside the studio. Virginia and her husband were so gracious. I had the most wonderful time staying here for over a week.
Elaine
2016-07-12T00:00:00Z
This was a unique experience totally unacheivable in the hotel industry-- a space with all the comforts and the shopping/dining convenience of a Marriott but located in a rural setting with farm land views in all directions. The house and detached Airbnb residence are on a one acre lot and the gracious hosts were glad to discuss the history of the property and its environs. Highly recommended.
Hal
2016-11-26T00:00:00Z
Tipo di stanza
Intera casa/apt
---
Tipo di sistemazione
Villa
---
Può ospitare
2
---
Camere da letto
Morgan Hill, California, Stati Uniti
Queen size bed with views of the vineyard & hills. Complimentary bottle of our Estate wine. iPhone charging station with Bluetooth music speakers. Bathroom is across the hall . Claw tub bath with a handheld showerhead. 10 miles to the Gilroy Outlets. Close to downtown & 2 miles to the Soccer Center & Aquatics Complex. We're on 'The Wine trail' perfect place to enjoy the Passport Weekend & the Taste of Morgan Hill.
You have so many places to enjoy, the pool, outdoor fireplace, grass area, pergola under the grapes, tasting room, outdoor dining or by the in the rose garden. We are a working winery and offer a bottle of our wine upon arrival
We're in the country
Perfect weekend getaway Delyse's place was great with cool restaurants within a short drive to town. My wife and I enjoyed the spa after dinner.
Frank
2016-10-23T00:00:00Z
Delyse and John welcomed me to their home and gave me the grand tour! I've stayed in an old Villa in the vineyards of the Tuscany Region and I commend Delyse and John for doing a fantastic job in making their home feel extremely authentic! Much more comfortable... Both of them were extremely attentive to my needs, beyond my expectations. The neighborhood was very rural, quiet, and safe. I had the best two night's sleep that I had in a long time. Hmmm, maybe their great wine, cheese, and crackers helped!
David
2016-07-13T00:00:00Z
Delyse and her husband were incredibly warm and inviting. What a gift it was to be able to retreat on their beautiful property. The property and experience were far beyond our expectation, and we will certainly look forward to a future visit!
Angel
2016-07-28T00:00:00Z
Great location and beautiful home. Delyse and John were great hosts!
Adrienne
2016-08-09T00:00:00Z
Had a totally wonderful stay here! The room was lovely and very comfortable and the house and grounds were beautiful with a pool and jacuzzi and lots of areas to sit and relax around the vineyard, all with great views! Delyse and John are lovely hosts, very helpful and friendly and we loved sampling their very tasty homemade wine and port! Cute dogs as well!
Liz
2016-08-02T00:00:00Z
Great communication and made everything easy. Wonderful hospitality and beautiful place as described!
Jessica
2016-09-25T00:00:00Z
This was my first AirB&B. I was in the Morgan Hill area for a class reunion. Prior to booking, I checked several hotels. Upon learning that rates were unusually high with limited availability, I decided to give this a try (the listing as well as the AirB&B experience). I am truly pleased with the results. Delyse responded very quickly to my inquiry as well as the booking process. The arrival was a breeze. The accommodations, that included the run of the sprawling villa plus the expansive patio, is incredible...a real Tuscany feel set on a beautiful vineyard with winery. Delyse gave be a nice tour then left me to relax, enjoy, and "live the good life"! A perfect host and an absolutely memorable property. Everything was exceeded my greatest expectations. I will return here again in the future and recommend the place to friends and family. Absolutely perfect in everyway!
Brian
2016-09-18T00:00:00Z
Delyse and her husband were amazing hosts! They were extra accommodating and super sweet. Their home and property is absolutely gorgeous! Couldn't have been better. It was lovely.
Michaela
2016-07-17T00:00:00Z
Tipo di stanza
Stanza privata
---
Tipo di sistemazione
Villa
---
Può ospitare
2
---
Camere da letto
Morgan Hill, California, Stati Uniti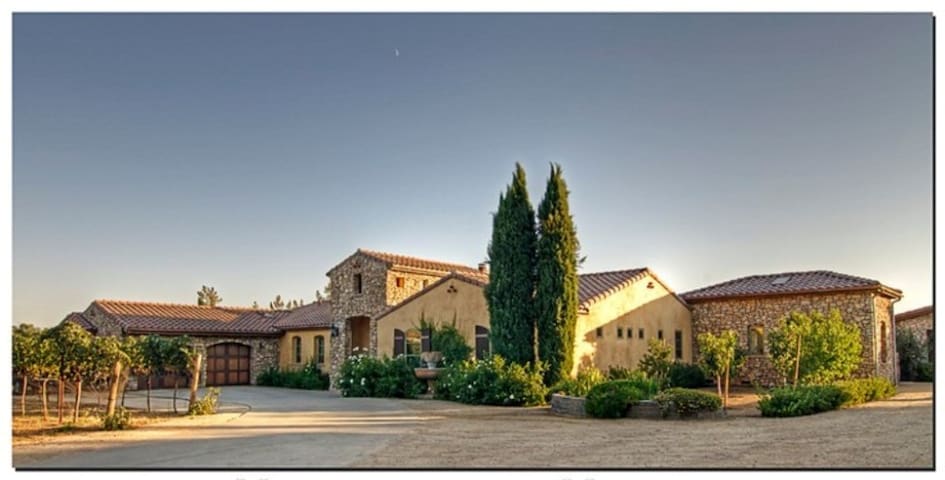 Private suite in the main house overlooking the vineyard & surrounding hills. Enjoy a complimentary bottle of our Estate wine while you watch the sunset; the perfect romantic setting with views of the vineyard towards El Toro mountain. After which can enjoy our outdoor fireplace. If you have the energy, our gym overlooks the pool with lots of equipment. We are on the 'Wine Trail' & within walking distance of 2 wineries'. Near downtown and CordeValle golf course
Perfect for a destination wedding ~ Parfait pour un mariage à destination -
Our property has phenomenal sunset views over looking the vineyard toward the mountains.
This working vineyard villa was above & beyond our expectations! The home and grounds provide an oasis inside the gates of the Morgan Hill area. The grounds were beautiful, well tended and prettier than pictured. Delyse & John are wonderful hosts who seemed to genuinely enjoy having guests on the property. We thoroughly enjoyed every minute we spent around the pool, at the fireplace, in the hot tub, at the bar, in the tasting room, etc. Their pets were great additions to the charm as well. We loved the wine and the stocked water/beverages - a treat all around. Thank You!
Teresa
2016-08-01T00:00:00Z
This property is, of course, absolutely beautiful. More importantly, the company of the homeowners, friends, and dogs alike were wonderful and engaging. Their home is grand and gorgeous, with amenities such as instant coffee, clean towels, and complimentary wine. Their music system extends outdoors to the pool, fire pit, and jacuzzi, creating a truly atmospheric experience under the stars and among the grapevines. The house is located near Main Street where you can choose between some great American, Japanese, Italian, BBQ, and Thai restaurants. If you are looking for a warm, stunning home with great people, I recommend Delyse's airbnb experience.
Kristy
2016-08-28T00:00:00Z
Delyse is thee most gracious and superb host. This property combined with Delyse's warmth and wonderfully laid back personality, provide an oasis in the California region. This is a working vineyard, and the Cabernet they produce is exceptional. We were pampered throughout our stay. Enjoyed every moment...
Ed
2016-08-19T00:00:00Z
We had a lovely weekend in Morgan Hill. Their place is gorgeous, nestled into their vineyard, it feels more Italy than California. You could make an entire weekend out of just relaxing by the pool. The hosts were a perfect combination of engaging and respectful of giving us private space. If you're looking for a gorgeous venue for a private dinner or event, let the know. We hope to return, even to just play with their doggies.
Jeff
2016-07-25T00:00:00Z
We had a great stay here! Delyse's husband, John, was a wonderful host - offering us tasty wine from their vineyard, friendly conversation, restaurant recommendations, and really going out of his way to make us feel welcome. The property is beautiful, well kept, large and feels secluded/relaxing, but is only minutes away from downtown Morgan Hill (which isn't large, but has decent options). We'll certainly recommend this place to friends, but make sure you know that the room is IN the house and another room could be occupied by other AirBnb guests. So, it may not be for everyone. Thanks again Delyse and John for having us!
Jordan
2016-11-13T00:00:00Z
It was a beautiful place. Everything was stunning and extremely clean. Delyse was kind and thoughtful. We loved that they had a little basket with croissants in it when we awoke. Thanks so much for the hospitality.
Jennifer
2016-10-22T00:00:00Z
I had a wonderful stay for 4 nights. Delyse's home is lovely and in a great part of Morgan Hill. My room was very nice and very clean with a private bath. The grounds of the house are beautiful--you feel like you are staying in a spa. Highly recommended and I would definitely return!
Charlotte
2016-07-11T00:00:00Z
Delude was such a great hostess! She was extremely welcoming and the home was amazing! We loved staying there and it was such a beautiful property to explore. Her pool had the perfect blend of sun and shade. I'm not a dog person but all her dogs were so cute and well behaved! She paid attention to the little details like taping a sports game we wanted to watch, packing up or left over food and bringing us out ice water in the heat. The location is perfect as it is a walkable to several wineries. I would highly recommend the place to any other guests!
Sandy
2016-06-06T00:00:00Z
Tipo di stanza
Stanza privata
---
Tipo di sistemazione
Villa
---
Può ospitare
2
---
Camere da letto
Morgan Hill, California, Stati Uniti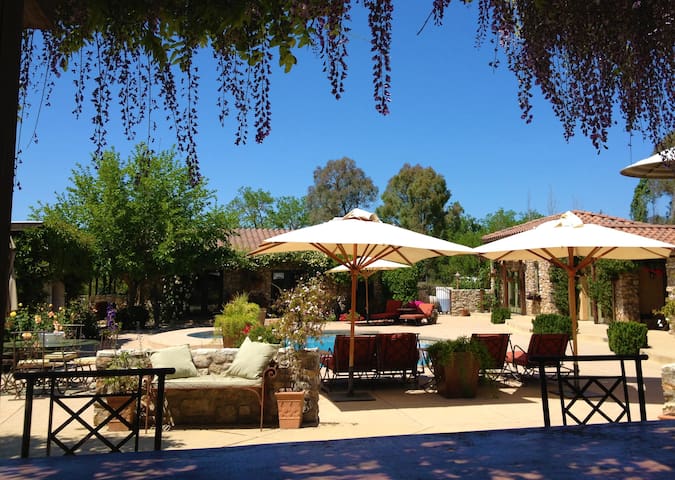 This expansive estate is the ideal location for your family or corporate super bowl weekend getaway! Enjoy sweeping views of the South Bay Wine Country. Only 35 minutes from Levi Stadium!! Optional catering for additional cost.
Tipo di stanza
Intera casa/apt
---
Tipo di sistemazione
Villa
---
Può ospitare
8
---
Camere da letto
Morgan Hill, California, Stati Uniti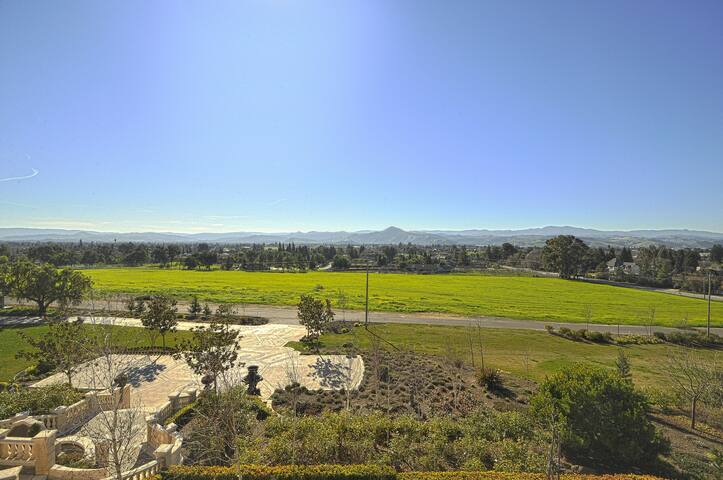 1

–

5

di

5 Ville in Affitto
Inserisci le date per visualizzare il prezzo totale. Ci sono dei costi aggiuntivi e potrebbero venire applicate alcune tasse.