Inserisci la data del check-in nel seguente formato dd-mm-aaaa
Inserisci la data del check-out nel seguente formato dd-mm-aaaa
Annunci che puoi prenotare senza aspettare l'approvazione dell'host.
3 bed & breakfast
· Newberry Springs
3 bed & breakfast
· Newberry Springs
Inserisci le date per visualizzare il prezzo totale. Ci sono dei costi aggiuntivi e potrebbero venire applicate alcune tasse.
Nei mesi di luglio e agosto puoi provare uno di questi 100 alloggi ad alto rendimento, per ogni fascia di prezzo, e vivere una visione locale di Sonoma. Prova il check-in continuato, la Prenotazione Immediata e vino e spuntini locali per rilassarti e godere al massimo del tuo viaggio.
Our Ranch is close to Big Bear, Barstow, Victorville and Hesperia...if you're traveling to Las Vegas take the Bear Valley exits, great views, restaurants and dining..... You'll enjoy the Serenity of our Ranch.... opened outdoors space, the neighborhood is Very quiet very little street traffic only 4 Homes on the Block.... Our Ranch is good for couples, solo adventurers, business travelers, family pleasure....
You will it enjoy the Serenity around the Ranch…the Surrounding Mountains views, Southern Breakfast…embracing the love from all of our Ranch animals…Sunsets in the Jacuzzi…Wine, Cheese and Crackers nightly, Bristo Garden seating area, Pool-side seating and Patio Seating area…with lots of wonderful views…come experience the Shalom... As our guest there plenty of parking, feel free to roam the Property meeting our friendly Ranch animals and walking through the Orchard …also available a Refrigerator and microwave for your need located in the garage area …. Angel and I will gladly welcome you also in making your stay here enjoyable and Peaceful…we both are involved in the Ministry of Spiritual Healing …and offer Prayers if you need them….
Our neighbors and neighborhood has only 4 Homes on the Block…and very quiet…. Bear Bear is located 30 mins from us…Barstow 45 mins and Las Vegas 2-3 Hours, Los Angels 2 Hours…Shopping and Dining 10-20 mins….also the Horseman Center Park less than 5 mins…. No TV's in the rooms…you will be so taken by the views …but we do have a TV in the Den Area….with plenty of Netflix …. WE SERVE BREAKFAST ONLY NO Lunch or Dinner...
Annette and Angel were absolutely lovely hosts, warm, friendly, accommodating. The place was in a beautiful serene ranch in the middle of the desert, perfect for relaxing away from the city. Annette greeted us with wine and cheese and served us a delicious southern cooking in the morning. I highly recommend staying at the Pear Tree Ranch if you're in the area!
Celine
September 2016
Beautiful people! Annette is a wonderful hostess and a fantastic cook. Their ranch is absolutely breathtaking in a way that it cannot be described unless you go see it for yourself! My friends and I felt very welcome and comfortable in their home. Our only wish was that we could have stayed longer! Definitely a family I'd to stay with again if I go back to the area. Lovely experience.
Julia
July 2016
Annette welcomed me on short notice into her home. I had a wonderful night's sleep and in the morning she made southern style breakfast. She even gave me a tour of her animals out back (horse, chickens, sheep, geese and dogs)! Her home is beautiful and she is a very kind woman.
Kayla Mae
September 2016
Tipo di stanza
Stanza privata
---
Tipo di alloggio
---
Può ospitare
2
---
Camere da letto
1
Apple Valley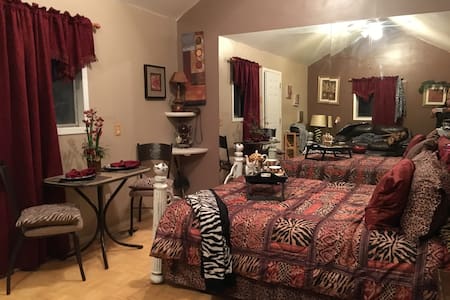 Full Luxury Accommodation's at The Casa Grande. (8) Suites in which to chose from $80 to $120 per night. Private Entrance, Private Patio, Custom Bathrooms, Big Screen TV's with over 200 Chanel's to choose from, plus YFI and Hard Wired Internet. King, Queen and Double Beds to choose from with Bamboo Sheets and Down Pillows for your comfort. Den, Kitchen, Dinning Room and Lounging Area can be used. One Load of Laundry per day. Plenty of Parking. 5 acres gated for privacy and much more. Come and enjoy a breath of Heaven, an Oasis in the Mojave Desert soon!
Each Suite has its own private outside patio to enjoy the evening or though out the day. All rooms are equipped with Big Screen TV's and access to the Internet either by Wifi of Hard Wire and has it's own private shower to enjoy. Each Suite has it's own separate entrance, but once you're into your suite, there is another access door that allows you to enjoy the Den with Big Screen TV and comfortable Lounge Chairs. Make yourself at home in the Kitchen if you feel like eating something or at the Dinning Room table or one of the many patios. Additional Lounge area next to the Dinningroom or around the pool. If you feel like walking there are (5) acres inside Casa Grande's gated area which to walk or run or take a hike on of our Desert Trails. If you wish to play Golf on the 27 hole Golf Coarse next to Casa Grande or go Boating on one of two Lakes just let us know and we will make sure to lead you in the right direction. A full Workout Room will be available in the Spring or sooner of 2017 as well as access to the Pool and the Jacuzzi. If you would like to sit around the Fire Pit at night and enjoy the stars you're welcome to do so. Because we do not allow smoking inside any of the premises, we have made it convenient to go outside on a couple of patios and light up. A nice cold Beer or a glass of Wine is always good to settle the nerves. Feel free as long as you don't get carried away.
Tipo di stanza
Stanza privata
---
Tipo di alloggio
---
Può ospitare
16
---
Camere da letto
1
Helendale
WATCH THE VIDEO https://www.youtube.com/watch?v=ucawxz-K_Zk&feature=youtu.be Our Presidential Suite is for those who desire the best of everything but appreciate the classic atmosphere and rustic elegance of Southern California's mountains. Go ahead and indulge yourself!
Step into Gold Mountain Manor and be instantly transported back in time. You will easily feel a sense tranquility and know that the stay of your dreams is just beginning as Betsy warmly greets you. She'll make you feel like family from the moment she greets you. You'll arrive to the sweet aroma of Betsy's signature home-baked chocolate chip cookies. Don't forget to refresh yourself with a glass of sweet ice tea or fresh mint lemonade and your vacation has officially started. ABOUT THE PRESIDENTIAL SUITE Go ahead and indulge yourself! Our Presidential Suite is for those who desire the best of everything but appreciate the classic atmosphere and rustic elegance of Southern California's mountains. A spectacular river rock fireplace is the focus of the suite – embedded with 20 million year old fossils and artifacts from Big Bear's mining days. Soak in in the two-person river rock surround Jacuzzi and feel the pull between staring into the fire's dancing flames or your loved ones eyes. Retire to the suite's massive grand four-poster queen sized pine bed made cozy by tongue and groove walls and ceiling and within view of the fireplace. Since this was the original chauffeur's quarters it has its own stairs that lead up from the wrap-around porch. Like the chauffeur did, you can use this as your own private exit onto the veranda and into the gardens. KIND WORDS FROM A GUEST "This was our first stay at Gold Mountain Manor and it was the most perfect start to a wonderful new year! The Presidential Suite with its luxurious tub was enjoyed by all!! We thought we had gone to heaven soaking in the milk bath but realized the next morning at breakfast that was heaven!! Our kids cleaned their plates! Thank you! We love it here!" —The Lekawa Family Want to know anything about a hiking trail? Just ask. Betsy has hiked most every trail in Big Bear. Do you have the urge to kayak? Betsy can steer you to the best areas of beautiful Big Bear Lake. As an experienced kayaker she might just join you on an early morning or full moon paddle. She'll have you paddling the entire lake before you're ready for a second helping of cookies. She also has the best tips for biking, boating, fishing or off-roading. Come to the Manor in the winter and learn about the best places to snow shoe, ski, snowboard or to go sledding with the kids, big or little. There's always a warm fireplace waiting for you back at the Manor.
Big Bear is a great place for a romantic escape, to celebrate an anniversary or even for a wedding. Betsy knows how to put the finishing touches on a romantic getaway or a fun-filled weekend wedding celebration. Having coordinated hundreds of wedding at Gold Mountain Manor, you can leave the details to us. Watch a sunrise or sunset and take spectacular photos as you walk just a ½ block up the road into the San Bernardino National Forest. Betsy can also set you up for a romantic picnic near the lake. Just ask! Iconic adventures begin at Gold Mountain Manor. This Big Bear bed and breakfast is the ideal base camp for all your adventures. The Manor is located on the quieter side of Big Bear Lake – The North Shore – just minutes from the hustle and bustle of the South Shore and walking distance to the National Forest. In fact, you can walk out the Manor's front door to climb Gold Mountain, access the Pacific Crest Trail, try your moves on nearby boulders, challenge yourself to locate a geocache, or discover Serrano Indian grinding rocks and an old, willow sweat lodge. The Manor is minutes from off-road routes leading into Holcomb Valley or finding the perfect lure to keep the fish biting off Juniper Point. We are the perfect base for self-propelled exploration or a guided tour. Check out our list of activities, or dive a little deeper and plan your stay with our suggested itineraries. Ever been kissed by a wolf? There's a first time for everything. Have Betsy set up an appointment at Wolf Mountain Sanctuary, to meet the rescued wolves. Intelligent and beautiful, they will find a place in your heart. It's just 20 minutes away by car. There are just so many things to do. Get a massage. No need to leave your room. Betsy will set up an in-room session. Experience a personal Reiki session in the forest. Enjoy a great dinner at one of Big Bear's inviting restaurants. Go dancing or hear live jazz –right in the heart of Big Bear. As a foodie herself, Betsy might just prepare one of her own signature dishes for you to try. At breakfast, be prepared to be "wowed" and a little overstuffed. You might want to take that hike in the forest after your meal.
We had an excellent stay at the gold mountain manor. The presidential sweet was very romantic, quite, and cozy. The jacuzzi tub was awesome... The price was great for a 4th of July weekend. What we loved was that we ate breakfast with other couples, and after a few mornings we had some great conversations, with new friends. I would highly recommend staying for a few nights. We did get a view of the Ted duecey sweet, and we will definitely be staying in that the next time. Thanks Betsy:)
John
July 2016
We've been to Big Bear numerous times and staying here was our favorite of all! I was instantly impressed from the moment I booked the suite. Shortly after receiving the confirmation, Betsy (our incredible host) text me to find out when we'd be arriving and if there was anything she could do to make our stay as comfortable and relaxing as possible. Having someone ready and willing to take care of you and genuinely curious about how to make your stay the best it can be is not to be taken for granted...she defines the word "hospitality". The grounds of the bed and breakfast were very well kept. I can understand why there are so many weddings that have taken place there. The lawn was made for entertaining and within a 2 minute walk are some trails for hiking through the forest. The entire house was clean and cozy with common areas perfect for conversation and other areas with lots of fun options (like movies and a pool table). We stayed in the Presidential Suite and it was AWESOME! It was very spacious and comfortable. The jacuzzi by the fireplace was the best (URL HIDDEN) comfortably fits two. The towel warmer was just one of many unique touches that made the stay that much better. The bedding was cozy and warm. Let me rave about Betsy, the hostess with the mostest! She's very warm and welcoming and made sure to provide us with a pleasant and incomparable experience. She even left us some freshly made chocolate chip cookies to enjoy for an evening sweet treat (hope I didn't just reveal one of her signature surprises for guests). :) My girlfriend has a gluten intolerance and Betsy made sure to provide delicious breakfast options for her and let me tell ya...Betsy gets down in the kitchen! She provided a big variety of food and we definitely left the table feeling well fed and taken care of. Overall, our stay was perfect. I highly recommend booking here for all your stays in Big Bear.
Matthew
May 2016
​The Presidential suite was a wonderful romantic getaway for our mini honeymoon post-wedding. The manor was clean, comfortable and had the rustic charm that made us feel right at home. Betsy was a very accommodating host and we woke up to lovely breakfasts and conversations with the other couples staying at the manor. Would love to stay in all the rooms some day! We look forward to a repeat visit.
Stefan
October 2016
Tipo di stanza
Stanza privata
---
Tipo di alloggio
---
Può ospitare
2
---
Camere da letto
1
Big Bear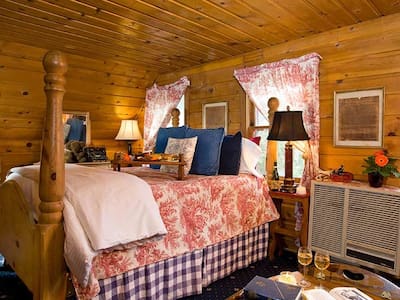 1

–

3

di

3 bed & breakfast