Dieses helle Cottage verfügt über ein Bad mit Badewanne, Internetanschluss (WLAN), Wohn- und Schlafbereich und einen Balkon mit Blick in den Garten.
Machen Sie Ihre echte Hawaii erleben weg von den Touristenmassen und finden Sie Frieden, Ruhe und insgesamt von einem üppigen tropischen Garten umgeben Privatsphäre. Versteckt von der geschäftigen Hektik, unsere 1,4-Morgen-Eigenschaft im Bezirk Ka'u, auf der Insel Hawai'i (Big Island), bietet das perfekte Refugium für Ihren Urlaub Abenteuer. Die Hütte befindet sich 3/4 Meile entfernt von der Hauptstraße, so bietet Privatsphäre und Abgeschiedenheit für Ihr Urlaubsparadies. Cottage Hale Huna (versteckte home) verfügt über ein Bad mit Badewanne, eine Dusche im Freien, Wohn- und Schlafbereich, Highspeed-Internetzugang und eine Veranda mit Blick auf den Garten. Wake up, um den schönen Gesang der Vögel und starten Sie Ihren perfekten Tag mit einem reichhaltigen Bio-Frühstück mit frisch gepflückten Früchten und hausgemachtem Brot auf Ihrem privaten Deck. Genießen Sie einsame Wanderwege in der Umgebung, Erfahrung Küste Wandern Vergangenheit Ka'alu'alu Bucht und Green Sand Beach, oder Vulkankrater und tropischen Regenwald. Wir sind ideal gelegen zwischen Hilo und Kona, auf den letzten 80 Meilen von unbebauten Küste im US-Bundesstaat Hawaii. Es ist 15 Minuten zum South Point, 5 Minuten vom südlichen Eingang des Volcano National Park (Kahuku), 40 Minuten zum Haupteingang und 20 Minuten von der berühmten Punalu'u Black Sand Beach, wo die Hawaii-grünen Meeresschildkröten zu sehen ist aalen auf dem Sand. Nehmen Sie an kostenlose Schnorchelausrüstung, einem Boogieboard und Kühler für einen tollen Tag am Strand. Bis bald! Wenn Sie den echten Geschmack von Big Island erleben wollen, ist dies der richtige Ort! Es wird empfohlen, einen Jeep oder SUV zu mieten, da viele Straßen auf der Big Island ungepflasterten sind (wie die letzte 3/4 Meile zum Haus ist) und Mauna Kea ist nur für 4-Wheel Drive zugegriffen werden. Bitte beachten Sie: Das Hawaii State Tax von 13,42% bei der Ankunft fällig und kann in bar oder US $ persönlichen Scheck bezahlt werden.
Schon Mark Twain war von Waiohinu so verzaubert, dass er hier 1866 einen Monkeypodbaum pflanzte, dessen Ableger zu einem stattlichen Baum gewachsen ist. Ka Lae ist der suedlichste Punkt der hawaiianischen Inseln und vermutlich der Ort, an dem die ersten Polinesier an Land gekommen sind. Bisher gilt die Suedspitze noch als Geheimtipp. Hier gibt es sowohl die schoensten Sonnenaufgaenge, als auch atemberaubende Sonnenuntergaenge zu sehen. Die Suedkueste ist die letzte unbebaute Kueste Hawai'is. Man kann taeglich beobachten, wie Hawaiianer ihre Fische fangen oder mit der ganzen Familie ihr Wochenende hier verbringen. Morgens kann man meist ganz alleine an einem der schoensten Straende (Papakolea) in die Wellen springen oder die Wasserschildkroeten beim Schwimmen beobachten. Auch die hawaiianische Robbe ist hier manchmal zu sehen. Am Punalu'u Strand waermen sich taeglich grosse Wasserschildkroeten in der Sonne. Wer gerne wandert, kann direkt von seinem Cottage aus eine Tageswanderung durch die Natur an einsame Buchten unternehmen, oder an den Wochenenden den neuen Suedteil des Vulkanparks erkunden. Auf dem Weg zum 40 Minuten entfernten Haupteingang des Vulkanparks befindet sich ein Buddhistischer Tempel, in dem seine Heiligkeit der Dalai Lama bereits mehrfach gewohnt und unterrichtet hat. Im Vulkanpark wohnt Pele, die Goettin des Feuers. Beobachten Sie gefahrenlos ihr Treiben und fuehlen Sie sich wie auf einem anderen Planeten.
The cottage was gorgeous and immaculately clean. Iris did a great job of giving us directions, welcoming us, and telling us about her home. the grounds around the cottage were really beautiful. We really enjoyed our time here and wish we would have stayed longer! The breakfast she brought us in the morning was really great with eggs, fresh fruit, jam, honey and the lemongrass tea was really great. Great host and wonderful spot to access south point, volcano park, and green sand beach.
Jen
2015-11-07T00:00:00Z
They made us feel very welcome and were friendly and hospitable.
Don
2016-07-18T00:00:00Z
I LOVE this place! Iris did a great job of welcoming us and introducing her little secret haven. The room was very clean and comfortable. Iris provided very delicious homemade breakfast:) We had breakfast with some cute Geckos. Definitely recommend this cottage!!
YT
2015-03-27T00:00:00Z
We had been traveling around the big island and the cottage was a perfect way to spend our last night there. A short drive to south point for the sunset and a beautiful breakfast in the morning. No light pollution, just clear skies and the sounds of the Hawaiian night.
David
2015-06-01T00:00:00Z
Iris was an excellent host during our stay at the beautiful Hale Huna. We received some great valuable information around the area as well. It was such a pleasure staying at the cottage and meeting Iris.
Rosie
2015-06-10T00:00:00Z
We had a wonderful time! We enjoyed staying at the Hale Huna. Iris was very helpful in places to visit, and explaining all the plants around the cottage. She had lovely stories to tell us about the different beaches and sites to see and wanted to hear about our adventures. The breakfasts were so yummy! The fresh was fruit was delicious and the homemade bread so good we are still talking about it! We can't wait to our return visit!
Lee and Sunshine
2015-02-13T00:00:00Z
Pete & Sara are awesome folks. My husband and I had a wonderful time at the cottage. The place was clean and homey. Pete pineapple pancake breakfast was spectacular. We looks forward to coming back again. =D
Eliana
2017-03-26T00:00:00Z
We only spent a night but felt very welcomed from the start. Iris' cottage is surrounded by a beautiful garden, the place is clean and cozy, the breakfast delicious. We enjoyed our stay alot.
Jan
2015-05-30T00:00:00Z
Tipo di stanza
Intera casa/apt
---
Tipo di sistemazione
Bed & Breakfast
---
Può ospitare
2
---
Camere da letto
Naalehu, Hawaii, Stati Uniti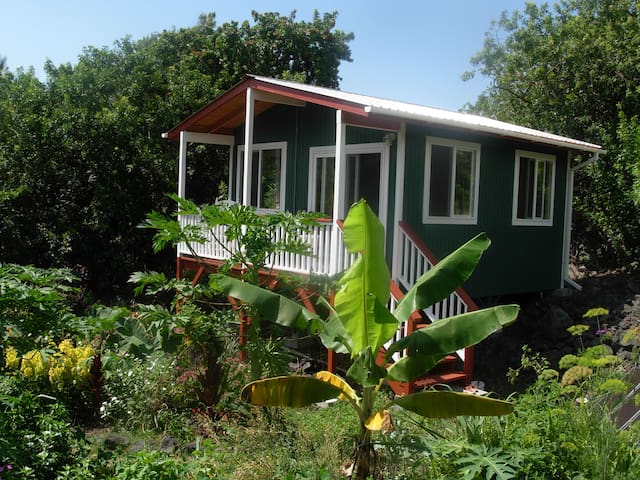 Godetevi il risveglio di vista sull'oceano, nel proprio studio privato completo di cucina e bagno di grandi dimensioni. Gli escursionisti paradiso con sabbie verdi, vulcano e sentieri Point South vicinanze! Prendete un disco breve per la maggior parte del sud degli Stati Uniti, godere di una vista mozzafiato lungo la strada.
Godetevi la vostra cucina, bagno, portico e spazio di vita circondata da paesaggi rigogliosi e piante tropicali. Il portico è circondata da un cortile erboso con vista a 180 deg mare e montagna. Ci sono due cani e un gatto sulla proprietà. Essi sono molto amichevoli e possono saluto di tanto in tanto. Vi è un ulteriore spazio con letto matrimoniale a disposizione per le famiglie estese o multiple ospiti, se necessario. Questo spazio è separata dallo studio e accessibile dalla cucina. Ottimo luogo di soggiorno e esplorare l'isola! Con il Parco Nazionale del vulcano, verdi Sands, Black Sands "Punalu'u" e South Point vicinanze. posto molto tranquillo per tornare a casa dopo lunghe escursioni e giornate di esplorare.
La prima colazione è inclusa nel vostro soggiorno. Probabilmente una papaia Puna, Punaluu pane panetteria con fatta in casa Lilikoi o frutto della passione gelatina e una tazza di vincita del premio Ka'u caffè. Si può godere sul vostro veranda privata. Lo studio è stato recentemente ristrutturato con moquette, vernici, piastrelle e pavimenti in granito. Viene fornito completo di lenzuola, asciugamani, sapone per le mani, piatti, tazze e utensili. La cucina ha un grande frigorifero, piano cottura, forno, forno a microonde, tostapane e macchina per il caffè. La lavatrice e asciugatrice è una porta lontano dalla cucina e una piccola biblioteca con la maggior parte di arte e dell'isola libri da esplorare. Vi è anche un barbecue da utilizzare.
Linda and Paul were wonderful hosts. I spoke to them a few days prior to arriving with my 15 year old daughter and husband. They always answered any and all questions or concerns we had. They were particularly informative when we were concerned about a possible hurricane on the island. They both let us know that hurricanes usually turn into tropical depressions by the time they get close to the island. We only had one day of rain while there for a week!! Mahalo kea kua! The studio itself is in a very quiet and beautiful neighborhood. No coqui, like on other parts of the island! Everything was clean and very well stocked. We made coffee almost every morning before heading out for our daily adventures. We really enjoyed our chats with Linda. Mahalo Linda and Paul for everything!
Jenny
2015-08-18T00:00:00Z
숙소가 정말 아늑하고 좋았습니다. 과일도 맛있었었고 세심하게 신경 쓰신 것 같았습니다. 와이파이는 잘 안잡혔어요.
동래
2016-09-08T00:00:00Z
My boyfriend and I stayed here on our way back to Kona from Hilo. It's such a cute little spot! The studio is tucked away in a beautiful garden, which was a nice treat after a long day of driving. We ordered take out from the local Thai restaurant and enjoyed dinner on the cozy patio. Although we don't typically watch TV while on vacation, it was nice to be able to unwind and watch a movie from Linda's collection. We didn't stay too long before heading out, but Linda was extremely friendly and I would recommend staying in her studio if you're in the area!
Michelle
2016-05-31T00:00:00Z
Linda was a great host! She was very friendly and made sure we had everything we needed. The studio was clean and inviting with many little details accounted for, such as fresh fruits, bread, and snacks stocked in the kitchen, toiletries, books, movies, guide books for ideas of what to see in Hawaii--everything you could think of. It is a beautiful secluded location with great proximity to the green and black sand beaches, as well as Volcanoes National Park.
Haley
2016-09-02T00:00:00Z
Linda welcomed us very warmly. She was very attentive to us in order that we had everything. We never had so many good fruits for breakfast all organic and from the garden! We had very nice days in the flat and the garden!
andrea
2015-10-16T00:00:00Z
Just spend an amazing time in Paul's studio. The place is amazing: cosy, charming and extremely clean! But most of all, Jane is an amazing host! She welcomes us warmly and we directly felt at home! She had so much food and snacks ready for us! the only thing we regret is spending only 1 night there! Jane : thanks again for the homemade jelly, it's beyond delicious! We will definitely come again!
Nathalie
2014-07-23T00:00:00Z
Great secluded spot in Naalehu for exploring this part of Hawaii.
Drew
2017-01-09T00:00:00Z
The private apartment is incredibly cute and comfortable. It has its own fully functional kitchen and is exceptionally welcoming. Linda, our host, displayed all the warmth and hospitality you could ask for. She gave us a tour, then left us on our own to enjoy our little paradise. She even left us the most perfect papaya ever. It is about as close to green sand beach as you can get, 20 minutes from south point, 20 minutes from the black sand beach and 40 minutes from Volcano. Be sure and and call before you arrive because the grass driveway is easy to miss. Overall a fabulous experience.
Lachlan
2014-10-28T00:00:00Z
Tipo di stanza
Intera casa/apt
---
Tipo di sistemazione
Bed & Breakfast
---
Può ospitare
4
---
Camere da letto
Naalehu, Hawaii, Stati Uniti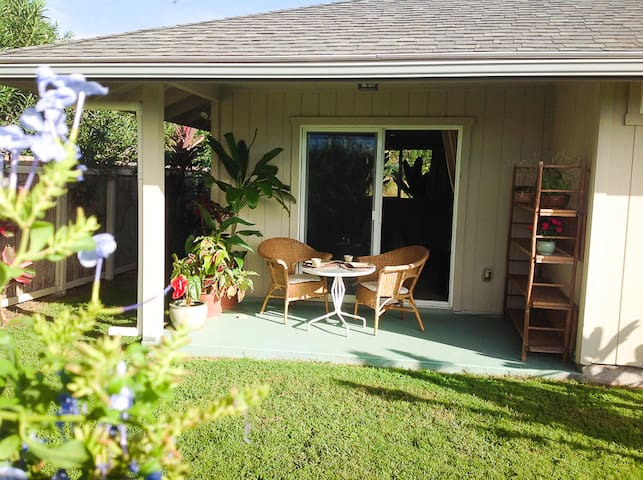 Your breakfast will be designed around any food allergies and preferences. I specifically bake gluten, dairy free and some vegan. The price listed includes state and local taxes of 13.25%.
Your breakfast will be designed around any food allergies and preferences. I specifically bake gluten, dairy free and some vegan. Our house is set back from the street via a long cement driveway which gives you easy access. We are at the edge of an Ohia forest, which helps make this a very peaceful area. You have access to a microwave, toaster, coffee pot, refrigerator, washer, and dryer. We are available to suggest any activities that you may be interested in doing. Our neighborhood is fairly quiet. Houses are very spaced apart. We can only see one complete house from our house. You will need to rent a car so you can visit many of our wonderful attractions. The state tax of 13.25% is included in the price.
Our neighborhood is fairly quiet. Houses are very spaced apart. We can only see one complete house from our house.
We loved at the Glutenfree House. Perfect location if you have a rental car and want to explore the island. Sandy and Andy were very friendly and helpful with a lot of advice. Better than staying in a hotel. It is only an hour from the active volcano which was our main goal. The place suited a family of 4 perfect. Thank you Sandy and Andy. Hope we see you again.
Thomas
2015-02-05T00:00:00Z
Sandra and her husband, Andy, were friendly and welcoming. Making arrangements with Sandra was very easy and she was kind enough to give us recommendations for places to eat on our way down from the Kona airport. Sandra cooks a wholesome, plentiful breakfast with a rich variety of fruits and hot entrees. We were at Gluten Free house three nights and found the spacious room very comfortable with king size bed and bunks more than adequate for our needs. The bedding and bath linens were soft and clean, and furnishings were just lovely. It was a real treat to be able to stay in such beautiful surroundings on the peaceful, southern shore of the Big Island with such kind and gracious hosts. Thank you, Sandra and Andy for being so welcoming. We'd love to come back again. Happy New Year.
Jenny
2015-01-06T00:00:00Z
I became ill on the big island having asthma . I believe the Vog in Kona and the heat those 2 days prior to my scheduled time at The Gluten Free House ,did me in. I had to call Sandra that I would not be coming to stay for 3 nights . Also that I was trying to get the next plane off the big island. She was understanding and said she will refund most of my money. I was looking forward to staying there and especially her gluten free bkft. Hope to return for a stay , as that was one part of the BI , that I really wanted to see. Thank you for understanding, Linda
Linda
2014-10-13T00:00:00Z
We had a wonderful experience at Sandra's. The location was easy to find and the neighborhood was convenient. Sandra's breakfast was great! We had all different breakfast for four days and they are all delicious! The room was clean and larger than it looked in the pictures. We had great experience at Sandra's place. Thank you very much!
Luxiaofei
2016-01-01T00:00:00Z
Tipo di stanza
Stanza privata
---
Tipo di sistemazione
Bed & Breakfast
---
Può ospitare
4
---
Camere da letto
Ocean View, Hawaii, Stati Uniti
On south end Big Island of Hawaii. Stay near Green Sand Beach, Southern most point of the USA, Black Sand Beach, Kula Kai Caverns, Hawaii Volcanoes National Park and its new Kahuku Section, and more. Volcanic rock house with free breakfast, wifi, and parking. Renowned B&B: TripAdvisor Awards of Excellence 2014/2015, (URL HIDDEN) Eco-Friendly B&B Award 2015, and 2013 New York Magazine recommended 1 of 5 best places for island honeymoon road trip. See Leilani(URL HIDDEN)
Besides having access to your room, you may relax in our 900 sq' lanai, which is completely screen in and has a small fish pond. There are ample tables and chairs to read, play games, or use your devices comfortably.
Leilani B&B is out in the country - where all national parks and beaches are. Within a 30 minute drive is the HI Volcanoes National Park, the new Kahuku section of that park, Green Sand Beach, Black Sand Beach, Kula Kai Caverns, and in the other direction, more beaches and City of Refuge National Park is not much further. There are a few local restaurants and grocery stores, as well as gas stations within two blocks.
Lynn' s place is a great stay! It's very clean en the host Lynn is very kind. The breakfast is More than we NEEDED but just great! Fantastic fruit, cereals and coffee! Just Go there
Sandra
2017-01-14T00:00:00Z
A wonderful stay in a great location ! Lynn is very kindly. We spécially appreciated the breakfast with delicious fresh fruits and very good local coffee. A beautiful and quiet setting made with volcanic stones. We highly recommend Lynn's place !
Christophe
2016-10-31T00:00:00Z
Accueil correct. Petit déjeuner copieux.
viviane
2017-02-14T00:00:00Z
Great bed and breakfast. Clean, comfortable, beautiful.and friendly. A must stay!
Michael
2017-02-12T00:00:00Z
Une halte agréable et judicieuse sur le chemin du parc des volcans, permettant une visite matinale. Le BNB est bien agencé autour d un patio couvert central, confortable, d' une propreté exemplaire et Lynn ( qui parle un peu le français ), très sympathique, le gère de façon très professionnelle. Jolie salle de bain et petit déjeuner savoureux et copieux.
jean michel
2016-08-25T00:00:00Z
It was a very nice place to stay. Tranquil area. Great place to stay and see the south point and green sands beach. Get a 4x4 if you want to have fun.
ed
2017-04-02T00:00:00Z
Lynn was a nice host. She talked us through the details of the property. It locates in a small town near some famous sites like South point, black sand beach and green sand beach, which saves you a lot of time for commuting. The room was clean and comfortable. Lynn also provided delicious breakfast for us. Highly Recommended!
yuyi
2015-12-20T00:00:00Z
Lynn's B&B was a great place to stay. I would highly recommend this location. It was perfect location for the south side of the island. She was also so accomodating for us. We had to arrive late and leave early and she made sure that everything was set for us. She even left out some breakfast for us so we could leave before breakfast is usually available. She was quick to respond with email. This was a perfect place to stay.
Daniel
2017-02-19T00:00:00Z
Tipo di stanza
Stanza privata
---
Tipo di sistemazione
Bed & Breakfast
---
Può ospitare
2
---
Camere da letto
Ocean View, Hawaii, Stati Uniti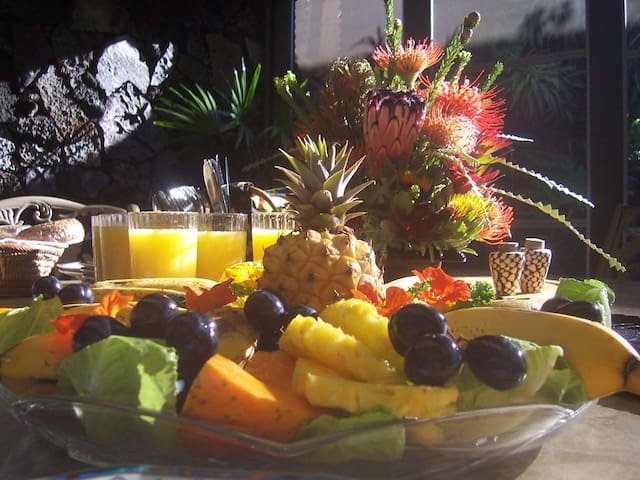 1

–

4

di

4 bed & breakfast
Inserisci le date per visualizzare il prezzo totale. Ci sono dei costi aggiuntivi e potrebbero venire applicate alcune tasse.