The Fernleecove cabin views its own private cove. Surrounded in a park like area, this 1 bedrm home is accessed in sheltered waters by a 15min boat ride or a 5k paddle from Deep Cove (The Watertaxi fee is extra & is charged outside of the Airbnb transaction, it is to be paid before departing from Deep Cove)
Fernleecove is a boat or paddle access cabin only, no roads connect to it from town--meaning you'll need water transportaion to the cabin. I offer a round trip pickup and dropoff to get you to and from the cabin for $80 CDN cash total or $60 USD cash total. This includes everyone in your party for the same, one time price. Let me know If you need or don't need water transportation upon booking. The water taxi fee is to be paid before departing from Deep Cove. Generally guests remain at the cabin for their booking and unless you have your own water transportation, so it's necessary to bring all food needed for the duration of your stay. There are rock and wood steps leading up from the dock to the 500 sqft cabin. In the main area of cabin is the kitchen, living room with a couch, table and fireplace. Attached to this space is a small storage closet, a bathroom and a small bedroom that sleeps two comfortably. There are electric baseboards throughout for it's primary heating so it's easy keep warm in the winter. The cabin is limited to two extra guests. This is mainly because of septic field limitations. Two single foam beds can be supplied on request. For guests staying in JUNE to OCTOBER check in time is 3:30pm and check out time is 10:00am. Up till then I can be flexible with check in and out times if there are no same day bookings.
Fernleecove's location is great because it is close to Vancouver and yet still relatively remote in an quiet, forested inlet north of the city. This cabin is one of two properties in the immediate area, both have access to their own beaches, private docks and their own privacy.
James' cabin has an out of this world location. It's secluded, private and has all the amenities that you would need if you wanted to go off the grid for a few days. We were traveling with our 2 year old daughter and were planning to do a lot of cooking at the cabin for the 2 days we had planned to stay. We had a lot of questions for James and was patient enough to answer all our questions. The cabin is well stocked with everything you needed to cook apart from what was listed as amenities and facilities. Spices, utensils, bedding, and indoor games...the attention to detail was very obvious and mind blowing. During our stay, we regularly went out hiking in the mountains and it was great. The hike strenuous but again, you don't have to kill yourself if you don't want to. The viewsof the bay from the cabin and from the dock are beautiful. We spent a lot of time there just lounging in the afternoons and evenings. This place is highly recommended for nature lovers and also for anyone who wants to get away from it all for some peace and quiet. Ali
Ali
2016-05-10T00:00:00Z
My boyfriend and I spent two nights at the cabin. James, our host, was very friendly, helpful and hospitable. He gave us a ride to and from the cabin on his boat, and gave us pointers on what there is to do around the cabin, as well as where to find everything we needed. The cabin is situated in a private cove, and we had access to kayaks, a row boat and a crab trap. We had such a great time and can't wait til we have a chance to return. Thanks for everything, James!
Erica
2015-07-13T00:00:00Z
It's a amazing place! We spent two days over there, we have so much fun over there. James is super nice, we just asked how to light the fire place, and he come to the resort to make the fire on!we must come back!
Ken
2016-09-30T00:00:00Z
The cabin was amazing and the hosting was great. James was very accommodating, and the cabin was equipped with everything needed.
Randy
2015-02-04T00:00:00Z
Words alone can't do justice to this place. From watching the sun rise over the lake from the cabin's dock to hiking through the woods, or even kayaking/rowing through the inlet alongside seals and eagles, I can't think of a single thing that would have made this cabin experience better. Our stay at Fernleecove was that perfect! All the amenities we needed were thought of and provided and James' hospitality puts him in league with some of Airbnb's all-time best hosts. Part of me wants to keep this place a secret because it was so good, but you should know that if you choose this Airbnb you will NOT be disappointed.
Giselle
2017-01-16T00:00:00Z
This is a perfect private getaway spot in an idyllic natural setting close to the city. The cabin was perfectly equipped with everything we needed to be comfortable indoors plus kayaks, life jackets, a rowboat and a hiking map to keep us entertained outdoors. We hiked up to Cascade Rock (a 45-60 min journey from the cabin for us) to enjoy awesome views similar to those at nearby Quarry Rock. James was a terrific host and great at answering our questions. Most highly recommended.
Karin
2015-07-19T00:00:00Z
Absolutely stunning location, a little piece of paradise away from the hustle and bustle of the city. A lovely down to earth log cabin with the most amazing outdoor playground
Georgie
2016-06-30T00:00:00Z
Perfect secret getaway !! It was a cozy cottage, the pictures don't do it justice. You have to come and see it for yourself. James was very accommodating host and we had everything we needed. Would definitely come back again.
Tracy
2016-05-07T00:00:00Z
Tipo di stanza
Intera casa/apt
---
Tipo di sistemazione
Chalet
---
Può ospitare
4
---
Camere da letto
North Vancouver, British Columbia, Canada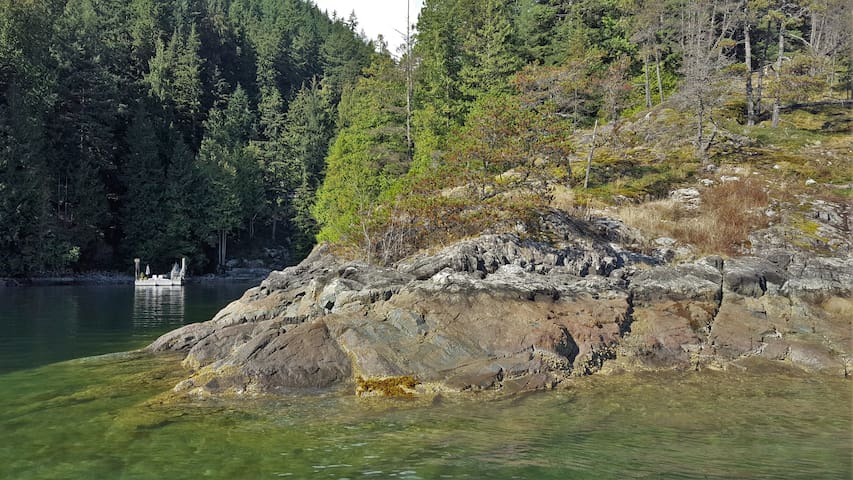 West Coast vacation style Water-Front home. Custom built, 7 years new, luxury in the middle of BC wilderness. Features incl. Steam shower, outdoor fireplace, built in BBQ, hot tub and a private dock thats only 50 feet from the french doors which open up into the living room, dining room and gourmet kitchen. 35 minute drive from downtown Vancouver. Family- friendly. Close to golf courses, ski resorts, hiking trails and secret waterfalls, kayaking, so much outdoor activities, at your finger tips!
The Backyard literally backs onto the water! We have a patio equipped with an outdoor fireplace and built in BBQ, hot tub and lots of seating and lounging areas for entertaining and a dock thats only 50 feet from the french doors which open up into the living room, dining room and gourmet kitchen. The master bedroom has mountain and water views, king size bed with it's own private balcony as well as a 5 piece en-suite with steam shower. The 2nd bedroom also as an en-suite bathroom. Kitchen is equipped high end appliances, gas range, oven, wine fridge, etc.
The airbnb is Short 15-20 min drive to shops and grocery stores, bakeries, coffee shops, liquor stores, banks, etc. Near by Deep Cove is a quaint little town, be sure to check out Gallant Avenue, where galleries and a local theatre vie for attention alongside unique boutiques and bistros. Mt. Seymour is just at the back of house, but drive to the top of the mountain takes 20 mins. In addition there lots of other other mountains in north Vancouver for hiking & mountain biking and water sports in the summers and skiing/snowboarding, snowshoe trails in the winters. Recommended nearby hikes: Dog Mountain- (5k round trip) offer the best-hike-to-view ratio in the Lower Mainland. It's an easy hike that takes about 1-2 hours roundtrip. The trailhead begins just past the Bear's Paw lodge at the far end of the Mount Seymour parking lot. In the summer, the Dog Mountain bluffs and the other ridgelines higher up in Mount Seymour Provincial Park are an excellent place to watch meteor showers and observe the northern lights. It is also a favourite evening hike to catch the sun setting over Vancouver. If you are new to Vancouver hiking, you will learn that anytime of the year, catching the sun setting over Vancouver from Dog Mountain is a cherished habit for many locals. Quarry Rock hike (4K round trip) - This wonderful trail crosses numerous creek bridges to get to the impressive lookout with views of Deep Cove and Indian Arm far below. Sunrise offers beautiful views. Mount Seymour - (8k roundtrip) is a 5-hour hike from the Mount Seymour Ski Resort parking lot. The trail follows the edge of Mount Seymour's ski runs and then you climb the three "pumps", which are large dome-like mountaintops. The third "pump" is the summit of Mount Seymour. The views of Vancouver and the Lower Mainland on the way down will take your breath away. For Golfers there are 2 nearby golf courses: Northlands golf course & Seymour Golf and country club. Things to Do in Deep Cove The Deep Cove Canoe and Kayak Centre offers a range of options from straight-up kayak rentals, to lessons and guided day and weekend paddles. Ocean kayaks, canoes and surf skis can be rented are hourly, daily and multi-day. Paddling Indian Arm offers a unique opportunity to view the mountains and native wildlife from sea level. Knowledgeable guides can interpret the local history and reveal the natural beauty of Canada's southernmost fjord. No visit to Deep Cove is complete without a stop at Honey Doughnuts & Goodies, a popular spot for locals and visitors alike. You must try one of the delicious honey doughnuts. Breakfast, lunch, dinner or a snack, there are plenty of food options in Deep Cove. Deep Cove Pizza, Japanese restaurants, fish & chips, Greek food, ice cream and Bluhouse Market & Cafe. The new Cafe Orso is a great place for breakfast or to stop for some nourishment before or after you outdoor activities. The Arms Reach Bistro is an award-winning Pacific North-West restaurant – a perfect spot for brunch, lunch or dinner. The Quarry Rock hike is very popular, as it is relatively easy and offers spectacular views of Indian Arm at the top. Don't forget to visit the Deep Cove Heritage Society's gift shop and archives located in the Deep Cove Cultural Centre. A little west of the cove itself, evidence of waterfront industry can be seen from Cates Park, which has both a beach and heavily wooded trails. During the summer months you may find issues with finding parking spots in Deep Cove. There is parking at Panorama Park and also at Myrtle Park, which is just before you enter the Cove. Kayaks in Deep Cove | North Vancouver Further west still at Parkgate Shopping Centre is local bakery and hang-out at Bean Around the World. Pick up a big, fat cookie or muffin and head up to Seymour Mountain for a hike or, in winter or spring, a ski. Be aware that the precipitation that falls as rain on the streets of North Vancouver becomes snow at higher elevations; dress appropriately. Deep Cove is also the eastern start to the Baden Powell trail that spans the North Shore in the foothills of the mountains. Another popular hike in the Deep Cover area is Quarry Rock, which provides spectacular views of the area at the summit of the hike.
Tipo di stanza
Intera casa/apt
---
Tipo di sistemazione
Casa
---
Può ospitare
8
---
Camere da letto
North Vancouver, British Columbia, Canada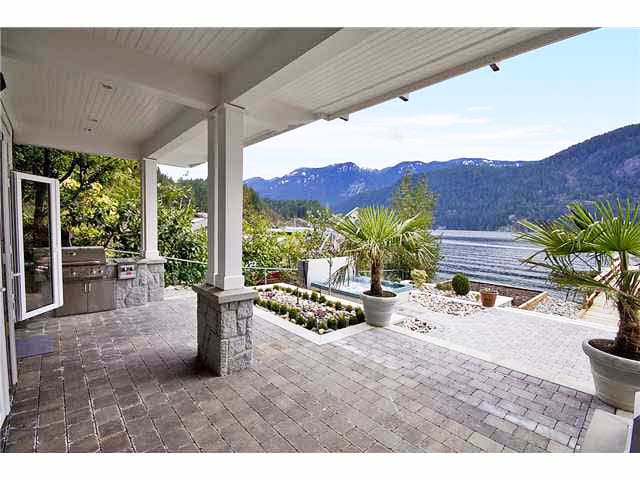 Inserisci le date per visualizzare il prezzo totale. Ci sono dei costi aggiuntivi e potrebbero venire applicate alcune tasse.