Inserisci la data del check-in nel seguente formato dd-mm-aaaa
Inserisci la data del check-out nel seguente formato dd-mm-aaaa
Annunci che puoi prenotare senza aspettare l'approvazione dell'host.
Inserisci le date per visualizzare il prezzo totale. Ci sono dei costi aggiuntivi e potrebbero venire applicate alcune tasse.
Nei mesi di luglio e agosto puoi provare uno di questi 100 alloggi ad alto rendimento, per ogni fascia di prezzo, e vivere una visione locale di Sonoma. Prova il check-in continuato, la Prenotazione Immediata e vino e spuntini locali per rilassarti e godere al massimo del tuo viaggio.
Loft apartment with 2 bedrooms for 4 guests. Great place by Tisa Walls Rock City, a filming site of the Chronicles of Narnia. It's a popular tourist destination and paradise not only for climbers, area of Elbe Sandstones and Czech Switzerland NP.
Apartment consists of 2 rooms (bedroom = 2 single beds, living room = 2 single beds). So the total capacity is 4 people. Guests also have a private spacious fully equipped kitchen with dining section, and bathroom with a tub. There is also another private room in the house. If it's rented too, the total capacity is 6 guests. Guests are free to use the garden around the house, there's a special sitting area with a barbecue. The owner, whose name is Ivana and works as a secondary teacher, lives downstairs. She speaks Czech and German and if the guests need something, they can contact her. In case you need to solve something in English, someone from Czech Homestays will call you or will personally come.
The house itself is located in the middle part of the village of Tisa. There's a beautiful view of the Tisa Walls Rock City from the garden of the house. It's a place not only for climbers (there are 113 registred climbing routes), but also for regular tourist, especially for children. Hikers can go trekking on many marked or even unmarked trails, for bikers there are many bike trails as well. In winter time it's a popular area for cross-country skiing, there are 30 km of cross-country skiing trails. There's even a downhill skiing slope in Tisa. And in on a hot summer day, you can go for a swim in two local lakes. Tisa is just by the Czech/German border, so it's also very easy to explore the German part of the region. Tisa Walls Rock City is part of the Labe/Elbe Protected Nature Area with the largest table mountain of Central Europe (Decinsky Sneznik) and it's a ideal starting point for exploration of the Czech and Saxon Switzerland national parks. The beautiful historical town of Decin with its castle is also nearby. Guests can park their cars directly at the garden of the house. There's a frequent bus connection of Tisa and the other towns of the region. There are several restaurants in Tisa and post office.
Отличное место для путешествий на автомобиле, близко до самых красивых мест Саксонии и Чешской Швейцарии, а также до Дрездена всего около 50 км. В самой Тисе тоже красиво и есть что посмотреть – "Тисские стены" в 200 метрах от дома. Апартамент в стиле old-school. Занимает 2/3 второго этажа дома, с удобной планировкой. Очень хорошо оборудована кухня. Есть стиральная машина. По соотношению цена/качество очень хорошее место. Хорошая хозяйка, с юмором. Да, кстати, в Тисе два дома с таким номером, так что ориентируйтесь лучше на координаты GPS. Мы остались очень довольны нашим пребыванием в Тисе и если поедем в те края еще, постараемся остановиться там же.
Viacheslav
May 2016
Probably one of the nicest located, best equipped and cleanest places I've ever been to. The host is super welcoming and nice. The place is huge and there is nothing more you could wish for. It was a perfect stay.
Marco
August 2016
Very clean and calm place. The owner was very nice and polite. Tisa rocks are a great place to see.
karoliina
June 2016
We visited Ivana's house in August 2015 as a group of four friends, and really enjoyed our stay. During the lead up to our visit we communicated with David, a friendly representative from Czech Homestays, the agency that manages this apartment. He was very helpful and replied to my messages very quickly with great information. Ivana was very genuine, friendly and welcoming. She speaks a bit of German, and we were able to check-in without any problem communicating in broken German. The flat itself was cute, cosy and comfortable, with a very well equipped kitchen and good wifi. The house is located in a small village with great access to the sandstone mountains and walking trails which you can see from the house, so we had a great time exploring and walking. We were able to have a barbecue on our last night, building the fire ourselves which was excellent fun. All in all we really enjoyed our trip, and wouldn't hesitate to recommend it to anybody wanting to explore this part of the country.
Alex
September 2015
The host, Ivana, is very kind and hospitable - inquiring if the accommodation was well-suited to our needs. She provided a crib (w/bedding!) and a high chair for our little one. The apartment was spacious and clean with a beautiful adventure just around the corner (the Elbe Sandstone Rocks) - a place we would definitely think about visiting again and recommending.
Bonnie
July 2016
We had a lovely stay at Tisa 68! A very friendly host and this fully equipped as well as affordable apartment made for a great home base for trips into the georgeous rocks of "bohemian switzerland"!
Jonas
January 2016
Die Unterkunft hatte ein großzügiges Platzangebot. Die sanitären Anlagen waren sehr sauber, die Küche ließ nichts zu wünschen übrig. Im ganzen eine sehr gemütliche Wohnung. Die Gastgeberin war stets freundlich und hilfsbereit. Es gab zusätzlich sehr viel Informationsmaterial in verschiedenen Sprachen zur touristischen Umgebung. Während der kalten Jahreszeit war die Wohnung sehr gut beheitzt. Sehr vielen Dank für die schöne Zeit. Gruß Frank
Frank
February 2016
We had a great Time in Tisa! The Apartment is beautiful and just as discribed perfectly equiped. We could imagine that we came back someday. Ivana was very friendly and helpful. The landscape is awsome and just in the neighborhood. We highly recommend to stay there.
Victoria
January 2016
Tipo di stanza
Intera casa/apt
---
Tipo di alloggio
---
Può ospitare
4
---
Camere da letto
2
Tisá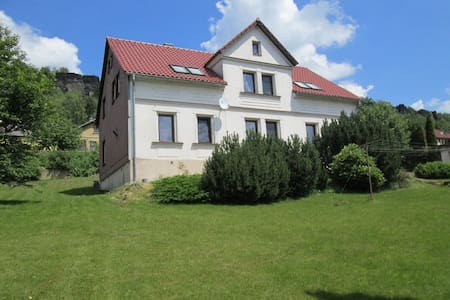 Breakfast was fully vegetarian
Rein
November 2016
Tipo di stanza
Stanza privata
---
Tipo di alloggio
---
Può ospitare
2
---
Camere da letto
1
Rakovník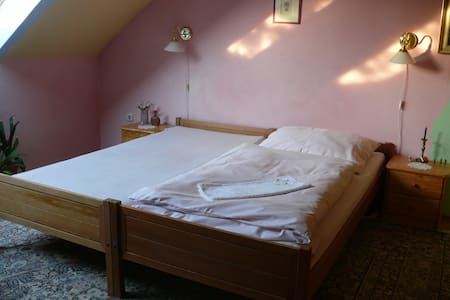 Loft befindet sich mitten in der historischen Altstadt, neben dem Häuschen vom Karel Hynek Macha(ein tschechischer Poet). DIe Unterkunft ist einfach und sauber eingerichtet. Ins Zentrum sind es ca. 8 Min. zu Fuß. Loft hat zwei getrennte Zimmer.
Die Unterkunft befindet sich über ein heimischen Restaurant. Es ist sehr ruhiges Restaurant, wo keine Veranstaltungen gefeiert werden. DIe Terasse gehört zum Restaurant. Ich stehe Ihnen als Ihr Ansprechpartner über Ihre gesamte Aufenthaltzeit zur Verfügung.
Clean, simple, in the nice historical area, no noice. We vere suprised by the complimentary breakfast on Sunday (when is dufficult to find an open store). Value for money.
Renata
July 2016
Eine nette Unterkunft, einfach, ruhig und sehr zentral gelegen. Vielen Dank, gerne wieder einmal!
yvette
May 2016
The apartment is basic, clean, quiet and in a good location. The kitchen (on the floor below) does not have a great deal of equipment, no salt . Communication was good.
Toon
May 2016
Gerne wieder! Vielen Dank!
Lisa
September 2016
The apartment is fairly basic, but is warm, clean, quiet and in a good location. The kitchen (on the floor below) does not have a great deal of equipment - this didn't bother me as I was eating out. The wifi didn't work at all when I was there - I had the correct password but couldn't connect either via my iphone or my laptop. For me, this was a nuisance, but it wasn't a complete disaster. However, I can imagine that for some people it could be a real problem. In summary: the apartment was fine for my purposes, and it was very reasonably priced.
Nick
November 2015
We sadly never met Denisa BUT she had arranged for her friend Stana to be there to greet us and show us everything. The accommodation was simple but good, the water was hot and amazingly it turned out to be the house where the poet Karel Macha had lived and died whose poem 'Maj' had been the first Czech poem my wife had read when she started studying the language. There was also a restaurant run by Stana on the ground floor of the building where we ate on the second night and had a very enjoyable meal.
Peregrine
October 2015
Denisa was a great host! I've only stayed in Litoměřice for one night, but I had a good time. The apartment is spacious and clean. Denisa is very friendly. She was waiting for me with a friend in the restaurant downstairs.
Jan Willem
October 2015
Hartelijk ontvangen. Gastvrouw sprak zelf geen Duits of Engels, maar er was iemand bij die goed Engels sprak. Ruime kamer. aparte keuken met koffie en thee voorradig. We waren er in het weekend en alles voor onszelf. De locatie staat in het middelpunt van een historische omgeving en vlakbij het centrum. Wel even een korte stijle klim om er te komen. Heerlijk ontbijt ' s morgens, en nog voldoende voor de lunch. De elektrische fiets moest wel een trap op.
Piet
August 2016
Tipo di stanza
Stanza privata
---
Tipo di alloggio
---
Può ospitare
4
---
Camere da letto
1
Litoměřice