Unsere Weiherhütte befindet sich in Glan-Münchweilnahe, nahe Kusel, Ramstein u. Kaiserslautern. Unsere Wohngemeinde verfügt über eine gute Infrastruktur und günstige Verkehrsanbindungen. In unserer Umgebung gibt es tolle Freizeitmöglichkeiten: u.a. Burg Lichtenberg, Tierpark Potzberg, Draisinenstrecke, tolle Rad- und Wanderwege. Du wirst unsere Unterkunft lieben wegen der ruhigen Umgebung, der tollen Natur, der besonderen Gemütlichkeit und dem angrenzenden Schwimmteich für warme Sommertage.
Unsere Weiherhütte steht in unserem Garten mitten im Grünen hinter unserem Wohnhaus in einer ruhigen Nebenstraße. Sie besteht aus einem Wohn-Schlafraum mit SAT-TV, Radio/CD, gemütlicher Sitzecke, Schrank und Etagenbett (unten 1,40 m/oben 0,90 m/2,00m). Es gibt ein kleines Duschbad, sowie eine voll ausgestattete Küche mit 2 Platten-Herd, Mikro und Spüle.
Unser Ort verfügt über Lebensmittelgeschäfte, Banken, Apotheke, Ärzte, und 2 Restaurants. Wer keine Lust auf Kochen hat, kann sich im Dönerladen oder in Uli´s Gudd Stubb in der Nähe des Bahnhofes stärken. Im Nachbarort Matzenbach befindet sich der Landgasthof Christoffel mit leckeren Steakgerichten und deftiger Hausmannskost. Dort findet man auch ein kleines Bisto/Café in dem es Tagesessen und leckeren selbstgebackenen Kuchen gibt. Eine tolle Anlaufstelle für Wanderer und Radfahrer. Im Milchhäuschen kann man leckeres Eis genießen. Das Nachtleben spielt sich in Kaiserslautern ab.
We spent a nice weekend in Anja's little cottage. She was very nice and available. The cottage is in the garden, close to other houses, so don't hope for any big trees and wide-open spaces. But the cottage is very cute and when you're inside, you just feel like you're in the moutains, great. Also, the village/city is not far away from the forest.
Marie
2017-02-12T00:00:00Z
Sehr gemütlich und mit Liebe eingerichtet
Guido
2017-02-26T00:00:00Z
Alles perfekt.
Florian
2017-04-01T00:00:00Z
Wir hatten einen sehr netten Aufenthalt in der Hütte. Es war sehr sauber und gemütlich. In der Gegend konnte man gut wandern, den wundervollen (!!!) Wildpark, sowie den Ohmbachsee und die Burgruine Lichtenberg besichtigen. Ich kann die Unterkunft nur empfehlen!
Saskia
2016-12-31T00:00:00Z
I loved my stay in this quaint cottage. It is a perfect place to stay if you are looking to chill in a quiet neighborhood. Grocery is right around the corner, and it is within 15 minutes to Ramstein Air base and LRMC. There is free, easily accessible, designated parking. The hosts were friendly and very helpful. Anja's husband even carried my bags to the cottage. What a gentleman.
Jodi
2017-01-16T00:00:00Z
Wir fanden eine mit viel Liebe und Geschmack eingerichtete super gemütliche Hütte vor, in der wir ein traumhaftes Wochenende verlebt haben....100 % tig empfehlenswert....
Ulrike
2017-01-22T00:00:00Z
Kleine, sehr gemütliche Hütte die mit Liebe zum Detail eingerichtet wurde. Wir haben den Aufenthalt sehr genossen. Die Gastgeber Anja und ihr Mann sind auch super freundlich. Man sollte aber evtl. wissen, dass die Hütte im Garten/Hinterhof steht und keine alleinstehende Hütte an einem Weiher ist. Ansonsten kann ich sie nur weiterempfehlen!
Tina
2017-01-03T00:00:00Z
Tous les équipements sont présents. Le logement n'est pas très grand (chalet), mais c'est ce qui est bien, car on est dépaysé!
Séverine
2017-02-01T00:00:00Z
Tipo di stanza
Intera casa/apt
---
Tipo di sistemazione
Chalet
---
Può ospitare
2
---
Camere da letto
Glan-Münchweiler, Rheinland-Pfalz, Germania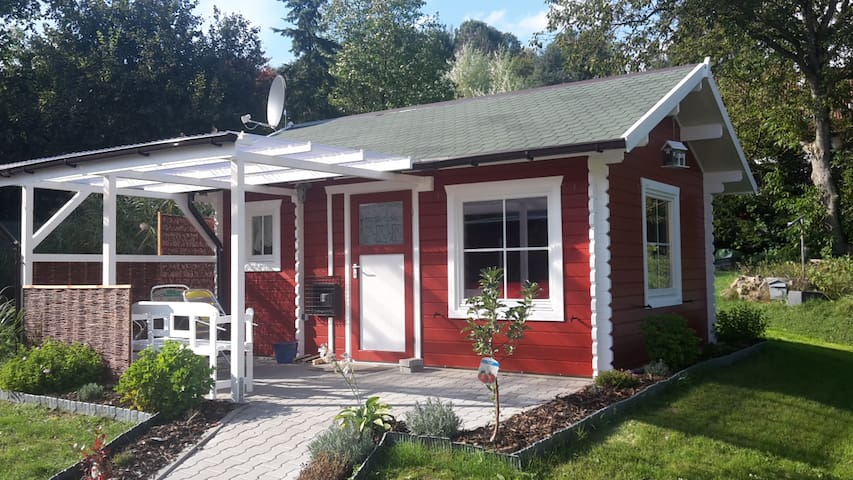 La nostra piccola cabina offre tutto il necessario per sentirsi a proprio agio (WiFi, bagno, wc, macchina da caffè Nespresso, sedie) in un piccolo spazio, mentre romantica e illuminata. Confina con la foresta ancora si mette 15 minuti di autobus dal centro della città, Kirchberg e la stazione ferroviaria.
Questa cabina di legno sarà la vostra casa! Esso comprende una camera da letto, un bagno moderno con doccia e servizi igienici, una terrazza e una macchina per il caffè! Più o meno tutto il necessario per trascorrere qualche giorno indimenticabile a 15 minuti di distanza dal centro della città. Dal momento che lo spazio è abbastanza piccola (si tratta di una cabina), il vero e proprio letto doppio per ospitare 2 persone molto comodamente e si chiude di nuovo la mattina per diventare un divano calorosamente! Le 5 finestre (compresa la porta d'ingresso) sono come un enorme apertura sul giardino vicino e la bellezza della natura, che permette un massimo di luce entrare la vostra camera durante il giorno. La cabina è totalmente indipendente dalla nostra casa, ma non include una cucina, un frigorifero o qualsiasi possibilità di memorizzare o di preparare il cibo. viene fornita una macchina da caffè Nespresso con diversi tipi di caffè e tè, anche. Questo è il più vicino potrai mai andare al vostro sogno adolescenziale di trascorrere una notte o più in una casa sull'albero o di una casetta da giardino ... con elementi essenziali di un moderno di casa!
Muhlenbach è un quartiere molto tranquillo, in cui il più grande rumore è di solito prodotta da uccelli nella foresta vicina. Pochissime automobili stanno andando verso il basso la nostra strada, in quanto è un vicolo cieco. I bambini giocheranno in strada in estate! Posizione ideale se si lavora in città e amano trascorrere qualche ora nei boschi a piedi o in esecuzione.
This cabin in the woods is really a wonderful experience! The hosts are really friendly and helpful. We walked from the cabin to Luxembourg city center which was a very nice walk. The interior of the cabin itself is very well thought of and it feels like every detail has been chosen carefully. I would recommend everyone to go and enjoy this unique experience!
Friso
2016-08-10T00:00:00Z
Jd & Al were wonderful hosts. They were very kind and welcoming - even taking time out to drive me round the city on my first evening. The Little Cabin in the Woods was a lovely place to stay - very quiet and tranquil. I would definitely stay there again.
Jane
2016-09-23T00:00:00Z
het huisje was hardstikke leuk en schattig aan alles hebben ze gedacht! hele vriendelijke mensen die je met alle liefde willen helpen. zeker een aanrader!!
Rick
2016-08-12T00:00:00Z
Jd&Al made us feel as if we were in a dream. All was perfect, even more than perfect. The area was so beautiful with a big forest near the place and so close to the centre. We decided to go on bikes what gave us an amazing perspective of Luxembourg. We are really happy of this beautiful experience. Thanks for giving color to our holidays. Marina and Greg
Marina
2016-05-30T00:00:00Z
Lovely and cosy little place to stay! We really enjoyed our time in the cabin of the woods and we definitely recommend it!
Emelie
2016-10-03T00:00:00Z
The host canceled this reservation the day before arrival. This is an automated posting.
Clémence
2016-02-05T00:00:00Z
We loved staying at JD & Al's cabin. Everything was as described and the cabin was well equipped. It's a lovely 25 min walk to Luxembourg city centre also. I would defo stay here again and wouldn't hesitate to recommend to others :-)
Lindsay
2016-05-26T00:00:00Z
Maravillosa cabaña. Parece situada en medio del bosque. Sitio tranquilo y con los detalles cuidados. Los propietarios muy amables y cercanos. No tengo quejas, solo alabanzas.
Gretel
2015-11-16T00:00:00Z
Tipo di stanza
Stanza privata
---
Tipo di sistemazione
Chalet
---
Può ospitare
2
---
Camere da letto
Lussemburgo, Luxembourg, Lussemburgo
Mijn ruimte is vlakbij het bos en wandelmogelijkheden, gelegen langs een van de uitdagende mountainbike routes van het land. in de buurt van Vianden. Luxemburg stad en Trier binnen een uur te bereiken . Je zult genieten van mijn plek vanwege de locatie. Mijn ruimte is geschikt voor stellen, solo-avonturiers en gezinnen (met kinderen).
The host canceled this reservation 30 days before arrival. This is an automated posting.
Henk
2017-01-24T00:00:00Z
Tipo di stanza
Intera casa/apt
---
Tipo di sistemazione
Chalet
---
Può ospitare
4
---
Camere da letto
Tandel, Diekirch, Lussemburgo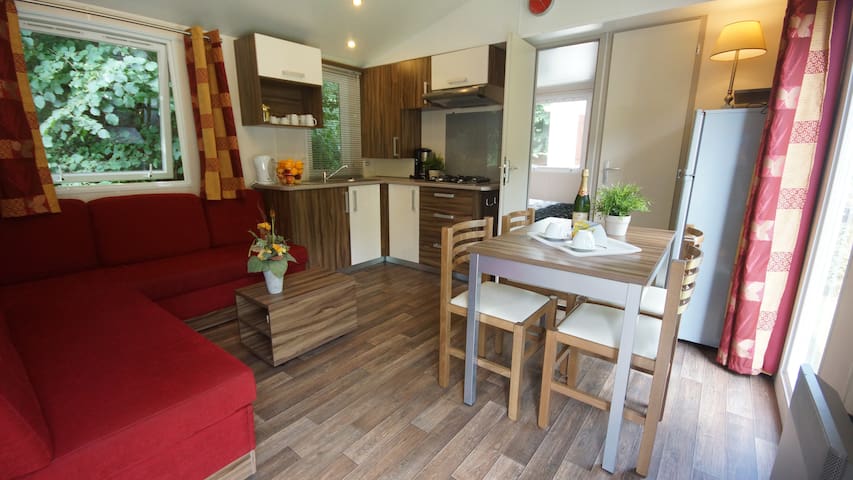 The 70 Ar large 3 Birken plot is located in a nature reserve, near a bathing river and exceptional restaurants. You'll love our hotel in trailer, because of the location, the environment and the extraordinary ambience. 3 Birken is suitable for couples, lone adventurers to book writing, for spiritual meaning seekers, small groups looking for a special place, pilgrims on the Way of St. James, and many more projects.
Staying in the 3 Birch terrain will be different for sure, than what you are otherwise so used! Pure nature. Retreat into silence or deposited Romantic couple. Back to the roots - but with comfort. In the morning the birds are awake at night stargazing. The trailer (2 x 8 meters) is nicely and comfortably furnished and equipped with many useful everyday things. Creative Details inspire the imagination. In the yurt next door (round tent with 6 m diameter) Nature rituals can take place and / or you sit in it alone or with friends in any weather on fire. The sweat lodge is a few meters further, not only interesting for groups. Facilities include, among other things, a dry-separation toilets.
Directly adjacent to the property is opposite a house. There lives our nice neighbor who also happy to help with any questions. Scattered there are around still Cottages. The people who live there are friendly, helpful and sociable leave, but take a rest in his thing. Provided, of course to behave respectfully, what we do all there. The property is well protected from view and noise. The next place Schwerdorff is within walking distance in five minutes. In two minutes by car, is a charming beach on the river Nied. Within walking distance is located near an old Celtic village. Local in the area: Wacken mill: Hemmersdorf, about 5 kilometers from 3 Birken. Man sitting toll on the terrace and can build on the Niedwehr can eat chicken and walk "home" to go to 3 birches or the "secret path" drive through Grafenthal. Bagatelle: Niedaltdorf, about 5 kilometers from 3 Birken. Great atmosphere, beautiful garden where you can sit, super good steaks. Leichs Hof: Our favorite restaurant! Great atmosphere, great garden, good card, always delicious wine. Antiques and art. Unfortunately, they have not found on their website. Since being built in the area, please be sure to look at Directions Leicks site. A visit is worthwhile in any case, the guests get far from everywhere !!! Auberge de la Klauss Large dining cinema! Is very close in Montenach (F) and is what for special occasions and / or lovers. When her outward journey there, take the big purse and also goes into the wine cellar. 50,000 bottles of the finest quality are waiting for you! And it may be that you will be invited at 10 am already at a tasting sip ... but beware! The remaining days design can then be reduced again sleeping. Real an experience !!!
Ein wunderschöner Rückzugsort! Obwohl nur einen Steinwurf entfernt, habe ich mich wie der Welt entrückt gefühlt. Der Empfang von Michaela und Leo war sehr herzlich und die Beiden haben darauf geachtet, dass es einem während des Aufenthaltes an nichts fehlt.
Jeannine
2016-09-18T00:00:00Z
Wenn man im Dunkeln ankommt, scheint es so zu sein, als ob man ganz weit weg von Zivilisation wäre. Sehr gemütlich, falls man ein bisschen Stille und Natur braucht; Ort zum entspannen.
Alexandra
2017-01-01T00:00:00Z
Tipo di stanza
Intera casa/apt
---
Tipo di sistemazione
Chalet
---
Può ospitare
2
---
Camere da letto
Schwerdorff, Alsace-Champagne-Ardenne-Lorraine, Francia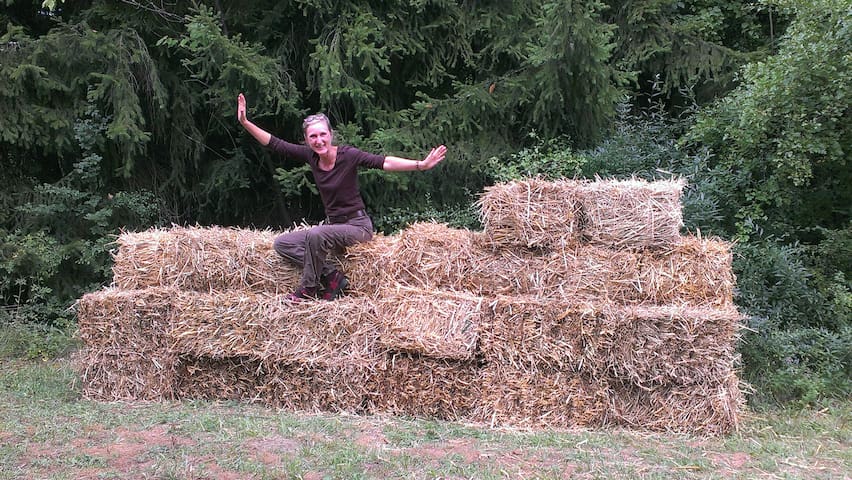 campsite is located in natural surroundings, ideal for sportive cyclists, walkers and daredevils. Near Vianden and Diekirch. The mobile home is located on the edge of the park with a view over the valley
Tipo di stanza
Intera casa/apt
---
Tipo di sistemazione
Chalet
---
Può ospitare
4
---
Camere da letto
Walsdorf, Diekirch, Lussemburgo