Inserisci la data del check-in nel seguente formato dd-mm-aaaa
Inserisci la data del check-out nel seguente formato dd-mm-aaaa
Annunci che puoi prenotare senza aspettare l'approvazione dell'host.
6 Chalet in Affitto
· Meridian
6 Chalet in Affitto
· Meridian
Inserisci le date per visualizzare il prezzo totale. Ci sono dei costi aggiuntivi e potrebbero venire applicate alcune tasse.
Nei mesi di luglio e agosto puoi provare uno di questi 100 alloggi ad alto rendimento, per ogni fascia di prezzo, e vivere una visione locale di Sonoma. Prova il check-in continuato, la Prenotazione Immediata e vino e spuntini locali per rilassarti e godere al massimo del tuo viaggio.
This beautiful, backyard cottage is located in Boise's North End. Camel's Back Park and miles of trails are just out the back gate and a short walk brings you to the Boise Co-op and wine shop or Hyde Park's restaurants, coffee and shops.
The cottage is beautifully appointed with an organic wool and cotton bed, memory foam topper, high thread count, Egyptian cotton bed linens and big, soft towels. Silk and linen curtains and linen table cloths add a luxurious feel. The bathroom, separated from the living space by a curtain, has a full shower with marble tile and a pebble floor. Shower gel, shampoo and conditioner are provided. Hot water is from an "on demand" water heater, so you never run out. There is a heater for winter time and I put in a small air conditioner for summer. There is a ceiling fan to help keep you comfortable all year. A Bose sound dock lets you settle in with music from your device or computer. The water is all filtered, so it tastes great and has no chlorine. I have a boisterous, mature garden that feels like an oasis much of the year. A small fountain adds the peaceful sound of water, if you'd like to sit outside at the little bistro table for your morning coffee. The kitchen has an induction hot plate that is very efficient and safe, pots and pans, colander, grater, peeler, a full complement of quality flatware and cooking utensils. I provide salt and pepper and olive oil as well as enough tea and coffee with sugar and honey to start your first morning off well. The Boise co-op is nearby for basic, organic and gourmet provisions, if you'd like to prepare your own meals. The co-op has an excellent wine shop as well. There are several restaurants and an excellent coffee shop a few blocks away in Hyde Park, if you'd rather let someone else tend to your food needs during your stay. Guests can park on the street in front of the main house or in front of my studio building. There are several gates into the property for easy access to your car or the park and trails. I ask guests to use the gate on the north side of the property, if parked in front. There is no designated parking, but the street has lots of room, except during the Hyde Park Street Fair in September. I am available to answer questions or help in any way I can. The cottage is behind the main house in an open garden space, so I am usually accessible. I will meet you when you arrive to show you around and get you settled in. Feel free to call or text me if you need anything at all! My daughter and I are often in the back yard when weather is warm. We love to share our space and enjoy meeting new people, so please pop out and say hello, if you're in the mood!
The North End in Boise is a special place. Loads of mature trees keep things cool and shady in summer. Camel's Back Park is fun for people watching, frisbee or climb to the top for a little exercise and a sunset. The trails system behind Camel's Back is extensive and can accommodate any skill or fitness level on foot or mountain bike. For road cyclists, the North End is an ideal place to start with lots of options for long, peaceful rides into the hills or farmlands that surround town. A few blocks away is Hyde Park. There are several restaurants, a great coffee shop, antique and other shops as well as Goodies for an after dinner ice cream. The Boise Co-op is just down the street with an awesome selection of gourmet deli foods and desserts, organic produce and all the staples. Their wine shop, across the street from the co-op has a selection that will please even the most discerning palate. Cafe Vicino is located in the same parking area and is one of the best restaurants in town. Downtown Boise is 3/4 of a mile away and has something for everyone. An independent movie theatre as well as a big one for blockbusters, music venues, food, shopping and a coffee shop on nearly every corner. Our Boise Contemporary Theatre is nationally recognized and hosts plays, readings, dance and a number of independent productions. Just outside of town you can see the Idaho Shakespeare Festival in summer, visit the Idaho Botanical Gardens, walk or ride on the greenbelt along the Boise River or float the river in summer. There are trailheads all over town for access to the foothills and Tablerock always offers a great view. Boise has a public bus system and it's an easy town to drive in. From the cottage, many fabulous things are just a bike ride away. There are stations for renting a bike in many locations in town, the closest to the cottage being at the co-op, just down the street. I require a 2 night minimum for stays that include a weekend night, (Friday or Saturday). It may be possible for you to bring your dog to the cottage. My daughter and I love dogs and welcome them, but there are a few important points that need to be addressed. I have a very sweet cat and any dogs that visit need to be able to leave her be. My garden is very well tended and digging or scratching are not okay. The park and trails, which allow dogs, including some off leash areas, are just across the street, so there are options for dogs that need to go wild. I also ask people to thoroughly clean up after their dog on the property and at the park. And lastly, I have a young daughter, so dogs that visit can't have a tendency to bite. Of course, you can keep the dog in the cottage except when it is with you and on-leash and most of these wouldn't be an issue. Please don't leave your dog unattended in the cottage. I do charge a pet fee of $25 for one dog and $35 for two. I can provide dog towels if the weather is wet or muddy and you need to clean them up a bit before heading into the cottage. Please keep dogs off the furniture and bed. This area is fairly quiet. There can be some weekend noise from the park and the rubbish men come on Wednesday mornings, but not too early. One wall of the cottage runs along the alley behind the property, but it's not used very much by cars, so I've never had any complaints.
Andrea was very welcoming, and her place was comfortably nestled in her beautiful backyard. It was within walking distance of necessities and nearly backed into Camel's Back park - a great place to hike and mtn. bike, among other things. Good food and coffee are just a short walk away, but Boise Co-op is relatively close too if you want to eat in. If you have your bike, you won't need to use your car at all to see many of Boise's points of interest from here. The roads are leisurely-paced by cars that share the space easily with bikes. I really enjoyed my stay here!
Kristy
July 2016
This is a charming little cottage with fantastic artwork and exposed roof beams. The bed is exquisitely comfortable. A little cafe district is nearby, and the main strip of restaurants is about a mile away.
Christopher
December 2016
We felt very welcome and the listing was accurate!
Chris
June 2016
If I could give her 10 stars, I would. Andrea is a wonderful woman and host. She is extremely kind and helpful and one of the most interesting woman I've ever met. She has traveled all over the world many times and is an amazing artist and photographer. Her home and cottage are both stunningly beautiful with her artistic design and decor. The cottage is in the back of the house in a quiet residential neighborhood. I love that she uses all natural eco friendly cleaners and cares about her guests and the environment. The bed was luxurious to sleep in. I slept great while staying there. Stainless steel pots and pans and everything is top quality and beautifully displayed. A lovely walk to the health food coop or to restaurants close by as well as a few houses from the hiking trails and hill top with a view of downtown Boise. Perfect location and perfect rental. Thank you Andrea.
Nancy
May 2016
Fabulous secluded oasis cottage with everything you could need for a comfortable stay. Andrea was an excellent and responsive host. The cottage was close walking distance to Hyde Park and a stroll to downtown. Wish we could have stayed longer!
Steven
August 2015
We were running behind arrival schedule and Andrea made the check-in process so easy. I love the back yard oasis and the location... so close to shops and restaurants. I would definitely stay here again when in Boise. Thanks Andrea!
Melissa
July 2016
Andrea was great host, great communication and letting me know cottage was ready early. Place was just as described, in a great location. Would recommend. Thanks again!
Scott
July 2016
We had a very lovely, relaxing stay at Andrea's cottage. It was clean, had great natural lighting, and the space was utilized well so we had everything we needed but didn't feel cluttered. Caution: the bed is so comfortable that you may never want to get out of bed. Andrea was kind and gave us much privacy. We'd definitely visit again!
Megan
March 2016
Tipo di stanza
Intera casa/apt
---
Tipo di alloggio
---
Può ospitare
2
---
Camere da letto
0
Boise
This cozy updated cottage is 400 square feet of beauty, comfort, and privacy! It is located at the end of a dead end ally in the Hyde Park / North End area of Boise with off-street parking. Come experience the uniqueness of tiny home living in one of America's greatest cities!
The cottage has a large bedroom split into two by a closet, with a full bed in one half and twin bed in the other half. Notice in the pictures that the ceiling fan hangs between the two rooms. You will see above the closet, there is about 2 feet of space (so the bedrooms are not sealed off from each other like a typical wall). The cottage is small, yet highly efficient, with a kitchen, living room, and full bathroom. The living room has a 7-foot couch that can be used as another sleeping place. The bathroom contains a washer and dryer, shower, and bathtub. The kitchen is fully stocked and has a fridge, stove, microwave, coffeepot, and dishwasher. There is a large closet in the bedroom with the full bed. There is a laptop work space in the room with the twin bed. A 7-foot long couch in the living room provides an additional sleeping area for one, if needed. The yard is private. There is off street parking (uncovered), as the home is located at the end of a dead end alley. We will be nearby, so please let us know if you need anything or the home is not up to the standard you expected so that we can do our best to make you comfortable. Some guests like to remain private, and some like to visit and get recommendations. If you would like to learn about our town, please ask; we love to brag and offer suggestions!
Our North End / Hyde Park area allows easy access to small shops (providing a unique shopping experience), numerous restaurants, an ice cream store, Camel's Back and the foothills (miles and miles of trails!), and access to downtown (tourist attractions are too numerous to list and ALL in walking distance: Capitol Building, public art, night life). We are 14 miles from Bogus Basin Ski Resort. We are a couple blocks from the nearest city bus stop at Brumback & 9th (Bus #14, Hyde Park Route). Go to www.valleyride.com for more information. Buses don't operate after 6:45 pm M-F, have limited operation on Saturdays until 6:45 pm, and don't run at all on Sundays. There is Uber and taxi service within the city. There are cruiser bikes for rent at the Boise Co-Op and mountain bikes for rent at local bike shops. If you have your own vehicle, parking is not difficult; there are meters along the streets that accept coins and plastic, and the Downtown garages offer free parking for the first hour. Parking is free outside of the Downtown area. We have a few "kid friendly" items that may make your stay more enjoyable (a bathtub, a variety of age-appropriate toys, a portable highchair and playpen, a toddler-sized mattress is available--all upon request). Please keep a close eye on little ones: typical electrical hazards, etc. If you are bringing children, be sure to include them in your Number of Guests when making the reservation and also let us know their approximate ages so we can do our best to make the home ready for little ones.
We enjoyed our short stay at the cottage. Everything was as described and the cottage was convenient to the shops and restaurants in Hyde Park.
Cheryl
September 2016
Jill and Dallas were the best Hosts a renter could ask for! They were equally present when we needed their help, and absent when we wanted space. They care about their renters, and went out of their way to provide us with things that we needed. We stayed for about three weeks, longer than anyone had stayed with Jill and Dallas previously. Jill told us when we arrived that no one had stayed quite this long, so they were a little out of their depth with meeting long-term needs. That being said, we never wanted for anything, and when we did they met the need immediately. When we would run into them on the property they were extremely friendly, easy to talk to, and just all around great people. Highly recommend this place if you'd like to see Boise in any Capacity. It's a great location (North End) that's about a 5 minute walk from a cool little historical downtown with restaurants and bars, and an even shorter walk to a nice outdoor park with running trails, a big lawn, and an absolutely spectacular view of the sunset. A relaxing, fantastic, place to stay.
Evan
August 2016
We had a great interactions with Jill and Dallas. When a change of occurred they were flexible and made sure we still had a place to stay. They checked in and communicated with us all we needed to know. We really enjoyed being so near the trails and enjoyed an evening walk nearby. A great visit - Thanks!
Erin
June 2016
Jill and Dallas are the best hosts! They helped us feel right at home in a wonderful walkable neighborhood. Loved being in a neighborhood with great walking and amenities. The cottage is super well appointed and comfortable. Great equipment in the kitchen for cooking.
Leslie
June 2016
We thoroughly enjoyed staying with Jill and Dallas in their cottage. It was very cozy and they went out of their way to make us feel welcome and comfortable. Wonderful experience and centrally located! If I visit Boise again, I will most definitely stay here again.
Tamyra
June 2016
Jill and Dallas were excellent hosts. We arrived super late due to a long drive and they were communicative and wonderful the entire time. The cottage was clean and well stocked and close to plenty of restaurants and shops. We could not recommend staying in their cute little cottage enough.
Amber
July 2016
Jill and Dallas were very welcoming and helpful when I arrived. I had driven for 9 1/2 hours and was exhausted. Their cottage is adorable and incredibly clean and full of character. I loved it and slept so well! Thank you!!!
Vicki
June 2016
Jill and Dallas were excellent hosts. The cottage was neat and tidy and had everything we needed including a washer/dryer to clean our dusty, smoky backpacking clothes! The shower was also a highlight! Jill was so sweet, when we jokingly mentioned playing board games upon arrival, she showed up a few minutes later with a selection from her own house. We never got around to playing but the thoughtfulness was greatly appreciated. The bedrooms are small, but totally comfortable and the kitchen had everything we needed for a short stay.
Megan
August 2016
Tipo di stanza
Intera casa/apt
---
Tipo di alloggio
---
Può ospitare
4
---
Camere da letto
2
Boise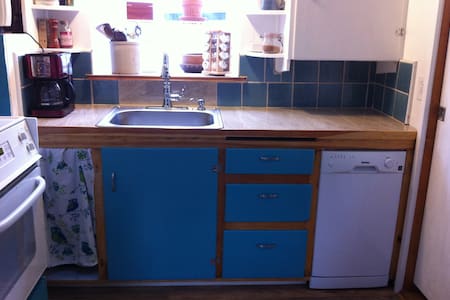 Just 35 minutes to Boise City and only 20 minutes to Hot Springs. Plenty of hiking trails, nature and fresh air.
Tipo di stanza
Intera casa/apt
---
Tipo di alloggio
---
Può ospitare
6
---
Camere da letto
2
Boise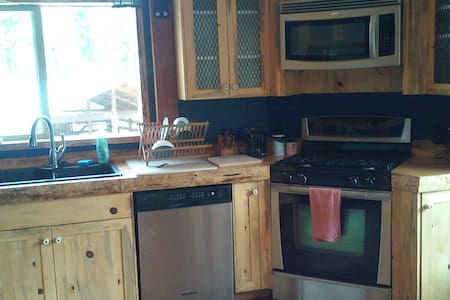 History of the Aspen Cabin at Rocky Canyon ) This 34-acre property is near the summit of Rocky Canyon, 8.2 miles from the Capitol Building in downtown Boise, Id; national Forest on three sides; deeded from th
What to do? The possibilities: Snow shoeing, cross-country skiing and hiking, for the active. Reading, writing, thinking for the reflective. Planning and scheduling for the planner. Napping and resting, for the tired. Intimacy and romance for the romantic. You will not see another vehicle or structure from this property. A non-intrusive, caretaker is near, but not on the property. This is not a traditional offering. The cabin is off grid which means power is provided by sun and wind which can sometimes be unpredictable. There is a serene ambiance, with a view, under the pines, a BBQ pit for cooking, a fireplace and wood stove for heating & cooking; solar for lighting; water from a spring and a sleeping loft, too.. About 10 degrees cooler than Boise, and above the inversions. 20% discount if arrival by bicycle, cross country skis or on foot; available June 2014, perhaps longer. Longer stays are preferred. A well socialized dog is OK. Cats, not so much. Everything is clean: deck, towels, pots & pans, dishes, floor and furniture. Bottled water, basic food condiments, flashlights and candles are provided. There is a BBQ on the deck and fire pit, a wood-burning stove, a bookcase, and games. Weather: From November to March, you can expect snow. Today, June 5th, there is no snow. The elevation of ~ 4,600 feet usually puts you above the Boise inversions, which can be depressing. Expect 10-15 degrees lower than forecast for Boise. Parking: very limited; bring no more than one vehicle. No noisy motorcycles, ATVs or snow mobiles. Reliable (mostly) ATT cell service is usually available. You could also arrive on cross county skis, bicycles or on foot (everyday many bike or jog to the nearby summit from Boise. 1 bedroom and loft; 1 1/2 bath; sleeps 4 (or 5 if one on sofa) Fully provisioned kitchen; firewood provided. The cabin has recently been remodeled by adding a 500 SF kitchen with massive fireplace (see photos) Owner's agent will arrive daily to feed and water the chickens.
Serene, private and undesturbed No public transit. If snow, owner plows the county road and access road to cabin; however, 4 wheel drive and chains are recommended (even if you don't use them) from December to April Heating from large fireplace , wood stove and propane. Off grid. Some power from 3000 watt solar and 500 watt wind turban, usually enough for household needs (no hairdryers, toasters etc). Also have backup generator.
Tipo di stanza
Intera casa/apt
---
Tipo di alloggio
---
Può ospitare
5
---
Camere da letto
2
Boise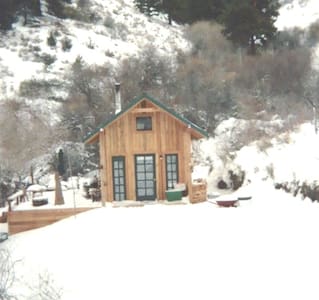 The Rocky Mountain Lodge is located 15 miles north of Boise, Idaho off State Hwy 55. The Lodge was inspired by the Chateau Montebello near Ottowa. Both feature cedar logs from the Rocky Mountains and a massive fireplace. Reviews are mostly all 5 star and can be seen on vrbo number 3716081ha.
This is the top end of log home construction, handcrafted, full scribe, western red cedar. The Lodge features a great room with a massive rock fireplace, master suite. Wood is provided. There is a large rec room with pool table/ping pong, darts, bow flex, desk. 2 cast iron claw foot tubs. The front lawn is sheltered by the Lodge and Quaking Aspen trees with a small fountain. There is a small outdoor fire pit. Landscaping is formed around natural boulders. The back looks over the valley from about 1,000 ft high. Hawks and Kestrals soar. Many deer and occasional fox. "Twisted tree" provides shade. Large deck seating, hot tub in an outdoor alcove, and 2 massive handcrafted cedar picnic tables. The Lodge and the acreage is reserved for the 1 booking party only. No other people are allowed. An email will be sent to the booking guest shortly before their stay.
at the end of a dead end road. secluded. 1,000 feet above the valley floor. The Eaton family will help you with directions to your area of interests. We request the guest enter a comment in the Lodge guest book.
The lodge was absolutely beautiful and peaceful... The views and and atmosphere are something from a movie. Brandon was awesome to deal with and made our family feel right at home. The s'mores package and fresh honey was a great hit with our kids! We will definitely stay again!
Amanda
June 2016
The host canceled this reservation 359 days before arrival. This is an automated posting.
Steve
Brandon was so gracious. He made the experience of staying at the lodge even better. The view is spectacular Thank you Brandon for having the crew in your beautiful lodge and being so welcoming
cndy
August 2016
Rocky Mountain Lodge is more beautiful than advertised with a view that never gets old. We were lucky to witness storms, sunrises and sunsets, and the ever changing clouds swirl around us while remaining cosy in the lodge. On the practical side, Brandon has supplied everything. The kitchen was well appointed with plenty of utensils, plates, pots and pans - very important for a large group! The game room is a massive asset, especially as we had a large group of kids, and there are many places for people to escape for quiet time. Brandon had s'more supplies waiting, plus opened his pantry to whatever extras we forgot to bring. With two refrigerators there was plenty of space for 5 days worth of supplies. The little added extra was 'Groucho', a small and incredibly affectionate cat that all the girls loved to spoil. If we ever have the chance to stay at Rocky Mountain Lodge again, we will book it in a heartbeat.
Geoff
July 2016
Tipo di stanza
Intera casa/apt
---
Tipo di alloggio
---
Può ospitare
10
---
Camere da letto
5
Horseshoe Bend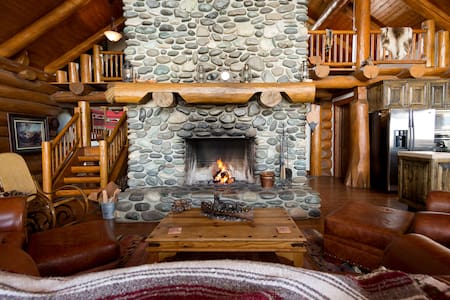 Vintage 1800's replica furniture and tasteful features embellish this astounding 5-bedroom, 2-bathroom cabin. You'll adore the lavish characteristics, headlined by the private hot tub and spectacular views. Excellent venue for weddings and retreats!
This stunning lodge was established in 2001 behind a small grove of quaking aspens, which grow among boulders on an overlook 1000 feet above the valley floor and Payette River. Built from hand-hewed, handcrafted, red cedar from British Columbia, this classic mountain cabin boasts the rarest and finest construction that can be found in a log home - The only other place in Idaho where you'll see this type of structure is 160 miles away in Sun Valley at the ski lodges at River Run, Warm Springs, and Dollar! From the moment you first arrive, you and will fall in love with the home's many unique touches, such as the large redwood wraparound deck with Adirondack and burl seating, vintage 1800's replica fixtures and lighting, antiqued knotty alder cabinets in the kitchen and baths, log rafters, high pine ceilings, wood floors, beautiful leather furniture, and 2 vintage cast iron clawfoot bathtubs. Cozy up next to the massive 28-ton river rock fireplace in the great room, or by the other 2 fireplaces, located in the master suite and entertainment room - there's simply nothing like the warmth of a real fire.Want to roast marshmallows or try cooking a meal over the open fire? It can be arranged! Firewood is provided for use inside and out at no extra charge (Use the pine for a quiet fire and the fir for a nice crackling fire - Experiment to turn the crackling sound level up or down!). This home offers plenty of options to keep you and your guests entertained during your downtime. If you're not enraptured by the fire or breathtaking views outdoors, gather for a fun movie night in the entertainment room, which features a 55-inch plasma TV, 8 speakers, 2 subwoofers, and 2 floor shakers. You may choose to escape to the loft, where you can curl up with a good book or play a board game with your companions. There's also a fantastic 1,000-square foot open room perfect for events and games, as well as a pool table, darts, ping pong table, poker, putting carpet, and 3 TVs within the house with DirecTV. Every room has its own individual heating and cooling system, and oil lamps and candles are provided if need be. You will immediately notice the cedar difference - The massive cedar logs are slow to heat or cool, providing a sense of comfort you will not experience with any other type of structure. In fact, Native Americans believed that cedar had healing qualities and built their totems from cedar logs, because they knew it would last forever. You'll also notice that there are very few bugs around the Lodge, because insects don't like cedar - Just ask your grandmother why she stores her most precious clothes in a cedar chest! Outdoors, you'll find the air crisp and clean, the starry night sky beyond belief, and the alpine water nothing but pure and crisp. Expansive windows throughout allow you to enjoy this natural beauty from the warmth of indoors. You can also admire the glorious surroundings by heading outdoors to soak in the private Jacuzzi, situated in the alcove just off the master suite. At night, you'll sleep easy with a tranquility and quietness few people have experienced. By morning, the master suite will awaken you with sunshine seeping through a large window that perfectly frames a view of the valley and mountains beyond. Evolve Vacation Rental Network is on a mission to make vacation rental easy for travelers. Every property in our network has been vetted and verified so you can book with confidence. If you have questions prior to your trip, we are happy to assist you 7 days a week. During your stay, your local contact will be available 24/7 to help with any issues that may arise.
You'll find it impossible to not become mesmerized by the Lodge's alluring setting; boasting solitude, peace, quiet, and fabulous unobstructed views. The twin peaks of Packer John Mountain, which the Lodge is pointed towards, can be seen 30 miles in the distance. Opportunities for practically every sort of outdoor recreation can be found nearby, from skiing, world-class fishing, hiking, tubing, hunting, and rafting to mountain climbing, horseback riding, zip-lining, boating and whitewater rafting. World championship competitions for kayaking are held every year just 12 miles north of the Lodge, up to class V and impassable rapids. You can even choose to try your hand at gold panning. The Lodge sits only 1 mile from the original California supply route - more gold was mined from this area than all of California, so you never know what you might find! If your stay is in the winter there are 2 private tubing hills nearby, and sleds and tubes are provided at the property (for guests only). Explore the area further by cross-country skiing along the snow packed hiking trails that wind throughout the area. Of course, a trip to the Rocky Mountains would not be complete without some skiing and snowboarding. Nearby ski areas include Tamarack 60 miles away, Brundage 100 miles away, Sun Valley 160 miles away, and Bogus Basin 30 miles away, whose night skiing lights can be seen from the end of the lane leading to the Lodge. The Kennedy's playground, the Stanley Basin, and the Sawtooths are 100 miles away, Boise State's famous blue-turf football field is 25 miles away, and the resort town of McCall can be reached in 80 miles. Lakes and reservoirs within driving distance include Lucky Peak, Blacks Creek, Lake Cascade, Payette, Arrow Rock, Anderson Ranch, Redfish, Pettit, Alturas, Brownlee, Oxbow, Hells Canyon, Swan Falls, Blacks Canyon. The deepest gorge in North America is actually Hells Canyon, a 90-mile drive away - It's deeper than Grand Canyon! Shoshone Falls on the Snake River is quite a bit taller than Niagara Falls, and is about 100 miles away. For a taste of history, visit one of the neighboring ghost towns or old mining towns with names like Silver City, Idaho City (Idaho's territorial capital), Placerville, Centerville, Custer, Bonanza, Stibnite, and Yellowpine - If you're here during the beginning of August, definitely check out Yellowpine's annual Harmonica Festival, where you will observe some harmonica-playing to the likes you have never seen! The Rocky Mountains put on a truly spectacular show, and choosing the Rocky Mountain Lodge as your home base will ensure that you won't have to miss one unforgettable moment. Key Residence Features: - Amenities include a private hot tub, fully equipped kitchen, multiple fireplaces, 3 balconies, entertainment system, quaking aspen and boulder courtyard, deck seating, and much more - Amazing, secluded location - Breathtaking mountain views and within close proximity of tons of outdoor recreation - Only 15 miles north of Boise, Idaho Bedroom Configuration: - Master Bedroom: King-sized Bed with walk-in closet, 2 dressers, TV, fireplace, sitting room, view, and en-suite bathroom with a claw foot bathtub and walk-in shower - Bedroom 2: Queen-sized Bed with dresser and closet - Bedroom 3: Queen-sized Bed with dresser - Bedroom 4: Queen-sized air mattress in separate adjoining room to Bedroom 3 (upgraded air mattress) - Bedroom 5: Full-sized Bed with dresser and closet Additional Sleeping: - RV and tent camping is allowed - Extra guests can sleep on the 4 couches and in sleeping bags if necessary
Stunning location and environment. Must be seen to be believed! Brandon provided detailed information about the lodge and the amenities located on the property. It was the perfect retreat for a large group of us catching up and attending a conference in the Boise area. We plan on making this an annual get together and stay longer in order to enjoy all the local offerings.
Kaai
September 2016
Tipo di stanza
Intera casa/apt
---
Tipo di alloggio
---
Può ospitare
10
---
Camere da letto
5
Horseshoe Bend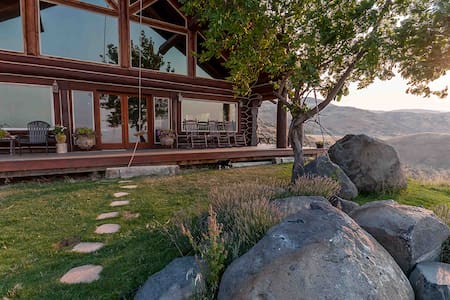 1

–

6

di

6 Chalet in Affitto