Inserisci le date per visualizzare il prezzo totale. Ci sono dei costi aggiuntivi e potrebbero venire applicate alcune tasse.
Charming Woodstock (of Bill Murray's "Groundhog Day") offers guests Victorian town-square nostalgia and proximity to Lake Geneva. Escape the city without a car to this gorgeous timber loft. The train from Chicago stops just three blocks away. Luxuriate in fine furnishings and elegant French/urban/industrial decor.
This carefully kept space is a haven that feels something akin to a grownup, upscale fort. Please note that this is an open floor plan. The upstairs bedroom is a true loft that overlooks both the living room and the second bedroom. Lofts are loved for the light and unique windows...bedrooms are drenched in beautiful light of uncovered skylights. New, disposable sleep masks are provided, or feel free to bring your own. 2nd Floor: Up the staircase is a serene loft bedroom with a queen bed and reading nook. It overlooks the living area and second bedroom below. Main Floor: There is a twin size daybed in the refreshing first floor bedroom. The first floor includes a beautiful bench-made full size couch and a dining table, in addition to the kitchen and spacious bathroom. Kitchen is equipped with a refrigerator, dishwasher, microwave, gas stove, utensils, and lovely dishes. Wifi password can be found on the console table. Please note there is no TV service. Help yourself to viewing DVDs (stored in the media cabinet) or connecting your computer via HDMI. The bedroom closets are private and not to be opened by guests, but guests have access to a hallway closet for storage and hanging clothes. Parking is outdoors around a courtyard that surrounds the loft complex. Should you need assistance, please text or call the number provided in your booking confirmation.
Just blocks from the lovely Town Square. 30 min drive to Lake Geneva, WI. Guests without a car can easily commute to Chicago via the Metra station, just blocks away. Two blocks from the Metra Train Station. Take it to Downtown Chicago, Park Ridge, Arlington Heights, etc. Jefferson train stop transfers to the CTA Blue Line train to O'Hare International Airport (ORD).
Talia was a very clear communicator and went to great lengths to make sure we were accommodated throughout our stay. The Loft was beautifully put together and very clean. The Loft was very near to the downtown area and the train station - a no brainer for someone trying to get way in McHenry County but still be connected to Chicago.
Jordan
September 2016
Talia was a fantastic host and the place was exactly as described. Immaculately clean and tastefully decorated. Talia thought of everything and the home has all the amenities one could need. She'd even left coffee, snacks and some yogurt for us for breakfast. The loft was in walking distance to the town square which has several restaurants, shops, and a nice little farmers market on Saturday mornings. We had a great stay and would definitely return.
Nick
August 2016
Talia's loft is proximate to the Woodstock Square and all of the shops and restaurants! It is in a beautifully maintained loft complex with manicured green space. Her loft is comfortable, clean and well-appointed. I wouldn't hesitate to recommend to friends and family.
Kimberly
June 2016
The Loft was great! Talia was very accommodating and was so sweet! She even left us yogurt and eggs and other breakfast goodies to enjoy. The beds were extremely comfortable. My roommate stayed in the queen bed and I stayed in the daybed on the first floor and that duvet is like sleeping inside a cloud. Also, the Loft is within an easy walking distance (about 5 minutes) of square, which made things very convenient as we came for Groundhog Day and didn't have to worry about trying to park in the square as we were able to easily walk there. Definitely recommended.
Rebecca
February 2016
You will love staying at The Lux Loft. Talia made every effort to create a special and comfortable stay for us. We were celebrating our wedding anniversary and she left us two locally-made cupcakes to greet us. The atmosphere in the loft is bright and open with furnishings and finishes that are warm, refined, and tell you that Talia loves travel and culture. She was very accommodating of our schedule and made it easy to pick up the keys from her in Chicago. Furthermore, it was easy to get a hold of Talia to get information and she was responsive and attentive. Parking at the loft is easy and it was very quiet. The perfect place to stay as a retreat, with a sweetheart, or friends when you're exploring lovely Woodstock.
Bonnie
February 2016
Talia is wonderful and so is her charming woodstock space! It was just beautiful! The host met us at the property and showed us around the beautiful space offering for us to help ourselves to food in the fridge she had left for us. The place was clean, well kept, and decorated in a very lovely way! Highly recommended!
Stefanie
February 2016
Talia was a fabulous host! Upon arrival she has graciously stocked the refrigerator full of drinks and food. So great, especially after arriving from our overseas flight. The loft was decorated so cute and trendy. It made us feel so cozy. We can't say enough great things about our stay--we LOVED it!!
Melissa
June 2016
THE PEOPLE AROUD US WERE VERY FRIENDLY.WE LOVED BEING IN THE LOFT.WE KNOW WOODSTOCK WELL AND WE WHERE NOT FAR FROM OUR FAMILY.TALIA IS VERY NICE AND KIND PERSON AND VERY KINDLY LEFT US SOME LOVELY GOODIES IN THE FRIDGE.SORRY I DIDNT DO THE REVIEW EARLIER. BUT CHARLES HAD A FALL AND BROKE HIS WRIST AND ELBOW ON THE SAME ARM WHEN WE GOT HOME.SO I HAD NOT BEEN LOOKING AT EMAIL
c
November 2016
Tipo di stanza
Intera casa/apt
---
Tipo di sistemazione
---
Può ospitare
3
---
Camere da letto
2
Woodstock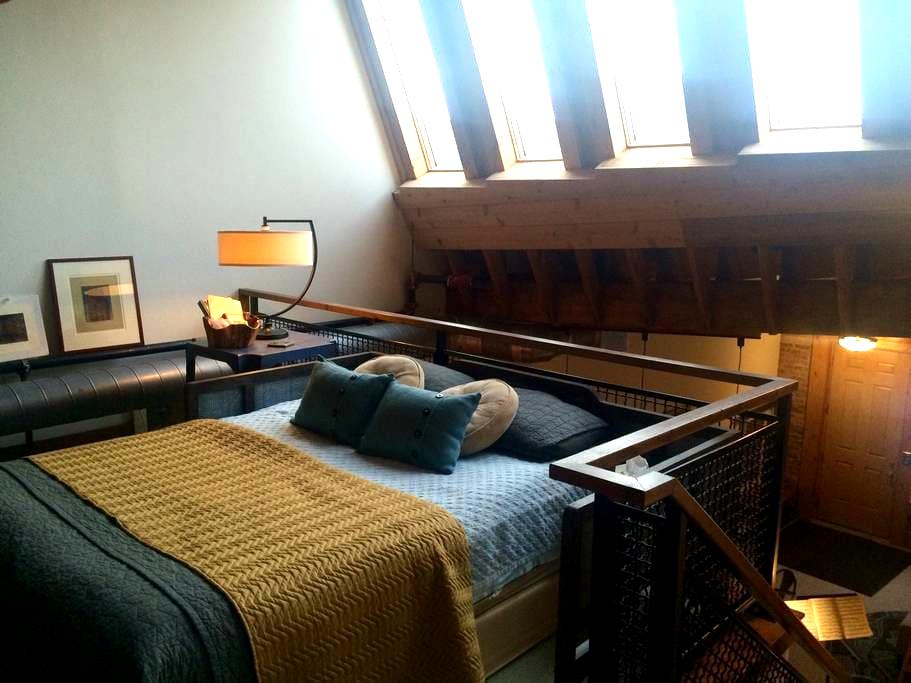 Walking distance to Downtown Des Plaines. 15 minutes to O'Hare. Walking distance to train station to downtown Chicago
Loft Apt. Street parking, Sleeps two. Fridge, Coffee maker, Hot plate, Microwave, Bathroom with shower. Awesome yard, Gas Grill available. Des Plaines bike trail entrance 2 blocks away. 2 night minimum nov-mar 1 Walking distance to Bus & Amtrak Ride pickup & drop off from O'hare for additional fee. Close to Train into City and bus line.
Staying with Michael was really nice, he is really sweet and his apartment is just as described. It is clean and has everything you may need. If you are staying there on your trip to Chicago, take public transport, it might take a while but its the easiest way to get there.
Paula
July 2016
The place is fabulous in one word. A lot attention has been given to details. It was very clean, well kept and had everything a guest would need. Neighborhood was just perfect. The bus stops is 2 min away. And then the train stations is also close by. All important services are nearby. Michael was very welcoming. We checked in and out late, he kindly allowed us. He was always there to help in whatever we need. We even requested a weighing machine and he quickly furnished that. He also provided us information on the neighborhood, restaurants and (URL HIDDEN) one word he is the ultimate host you can have.
Ekramul
August 2016
Perfect stay, nice host!
Christo
August 2016
Mike was easy going and accommodating, and the extra room above the garage was a good deal for the price. If you're shoestringing your way in Chicago, this is a great bet.
A.J.
May 2016
Michael was the perfect host. This was our first AirBnB experience and Michael could not have made us feel more at home. The loft is private, secure and very convenient to O'Hare. The train ride into town is painless. I very much hope I have the chance to stay with Michael again. Thank you.
Mike
July 2016
He was very nice and personable. We felt safe staying there.
Tabitha
July 2016
Mike was amazing!!! I loved staying there! Close to downtown in a safe cute neighborhood!! Amazing price!
Kimberlee
August 2016
Great experience, the loft was just as described, Michael replied fast and all communication was clear and good. He also recommended good options for food and drink close to the apartment. Will definitely rent again next time I am in Chicago on a leisure trip.
Trond jarle
August 2016
Tipo di stanza
Intera casa/apt
---
Tipo di sistemazione
---
Può ospitare
2
---
Camere da letto
0
Des Plaines
This new 2 story loft is located in downtown Lake Geneva just steps away from the lakefront, public beach, restaurants, bars and great specialty shops.
AUTUMN/FALL SPECIAL: Stay 2 nights and get one additional consecutive night FREE! Center Street Loft is almost 1800 square feet between two levels. It features beautiful woodwork throughout and high ceilings on the second level with ceiling fans in each bedroom and in the second floor TV room. There are two bedrooms on the second floor with queen size beds. Two queen sofa sleepers (one on the first level and another on the second level). One full bathroom on first level and another full bathroom on the second level. You will have access to the entire loft and the front patio which has outdoor patio furniture.
Once you arrive and park in our designated guest parking you won't need your car. You can walk to all the downtown shops, restaurants, bars and the lakefront attractions.
This was a perfect rental home in beautiful downtown Lake Geneva. The host greeted us and explained everything we needed to know about the home. It is right in the heart of Lake Geneva do we were able to walk everywhere. The host was available during our stay to help if we had any questions. The house was clean and well stocked with linens and bedding. It comfortably sleeps eight people . The listing was very accurate and descriptive. I would definitely rent this home again.
Jacqueline
September 2015
Our hosts, Alex and Yolanda, were very friendly. The house was clean, comfortable and just right for 2 days of fun in Lake Geneva. Parking was convenient and the location was so close to the shops, restaurants and lake.
Kari
June 2016
Yolanda was great! My husband and I stayed here over a holiday weekend for our wedding. The check in was flawless. The house was better than described. Our bridal party had a great time. The location was perfect and located just a few minutes walk from downtown and the lake. We have even started talking about coming back again!
Andrea
July 2016
The hosts were very welcoming. They responded to inquiries quickly. The house was perfect! So is the location, as it is situated conveniently in the heart of Lake Geneva. I came with a group of 7 ladies, enjoying a "girls' weekend" in Lake Geneva. We spent a good portion of our weekend catching up and drinking wine in this house. It was clean and comfortable and accommodating to all! I would definitely come back!!!
Kelly
October 2015
The host canceled this reservation 64 days before arrival. This is an automated posting.
Hugo
I would recommend this property to groups wanting to stay near the shops and restaurants of Lake Geneva. It was in a great location and the hosts were extremely welcoming and easy to communicate with.
Alexandra
February 2017
Host - Alex and Yolanda were extremely responsive and welcoming. Coordinating our arrival was hassle-free, and Alex was very accommodating throughout our stay when we needed an extra parking pass for a member of our group who arrived later in the weekend. House - The house is amazing and great for a weekend getaway with friends or family. The two bedrooms are upstairs, as well as an additional living space (sofa + TV) and a bathroom. The downstairs kitchen and dining area is perfect for entertaining. There is also a living space with a sofa + TV, as well as the second bathroom. Both baths are full baths, which was nice with a larger group. Location - Perfect, perfect, perfect. Easily walk-able to all the downtown Lake Geneva restaurants and bars. We were there the weekend of the snow-sculpting competition, which was easily walk-able from the house. We also went ice fishing on one of the neighboring lakes, which was only a 15 minute drive away. Overall - I can't think of a better place to rent in Lake Geneva. Alex and Yolanda are fantastic hosts, the town is charming and fun - we will definitely be back!
Megan
February 2016
The hospitality at the center street loft was top notch, making our girls weekend perfect. Alex and Yolanda were accommodating and kind and the house itself was spacious, clean and comfortable. The living area was perfect for entertaining. Also, the owners went through great lengths to ensure safely throughout our stay. Great walking distance to all local attractions. Would certainly recommend and return.
Leslie
May 2016
Tipo di stanza
Intera casa/apt
---
Tipo di sistemazione
---
Può ospitare
8
---
Camere da letto
2
Lake Geneva