You will stay in a comfortable and traditional riad, in the heart of the ancient medina of Marrakech, in an area whose origins go back to the 13th century. Its terrace will offer you a superb view on the zaouia of Sidi Bel Abbes. Your experience of the medina will start at the exit of the Riad by the discovery of traditional markets, souks, and finally the famous place Jemaa el Fna that you can easily reach on foot.
You will stay in a comfortable and traditional riad, in the heart of the ancient medina of Marrakech, in an area whose origins go back to the 13th century. Its terrace will offer you a superb view on the zaouia of Sidi Bel Abbes. Your experience of the medina will start at the exit of the Riad by the discovery of traditional markets, souks, and finally the famous place Jemaa el Fna that you can easily reach on foot.
Dating from the 13th century, the district Bab Taghazout and the Zaouia of Sidi Bel Abbes are mentioned in testimonies like that of Lisan ad-Dine Ibn al-Khâtib attest to the aura that already in the 14th century the modest structure. The true story of the zaouia begins at the beginning of the 17th century, when the Saadian sultan Abou Faris reached epilepsy built in 1603 a mosque attached to the mausoleum primitf then in 1615 a library. In 1625, the body of Ibn Abu Mahalli, a self-proclaimed mahdi and rebellious to Saadian rule, is buried under the medersa of Sidi Bel Abbes. With the arrival in power of the Alawis, the attention given by the power to the sanctuary does not weaken, despite the displacement of the court in Meknes. In 1720, the Sultan Moulay Ismail had a dome erected above the tomb of the saint. In 1756, Sidi Mohammed Ben Abdallah ordered the restoration of the medersa and the decrepit sanctuary, giving the mausoleum the aspect it is known today. In 1769, this same sultan endowed the mausoleum with a monumental fountain. A little less than a century later, it was the turn of Sultan Abd ar-Rahman to order the rehabilitation of the zaouia. In 1850, his son, the Sultan Mohammed IV, built the souk Majadliyin, adjoining the zaouia. In 1907, Sultan Moulay Abdelaziz decorated the hall of the mausoleum, a decoration effort undertaken again in the 1980s by King Hassan II.
Muchísimas gracias por toda vuestra ayuda y amabilidad, tuve problemas con mi vuelo de retorno y Christope estuve siempre en todo momento disponible y brindándome su valiosa ayuda. Es una cosa que tengo que agradecer de corazón, es el lugar mas recomendable para sentirse seguro ante todo.
JOEL
2017-02-12T00:00:00Z
Un accueil formidable ! Très bien situé au cœur de la veille ville. Abdel et Christophe sont extrêmement sympathiques, accueillants et serviables. Je recommande vivement !
Nadia
2017-03-29T00:00:00Z
Out of all the places I've stayed in while traveling Morocco for a month, this has been the best place and the only place where as a solo female traveler, I have been treated with the utmost respect and have not been harassed. Christophe and Abdel are really the best! Always helpful, always willing to help, always kind. The rooms are gorgeous and clean! Hot water. Fast internet. It is a deal. I even came back from the high atlas mountains, and they carried my big bag for me, and let me sleep in the morning. Don't look anywhere else. This is the only place you need to stay while in Marrakesh. Will be recommending it to friends!
Rebekka
2017-03-31T00:00:00Z
The Riad of Christophe is very nice, the rooms are little and sweet. The communication with Christophe was really easy. We liked it there :)
Magdalena & Christopher
2017-03-04T00:00:00Z
Probably the best value for money here in Marrakech. I enjoyed my stay at Christophe's place. It was not too difficult to find thanks to a well described plan. Despite the price, everything I need was there: wifi, towels, kitchen. I recommend this place and I hope that I have the chance to see you back again Christophe.
Romain
2017-03-19T00:00:00Z
Lovely room in a stunning house with a great roof terrace. Communication was excellent and gave really clear instructions on how to find the place. Would recommend.
Ysabelle
2017-03-24T00:00:00Z
A really nice placer and defenitly the best was Christophe...Who was all the time caring about our comfortability ...I wish all the riads and touristic places were half as good as this was.
Juan
2017-03-10T00:00:00Z
this is the second accommodation in marrakech that we visited which was also owned by christophe. for a really good price you get a big room with ambiente in a quiet, but central part of marrakech. breakfast is amazing. if I come back to marrakech, I will stay in one of his places again!
Nils
2017-03-16T00:00:00Z
Tipo di stanza
Stanza privata
---
Tipo di sistemazione
Pensione
---
Può ospitare
2
---
Camere da letto
Marrakesh, Marrakesh-Tensift-El Haouz, Marocco
Benvenuti a Riad Hadda Ristrutturato secondo la tradizione marocchina, Riad si trova all'interno delle mura della Medina, vicino a Bab Aylen, il Royal Golf e minuti dalla Jemma el Fna.
Il riad si trova a 15 minuti a piedi dalla piazza Jemaa el Fna. Naima La camera è spaziosa e con aria condizionata e bagno privato. Gli ospiti possono godere della terrazza con piscina. La colazione è inclusa. Ristorante sul sito, se lo si desidera.
Il quartiere di Bab Aylen, uno dei più antichi della medina tipico e tradizionale, con i suoi numerosi negozi e il suo vivace mercato giornaliero.
The entire experience at the Riad Hadda was amazing for my friend and I. Upon arrival, we were given mint tea--that was the beginning of my obsession with mint tea! Our room was very clean and beautiful. The location of the Riad is great, just 10-15 minutes from the square. The breakfasts were incredible, I looked forward to them everyday. The entire staff was so friendly and willing to help. It was very nice being able to schedule a ride to and from the airport. I would definitely recommend this Riad, and will definitely stay here again on the next trip to Marrakech.
Carly
2017-01-09T00:00:00Z
A fabulous introduction to Morocco.
Leo
2016-10-08T00:00:00Z
Riad Hadda is lovely for a budget trip. The courtyard is just as gorgeous as it looks in the pictures and has cute tortoise roaming around! It's about a 25 minute walk to the main square but the walk is filled with plenty of sights to see along the way but it is a little scary late at night - make sure you learn the route home during the day! Service whilst there is okay, nothing fancy. When we were there they were doing lots of very noisy building works on the roof though, so unfortunately it was not the tranquil escape from the busy streets that we were hoping for. They offered us a cab from the airport for 15 Euro which was very convenient as most of the taxis aren't keen to drop you much further than the medina walls. However, for the drop back to the airport they charged 20 Euro (the standard fair advertised by most taxis was 70 Dirham(about 6 Euro)) so I would advise just picking one up yourself if you're travelling to the airport, they're very easy to hail from the end of the road.
Clare
2016-09-25T00:00:00Z
Séjour très agréable dans un havre de paix. Le riad de Medhi est cosy, calme et très bien situé à une vingtaine de minutes de l'animation de la place jemaa el fna. Medhi est disponible et accueillant.... un endroit parfait pour se reposer et découvrir Marrakech. Nous le recommandons s à 300%. Merci Medhi!
Olivia
2016-01-03T00:00:00Z
The riad was very nice and the room very confortable. The staff was very helpful and efficient. Very relaxing place, quiet, beautiful, and located 10-15 minutes walking from the Yamma el-Fna square. I will recommend it without any doubt.
Epi
2016-04-26T00:00:00Z
Beautiful home, great breakfast, very helpful in arranging day activities and travel questions. City walking tour with Jamal was superb. A great oasis all around!
Anne
2016-08-01T00:00:00Z
Amazing Riad and excellent service!
Sarah
2016-08-23T00:00:00Z
Me and my adult daughter were staying here for three nights. It's a fantastic place and Mehdi and the other guy working there (sorry I don't remember his name) were very nice and helpful. We had a great dinner on the terrace one night. The colors, the mosaics and the atmosphere was amazing! It felt really luxurious and relaxing to stay here. The little pool was so beautiful and the two turtles walking around on the floor were really charming (I've never thought of turtles in that way before:) I can truly recommend this place!
Barbro
2016-06-14T00:00:00Z
Tipo di stanza
Stanza privata
---
Tipo di sistemazione
Casa
---
Può ospitare
2
---
Camere da letto
Marrakesh, Marrakesh-Tensift-El Haouz, Marocco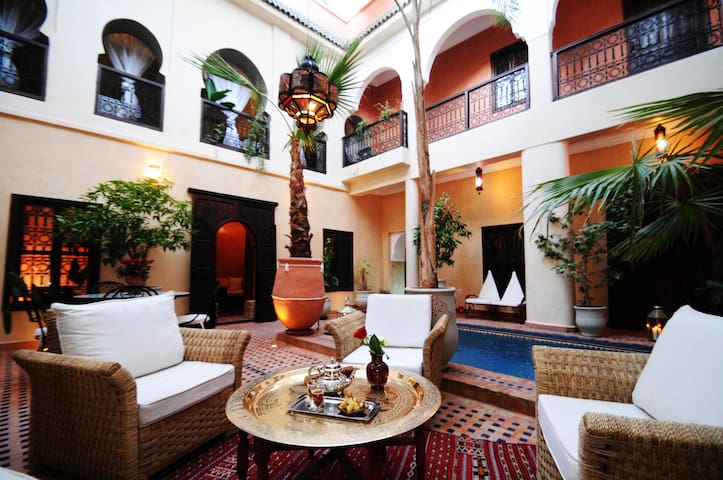 Situato nel cuore della Medina iconico, Riad Shiraz è la vostra casa lontano da casa durante la visita di Marrakesh. Un eclettico, la luce e la fusione luminoso di vita interni ed esterni, trascorrere le vostre giornate di relax nella splendida piscina interrata privata, o si adagiano sul divano appollaiato sul tetto panoramico. Le 4 camere con 5 bagni privati casa ha una cucina completa, aria condizionata e la connessione Wi-Fi gratuita.
Benvenuti a Riad Shiraz - ristrutturata di recente dallo stile unico 4 camere da letto, 5 bagni casa vacanza con piscina a mosaico interrata privata. Trasudando unico stile, calore e il fascino, questo 200m2 casa vacanze è spazioso e aperto, molta luce naturale e un mix boho interni di colori naturali con vibrazioni rustici. Idealmente situato tra Bab Doukkala e Dar El Bacha, gli ospiti possono attraversare la strada per il popolare Le Jardin e Atay Café solo 5 minuti di distanza a piedi, e andare alla famosa piazza Jemaa El Fna in soli 15 minuti. Caratteristiche della struttura • 4 camere da letto con letti queen size, 4 bagni privati • Grande cucina luminosa con piano cottura a gas • Wifi gratis • Patio esterno con l'impostazione da pranzo e soggiorno • terrazza soleggiata con lettini, un'amaca, un barbecue e una fontana • tetto panoramico con una zona relax bohemien • Idealmente situato nel centro di Medina, vicino ai migliori souk • A soli 15 minuti a piedi dalla famosa piazza Jemaa El Fna
LUOGO Questo splendido riad è situato nella Medina, nel quartiere "Riad Laarouss", a pochi minuti dalla città nuova di Guéliz. Passeggia giù da questa oasi privata al souk incredibili dove è possibile sfogliare la merce a mano e chattare con gente amichevole per i loro segreti e le raccomandazioni. Proprio accanto alla strada della casa, gli ospiti possono trovare caffè e foodie tratta e una breve 10 minuti a piedi vi porterà a un grande supermercato.
J'ai réservé le matin pour le midi même, Adele et Aimad (son homme sur place) ont été disponible immédiatement pour notre entrée dans les lieux. Le riad est très bien placé, la propriété est parfaite, la literie est confortable et dispose de tout les équipements nécessaires à un bon séjour. La cuisinière sur place est absolument excellente, je. Oui conseille un repas à la maison préparé par ses soins, vous ne regretterez pas ! En quelques mots, le service et le lieu sont parfaits pour un séjour entre amis et/ou Famille. Je finirais pas la terrasse du haut, qui est superbe ...
Samuel
2017-04-09T00:00:00Z
Tipo di stanza
Intera casa/apt
---
Tipo di sistemazione
Casa
---
Può ospitare
8
---
Camere da letto
Marrakesh, Marrakesh-Tensift-El Haouz, Marocco
"Rockech a state of mind in Marrakech" is our life style! We have 3 B&B's in the medina of Marrakech, very close to the Jemaa el Fna square. We are ideally located close the markets and all major attractions! Just get in touch with us!
We offer a Room with private bathroom and 2 double rooms located at the ground floor. We also have a beautiful terrace and a patio available for our guests. Dinner and pasta nights are possible. Wifi is free of charge for our travellers. We can arrange excursion all over Morocco for our guests, and will assist you by booking your restaurants and your Hammams. RocKech is the best place if you wish to know other travellers from all around the world, and if you are searching for a cheap but very nice hostel in Marrakech
accoglienza buona, persone cordiali e disponibili... ci hanno dato ottime informazioni per il nostro soggiorno. ci hanno consigliato come muoversi in città e fuori... tramite loro abbiamo prenotato un tour fino al deserto che si è rivelato uguale alle loro descrizioni... l'appartamento era accogliente, pulito, in una buona zona e in stile con la città....
Gabriele
2016-01-02T00:00:00Z
abbiamo ricevuto un ottima accoglienza, i proprietari ci hanno mandato un autista a prenderci all'areoporto, hanno risposto a tutti i nostri quesiti, ci hanno dato ottimi consigli su cosa visitare, dove mangiare e come comportarsi. La camera era fresca e pulita il bagno era perfettamente funzionante, molto carino e in stile orientale. Tutte le mattine una signora del posto ci preparava una colazione tipica. La vivacità della città era compensata dalla quiete dell'alloggio. é stata una vacanza meravigliosa..spero di tornare presto a trovarvi. Grazie!!
valentina
2016-03-20T00:00:00Z
Magnifica esperienza, grazie a Matteo che ci ha organizzato il transfer dall'aeroporto, e che ci ha accompagnato al nostro alloggio, in un riad all'interno della Medina, posizione perfetta per chi vuole vivere la città come da abitante. Ci siamo sentiti a casa nostra con l'ospitalità eccezionale di Pier il padrone di casa. Colazione ottima servita all'interno del patio del raid. Lo consigliamo a tutti!!!
Claudia
2014-11-07T00:00:00Z
Il riad è intimo e molto carino, in posizione ottimale. Colazione buona e pulizia impeccabile. Forse solo un po' fresco d'inverno, ma sicuramente è un punto a favore quando fa caldo. I ragazzi sono stati molto disponibili anche nell'organizzazione dei tour! Grazie di tutto!
Anna
2017-01-02T00:00:00Z
Alberto è stato gentilissimo da quando siamo arrivati - ci ha offerto una bella colazione (ben apprezzata dopo un lungo volo) e ci ha datto tantissimi consigli riguardanti il nostro. Nostra camera era bellissima (Albe ci ha offerto un upgrade alla suite, la camera più bella della Riad), e la riad tranquilla, situata nel cuore della medina, ma isolata dalla vita esterna dei souk e negozi. Una bella esperienza - grazie Alberto, e alla prossima!
Julia
2015-01-15T00:00:00Z
Un posto accogliente e personale molto gentile e qualificato, il riad è pulitissimo e la mattina avrete una super colazione:). Al nostro arrivo i ragazzi ci hanno dispendiato di ottimi consigli e dritte su come muoverci nella città e come comportarci. Essendo poi praticamente nella zona del souq è in un punto strategico per visitare tutto. Sicuramente un posto che consiglierei a chiunque voglia soggiornare e vivere al meglio la città!
Giulia
2016-05-23T00:00:00Z
Abbiamo soggiornato nel riad Nuba, nel cuore della medina. La stanza, come tutto il riad, è ben curata e pulita, probabilmente fresca di ristrutturazione. Ogni giorno abbiamo consumato la colazione in terrazza, un ambiente molto confortevole e silenzioso. L'accoglienza di Alberto e Simone è stata impeccabile, hanno organizzato il nostro transfer da e per l'aeroporto, appena arrivati ci hanno offerto la colazione, fornito consigli sul soggiorno a Marrakech e ci hanno accompagnato al nostro riad. Sicuramente da consigliare e ripetere!
anna
2015-04-02T00:00:00Z
La nostra vacanza é stata bellissima, agevolata in tutto da Matteo,Alberto e Simone. Disponibilitá e precisione assoluta anche nelle escursioni. Colazione buonissima. Lo consiglio a tutti. Soddisfatta al 100%
loredana
2015-07-12T00:00:00Z
Tipo di stanza
Stanza privata
---
Tipo di sistemazione
Bed & Breakfast
---
Può ospitare
2
---
Camere da letto
Marrakesh, Marrakesh-Tensift-El Haouz, Marocco
Chambre double ou triple équipée d'une climatisation réversible, d'un chauffage d'appoint, d'un coffre-fort, de draps, de serviettes de bain, savonnettes, shampoing et d'un sèche-cheveux. Taxe de séjour en sus 2.5€ par personne et par jour
L'établissement possède 5 chambres avec salle de bain privative, disponibles suivant les réservations ainsi qu'une piscine intérieure, un salon détente, une salle à manger, une terrasse aménagée avec sa tente berbère où se reposer après une journée de visite ou d'excursion. Sur réservation vous pourrez déguster des plats traditionnels marocains. Taxe de séjour en sus 2.5€ par personne et par jour
Idéalement situé dans le quartier calme de la Kasbah, le Riad est proche du Palais Royal, des Tombeaux Saâdiens, des Palais El Badii et de la Bahia et à quelques minutes à pied de la Place Jamaâ El Fna. De la terrasse par temps clair, vous pouvez admirer une partie des montagnes du Haut Atlas.
Ce court séjour dans cette maison pleine de charme s'est vraiment bien passé. L'emplacement est idéal, au centre de tout. Complètement conforme aux photos, au confort, à la propreté mentionnés. Nous avons eu un super accueil à notre arrivée et c'était un plaisir d'y être !
Sindy
2016-11-05T00:00:00Z
what a wonderful first experience in Morocco. We missed our connecting flight from Casablanca to Marrakech, and Jean Jaques and his team made sure to be ready whenever we would arrive. We got picked up at the airport at midnight, got brought to the medina and had a very warm welcome with delicious moroccan tea. We never felt more welcome :) Rooms clean and comfortable, beautiful riad. Delicious breakfast. Loved it
Carolin
2017-03-07T00:00:00Z
We stayed here for 4 nights and the staff are excellent! It is about 10mins comfortable walk from the main area of the medina but that was a really nice thing - getting away from the noise and hawkers. Would like to especially thank Hamid for the great service! If you only speak English, like us, make use of (SENSITIVE CONTENTS HIDDEN) translate and you'll have no problems!
Jarrod
2017-01-13T00:00:00Z
It's like entering a mysterious Arabic world when I enter the place, full of wonder and comfortable. You can enjoy your breakfast in the sunshine on the balcony. The location is quite close to most sightseeing places on foot.
Wei
2017-02-14T00:00:00Z
Le riad est très bien situé. Bon équilibre entre un certain calme et une proximité avec certains lieu plus animé. L accueil est cordial et les personnes à l'écoute des voyageurs. Bonne expérience
Nasser
2016-10-27T00:00:00Z
This riad was exactly what I wanted--cute, in a sweet neighborhood. The staff was very helpful. My room was beautiful. Very walkable to major attractions.
Quynh
2017-01-16T00:00:00Z
Riad très agréable avec un accueil excellent! L'emplacement est à proximité du centre de Marrakech, mais attention à bien laisser la voiture à l'extérieur de la médina, pas de parking dans le sud de la médina. Nous y retournerons sans hésitations.
yannick
2017-02-16T00:00:00Z
Good but not great. The physical riad and my room were great. The interior is beautiful and exactly what you hope for in a traditional riad. Check-in went well even though my train was delayed and I didn't arrive until 2am. The less than great was trying to find the riad at 2am since there is no explicit signage. Also, the wifi is bad. It cuts outs, making calls impossible and the strength was poor in my room. I realize it's part of his job, but every time I spoke with Samir he tried to sell me something (e.g. transpiration, excursion, masssage). The location is pretty good and my opinion of this aspect improved during my stay. 10 minute walk to Jemaa el-fna, very close to the palaces, basically next to Saadiens Tombs.
Taylor
2017-03-28T00:00:00Z
Tipo di stanza
Stanza privata
---
Tipo di sistemazione
Pensione
---
Può ospitare
3
---
Camere da letto
Marrakech, Marrakech-Tensift-Al Haouz, Marocco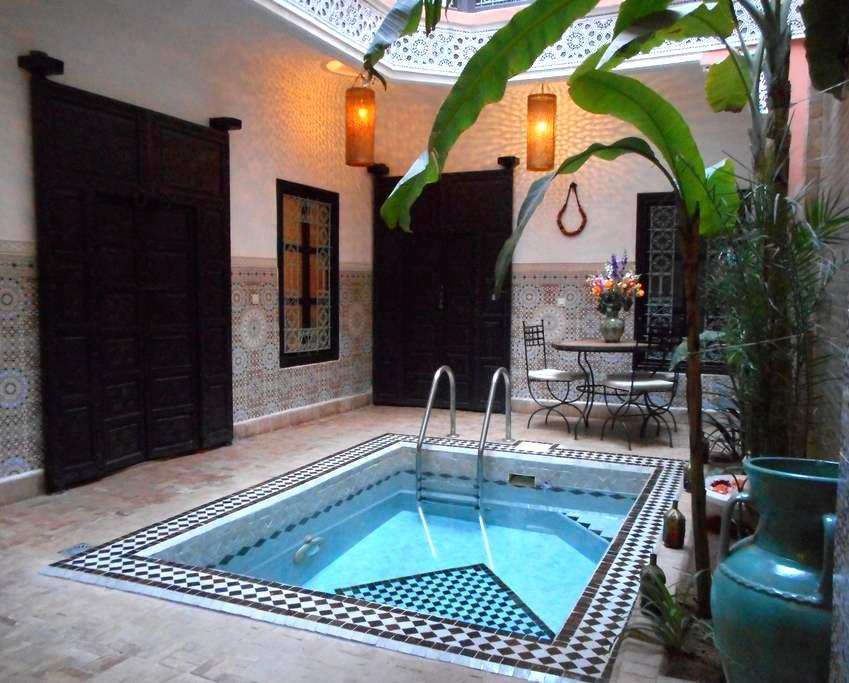 Maison d'hôtes intimiste au cœur de la médina. Découvrez le charme et l'art de vivre marocain au sein de notre Riad. Proche de la place, nous serons heureux de vous accompagner tout au long de votre séjour en vous communiquant tous nos bon plans.
"Bienvenus chez vous". Venez vivre une expérience incomparable au cœur de la médina. Nous, Jérôme et Bouchra vous accueillerons comme à la maison. nos chambres doubles sont équipées de salle de bain individuelle, climatisation et vue sur le patio ou sur la place. Vous profiterez de la terrasse et de la partie ombragée pour déguster un verre de thé, fumer une chicha, ou tout simplement vous relaxer. Nous vous ferons profiter de tous nos 'bons plans" sur Marrakech et ses environs (visites guidées, excursions, activités...). un service de navette sera mis à votre disposition pour vos transferts ou visites. Nous pourrons également vous proposer une cuisine traditionnelle préparée par nos soins avec des produits frais du jour.... - Pour les visites et Excursions, ou location de voiture : si durant votre séjour, vous souhaitez découvrir Marrakech, ses alentours ou les destinations incontournables (Visite guidée de Marrakech, Désert, Essouira, Cascades d'Ouzoud, Vallée de l'Ourika, l'Atlas… sortie Quad ou 4x4), nous pouvons organiser, vous informer ou vous orienter vers les agences de tourismes sérieuses avec qui nous travaillons historiquement et à des tarifs préférentiels. - Bien être, Beauté, cadeaux : Avant de partir, Bouchera pourra vous orienter à deux pas du riad pour découvrir le rituel du hammam traditionnel. Une séance de tatouatage au Hénné peut être organisé au Riad pour votre plus grand plaisir. Pour toutes vos idées de souvenir, n'hésitez pas à vous rapprocher de Bouchra, elle s'occupera au meilleur prix et avec la garantie de la qualité de vos petits achats (huiles argan, savon noir, Rhassoul, plantes et épices…) Le prix de la nuitée est de 25 € pour 1 personne, 30 € pour 2 personnes et 35 € pour 3 personnes (enfant +10 ans). A cela, rajouter la taxe de séjour de 25 dhms /par jour et par personne.
Situer dans le quartier Sidi ben Slimane, au cœur de la médina, vous serez au plus près de la population dans un quartier animé par ses vendeurs ambulants et ses maraichers. A 10 minutes des souks et de la place Jamma El Fna
Il riad è piccolo e carino. Rispetto ad altri riad della città è più defilato (un po' complicato da raggiungere dalla piazza principale), ma con un'atmosfera tranquilla e accogliente. Il personale che ci lavora è stato davvero molto gentile e disponibile. Non abbiamo conosciuto i gestori con cui abbiamo però comunicato sempre via email in modo tempestivo. Unica pecca i bagni non pulitissimi!
Mila
2015-12-17T00:00:00Z
El lugar es excelente, muy buenas atenciones, muy limpio, comida deliciosa. Mejor estancia en Marrakech.
Priscila
2016-11-04T00:00:00Z
Merci beaucoup pour l'accueil, la disponibilité, et la sympathie de toute l'équipe ! C'était chouette et Marrakech est magnifique.
Benoît
2017-01-30T00:00:00Z
Really nice place. Very authentic, traditional, old style Riad. Great sunny roof top terrace. Jerome helped me by buying a bus ticket, organising a taxi and talked me through navigating with a map round local sights. Thanks Jerome and Hakim.
Wendy
2017-01-18T00:00:00Z
Le Riad est très agréable. Confortable et joliment décoré. Jérôme est très accueillant et a grandement facilité l'organisation de mon voyage. Merci pour tout.
Edouard
2017-02-22T00:00:00Z
全体的にとても良い印象を受けました。部屋の清掃も対応もとてもよかったです。夜遅くに着くため心配していたのですが、近くまで迎えに来てくれたため、迷路のようなメディナの中のゲストハウスにたどり着くことができました。メディナの中にあると初めての人は地図を見ても迷子になってしまうかもしれないので、迎えに来てもらうことをオススメします。あと、シャワーのお湯は小さいタンクで毎回沸かされるだけで、10分くらいで無くなってしまったので、節約して使ったほうがいいです。 またマラケシュに来る機会があればリピートしたいなと思いました!!
Kazuma (Kzm)
2017-02-03T00:00:00Z
My friend and I had a pleasant stay at Riad Ineslisa. We booked the rooms for 6 nights. Jerome, the host, was very accommodating and prompt in replying to messages and requests. He made the effort to wait for us near the riad when we first arrived at Marrakech. Both he and his wife Bouchra were warm and friendly. The rooms were spacious, clean and well-maintained. The riad is a bit far from Jemaa El Fnaa but still accessible. Taxis are easily available about 5 min walk to the main area. Overall, my friend and I had a great time staying at Jerome's place. The only feedback that the host could possibly consider is to include the taxes in the rental cost and not to pay the taxes separately. I was honestly surprised of the additional taxes that had to be paid but Jerome was kind enough to explain the reasons. The clause on the taxes imposed were posted in Airbnb but the explanation was in French. It will be good if the explanation is also done in English for those who dont understand French.
Rohani
2015-12-07T00:00:00Z
Very lovely riad at a great location in the middle of the medina. 10 min walk to place Jemaa el-fna and even less to the souks. The riad was comfortable and clean, staff was really nice and the home made food is delicious! Breakfast was also fine. I would definitely recommend this place!
Jesse
2016-03-13T00:00:00Z
Tipo di stanza
Stanza privata
---
Tipo di sistemazione
Bed & Breakfast
---
Può ospitare
3
---
Camere da letto
Marrakech, Marrakech-Tensift-El Haouz, Marocco
Riad Puchka Marrakech Red Room Due letti singoli in una grande stanza con doccia, ripostiglio, terrazzo e solarium con vista piscina /, piscina, Libero accesso al forno microonde cucinare ecc Una vera e propria piscina di 7 metri ideali per il nuoto Nel cuore della medina, vicino a Place Jama el Fnaa Hanno ancora 6 camere libere a Riad Scrivici .... io ti rispondo in meno di un'ora Guarda il video su youtube Riad Puchka piscina breackfast gratis
Hanno ancora 5 camere libere in Riad Scrivimi se disponibili risponde -1 ore guardare i video su youtube Riad Puchka
calma Zen .... molto bella gente
We requested for the transfer from the train station. They rarely pick up from train station so our diver was waiting at the airport. But no worries as we messaged Nadia on airbnb and after few mins, Richard arrived at the station to pick us up. Since we arrived early in the morming, we stayed for a while at the beautiful patio. This is a peaceful and beautiful riad. We were welcomed with mint tea and we loved our stay at the patio. After a while, we were usherred to our room. In general, it was a nice experience for the price.
Jess
2016-10-03T00:00:00Z
Excellent acceuil et prestation conforme à la description ! Adorable. Merci beaucoup !
Nolwenn
2016-12-08T00:00:00Z
very nice hotel in the Moroccan style, complements the notion of Marrakech with its flavor. cozy room with a beautiful crazy different ceilings. Hotel easy to find from the central square, about 10-15 minutes at a slow pace. Quiet calm street! All our family really enjoyed, the breakfasts were delicious
Margarita
2016-10-20T00:00:00Z
Nadia et Franck were great hosts. They treated us like family and there is no other places I would want to stay in when visiting Marrakech. Their riad is clean, beautiful and well located. Upon arrival they served us tea and in the morning they made a delicious breakfast adapted to our tastes. The pool is just as in the picture and it's extremely refreshing after a hot day strolling Marrakech. The rooms are comfortable, clean and extremely well decorated.
Sami
2016-07-22T00:00:00Z
Una experiencia inolvidable. El desayuno exquisito, lo mejor el té de menta. El cuarto cómodo y la cama super cómoda. Muy bueno el servicio.
Monica
2016-10-14T00:00:00Z
Sehr nette Und hilfsbereite Menschen
Peter
2016-09-14T00:00:00Z
本来在麦地娜老城里,位置就很难找到,打电话联系了,老板也不出来接!加上马拉喀什骗子多,老城里手机地图完全没用,被人带路绕了好久,还花了很多带路钱。说下房间,一楼的感觉很闷,不透气,但开了窗户大厅的所有人都能看见你!洗澡和洗脸池的下下水道要堵要堵的,洗个澡可以顺便水泡个脚…脏的我……我不懂评分怎么那么高,也许楼上的房间很好,但是我住的是一楼,真的感觉不太干净。
丹
2017-04-01T00:00:00Z
My husband and I traveled to Marrakech between Christmas and New Years and stayed 3 nights of our 10 day trip at Riad Puchka. Zakaria, our host at the site, was extremely helpful, kind and made our stay very comfortable. The location is a short 8-10 minute walk from Jemma El F'na - easy to get there. The courtyard is beautiful as the photos show and we enjoyed a delicious breakfast there each morning. It was a perfect oasis from the busy streets at the end of the day. Consistently had hot water, in room heater, reliable airport shuttle. Very good value!
Alexandra
2016-12-27T00:00:00Z
Tipo di stanza
Stanza privata
---
Tipo di sistemazione
Bed & Breakfast
---
Può ospitare
2
---
Camere da letto
Marrakesh, Marrakesh-Tensift-El Haouz, Marocco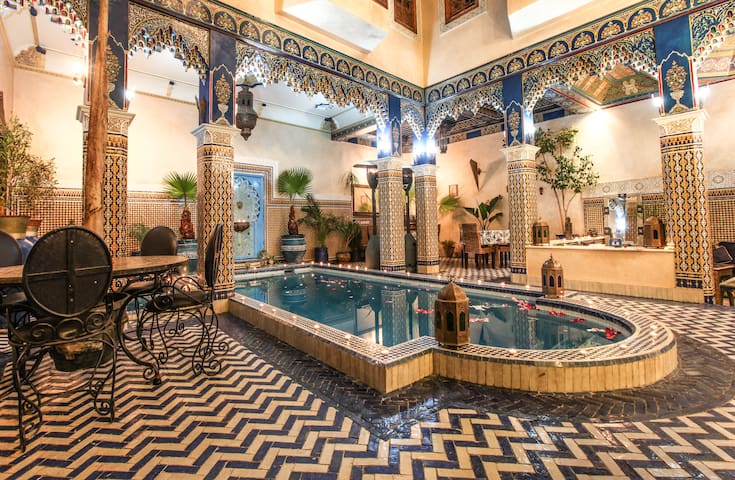 Marrakech Medina
Marrakech Medina Il Riad ha la posizione migliore, E 'solo due minuti a piedi dalla piazza centrale' Jemaa El Fna ', in mezzo al Souk nella vecchia Medina. E a 15 minuti a piedi dalla 'Città Nuova'. Siete invitati a rimanere in una delle tre camere al piano terra. Due delle camere hanno letti matrimoniali e la terza camera ha due letti singoli. Hai il pieno accesso a uno dei bagni in comune, il patio dove si può avere un tè alla menta sotto l'ombra degli alberi e soleggiata terrazza panoramica. Se vi piace potete ordinare la colazione e l'abbiano in cucina, il patio, il tetto o perché non nel tuo letto. Questo Riad ha un'atmosfera rilassante. Un luogo ideale per riposarsi dopo aver esplorato il colorato e vivace Medina e la diversità del continuo cambiamento di Marrakech. Questo è un piccolo Riad privato in una tranquilla strada laterale. Tutti gli ospiti sono tenuti a rispettare la quiete del quartiere. E 'severamente vietato di lasciare che chiunque altro in salvo chi soggiorna a Riad. Dall'aeroporto ci vogliono 20 minuti in taxi. L'autobus della linea 19 ferma proprio fuori dall'aeroporto e si di goccia alla 'Jemaa El Fna'. Ci incontreremo e vi mostrerà al Riad. Se arrivate in auto, posso incontrare e vi mostrerà di un parcheggio sicuro. Quando sei qui mi piacerebbe visualizzare miei ristoranti preferiti e dare consigli su cosa fare e vedere. Posso anche aiutare se vi piace andare in un tour, acquistare i biglietti per gli autobus ei treni, e un sacco di altre cose. Siete sempre i benvenuti a farmi tutte le domande.
Charming clean place with nice yard to sit and meet and beautiful bird's singing in the morning!
Berglind
2017-02-26T00:00:00Z
We had fantastic time at Mirma's riad. The room is very cozy and beautifully decorated and the lounge area is fantastic to chill after a day exploring the busy medina. it feels like your own little oasis! Mirma is very friendly, welcoming and attentive. She gave us some great advice on what to see and showed us around. Really the perfect host! we stayed in couple more riads during our travels in Marocco and this was definitely the best! If ever back in Marrakesh i will definitely stay at Mirma's again!!!
Magdalena
2016-05-06T00:00:00Z
Excellent stay. Mirma is such a lovely lady and goes all out to make sure your stay is comfortable. The place is clean and absolutely quiet. Mirma gives A lot of tips on how to handle Marrakech which is very important. She took great care of my pregnant wife and makes great breakfast. Great location. It's really an oasis of peace after the craziness of the medina. The riad is 2 mins from a traditional hamman and 7 mins from the main square. Ask her for the fruit stall and fried fish recommendation. Bring a bottle to fill up with the orange juice. We still miss those 2 stalls.
Kydon
2016-11-03T00:00:00Z
Mirma was soooo nice to us ! She helped us a lot ! And we do enjoy the day living in one of her beautiful guest room ! It was very clean and quiet ! Hopefully one day I can visit Marrakech again, I definitely want to live in her house ! Thx mirma!
洁
2016-06-14T00:00:00Z
Mirma is magical, as is her riad. Located in one of the quieter corners of the old medina, the riad provides sanctuary from the often overwhelming marketplace. It is also very cool even on the hottest days, which was a much needed relief. Mirma made us feel at home, gave us all the best tips on where to eat and even took us shopping (she's a pro at bargaining). As a female duo, the male-dominated streets of Marrakech were often frustrating and intimidating, and it was comforting to befriend someone like Mirma during our stay. The riad is in a very convenient location. It's a 5 minute walk to the main square (Jemaa el Fna), if you don't get lost. It's a 2 minute walk from a road where you can find taxis (cars are otherwise not permitted within the walls, so this is a major plus). And while we wouldn't recommend walking home too late at night, this neighborhood feels much safer than other ones we explored. We definitely recommend eating breakfast at the riad, Mirma serves delicious omelets with bread and jams, tea and coffee. We couldn't recommend this airbnb enough! It was truly the highlight of our short visit to Morocco, in large part due to Mirma's hospitality.
Sandra
2016-07-14T00:00:00Z
We had an amazing time in Marrakech. Merma is a perfect host; superfriendly, lots of advice and with a passion for the city. When we got on trouble she even came to the airport to help us out. No wonder she has so Many positive reviews. The place is very Well located, in the heart of the medina. The patio is beautiful and the rooms are Nice. Breakfast is not included, but Also een recommendation!
Suzan
2016-09-25T00:00:00Z
Mirma is the most amazing host, warm and helpful and helped us out with everything with a smile. Location is perfect and her riad clean and beautiful. We cant wait to come back
Lilja
2016-10-02T00:00:00Z
Mirma is the perfect host. She took care of us from the moment we arrived till the day we left. She arranged parts of our time in marrakesh for us. Offered to book tours and accommodations as well. Since she's made so many contacts and friends, do reach out to her for anything- she told us where to get certain things, where to eat and most importantly how not to get lost. We felt completely safe and had a fantastic experience- largely because she gave us great advice. The riad is cozy. A great escape from the hustle and bustle of the medina. She's conveniently located near restaurants that are easy to find. The room was very cozy. The toilet and shower was very clean. Mirma is usually at the riad so she was always around to give a hand if we needed anything. Thanks again for having us! :)
Pauly
2016-10-10T00:00:00Z
Tipo di stanza
Stanza privata
---
Tipo di sistemazione
Casa
---
Può ospitare
2
---
Camere da letto
Marrakesh, Marrakesh-Tensift-El Haouz, Marocco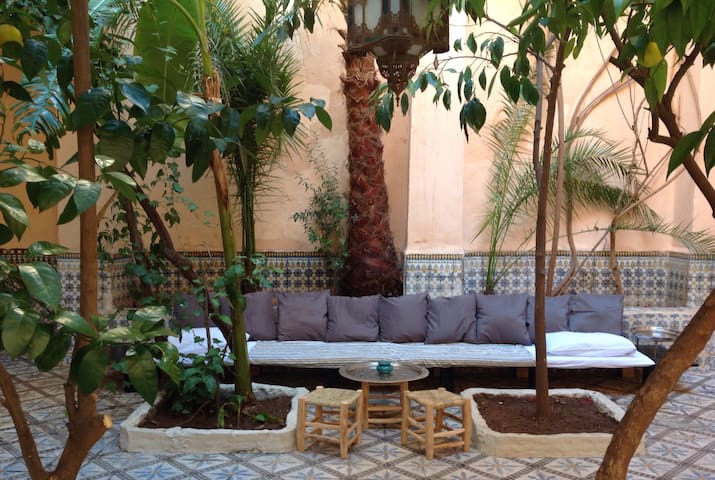 Situato nel cuore della Medina di Marrakech, a soli 10 minuti a piedi dalla Jemaa el Fna, il Riad "Ocra casa" offre una reception ampia e soleggiata terrazza sul tetto, in stile rustico stile marocchino e di 24 ore. Tutte le camere sono private con bagno annesso.
Situazione eccezionale, offrono un accesso alle auto a 200 m dalla strada del motore. Autentico riad di incontri per oltre 700 anni. Gli extra: molto tranquilla, piscina, solarium, bagno turco, massaggi su richiesta. Poiché l'accesso è a soli 300 metri dal riad. Esistono le riad per più di 700 anni. si organizzano corse di cammelli, quad, buggy, per 1/2 giornata arround Marrakech e tour nel desert(URL HIDDEN)giorni.
Il riad si trova in una delle zona più antica della Medina Circondato dalla souk locale e negozi. Il riad si trova in una zona molto tranquilla strada senza uscita. Con nessun passante. Il contrasto è sorprendente non lontano dal riad, quasi 150 metri, si è immersi nella tipica vita souk locale con itti eshop tipico lì, si sono Captivate e cattura dai profumi di odore di menta connessi con spezie, verdure e frutta. Una zona vivace, in cui si scopre il "marakchis" vita quotidiana. Tutto è accaduto in una piccola area qui perché le moyen de trasporto è a piedi, in bicicletta o occasionalmente. FRANCESE Il distretto è una delle zone più antiche della medina, il riad si trova in una strada molto tranquilla in un cul de sac, non di passaggio. Il contrasto è sorprendente a 150 metri del Riad si è immersi nella tipica vita locale souk con il suo tipico eshop ci si cancella i profumi di odore di menta connessi con spezie, verdure e frutta, un vivace, o la vita quotidiana scopriamo "Marrakchis" in una piccola area, perché qui tutto è fatto a piedi o in bicicletta accesoirement.
good
G4124
2017-04-07T00:00:00Z
Le responsable de ce ryad es franco marocain il vous conseillera parfaitement bien sur l'environnement et les endroits attrape touriste à éviter !! Il veillera à ce que votre séjour à marrackech restera un bon souvenir.
adil
2017-03-27T00:00:00Z
Tipo di stanza
Stanza privata
---
Tipo di sistemazione
Bed & Breakfast
---
Può ospitare
3
---
Camere da letto
Marrakesh, Marrakesh-Tensift-El Haouz, Marocco
Ancient meets Modern. The heart of Morocco's emerging modern art scene beats in this ancient structure. A cadre of the most talented and visionary young artists in the country have converged on this blank canvas. Painting, sculpture, multi-media...are coming. The artists are at work. Watch it happen...
Riad description Just ten minutes walk from the main square Jemaa el Fna, this 400 year-old traditional Morrocan Riad has been transformed into a a showroom for for a new wave of Modern Morroccan Art, and a workspace for a new generation of groundbreaking young artists. The interior design of the Riad, is a mix of traditional and modern. Art Deco cafe table on the patio and Modern Art-Block furniture in the 2nd floor salon juxtapose with more traditional Moroccan styles on the roof terrace. Hand-carved Berber sofa stands double as bed frames in all the rooms, the beds clothed in crisp, white linens. Breakfast is served on the terrace every day at 9 AM. The clientele of the house tend to be young, creative and a bit bohemian and there are always artists working and in residence.
At the crossroads of the two main streets of a 900-year-old Medina.
The host Jamal (Al was attending business in Minneapolis) was beyond welcoming. A really inspiring young man that spent his evening making sure all was well at the Riad whilst teaching himself English (he spoke almost fluently after learning for 5 months, which puts my Portuguese to shame!). His mother served us breakfast every day which was lovely, I already miss the freshly squeezed orange juice. The Riad itself achieved being right in the centre of the Medina, whilst being a safe haven away form the hustle and bustle if that's what you need after a long day of exploring. The fountain in the centre is calming, the art is fantastic, the hosts welcoming. Could not ask for more!
Alex
2016-03-24T00:00:00Z
Nous nous sommes senties extrêmement bienvenues au Riad de Al! Lui-même et les artistes qui fréquentent le lieu ont su nous accueillir et nous faire découvrir Marrakech. Nous y avons créé de belles amitiés. Conforme aux photos et très bien situé, le riad n'est qu'à 10 minutes à pied de la place Jemaa el fna. De plus les petits-déjeuners sont délicieux! Nous recommandons ce riad à tous.
Emma
2016-01-17T00:00:00Z
Kemel is very nice person, that helps you with everything you need! Very clean and great place! We ll be back soon :)
Joe
2016-08-12T00:00:00Z
l'accueil fut très sympathique et joviale, l'équipe est conviviale et à l'écoute, le logement est parfait et les photos sont concordantes! nous nous sommes juste un peu fourvoyés dans les ruelles , mais sans conséquence et les repères sont vitre pris...
Laurent
2016-11-06T00:00:00Z
Beautiful riad at a great location in the medina. Doug was a very friendly host; easy to get in contact with and he helped us find a cooking class and a private hamman. Highly reccomend to stay here!
Johanne
2017-01-02T00:00:00Z
We was very happy to see again Hiba! :) The location is perfect, and the breakfast was delicious!
Paula
2017-02-21T00:00:00Z
People working there is so nice, the breackfast is so good. The place is so clean, beautiful and near to the main square (Jamma el Fna). We will repeat for sure!
Roldán
2016-10-20T00:00:00Z
Jamal was very welcoming and helpful! Beautiful Riad concerned about local artists! Everybody was so nice to us and breakfast was delicious! I Will come back again...
Maud
2016-04-12T00:00:00Z
Tipo di stanza
Stanza privata
---
Tipo di sistemazione
Casa
---
Può ospitare
3
---
Camere da letto
Marrakech Médina., مراكش-تانسيفت-الحوز, Marocco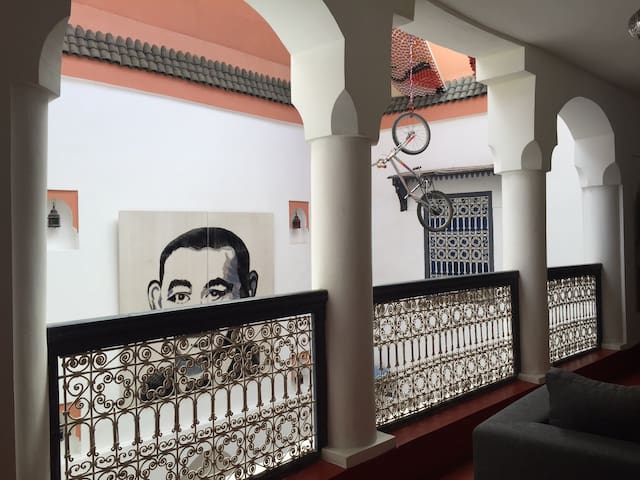 Riad Eva - camere di R & R, con uno stile tradizionale Moroocan a un prezzo economico e amichevole. Siamo un piccolo riad con sede in uno dei quartieri più altamente auspicabile nel cuore della Medina di Marrakech. »5 minuti per« Jemaa El Fna »
Ora sotto nuova gestione, Riad Eva offre un tranquillo rifugio R & R ed è entrambe le coppie e le famiglie. Il Riad si trova nel molto ricercato dopo quartiere Moulay Abdel Kader off di Derb Debachi, che è a soli 3 minuti a piedi Jemma El Fna nel cuore della vecchia medina. Anche se tutta l'azione di Marrakech è proprio fuori dalla porta di casa, vi sentirete completamente un mondo lontano dal caos e dalla frenesia della medina di questo quartiere tranquillo, accogliente e tranquillo. Le camere del Riad sono del tradizionale stile verso l'interno di fronte, offrendo un sorprendente grado di privacy e isolamento dal mondo esterno. Il Riad dispone di 4 camere matrimoniali con bagno, 1 camera tripla con bagno e due camere da letto 1 bagno terrazzo. Tutte le stanze si aprono su un cortile tradizionale marocchino a pianta aperta con una grande a due livelli terrazza solarium panoramica con molteplici opzioni di posti a sedere. Il Riad dispone di un tradizionale, raffinato stile marocchino rustico in tutto. Questo elenco è per il piano terra doppia en-suite "Rabat da letto." E 'fresco in sede estiva e può ospitare un letto singolo su richiesta. Contattateci per la disponibilità per le nostre altre stanze triple e doppie, come siamo attualmente in fase di messa in vendita di camere in stile simili su AIRB & B che abbiamo a disposizione. Prima colazione inclusa nel prezzo della camera, Rinfreschi e cena possono essere prese sul cortile al piano terra, o sulla terrazza patio e possono essere ordinati da parte del personale. richieste di pasti Sera devono essere ordinati entro mezzogiorno. Le prime caratteristiche terrazza patio avvolgenti vista di Marrakech e le montagne nelle giornate limpide. I singoli e le coppie hammam, massaggi e trattamenti Spa, una varietà di escursioni, tatuaggi all'hennè, e le guide ufficiali souk possono essere organizzati dal personale parla inglese live-in su richiesta. Il nostro partner commerciale è un residente per tutta la vita di Marrakech e può ospitare ulteriori richieste di aiuto o informazioni in francese o in arabo, se necessario. Le nostre connessioni locali ci rendono particolarmente adatto per aiutarvi a sfruttare al massimo il vostro viaggio a Marrakech. Il Riad è un trasferimento di 30 minuti dall'aeroporto di Marrakech (RAK) e 10 minuti di taxi per le attrazioni più popolari di Marrakech, tra cui Marjorelle Giardini e Jardin de l'Agdal. Il cortile all'aperto zona relax Al piano inferiore si apre su un salone comune con TV satellitare. è disponibile sul cortile al piano terra accesso WiFi. Escursioni- Siamo in grado di offrire una vasta gamma di escursioni in vari luoghi diversi, come il Cascades, escursioni nel deserto e altre destinazioni. Si rivolga a noi quando si arriva e saremo lieti di dirvi che cosa è disponibile.
Derb Dabachi è una zona principale e storica per tutti i marocchini. Una traccia dell'influenza del XVI secolo è contenuta nel nome del quartiere Derb Dabachi, Questa zona, popolare tutto il giorno e soprattutto la sera, è uno dei più interessanti di Marrakech. Sarete attratti da molti artigiani, piccoli negozi e venditori ambulanti di ogni genere, che vi sedurrà con la gentilezza naturale che rende la reputazione di Marrackchis
Radouane is a very nice and welcoming guy. The Riad is absolutely beautiful, the roof is absolutely great. The room is simple but confortable and clean. The place is quite central, only a couple minutes walk away from the Jemaa el-Fnaa square. They have an adorable cat!
Jorge
2013-12-09T00:00:00Z
こじんまりしてるけど可愛くて、素朴で、モロッカンインテリアが可愛い素敵な宿でした!建物自体が古いせいか古い匂いがしたので、スークで買った練り香水をベッドサイドに置いていました。マネージャーのRaudouaneは親切で、リヤドに向かう道中で周辺のおすすめレストランや両替所なと教えてくれましたよ~。
Saori
2016-10-17T00:00:00Z
Radouane was the perfect host. He picked us up from the taxi and gave us a first orientation in the Medina. The Riad was very cozy and authentic. We were there for 2 nights. The breakfast on the rooftop terrace was great. Recommended!
Florian
2015-11-07T00:00:00Z
Un super accueil Un riad à l'abris du bruit en plein coeur de la médian de marrakesh Un plaisir pour le repos, mais aussi pour les papilles avec un super ptit dej le matin, penser à en parler à Kenny !
Loic
2013-08-05T00:00:00Z
Easy to find (used (SENSITIVE CONTENTS HIDDEN) maps), assistent Ahmed was there to greet us, kind and acommodating. Breakfast included was basically white bread (baguette), butter and orange jam - coupled with sweet tea. Better than nothing. Would stay there again unless I found a better place that had a pool.
Jonas
2016-08-29T00:00:00Z
Radouane arranged a cab from the airport when I got in late which was great and met me to walk me to the riad which is a bit confusing location wise. The place was really nice. Great light free breakfast, and great hospitality. The only negative was my room which was nice but in the ground floor which is quite hot and a bit musty. I'd come back but stay on a different level which felt much different.
Adam
2014-05-22T00:00:00Z
Good value, great location.
Jacob
2017-03-29T00:00:00Z
Very nice staff, they took care of us very well. Great location, still very quite and beautiful roof top terrace :)
David
2017-03-14T00:00:00Z
Tipo di stanza
Stanza privata
---
Tipo di sistemazione
Casa
---
Può ospitare
2
---
Camere da letto
Marrakesh, Marrakesh-Tensift-Al Haouz, Marocco
The Riad Dar Ten Marrakech is a bed a breakfast situated at 2 min from the jemaa el fna place in the quarter of Ksour Mouassine. We have a little swimming pool in the patio, wifi in all the riad and a jacuzi on the terace !
The situation, very closed to the place jemaa el fna and easy to go to Gueliz and main monument
The jemaa el Fna Place
Le Riad est conforme aux descriptifs et photos. Il est idéalement situé à une minute à pied de la place Jemaa el Fna. L'endroit est d'un calme absolu qui contraste avec la proximité des souks. La propreté est parfaite. Le service est remarquable : petit déjeuner copieux, chambre faite tous les jours, serviettes changées. Tout est réuni pour passer un agréable séjour à se ressourcer dans ce merveilleux Riad. Que du bonheur.
Pascale
2016-11-11T00:00:00Z
A beautiful riad in an amazing location, and so calm despite being right in the centre of the Medina. There's a jacuzzi on the roof to relax in after haggling in the souks and homemade breakfasts with birds chirping around you in the mornings. The host was really helpful with any questions we had and we were upgraded free of charge to a lovely suite - I definitely advise get a taxi to the riad because it's hard to find and the winding streets in the Medina are too easy to get lost in. It was seamless and much easier than getting one in the airport - save the bargaining for the souks. Thanks very much and we'd definitely stay again.
Katie
2015-03-09T00:00:00Z
Great location, cleaness and kindness of the staff. Super recommend!
Lucía
2015-05-28T00:00:00Z
The Riad Dar Ten is a beautiful Riad close to Djemaa el Fna in the medina. It's tastefully refurbished with authentic colors and materials and without any signs of kitsch. Gregory was a great and discreet host, too. Full recommendation!
Thilo
2015-09-17T00:00:00Z
It is the best stay we had in Morocco! The riad is under good hand of maintaining, it is clean and comfortable. The staff there is also really helpful and nice!
Qian
2017-02-18T00:00:00Z
This Riad is just as beautiful as the pictures. The staff were extremely friendly, and breakfast was delicious! The location is perfect, steps away from markets, and about a 5 minute walk to the main square. Very quiet area it is in. Amazing stay, would love to come back
Nicole
2017-03-22T00:00:00Z
A really beautiful riad. Central location, very close to the main square. Everyone was very nice and accomodating!
Lauren
2016-12-31T00:00:00Z
Sufism, Hakima and Houda were wonderful! You just experience the Old City Medina- perfect for a traveler first time to Marrekech. Make sure you plan to ask taxi( or use Riad to help you- obtain a carrier for your luggage- a cart that someone will transport your luggage through the many, many winding narrow paths to this beautiful Riad. You cannot carry your luggage and taxi stops only at the Medina Gate Laksour. Once you are in and get your courage up, you'll be living like a native Moroocan! The central and most exciting grand area is minutes from you- sensory overload is an understatement! The monkeys, cobras , incense and Souk( market - and I mean market- think exotic beyond your imagination)! Wow- I'm still awestruck thinking about it- Marrekech needs to be on your bucket list and this Riad Dar a Ten can give you a felling of safety to venture out because dint fool yourself Marrekech is " not Kansas anymore"- every neuron in your body will be firing at some point in visiting here- wow! If your high maintenance, panic over not having a hair dryer or some unnecessary Western convenience- might not be for you- but surprisingly you'll forget all f that if you just let yourself experience Marrekech and the kindest Moroccan family at,o sphere at Riad Dar Ten- Bravo! I cannot thank you enough!
sima
2016-10-11T00:00:00Z
Tipo di stanza
Stanza privata
---
Tipo di sistemazione
Bed & Breakfast
---
Può ospitare
2
---
Camere da letto
Marrakesh, Marrakesh-Tensift-El Haouz, Marocco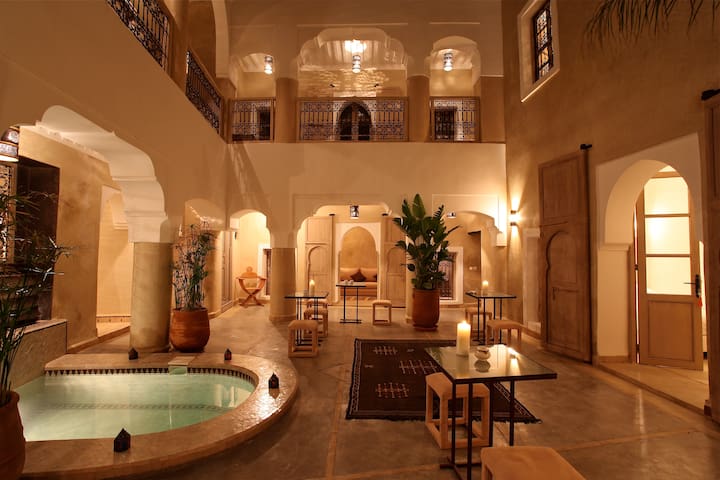 Nice and spacious double/triple room private ensuite with a view of the garden patio and the plunge pool
The riad is located only a few minutes walking from the main square Jemaa el Fnaa and from the Souk area. Each of our double rooms can host one or more extra beds and each rooms is ensuite (toilette and shower) all of our rooms are located on the patio floor or on the 1st floor. The patio area is the perfect place where to relax after a full day in the souk or in the surrounding's of Marrakech. This nice brand new double room ensuite is very spacious and comfortable overlooking the garden patio and the plunge pool. We are the place to be in Marrakech because of our cheap price, central location and living here since 12 years we can give you the best tips and suggest what to do in order to enjoy your holiday.
La Riad è molto bella e tranquilla, possibilità di ordinare i pasti ( cibo molto buono e porzioni abbondanti) . Super raccomando per chi è interessato a esplorare la Medina. Ambiente tenuto molto pulito ed in ordine. Un esperienza assolutamente da ripetere.
Giulia
2016-12-09T00:00:00Z
Ottimo rapporto qualità prezzo. La posizione è centralissima e l'alloggio pulito e il personale molto gentile. L'unica pecca è stata andare in un periodo più freddo e piovoso del solito per cui la stanza è risultata un po' fredda, ma niente di eccessivo. Lo consiglio vivamente.
Silvio
2014-01-21T00:00:00Z
Noi siamo stati benissimo, ottimo rapporto qualità prezzo. Il riad è situato in piena medina, ma in una via tranquilla e silenziosa. Nelle ore calde la piccola piscina contornata di piante e lettini all'ombra è un toccasana per un pisolino in tutto relax.
Daniela
2014-06-03T00:00:00Z
Ottima scelta, location nel cuore della medina ma in una oasi di silenzio e relax, sopratutto in un momento come nell'ora della colazione mattutina in quel patio fantastico! Disponibilità e gentilezza di Elisa Gallina e del suo Staff..camere pulite, ben arredate e luminose. Il terrazzo da condividere al tramonto con gli amici. Frequentato da una clientela giovane e on the road. Colazione ricca e tè molto buono. Ve lo consiglio per un viaggio con amici e/o in coppia / single..
Diletta
2012-04-06T00:00:00Z
Siamo state benissimo. Il personale ci ha aiutato soddisfacendo tutte le nostre richieste. La nostra camera era pulita. Molto basic ma con tutto il necessario per sentirsi a casa. Il riad e' centralissimo e ogni sera puoi decidere se immergerti nel bagno di folla della piazza o coccolarti in terrazza per farti due chiacchiere. Non spaventatevi se all'arrivo vi sembrerà di essere finiti in vicoli "strani". Marrakech e' un labirinto. E' il suo bello.
Arianna
2014-04-21T00:00:00Z
E' stata un'esperienza meravigliosa! Per vivere in pieno l'originale vita marrochina, questo Riad è l'ideale. Situato a 5 min dalla piazza piu' importante di Marrakech, è davvero confortevole. Pulito, curato e grazioso ecco come si presenta questa antica casa coloratissima. L'accoglienza è stata fantastica, buona anche la colazione ;)
Tati
2013-06-02T00:00:00Z
Sinceramente, non saprei da dove cominciare. Leggete tutto il post, anche se è lungo e noioso. Abbiamo prenotato in questa struttura vista la posizione favorevole, la presenza della piscina e la spesa non elevata, consapevoli di non doverci aspettare chissà cosa, ma almeno il minimo indispensabile. Invece... Giunti alla stazione di Marrakech abbiamo utilizzato il comando della app che porta a destinazione, peccato che l'indirizzo fosse sbagliato e che siamo finiti da tutt'altra parte. Trovato il corretto indirizzo abbiamo aspettato almeno 5 minuti che qualcuno aprisse la porta, erano le 13.00, pieno giorno. Sapendo che il check-in era dopo le 14.00 chiediamo di lasciare i nostri bagagli (ci hanno fatto parlare al telefono con quello che credo fosse stato il nostro interlocutore su Airbnb nei giorni precedenti che sottolinea di tornare dopo le 14). Così facciamo, torniamo dopo le due e non solo non era pronta la stanza, ma la ragazza che ci ha accolto non parlava italiano, nè inglese, nè francese.... Aspettiamo per più di 40 minuti e alla fine arriva un ragazzo che ci mostra la stanza e ci dice che non c'è il boiler, ma in un'ora lo avrebbero messo ( proprio in quel momento arriva l'idraulico, quindi stanza inutilizzabile). Per non sprecare tempo abbiamo di nuovo lasciato tutto lì e siamo usciti. Ma non è finita qua. Quella notte ci è crollato sul letto una parte di stucco del soffitto. Lo abbiamo fatto presente e ci hanno cambiato stanza, ovviamente ce la hanno data dopo le due e sorpresa....non aveva il bagno in camera, uno dei requisiti della nostra prenotazione. Quindi bagno in comune a volte senza carta igienica. Pulizia che lascia molto a desiderare, anche nelle camere. Dimenticavo, la piscina è in realtà più uno stagno, impensabile farci il bagno!!! Un incubo. E in tutto ciò i proprietari non si sono mai visti. Per non rovinarci le vacanze ci abbiamo riso su, ma non torneremmo in questo raid per alcuna ragione. Lo sconsigliamo assolutamente! Cercate altro!
Christian
2016-10-21T00:00:00Z
Ottimo posto, personale disponibile, posizione fantastica e pulito!!!
francesca
2013-08-19T00:00:00Z
Tipo di stanza
Stanza privata
---
Tipo di sistemazione
Casa
---
Può ospitare
4
---
Camere da letto
Marrakesh, Marrakesh-Tensift-El Haouz, Marocco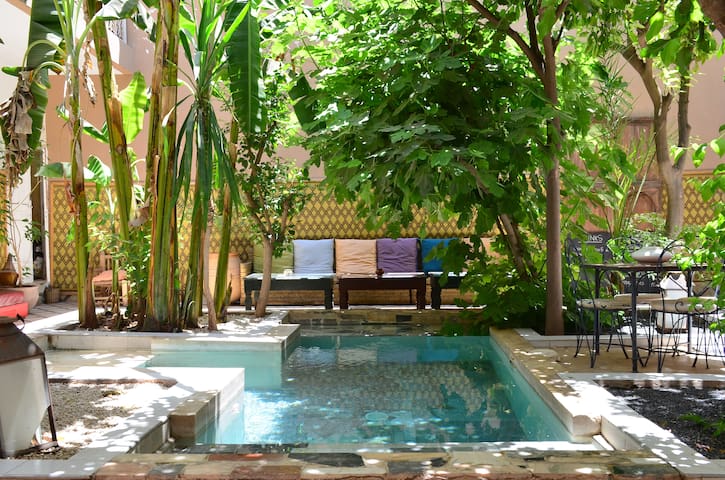 Apartment in the heart of the Medina, near the Ben Youssef Madrasa and souks. It has a execptionnelle views of the Medina and the highest terrace of the old town. house towels and linen provided.
L'accoglienza da parte di Rachid è stata ottima. L'host è stato capace di accogliermi senza essere invadente! La colazione che mi è stata offerta era spettacolare, molto meglio di qualsiasi colazione a pagamento sulle terrazze della piazza... La zona è posizionata abbastanza bene e si trova nella parte meno turistica della Medina (tutte le mattine li vicino vi si trova Mercato MOUKEF un mercato della frutta e verdura, utile per i taxi), è una zona residenziale attaccata alle tanneries (il che è molto pittoresco e comporta anche un certo tipo di esalazioni). L'appartamento molto pulito e molto bello con uno staff accogliente e discreto.
Ramon
2016-03-18T00:00:00Z
Rachid's appartment was very comfortable and cozy. From the rooftop you can watch the sunset as well as have breakfast or dinner. Rachid was very very friendly. He drove us to the supermarket with his car for getting snacks and something to drink. We could call him at anytime, if we had a problem. Totally would recommend his riad to others! Thanks Rachid for the lovely time
Nikolaus
2016-02-02T00:00:00Z
It was an amazing experience staying at Rachid's! He and his house manager Abdel were always attentive to our needs- called me before I arrived to make sure everything is arranged, messaged me constantly to make sure my stay was ok, and arranged day trips/taxi/dinner etc so we didn't have to worry about anything! The house itself is a gem- definitely unique and tasteful in design and absolutely best view in the city! (You will have to pay for a terrace in the city to watch the sunset with tons of people but here you can enjoy the sunset/sunrise views for free) the room/suite is spacious and comfortable as well! And most of all our host is kind! He even drove us to our bus stop for free on the last day! Very great experience and highly recommend to guests to Marrakesh!
Jeanette
2016-03-27T00:00:00Z
Nice place to stay in Marrakech. The staff is very helpful.
Patrick
2017-02-20T00:00:00Z
I felt very welcome in this appartment. We were served dinner with appetizer and dessert as soon as we arrived. Also ate dinner and lunch there at seperate occasions. All the food was just as good as what we got at restaurants. The host and the other staff members would help us out with whatever we needed, including guiding us. They even drove me to a mall outside of the city free of charge. I've never had better service anywhere. The appartment we stayed in was of good size and had a nice looking interior. The building was located very close to the museum de la photographie. The street got pretty busy at noon and getting there could be a little tricky, but that's just how it is in the medina. Got lost once, and one of the staff members picked us up and guided us back to the appartment. Would definately stay here the next time we're in Marrakesh.
William
2016-02-10T00:00:00Z
Dear Rashid and Mo, It was a pleasure meeting you. And it is certainly a pleasure to say how wonderful our stay in your apartment was. It turned out to be exactly as depicted on the website. An enjoyable part of our stay was exploring the Medina that is so close to the apartment. I must also compliment you on the airport transport service. The living room and dining room were large and comfortable, the kitchen well-equipped, the bedrooms luxurious, the building well-maintained and quiet. All was spotlessly clean and the linens and towels generously supplied. The apartment could not be better located. Mohammed's suggestions in person provided an insider's view of the city. Mo was of great help during the entire stay and we couldn't possibly ask for anything more from him. He is a great help and an awesome person too. Thank you, again, Ram
Ram
2016-11-20T00:00:00Z
Riad is comfortable. We got a ride set up from the airport which made our arrival a lot easier. Bed is comfortable and we got a good night's sleep each night we were there. Air conditioning and WiFi work really well which made our breaks between excursions into the city recharging. The rooftop views are really great at the Riad. There is a 400-year old leather tannery behind the building. It is about a 10 minute taxi ride (20-40 dirham, 2-4€) to the Medina or 15-20 minute walk. The Riad assistant Mohamed was very informative and helped us get places, set up excursions abd taxi rides and he did everything he could to make us comfortable while we were in Marrakesh.
Dana
2016-08-24T00:00:00Z
Par quoi (URL HIDDEN) y a tant à exprimer et à dire sur ce Riyad, et sur l'équipe qui le constitue. Je pourrais écrire un roman, tant ce Riyad le mérite, et m'a touché et enchanté. Après avoir traversé la Médina, à travers les petites ruelles pleines de vie, d'enfants, d'ombres et lumières, de petits scooters se frayant un passage dans ce dédale, j'arrive enfin à ce Riyad. En passant la porte on est tout de suite époustouflé par le cadre. Endroit très charmant, calme et reposant. L'émerveillement et la magie commencent à opérer. Les senteurs florales, le cadre mirifique et les sourires faisant prendre conscience que maintenant le voyage peut vraiment commencer. En plein cœur de la médina , on peut tout fait à pied. La chambre était d'une beauté et d'une subtilité extraordinaire, comme dans chaque recoin de ce Riyad, tout est réalisé avec un sens du goût et un raffinement exceptionnels. Tout est composé d'objets et de décoration venant du Maroc et du monde entier, et subtilement choisis. Toutes les chambres sont magnifiques de détails et de raffinement, dur de faire son choix , l'une fait oublier l'autre, l'ensemble est d'une très grande propreté... Sur la terrasse, la plus haute de la Médina, vous êtes le maître de la ville. Surtout la nuit, vous dominez le monde avec cette vue splendide, hors pair et calme loin de tout vacarme. L'équipe dirigeante m'a offert un tajine que j'ai dégusté sur la belle terrasse du Riyad. Tout le monde était au petit soin pour moi, chaleureux et hospitalier. Le personnel est exceptionnel. On vous met à l'aise au point que vous avez l'impression d'être chez vous. En résumé, j'ai passé un séjour rythmé par l'extrême gentillesse et le professionnalisme d'une équipe qui n'a qu'un seul objectif, la satisfaction totale de ses hôtes. Tout est mis en œuvre, à tous les niveaux, pour que ce Riyad soit un havre de sérénité où se côtoient parfums orientaux, attentions délicates et douceurs gustatives. Au cœur de la médina, cette adresse à tous les atouts pour faire d'une halte à Marrakech un moment magique. Bravo encore à tous, ne changez rien et merci encore ! Le Riyad est vraiment magnifique, je le recommande sans hésitations. J'ai hâte d'y retourner.
JOSEPH
2015-12-08T00:00:00Z
Tipo di stanza
Intera casa/apt
---
Tipo di sistemazione
Appartamento
---
Può ospitare
2
---
Camere da letto
Marrakesh, Marrakesh-Tensift-El Haouz, Marocco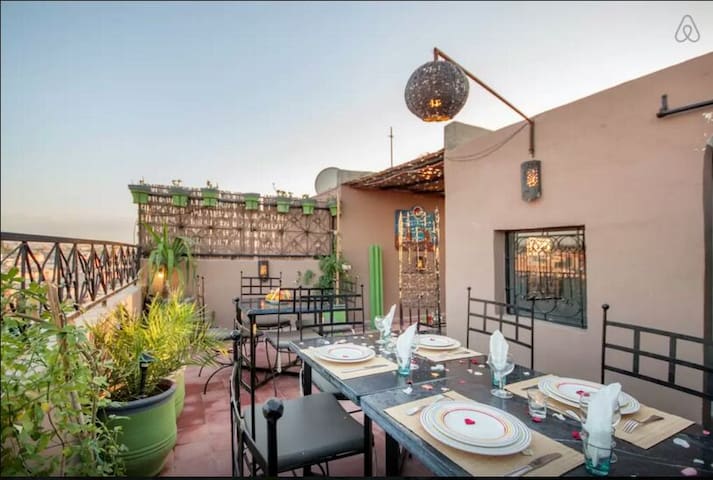 Notre Riad se trouve dans une impasse calme d'un quartier sécuritaire à 100 mètres à peine de la célèbre place Jemaa El Fna. Vous apprécierez son emplacement de premier choix à proximité des lieux incontournables de la ville rouge. Notre Riad sera le logement idéal pour les voyageurs en quête de charme et d'authenticité . Vous pourrez vous détendre dans le patio et la terrasse ensoleillée où sont également servis les repas. Le petit-déjeuner est inclus et vous pourrez sur demande vous restaurer.
Notre Riad dispose d'un patio et d'une jolie terrasse où vous pourrez vous détendre et prendre vos repas. Vous pourrez également profiter d'un temps de relaxation dans le jacuzzi après une longue marche dans la médina.
Le riad se trouve au fond d'une impasse calme, dans un quartier sécuritaire à quelques minutes de la place Jemaa El Fna.
Superbe riad, accueil chaleureux, un vrai plaisir d'y séjourner, terrasse ensoleillée...
celine
2017-02-21T00:00:00Z
Je vous remercie beaucoup pour l'accueil si chaleureuse. Mes parents venus pour leur anniversaire de mariage étaient ravis et ont adoré leur séjour chez Siham ! Le personnel est très gentil, et l'endroit magnifique ... Merci encore !
chloé
2017-03-10T00:00:00Z
Le Riad est d'une excellente qualité-prix. Il est placé à côté de la place centrale mais dans un endroit très calme, c'est très agréable ! Le personnel est adorable. Je vous recommande vivement l'endroit !
Marjorie
2017-04-07T00:00:00Z
Simply the best Riad / Hotel I could have stayed in at Marrakesh. Clean and beautiful renovated rooms, a great rooftop terrace, delicious breakfast and directly located at the Djemaa al-Fne (main square). You can reach everything in a short walk. But beside all of this I got the very best service I have ever had at a hotel. They organized everything for me from a trip to the sahara to the bus transfer to Essaouira. I received a mobile phone to call them any time in Marrakesh. Especially as I was traveling alone I really appreciated it. I could not recommend this Riad more!
Julia
2016-11-27T00:00:00Z
Good location. Close to bustling open market and lively atmosphere. The riad itself is tucked away, comfy, and cozy.
Lang
2016-11-13T00:00:00Z
Très bon accueil, tout est conforme à ce qui est présenté dans l'annonce, je recommande!
Anne-Lise
2016-11-11T00:00:00Z
The riad was centrally located, clean and nice. The host was kind to pick us from jamal el fena on arrival. Breakfast was limited but good.
Vijay
2017-01-29T00:00:00Z
We were in touch with Siham by mail and with Samad (Siham's brother) in the Riad. The experience was fantastic! Samad is really kind and always willing to help us (he speaks French, italian and english) . The Riad is cozy and the room and the services were just perfect. We spent amazing days in Marrakech and we would repeat it for sure!!
Sergi
2017-02-16T00:00:00Z
Tipo di stanza
Stanza privata
---
Tipo di sistemazione
Bed & Breakfast
---
Può ospitare
2
---
Camere da letto
Marrakech, Marrakech-Tensift-Al Haouz, Marocco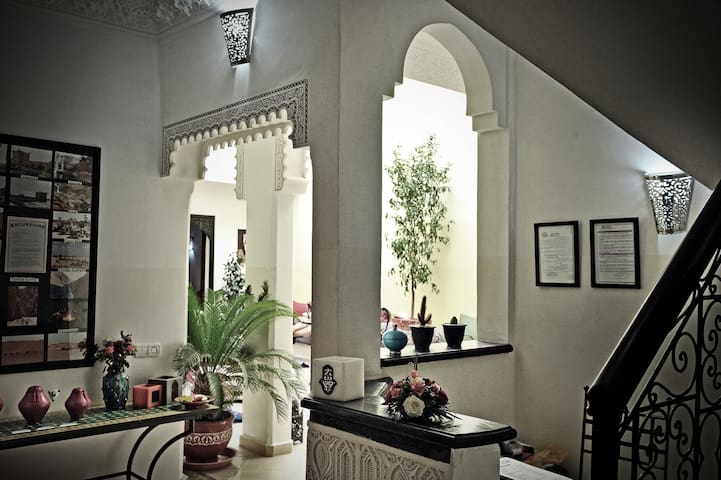 Io amo la mia casa. se venite a casa mia, sarai come la mia famiglia! benvenuto a condividere una parte delle vostre vacanze !!
casa modesta e autentica, adagiata sul fondo di un vicolo, in legno tradizionale, la stanza si apre sul patio. Il bagno si trova anche al piano terra e una cucina, i servizi igienici sono separati. In inverno la casa è dotata di un telone, e il riscaldamento del patio.
Bella e tranquilla, vicino alla piazza Jamaa el Fna principali luoghi quadrati e turistici. Tutto è raggiungibile con solo passeggiata!
Cecile è stata un host perfetto! Super disponibile con noi sin dal primo giorno! La casa ti fa entrare nello spirito dell Medina con la corte interna tipica degli storici riad! Purtroppo il bagno non ti lascia molta privacy però è fattibilissimo! Consiglio vivamente
Alice
2015-03-01T00:00:00Z
Il primo impatto con Marrakech non è facile. Si è disorientati, tirati da mille braccia nelle strade della Medina e impauriti. Arrivare da Cécile non è semplice, anche per i più esperti.. ma poi, entrati dalla minuscola porta nera, cambia tutto. Abbiamo conosciuto persone incredibili, amichevoli e rispettose. Cécile non sembra la titolare del riad, ma un'amica con cui si chiacchiera e si beve un thé. Se siete turisti in cerca di mille comodità, questo posto non fa per voi.. Se invece siete viaggiatori autentici, troverete una vera casa in Marocco: andarsene sarà difficile, come se lasciaste qualcuno della tua famiglia. Provate.
Mario
2016-03-04T00:00:00Z
Il b&b di Cécile è un vero angolo di altrove: un'autentica casa marocchina che richiama le atmosfere degli anni Sessanta e Settanta, ed è una base perfetta per esplorare una città complessa, profonda e affascinante come Marrakech. Ė pulito, silenzioso e arredato con gusto; la colazione è self-catering nella grande cucina a disposizione degli ospiti; e c'è anche la possibilita di farsi il bucato. Per finire, Cécile è un'ospite squisita.
Stefania
2016-09-05T00:00:00Z
Cécile è un padrone di casa favoloso, ci ha fatto accogliere all'aeroporto da un tassista di fiducia con un prezzo concordato decisamente onesto e ci ha offerto un ottimo tè alla menta appena arrivati. Durante i giorni in cui abbiamo soggiornato da lei è sempre stata presente e disponibilissima a fornirci consigli utili andando molto oltre ai suoi doveri di padrone di casa, accompagnandoci con piacere di persona verso i luoghi che volevamo visitare e condividendo con noi la sua esperienza della città. Lo spazio è molto bello e particolare, un autentico e splendido Riad marocchino su due piani con tanto di cortile interno (coperto), gestito unicamente da Cécile e da una simpaticissima signora del luogo che abita alla porta accanto. Il Riad è fornito di cucina, lavatrice (20Dhr) e offre anche, oltre alla possibilità di cucinare il proprio cibo, di mangiare in loco cibo tipico a prezzi onesti e addirittura di seguire delle lezioni di cucina. Il Riad comprende più stanza, questa in particolare è posizionata al piano terra, è piuttosto piccola ma riservata ed accogliente, non è dotata di bagno ma si possono trovare doccia e lavandino di fronte e il WC poco distante. Se deciderete di soggiornare qui vi troverete senza dubbio molto bene, l'ambiente è caldo e familiare, la clientela giovane e piacevole, la posizione ideale (5 minuti da Jamaa el Fna ma comunque in una zona tranquilla).
Mattia
2017-01-05T00:00:00Z
Casa molto carina e pulita. A pochi passi dalla piazza principale e dagli edifici caratteristici di Marrakech. Cécile,grazie alla sua disponibilità, saprà offrirvi ottimi consigli per godere al massimo la vostra vacanza. Ottima colazione della casa e grande possibilità di conoscere e conversare con persone provenienti da altre parti del mondo.
vittorio
2017-02-07T00:00:00Z
Cécile's house is very pretty and traditional... It's very close to jamaa el fna, in a quiet road. We felt like at home, Asha the lady working there was really nice and took care of us ..explaining how to use kitchen and showing us the house.... Thank you so much!!! so if you want a cheap place still very traditional go there!!!!
Lilly
2015-01-23T00:00:00Z
Cecile is a lovely host. Her place is in the heart of the Medina, and it was a great base for visiting the rest of Marrakech.
Fran
2014-01-04T00:00:00Z
Es war wirklich wunder bar bei Cécile. Sie ist eine liebenswürde,lebendige,hilfsbereite Gastgeberin. Und das Haus in mitten der Medina ist sooo schön und angenehm. Ich hoffe bald wieder bei ihr zu Gast sein zu dürfen. C´était vraiement parfait. Cécile est une personne aimable, tres engagée pour ses guestes et la maison est formidable. Je me sentais bien acceuilli,comme chez moi. Merci.
silvia
2016-06-03T00:00:00Z
Tipo di stanza
Stanza privata
---
Tipo di sistemazione
Casa
---
Può ospitare
2
---
Camere da letto
Marrakesh, Marrakech-Tensift-Al Haouz, Marocco
Dar Tuscia is a Riad situated in the most ancient quarter of the Medina, it is an optimal point of departure in order to discover the lively city of Marrakech. Parking at 100mt., wi-fi, hammam-massages, restaurant, organisation of excursions.
Situated in one of the most ancients quarters of the Medina, that still maintain the fascination and the authenticity of the Moroccan culture, it is an optimal point of departure in order to discover the lively city of Marrakech. The furnishing and the architecture of the Riad are in typical Moroccan style, carpets Berbers, zellij, tadellakt…., terrace with pergola and deckchairs for the relax or suntan and a salon with fireplace, where the hosts coming from all over the world can meet and know each other. The 5 rooms ( 2 of them can have 3 singels beds or 1 double + 1 single ) are different the one from the other for style and colors, offer charm and very good confort: air conditioning, heating, safe box, and private bathroom. Double room 29 euro, triple room 45 euro. Price includes taxes and breakfast. For the well-being of its hosts, Dar Tuscia has its own Hammam, after which a relaxant massage will regenerate your body and your mind. The cook is at your disposition for typical plates with fresh food, taken to the souk of quarter, his tagine is a very appreciated. In the salon TVsat and HiFi are at your disposition. Internet access point is available and free, moreover the Riad is covered by a WiFi connection. At your arrival a tea will be offered to you and from that moment the staff of Dar Tuscia will do everything to satisfy your needs or desires.
This Riad is just fine. It is located in a pretty part of the medina. The atmosphere isn't like we expected, after other Riads it was kinda disappointing. Roberto wasn't there, but this lady who was really nice and helped us find our way.
Linda
2017-03-24T00:00:00Z
Absolutely lovely riad in a quiet part of the medina. Highly recommended!
Tully
2017-03-13T00:00:00Z
The riad is cosy and very clean, with a nice, sunny terrace. Location in medina, close to the walls (so if you want to get out to the New City, it's quick and easy). Thank you for a nice stay and best of luck for the future!
Katarzyna
2017-03-29T00:00:00Z
Tipo di stanza
Stanza privata
---
Tipo di sistemazione
Bed & Breakfast
---
Può ospitare
2
---
Camere da letto
Marrakesh, Marrakesh-Tensift-El Haouz, Marocco
Situé en plein coeur de Marrakech, à une minute du Carré Eden, ce bel appartement de 50m allie une situation très centrale à un cadre calme et agréable. Dans un décor moderne et cosy il saura vous assurer un confort idéal. Accueillant jusqu'a 4 personnes. Meublé et bien equipé, cet appartement offre tout le confort nécessaire, il se compose d'un salon, d'une chambre à coucher, une salle de bain et un dressing Vous avez à votre disposition un parking privé.
L'appartement se trouve en plein coeur de Marrakech, situé dans une rue calme avec tout ce dont on a besoin à proximité (moins d'une minute) : restaurant, pharmacie, mall, boulangerie... ainsi que les sites touristiques dont les jardins majorelle, la place jemma el fna et le fameux quartier de l'hivernage animé jusqu'au bout de la nuit.
Excellent séjour chez Salima il n'y a rien à dire
Nassima
2017-03-29T00:00:00Z
Salima's place is excellent value for money and situated in a good central location. Communication with Salima was very good and check in and check out was easy.
Farhana
2017-03-22T00:00:00Z
Nice and clean great service at heart of gueliz will definitely return
Talan
2017-03-18T00:00:00Z
Très bel appartement, propre et moderne. Salima nous a très bien accueilli et était ponctuelle.
Ahmed Khalil
2017-03-11T00:00:00Z
The host canceled this reservation 8 days before arrival. This is an automated posting.
Viljar
2017-02-18T00:00:00Z
Fantastic apartment everything you could possibly want, location is perfect, and private and safe! And Salima was easy to communicate with! 100% if I'm visiting marrakech again i will book this apartment.
Michael
2017-03-24T00:00:00Z
Amazing quite appartment in the middle of Gueliz 20 meters to Carre eden mall where u can find many things ... starbucks carrefour and many others ... many local shops, cafes and bars are arround.
Muhammad
2017-03-07T00:00:00Z
Salima's apartment has the perfect location if you prefer to stay outside the Medina. It is close to everything and you reach the Medina by taxi in about 10 minutes. The apartment has everything you need for a short stay and the neighborhood is quiet. Parking space is available. The wifi works very well. Quality/Price very good.
Irene
2017-02-02T00:00:00Z
Tipo di stanza
Intera casa/apt
---
Tipo di sistemazione
Appartamento
---
Può ospitare
3
---
Camere da letto
Marrakech, Marrakech-Tensift-Al Haouz, Marocco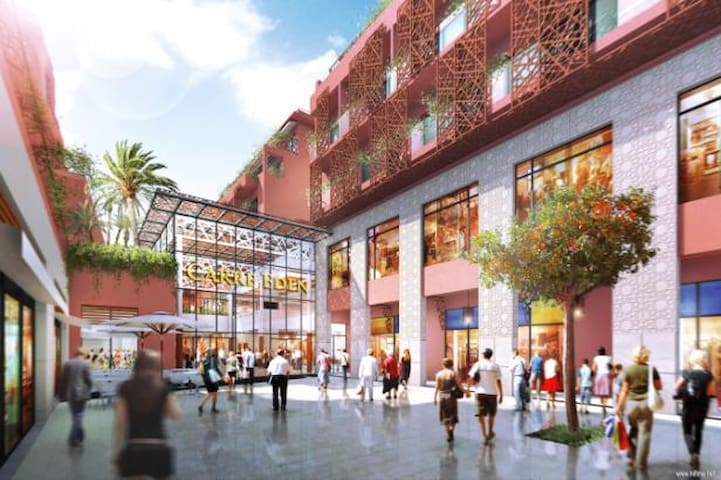 Inserisci le date per visualizzare il prezzo totale. Ci sono dei costi aggiuntivi e potrebbero venire applicate alcune tasse.