Inserisci la data del check-in nel seguente formato dd-mm-aaaa
Inserisci la data del check-out nel seguente formato dd-mm-aaaa
Annunci che puoi prenotare senza aspettare l'approvazione dell'host.
2 Ville in Affitto
· Manheim
2 Ville in Affitto
· Manheim
Inserisci le date per visualizzare il prezzo totale. Ci sono dei costi aggiuntivi e potrebbero venire applicate alcune tasse.
Nei mesi di luglio e agosto puoi provare uno di questi 100 alloggi ad alto rendimento, per ogni fascia di prezzo, e vivere una visione locale di Sonoma. Prova il check-in continuato, la Prenotazione Immediata e vino e spuntini locali per rilassarti e godere al massimo del tuo viaggio.
Upstairs guest bedroom has queen-size bed, closet space, dresser space, private attached full bathroom with shower/tub; loft area with table and chairs adjacent to guest bedroom.
Two year old villa, attractive open plan. In loft area beside bedroom and bath are a dining table and chairs for guests to eat, play table games or do puzzles, and comfortable chairs for reading or relaxing. Our friendly cat Oreo stays downstairs. Morning coffee, tea, breakfast foods provided. Internet service provided. Front door only for home entry/exit. When we are available, we welcome interaction with guests and can give suggestions regarding attractions and sites in surrounding areas, questions about Amish and Mennonites, hiking trails, things to do for recreation, restaurants, etc.
Neighborhood is quiet and safe. Private roads and sidewalks around neighborhood for walking and biking, family friendly park close by. Ample parking. Bus stop within 1/2 mile, train stop in Mount Joy, 2-3 miles away, and we can arrange for pick up or drop off. Harrisburg International Airport approximately 20 minutes from our home. Uber services available in our area. We are 10-15 minutes from the Spooky Nook Sports Complex, 20 minutes from historic downtown Lancaster, 20-30 minutes from Hershey Park, Hershey Chocolate World, and the Giant Center, 30 minutes from Sight and Sound Theater and outlet shopping. Numerous hiking, biking trails in our area Deli, pizza, fast food, & restaurants, 2 grocery stores, Rita's Italian Ice, Dunkin Donuts, banks, gym, all within 10-15 minutes walking distance or 5 minute drive.
This was our first airbnb stay so did not know what to expect. Gloria and Tony were very nice host. Their house was very well kept and the room was large and nicely appointed with a nice loft area to hang out. Felt very welcome.
Dave
October 2016
The hosts made me feel so welcome, as it I was part of the family. Nothing was too much trouble, they went about ensuring I had everything I needed, even played tour guide in the afternoon when I had some time spare... The room is spacious and clean, I wish I had had more time just to spend enjoying it! I would heartily recommend this establishment, and will use it again if in the area again.
Collett
October 2016
We really enjoyed staying with Gloria and her husband. They are very welcoming and very engaging with conversation. The house is beautiful and the guest area is quiet and private. Our next stay in the Lancaster area will be with them. ❤️
Maria
September 2016
Gloria and Tony were great hosts! They were very welcoming and communicated well throughout the process. We were able to spend some time together in the evening and it was nice to get to know them both. They have a lovely home and very sweet cat! The bed was very comfortable and I had my own bathroom as well. I would definitely stay with them again if I am in the area. Thanks for a great stay!
Catherine
December 2016
Gloria and Tony are good hosts, they are accommodating. Their home is clean and tidy and we were very comfortable. We also enjoyed our breakfast time with Tony.
Ming Bee
October 2016
We were welcomed warmly by our hosts. The suite was comfortable and spacious. We slept well on the queen bed. Bathroom well appointed with supplies. Nice loft "living room" space with table and chairs, TV, ceiling fan. Breakfast with coffee, bagels with cream cheese and fruit was tasty!
Jonathan
August 2016
Tony and Gloria were great host. They welcomed us into their beautiful home. We loved the privacy of the area. Every thing was so clean and they had everything that we needed for a wonderful stay. We enjoyed our breakfast before we took off which was very much appreciated. We enjoyed our customers with Tony before we left. We would highly recommend Gloria and Tony' s place to anyone.Gloria
Brenda
August 2016
Lovely private area upstairs. Gentle, unassuming couple. Would return again with no hesitation.
John Wayne
August 2016
Tipo di stanza
Stanza privata
---
Tipo di alloggio
---
Può ospitare
2
---
Camere da letto
1
Mount Joy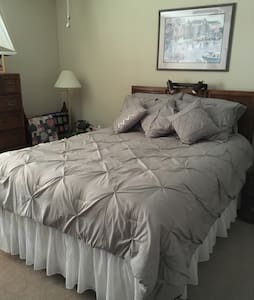 1200 sq ft.2 bedroom 2 full bathroom suite! With a minimum 2 night stay and maximum of 8 guests ,you can't go wrong right down the street from HERSHEY PARK &CHOCOLATE WORLD! This suite has a full kitchen w dish washer and dining area. Washer and Dryer .Living room w/DVD and CD stereo.Whirlpool tub and gas fireplace if your in bldg 2or3.Indoor and out door pool.BBQ grills on the property.Hershey Park ,Chocolate World, Zoo America, Giant Center ,Hershey Park Stadium/Arena are all right down the street !Hershey Hotel ,Chocolate Spa,and Hershey Outlet Mall are across the street !!Hollywood Casino and Gettysburg are nearby !!Cable TV included .Parking onsite and internet available!!Great for large families or groups !!Don"t rent 2 or 3 hotel rooms when you can all stay in this very comfortable suite with all the comforts of home! Right down the street from all the HERSHEY ATTRACTIONS !!!!!!!! Great for families or groups and season pass ticket holders to Hershey Park! If you are heading to a concert at the GIANT CENTER or HERSHEY PARK STAR PAVILION with friends or family enjoy a stay in Hershey afterwards!This suite will sleep up to eight persons including children. WHAT MAKES THIS LOCATION SO SPECIAL IS YOU ARE RIGHT DOWN THE STREET FROM ALL THE HERSHEY ATTRACTIONS.also ALL THE AMENITIES ARE ONSITE ! AND DON'T FORGET YOU CAN CHECK IN UP TO EIGHT PERSONS FOR THE SUITE!
We had a great stay and minutes from the park. Everything was perfect would highly recommended staying here. Regina's responded very quickly when I had questions.
Nina
August 2015
It was a great getaway with the family. They ask you to basically clean and take out your trash when you are charged a cleaning fee. Who have time to worry about taking out the trash while on vacation. Other than that all was great.
Veronica
September 2016
Regina was a great host. The unit was great. My family really enjoyed our stay at Hershey. Thanks again! We were there for 2 concerts so we took advantage of discounted park tickets!
Jason
September 2014
My family of 5 stayed at Regina's condo when we recently visited Hershey, PA and I cannot say enough wonderful things about our stay! From before we reserved the condo up until right after we got home the communication with Regina was outstanding! We had never been to Hershey so Regina gave us lots of great info. and made sure we had everything before we left! The condo itself was lovely and spacious, fully stocked with utensils, pots, pans etc. and the staff extremely accommodating. It was a great place to unwind after a long day of being at the park! Took advantage of the indoor swimming pool (to get out of the heat, it was 100 degrees the week we went) and game room that the kids enjoyed when we had some down time. I highly recommend booking with Regina if you plan a trip to Hershey, its more affordable and wayyy more comfortable and spacious then a hotel room. Thank you Regina!! We'll be back! Tip for those never at Hershey, spend the extra cash on premier parking if you plan on closing the park because if you use general parking you need to load onto a shuttle bus that gets you to the general parking lot and those lines are kinda long, whereas the premier parking is right next to the buses! We took the chance to spend the $20 and after a long long day of walking standing in line to board a bus was not something we felt like doing with three kids. So to us premier parking was worth it!
Laura
July 2013
We just got back from a wonderful 2-night family get-away in Hershey. Regina was very responsive and made sure we had everything we needed for our stay. The location is perfect-- right down the street from Hershey Park, Chocolate World and Troegs Brewery and within walking distance of the fantastic outlet shopping next door. Our family of five loved having the two private bedrooms and kitchen rather than being crammed into a pricey hotel room. The pool was a bonus-- everyone swam both days! The only downside was the occasional train whistle-blast in the night from the cocoa bean train running beside the property. But we knew about it ahead of time and it didn't seem to bother our sound sleepers. All in all, we found it to be a great value and somewhere we would absolutely book again.
Stephanie
April 2015
The apartment was great. Easy to check in, close to Hersey, kids loved it. highly recommend. Regina was very helpful in move dates and times around. thanks.
raj
August 2015
The apartment was perfect for our family of 5. Convenient, comfortable and just what we needed. The furnishings and decor were also even better than expected from the pictures. I was also able to walk to Hershey Park and Chocolate World (although others might not be comfortable doing so). That said there were a few drawbacks: The apartments are right next to a busy railroad track with trains going by at all hours. The bed in the master bedroom could have been more comfortable. We tried to check in early at about 3, and had to wait until about 4:15 for our unit to be ready. The indoor pool had algae.
Vivian
August 2014
Regina is a great host! Very attentive to all my questions. Check-in at the suite was a breeze. Thanks, Regina, for hosting our family for a wonderful stay at Hershey! Mike and Kelly
michael
July 2014
Tipo di stanza
Intera casa/apt
---
Tipo di alloggio
---
Può ospitare
8
---
Camere da letto
2
Hershey
1

–

2

di

2 Ville in Affitto