Inserisci la data del check-in nel seguente formato dd-mm-aaaa
Inserisci la data del check-out nel seguente formato dd-mm-aaaa
Annunci che puoi prenotare senza aspettare l'approvazione dell'host.
Inserisci le date per visualizzare il prezzo totale. Ci sono dei costi aggiuntivi e potrebbero venire applicate alcune tasse.
Nei mesi di luglio e agosto puoi provare uno di questi 100 alloggi ad alto rendimento, per ogni fascia di prezzo, e vivere una visione locale di Sonoma. Prova il check-in continuato, la Prenotazione Immediata e vino e spuntini locali per rilassarti e godere al massimo del tuo viaggio.
Open floor plan - fully equipped kitchen, double bed, eating area, large balcony with commanding view of coastline and sea, bathroom with shower, laundry facilities and shares organic garden in backyard.
Like being on your honeymoon all over again! With a commanding view of the sea and coastline in the magical village of Jardim Do Mar. Enjoy gentle sea breezes, falling asleep to the crashing waves, the fresh smell of the salty sea air, unobstructed panoramic ocean, coastline and garden views from our large absolutely private balcony, modern chic tile throughout the house blends into the seascape. A comfortable bed with an ocean view, free Wifi, full kitchen with stove and oven, backyard with large patio area to enjoy eating outside on our custom made table, eat from our organic garden and enjoy the view over the vineyards to the sea. Set in a pristine village tucked away seemingly lost in time - surfers call it the Crown Jewel of the Atlantic, locals named it Garden of the Sea, everyone who stays says its more than they expected...with the best climate and most sunny days on the island, you never need air-conditioning or heating...nothing gets better than this... " THE WAVE HOUSE is composed of 4 SEPARATE FLATS and this studio loft is the top one - each designed to maximize the unobstructed panoramic view of the sea and coastline and tastefully blend into the seascape. Boasting the closest proximity to the famous peeling waves marching down the point and soul-soothing sea breezes, both of which are natural remedies for the stress of modern living. Breathe in the fresh salty air and fall asleep to the waves rhythmically crashing on the shore. Premier oceanfront location in picturesque village of Jardim Do Mar (Garden of the Sea) - solitude amidst pristine beauty. " Being world travelers, there is no better place in all the 35 countries we have visited! The best climate - never too hot or too cold! Jardim Do Mar is a farming village of 200 people - very safe and peaceful. To the right side there are there are no immediate neighbors. To the left (facing the sea) it is all vineyards, gardens and coastline. In front of the apartment is the sea and below you have the promenade to walk down to the Portinho about 200 meters for coffee, lunch, dinner or drink. The hotel is 35 meters from the backyard, and it has a nice restaurant and bar too. Joe's Bar is down a pathway from the village center, and it is where lots of locals are to be found watching soccer, having a drink or lunch and dinner. Great place to eat! Tar Mar restaurant is the best seafood restaurant and attracts people from all over the island. It is a short walk just past the central carpark. There is a small market in the village, and bread trucks come every morning twice a day between 8 to 10 AM. There is a medium size market in the next village (3 kms) and a supermarket at Calheta Beach (7 kms) away. There is an ATM in Paul Do Mar (3 kms). The waves, Portinho sunbathing and swimming area (ask if the waves are safe in the Portinho cafe first) nature walking up to Prazeres are the main attractions in the village, but just strolling through gardens with the meandering waterways is so pleasant and relaxing. There is a great lookout overlooking the village on the trail up to Prazeres, great place for a picnic. Public transit is minimal - local bus comes a few times a day, taxis can be requested at the hotel just behind us, and we have a friend who provides affordable and excellent tours - by car and boat! There is whale and dolphin watching, deep sea fishing, snorkeling, canyoning, paragliding, paddleboarding, surfing, mountain biking, downhill biking, nature hiking - it is truly an adventure island! Toze our property manager will meet and greet you to explain the house and surrounding amenities
You are surrounded by the sea, gardens with water trickling through waterways as well as vineyards! The village has a central carpark, so there are no cars driving past the house or between the house and the ocean. It is pristine nature and gardens with a sense of peacefulness. There are cafes, bars and restaurants within easy walking distance. There is a great place near the Portinho cafe to enter the ocean for a swim (about 200 meters from the home). There is a small market within 60 meters of the house.
L'appartement occupe le 4e étage de cette maison située au coeur du village de Jardim do Mar, sûrement l'un des plus beaux de Madère! Il offre une vue incroyable à 180 degrés sur l'océan. Vous aurez droit à un magnifique coucher de soleil à chaque soir. À Jardim do Mar, il n'y a pas de moustiques (pas en août). Vous pourrez laisser les fenêtres ouvertes toute la nuit et profiter du bruit des vagues. Comme nous, vous pourrez dormir sur la terrasse et profiter du ciel étoilé. Aussi, c'est un endroit tranquille. L'appartement ne semble pas très central pour visiter Madère mais aucun ne le sera vraiment. Vous pouvez vous rendre à peu près partout en moins de 2 heures de route!
Martin
September 2014
Whilst we are used to sea views in our home town in the UK we found the location and aspect of the Honeymoon Studio absolutely stunning. The private balcony was a great retreat after an active day and we slept every night with the door open so we could listen to the sea....great therapy! The apartment was furnished to a high standard and spotlessly clean. Travelling in April we experienced all extremes of weather and realised that Jardim Do Mar was always sunnier than the rest of Madeira during our stay. Everyone locally was extremely friendly and helpful and we enjoyed Joe's Bar for supper and to test the Madeiran (URL HIDDEN) careful! We had a great day canyoning with Madeira Outdoor and hired excellent quality mountain bikes from Freeride in Funchal. Although staying on this part of the island involves some extra driving we felt it was worth it and were pleased to be coming back each day. Absolutely first class experience and we would recommend to everyone.
Jayne
April 2014
It was a very pleasant experience to stay in the apartment. Views from the terrace were relaxing and unforgettable. I would highly recommend the accommodation!
Olga
May 2016
Jardim do Mar is a wonderful place to stay in Madeira and enjoy the nature. Weaking up with the ocean directly in front of you is absolutly amazing. Starting the day with a breakfast and such a view is just perfect. The loft is completly fine and had everything we needed.
Malte
October 2014
Wir waren für fünf Tage Gäste im honeymoon studio. Die Lage ist traumhaft! Wir haben uns sehr wohl gefühlt und empfehlen das Haus gerne weiter!
Anette
April 2015
We had a great time at the Wave House! Waking up next to the sea was great! The apartment was just perfect for two people. It was clean, very well equipped and had the best view. Couldn't get better! We would love to come back soon! :)
Sarah
February 2016
The studio is perfect with a stunning terasse! We enjoyed the sunset every evening and loved the sound of the waves! Jardim do Mar is a beautiful village! We just could suggest a little more personal/authentic bnb experience (recommendations on arrival instead of asking at what time we would leave, minimal things in the flat for a 7night stay -no soap, 1 trash bag and 1 spare toilet paper roll...).
Olivier
November 2015
Wave House is fabulous, it is modern, clean and has exceptional views of the ocean. It is located in Jardim do Mar which has a couple of nice restaurants and good access to neighbouring Calheta and the rest of the island. There is also ample space to park a car just a short walk from the house We stayed for 7 nights and were genuinely gutted to leave. Thanks
Mark
June 2016
Tipo di stanza
Intera casa/apt
---
Tipo di alloggio
---
Può ospitare
3
---
Camere da letto
0
Jardim Do Mar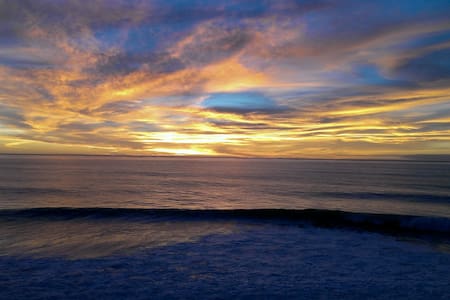 This is a loft style apartment, with separate kitchen and outdoor patio with edible garden. You can harvest your own veggies, and relax in the quiet private patio. Big screen projector with international channels. High speed Wireless.
Alles war super soweit. Haben uns wohl gefühlt. In 15 min zu Fuß erreicht man das Stadtzentrum. Rita war sehr nett und zuvorkommend.
Martin
October 2016
The concept of Ritas apartment is just awesome. Daily we made our salad only from ingredients from the garden. The apartment itself is nice and cosy: The kitchen could be cleaner. The living- and bedroom are nice. There is a beamer for watching TV with a lot of international channels. The view from the terrasse is extremely nice. You see the ocean and Funchal.
Justina
March 2016
A wonderful place to spend a Madeira holiday! We especially loved the terrace, the lovely furniture and the neighborhood.
Marlen
November 2016
It is a nice and cosy apartment in a quiet neighbourhood. A plus point is definitely the covered outside area and green garden, with a view on the ocean. It has two lounge chairs, which are highly necessary after long walks. Free parking in front of the door as well. Rita was helpful and sent us all necessary information before arrival.
Lisa
December 2016
Nice apartment, clean and close enough to the city center (15 min walk). The neighborhood is quiet and safe. Unfortunately we have not met Rita, but even though she was not in the city there were no problems for check-in.
Vitali
August 2016
Rita is helpful and hospitality. Loft is in good location, functional. everything ok
Michał
July 2016
We enjoyed our stay in her cosy and clean apartment. The apartment is on the bus route however we had the use of a hired vehicle and enjoyed the apartment's central location.
Gerald
January 2017
Excellent séjour d'une semaine dans un appartement situé en hauteur de Funchal (5 min en voiture et 15 min à pied). Il est lumineux, confortable et super clean (la femme de ménage est même passée une fois dans la semaine avec changement des draps!).Cuisine assez bien équipée, lit confortable et salle de bain moderne avec douche à l'italienne. Il est doté d'une terrasse très agréable (table de jardin pour apéros et repas... )avec une superbe vue sur Funchal et la mer. Excellent accueil de Rita très sympathique, disponible et passionnée de pisciculture. En résumé une chouette adresse.
Pascal
May 2016
Tipo di stanza
Intera casa/apt
---
Tipo di alloggio
---
Può ospitare
3
---
Camere da letto
1
Funchal