Impressionist valley, charming village of Vexin, 45 minutes from Paris by direct or road train. In a property, quiet house, independent including the ground floor a large bedroom and a bathroom, mini kitchen open into the room, 2nd bedroom upstairs.
"Little House" is perfectly calm. While in the village center, in front of a cafe and gourmet restaurant very friendly, we are far from the noise because in the middle of a beautiful garden. The house has 2 bedrooms and a nice little bathroom. The kitchenette in the room. It is perfect for warm up or prepare a good breakfast or a picnic. There is no oven (plates and microwave). In the village there is a well-stocked grocery and 3 restaurants .. The house has 2 bedrooms: On the ground floor: 1 double bed Upstairs: 4 beds Sheets and towels are provided.
In the village center opposite a lovely restaurant. A Valmondois, there are also two museums open on weekends. We are 5 minutes from Auvers sur Oise, the country of Van Gogh and 5 minutes from l'Isle Adam.
Nous avons été bien accueilli par Anne, qui a tout fait pour nous mettre à l'aise. La petite maison est très convenable et a beaucoup de charme. Très propre. Nous avons pu profiter du barbecue et du jardin. Merci pour tout et à bientôt!
Fabrice
2016-07-31T00:00:00Z
La petite maison est toute a fait conforme à la description et le jardin très joli. Merci à Anne pour sa disponibilité et ses facilités d'arrivée et de départ.
Marina
2016-10-19T00:00:00Z
Nous avons passé un excellent weekend dans la "petite maison"! Anne nous a accueilli chaleureusement. Sa maison est décorée avec goût et idéalement située au milieu d'un grand jardin. Nous avons particulièrement apprécié notre séjour et nous y reviendrons avec grand plaisir!
Noé
2016-04-17T00:00:00Z
Superbe maison pouvant accueillir beaucoup de monde. Village charmant!
Nicolas
2017-01-25T00:00:00Z
Une petite maison très agréable, avec un très joli jardin. Un environnement agréable dans un joli village. Anne, la propriétaire qui vit dans la maison à côté est charmante et aux petits soins.
Raph
2016-08-14T00:00:00Z
Anne est tres accueillante, genereuse et sympathique. Ma reservation etait derniere minute, et Anne a fait tout pour ce que c'etait possible. La petite maison se trouve entoure par une enorme jardin, en ville en face d'un cafe, mais loin du rue et completement tranquille. Deux etages donne la possibilite d'avoir un troupeau d'enfants sur l'etage et un lit et salle a vivre pour les parents. La ville est encore beaucoup plus agreable que la ville Auvers sur Oise, site de suicide de Van Gogh, proche de 15 minutes par velo. Fortement recommande!
greg
2016-03-23T00:00:00Z
We had a fantastic time at Annes petit maison. We really enjoyed the garden which is very beautiful and peaceful. Perfect for relaxing. Anne was away during our stay, so we only met her on our day of departure. She is lovely, and a great person to chat to.
Nicole
2015-05-10T00:00:00Z
logement indépendant agréable dans un jardin calme, et accueillant. L'hôtesse se rend disponible. région très belle à découvrir.
Bertrand
2016-08-18T00:00:00Z
Tipo di stanza
Intera casa/apt
---
Tipo di sistemazione
Bed & Breakfast
---
Può ospitare
6
---
Camere da letto
Valmondois, Île-de-France, Francia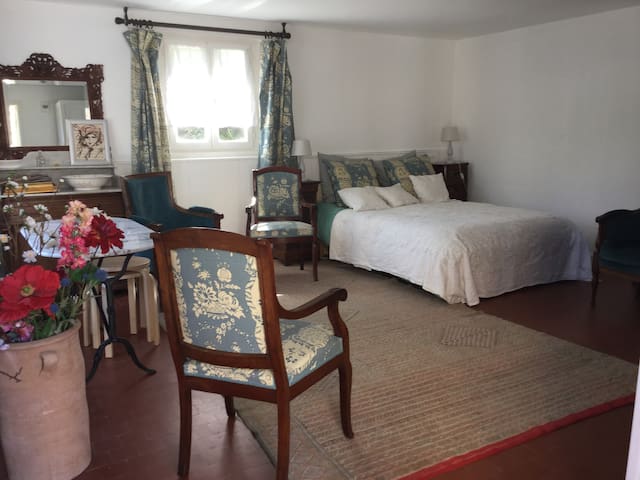 Mon logement est proche de la forêt, et du centre ville à la fois. Visite de Auvers sur Oise, sur les pas de Van Gogh. A proximité de Saint Leu la Forêt (ateliers d'art). Gare pour Paris à 8 min à pied. Aéroport de Roissy à 20min en voiture. . Vous apprécierez mon logement pour les espaces extérieurs, le calme. Mon logement est parfait pour les voyageurs en solo. Petit déjeuner compris, et accès à la cuisine toute équipée, pour vous concocter des petits plats.
bonjour je suis au regret de ne pas avoir rencontré Chantal étant malade toute la semaine espère une prochaine fois dans une mission sur moiselles et tiens a la remercié pour son honnêteté pour le remboursement d une parte de mon séjour bonne année a vous et votre famille pour 2017
jean michel
2016-12-31T00:00:00Z
Je me suis sentie à l'aise dès que j'ai franchi le pas de la porte. Chantal est avenante, soucieuse de mon confort. Le lit est confortable. Il n'y a aucun bruit. Le petit déjeuner est varié. J'y retourne prochainement
mathilde
2016-11-15T00:00:00Z
Endroit calm et proche des moyens des transport. Chantal est tres acceuillante et vraiment comprehensive. Un séjour formidable
Mohammed
2017-01-20T00:00:00Z
Tipo di stanza
Stanza privata
---
Tipo di sistemazione
Bed & Breakfast
---
Può ospitare
1
---
Camere da letto
Bessancourt, Île-de-France, Francia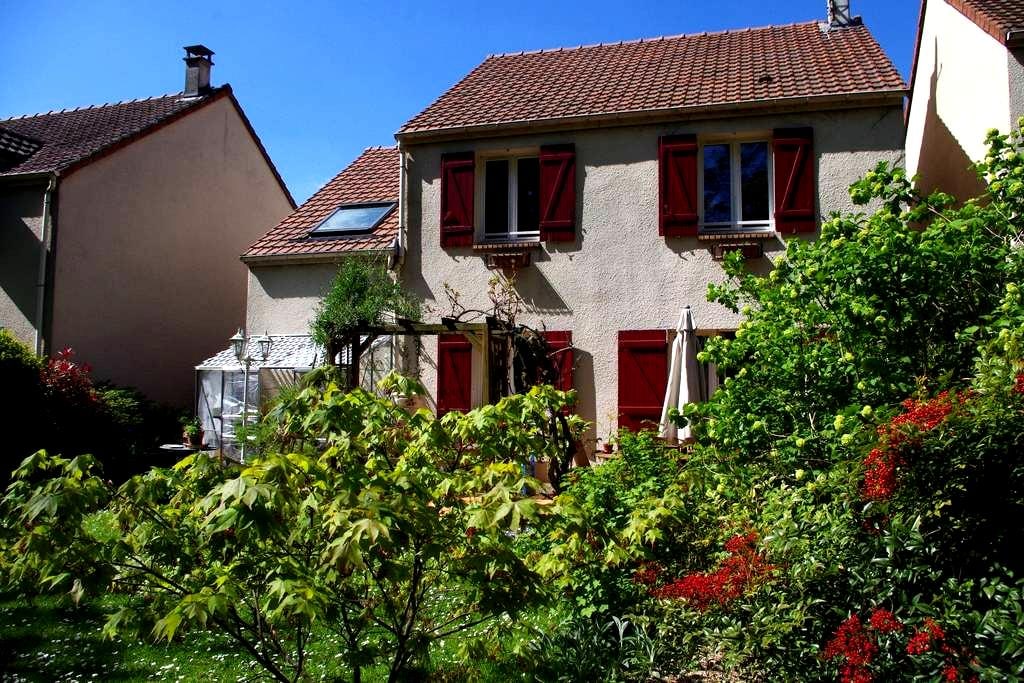 Cozy nest for 2 persons in the village of Vincent van Gogh, just 30 minutes from Paris. The room has access to a terrace and private garden. The room has a shower. possibility hearty breakfasts for 12 euros per person served in your room from 8.30am.
Home is in a quiet neighborhood. Very near wonderful small towns. Warm welcome when we arrived and we appreciated the smile in the morning when the breakfast tray was brought. Being able to eat in the privacy of our room was a treat. Accommodation was as listed and was very comfortable.
Byron
2016-04-18T00:00:00Z
Nicolas was a very friendly host, and we loved visiting his home. The bedroom was charming, and the location of the house was perfect for our visit to Auvers-sur-Oise. I would love to stay there again.
Douglas
2015-09-28T00:00:00Z
Bon accueil, bonne literie, top petit dej et parfait pour aller courir le long de l'oise.
Farid
2016-05-11T00:00:00Z
J'ai passé un séjour particulièrement agréable dans un cadre parfait pour la détente. Mélina nous a acceuillie et s'est très bien occupée de nous. Nous garderons un souvenir magique de cette soirée, j'en suis ravie !
Yasmine
2015-02-15T00:00:00Z
Très bon acceuil. Hote sympathique. Lieu charmant, spacieux, indépendant de l habitation principale. Atmosphère rustique et chambre très bien décorée avec beaucoup de goût. Excellent petit déjeuner. Maison en dehors du centre d Auvers mais Village accessible à pieds ou en train.
Daniel
2017-02-05T00:00:00Z
Très chouette WE à Auvers dans la maison de Régis. Nous avons été très bien accueilli par Mélina. La chambre est un nid douillé dans lequel on revient avec plaisir après la visite du village de Van Gogh.
Simon
2015-03-29T00:00:00Z
Je cherchais un lieu calme et douillet pour fêter un anniversaire de rencontre et ce logement a parfaitement correspondu à mes attentes. Accès de plein pied sur un très beau jardin ensoleillé dans lequel nous avons pris un excellent petit déjeuner servi comme à l'hôtel !Même si nous n'avons rencontré Nicolas, celui-ci avait fait tout ce qu'il fallait à la réussite de notre séjour (conseil de restaurant, documents mis à disposition...)
Antoine
2015-09-06T00:00:00Z
It was a wonderful stay! The host was very kind, the room romantic and private and we woke up with a delicious breakfast. The place to be when you visit Auvers-sur-Oise! Regis had a lot of nice suggestions for us, to visit and to eat and he told us a lot about Vincent van Gogh. We wil return deffinitely to this warm and friendly place.
Maartje
2014-07-28T00:00:00Z
Tipo di stanza
Intera casa/apt
---
Tipo di sistemazione
Bed & Breakfast
---
Può ospitare
2
---
Camere da letto
Auvers-sur-Oise, Île-de-France, Francia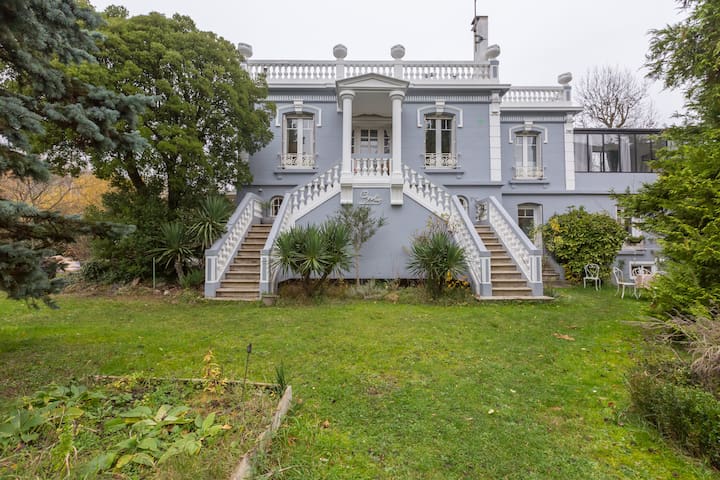 Grande Maison possédant une piscine et un grand jardin. Vous disposerez d'une chambre avec Salle de bain. Située à 20 kilomètres de Paris et proche roissy CDG.
Possibilité de prêt d'un véhicule sur demande au préalable.
La décorations des maisons à Noël, le calme, la forêt en alliant la proximité de Paris.
The host wasn't home most of the time. He was very friendly in offering the kitchen and the swimmingpool. Breakfast wasn't included. A German sheppard was keeping me company and wanted to play all the time
Lucy
2016-08-18T00:00:00Z
Tipo di stanza
Stanza privata
---
Tipo di sistemazione
Bed & Breakfast
---
Può ospitare
2
---
Camere da letto
Bessancourt, Île-de-France, Francia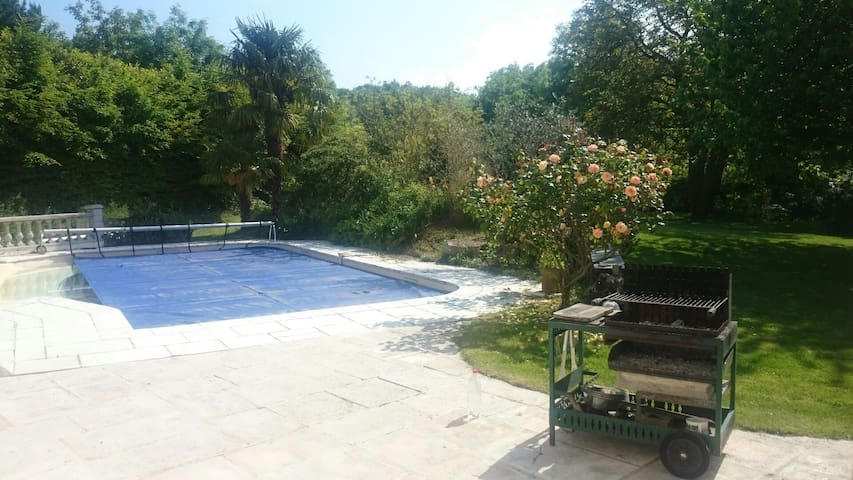 Petit nid douillet à l ancienne pour 2 personnes dans le village de Vincent van Gogh, à seulement 30 mn de Paris. La chambre possède un accès à un jardin privatif. La chambre (URL HIDDEN) d'une baignoire. possibilité de copieux petits déjeuners pour 12 euros par personne servi en chambre a partir de 8h30.
A Auvers-sur-Oise, dans le village de Vincent van Gogh à seulement 30 mn de Paris, venez découvrir les 7 musées du village (Maison de Van Gogh, Château d'Auvers, musée et maison-atelier Daubigny, musée de l'Absinthe, maison du docteur Gachet, galerie d'art contemporain) et vous détendre dans notre jardin du Trianon. Dans une atmosphère surannée repartez dans une époque XIX. Vous serez surpris qu'à seulement 30 km de Paris, vous trouverez déjà la pleine campagne : promenade le long de l'Oise, vélo dans le Vexin français, balade dans les champs, découverte des fermes, etc. La maison, construite en 1890, est une "petite folie des bords d'Oise" et a été, pour l'histoire, l'ancienne "maison de passe" du village.Vous disposez d'un accès direct à votre chambre/appartement par une porte privative; la salle de bain est séparée et vous disposez même d'un petit espace cuisine pour vous faire un bon dîner !Vous pouvez également accéder à votre jardin privatif.possibilité de faire du vélo.Le petit-déjeuner, servi dans votre chambre, est composé des produits frais (jus de fruits, œufs et fromage, pain et croissants de la boulangerie et gâteaux-maison) A 2 pas, un très bon restaurant italien et dans le centre du village, l'Auberge Ravoux (Guide Michelin) et d'autres bonnes adresses de qualité dont un avec des concerts de piano !La gare de Chaponval est à moins de 5 mn de la maison et, après un changement, vous rejoignez la gare Paris Nord en 40 mn.Bienvenue chez vous !
A 2 mn de l'Oise, vous pouvez vous balader le long de la rivière et découvrir la faune et la flore de l'Oise ou vous pouvez emprunter les rues anciennes du village et visiter la maison du Docteur Gachet.
great breakfast great room great garden..friendly and generous ...just what you want
Nicholas
2014-05-22T00:00:00Z
I can not imagine why anyone thinks this place is charming. It smells musty in the main room and hallway, the paint is peeling off the walls inside and out and the bedrooms are unclean and in need of vacuuming and dusting, if not scrubbing. I wonder if the sheets are even washed. The yard is overgrown and badly in need of new plantings, grass cutting, removal of piles of old furniture and other items and general maintenance. The outside tables and chairs where we were offered as an option for breakfast are rusty metal or dried out cracked old wood. The website says there are 2 bathrooms and 2 bedrooms plus a kitchen. There is only one bathroom - actually the best room in the place, except for the dusty glass shelf and the grimy faucets on the sinks and the curtains which were falling off of the windows (the shower worked well, but for 4 of us we were only given 2 bath towels, one hand towel and 2 bathmats). It was explained to us that there are 2 bathrooms only if there are 6 people…. this should say so on the website. The "kitchen" which is the size of a small closet had filthy sponges, sticky silverware, dead ants in one of the silverware trays and no soap or cloth or paper towels. The bedroom, whose pictures are shown on the website, is in disrepair and has a very large empty frame on the wall where one would expect a picture, not an empty space. Other frames were falling apart. The glass door didn't have a privacy curtain. The frame on one side of the entry to that room is falling off. The second bedroom is equally unappealing with a broken curtain hanging down that is 'push-pinned' to the wall with 2 hangers on a door which is the only place to hang anything. Additionally there are randomly placed dirty curtains around the entrance door and room which are about a foot too long. The carpet was clearly not vacuumed and the room smelled moldy. Walking around the back of the house, there is a room with a kitchen with a glass door wide open. There is a filthy rug on the floor at the door with, I'm guessing, mouse feces. I did not go in, but could smell the mold from the doorway. This is the worst Air BNB place we stayed in France! And we stayed in several including some that were a 1000 years older than this house. They were all in good repair and clean. Regis was on vacation and it appears he has been gone for at least 6 months. Camille did greet us and she was lovely, apologized for what we were unhappy about, and gave us a nice breakfast, but she could not make up for this dirty and unappealing place. I am sending Air BNB pictures to confirm my comments. I would never recommend that anyone stay here.
Penny
2015-08-18T00:00:00Z
Merveilleuse nuit dans ce nid d'amour! Super lit super, super petit dej, bel emplacement dans un beau (URL HIDDEN) en plus accueil tres chaleureux! On reviendra :)
laura
2015-10-25T00:00:00Z
We didn,t see our host at all til our departure.
George
2015-11-27T00:00:00Z
Cette joyeuse maison est située à quelques pas de l'Oise, tout y est calme, et noyé dans la verdure du jardin. Le petit dejeuner apporté dans la chambre par nos hôtes était tout simplement délicieux, pain frais, croissants, oeufs coques et jambon, fromage ainsi que quelques pommes du jardin. Bref, nous avons passé un moment charmant dans ce Trianon auversois. A recommander sans réserves!
Alexandra
2015-09-22T00:00:00Z
Great location for Van Gogh fans. Nice people to stay with and great garden. Breakfast was delicious. They made us very comfortable.
Paul
2014-04-30T00:00:00Z
Great place! Super beautiful and artistic interior design. The place has very good vibes and is very clean. The breakfast was excellent and made us feel like we where staying in a 5 star hotel. Nicolas was accurate about everything, flexible to all our needs and easy to communicate with. This was the second time we stayed there, last time we had a room, this time we could use the whole house. I especially loved all the wonderful details in the interior design, all the objects where placed with such care. We can absolutely recommend Nicolas place to anyone!
Roos
2016-10-29T00:00:00Z
Regis has been supportive to match arrival to meet and greet. The house showed the age of time. The art deco style interior showed the beauty and wealth of the past but moist and dust have taken over the carpented interior. The nearby train with open windows brings the glory of a beatiful day early in summertime. Given the location near the beatifull village we understand the pricepoints taken but it did not match quality and comfort of bed and the facility provided.
Martin
2015-06-16T00:00:00Z
Tipo di stanza
Intera casa/apt
---
Tipo di sistemazione
Bed & Breakfast
---
Può ospitare
6
---
Camere da letto
Auvers-sur-Oise, Île-de-France, Francia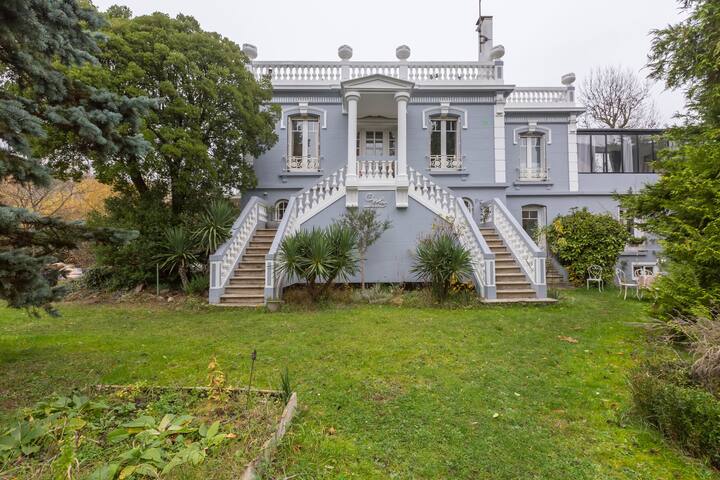 Si desidera visitare Auvers-sur-Oise, scoperta dei luoghi dipinti dagli impressionisti. No, siete professionisti e vuole essere vicino a Cergy Pontoise centri di attività diverse. No, è sufficiente visitare un amico, qualunque cosa, sarete accolti calorosamente qualunque sia la vostra motivazione. Una ricca colazione può essere servita (+ 10 € / pers)
Una piccola casa colonica vi accoglie all'ingresso della città, vicino alla fermata dell'autobus (9507) a 50 metri dalla casa. Una cucina con zona pranzo e un salotto, camera da letto matrimoniale al primo piano con un secondo letto singolo (+ 15 euro) il tutto servito da una scala, un po 'rigido, un bagno con wc. Un piccolo cortile con fiori.
Il quartiere, la Valhermeil, è tranquilla e molti pittori hanno dipinto.
Facile à trouver et bien agencé Les poutres apparentes dans la chambre sont jolies et le mobilier fonctionnel et agréable La chambre est très confortable
Olivier
2017-01-28T00:00:00Z
Very friendly landlord, helped us so much, we got home and used car we went grocery shopping, House's location is very good, very sunny House, Interior is very clean and very beautiful town, suitable accommodation for the artists, travel and leisure. Every year, we will come.
lanqian
2016-12-17T00:00:00Z
Une adresse agréable où nous sommes bien accueillis. Merci Christian !
Elodie
2017-03-19T00:00:00Z
Tipo di stanza
Intera casa/apt
---
Tipo di sistemazione
Bed & Breakfast
---
Può ospitare
3
---
Camere da letto
Auvers-sur-Oise, Île-de-France, Francia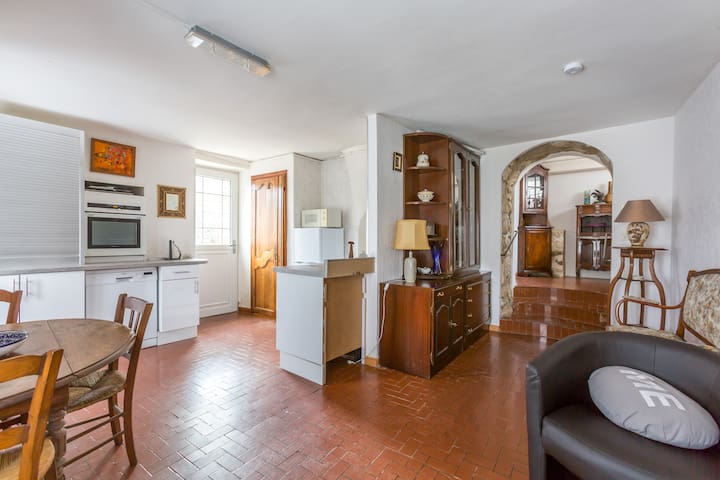 Mériel - Airbnb
:
Media di

4.48

stelle su

5

da

136

recensioni degli ospiti
1

–

6

di

6 bed & breakfast
Inserisci le date per visualizzare il prezzo totale. Ci sono dei costi aggiuntivi e potrebbero venire applicate alcune tasse.