The "Casilla" is an ideal place to stay in Lubrin with a roof over your head. It has the basics and for the price you can't beat it! We have repainted the whole inside but this will give you a feel for the place. (URL HIDDEN) You will receive great hospitality during your stay. Ideal for bikers or anyone who wants to live the Spanish life in Lubrin.
Tipo di stanza
Intera casa/apt
---
Tipo di sistemazione
Casa
---
Può ospitare
4
---
Camere da letto
Lubrín, Andalusia, Spagna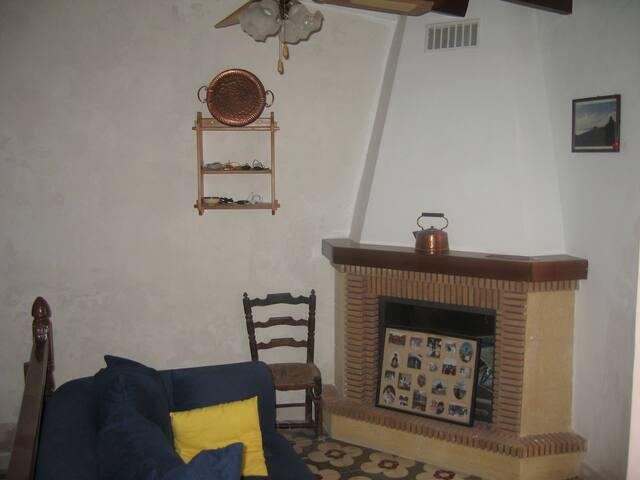 Casita Musica is part of an Andalucian Farmhouse set in 2 acres of terracing with swimming pool, truly panoramic views of the surrounding village and mountains. The authentic Spanish village of Lubrin is just a short 5 minute walk to the main plaza. The cottage has been renovated from an agricultural outbuilding and is designed for 2 people with comfortable self catering accommodation. There is a living room, with well equipped kitchen, spacious double bedroom and shower room and private terrace
Long Term Let
The accommodation is within easy walking distance of the charming and delightful Andalucian village of Lubrin in the province of Almeria. The village is very Spanish and nestles high in the Sierra Los Filabres some 2000feet above the well known beach resorts of Mojacar and Garrucha which are just 45 minutes away. Lubrin is a small village of about 500 of the nicest people you are ever likely to meet. There are a number of Cafe/Bars that offer tapas. Meson Molinos is a restaurant offering fine wines and a mouthwatering menu. Bar Lopez is located in Rambla Aljibe, which is one of the dozen or so hamlets in the Parish of Lubrin, where you can get a good wholesome 3 course Menu del Dias including wine for 10 Euros. There are 3 Banks and the village shops include 2 Supermarkets, 3 Butchers, 3 Bakers (no Candlestick Makers!!) and an Ironmongers. You can buy anything from a pin to a Porsche( well not quite a Porsche). Market day is on a Wednesday when you can stock up with fresh fruit and vegetables on most days the fresh fish van comes up from the coast. Life in Lubrin is a time warp and will remind us more senior citizens of an early childhood where family groups sit out on the streets on hot summer nights with children playing until the sun sets over the hill.
Tipo di stanza
Intera casa/apt
---
Tipo di sistemazione
Casa
---
Può ospitare
2
---
Camere da letto
Lubrín, Andalusia, Spagna
Comfortable and peaceful rural retreat with beautiful mountain views, close to lovely Spanish village and 30 minutes to the coast.
2 bedroom cottage in the foothills of the Sierra-Filabres mountains. It is within easy walking distance of the pretty village of Lubrin with shops, bars, restaurants, banks and a lovely outdoor swimming pool, open in the summer. The area is perfect for walking or you can relax in the sunshine in your private garden and enjoy the fabulous views of the surrounding countryside. It is a 30 mins drive to the many beautiful beaches and seaside resorts on the Almeria coast.
Los anfitriones fueron muy amables y estuvieron pendientes de que estuviéramos agusto en todo momento y de que no nos faltara de nada. Son una pareja muy amable. La casa estupenda y el pueblo precioso. Muy buena estancia y altamente recomendable, repetiremos seguro. Muchas gracias por todo.
MARIA MORCILO MARTIN
2014-08-12T00:00:00Z
La casa es tal cual aparece en las fotos. Nos encantó estar allí, sobretodo los desayunos y cenas en la terraza. Totalmente aconsejable si se quiere desconectar 100% de trabajo, ciudad, etc. única pega que el ir a la costa nos costó más de lo esperado por el tipo de carreteras y caminos que había que hacer siempre necesariamente hasta llegar a agua amarga, carboneras, etc. Pero bueno, queríamos dormir en el interior y no en la costa así que sin problema. Los anfitriones muy majos pero ni idea de español, así que nada, nos comunicamos siempre en inglés y listo!
emiy neus
2016-08-15T00:00:00Z
Tipo di stanza
Intera casa/apt
---
Tipo di sistemazione
Casa
---
Può ospitare
4
---
Camere da letto
Lubrín, Andalusia, Spagna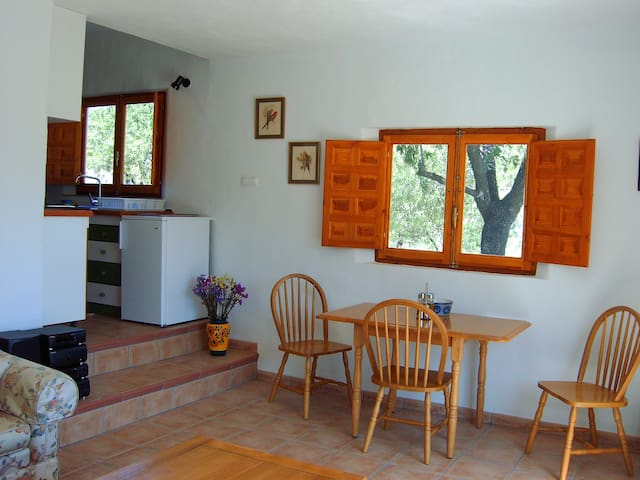 Casa de pueblo con mucho encanto recién reformada en el centro de Bédar. Conserva elementos decorativos tradicionales de un siglo de antigüedad. Tiene un luminoso salón comedor+ 2 dormitorios dobles+ terraza con vistas espectaculares+ garaje privado.
Hemos reformado y decorado con mucha ilusión y cariño una casa que pertenecía a mis abuelos desde hace generaciones. Nos queda muy lejos de nuestro hogar y no podemos ir con frecuencia así que decidimos arreglarla y permitir que otras familias disfruten de ella y le den la calidez que se merece. Tiene una amplia y luminosa sala de estar con sofá, TV y mesa para comer; con acceso a la terraza con unas vistas únicas: No os perdáis el amanecer o el atardecer, se ve el mar y todos los blancos pueblos como Los Gallardos, Turre o Mojácar. Una pequeña pero cómoda y funcional cocina equipada con Inducción, nevera, tostadora, hervidor, minipimer, exprimidor, batería de cocina y cubertería. Dos dormitorios con grandes armarios empotrados: uno con cama matrimonial y otro con dos camas. Ambas con mesita de noche, perchero y espejo. Un baño completo con ducha, incluye conjunto de toallas para cada huésped, papel de baño y enseres como jabones y secador de pelo. En el baño también se encuentra la lavadora. En la planta subterránea está el garaje privado. En definitiva es pequeño y mágico rincón para desaparecer y vivir unos días de relax, silencio, naturaleza y sol.
Su historia se remonta a la Edad Media, cuando la Tierra de Vera era musulmana. El pasado musulmán está presente en Bédar: con sus callejuelas retorcidas y angulosas, sus cultivos en terrazas escalonadas alrededor de fuentes y balsas. Sus gentes aún hablan del tesoro y leyendas de los moros, como el llamado " Castillico de los Moros" en Balsa Alta. Las explotaciones de minas se remontan a la época árabe desde 1525, aunque su mayor apoyo comienza en 1888, estando ya en manos cristianas. Tras varios paréntesis, coincidiendo con las Guerras Mundiales, cierran en 1970 definitivamente, dejándonos un importante legado arqueológico industrial. Bédar es genuinamente montañés, este pueblo posee una de las mejores panorámicas del litoral y las sierras de la Comarca desde el mirador de la Plaza de San Gregorio, conocido también como "El Balcón del Levante", lugar donde actualmente se encuentra el monumento de homenaje al minero. Entrañable y abierto al mundo, Bédar mantiene en su entorno ese aire nativo que le confiere su origen musulmán, paseando por sus calles pendientes y estrechas adornadas con el blanco de sus casas y el colorido de sus geranios, el nombre de sus calles como Mar, Luna, Fuente, entre otras así nos lo demuestra. Desde las calles de su parte alta y desde el mirador podemos contemplar el azul del Mediterráneo y las montañas que nos rodean, así como los pueblos de la llanura configuran un paisaje inigualable. En la actualidad Bédar cuenta aproximadamente con 1000 habitantes, de los cuales en torno al 50 % proceden de otras nacionalidades, siendo la nacionalidad británica la que se sitúa en cabeza seguida de la alemana. Se cuenta que los primeros moradores de Bédar, eligieron este tranquilo lugar para su asentamiento evitando así ser visto por los piratas del mar. La unión de su bello paisaje con su tranquilidad han contribuido a que en estos últimos años Bédar sea una zona residencial muy cotizada. Aunque era en el siglo XIX cuando Bédar vivía de la minería, en la actualidad sus principales actividades son la agricultura y el turismo, de hecho se está haciendo un esfuerzo por parte del Ayuntamiento por convertir a Bédar en "villa eco turística", siendo el turismo el motor de futuro del municipio, dado el valor histórico, paisajístico y medioambiental que posee, invitando al visitante a poder disfrutar de unas fantásticas rutas de senderismo, así como una visita cultural por el casco urbano. Además se puede conocer y disfrutas de dos rutas a pie: La Ruta del Agua y La Ruta de la Minería de Bédar. Los días entre el 22 y el 24 de septiembre son las fiestas en honor a la Virgen de la Cabeza. Durante esta celebración tienen lugar las luchas entre moros y cristianos. En el mes de mayo también se celebran las fiestas en honor a su patrón San Gregorio, conocida popularmente como "la fiesta de los roscos". Y a principios de primavera tienen lugar las procesiones de Semana Santa con sus maravillosas "imágenes" y saetas.
Todo era tal cual lo prometido y visto en las fotos. La casa es una joya, pero más aún el buen gusto de la decoración. Además nada falta y todo está en su lugar. El pueblo es tranquilo y silencioso, ideal para descansar. Es una casa con mucha magia preparada con cariño, una especie de hotel personal. En su conjunto (casa y pueblo) me parece un sitio ideal para cualquier momento del año.
santiago
2015-07-20T00:00:00Z
Een geweldige plek, het huis zelf en de ligging. Erg mooi ingericht en schoon, fris, uitnodigend.
Marieke
2016-05-09T00:00:00Z
Olga es una anfitriona ejemplar. No nos conocimos personalmente pero estuvo a nuestro lado desde el primer momento de la reserva, todo fueron facilidades, haciendo que nuestra estancia pareciese más ir a casa de unos amigos que de alquiler. La casa es tal y como se ve en las fotos, es preciosa, Olga ha cuidado todos los detalles, mezclando con arte lo antiguo y lo moderno. La casa estaba impecable cuando llegamos. Quedamos con Ana Josefa, quien nos hizo la entrega de llaves y nos acompañó a la casa y desde ese momento nos sentimos en casa. Cenar en la terraza es un lujo porque por muy caluroso que sea el día, al caer el sol corre un aire muy agradable y las vistas son muy bonitas. La cama es comodísima y, Al igual que en la terraza, por la noche corre aire fresco aunque por el día haya hecho mucho calor. Es un pueblo tranquilo, por la noche no hay nada de ruido.... Salvo el día de las fiestas, el primer fin de semana de agosto, que hubo verbena hasta la madrugada :-), el resto hay silencio total por la noche. El pueblo tiene sus bares (ponen unas tapas con las cañas buenísimas), supermercado y una piscina municipal donde por 2 euros pasamos el día que no nos apeteció ir de excursión . Está a media hora de muchos sitios interesantes (Sorbas vale la pena, el centro de visitantes los yesares) y de diferentes calas y playas. En Mojácar playa hay tiendas de todo tipo, ropa, Consum, Mercadona, tiendas de regalos.... De todo, y bares y chiringuitos estilosos en la orilla de la playa. Para probar comidas autóctonas, Casa Adelina, en Turre, es todo un acierto. Los gurullos están riquísimos! Sin duda, es una experiencia recomendable, y una casa más que recomendable, por la casa y por la anfitriona. Gracias Olga por hacérnoslo todo tan fácil.
Julia
2015-08-15T00:00:00Z
It was very nice in this beautiful nice little village. The house is very comfortable. Everything was neat and clean. We missed a little bit a wifi connection.
Jort
2015-10-14T00:00:00Z
Olga est très disponible et répond très rapidement. La maison de sa famille est exactement conforme au descriptif. Elle est entièrement rénovée, très bien décorée, fonctionnelle et accueillante. On s'est sentis comme chez nous dès le début. Le village de Bédar est bien situé. Nous avons passé un très bon séjour. Je recommande vivement ce lieu ainsi que la facilité de communication avec Olga.
olivier
2016-07-25T00:00:00Z
Nuestra estancia en la casa fue de once días. Desde un principio nosotros buscábamos tranquilidad ya que ibamos con una niña de tres años y un bebé de ocho meses. Al llegar al pueblo nos encontramos con Ana Josefa que nos enseño la casa, era tal como se veía en las fotos, decorada con mucho gusto y sin faltar ningún detalle. Bédar es un pueblo muy tranquilo, con mucho encanto y donde se respira mucha paz. Esta ubicado en lo alto de una montaña y a unos 15 minutos en coche puedes encontrar Mojacar y Mojacar playa donde hay varios sitios en los que puedes comprar y encontrar de todo. La verdad es que la comunicación con Olga ha sido excelente ofreciéndonos todo lo que hemos necesitado. Hemos quedado encantados, sin duda es un lugar al que volver.
alfonso
2016-08-20T00:00:00Z
Olga was very helpful and a great host. I really enjoyed my stay in Bedar
Edward
2016-03-10T00:00:00Z
Olga es una persona muy atenta y cordial. Es una experiencia sin duda para repetir algún día.
Pedro Miguel
2016-08-07T00:00:00Z
Tipo di stanza
Intera casa/apt
---
Tipo di sistemazione
Casa
---
Può ospitare
4
---
Camere da letto
Bédar, Andalusia, Spagna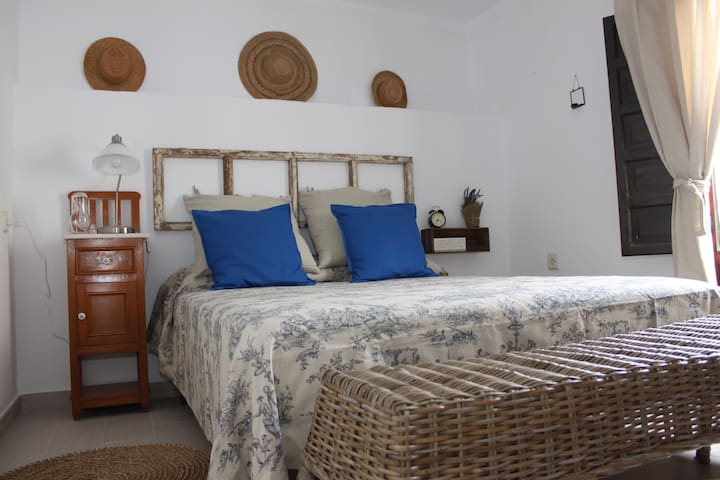 Starting from a barn gives the freedom to create a real nest according to our wishes : confort and charm.
We don't like "Ready Made"that is why we chose every detail of this house .
Authentic andalusian hamlet in the middle of mediterranean trees, such as almond, citrus, olive, orange and figue trees .
Baudouin e sua moglie sono persone molto gentili e disponibili, il nostro soggiorno da loro è stato incantevole. Avremmo voluto poterci fermare di più! La casa, davvero bella e ben decorata, è in un paesino tranquillo tra gli ulivi e gli aranci, comodamente raggiungibile dalla vicina uscita dell'autostrada. In paese ci sono due bar e con una piacevole passeggiata di 20 minuti si può raggiungere un buon ristorante situato in zona panoramica. Supermercato e altri servizi sono a 5 minuti d'auto. Oltre alla stanza, a disposizione degli ospiti ci sono la piscina, un bagno privato molto grande e funzionale e la cucina, per chi desidera farne uso. Lontano dalla frenesia della città, il posto è perfetto per passeggiare, andare in bicicletta o semplicemente rilassarsi. A 40 minuti d'auto dalle spiagge, è anche un'ottima base per esplorare questa zona dell'Andalusia. Speriamo di tornare presto!
Silvia
2016-08-20T00:00:00Z
Lovely place! Even nicer than the pictures. I was there with a friend for only a night and we didn't get to spend much time at the house, but both Baudouin and Dee made us feel very welcome, he even met us at the nearest town to show us the way! I would have loved to have spent some more time so that we could have had a longer chat but if I ever go back to Almería, I certainly will stay with them again. Thanks!
Angela
2016-08-08T00:00:00Z
Nuestra estancia ha sido muy agradable. Bo y Dee son unos grandes anfitriones, siempre pendientes de nosotros y de Bruce ( un labrador chocolate que se hubiera quedado con ellos). Una experiencia nueva y gratificante.
Laura
2016-08-12T00:00:00Z
Красивый изысканный дом в тихом месте. Присутствует утонченная обстановка, тишина и чистота. Хозяева произвели большое впечатление - они образец семейной жизни и дружбы. К гостям приветливые, внимательные, вежливые, проявляют заботу. Устроив ваше пребывание, не вмешиваются в вашу жизнь. Вы увидите тенистый двор, чистый бассейн, цветы и порядок. Удобный подъезд. Можно пойти погулять мимо садов и в центр поселка.
Вячеслав
2016-07-03T00:00:00Z
Tipo di stanza
Stanza privata
---
Tipo di sistemazione
Casa
---
Può ospitare
2
---
Camere da letto
Arboleas, AL, Spagna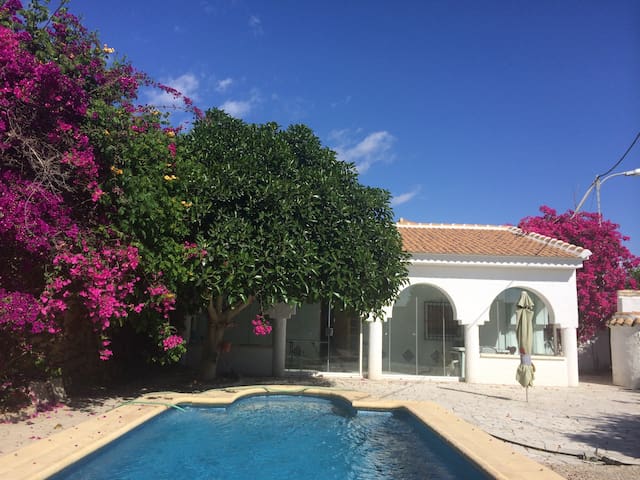 In The Paraje Natural (Nature Reserve) of Los Molinos del Rio Aguas. Perched above the famous village, our Casita offers all the basic requirements, with a low carbon footprint. Parking, kitchen, and new fridge, wifi, wood burner, towels, sheets and patio smoking area.
Totally Off the Grid, self contained cottage, with an On the Grid feel. Includes two rooms with a fully fitted Kitchen, drinking water, hot solar shower, free Wi Fi and a cosy wood burner, sheets and towels.
The Casita is 20km from the unspoilt beaches of Almeria's Cabo De Gata. Situated on the edge of the unspoilt off grid village of Los Molinos del Rio Aguas,within the Paraje de Karst de yeso,near Sorbas(URL HIDDEN) Beneath the village flows the year round Rio Aguas ,rich with wildlife and excellent swimming in summer.
Siempre llevaré conmigo el tiempo pasado en la Casita...y sobretodo la sorpresa en haber encontrado dos seres tan únicos y especiales! Sus energías son limpias y esto lo transmiten cada día haciéndote sentir como en casa. Me siento afortunada en haber descubierto un lugar tan mágico como este (y como el entorno!). Recomiendo a todos de pasar algunos días en Los Molinos del río Agua. La casa es perfecta para tener intimidad, está hecha con mucha atención y amor y sobretodo en el respecto de la naturaleza. Inmejorable! Y el perfume de las sabanas (detergente natural hecho por Jessicca) es algo indescriptible... Verdad Jessica? :) Muchas gracias por todo y hasta algún día! Diana
Diana
2016-08-13T00:00:00Z
La estancia en la casita de Jessica ha sido genial. En un lugar natural rodeado de un paisaje genial, la casita cuenta con absolutamente todo y es una casa que realmente enamora al verla. Muchas gracias por todo Jessica.
José
2016-08-22T00:00:00Z
The host canceled this reservation 84 days before arrival. This is an automated posting.
Jt
2017-01-19T00:00:00Z
One of the most magical places I have ever been. A gorgious pure swimming hole/ lagoon/river tucked inside dramatic mountains.A global treasure. Also an interesting small community there living off the grid with solar energy.Jessica and Tom were wonderful.The little house is beautiful and Internet is good
james
2016-08-20T00:00:00Z
100% Recomendable para desconectar y recargar las pilas. Zona rural muy tranquila. La casa tiene todo lo necesario, disfrutamos mucho de la chimenea y nos gustó mucho el diseño rural y ecológico de la casa. Jessica y Tom son muy atentos y desde el primer momento nos hicieron sentir como en casa, Jessica hace unos jabones excelentes y nos explicó todo lo que podíamos hacer por la zona. Gracias por todo Jessica y Tom!
Tal
2017-01-02T00:00:00Z
Foi uma experiência maravilhosa e descontraída! As fotos representam realmente o casita! A Jessica é uma perfeita anfitriã!
Marcia
2016-08-27T00:00:00Z
La Casita es un lugar tranquilo donde desconectar del estrés del día a día. Se respira paz. Recomiendo el paseo hasta el nacimiento del río. Jessica está siempre pendiente por si necesitas algo, es una grandísima anfitriona.
Francisco
2016-09-25T00:00:00Z
Es la segunda vez que visitamos Los Molinos del Río Aguas y nos encantó la casita... volveremos!
Marta
2016-08-30T00:00:00Z
Tipo di stanza
Stanza privata
---
Tipo di sistemazione
Casa
---
Può ospitare
2
---
Camere da letto
Sorbas, Andalusia, Spagna
Un'oasi nel deserto Almeriense.
Si affittano stanze in una casa colonica ristrutturata nel mezzo dell'area naturale del Carso in gesso di Sorbas, nei pressi del Parco Naturale di Cabo de Gata e 5 km dal complesso di grotte sorbas, con più di 1.000 grotte. La casa è situata in un ecovillaggio, dove la gente vive in armonia con la natura. Il fiume Aguas si trova proprio di fronte alla casa, e l'acqua scorre tutto l'anno. Ci sono anche piscine naturali dove è possibile fare tuffi rinfrescanti durante l'estate! Abbiamo un sistema di energia solare per l'energia elettrica e una pompa ariete che distribuisce l'acqua del fiume intorno al villaggio. Energia elettrica viene dal sole, l'acqua del fiume e il cibo dalla terra. Tenendo conto delle esigenze attuali, connessioni WiFi sono disponibili in tutta la casa, e perché siamo appassionati di cinema saremo lieti di condividere la nostra cinema con voi. Questa è un'opportunità unica per imparare come si vive in un ecovillaggio, senza entrare dinamiche comunitarie. Venite a vedere l'oasi di Rio Aguas! Stiamo cercando di vederti!
Watching Movies under the skylight, swimming in the pool with turtles and Explore the area: it's really awesome to stay with Shiela y Diego in the little village near Sorbas. It's a good place to visite Spain, far away from the big tourist atractions and to Explore the unique area. Sheila y Diego are very welcoming and make you feel at home. It's very inspiring to see how they live and it's Nice to talk with them about a lot of things.
Liesbet
2015-06-25T00:00:00Z
El sitio es muy original. La estancia fue muy positiva. Y los anfitriones geniales.
juan pedro
2014-07-17T00:00:00Z
it was a lovely experience, a lot of nice sharing with sheila and diego and also with other nice people visiting their house! the pool near the house is great for swimming, the location is in a beautiful valley where you can take walks in nature. sheila and diego were always there to arrange something together. we had great time with them! and we promise to come back in near future!
irem
2013-09-06T00:00:00Z
Diego y Sheila son personas muy cercanas y amigables. La casa era muy muy bonita y todos los rincones estaban aprovechados con encanto. Sus consejos sobre los alrededores fueron útiles también. Si se busca un alojamiento fuera de lo convencional, esta casa en la ecoaldea es una elección a tener en cuenta!
Milena
2014-08-13T00:00:00Z
Wonderful place to relax, so much that we extended our stay! Diego's warm welcome made us feel at home right from the start. Good place to forget all about cellphones, shoes...and even time!
Camila
2016-06-18T00:00:00Z
We stayed one night and arrived pretty late. The dark, and the fact that the house is sin nombre, made it a little difficult to find our way. Luckily Diego was very helpful and welcoming. We stayed in a simple and clean room, which felt very much as a monastery. It was interesting to get a peep inside an alternative way a life in an eco village.
Jonas
2016-08-12T00:00:00Z
Lugar y gente muy mágica. Un sitio para perderse y encontrarse.
Tratamientos
2016-04-15T00:00:00Z
I had a wonderful stay with Sheila and Diego. Los Molinos was one of the most interesting areas I have ever visited. Karst formations. Interesting, friendly people dedicated to an alternative natural life-style. I love it.
Farida and Randal
2013-09-22T00:00:00Z
Tipo di stanza
Stanza privata
---
Tipo di sistemazione
Casa
---
Può ospitare
3
---
Camere da letto
Sorbas, Andalusia, Spagna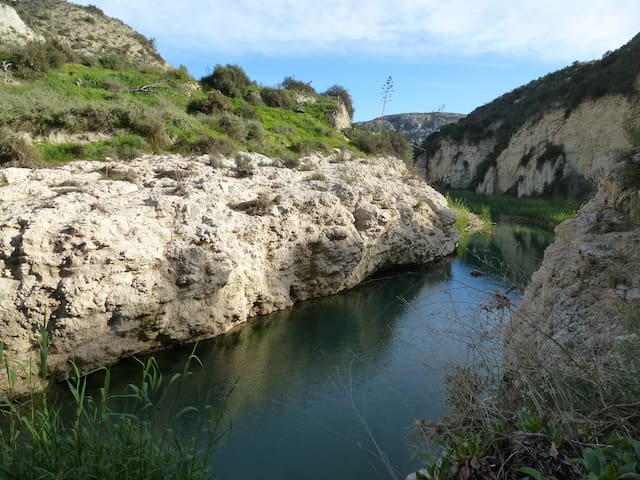 A louer un cortijo chico pour deux personnes situé sur la commune de Sorbas, complètement équipé, cuisine, salle de bain, une chambre séparée, salon avec TV et lecteur de DVD, climatisation, espace sécurisé, terrasse séparée, barbecue, accès à la piscine, très calme. Idéal repos
Ce cortijo a été entièrement rénové dans le style andalou. Au calme, dans l'arrière pays mais proche du parc Cabo de Gata, parmi les plantes et les oiseaux vous pourrez vous relaxer sans problème. La vue sur la Sierra Cabrera est magnifique. Tout le confort a été mis à disposition pour passer un séjour le plus doux possible. Vous avez accès à la piscine privative. Nous accorderons le meilleur accueil aux voyageurs qui cherchent un endroit tranquille. Mojacar playa : 20km. Possibility of making some ride, mountain bike, riding, golf. Cars. Privacy parking. Airport Almeria 80km. A l'arrivée une caution de 500€ est demandée et est restituée au moment du départ. Option wifi : 10€ Draps et serviettes de bain fournies Les lieux sont rendus dans le même état qu'à l'arrivée.
Beaucoup de calme dans la maison et à 20 minutes des plages touristiques de Mojacar et à 40 minutes de Cabo de Gata
La casa es comodísima, luminosa y grande, enmarcada en el entorno único de Sorbas, sus pájaros, su silencio. Imprescindible el coche para moverse por la zona, aunque seguramente con la cuidada decoración y la atención de sus dueños no queráis moveos de casa.
Beatriz
2014-08-06T00:00:00Z
Muchas gracias a Georges y Gloria por su atención durante los días que hemos estado en su cortijo. Se trata de un magnífico cortijo con todas las comodidades y cercano a zona de playa. Imprescindible coche para moverse.
rosana
2015-08-11T00:00:00Z
The host canceled this reservation 5 days before arrival. This is an automated posting.
Artur & Familia
2015-08-14T00:00:00Z
Séjour très agréable dans un cadre magnifique. Le logement correspond exactement à la description. Les hôtes sont disponibles et discrets à la fois. Dépaysement garanti!
Pierre
2014-08-16T00:00:00Z
Gloria y George estuvieron atentos a cualquier cosa que necesitamos : nos informaron de cómo llegar a las mejores calas y a la vez disfrutamos de una total privacidad. Son dos personas que aman el lugar y esto se nota en todos los detalles .El cortijo es maravilloso y el espacio donde nos alojamos es totalmente privado con una terraza inmensa desde donde ves las montañas, el jardín que rodea al cortijo lleno de flores y verde y por la noche puedes ver las estrellas. La casa es cómodísima y muy silenciosa por la noche. La cocina súper equipada. La naturaleza que rodea el cortijo , las playas y calas de la zona son increíbles. Un sitio perfecto para ir con niños , en pareja o con amigos. Lo mejor la piscina de agua salada, sin cloro , con tumbonas cómodas y sombra, estuvimos siempre solos en ella y también la utilizamos por la noche . Volveremos el año que viene sin duda!!!! Gracias Gloria y George por estos días y por compartir con nosotros vuestro precioso cortijo. Un abrazo!!
sonia y Lucas
2016-08-12T00:00:00Z
Una casa fabulosa y una estancia muy agradable! Y un 10 para Georges y Gloria!
Pablo
2016-08-19T00:00:00Z
The house is exactly as it appears in the ad: wonderful! Perfect to relax. In a very calm and peaceful area, but at a 20 minutes ride from everything you can possibly need (beach, supermarket, night life). Very nice and discrete hosts. We recommend it!
martina
2016-08-16T00:00:00Z
Tipo di stanza
Intera casa/apt
---
Tipo di sistemazione
Casa
---
Può ospitare
2
---
Camere da letto
Sorbas, Andalucia, province Almeria, Spagna
nice house with private pool not overlooked, ideal for family vacations, located in Los pelaos 5 km from sorbas, 15 km of beaches, restaurants and tourist shops, 500 m, you will find food trade, catering and bars, you can make beautiful bike rides in a beautiful hilly landscape overlooking thousands of almond and oliviers..on waiting for you !!!
Tipo di stanza
Intera casa/apt
---
Tipo di sistemazione
Casa
---
Può ospitare
6
---
Camere da letto
Sorbas, Andalusia, Spagna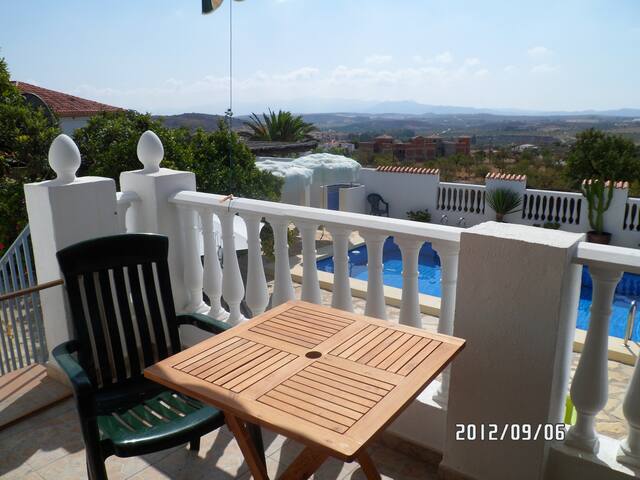 Outside the village of Aljariz near Antas. Our Rustic Cortijo sits on the side of a ramba amongst the beautiful hills. It would suit anyone wishing to get away for peace and quiet, also cyclists and hikers. 20 mins drive to Beach and 10 mins to Antas and Vera.
There is much space throughout our home with different areas outside that spread across the front of the cortijo from the covered veranda, yoga platform, small pool (used in summer months), grassed area, patio area, roof top and terraces situated on the hill behind cortijo. The bedrooms are bright and rustic with little artistic touches throughout.
I love the tranquility here, no noisy neighbours or cars! Just the sound of the church bell on the hour, which l love as its a distant sound and not in my face! Just a ten minute walk along the rambla to the village shop, to an all day walk along the rambla to the surrounding beautiful hills.
We only stayed one night, but we really enjoyed our time there. Maxine is a great host, very welcoming, caring and a pleasure to chat to. Her home is really beautiful, it's in a splendid location and looks stunning, very tasteful and quirky. The village is only a short walk away and the motorway only a 10 minutes drive... if you look for tranquillity and a relaxing break this is definitely a great place to do it.
Ana
2016-08-31T00:00:00Z
¿ Que puedo anadir? Como siempre Maxine y su familia han sido anfitriones acogedores y atentos en todo lo que podriamos necesitar. Esperamos revolver muy pronto.
Ivana
2016-08-18T00:00:00Z
Maxine es una anfitriona muy especial, ella y su familia nos hicieron sentir como en nuestra casa. Recomendo a todos la estancia. Hogar limpio, desayuno bueno y abundante, relax y paz. Solo nos paso', sera' la temporada, encontrar bichos en la habitacion. Pero es un hogar precioso, volveremos pronto.
Ivana
2016-08-01T00:00:00Z
It was a pleasant experience from the point of arrival on.
David
2016-08-26T00:00:00Z
Very beautiful and quiet place // Maxine is a wonderful and helpful person // our stay in her house was a pleasure
Susann
2016-08-10T00:00:00Z
Maxine have been excellent host friendly. Tell House have been excellent.
Reda
2016-06-15T00:00:00Z
I've just returned after a short stay at Maxine's place. I wish I could have stayed longer but I was only there on a flying visit to the area. Maxine and members of her family and a friend, who just happened to be visiting, made me very welcome and comfortable indeed. They couldn't have been more accommodating. The place itself is an absolute delight, full of rustic charm with plenty of artistic input from Maxine herself. I couldn't enthuse about my stay or recommend this place enough and I'll definitely be returning, hopefully soon.
Edward
2017-02-09T00:00:00Z
Nos hicieron sentir súper bien, muy cómodos, la casa preciosa, decorada con mucho gusto. La zona también muy bonita, típica de toda la zona de Almería, muy tranquila, ideal para perderte. Nos encantó la experiencia.
Susana
2016-03-27T00:00:00Z
Tipo di stanza
Stanza privata
---
Tipo di sistemazione
Casa
---
Può ospitare
2
---
Camere da letto
Aljariz, Andalusia, Spagna
Este alojamiento rural está situado en una aldea rodeada de olivos y almendros. Tiene una muy amplia zona de comedor abierto con vigas de madera una estufa de leña y calefacción central (para los visitantes de invierno). Hay patio cubierto para comer al aire libre.
El cortijo tiene un pequeño jardín cerrado y tiene uso de una piscina de 8x4 con excelentes vistas al campo. También hay una cancha de petanca. Este es un lugar ideal para aquellos que quieran relajarse y recargar, pero también hay mucho que explorar en la zona de los alrededores, por ejemplo, las cuevas de Sorbas theKarst y es ideal para largos paseos. Las ciudades de la playa de Mojácar, Vera y Garrucha son de fácil acceso y ofrecen una gran variedad de restaurantes, bares y entretenimiento.
Los Martinez es una aldea a poca distancia que dispone de 2 bares / restaurantes canchas de tenis y tiene pequeña tienda de conveniencia. Sorbas, una pequeña ciudad comercial está a 8 km de distancia y tiene cuevas kársticas abiertas al público. Tabernas es un corto trayecto en coche y es donde se filmaron los spaghetti westerns y los episodios de Juego de Tronos recientemente.
Zona apartada de las aglomeraciones, muy tranquila ideal para familias. Vivian fue un encanto desde el principio, nos ayudo en todo momento. La casa es muy bonita y espaciosa. Gran piscina.
Javier
2016-08-29T00:00:00Z
La casa es amplia y bonita, en una zona desértica y apartada del ruido. Hay casitas a su alrededor, pero pocas y tranquilas. Tener piscina es todo un acierto. Ideal para relajarse unos días y estar en pleno contacto con la naturaleza. Vivian,la dueña, siempre se mostró amable,discreta y cercana cuando necesitamos algo.
EIDER
2016-08-02T00:00:00Z
Belle maison au calme, à 25mn de Garrucha ou Mojacar, géniale pour sortir du tumulte touristique et se ressourcer. La maison est agréable, très grande et confortable. La piscine et la terrasse sous des tonnelles s'ajoutent au confort de la maison. Paul et Vivian sont tout aussi discrets que serviables. On a vraiment passées 10 jours de vacances excellents !
Adeline
2016-08-25T00:00:00Z
Muy bonita la casa. Hemos pasado un fín de semana muy agradable. Bien comunicada.
Ylenia
2016-06-27T00:00:00Z
super séjour, village très sympa. vivian et paul très accueuillants.
corinne
2016-10-02T00:00:00Z
Sitio muy tranquilo
ESTRELLA
2016-07-24T00:00:00Z
La casa era correcta, no esta situada en Sorbas, pero esta cerca y la anfitriona muy amablemente va al encuentro en la carretera.
Sara
2016-03-25T00:00:00Z
Comme nous avions du mal à trouver le logement le mari de Vivian est très gentiment venu à notre rencontre malgré l'heure tardive.
Loïk
2016-08-14T00:00:00Z
Tipo di stanza
Intera casa/apt
---
Tipo di sistemazione
Casa
---
Può ospitare
4
---
Camere da letto
Sorbas, Andalusia, Spagna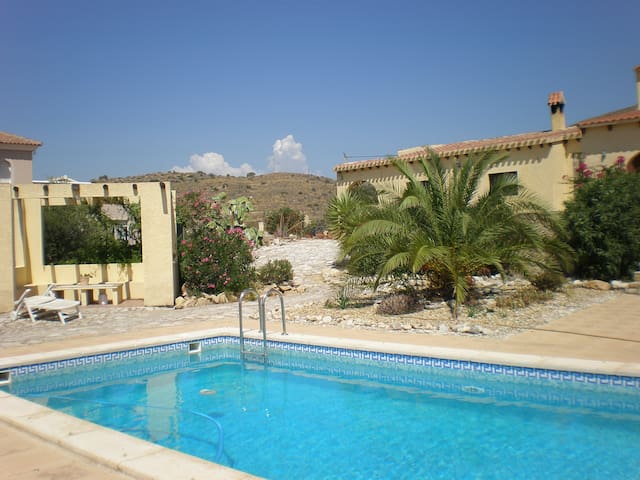 VERY IMPORTANT: This house complies with all aspects of the new legislation for holiday rentals introduced by the Junta de Andalucia in May 2016. Our identification number is CTC-(PHONE NUMBER HIDDEN). Before booking a holiday rental in this area, you should request the ID number to avoid being forced to vacate a property.
This superbly appointed air-conditioned townhouse (built 1975) enjoys one of the very best locations within the idyllic Cortijo Grande valley. Cortijo Grande was a traditional Spanish village with orange groves and when the golf course was developed in the 1970's, the original buildings were retained and now form the clubhouse and bar/restaurant (3 min stroll away). The newer buildings from the 1970's match the old ones and our house has been refitted in the traditional Rustica style. The French doors open onto a private terrace with views of the orange groves & cypress trees on the golf course, the Sierra Cabrera mountains, the hilltop village of Mojacar Pueblo and the Med. Enjoy the time-warp experience of being in this amazing protected valley where nothing at all has been built for more than 25 years. As from early 2016, the old and rustic 9-hole golf course is being used once again with the greens being tended by the Cortijo Grande Golf Society. Due to lack of rain during the Andalucian summer, the "greens" should be playable but not necessarily green ! The house has every mod con, from a king-size bed to satellite TV & wi-fi broadband. Accommodation description: Lounge: Large lounge/dining room with air-con/heating unit, 'Rustica' fireplace (decorative only), comfy seating for 5, dining table & 4 chairs, bookcase, coffee & lamp tables, 32" TV, DVD player, UK channels satellite TV. Wi-fi router. French doors to terrace Bedroom 1: Luxury UK King size bed, built-in wardrobe, 'rustica' furniture, air-conditioning/heating unit & wide balcony. Digital safe. Bedroom 2: Twin single beds, built-in wardrobe, 'rustica' furniture, air-conditioning/heating unit & Juliet balcony. Kitchen: Stunning kitchen, recently fitted, with feature lighting and rustic timber beams to match the 'rustica' staircase, stainless steel gas hob and electric oven, matching extractor fan with hob light, fridge-freezer, washing machine, microwave, kettle and toaster. For our guests' safety there is a first aid kit, fire extinguisher and fire blanket. Bathroom: Fully tiled. White bathroom suite with stepped bath/shower, recessed halogen ceiling lights, washbasin with illuminated mirror, wc, built-in hair dryer. Fully equipped with iron/ironing board, kitchen and bathroom towels, dishes, cutlery. Our house is scrupulously cleaned and prepared before each let. Weekly change of bed linen and towels. You will be met on arrival. Outside: Sizable private terrace overlooking the valley with patio table & umbrella and 4 garden chairs, plus 2 sun loungers. Brick barbecue ideal for single-use packs. There are bougainvillea bushes either side of the terrace, plus some oleander hedging, all of which we keep neatly trimmed all year round. There is a rockery with steps leading down to the cactus and aloe vera plants next to the rough at the edge of the fairway. The terrace was newly-tiled in November 2013 and has breathtaking views of the orange groves, the Sierra Cabrera mountains and the Mediterranean sea can be seen from the edge of the terrace. We bought the view and the house came with it! There is also a small front terrace, also newly tiled in November 2013, where our guests can sit to catch the early-evening sun. Plenty of car parking space available, you can park right up to the terrace.
Our guests have loved the scenery, tranquility and the wildlife. We get many more walkers and birdwatchers than golfers. Many of our guests return two or three times a year, and we have made several good friends through our townhouse rentals.
The apartment is situated in a stunningly beautiful natural surrounding. Also the view from its terrace. It is clean and all in perfect order. We found the map with Jim's description of everything one could do in the neighbourhood, villages, restaurants and local tips very informative and nice. Also Jim was a perfect host awaiting us to drive ahead to the premises, and helpful in every respect. The double bed is of good quality. A definite recommend to anybody who like ourselves enjoys nature, hikes, some excellent swimming in the sea not to far off, pretty comfortable apartment and good beds.
roger
2014-11-06T00:00:00Z
Jim and Connie met us off the motorway and we followed them to the property. They were more than helpful when explaining about things to do and places to visit (There is also a very comprehensive information folder and numerous leaflets to local attractions etc. After showing us around the house which is very well equiped, we stepped through the French windows onto the patio area. OMG! The photos on the site do NOT do the views any justice at all. It has to be seen. A most fantastic and tranquil place to relax and watch the varied wildlife. Even the local Shepherd walking past on a daily basis with his two dogs and sheep nibbling there way around the fairway! Large and very comfortable king-size bed with views to mountains. Only a few minutes drive into Turre where there is a great but somewhat bonkers super market which sells everything! Excellent and friendly tapas bar opposite. We had a wonderful time and did not want to leave. There are numerous things to do and places to visit to suit all ages whatever your passion may be. Thank you Jim and Connie 10 out of 10 from us. P.s. There is a hugely entertaining copy of a book which Jim wrote about his adventures since moving here.
Mandy
2017-03-25T00:00:00Z
Merci pour l'accueil chaleureux et pour la bonne organisation. L'appartement était agréable, nous avons passé un très bon séjour.
marie noelle
2014-08-16T00:00:00Z
Tipo di stanza
Intera casa/apt
---
Tipo di sistemazione
Casa
---
Può ospitare
4
---
Camere da letto
Turre, Andalusia, Spagna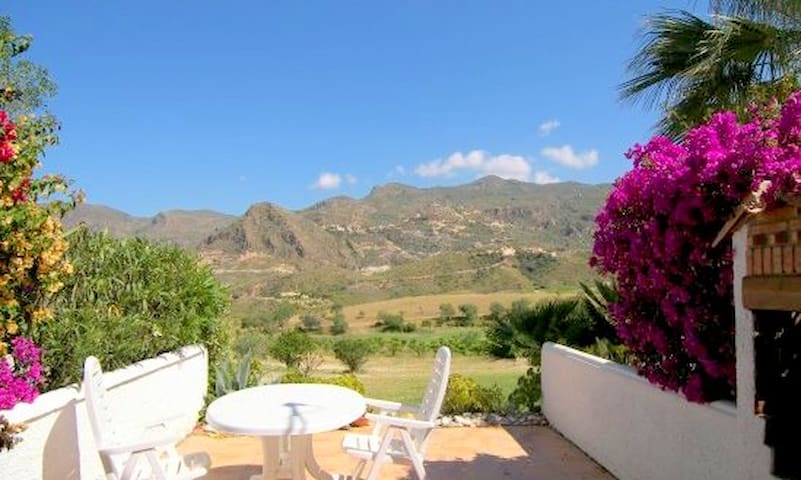 El Molino de aguas, restaurado con mucho cariño y con más de 600 años de antigüedad se encuentra en el romántico y salvaje Valle del Río de Aguas. En el extenso terreno de la finca encontramos almendros, olivos e higueros.
The Old Mill is a wonderful place. You can take a stroll down or up the dry riverbed or plunge into the pool which was in former times the old mill's water basin. The leaves of the bougainvillea dance with the breeze coming from the canyon. The beaches are reachable within 15 minutes (go there for a picnic at sunrise!) by car and you get beautiful and stunning sights if you take the road through Sierra Cabrera. The houses are clean and equipped with all necessary things. At the mill you find bathrooms at the sanitary building behind the main house, which are just a few meters to go. On the grounds there is space for everyone to relax, whether it is at the pool, on the terrace or down at the canyon. That is what we want - silence and nature, isn't it? Ous is a very helpful, friendly and sympathetic host (always with a smile on his face) and does everything and his best to make this place nicer and your stay more comfortable. We have had a great time and met lovely people around. And we definitely will come back
Kai
2016-07-31T00:00:00Z
Tipo di stanza
Intera casa/apt
---
Tipo di sistemazione
Casa
---
Può ospitare
6
---
Camere da letto
Mojácar, Andalusia, Spagna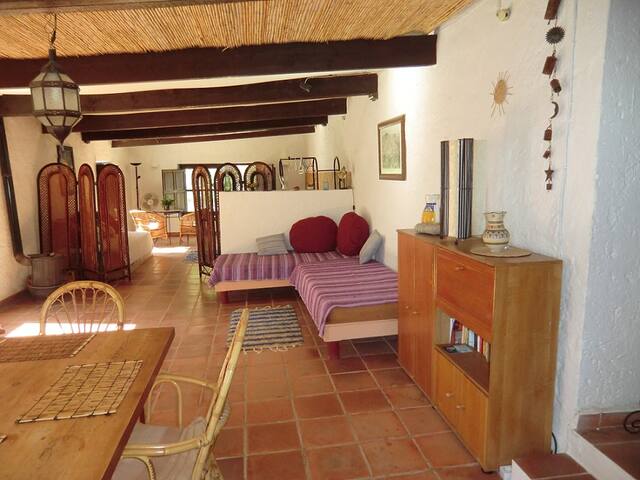 Casa Mariavilla is situated beautiful valley of Cariatiz. Nestled in the foothills of the stunning Sierra de las Filabres. The property is surrounded by Olive/Almond and Pomegranate trees. 10 mins drive to the Historical town of Sorbas and 25mins drive to the beautiful beaches of Mojacar and the fabulous Caba de Gato. The outdoor aspect of the property offers 3 dining areas/Pretty courtyard garden with barbecue and dip pool. Stairs lead to 1st floor terr with patio doors to both bedrooms.
The front aspect of the property has an off Rd parking area plus a dining and seating area situated pleasantly under a shaded pergola enjoying open views over the almond and olive trees towards the Serra Cabrera. Entrance via stable door leads to the sympathetically restored open plan living area comprising of.. lounge, kitchen and dining area. The kitchen is fully equipped. The dining area seats 6 and has access to the first floor bedrooms, bathrooms and first floor terrace. The comfortably appointed lounge has seating, wood burner for the cooler mths plus 37 inch T.V. system /DVD. There are books/DVDs and games provided for your use. Rear patio doors lead to a fully fenced paved area which in turn leads to another shaded dining area equipped with outdoor lighting, table and chairs. Adjacent is a pretty coutyard garden with built in barbecue and grill. Sunbeds are provided for your use beside the dip pool and outdoor shower. Here you also have access by stairs to the first floor terrace. The "L" shaped terrace has both shaded and sunbathing areas. There is comfy seating/ coffee table and access to both bedrooms via patio doors. This is complimented by stunning views of the surrounding country side. The Master bedroom has a king size bed and en suite facilities. Shower/vanity unit and w.c.. The Second bedroom has twin beds . The family bathroom is situated between both bedrooms and has full size bath with overhead shower, vanity unit and w.c. All towels plus poolside and beach towels are provided. A change of linen and towels are provided for stays exceeding one week. Mosquito nets are fitted to all windows. Upright fans are provided. A portable gas heater is provided along side the wood burner for use in the cooler mths.
Casa Mariavilla is situated in a tiny hamlet called Los Mañas. Los Mañas is one of seven hamlets within the valley known as Cariatiz. Los Martinez is the larger of these and is an easy 10min walk from the property. In Los Martinez you will find 2 bars and 1 small shop. Both bars sell tapas, although one provides a wider selection of snacks too. A bread van passes the drive every am selling a selection of fresh breads from a local bakery. Directions to Supermarkets etc are at your disposal in the house.
Increible! Genial! Un lugar muy acojedor y los caseros muy amables y simpaticos. Estan a la casa de al lado y si sacas la cabeza por el patio los ves, pero en ningún momento se han intrometido ni nos han dicho nada, al contrario, si te falta cualquier cosa enseguida se prestan a ayudar. Volveríamos sin duda!
Imma
2016-10-08T00:00:00Z
Tipo di stanza
Intera casa/apt
---
Tipo di sistemazione
Casa
---
Può ospitare
5
---
Camere da letto
Sorbas, Andalusia, Spagna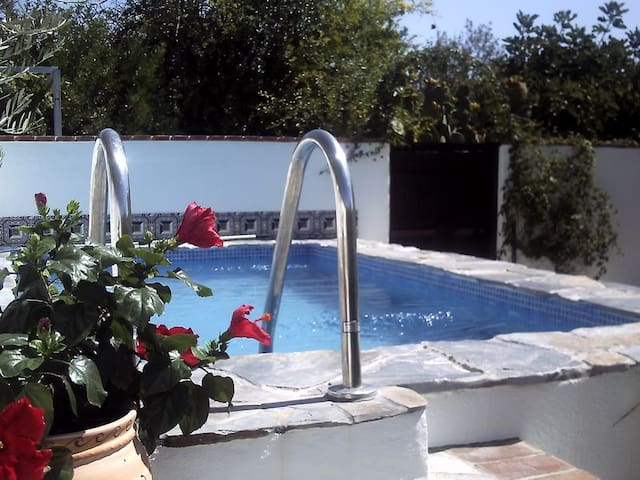 A light & airy, newly refurbished pretty Spanish style town house. Newly furnished, open plan kitchen & new bathroom. Garden overlooking golf course (at present not used) & mountains with views to the sea. Lovely large sun terrace. Approx 15 mins drive from 26 km coast in Mojaca with beach bars, cafe's and restaurants. Pure peace & tranquility. Shepherd with his herd of sheep and goats regular visitors to the valley.
The space is unique because of the stunning views. Breakfast on the east facing terrace. Spacious open plan kitchen/diner/sitting room, separated by the kitchen sink and bar area. Upstairs main bedroom has access to east facing balcony for that early morning coffee or tea.
The area is a secret. Words cannot describe the peacefulness. There are numerous mountain walks, off-road cycling (and on road), horse-riding, golf clubs within a 15-20 minute drive, local attractions, bar, restaurants (2), and 15 minutes or so to the coast.
We had a lovely time, location was perfect as we wanted somewhere quiet. Local supermarket, bars and restaurants not too far away and Mojacar only 15 minutes in the car. Beautiful views and lots of places to explore if you like walking. The open fire place was a real bonus, made it feel very cosy.
Ellanda
2017-01-05T00:00:00Z
We had a wonderful two month stay at Jane's house. Firstly, we must say that Jane, even though we never met her, was an amazing AirBnB host. The communication since our first enquiry contact, to the day we left, was very impressive. She was always available over the phone or by email. The house is a spacious mid-terrace townhouse, very well equipped and has a new long extended veranda out the back with steps leading onto the golf course where we were able to go for lovely walks with our dog every morning and evening because it's not used much during the summer for golf as it gets too hot. The view from the house is really stunning, it doesn't get much better than that! The water at the house is not potable, so you will need to either buy water or top up large bottles at the fountain. There is a fountain (Fuente) in Turre and an even bigger and better one in Mojacar Pueblo, but you can drive right up to both of them. It does get very hot in July & Aug, but in 20 mins by car you can be at the Mojacar Playa. El Cortijo Grande is a stunning valley in La Sierra Cabrera, with some houses, apartments and villas sparsely situated around the outskirts of the golf course, mostly inhabited by very friendly British people. There are some wonderful walks and hikes for the adventurous and you can set off on foot from the house, or drive through Sierra Cabrera to find even more amazing walks. There are three restaurants within walking distance from the house, La Almazara was our favourite, the food and ambiance were great, try one of their specials, they are really tasty! There are at least two restaurants up at La Cabrera as well as a cafe (10 mins by car) which have "to die for" views over looking the whole valley. There are no shops in El Cortijo Grande. However, Turre, which is a 6 min drive on route to Mojacar Pueblo or Mojacar Playa, is a hub of good supermarkets and restaurants, our favourites included La Capilla restaurant just outside Turre on the way to Garrucha, and also Meson Meko on the right as you drive into Turre from El Cortijo Grande, but there are many more to choose from. Mojacar Pueblo is a gorgeous pueblo blanco, situated above Mojacar Playa, there are lots of restaurants, shops, and well as cute little streets for an evening stroll after dinner. Mojacar Playa is a 3km stretch of beaches, restaurants and bars and there is plenty of choice for everyone. After spending two months at Jane's house, we were sad to leave, we made some great friends and it is definitely a place we will return to again and again. We have stayed in many AirBnB accommodations, but this one we can highly recommend!! Thank you Jane!!
Kashka & Sinead
2016-09-04T00:00:00Z
Tipo di stanza
Intera casa/apt
---
Tipo di sistemazione
Casa
---
Può ospitare
4
---
Camere da letto
Turre, Andalusia, Spagna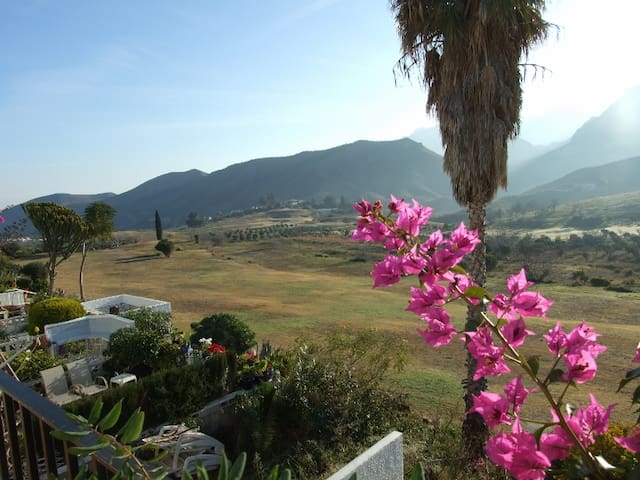 Set in the beautiful hills of Bedar just outside Mojacar. With commanding sea and mountain views Finca Alea is the perfect base for your holiday in Spain! Our estate comprises of three villas (one sleeps 8 and two sleep 4 in each) The estate is set in 5 acres of grounds from which stunning sea and mountain views can be witnessed. The property is without a doubt the best that Bedar has to offer and the only property of it's size which allows big groups or multiple families to holiday together
Here at Finca Alea we offer holiday villas to rent in Spain set in the beautiful hills of the Spanish countryside surrounded by wildlife and sea views that will take your breath away! Our small estate of holiday villas in Spain are located in the picturesque village of Bedar, Almeria. We are located very close to the beaches of Mojacar and get many many hours of sunshine and warm evenings. So if you are looking for holiday villas in Spain you have come to the right place! If you have a group of family and friends we can hire the entire estate to sleep up to 16 people. Or perhaps you are just one family and in which case we can hire out only the main 4 bedroom villa sleeping 8 people total. Many people are now chosing villa holidays in Spain because of the amazing climate we have to offer here and the fantastic value for money villa holidays in Spain can provide. The increase in popularity of villa holidays in Spain has led us to refurbish Finca Alea to a high standard to offer family villa holidays all year round! So look no further than Finca Alea estate if you want villas for rent in Spain anytime of the year at fantastic prices. Located in a prime position with unrivaled views our holiday villas to rent in Spain cannot be beaten! Any questions you might have about our property we are always here to help via phone or email. Just get in touch and we will reply as quickly as possible. We look forward to welcoming you on your villa holiday in Spain soon.
Are you looking to book private villas in spain? Then why not consider Finca Alea as the destination for your trip to the Mojacar area this year! We have some of the most special villas in Mojacar, well if we are honest we have the most special villas in Almeria not just Mojacar! Our villas to rent in Bedar are only a short drive from the wonderful beaches of Mojacar. All too often in Almeria the villas on offer are very old and tired, here at Finca Alea we offer villas in Mojacar that have been newly renovated to a high standard to ensure your friends and/or family holiday in comfort. We have a wonderful heated pool and we are located in some of the most special countryside available in the Mojacar area. There are not many villas in Almeria that come close to what we can offer here at Finca Alea. These private villas in Spain are also located close to some spectacular activity venues such as where many Western Films have been made and also where "Game Of Thones" was recently filmed in the nearby desert! Mojacar is a wonderful town full of bars and restaurants that provide local tapas and delicacies. The incredible fiestas they have are unrivalled, we really know how to party here in Mojacar! The beaches and shops are located a short drive away. There is a small supermarket in Bedar itself but more extensive shopping is available in the main beach town of Mojacar along with some of the best sea food around! The port of Garucha is not far and again has some wonderful fish restaurants BEDAR Bedar is a wonderful authentic Spanish village, situated in the foothills of the Cabrera Mountains in the Sierra de Bedar, approximately 15 kilometres from the coast and the resorts of Mojacar and Garrucha. The Andalusian village affords panoramic views to the surrounding landscape and mountain range, and wonderful examples of early rural architecture, which dates back to the Moorish occupation of the region.. Bedar is an excellent destination for those looking for a rural holiday, but still within easy reach of the coast and all its amenities.. About the town The village of Bedar is equipped with good amenities and facilities, including a supermarket, shops, bars, restaurants, a post office, chemist and medical surgery. The village is extremely picturesque; set on a steep hill, with narrow, cobbled streets and alleys, many of the village's original cottages are still lived in. The town is especially popular with artists and visitors who want to experience a taste of real Spain. The town's way of life is very laid back and the locals are charming.
The host canceled this reservation 143 days before arrival. This is an automated posting.
jose
2017-03-31T00:00:00Z
Tipo di stanza
Intera casa/apt
---
Tipo di sistemazione
Casa
---
Può ospitare
16
---
Camere da letto
Bédar, Andalusia, Spagna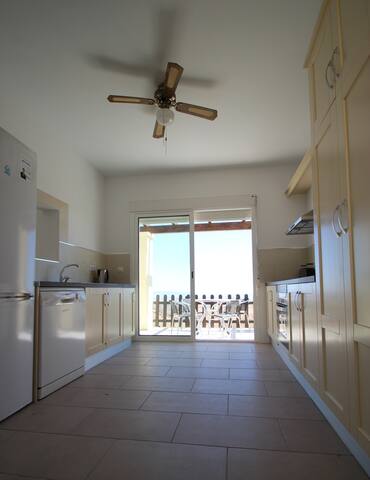 Apartamento cortijo nuevo a estrenar muy cerca de la playa y zonas turísticas (campo de golf, Níjar, Mojácar, Garrucha, Carboneras, parques naturales...) Gran piscina, pista de tenis y jardín privado. Cocina completa, un dormitorio y sofa cama.
This region is sunny throghout the year. Keep your tan all the year round. It is a peaceful area in the midlle of the nature, Help yourself whith lemons and oranges from the the orchard (subjet to season). Enjoy huge private swimmingpool and standard private tennis court. You can relax in beautiful farmhouse located close to a tranquile traditional village, 12 min by car from the beach. It is like an oasis in the middle of a mediteranian landscape.. You can do tracking, cycling, play golf and walk along pictoresc routes and beaches. It is close to the natural conservation park Cabo de Gata, where you can find the best dune beaches in Andalusia. However, it is walking distance to small food shops, drugstore, pharmacist, doctor, coffeshops, local typical restaurants and even clothe shops and markets. At driving distance you can find water parks, golf resorts and all sort of amenities (restaurants, pubs,disco...) In this area, you can choose whether to enjoy the excitement of a busy disco-dancing night or just relax enjoying a lovely dinner under the shade of the ficus tree by the pool or at a fresh fish restaurant in Mojacar or Garrucha by the beach. Once you reach this area you deep into a vacational mood, where you can do anything you wish and practise a variaty of sports (tennis, swimming,running, tracking and cycling) If you fancy street markets you can find a big one on Saturday and Sunday mornings, where you will find pottery , andalusian ceramics and tiles, jewelry and food. There are lots of English people who have chosen this area as their permanent home and there might be a reason for it. It is not crowdy, the weather is excellent and it is not costly.
El vecindario es muy tranquilo e independiente. Los cortijos están distanciados y nada abigarrados por lo que se goza de plena intimidad.
The host canceled this reservation 77 days before arrival. This is an automated posting.
David
2016-05-25T00:00:00Z
Los anfitriones Ángela y su pareja son encantadores, nos dispusieron la casa con mucha amabilidad. El cortijo es impresionante, todo está descrito perfectamente, lo mejor es que cuando estás allí es todavía mejor. La casa esta situada al lado de un pueblo muy tranquilo, con todos los servicios para comprar y comer. Esta a pie de la carretera del pueblo, muy poco transitada y de fácil acceso. El interior esta decorado con mucho gusto y es muy acogedora, la cocina estaba toda por estrenar y fue de agrado tenerlo todo en su sitio. Ángela esta siempre que lo necesitas, nos podíamos ver si queríamos y sin perder nuestra privacidad. En cuanto a los alrededores es muy tranquilo y el Cabo de Gata está relativamente cerca para poder disfrutar de sus playas y pueblos. Nos quedan los recuerdos de las horas que pasamos en la piscina, esperamos poder volver otro verano y que Ángela nos reciba con su amabilidad.
Jaime
2015-08-25T00:00:00Z
Super séjour nos hôtes ont été très accueillant Angela à répondu à À toutes nos attentes et nos besoin la appartement est très bien belle chambre cuisine équipée salon et une terrasse très agréable, nous espérons même revenir très vite Il y a de beaux lieu à voir notamment la ville de mojacar et fort bravo ce fut formidable merci encore
Miguel Et Gaby
2016-08-20T00:00:00Z
Tipo di stanza
Intera casa/apt
---
Tipo di sistemazione
Casa
---
Può ospitare
4
---
Camere da letto
Antas, Almería, Andalucia, Spagna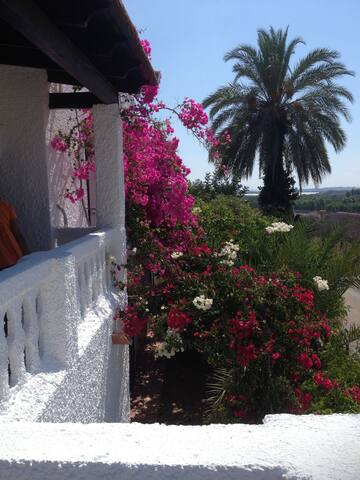 Se alquilan habitaciones en casa de campo rehabilitada en aldea alternativa ,en mitad del paraje natural Karst en Yesos de Sorbas, 40km del Parque Natural del Cabo de Gata y a 5km del complejo de cuevas de sorbas.
Se alquilan habitaciones en casa de campo rehabilitada en mitad del paraje natural Karst en Yesos de Sorbas. A unos 40 km de cabo de gata y a 5km del complejo de cuevas de sorbas. La casa se encuentra en una aldea alternativa, donde no hay tiendas , ni bares,ni asfalto ni farolas...y donde se intenta reducir el impacto en la naturaleza. Delante de la casa transcurre el rio aguas, por el que fluye agua todo el año. En el se encuentran pozas naturales donde poder tomar refrescantes baños en verano!Disponemos de sistema solar para la electricidad y de una bomba de ariete que distribuye el agua del rio por la aldea.Del sol viene la electricidad, del rio el agua por lo que el uso tanto de uno como del otro debe ser consciente( cargar durante la luz solar, no usar secadores o aparatos con resistencia). Sin olvidarnos de las necesidades actuales disponemos de conexión wifi en toda la casa y como amantes del celuloide queremos compartir nuestra sala de cine con vosotros. Una oportunidad para conocer un lugar tranquilo y mágico !
El sitio es muy bonito está escondido como dentro de un valle. Diego y sheila muy atentos y agradables, todo el ambiente en general era bastante especial. Nos ha gustado mucho conocer el lugar y aprovechar para visitar playas de cabo de gata. Para repetir nos vamos con ganas de volver!
Nadia
2016-08-21T00:00:00Z
Una gran experiencia! Muy recomendable para salirte del bullicio de la ciudad, perfecto para desconectar. Aconsejaría pasar varios días, para poder disfrutar de todo el entorno y todo lo que te ofrece!
Alejandro
2015-08-31T00:00:00Z
Nous avons été très bien reçu. Le lieu est magnifique et très intéressant. Diego et Sheila nous ont permis d'en profiter pleinement en nous indiquant les endroits intéressants même les plus secrets ! Leur mode de vie est simple, écologique ce qui nous à parfaitement convenu.
Catherine
2016-09-27T00:00:00Z
Un lugar estupendo con gente muy interesante, donde poder relajarte. Esperamos ir otra vez! unnn saludooo
Angel
2016-08-01T00:00:00Z
Hemos pasado dos días en la casa y es un sitio estupendo con una terraza increíble donde pasar las horas y contemplar el paisaje o las estrellas, el entorno es maravilloso y los anfitriones amabilísimos. Muy recomendable.
quintanaelez
2016-08-15T00:00:00Z
Sheila y Diego son un gran equipo. Nos han abierto las puertas de su casa mostrando todo lo que llena su día a día. Llegar a los Molinos ha sido una muy grata experiencia, nos vamos llenos y satisfechos de haber formado parte, aunque sea unos días, de este pequeño mundo Almeriense. ¡Gracias por todo chicos!
Mireia
2015-07-17T00:00:00Z
Increíble lugar para pasar unos días. Diego y Sheila me recibieron con una sonrisa en la cara, llenos de cercanía y amabilidad. La casa no sólo está en un lugar privilegiado del parque natural de Sorbas sino que es un rincón encantador hecho a mano poquito a poco por los anfitriones. Rutas de senderismo y pozas naturales acompañan el ambiente. La casa está limpia, consta de todas las comodidades y las habitaciones son grandes.
Gema
2014-08-04T00:00:00Z
La casa estaba bastante sucia y con telarañas, el baño de la planta baja cerca de la habitación estuvo estropeado durante toda nuestra estancia y había que ir a la planta de arriba, bastante lejos, lo cual era muy incómodo. El entorno es precioso pero para alquilar la habitación creo que deberían cuidar mucho más la limpieza y el mantenimiento de la casa. El desayuno era muy muy sobrio, cereales, pan duro, un tomate con mala pinta... Creo que podría ser un lugar más agradable si cuidaran más todos estos aspectos.
Gema
2016-08-13T00:00:00Z
Tipo di stanza
Stanza privata
---
Tipo di sistemazione
Casa
---
Può ospitare
2
---
Camere da letto
Sorbas, Almeria, Spagna